You own a business, and now it's time you own a look that's uniquely yours. A traditional haircut with light sides is what you'd expect a business haircut with a beard to be like, but that's not the case anymore.
While a traditional look isn't out of fashion, you can experiment with lots of beards and hairstyles to look unique today.
If you are planning to change your professional look and give it a modern look, this is your ultimate guide for business haircuts and beard styles.
Things to Consider for Business Haircut And Beard
If you are a businessman you can enjoy more freedom to style your hair and beard. But you can that doesn't mean you should ignore the professional look.
When it comes to business haircuts and beards, the focus is on maintaining a professional and polished appearance suitable for business settings.
Here are the key considerations for business haircuts and beards:
Professional Image
The chosen haircut and beard style should project a professional image that aligns with the expectations of your workplace or industry. Opt for a hair and beard style that pairs well and conveys competence and professionalism. Avoid overly edgy or trendy looks that may not align with a professional setting.
For a business look, opt for well-groomed and defined beard styles. Some popular choices include the stubble beard, the goatee, and the corporate beard.
Consider hairstyles that suit your hair type, texture, and thickness. Certain haircuts may work better with straight hair, while others may be more suitable for curly or wavy hair.
When in doubt, it's generally safer to lean towards more conservative haircut and beard style options. Traditional styles tend to be widely accepted in professional environments.
However, this doesn't mean you have to compromise on style – there are plenty of classic and timeless options to choose from.
Harmony and Balance
Ensure that the business haircut and beard style work harmoniously together. They should complement each other and create a balanced look.
Consider the length, thickness, and texture of your hair and beard to achieve a cohesive appearance. This doesn't mean you cannot keep short hair and a long beard or vice – versa, just ensure they do they match.
Take into account your face shape when choosing a business haircut and beard style. Different styles can accentuate or soften certain facial features.
For example, individuals with round faces may consider three options: haircuts with more volume on top, a long beard, or a short beard paired with a medium voluminous haircut. These choices help to balance their facial shape and create a flattering look.
Workplace Guidelines
Familiarize yourself with any grooming guidelines or dress codes of your industry. In industries where creativity and boldness are valued, such as advertising, you may have more flexibility to experiment with unique hair and beard styles.
For example, if you run an advertisement farm try the most incredible hair and beard style combo and be edgy and bold to grab the attention.
On the other hand, in more conservative industries like law or corporate settings, avoid overly messy or unkempt styles and instead choose a well-groomed and neat haircut with a beard.
Business Haircuts With Beard
Here are some cool haircuts and beard-style combos for businessmen. Take a look at these styles and choose your favorite one.
1. Very Short Hair with Heavy Stubble Beard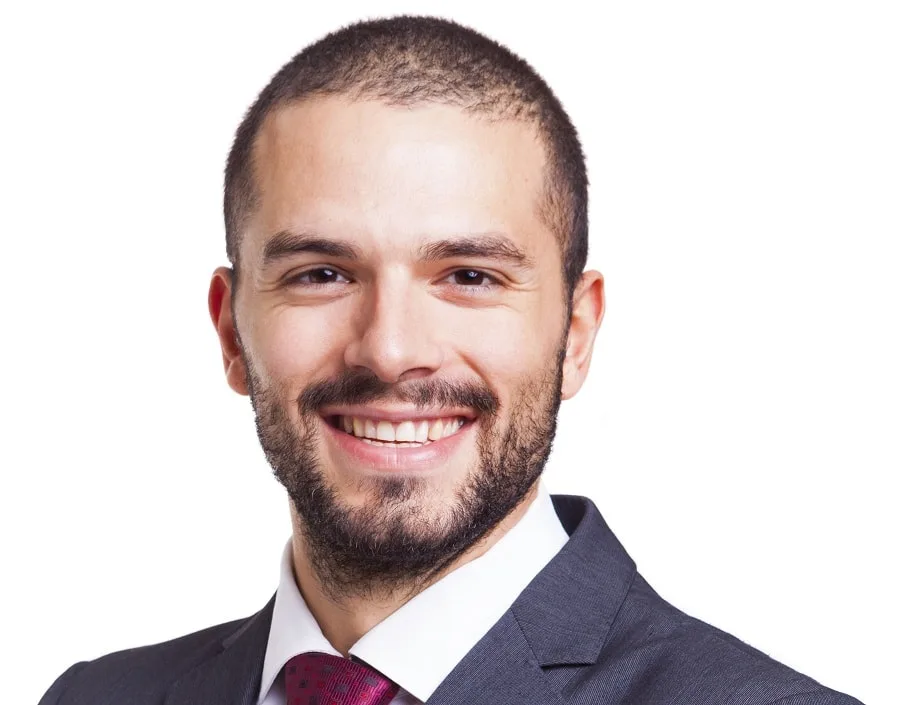 It's a simple look with no fancy elements, but you have to know the look is quite consistent from the top of the head to the chin and neck. The hair on the head has been trimmed very short to be equal in length to the heavy stubble on the face.
2. Curtains with Mid-length Full Beard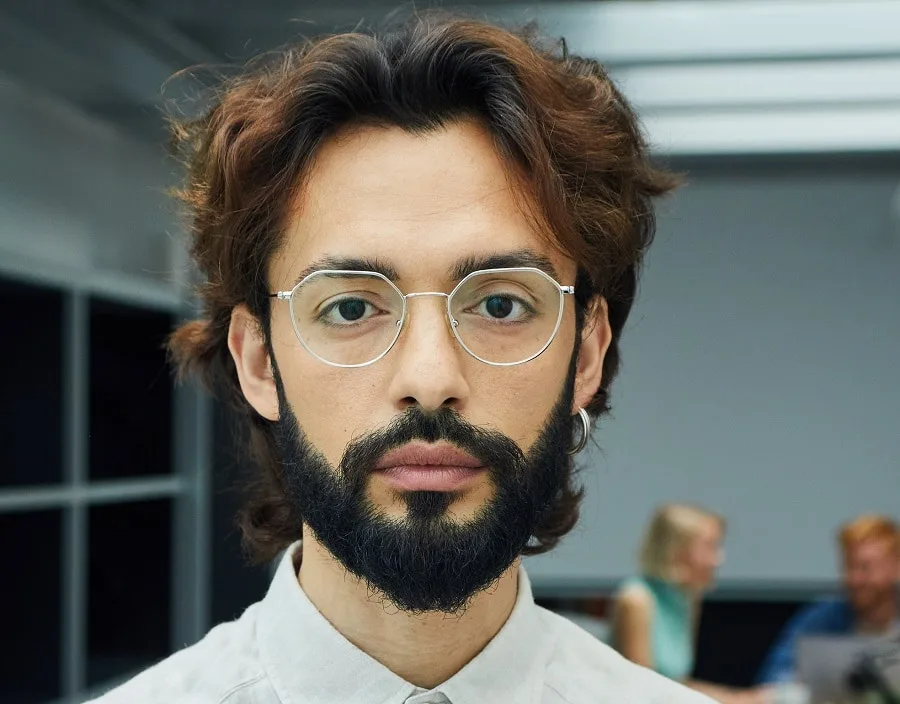 The style here breaks the conventions as you pick a curtains hairstyle that's parted in the middle. Grow a full beard but keep it to mid-length and have sharp lines on the cheeks. Pair a geometric metal framed white glasses with the beard and business haircut.
3. Short Textured Fringe with Boxed Beard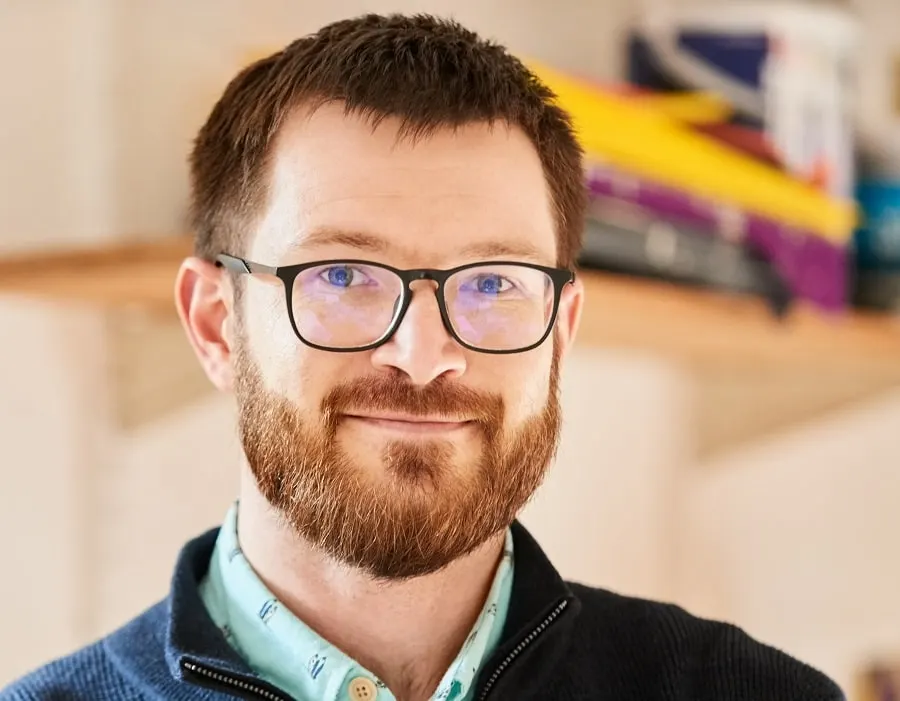 If you prefer low-maintenance hair and beard combinations are the preferred choice for many businessmen. A short and textured fringe haircut is perfect for those individuals.
The look can be enhanced by pairing a short, tapered red box beard. The thick ash and black glasses work well with a round face and beard.
4. Short Crew Cut with Blonde Beard and Handlebar
It's safe to call it a bold style because it includes a beautiful handlebar mustache. The hair is a typical crew cut with slightly more length on the top. A bushy and blonde beard completes this business haircut with a beard look.
5. Short Afro with Tapered Sides and Stubble Beard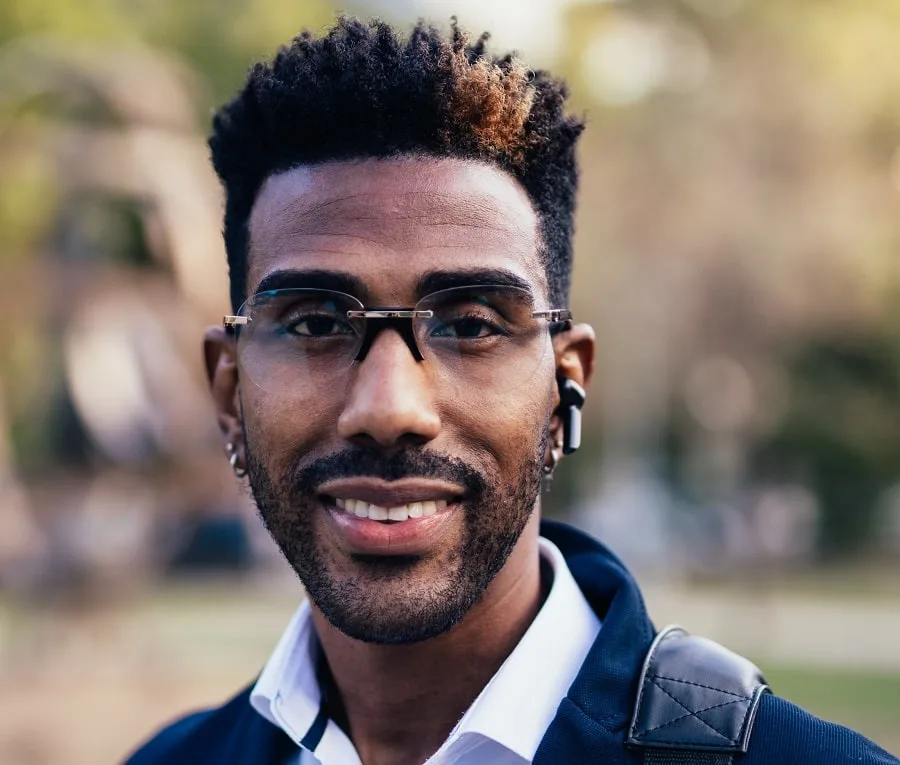 The gentleman has done a great job of getting a clean afro with tapered sides and made it noticeable with a small bleached spot. With mid-length stubble on the face, it becomes quite a scruffy business look.
6. Blonde Preppy Hair with Light Stubble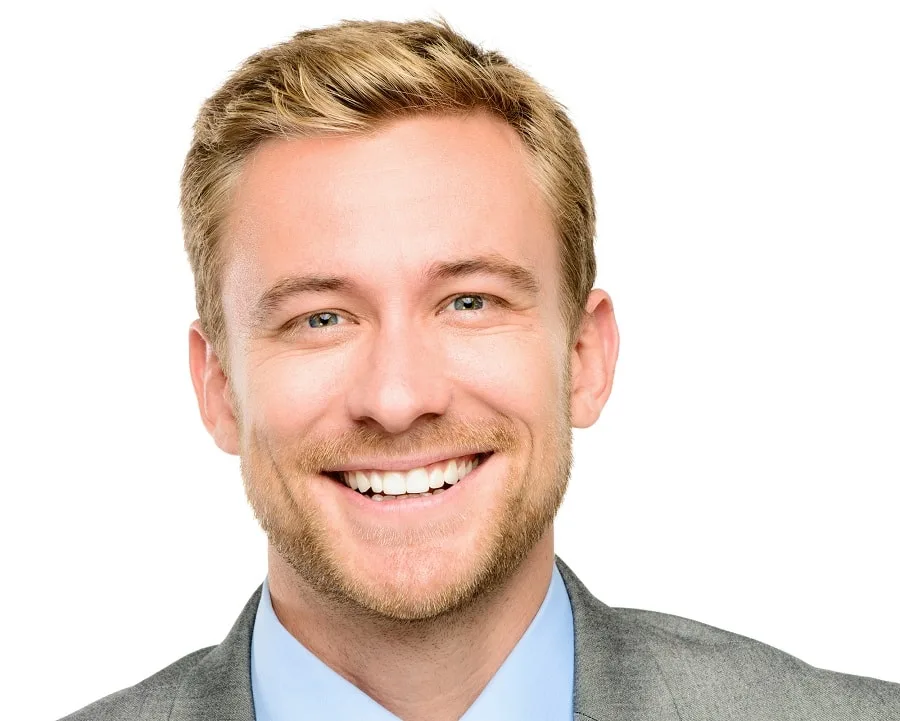 You can call it the classic business haircut because it's quite close to an Ivy League haircut. The preppy hair looks clean and a light stubble makes it a perfect style if you're getting ready to don a three-piece or tuxedo.
7. Pomp with Low Taper and Garibaldi Beard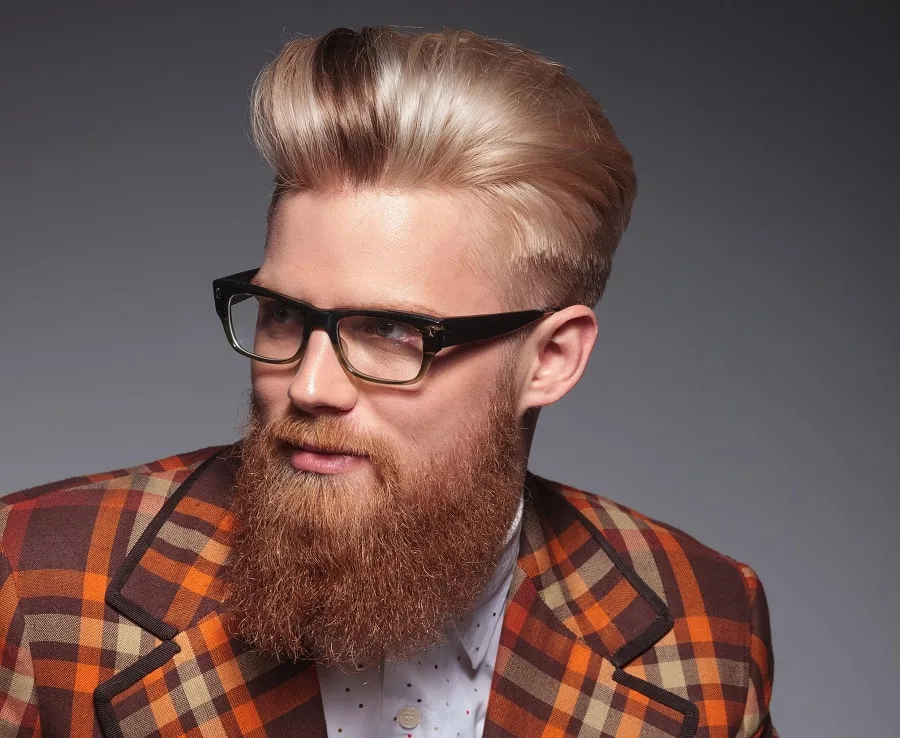 At first glance, it wouldn't look like a business haircut but it's one in the modern era. The hairstyle tapers very low near the ears with a big pomp on the top. It's the Garibaldi beard that gives symmetry to the overall look.
8. Comb Over Hair with White Goatee
You can say that the comb over hairstyle is quite a clever pick for those with a receding hairline. To further your endeavors, you'll create another point of interest on the face with a neatly trimmed, white goatee and heavy stubble mustache.
9. Side Part Hair with Full Beard and Thick Mustache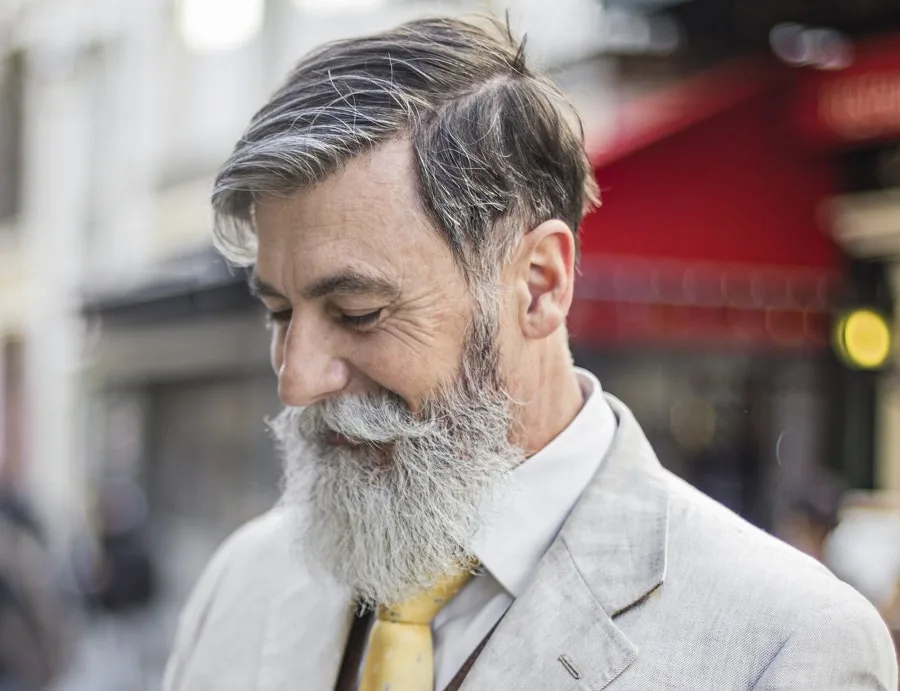 This look is particularly for older men. The full grey beard is paired with a thick mustache that extends multiple inches on both sides. For the haircut, you'll go for the traditional side part hair. In this case, there is slight tapering near the ears.
10. Military Haircut with Short Beard Fade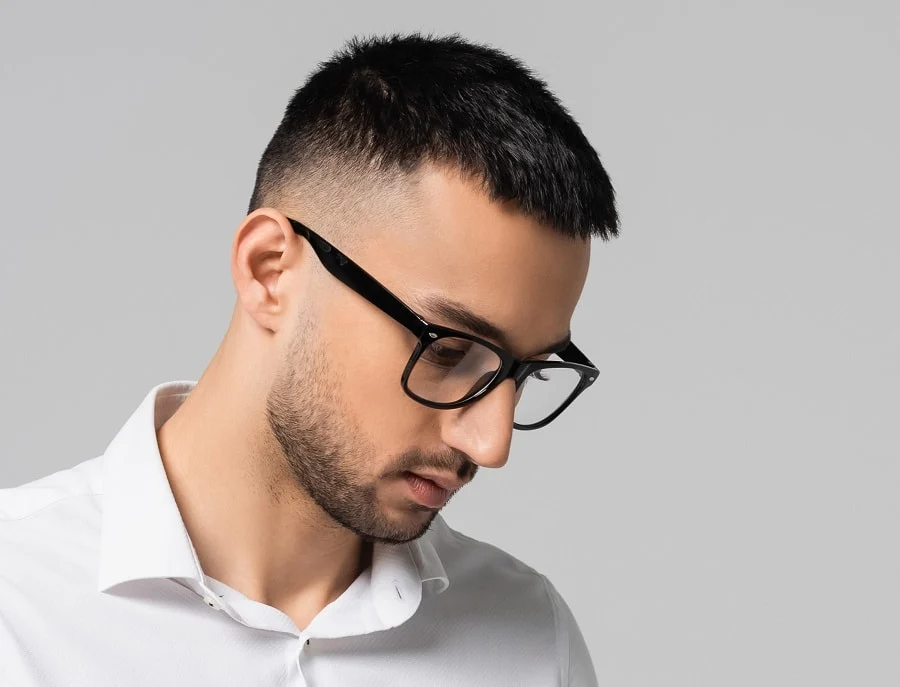 The use of fade effect is great in this style. The military haircut has only a slightly long top with faded sides. What makes the style interesting is that the beard also fades near the sideburns, which gives you a cool look when seen from the sides.
11. Messy Comb Over with Salt and Pepper Beard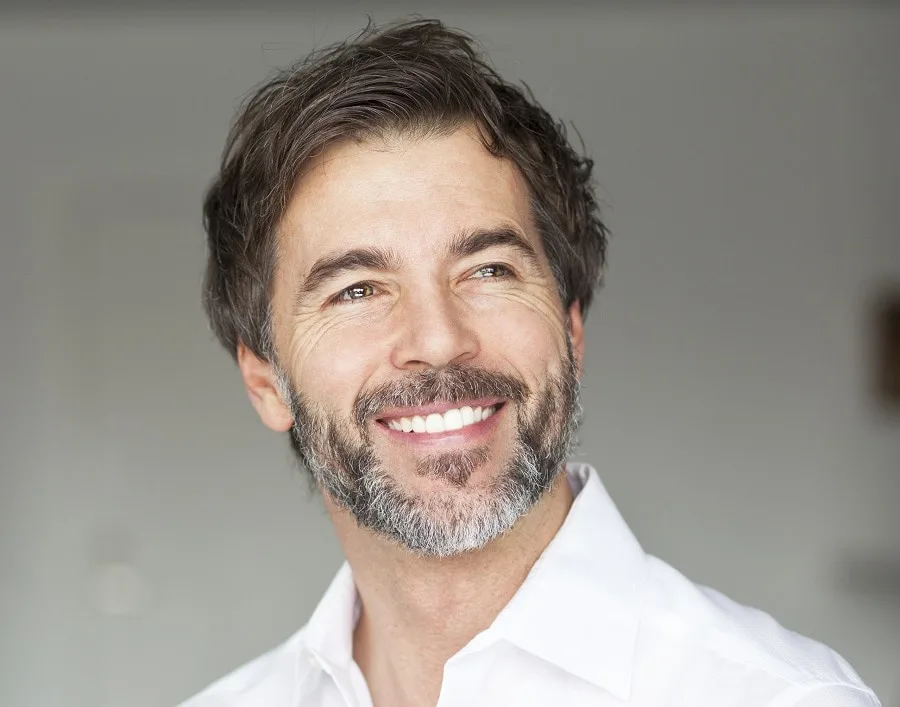 If you're in your 40s, you should definitely try this business haircut with beard. The comb-over hair has a moderately messy look, but what really makes it a business look is the short salt and pepper beard.
12. Tapered Quiff Hairstyle with Long Red Beard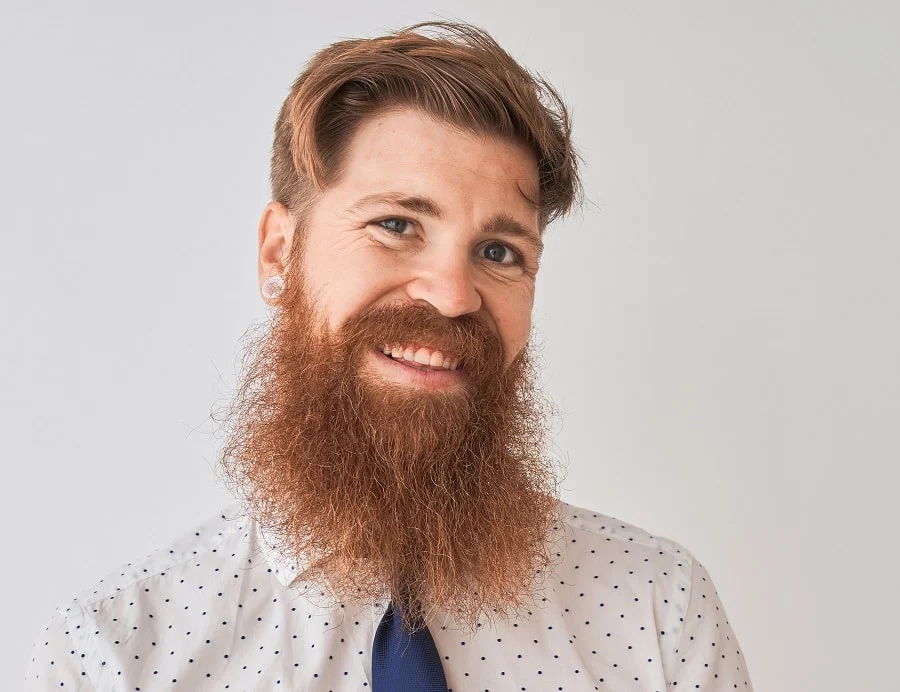 The side-swept hair in this case has tapered sides. The hairstyle is also slightly messy, but what stands out is the long red beard. It's bushy and has no trimming on the sides, which may make it look slightly unkempt.
13. Spiky Top Haircut with Modern Trimmed Beard
There's no doubt it's a sharp look because the sides of the head are shaved. The top has thick and spiky hair. To get this business haircut and beard, you'll have to keep a modern beard that has very neatly trimmed outer edges and a length that's between long and short.
14. Coiled Hair with Low Taper and Patchy Short Beard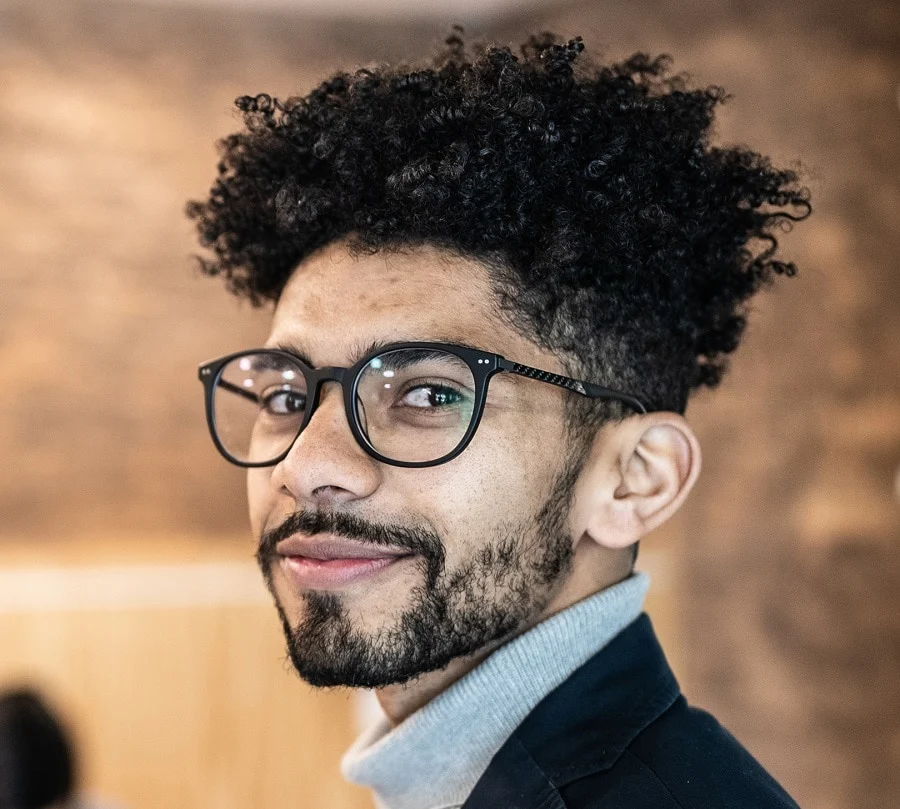 If you have coiled hair that grows in all directions, you can tame it by tapering the sides slightly above the ears. For a patchy beard, you can go with a short style and a sharply shaped mustache to go with it.
15. Disconnected Undercut with Red Ducktail Beard
This one will be a daring move because it involves a disconnected undercut that has shaved sides with longer hair on the top. Also, the red beard is neatly trimmed with short sides and seamlessly turning into a ducktail on the chin.
16. High-taper Dreadlock Ponytail with Stubble Beard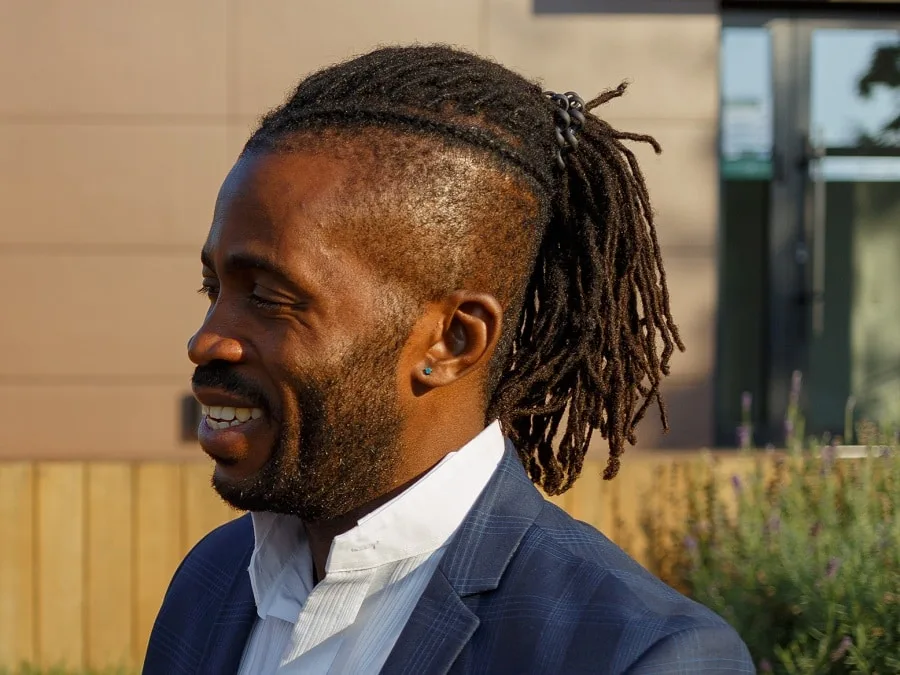 To go for the business look, it's best that you tie your afro hair in a ponytail, but a high-taper will further help your hairstyle stand out. Pair with a stubble beard that matches the hair length on the sides of your head.
17. Messy Low Pony with Short Beard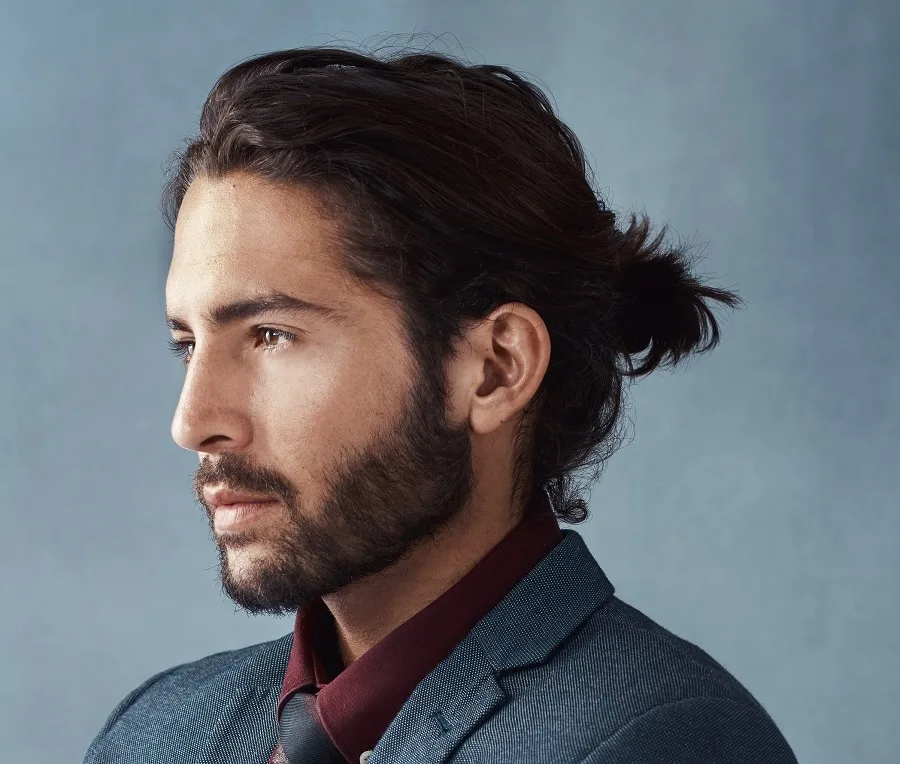 Don't have time to aim for that neat business haircut with beard look? Try this low pony hairstyle that has messy hair around the ponytail. The beard is short with no clear cheek line, which means you'll be aiming for a slightly scruffy look.
18. Long Curly Sweep Haircut with Patchy Beard
When your curls are long enough to shroud your ears, introduce a focal point by sweeping the hair on the top to the side. It opens up your face and allows you to go for a beard of your choice–like a patchy short beard here.
19. Ivy League Haircut with Stubble and Rounded Soul Patch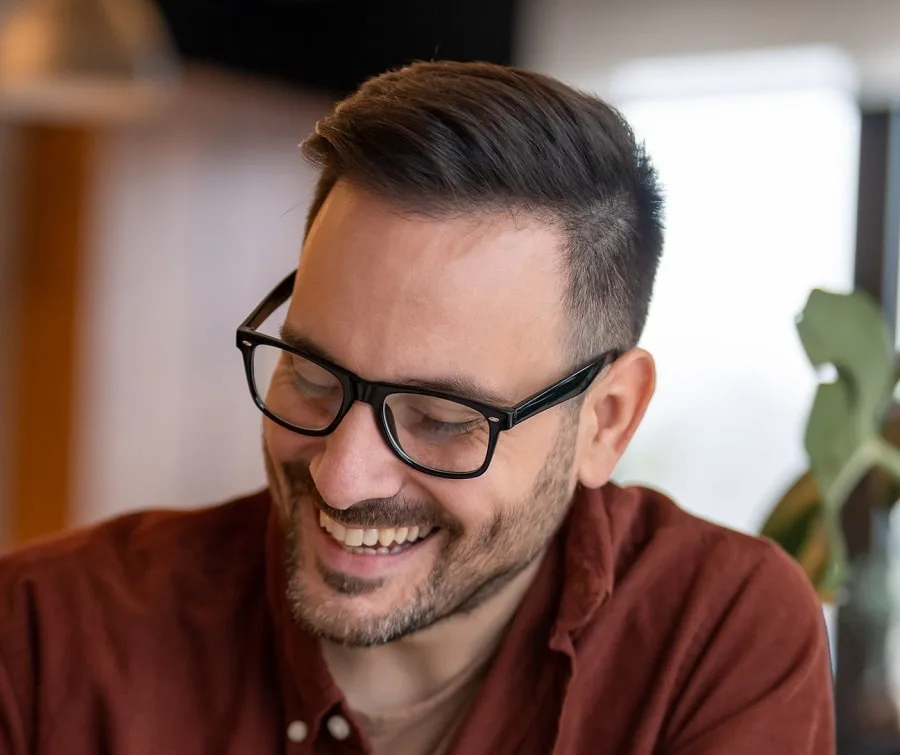 Talk about a typical business haircut with beard look, and this style would be the first on the list. It combines an Ivy League haircut with the longer hair on the top brushed to the side along with a stubble beard. You'll trim the soul patch in a rounded shape.
20. Long Curly Fringe and Shaved Sides with Chinstrap
You have to admit that this look is unique and takes courage to pull off. The long curly hair rests on top of the head whereas the sides are shaved to show the roundness of the head. A typical chinstrap beard outlines the face with a thin mustache.
21. Tapered Soft-part Hair with Extended Stubble Beard
This business haircut has moderately tapered sides and a stubble beard that extends down to Adam's apple. The hair on the top is swept to the side apparently using fingers.
22. Low-taper Throwback Hair with Disconnected Beard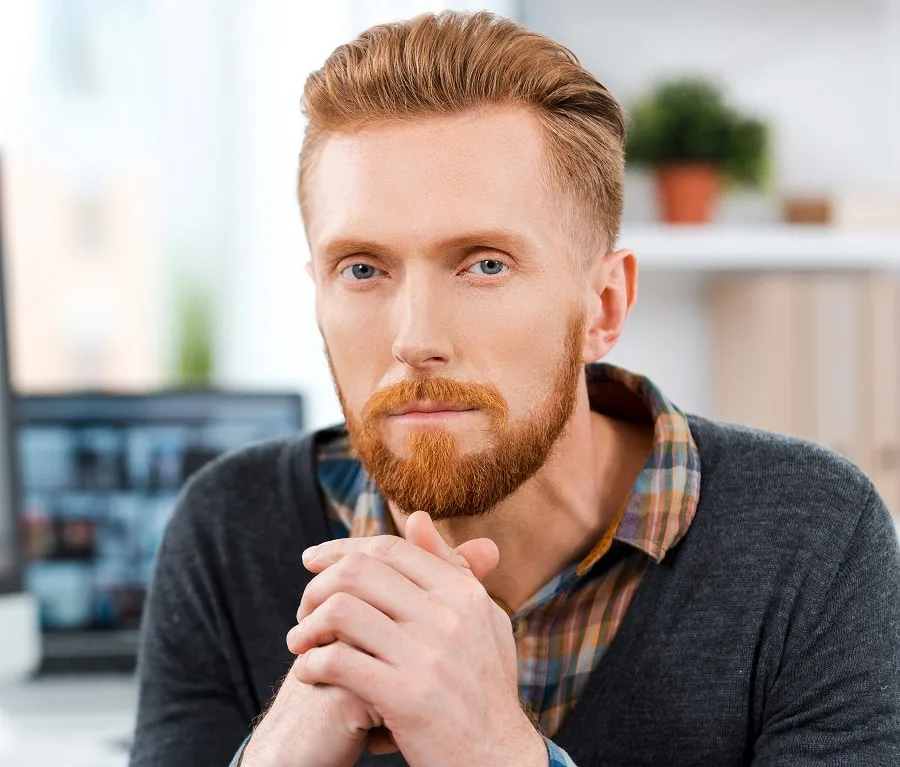 If you want a neat look, this is it because of the low-taper haircut that has the top hair thrown back. While the red beard is already an attention-grabber on its own, you'll disconnect it from your head by shaving off the sideburns to make it stand out even more.
23. Brushed Back Wavy Hair with Short Grey Beard
No doubt this business haircut with beard look is suitable for older men. The thick and short grey beard is stylish with a sharp cheek line and clean neck. The hair is long and wavy, so you'll brush it back so it stays in place.
In today's world, business haircuts and beards prove that it is much more than a boring haircut and beard. In short, experiment with all you want and make bold moves to have a unique identity.