One of the trendiest looks a man can have these days is short hair with a long beard. This style has many variations and it leaves room for you to experiment with your mustache, hair, beard, sideburns, etc.
The main idea is not to be shy to grow a long beard. By going with the right type of haircut and incorporating certain stylistic concepts, such as taper, fade, line-up, shape-up, etc., you can look as young and fresh as ever.
It's okay to not know where to start when you haven't grown a long beard before. However, you'll surely have quite a few ideas to experiment with and make your short hair with a long beard look different from the rest.
25 Short Hair with Long Beard Styles to Go For
1. Short Brown Hair with Long Red Beard
If your hairline is thinning, make up for it with your long yeard beard that hangs more than 20cm below your face. A side-parted hair and beard look great with a thick and overgrown mustache.
The beard is squared in shape and the sideburns are trimmed shorter. The contrast between brown hair and red beard and orange mustache blends perfectly and does not look awkward at all!
2. Soft Part Wavy Hair with Two-tone Beard
Make this short hair with long beard stand out by contrasting their colors. As you can see, the hair is soft parted from the side with a bunch of wavy hair swept to the other side. The beard is yellowish, long, and narrowed near the end.
3. Side-swept Undercut with Messy Red Beard
Can't seem to be able to tame your red beard? How about you let it do its thing and wear the messy look with pride, and rather focus on your hair? It's a typical undercut with faded sides and long hair on the top that you will brush to a side.
4. High and Tight Haircut with Grey Garibaldi Beard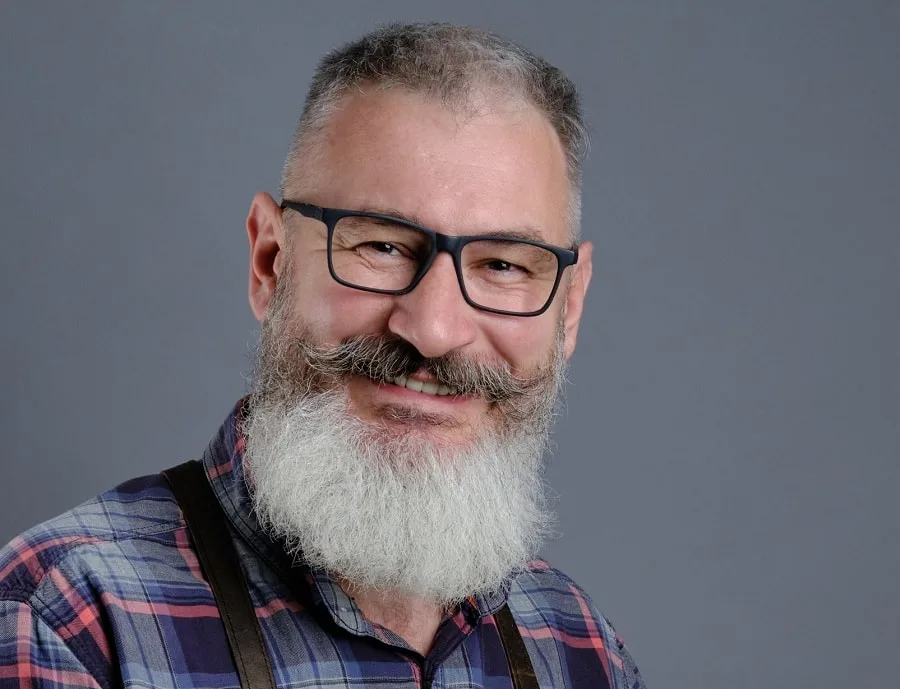 Don't let your grey or white hair scare you. Instead, go for a killer look as you grow a big and powerful Garibaldi beard topped off with a beautiful handlebar mustache. For the hair, a high and tight haircut would be the ideal choice.
5. Mohawk Haircut with Wavy Beard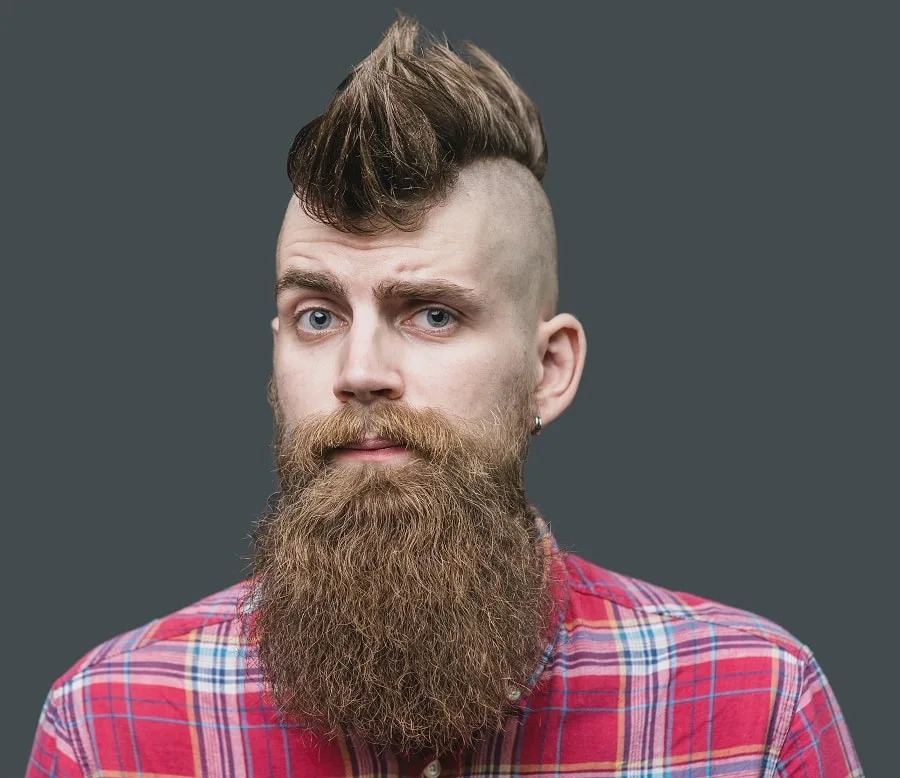 This look is worth at least a second glance due to that monument mohawk on the head. To go well with your short hair is a long and wavy beard that's tapered on the sides. The tapered sides make it look even longer.
6. Short Fringe with Scraggly Beard and Trimmed Mustache
For the perfect short hair with long beard look, you'd want to pick a short fringe haircut. It's a clever hairstyle for those with a receding hairline. Go full-out with your beard that's several inches long with slightly scraggly sides, but a very neatly trimmed mustache.
7. Curly Fringe and Tapered Sides with Curly Beard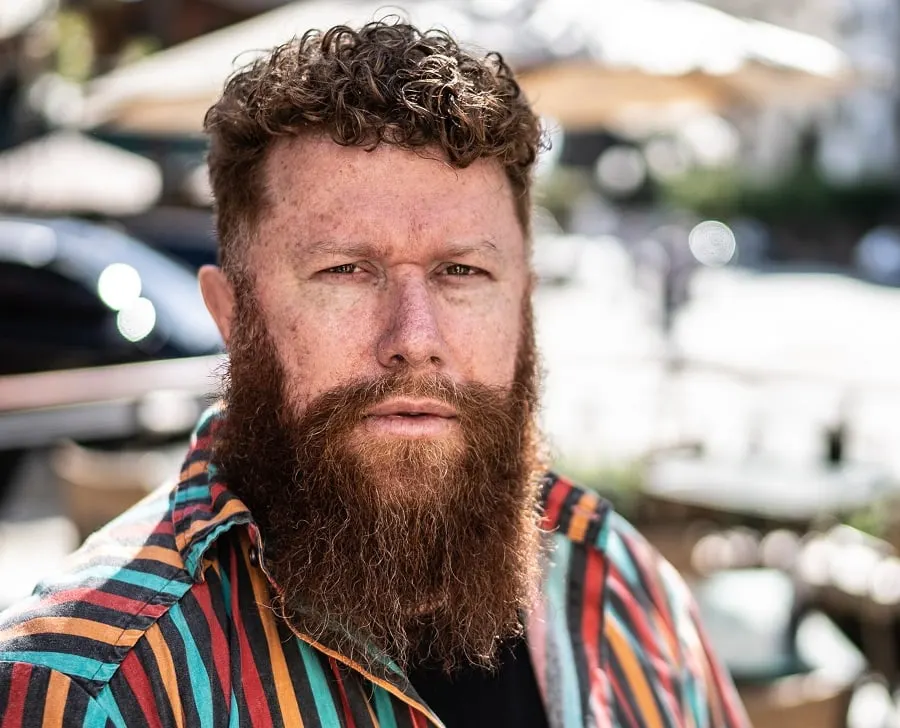 Flaunt your curls as you keep the hair on the top just long enough to show the curls. Let a few fringes fall on the forehead if you have a rectangular or oval face. Pair short haircut with a long and curly beard.
8. Short Hair with Heavy Sides with The English Mustache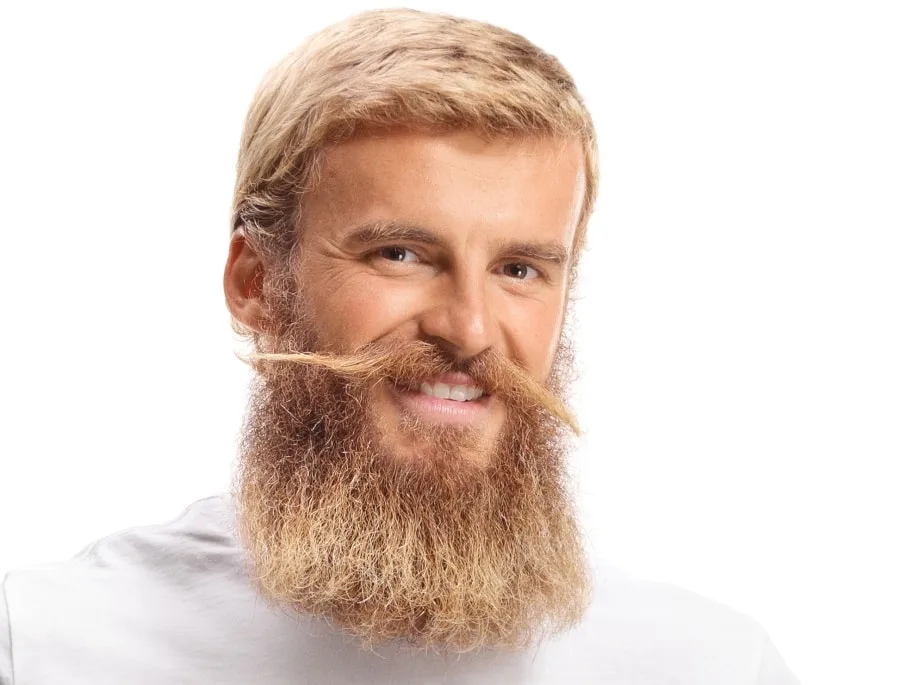 Short hair shouldn't always mean tapered or faded sides, as is the case with this style. The sides are heavy as the hair falls on the ears. The long beard is great but it's the English mustache with its straightened ends that steals the show.
9. Soft Parted Grey Hair with Braided Beard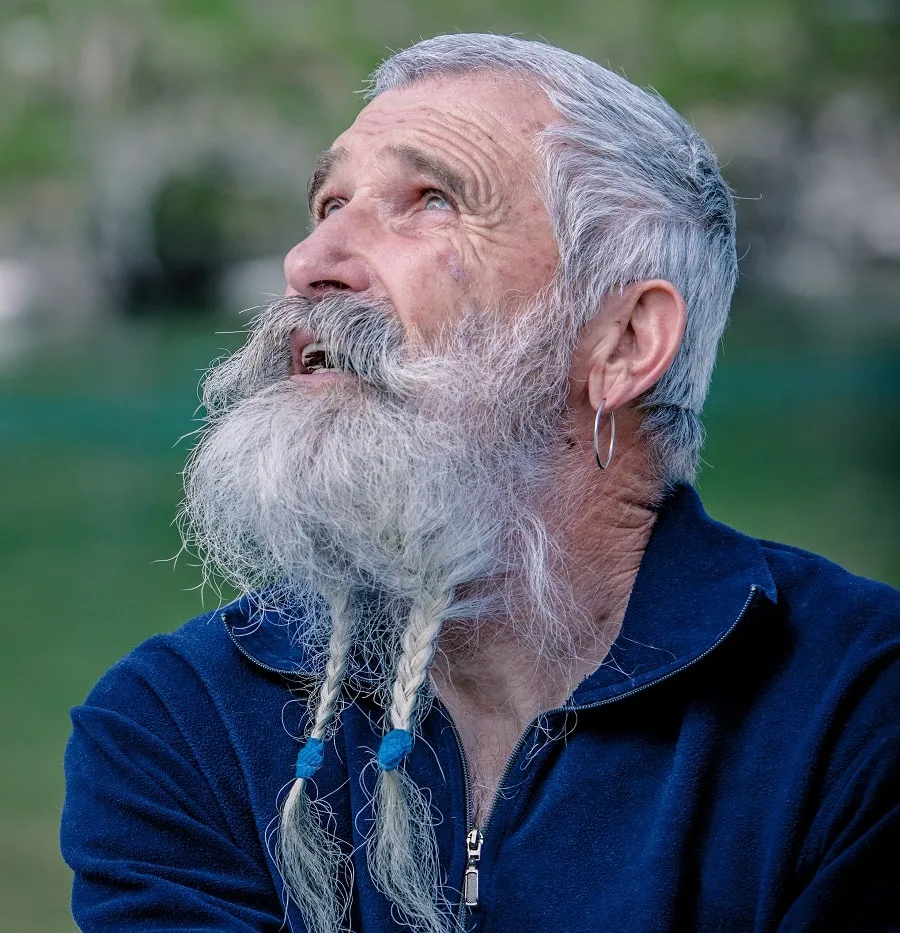 When your hair is just long enough that it naturally falls in a particular direction, you can style it with your fingers for a soft part. Pair this short hair with a long beard with braids. Also go for an overgrown mustache that looks like two caterpillars.
10. Slick Back Hair with Petit Handlebar
This hairstyle deviates only slightly away from a disconnected undercut. The sides are not bald faded, but the top is long and slicked back. Support your long beard with a petit handlebar that's noticeable without going overboard.
11. Tapered Side Part with Two-tone Red Beard
Sometimes, nature gives you a style before you even try one yourself. Here, the hair is traditionally tapered on the sides with a clear side part. The beard is long and red, but has tones of blond and almost bleached hair to make it unique.
12. High-fade Crew Cut with White Garibaldi Beard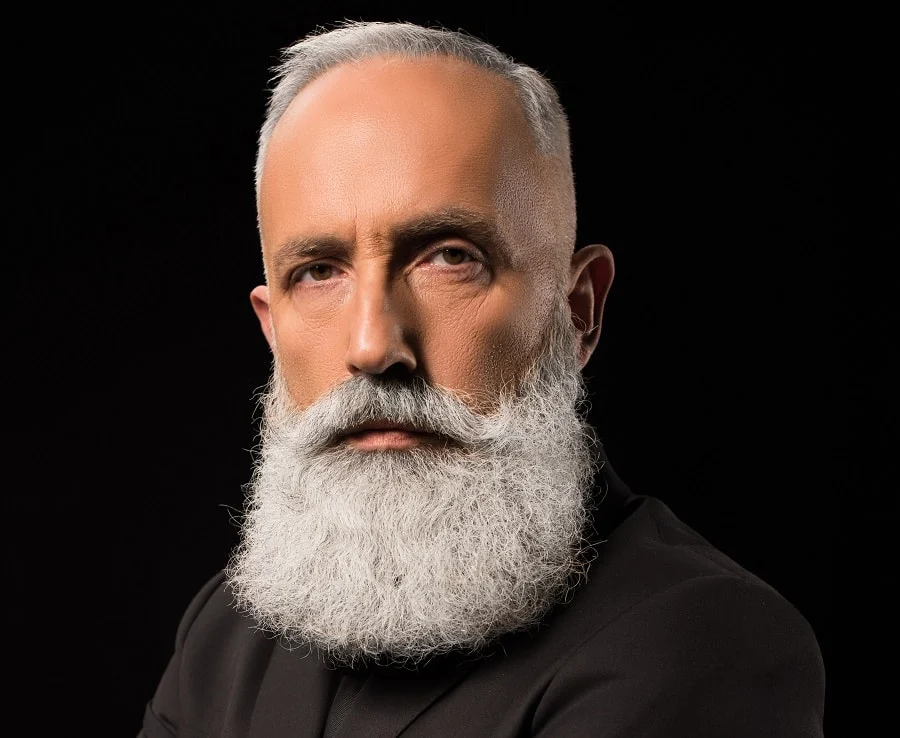 This short hair with long beard style is especially for older men out there. The beautiful Garibaldi beard has all of its sides neatly trimmed. There's a mustache with curved ends but it camouflages into the beard. As for the haircut, go for a high-fade crew cut so it looks trendy as ever.
13. Mid-taper Faux Hawk Hair with Power Beard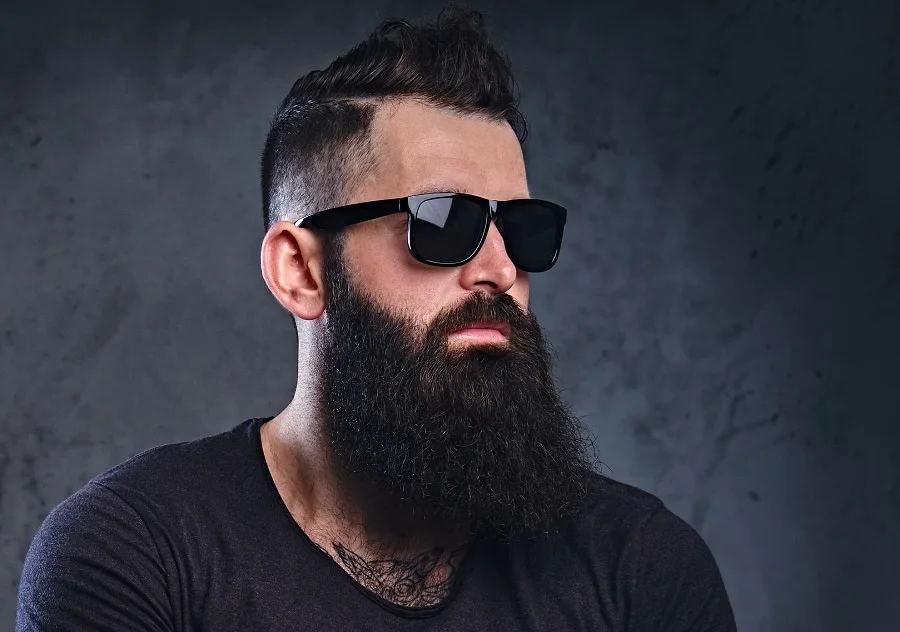 A faux haircut with mid-taper on the sides is bound to look different, but it gets even more impressive when you pair it with a power beard. A thick and dark beard with proper trimming gives you a power look.
14. Caesar Cut with Trimmed Curly Beard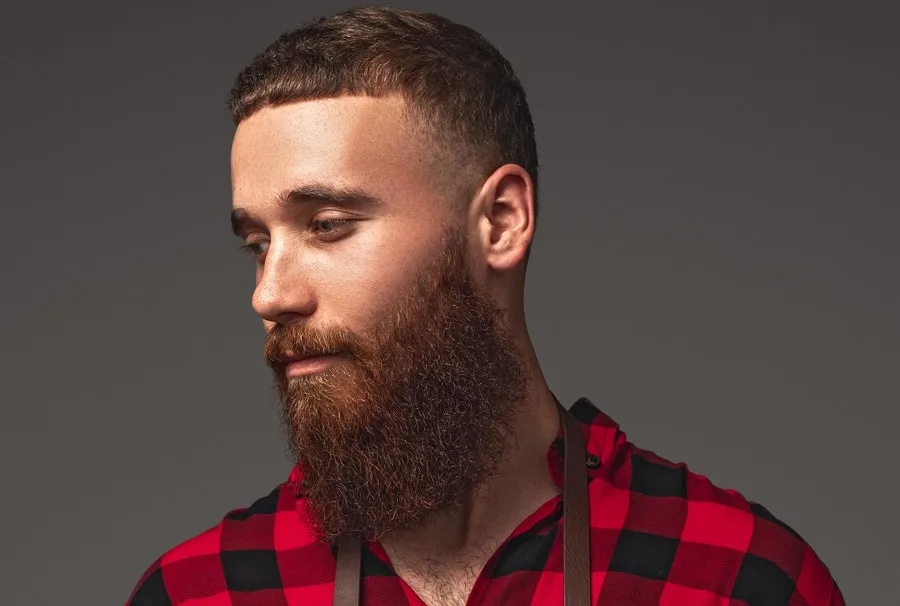 It's the classic Caesar's cut with short fringes covering a very small part of your forehead and some fading on the temples. The beard is curly but very well-trimmed to keep the sides in check and give the beard a clear outline.
15. Wavy Disconnected Undercut with Tapered Beard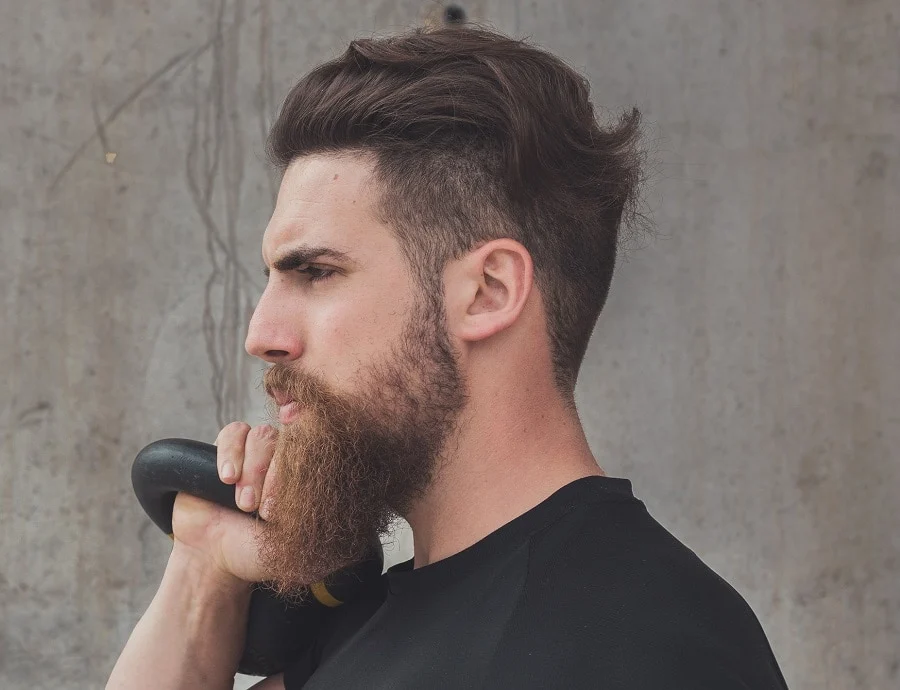 You can admire quite a few elements of this style starting with the disconnected undercut, a brushed back look with wavy hair ends. The sides of the head and the beard have been cleaned using the same clipper for a consistent look.
16. High-fade Hard Part with Coily Beard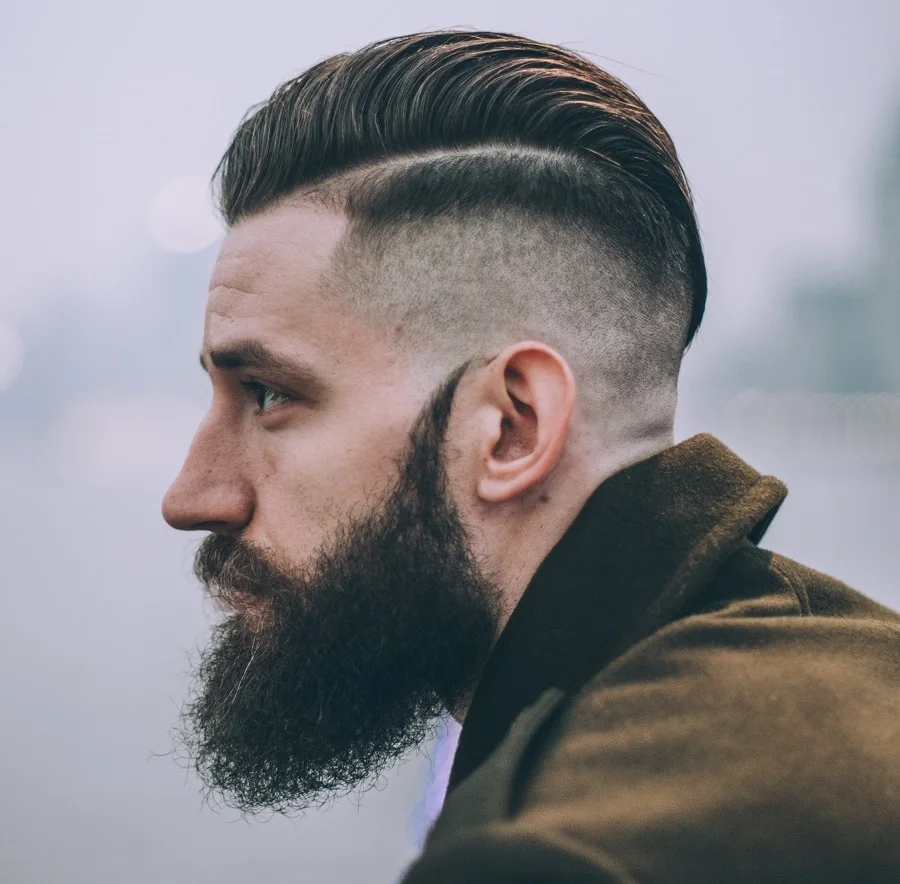 There isn't much you can do when your beard hair is coily. However, you can grow a long beard and trim the sides for it to look clean. You can put in the rest of the work on your hair by going with a high-fade and hard part to look sharp and neat.
17. Buzz Cut with Ducktail Beard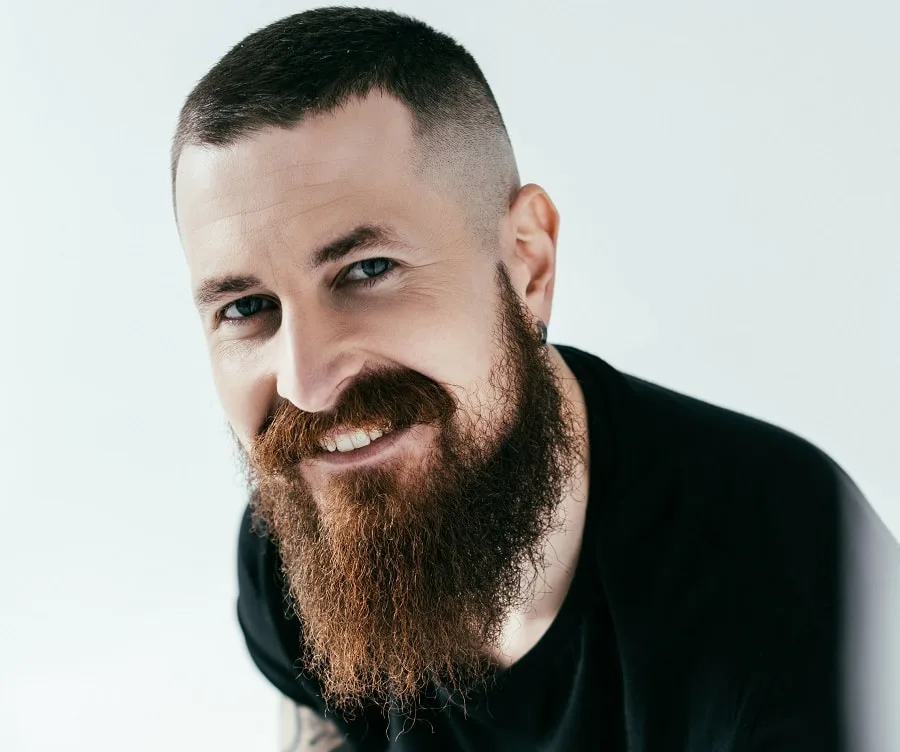 Growing a long beard with patchy sides usually gives you a ducktail beard, which is a great beard to have for a rounded face. To further enhance this short hair with long beard look, you can opt for a buzz cut with mid to high-fade on the sides.
18. Short Coiled Hair with Thick Rounded Beard
It's quite a well-rounded look and should suit an oblong or rectangular face. The hair is coiled and short with consistent hair length throughout. The beard is long, thick, and rounded–almost like a semi-circle.
19. Preppy Haircut with Pointed Beard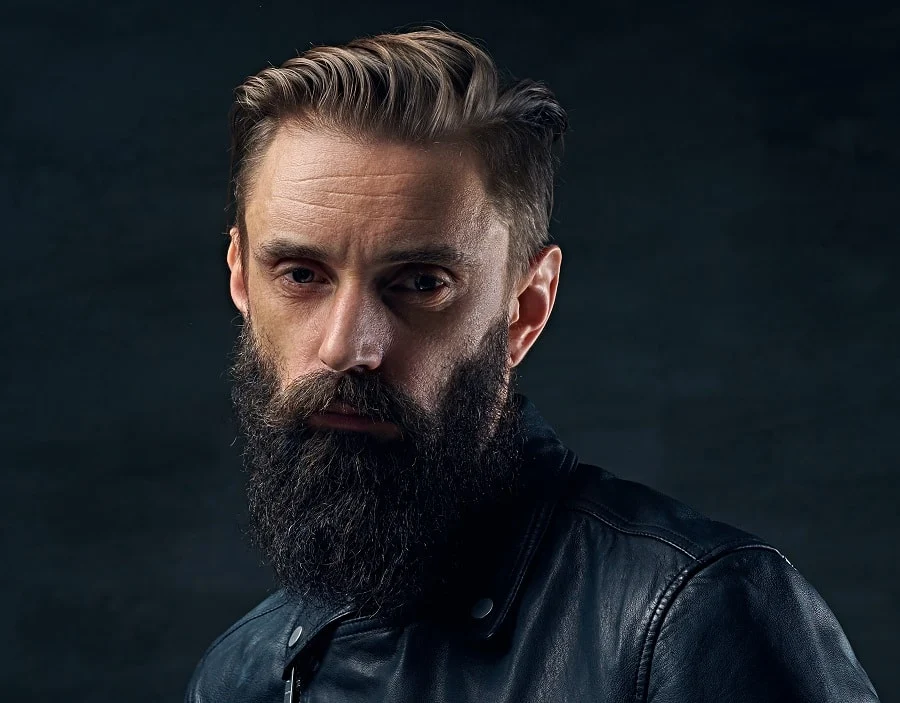 It's a great combo of not only hair and beard styles, but also colors. The hair is blonde whereas the beard is black. You can call it a preppy haircut due to moderately tapered sides and properly combed hair. The beard is slightly pointed near the end.
20. Balding Hair with Wavy Beard and Handlebar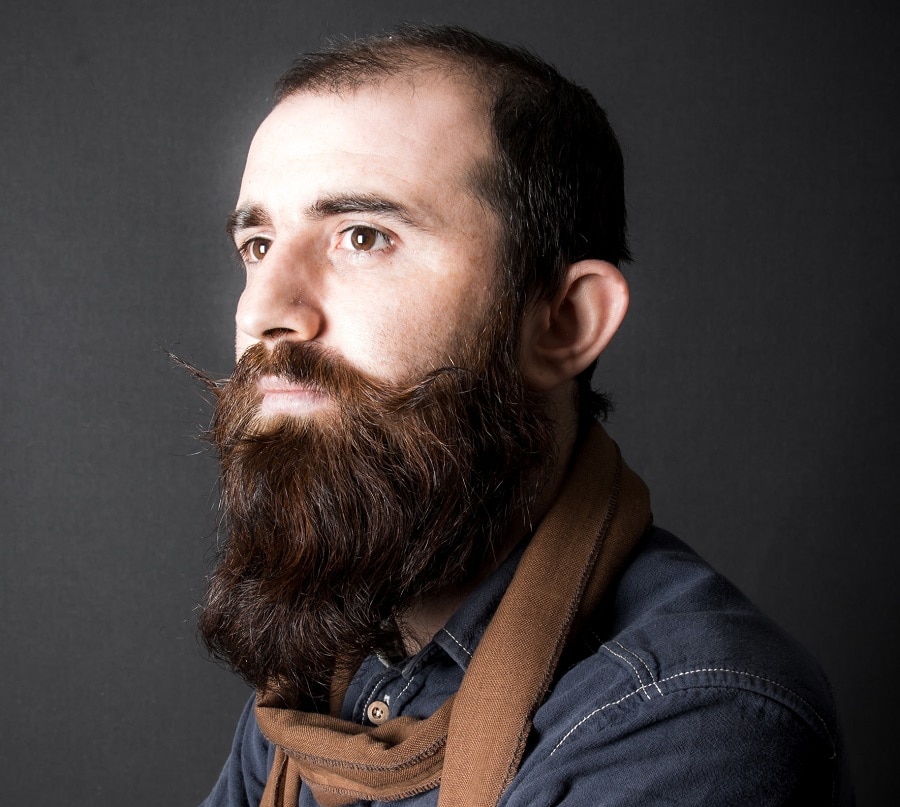 You can keep your sides and back a bit heavy when you still don't have a completely bald top. Of course, make up for it with a big, thick, long, and wavy beard. Get 100% of people's attention to your face with a handlebar that goes extend beyond your face's outline.
21. Mid-fade Crew Cut with Very Long Beard
Make your short hair stand out by going all out to grow out your beard as long as you can. It's a very long beard style that falls in the middle of the chest. Combine it with a crew cut with mid-fade on the sides and back.
22. Soft Part Wavy Hair with Red Beard
There's nothing too dramatic about the hairstyle here. It's a soft-parted wavy hair with sides long enough to cover the ears a little.
23. Butch Cut with Mid-length Full Beard
It's a full beard, but not a long beard per se. What makes this beard is the whitish outline created by grey hair on the outer edges. The hair on the inner edges is still black. This mid-length beard goes well with a butch cut that has a consistent yet short length on the head.
24. Side Swept Fringe with Hipster Beard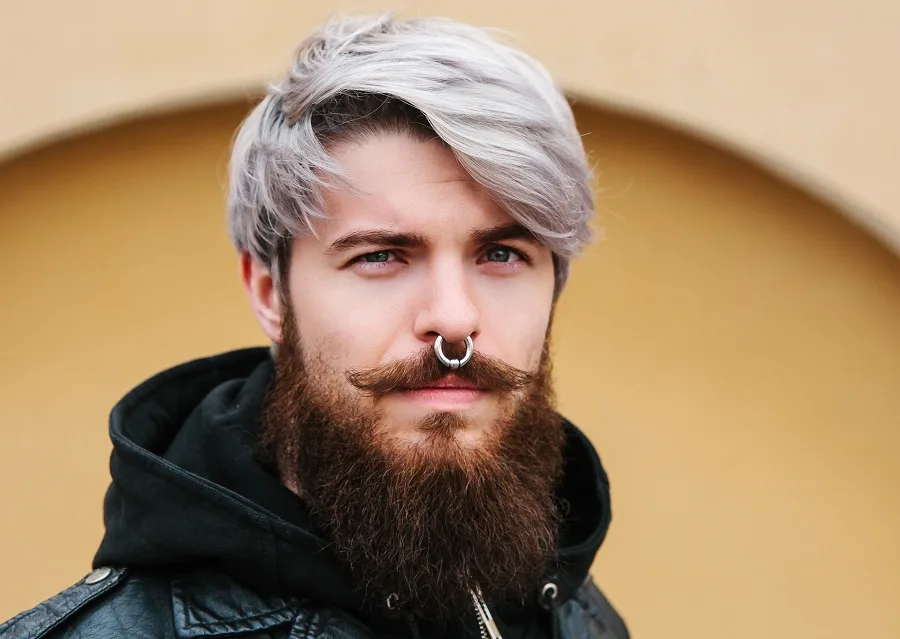 To get this hairstyle, you'll have to color your hair silver. It's quite a clever style with a soft part to separate the short and long fringe. The hipster beard contrasts with the hair on the head and a small pyramidal mustache complements it.
25. High and Tight Slicked Hair with Straightened Beard
You can pick it as the most unique one in our short hair with long beard styles. This style gives a full view of the face despite the long beard because of the high and tight hairstyle that's brushed and gelled. The beard is long and very straight–probably also with the help of gel.
No matter your age, hair color, or face shape, with these 25 short hair with long beard inspirations, you can surely find something that makes you stand out from the crowd.