Billy Gibbons beard is a distinctive characteristic of his look as the lead guitarist and vocalist of the iconic band ZZ Top. The legendary Billy Gibbons beard style has become a trademark in itself and is vividly recognized as a signature beard in the history of rock music. Widely termed as texas-goatee
Billy is known for giving extra attention to his beard, using specialized beard grooming products and techniques to keep it in its prime shape. What's even more interesting is the fact that Billy Gibbons beard is insured by Lloyds of London which shows the amount of respect and appreciation he has for his beard.
Despite its standing among celebrity beards, it is beyond doubt that Billy Gibbons' beard is an iconic mark of rock and roll history, and has influenced countless musicians and fans to grow beards in tribute.
When Did Zz Top's Billy Gibbons Grow Beard?
Although the ZZ top was founded in 1969, Billy Gibbons began to grow his iconic chest-long beard in 1979. Throughout his career, Billy sported various facial hair styles but it was only during the late 1970s when he started to grow his distinguished beard that would later on become synonymous with ZZ Top. While talking in an interview with GQ, Billy revealed that he and his bandmates were on a break after a long tour, where he decided to let his beard grow.
Surprisingly, when the band regrouped in 1972, the other bandmates were also wearing beards, and just like that they decided to keep the look as a part of their band's identity. Their beards, especially Billy's emerged to be a symbol of ZZ Top and became a defining trait of the band ever since.
Has Billy Gibbons Ever Shaved His Beard?
Based on what is known, Billy Gibbons has never shaved his beard after 1979 when he started to sport his iconic beard. His beard grew in length and thickness as it continued to grow over time and eventually became a signature beard.
Nonetheless, there is a famous story of an offer made to Billy to shave his beard. Gillette the famous brand made an offer of a whopping $1million to shave his beard for their brand promotional campaign. Even though he almost considered the offer, he declined the offer stating that he considers his beard as a part of his identity and that it could jeopardize his image and persona.
How Long Will It Take To Grow A Beard Like Billy Gibbons?
Ideally, it should take 8-12 months to grow a beard like Billy Gibbons. However, how fast you can grow your beard may vary depending on certain factors like genetics. But with proper care, regular grooming, and maintenance, 8-12 months time is enough to wear a beard style that will look like the one Billy Gibbons.
Billy Gibbons Beard Styles
1. Ginger Beard With Rough Texture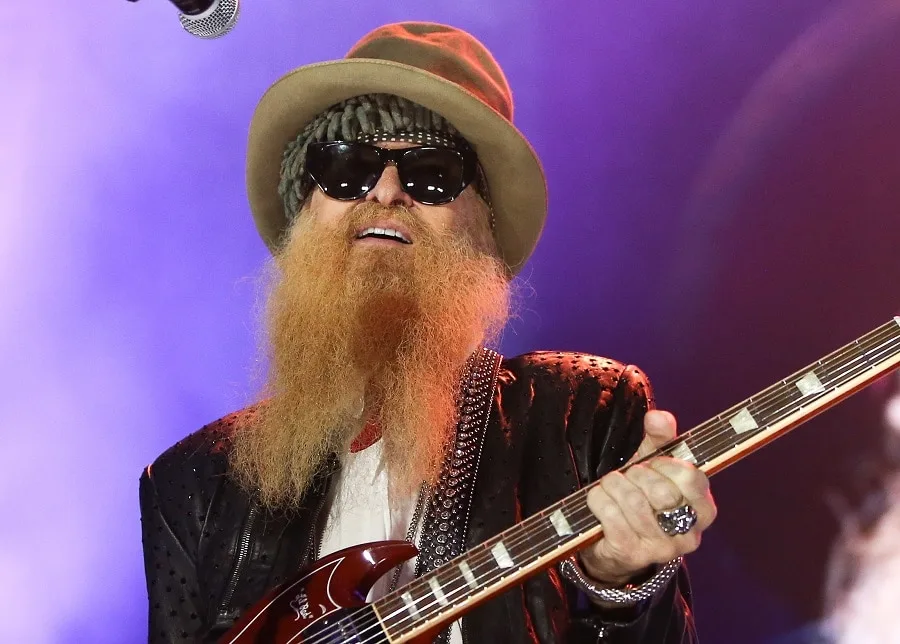 Billy Gibbons has had his iconic bushy, ginger-colored beard with a rough texture for many years, and continues this style to this day. This beard style is famous for its thickness, longer length, and color.
2. The Big Bushy Beard With Chest Long Length: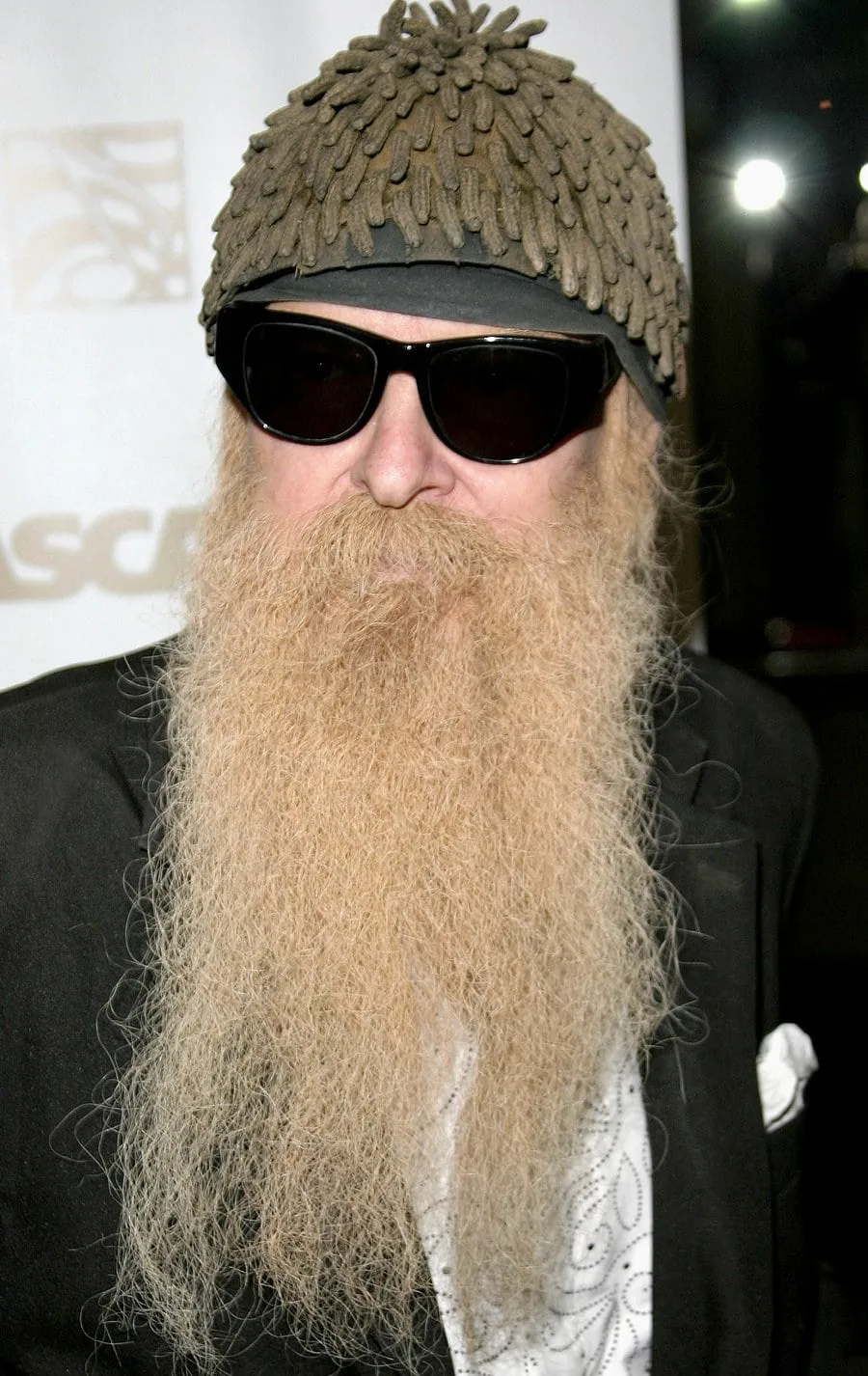 With its thick, chest-long, and lush beard, Billy's beard is a distinctive trait of his appearance. Even though it is well-groomed and shaped properly, it can, at times, appear wild and untamed. What makes the beard even more intriguing is its silver-grey hue. The texture of the beard is slightly rough which adds essence to its overall look.
3. Long Wild Beard with Sandy Brown Colour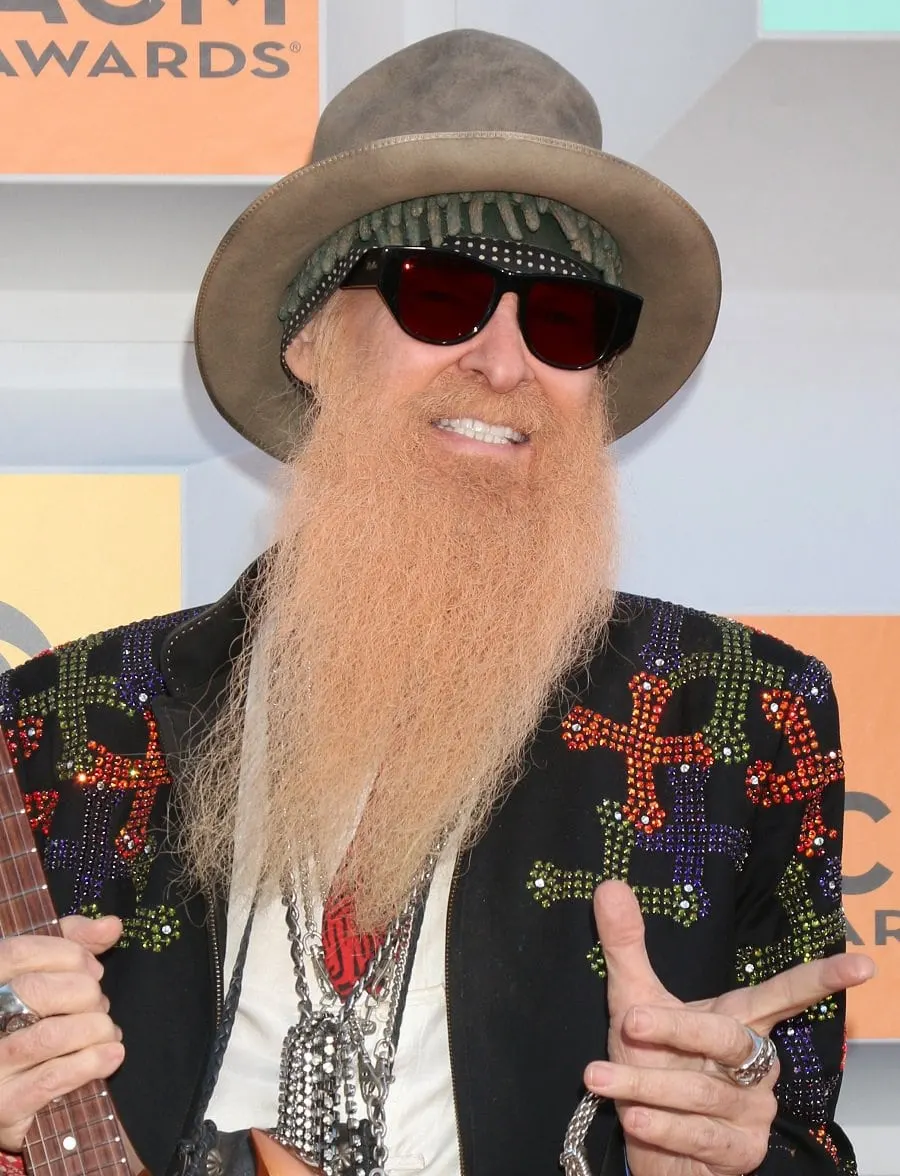 Billy Gibbons' long wild beard is incredibly thick and long, with a shaggy, curly texture that sends out a rough and rugged vibe. Its sandy brown color adds value to its entire wildness and it extends sometimes to his chest.
4. Naturally Straight and Long Beard with Dark Reddish-Brown Color
p.c.9021.uhoh/Instagram
In his early years of growing a beard, Billy's beard gave a dark brown shade with rich texture and slight curls. Despite its lengthy look, the beard is well-groomed and nicely trimmed around the edges. This style proved to be an integral part of his reputation as a rock musician in his early years.
Recommended For You:
Jim Morrison Beard: 4 Iconic Styles and How to Rock Them