A braided beard can transform your look from that of an Average Joe to a village-raiding, sword-swinging Viking. However, few men know how to braid hair, and even fewer know how to braid beards!
Fortunately, we've compiled some of the best tips and tricks for braiding a beard, as well as a list of the most popular braided beard styles.
Braided Beards — The Essentials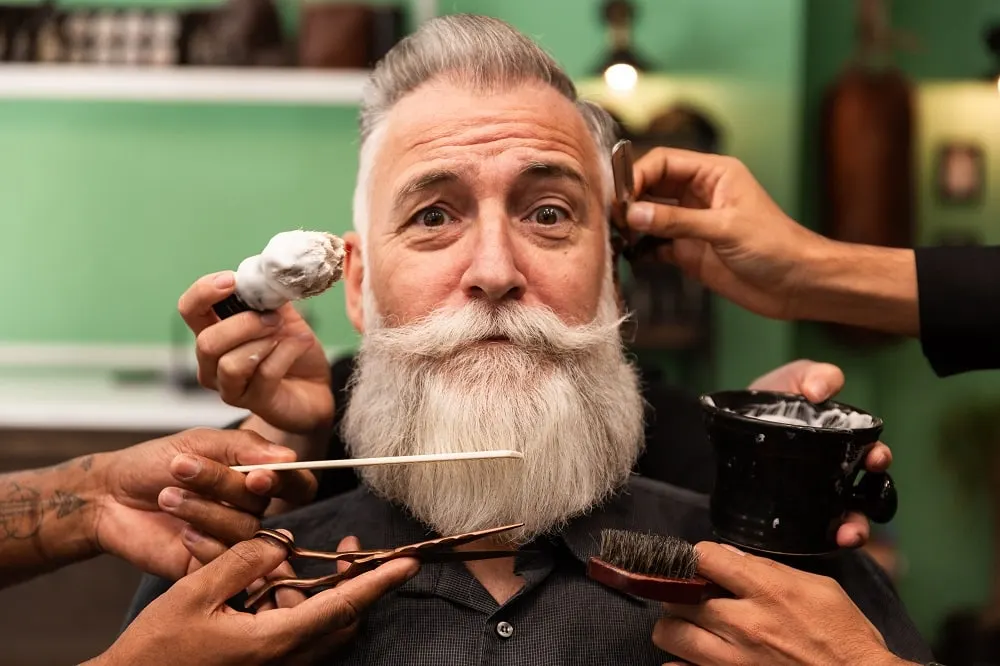 The length of your beard represents the most crucial factor when trying to braid it. You will need to grow out your beard to a length of at least 3 or 4 inches to create even the simplest braid. You should also keep your beard clean and healthy to make it easier to braid.
It takes considerable effort to maintain a beard properly. If you have just started sporting one, check out the following tips to help you groom your beard the right way.
Wash
Wash your beard regularly to ensure your beard stays free of dust and avoids damage due to external factors, like pollution. Try a couple of different shampoos until you find one that suits your beard type.
Oil
Look for a high-quality beard oil to strengthen your beard from the roots. Alternatively, you can also purchase beard balm. Beard balm usually produces the same effects as beard oil.
Comb
Comb your beard regularly. It helps maintain beard growth and keeps it from looking scruffy. It also spreads your natural oils from the roots to the tips.
Trim
Know when to trim your beard. Beards often grow unevenly, and improper grooming can have an adverse effect on the shape of your beard.
Shave
Shave your facial hair near the eyes and below the neckline. Shave other parts of your face to create an edge.
How to Braid Your Beard Yourself
If you like, you can seek professional help to braid your beard. However, if you feel you can do it yourself, we've broken up the process into 8 steps to help you to braid your beard in the most basic way possible.
Comb your beard to make sure it remains free of entanglements. You can use a smoothening cream or beard oil to complete the task more efficiently.
Select an area of the beard you wish to braid and separate it into three different strands.
Use one hand to hold the left strands and your other hand to hold the middle and right strands. When holding two strands in one hand, keep them separated with a finger.
Pull the right strand over the middle strand, but stop short of the left strand.
Pull the left strand over the middle strand, but stop short of the right strand.
Repeat steps four and five until you achieve the desired braid length.
Use colored rubber bands or beads for extra flair.
Follow steps 1-7 on other areas of your beard.
Popular Braided Beard Styles
The braided beard trend has come and gone for centuries. Whether you do it yourself or retain the services of a professional, deciding on one of several different beard braiding styles will change the way you look. Discover some of the most popular ways to braid your beard below.
1. Long Braided Beard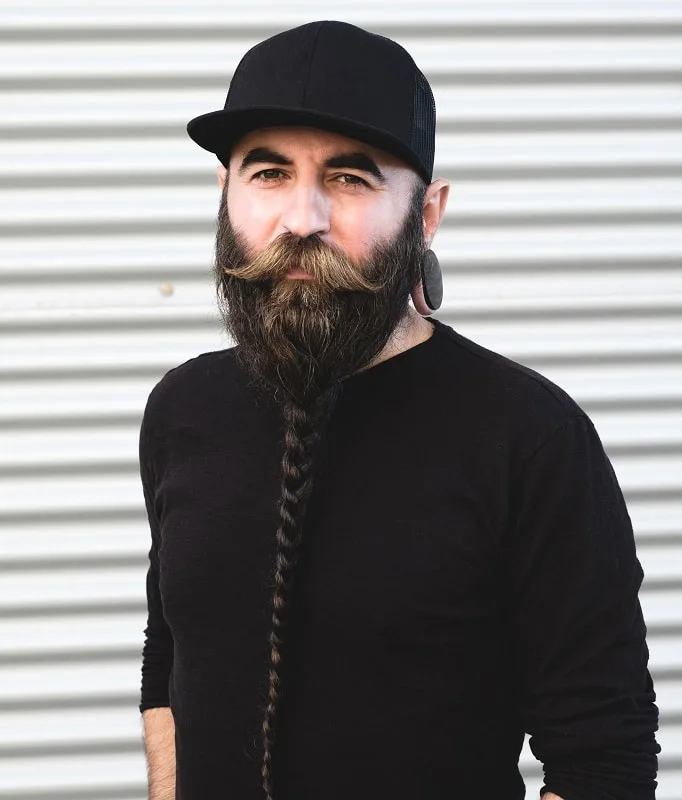 Long-braided beards represent one of the single-braid beard styles. Start braiding right below the chin and keep going until you use the entire length of your beard. Comb the rest of your beard for a well-groomed look.
2. Whisker Cornrow
This style requires a thick beard with a lot of volume to pull off. It involves braiding your sideburns and merging them into one long braid below your chin or letting them loose individually. Cut off excess hair wherever necessary.
3. Braided Beard With Beads
Add beads to your beard to make it more eye-catching. Try switching up your bead colors to match your outfit or express your mood. Tie additional, smaller braids to increase the number of beads you can use. Alternatively, you can pull the whole braided beard together with a large centerpiece bead.
4. Long Goatee Braid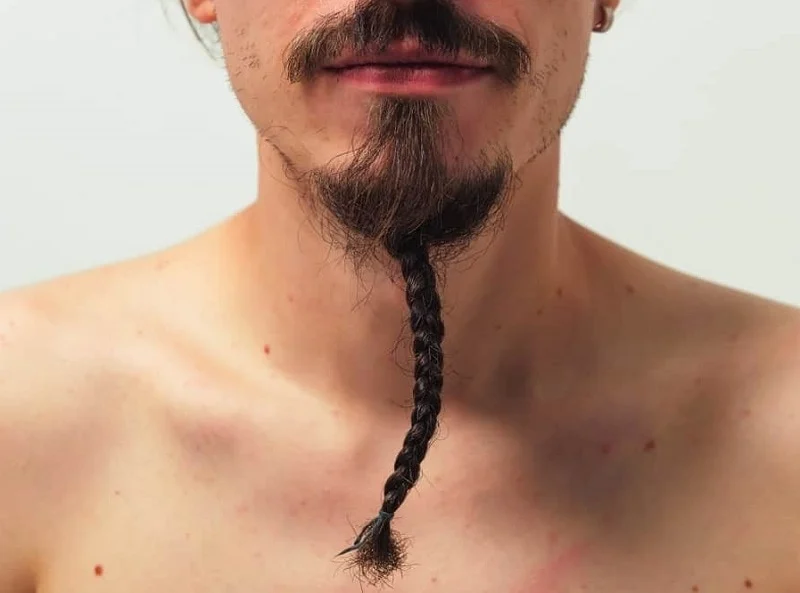 A popular choice among youngsters, the long goatee braid represents one of the most stylish braided beards looks. You need to grow a long goatee for this braid type and trim or shave the rest of your beard.
5. Braided Viking Beard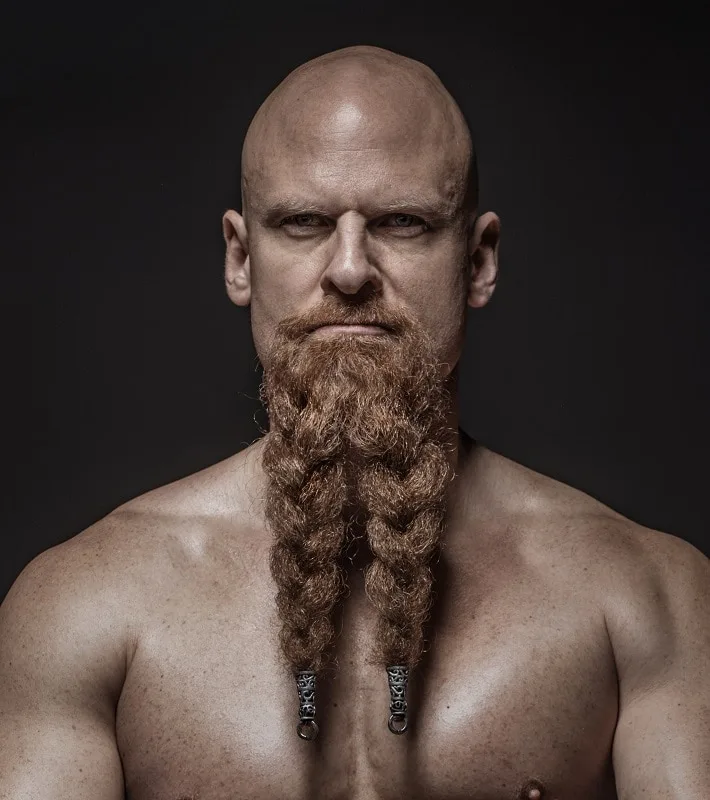 This style of braiding creates one of the best Viking beards you can wear. You need to grow a long, thick beard to achieve. Tie two separate braids, one on each side of your chin. Braid the two strands to their maximum lengths and comb out the rest of your beard for that ferocious Viking look.
6. Loose French Beard
You need to own a nice, thick beard for the loose French beard style. Braid your beard as you would for a long braided beard and loosen up the strands. This style creates a rustic look, so you'll need to properly maintain the rest of your beard to pull it off.
7. Fishtail Braided Beard
To achieve this style, braid your beard and cover it in the front with a thick, free beard. Make sure you shape your cheek line when wearing this braided beard style.
8. Ponytail Beard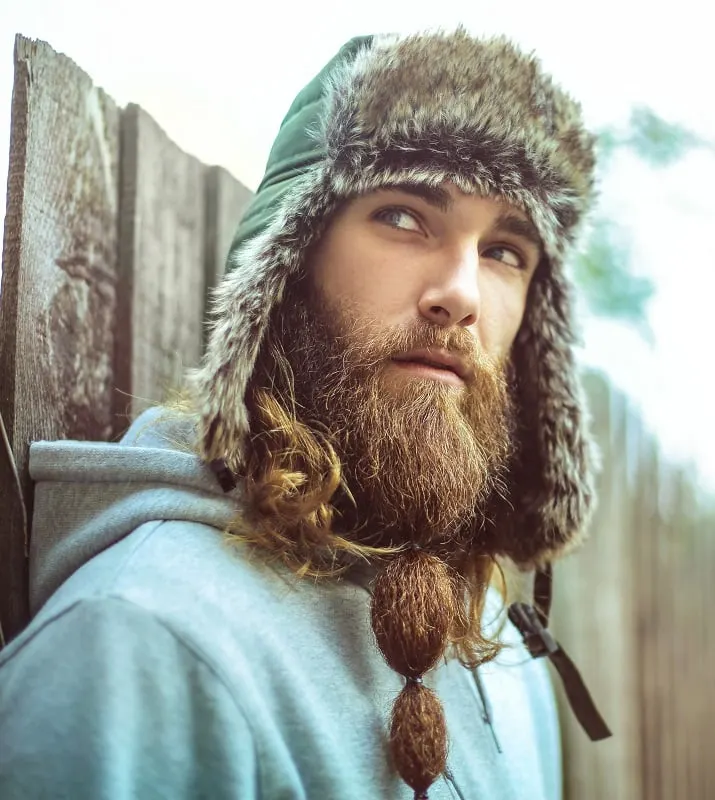 Use a rubber band to create a beard ponytail. This style requires a lot of facial hair. Comb down the beard and add a rubber band or decorative thread to fasten it all together.
9. Zigzag-Inspired Braid
Feeling a bit more adventurous with your beard? Embrace your inner trendsetter with the Zigzag Braid style. This intricately braided masterpiece is perfect for those with longer and thicker beards. It deviates from the conventional braid, showcasing a distinctive zigzag pattern that demands attention and adds a touch of artistic flair to your facial hair.
10. Chin Curtain with Braid
Why not blend two styles into one for a unique aesthetic? The Chin Curtain with Braid does just that. With a full, thick chin curtain as its base, this style incorporates a single braid at the center, adding an interesting focal point. Ideal for men with a naturally robust beard growth, this look strikes a balance between rugged and refined.
11. Mustache with Braid
Get ready to reinvent your classic mustache by adding an unexpected braided element. For this style, grow out your mustache to a considerable length and then braid a small section in the middle. A small band or bead can secure the braid, offering a one-of-a-kind twist to the traditional mustache. Perfect for those seeking a standout look with just a hint of whimsy.
12. Soul Patch Braid
For a minimalist yet quirky touch to your facial hair, consider the Soul Patch Braid. Allow your soul patch to grow until it reaches an appropriate length for braiding. Once you've created a small, tight braid, secure it with a small band or bead. This style is well-suited for individuals with sparse facial hair or those who prefer a subtle statement.
13. Inverted French Braid
Dare to be different with the Inverted French Braid, an artistic spin on the classic French braid. Starting at the chin and working your way up, add strands from the sides as you progress. This innovative approach to braiding works wonders for those with long, thick beards, providing a fresh and eye-catching look.
14. Box Braid Style
Bring a touch of modernity to your beard with the Box Braid Style. Dividing the beard into small, square sections, each individual braid creates a uniform and structured appearance. This contemporary style works best for individuals with thick, full beards, adding an avant-garde edge to your look.
15. Eye-Catching Braiding
If you're all about making a statement with your beard, the Eye-Catching Braiding style is right up your alley. Head to your local barbershop and request a stylish and intricate braided design. Ideal for those with full, thick beards, this show-stopping style will undoubtedly turn heads and spark conversations.
16. Accessorized Beard
For those who find braiding challenging but still want to achieve a similar look, the Accessorized Beard is the perfect alternative. Divide your beard into several sections and use accessories like rings or beads to create a visually appealing style. This technique allows you to add personality to your beard while keeping the process simple and manageable.
17. Multiple Braids and Beads
Why settle for one braid when you can have several? The Multiple Braids and Beads style features an adventurous vibe that single braids can't match. Create several braids in your beard, adding beads for a touch of island flair. This look is perfect for beach trips or warm-weather destinations.
18. Subtle Braid on a Full Beard
For a more understated look, try the Subtle Braid on a Full Beard style. Grow out a full and scruffy beard, and add a small braid at the center of your chin. This style offers a unique and creative touch without being overly flashy. It's perfect for individuals who want to add just a hint of flair to their facial hair while still maintaining a rugged and masculine appearance. Secure the braid with a small band or bead for added visual interest.
19. Petite Braid
For those with a smaller beard, the Petite Braid style is an excellent way to add some texture and interest to your facial hair. Simply weave a few strands of hair into a small braid and secure it with a small band or bead. This style may be small, but it packs a big punch.
20. Twin Braids
The Twin Braids style is a great way to switch things up and add some excitement to your beard. Instead of one large braid, create two smaller ones on either side of your beard. If you have a longer mustache, incorporate it into the braids for a unified and stylish look.
21. Extension-Enhanced Braids
Shorter facial hair doesn't have to limit your styling options, thanks to the Extension-Enhanced Braids style. This look combines French, twist, and bubble braid styles, incorporating extensions for added length and texture. Use hair ties to create structured bubbles and add a touch of flair to your beard.
22. Double Twist Braids
For those with thick and tangled beards, the Double Twist Braids style is an excellent option. Begin by detangling your facial hair and separating it into two sections. Then, create a three-strand braid all the way down, adding extensions as needed. Secure the ends with an elastic band for a neat and tidy appearance.
23. Triple-Braid Style
Divide your beard into three sections and create individual braids in each, resulting in the Triple-Braid Style. This look is perfect for those with full and thick beards, as it adds texture and interest to the facial hair. Secure each braid with small beads or bands for a long and impressive fishtail appearance.
24. Low French Braid
The Low French Braid style is a Viking-inspired look that begins at chest level rather than at the chin. This style is perfect for those with long beards and adds a striking and eye-catching appearance. Incorporate extensions for added length and texture, and use hair ties to create a structured look.
25. Ponytail-Braid Combo
For those with a thinner beard, the Ponytail-Braid Combo style is a unique way to switch things up. Divide your beard into small sections and secure each with elastic bands, creating a ponytail-like appearance. This style is impressive and sets you apart from the crowd.
26. Braided Bangs
If you have longer facial hair that covers your forehead, try the Braided Bangs style. Part your beard in the middle and create a braided section on either side, securing each with a small band or bead. This style is perfect for those who want to add interest to their beard while keeping their forehead free from hair.
27. Celtic Braid
Embrace your inner Celt with the Celtic Braid style. This intricate braid features a series of smaller braids woven together, creating a complex yet visually stunning appearance. Perfect for those with longer, thicker beards.
28. Bold Braids with Sideburns
Combine bold braids with stylish sideburns for a unique look that's sure to turn heads. This style features a single braid at the chin and multiple braids along the sideburns, creating a striking and eye-catching appearance.
29. French Braid Goatee
Add a touch of sophistication to your goatee with the French Braid Goatee style. This style involves braiding the goatee in a French braid style, creating an elegant and refined appearance.
30. Simple Three-Strand Braid
Sometimes, simplicity is best. The Simple Three-Strand Braid style is a classic and straightforward approach to beard braiding. This style involves dividing the beard into three strands and braiding them together, creating a clean and polished look.
Half-and-Half Braid
Looking for a unique and daring style? Try the Half-and-Half Braid, which combines a braided section with an unbraided section of the beard. This style works best for those with longer, thicker beards.
Geometric Braids
Add some geometric flair to your beard with the Geometric Braids style. This look involves creating a series of small, intricate braids arranged in a geometric pattern, offering a fresh and modern take on beard braiding.
Colorful Braids
Why not add some color to your beard? With Colorful Braids, you can incorporate vibrant hues into your braids for a bold and eye-catching appearance. This style works best for those with longer beards.
Single Chin Braid
For a simple yet elegant touch, try the Single Chin Braid style. This look involves braiding a single section of the beard at the chin, creating a clean and polished appearance.
Diamond Braids
For a unique and daring look, try the Diamond Braids style. This intricate look involves weaving small braids together to create a diamond-shaped pattern, adding texture and interest to your beard.
A well-maintained beard allows you to braid it in several stylish ways. You can try different styles of braiding based on whether you have a short or long beard length. Experiment with each type before you pick the one you feel will suit you best. We hope this article on how to braid your beard provides you with an idea regarding some of the most popular braided beard types.