A braided beard can transform your look from that of an Average Joe to a village-raiding, sword-swinging Viking. However, few men know how to braid hair, and even fewer know how to braid beards!
Fortunately, we've compiled some of the best tips and tricks for braiding a beard, as well as a list of the most popular braided beard styles.
Braided Beards — The Essentials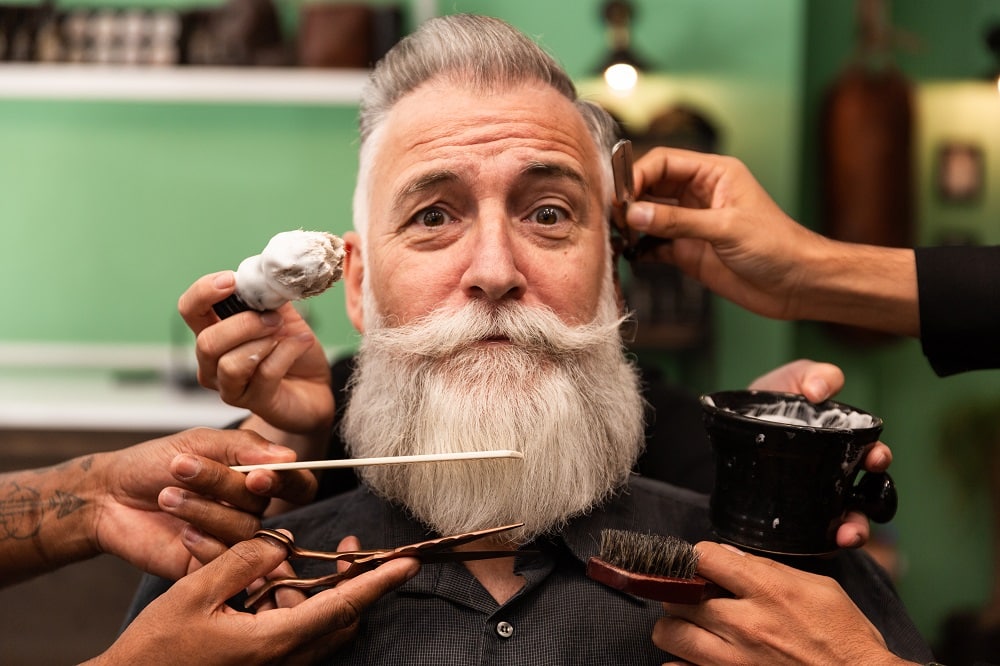 The length of your beard represents the most crucial factor when trying to braid it. You will need to grow out your beard to a length of at least 3 or 4 inches to create even the simplest braid. You should also keep your beard clean and healthy to make it easier to braid.
It takes considerable effort to maintain a beard properly. If you have just started sporting one, check out the following tips to help you groom your beard the right way.
Wash
Wash your beard regularly to ensure your beard stays free of dust and avoids damage due to external factors, like pollution. Try a couple of different shampoos until you find one that suits your beard type.
Oil
Look for a high-quality beard oil to strengthen your beard from the roots. Alternatively, you can also purchase beard balm. Beard balm usually produces the same effects as beard oil.
Comb
Comb your beard regularly. It helps maintain beard growth and keeps it from looking scruffy. It also spreads your natural oils from the roots to the tips.
Trim
Know when to trim your beard. Beards often grow unevenly, and improper grooming can have an adverse effect on the shape of your beard.
Shave
Shave your facial hair near the eyes and below the neckline. Shave other parts of your face to create an edge.
How to Braid Your Beard Yourself
If you like, you can seek professional help to braid your beard. However, if you feel you can do it yourself, we've broken up the process into 8 steps to help you to braid your beard in the most basic way possible.
Comb your beard to make sure it remains free of entanglements. You can use a smoothening cream or beard oil to complete the task more efficiently.
Select an area of the beard you wish to braid and separate it into three different strands.
Use one hand to hold the left strands and your other hand to hold the middle and right strands. When holding two strands in one hand, keep them separated with a finger.
Pull the right strand over the middle strand, but stop short of the left strand.
Pull the left strand over the middle strand, but stop short of the right strand.
Repeat steps four and five until you achieve the desired braid length.
Use colored rubber bands or beads for extra flair.
Follow steps 1-7 on other areas of your beard.
Popular Braided Beard Styles
The braided beard trend has come and gone for centuries. Whether you do it yourself or retain the services of a professional, deciding on one of several different beard braiding styles will change the way you look. Discover some of the most popular ways to braid your beard below.
Long Braided Beard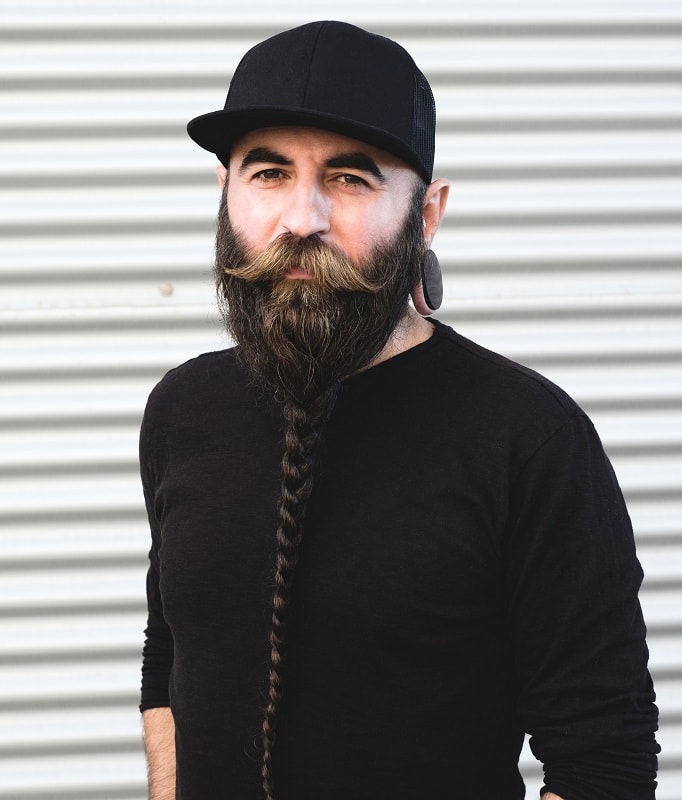 Long braided beards represent one of the single-braid beard styles. Start braiding right below the chin and keep going until you use the entire length of your beard. Comb the rest of your beard for a well-groomed look.
Whisker Cornrow
This style requires a thick beard with a lot of volume to pull off. It involves braiding your sideburns and merging them into one long braid below your chin or letting them loose individually. Cut off excess hair wherever necessary.
Braided Beard With Beads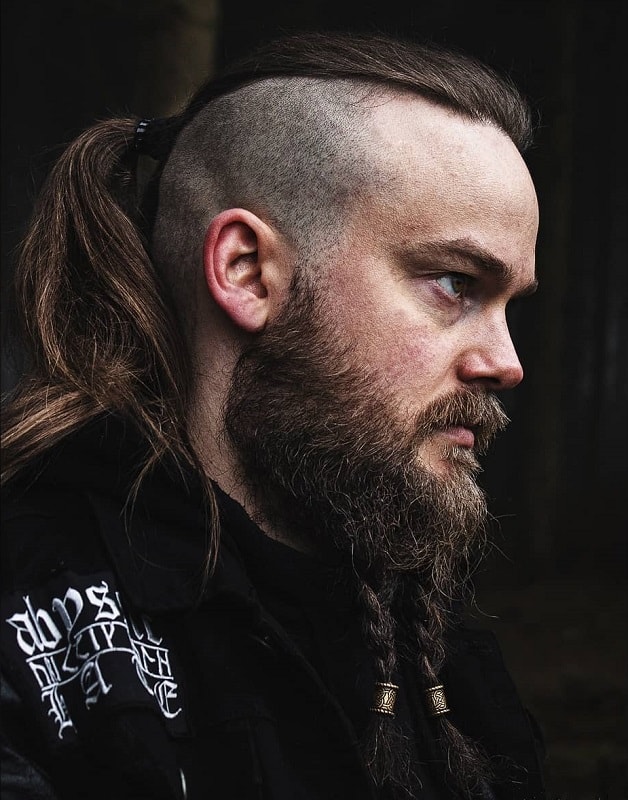 Add beads to your beard to make it more eye-catching. Try switching up your bead colors to match your outfit or express your mood. Tie additional, smaller braids to increase the number of beads you can use. Alternatively, you can pull the whole braided beard together with a large centerpiece bead.
Goatee Braid
A popular choice among youngsters, the long goatee braid represents one of the most stylish braided beard looks. You need to grow a long goatee for this braid type and trim or shave the rest of your beard.
Braided Viking Beard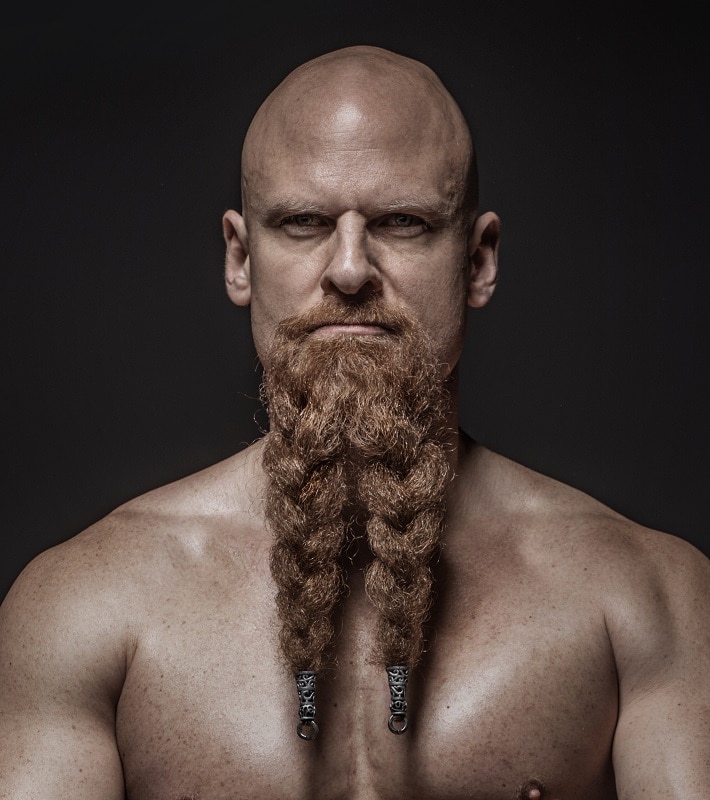 This style of braiding creates one of the best Viking beards you can wear. You need to grow a long, thick beard to achieve. Tie two separate braids, one on each side of your chin. Braid the two strands to their maximum lengths and comb out the rest of your beard for that ferocious Viking look.
Loose French Beard
You need to own a nice, thick beard for the loose French beard style. Braid your beard as you would for a long braided beard and loosen up the strands. This style creates a rustic look, so you'll need to properly maintain the rest of your beard to pull it off.
Fishtail Braided Beard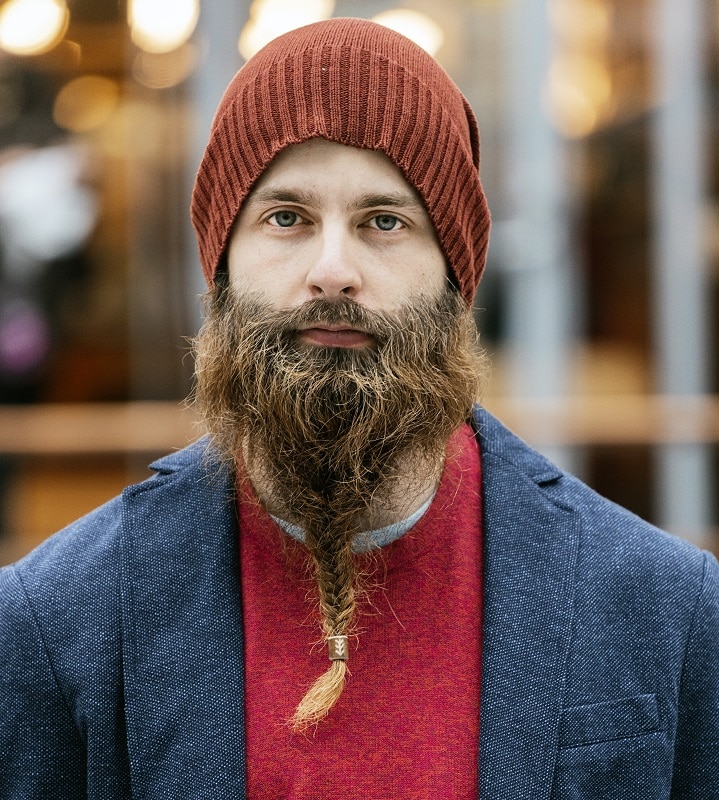 To achieve this style, braid your beard and cover it in the front with a thick, free beard. Make sure you shape your cheek line when wearing this braided beard style.
Ponytail Beard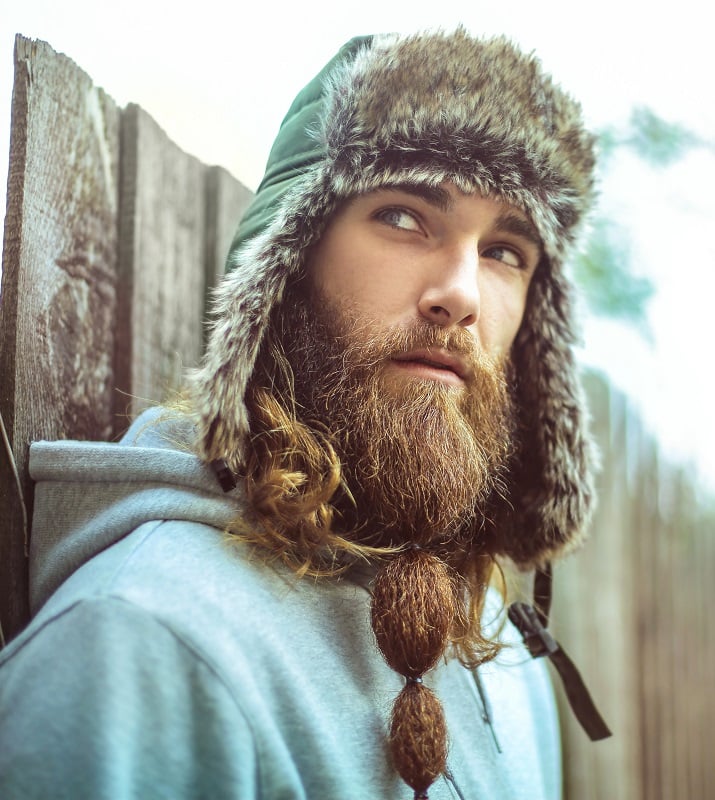 Use a rubber band to create a beard ponytail. This style requires a lot of facial hair. Comb down the beard and add a rubber band or decorative thread to fasten it all together.
A well-maintained beard allows you to braid it in several stylish ways. You can try different styles of braiding based on whether you have a short or long beard length. Experiment with each type before you pick the one you feel will suit you best. We hope this article on how to braid your beard provides you with an idea regarding some of the most popular braided beard types.