The combination of a bald head and a beard has become a popular look among male celebrities. From Dwayne "The Rock" Johnson to Jason Statham, this style has taken the fashion world by storm.
Over the years, Hollywood celebrities have inspired countless eras of fashion. From clothes and hairstyles to facial hair, celebrities have set a number of trends. The trend of bald celebs with beards has gained popularity in recent years.
As a result, it has become a popular choice among the younger generation too. A bald head with a beard has become a sign of confidence, masculinity, and sophistication.
So are you someone who is struggling with baldness and looking for inspiration? Or, you are just curious to know which bald celebrities rock the beard? Either way, you have come to the right place!
We have compiled a list of some of the most popular bald celebrities in 2023 who have rocked a beard with style.
Popular Bald Celebrities with Beard
Many celebrities will flaunt unique beards, but bald celebs often prefer a clean-shaven face. However, in this list, you will find some of the most popular bald celebrities with a beard.
1. Stanley Tucci with Salt and Pepper Stubble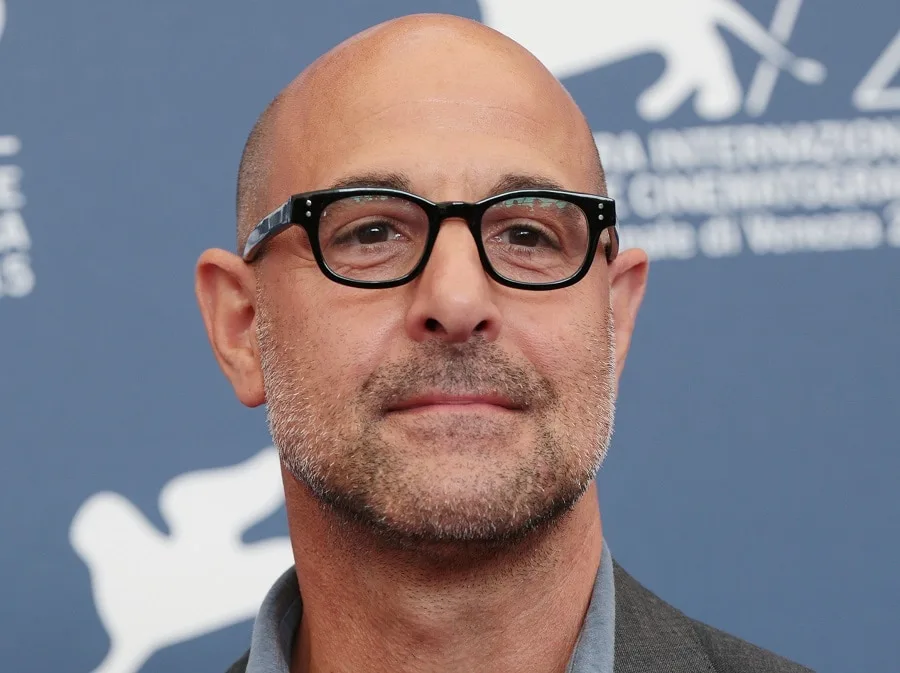 The actor and director has been bald for most of his career. He is often spotted with a light stubble around his face. Of course, he does experiment with this look by trimming his stubble or shaving the sides of his face, but the classic stubble has always remained a staple of his look.
2. Chris Daughtry with Light Stubble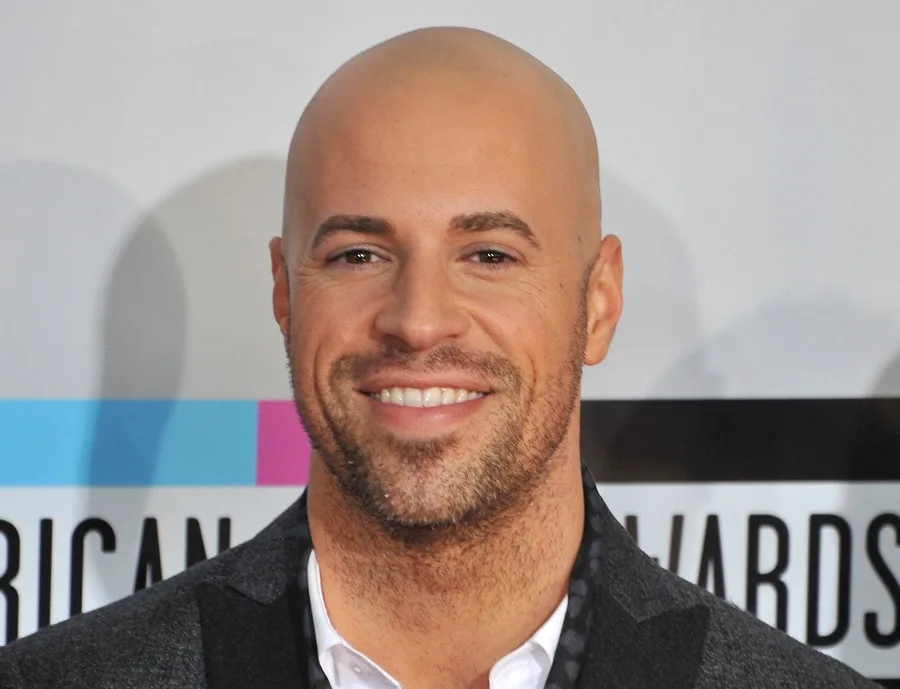 The 'Home' singer is famous for his minimalist rocker style and has sported several beards throughout his career. From goatees to round beards, he's done it all. Lately, he prefers to keep it simple with a bit of stubble.
3. Dwayne Johnson with Full Goatee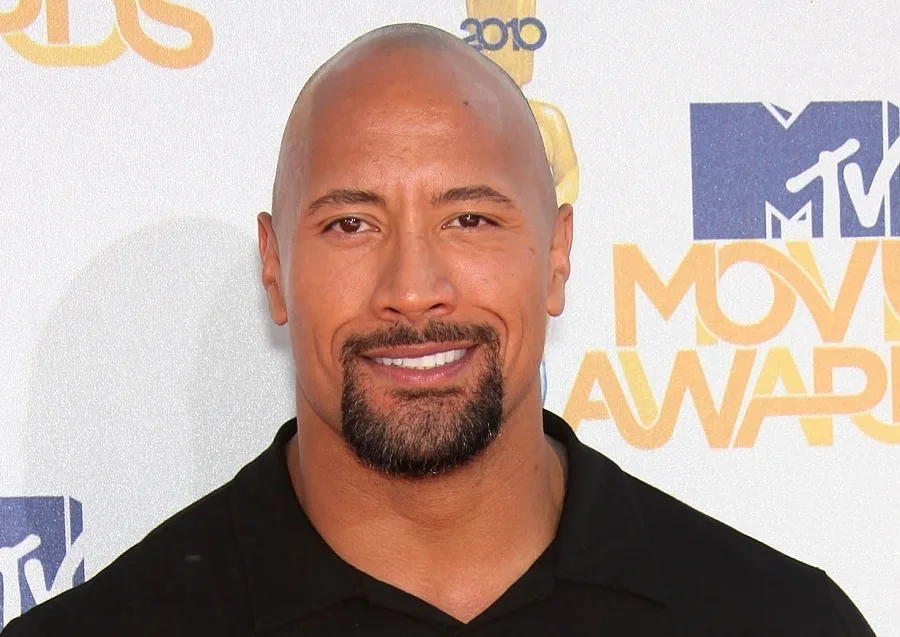 One of the most popular bald black celebrities with a beard is Dwayne Johnson. The Fast and Furious actor, who has been bald since his wrestling days, is often seen sporting a round goatee beard, which complements his masculine features.
4. Corey Stoll with Full Beard and White Patches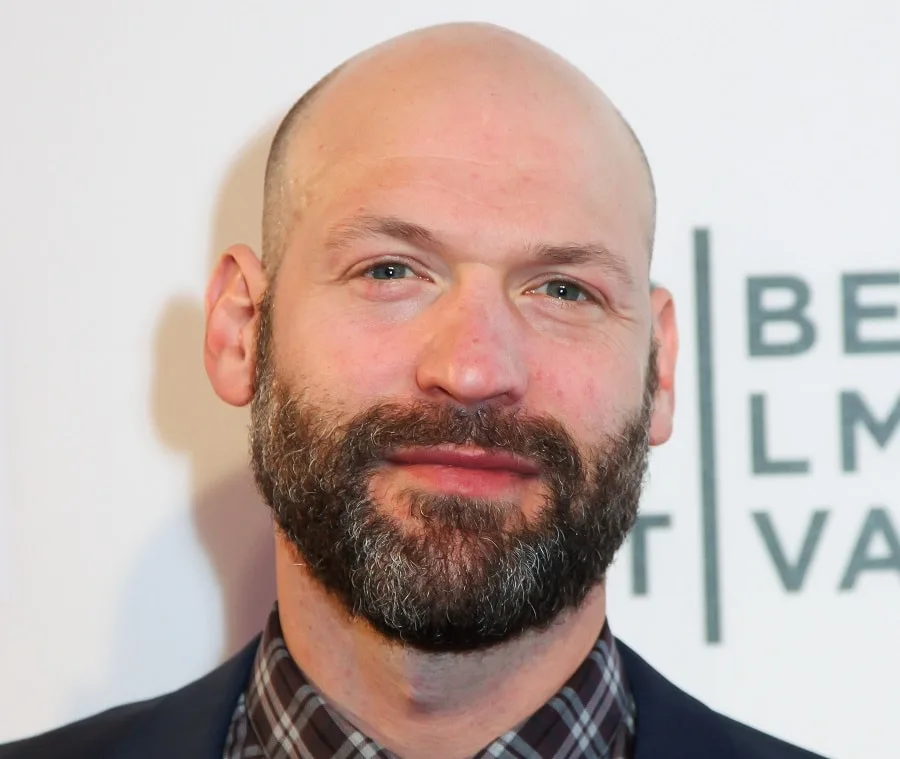 While the House of Cards actor has worn wigs for some of his roles, you can often see him with some classy beard styles with his bald head. He looks great with a short full-face beard covering his face sides.
5. Jon Cryer with Long Stubble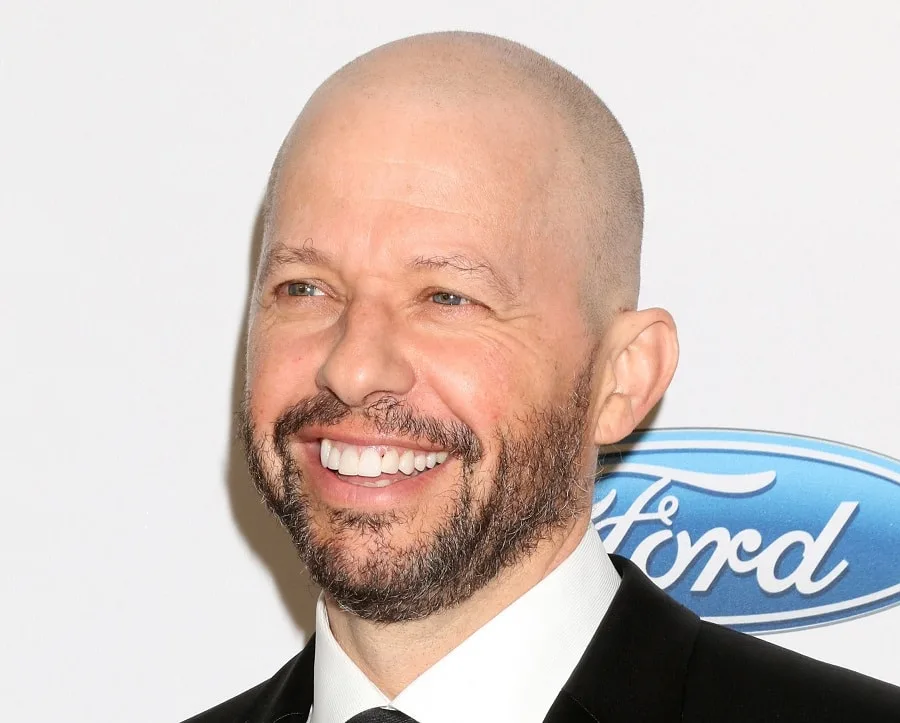 While the Two and a Half Men actor did have hair and a clean-shaven face for his iconic role, his latest appearances show otherwise. Nowadays, he prefers a bald look with longer stubble on his face. He is one of those actors over 50 with a stylish beard.
6. Kobe Bryant with Trimmed Stubble
The NBA superstar was known for having a memorable presence on and off the court. The bald-headed African American celebrity's beard style changed throughout his career. He nailed a short afro, goatee, and clean-shaven face many times. He paired his bald look with trimmed stubble on some occasions.
7. Mark Strong with Low Box Stubble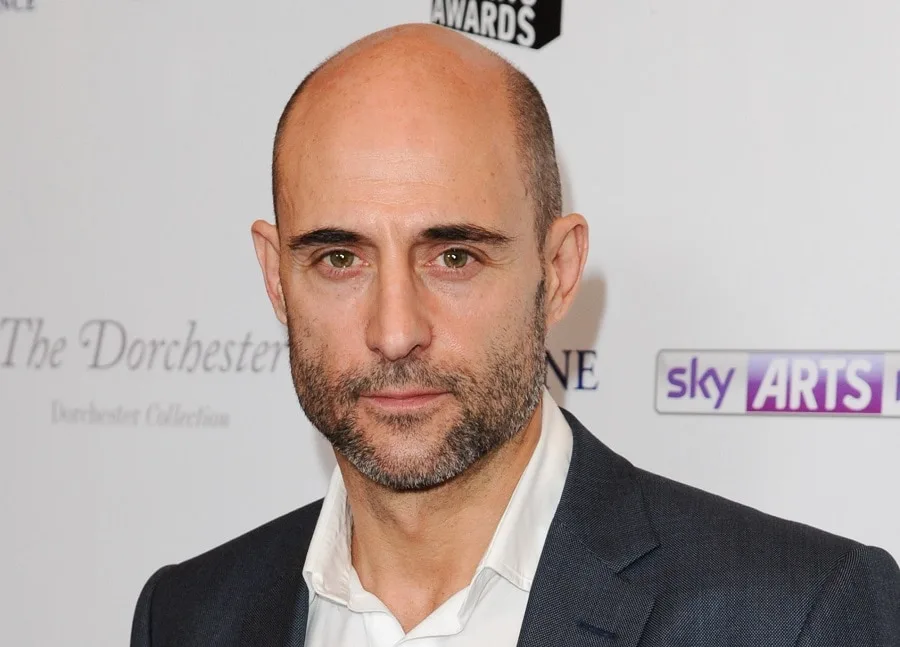 You'll see the Sherlock Holmes actor wearing the occasional hair in some roles, but he's well-known for his bald looks. He prefers to pair it with low box stubble covering his jawline to give his face a chiseled appearance.
8. Jonathan Banks with Thin Goatee

Famous for his role in Better Call Saul, Jonathan Banks's classic bald look includes a round goatee beard. He prefers his grey beard to be neatly trimmed beard with clean edges on the inside and outside of his goatee, which he pairs with a thin mustache.
9. Luke Goss with Trimmed Salt and Pepper Stubble
The drummer-actor is among the well-known bald celebrities with beards. He prefers trimmed stubble across his chin and jawline to complement his bald looks. Considering his unique face shape and sharp facial features, the stubble definitely suits his style.
10. Ben Kingsley with Goatee and Thin Mustache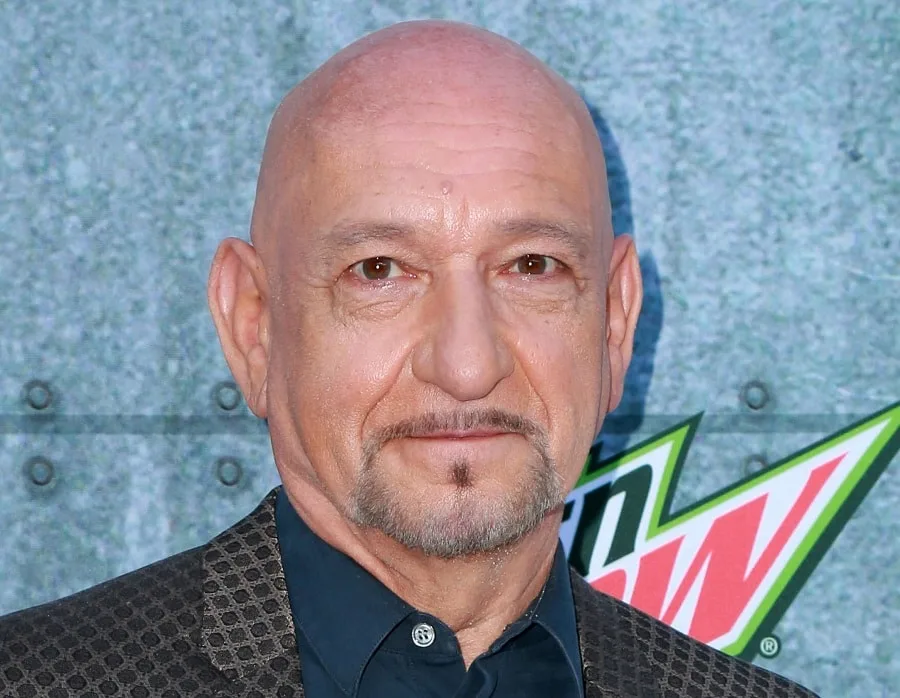 The old actor with a beard is known for his roles in films like Shutter Island. The celebrity sported a goatee with his bald look. Despite his long acting career, Sir Ben Kingsley has decided to stick with a thin round goatee beard as his signature look.
11. Common with Full Circle Beard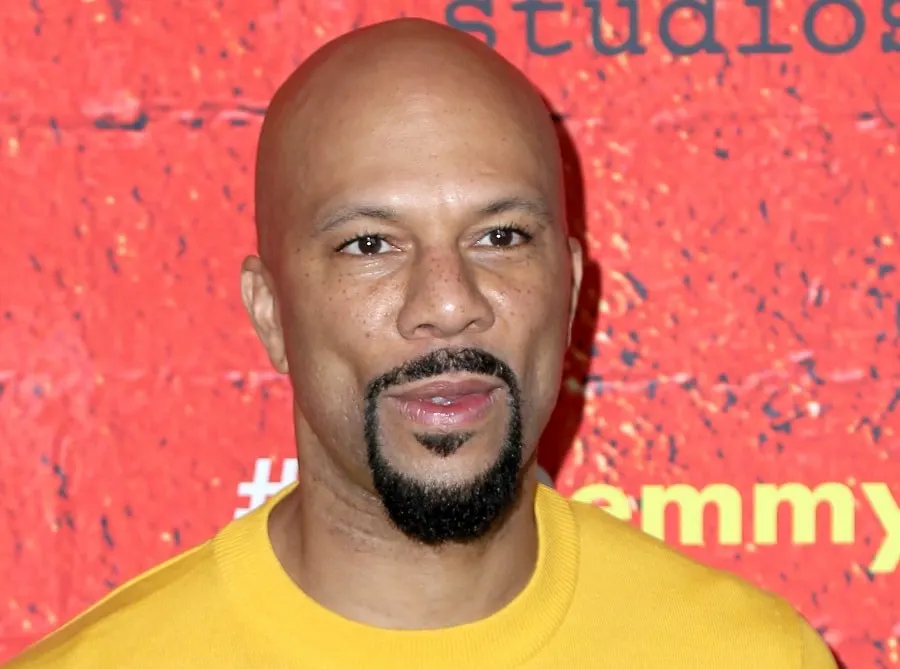 While the rapper has been bald for much of his career, he has experimented with different beard styles like trimmed stubble and even a round full-face beard. One of his famous beard looks is a circle goatee beard with neatly trimmed edges and a soul patch.
12. Bruce Willis with Long Gray Stubble
The Die Hard actor is well known for his rugged and masculine appearance. His latest bald looks include untrimmed gray stubble that's heavier along the chin than the sides of his face. Sure, this type of style doesn't need a lot of grooming, but Bruce Willis can pull it off!
13. Damon Wayans with Goatee and Pencil Stash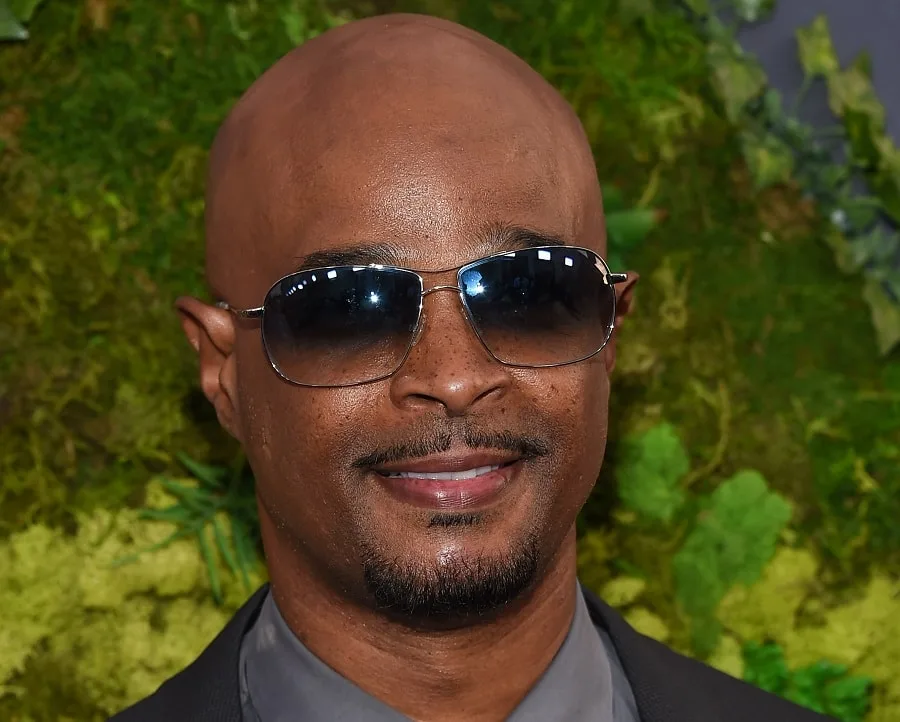 Damon Wayans has been bald for a big chunk of his career and has plenty of beard styles to go with them. Right now, he has a thin pencil mustache with a short goatee for a much smoother look.
14. John Travolta with Untrimmed Long Stubble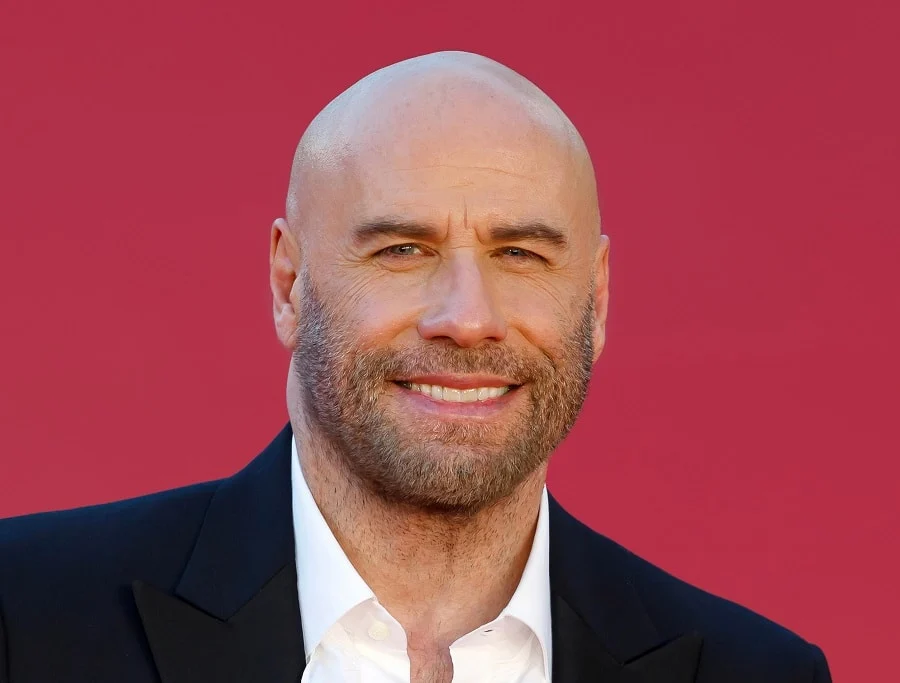 Best known for his iconic performances in Pulp Fiction and Face-Off, he's one of the few celebrities with a beard who still has a full beard. The scruffy look means that he doesn't trim the cheek and neckline and really just lets his beard grow out.
15. Moby with Trimmed Salt and Pepper Long Stubble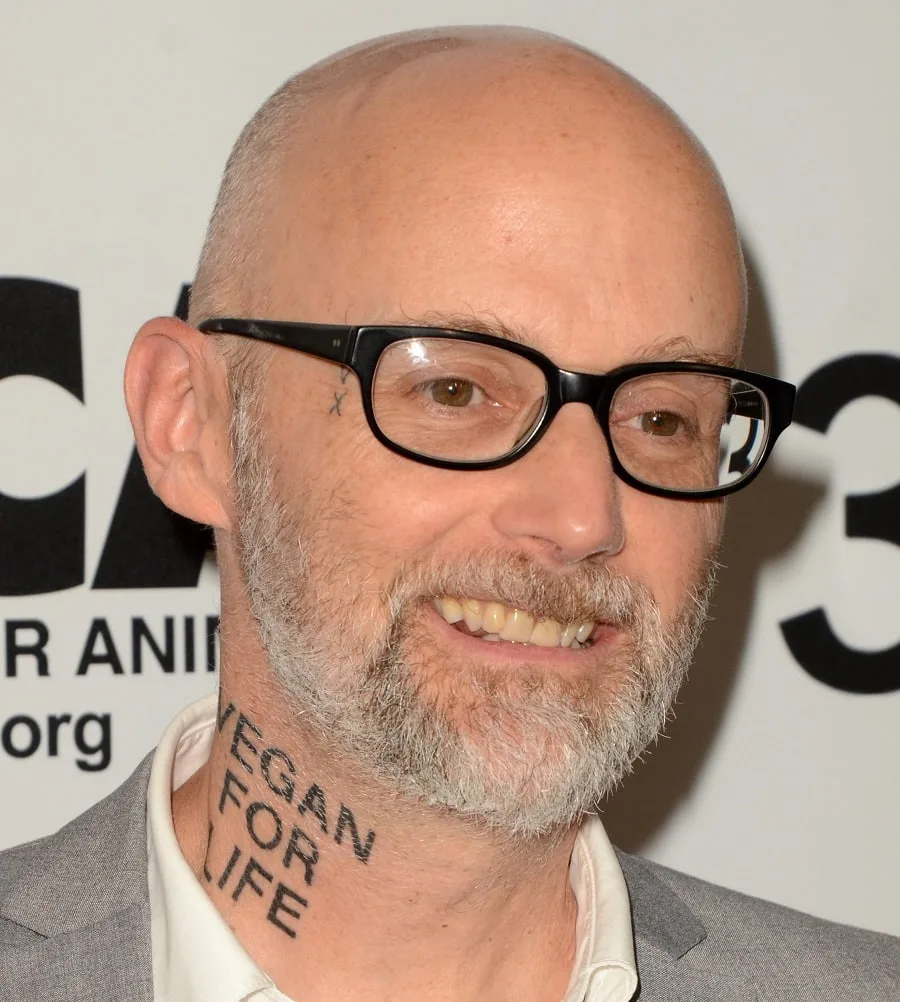 Moby's famous for his odd choices in fashion and tattoos, so it was strange to see him with such a simple beard. He has a trimmed long stubble with specks of grey and black sprinkled throughout.
16. Michael Jordan with Patchy Goatee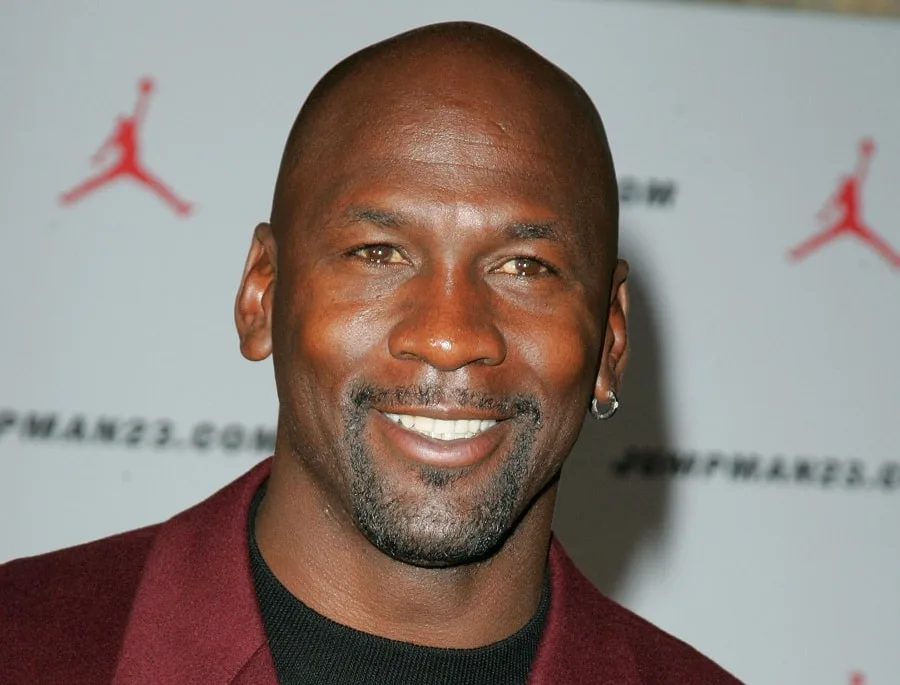 Michael Jordan has always been one for taking things simple, and his patchy goatee is exactly that. With the rest of his beard shaved and a thin goatee, he always gets to show off his pearly whites.
17. Tim Howard with Garibaldi Beard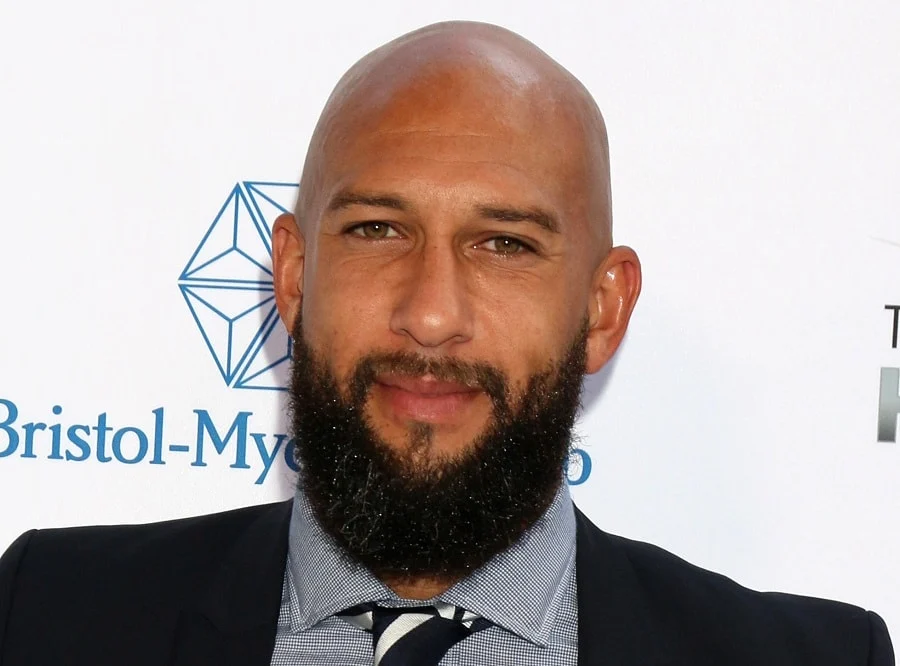 Tim Howard keeps things fresh with a scruffy garibaldi beard, which lets his curls loose. He keeps his beard in check, though, by trimming the cheek and neckline while cutting down on any stray hairs coming out from the beard.
18. Terry Crews with Strapped Goatee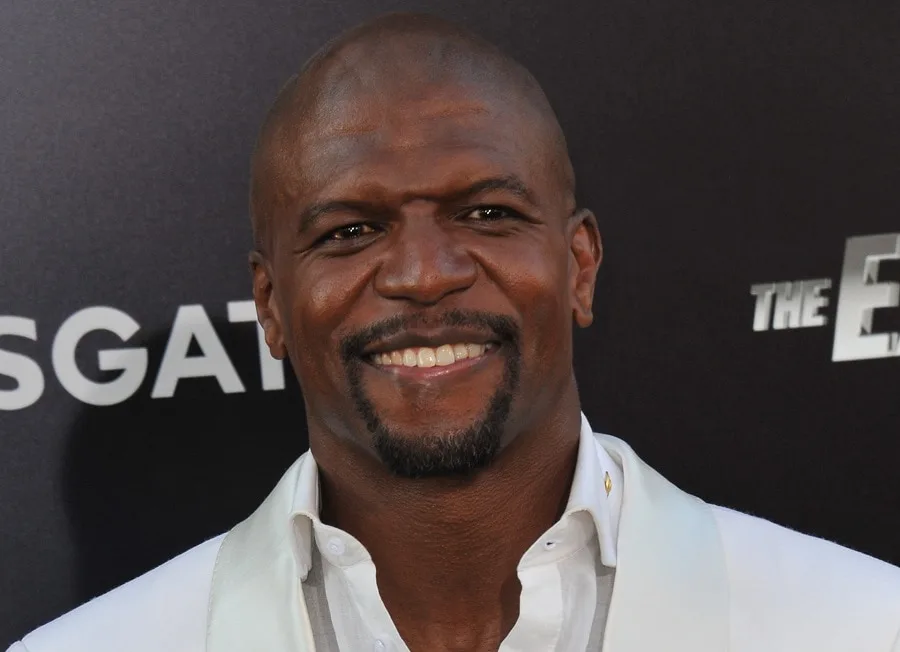 Terry Crews has a goatee that's almost as famous as his comedic antics. The comedian has a perfectly strapped goatee without a soul patch. He does keep it in good condition by thinning out the mustache and shaving the sides.
19. Patrick Stewart with Trimmed Well-Kept Stubble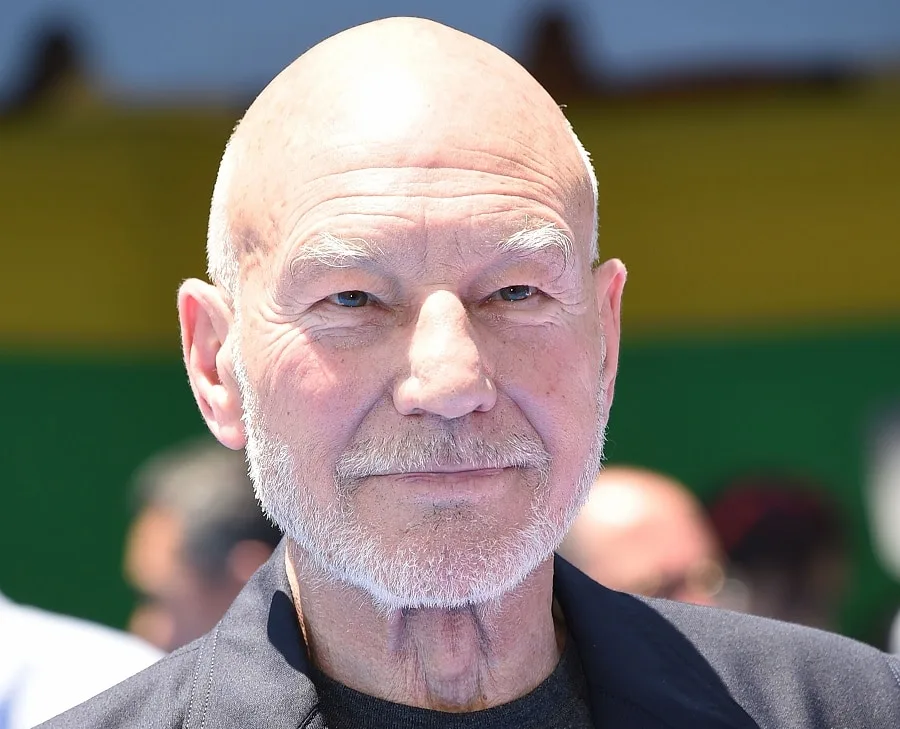 Seeing how Sir Patrick Stewart has looked the same for almost 30 years, his beard hasn't changed much either. He keeps things simple with a light stubble that he trims from the cheek line and the neckline.
20. Ving Rhames with Soul Patch and Light Mustache
The Mission Impossible actor hasn't been known for his choice of facial hair since he rarely has anything more than a soul patch. But he's added a light mustache to that soul patch, which really brings his entire look together.
21. Michael Chiklis with Extended Goatee
Michael Chiklis doesn't overcomplicate things with his choice of facial hair and goes for an extended goatee. The salt and pepper goatee isn't too prominent and is followed by the light stubble on the neck, which suits his rounder face.
22. Taye Diggs with Short Goatee and Pencil Stash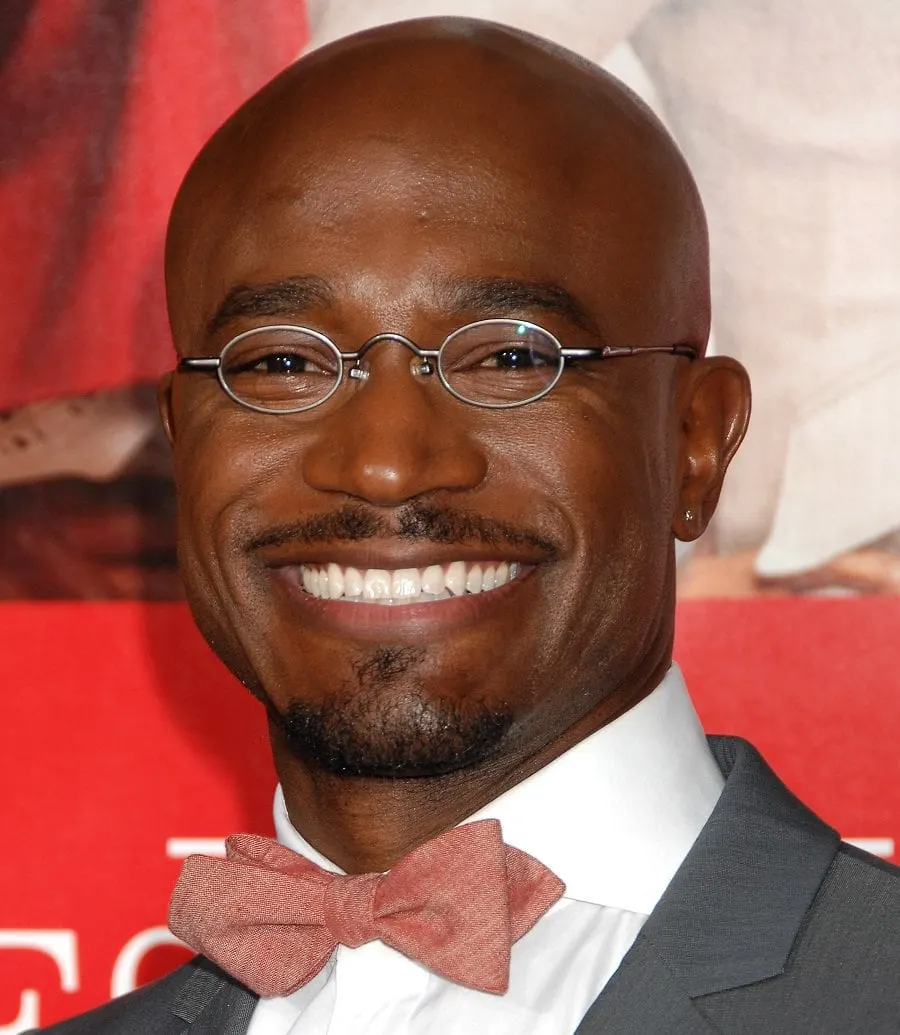 Taye Diggs, known for his incredible stage performances, finds beauty in simplicity with his subtle short goatee and pencil stash. It especially works with his choice of glasses and piercings.
23. Samuel L Jackson with Scruffy Stubble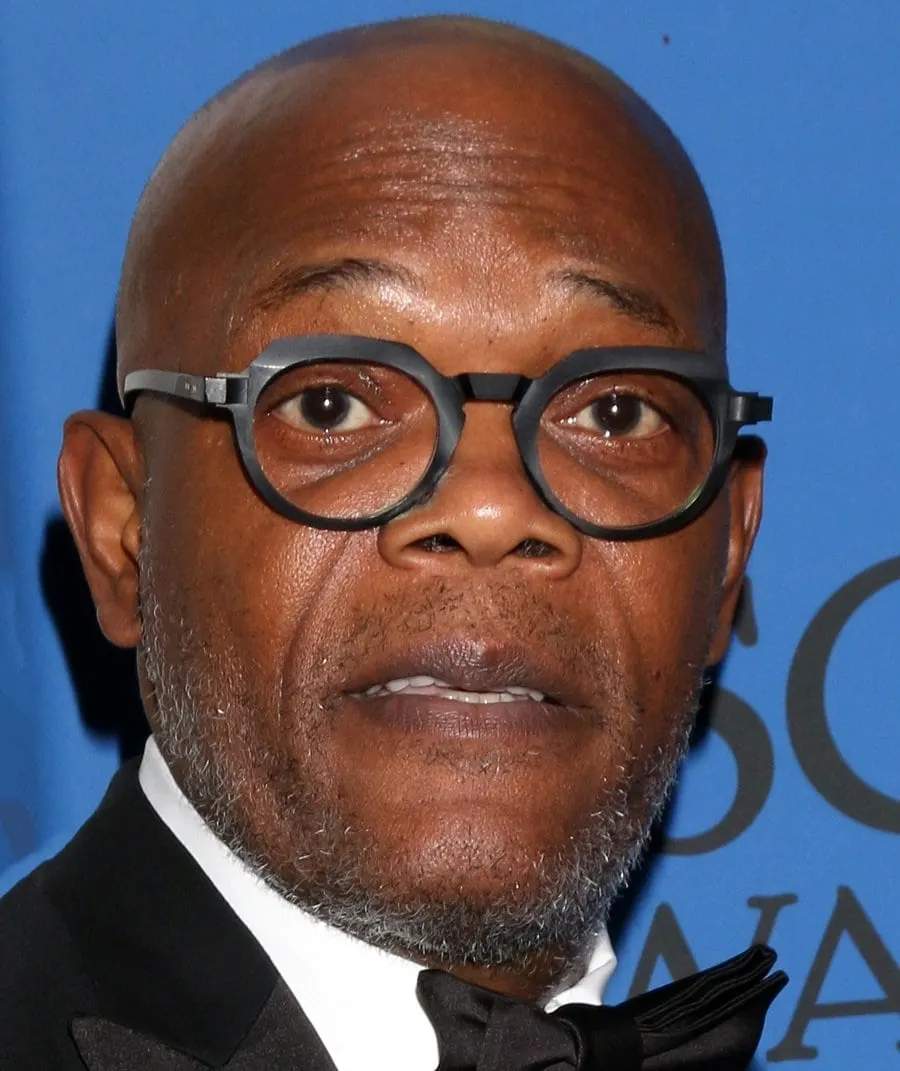 Sam L. Jackson has never been one for appearances, since most of his effort goes into the excellent performances he's given. Regardless, his scruffy, salt-and-pepper stubble looks especially good with his choice of glasses.
24. Shaquille O'Neal with Low Box Curly Beard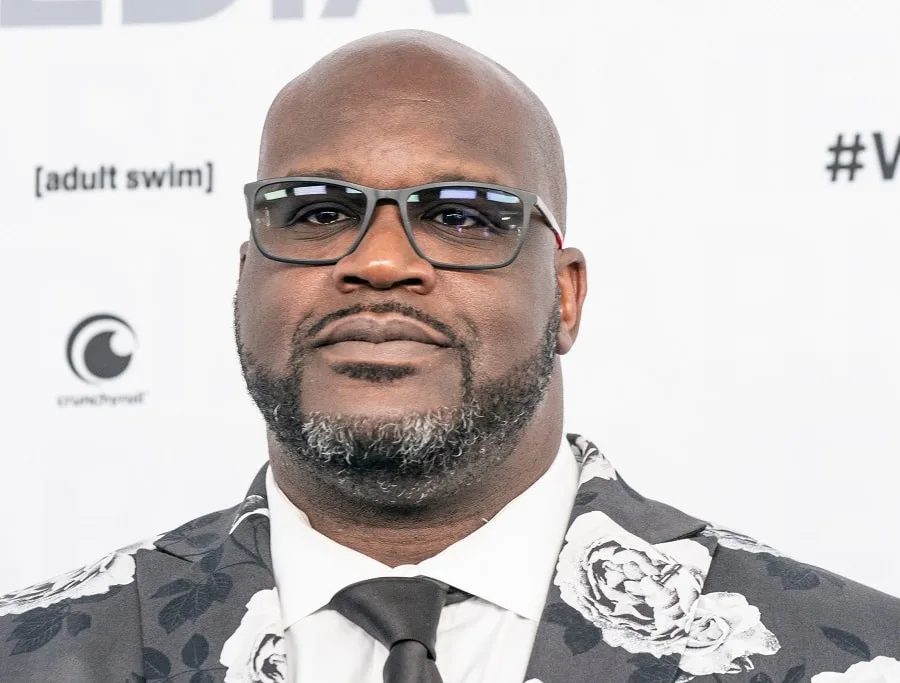 Shaq is a big man with an even bigger personality, so it only makes sense that he has a fun beard to go with his sense of style. The low box beard with patches of gray and white shows he's coming on in years, but he still looks as good as ever with his neatly trimmed cheek line.
25. Billy Joel with Full Goatee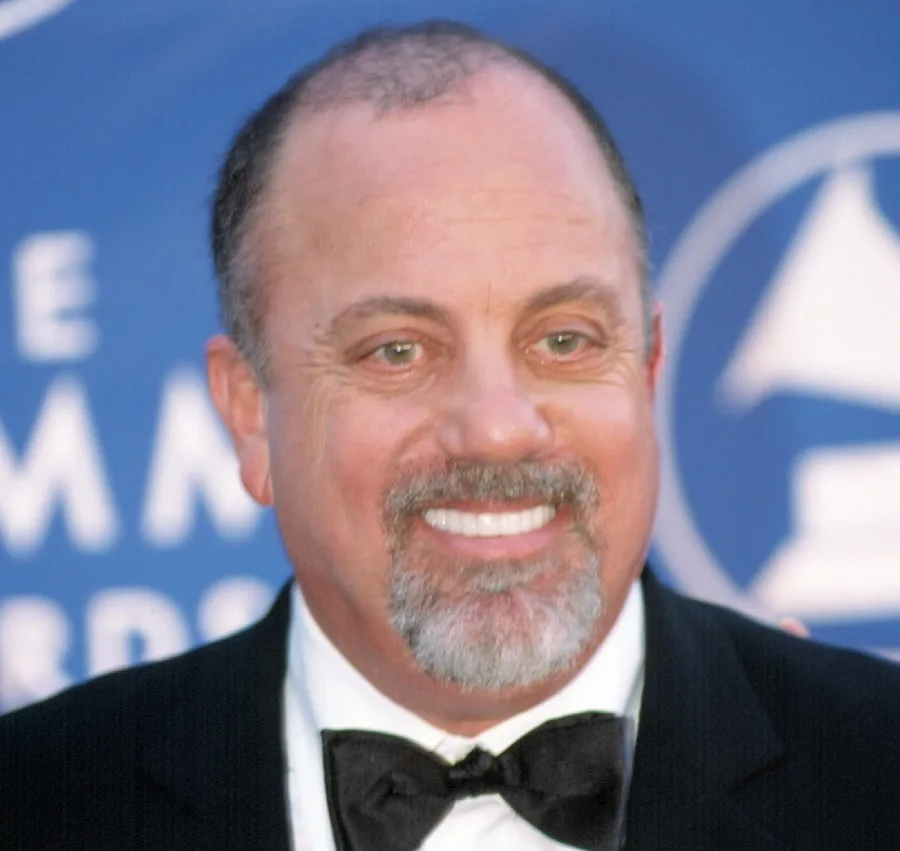 A goatee with long stubble is a perfect choice for Billy Joel, given his rounder face. He keeps the beard neatly trimmed and leaves the specks of black and grey in between.
26. Mike Tyson with Full Curly Beard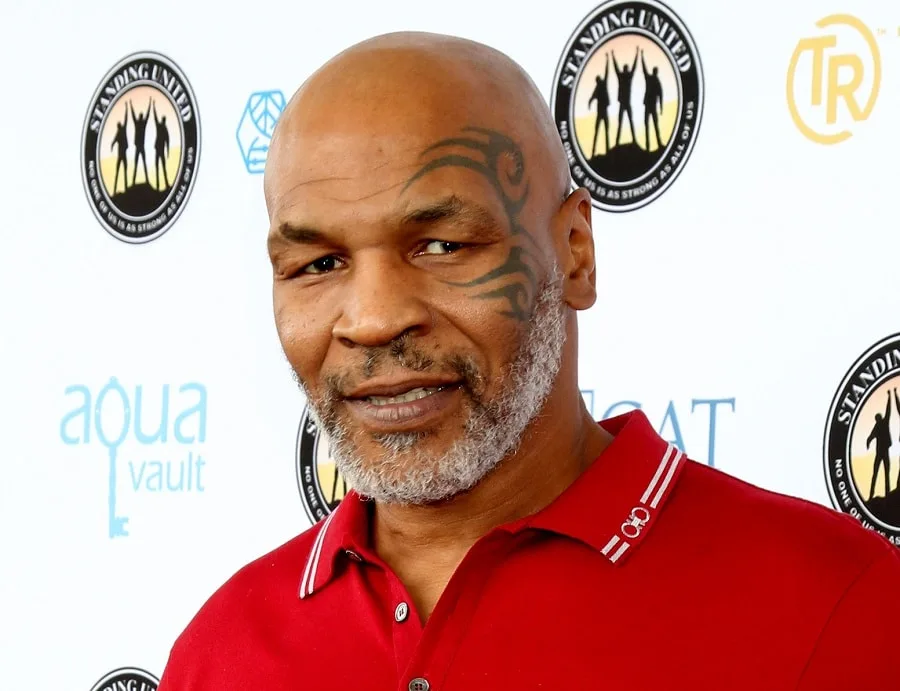 The famous boxing champion has never been one for impressive facial hair, but he does manage to pull off a full curly beard. The scruffy look suits him, and he even keeps his patchy mustache.
27. Idris Elba with Goatee without Soul Patch
The multitalented Idris Elba has walked the red carpet with his impeccable choice of fashion and keeps a small chevron with a goatee. He skips the soul patch and still manages to pull off this goatee without connecting the sides.
28. Jason Statham with Full Stubble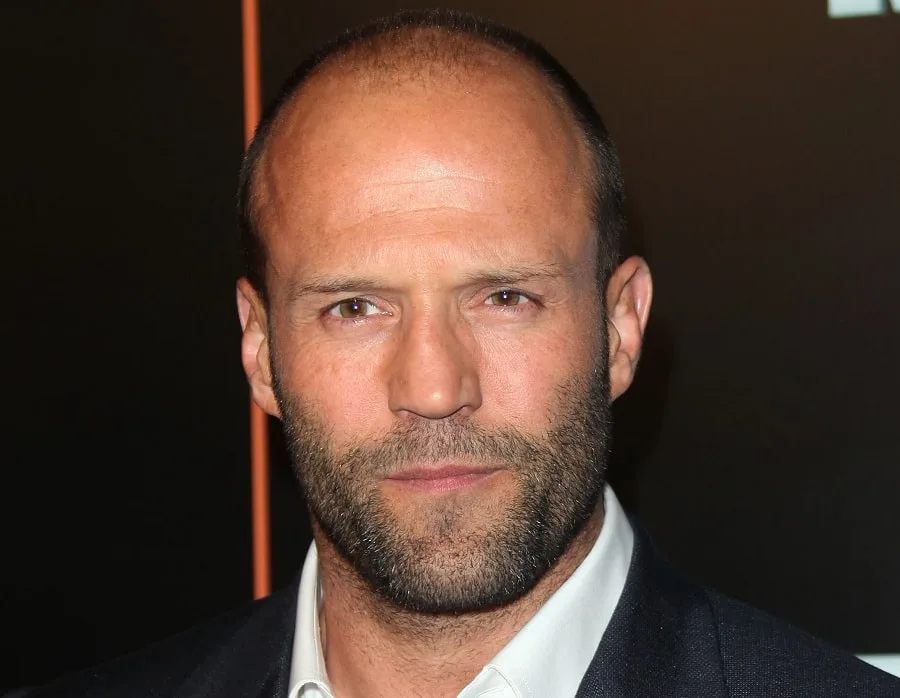 The Transporter actor has flaunted plenty of beard styles both on and off-screen, but the one he's best known for is his full stubble. While he does keep it trimmed, he never lets it grow out and always keeps it light.
29. Billy Zane with Salt and Pepper Stubble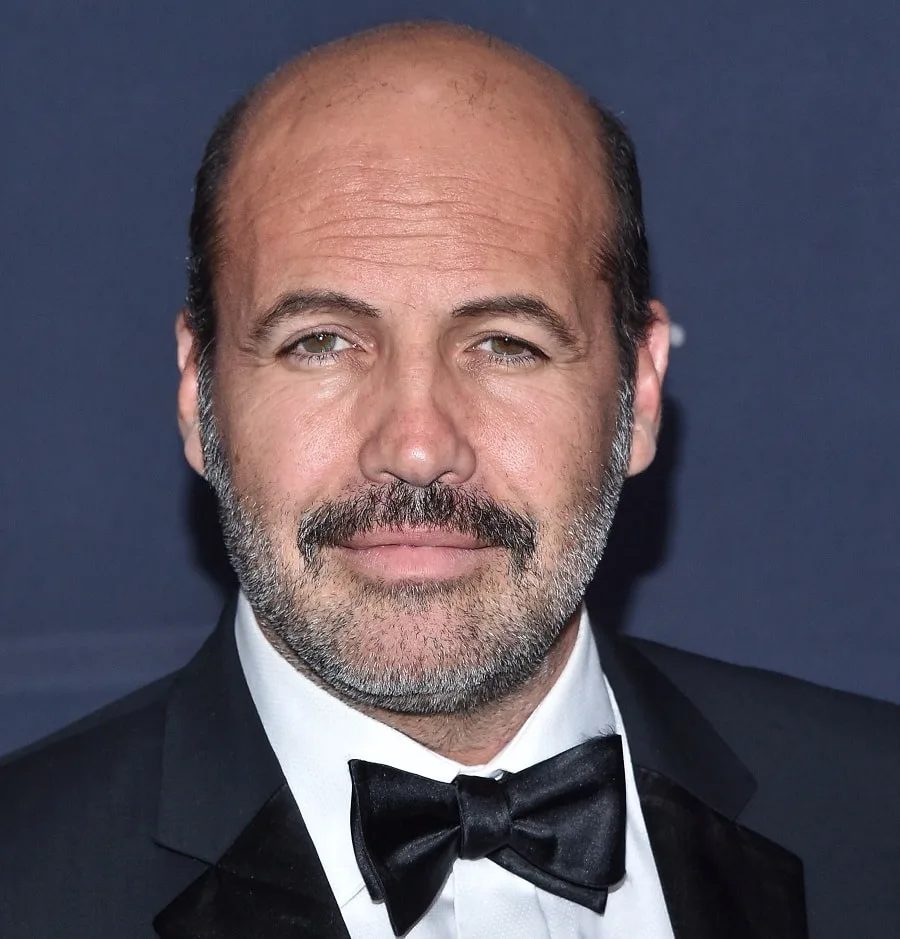 Mostly known for his role in the Titanic, Billy Zane still looks as handsome as ever with his salt and pepper stubble. While his mustache is primarily black, the rest he keeps in different shades of grey.
30. Bryan Cranston with Red Goatee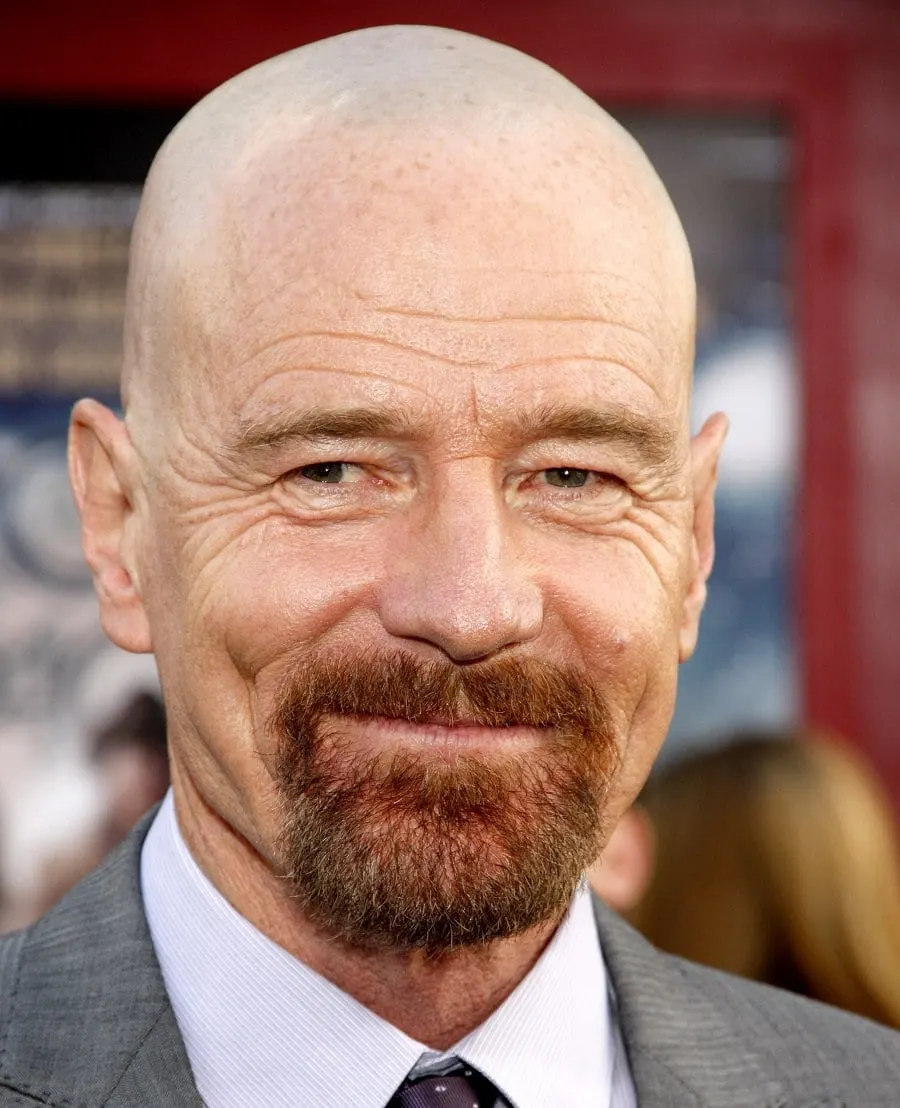 The Breaking Bad actor decides to keep his iconic goatee well after his defining role. With the finely trimmed edged and curls cut off, Heisenberg stays as sharp as ever.
Plenty of bald celebrities with beards have made creative choices in how they wear their facial hair. While most go for light stubble, others prefer a goatee or a short beard. You can take plenty of inspiration from these different actors and choose a style that fits you best.