Celebrities are pioneers when it comes to setting trends in beard styles. They can make a certain style of beard popular overnight. with the rise of African American celebrities in the media, Black celebrity beard styles are becoming increasingly popular.
Native Americans and black men are known for their fashion sense but not inherently known for their beards. But in recent times, from actors to musicians, many famous black celebs have shown us that growing a beard is not all about ethnicity.
Whether it's the suave and sophisticated stubble or the rugged and full beard, these black celeb beard styles are increasing in popularity and have even started setting trends.
If you are simply interested in the trend or just looking for a stylish beard style, check out our top black celebrity beard styles of 2023.
The Best Black Celebrity Beard Styles
From Idris Elba to LeBron James, Will Smith To Kevin Hart, black male celebrities have been rocking the bearded look with style and panache. These beard styles are diverse enough. Here is our top picks for the 30 best black celeb beards:
1. 50 Cent with Low Box Long Stubble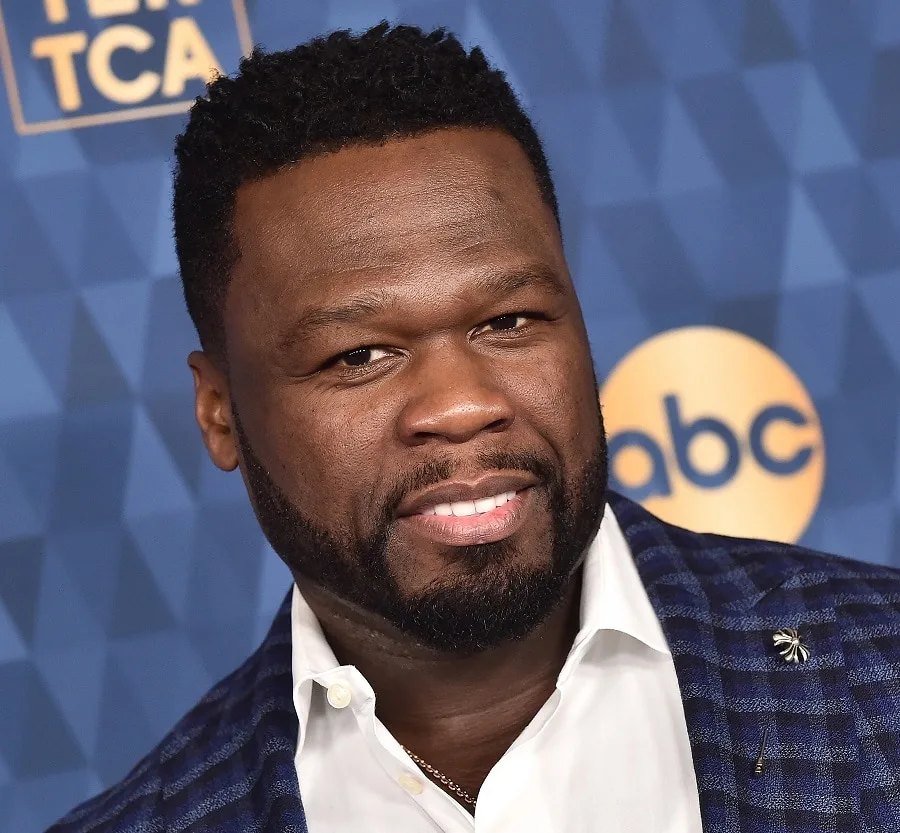 The rapper is known for his bangers and unique celebrity beard styles since he pairs his short afro with a low box long stubble. The beard is well-trimmed and shaped and complements his more angular face.
2. André 3000 with Extended Goatee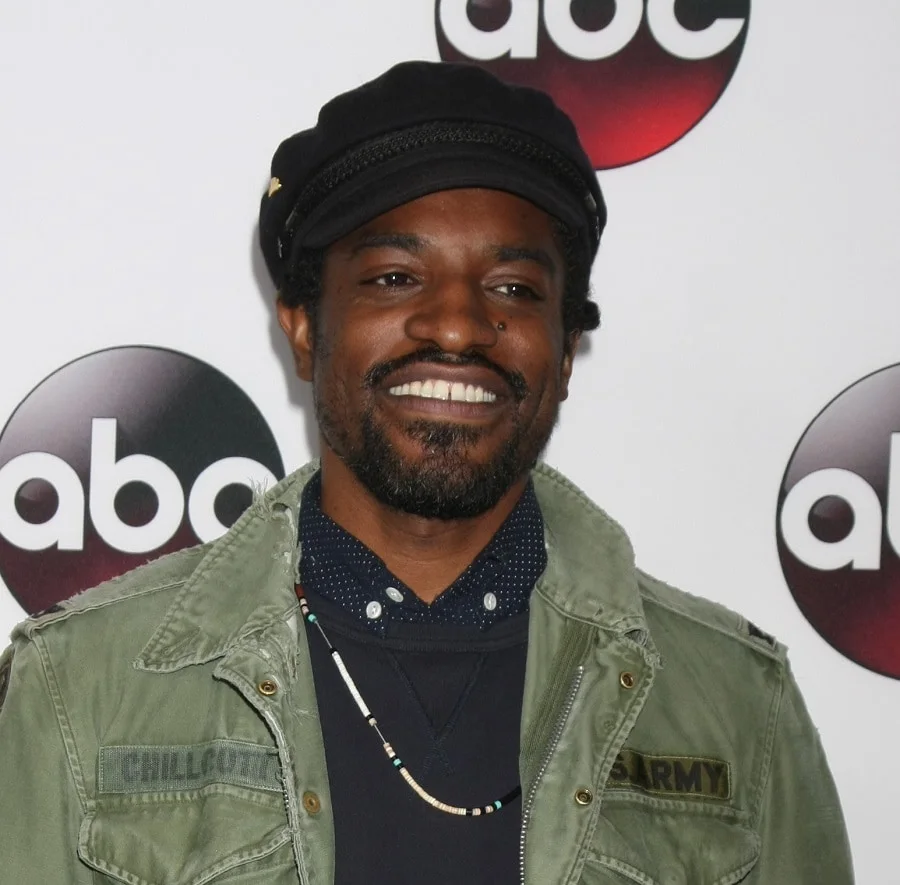 Known for his bangers and chart-topping songs, Andre 3000 has also had some questionable fashion choices. He keeps things simple here, though, with an extended goatee that shows off his patchy beard. He also keeps his mustache but trims it a little for a cleaner look.
3. Brian J. White with Pencil Stash and Small Goatee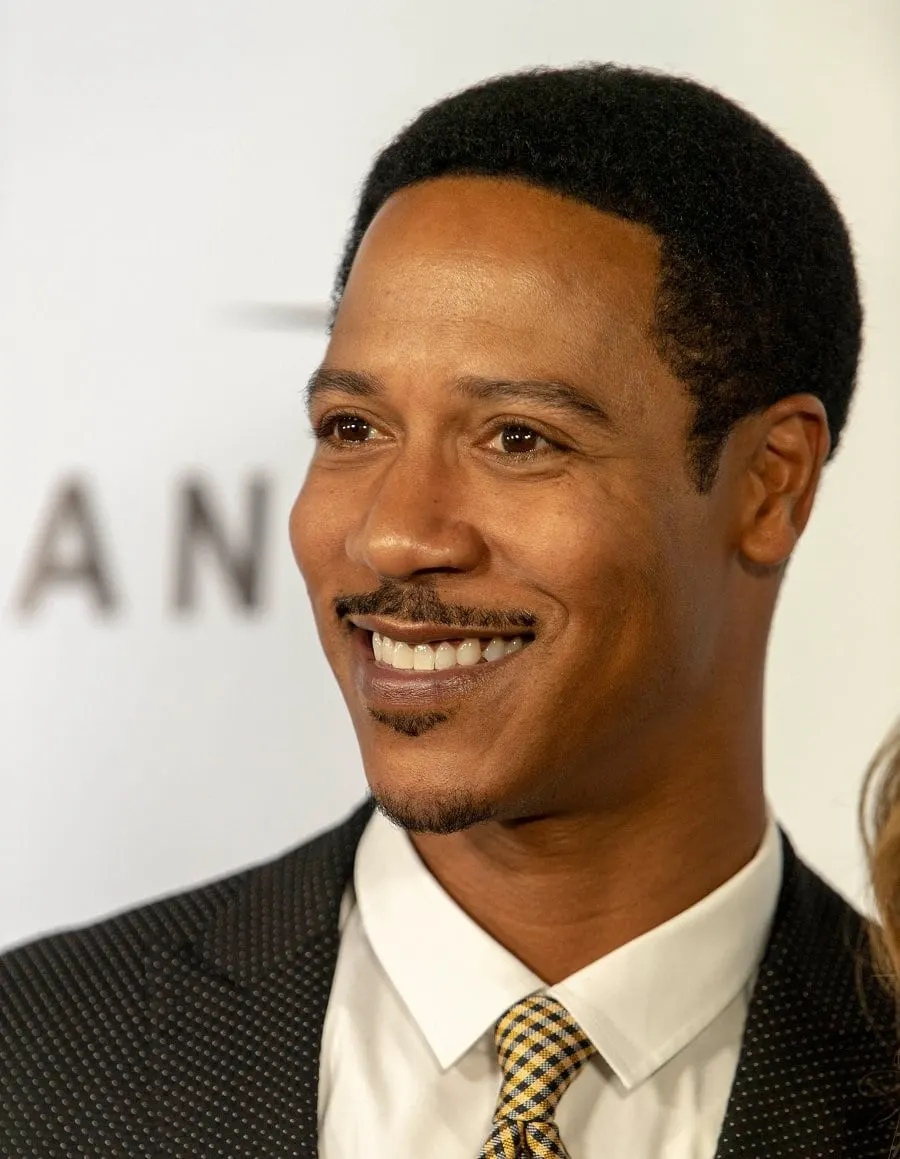 You can see Brian J. White here with a simple short afro with trimmed down sideburns that he decides to pair with a pencil stache and a small goatee. These black celebrity beard styles have a refined look that doesn't take away from his pearly whites.
4. Chiwetel Ejiofor with Bushy Beard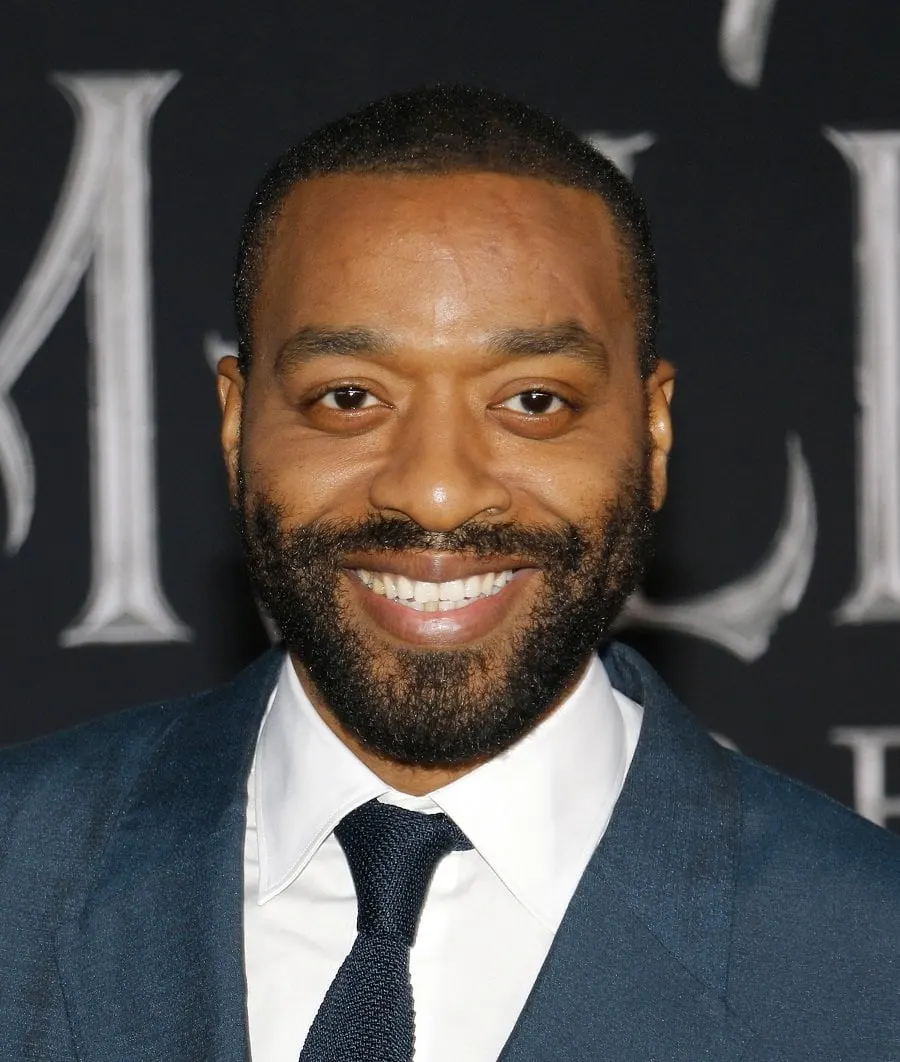 Chiwetel Ejiofor keeps a wild and bushy full beard, which contrasts nicely with his sleek suit. He has decided to keep the beard unkempt and grow out the long stubble since he doesn't even trim the cheek and neckline.
5. Columbus Short with Low Box Short Stubble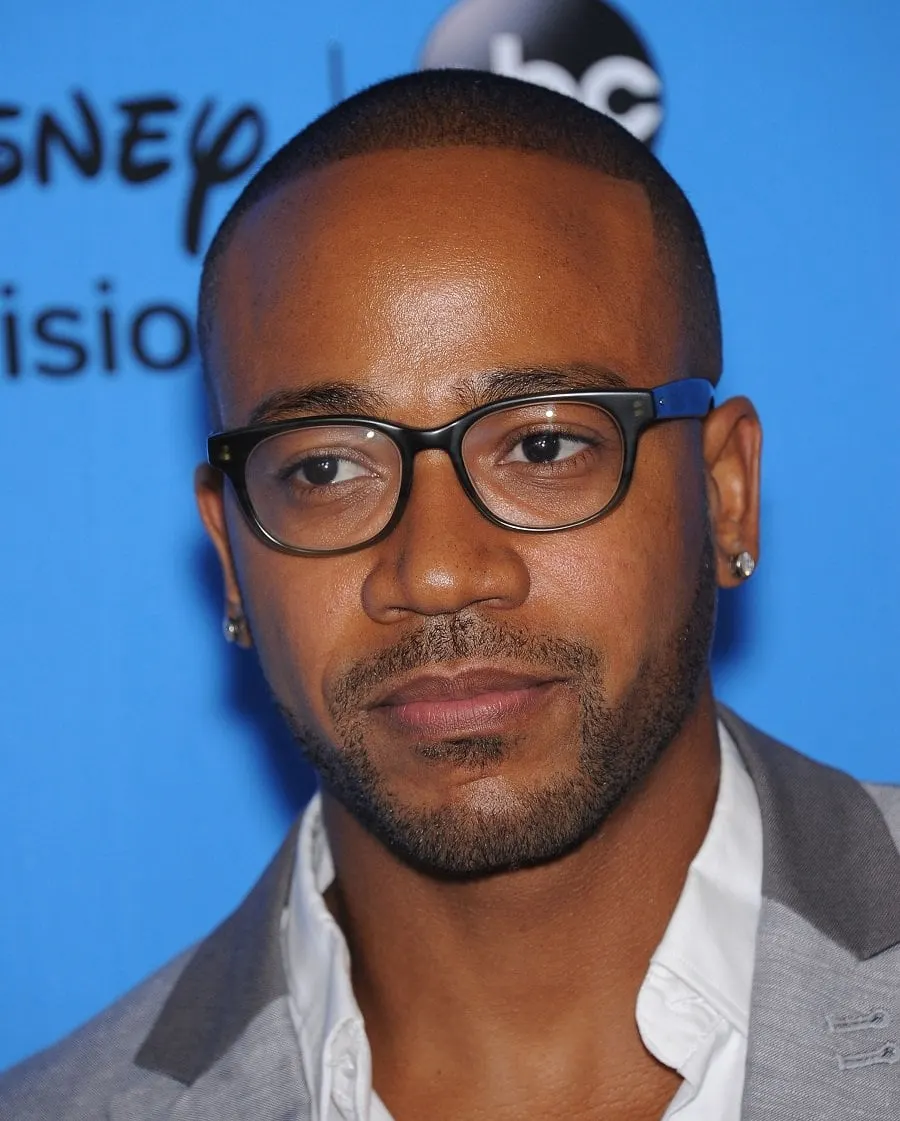 Columbus Short looks fresh with his low-box short stubble, just as short as his hair. It's a good style for him since it brings more attention to the frames he's wearing and his piercings.
6. Danny Glover with Goatee but No Soul Patch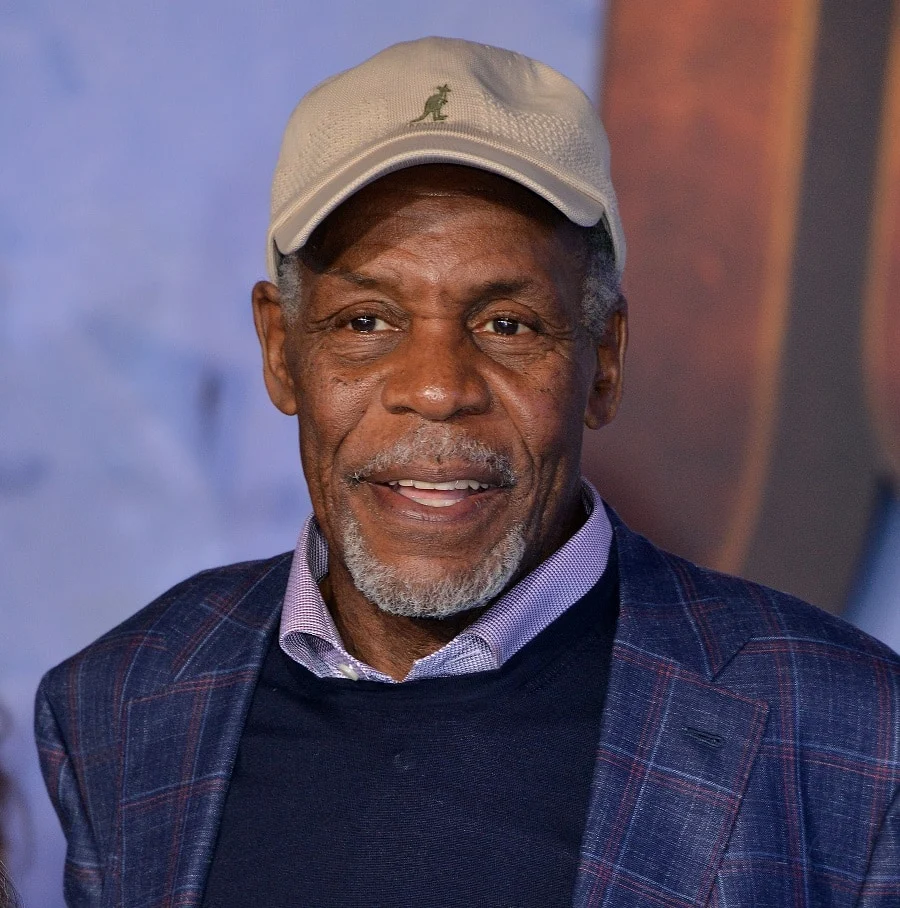 As a veteran actor, Danny glover flaunts his gray beard in a full goatee but skips out on the soul patch. The mustache is thinned down and only faintly connects to his goatee.
7. Derek Luke with Solo Goatee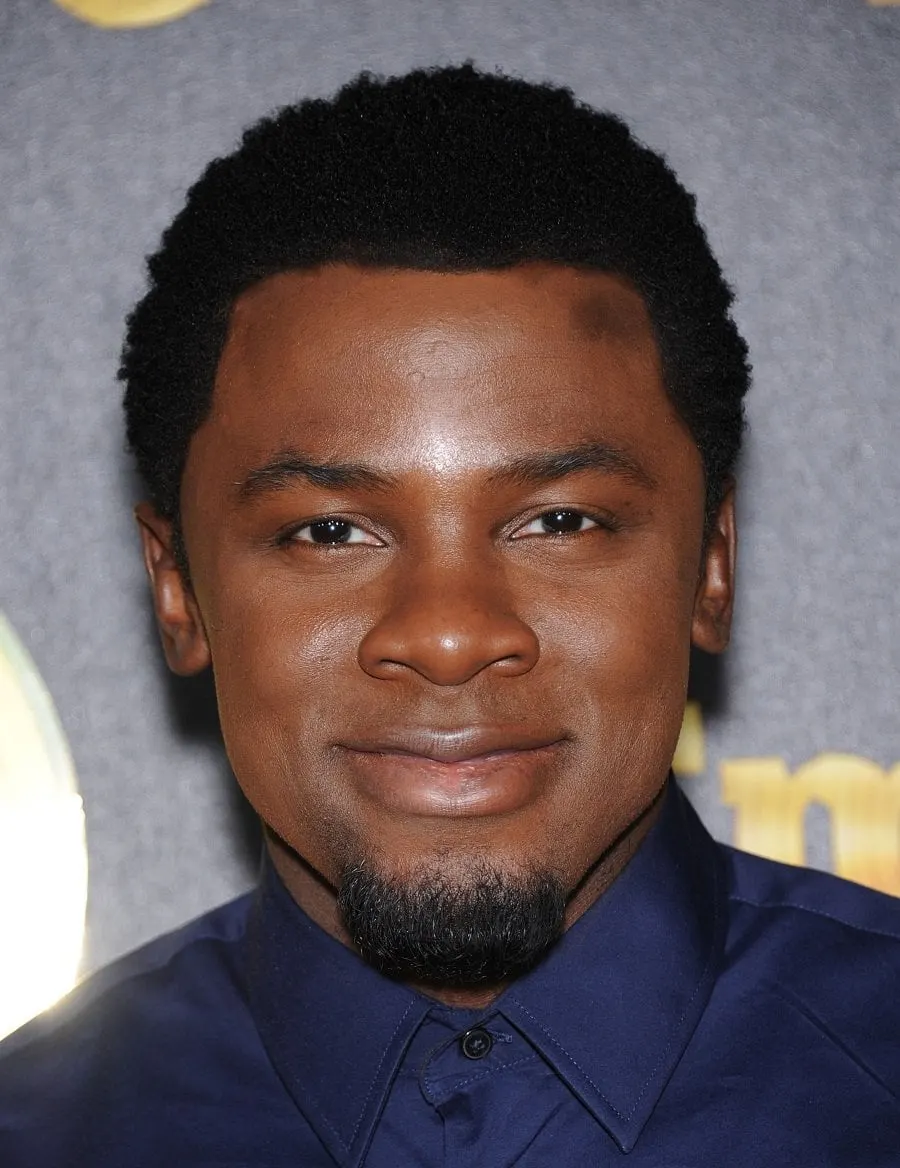 Derek Luke can be seen here with a fun and simple solo goatee without the mustache or the soul patch. This is another case of more old-school looks making a comeback, and it helps that his style goes well with his short afro.
8. Djimon Hounsou with Gray Soulpatch and Goatee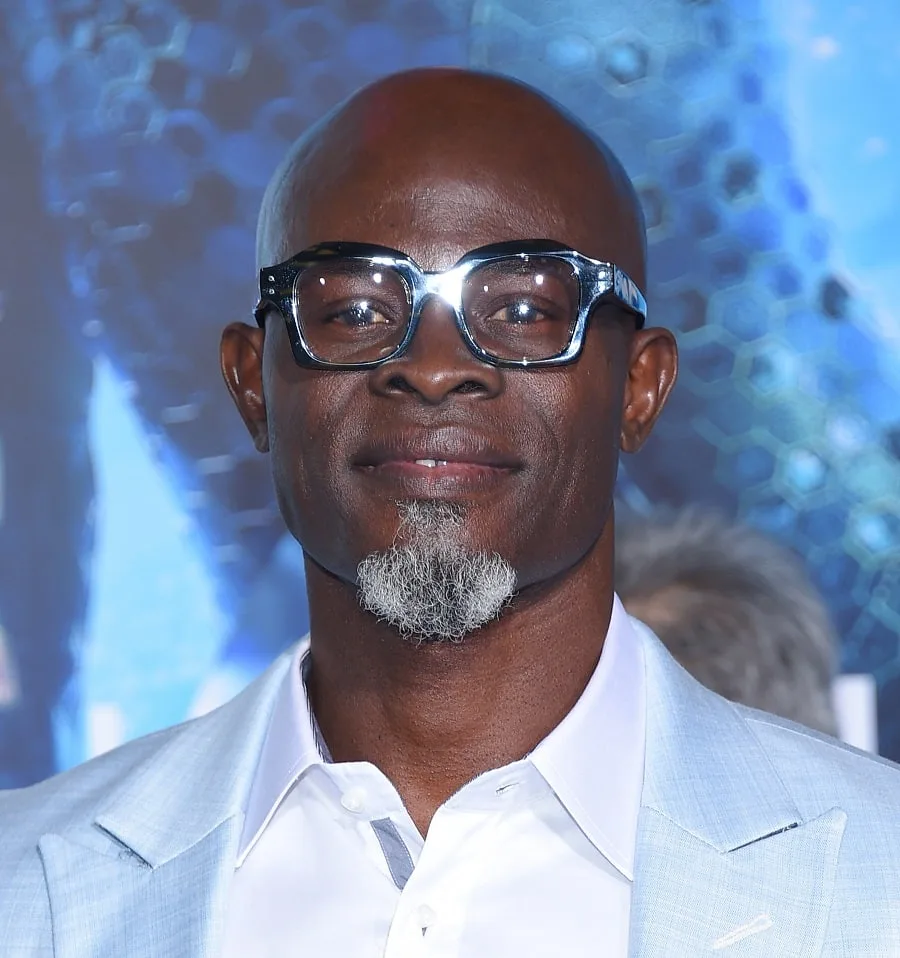 Djimon Hounsou, the bald-headed celebrity with his thick-rimmed glasses, wanted a beard that complements his minimalist style. He has a goatee with a soul patch, without a mustache, to flaunt his grays.
9. Eddie Murphy with Thin Mustache and Soul Patch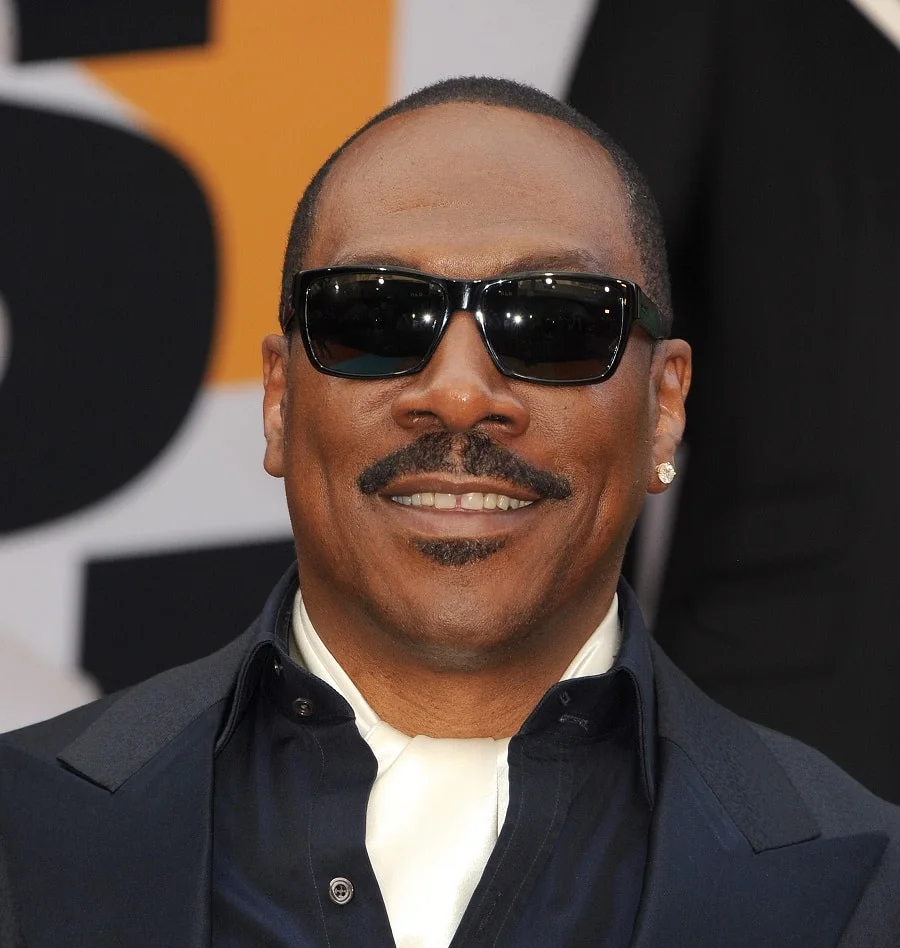 Eddie Murphy, seen here making his best Stevie Wonder impression, keeps things light with his thin mustache and soul patch. The legendary comedian doesn't bother with short stubble or even a goatee and instead goes for a much cleaner look.
10. Edwin Hodge Patchy Full Beard with Mustache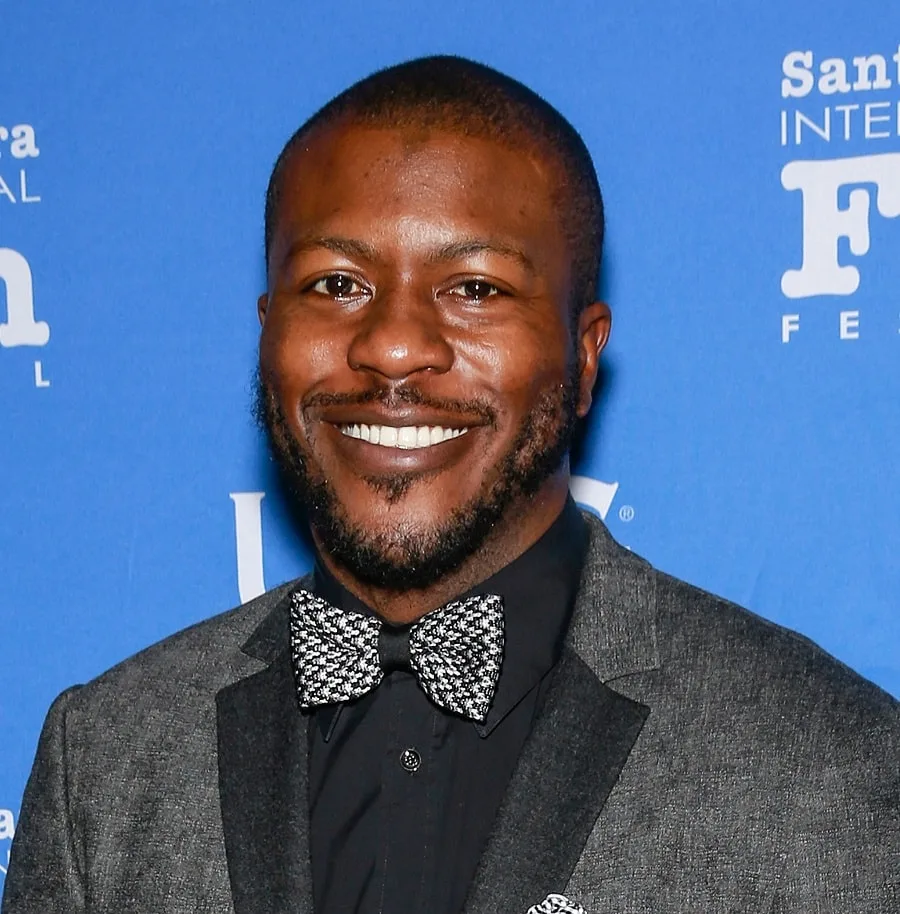 When it comes to messy looks, no one comes close to Edwin Hodge, who is flaunting his patchy long stubble. While trimming the cheek line, he lets his beard grow out past the neckline, which goes well with his vibrant personality.
11. Forest Whitaker Salt and Pepper Circle Beard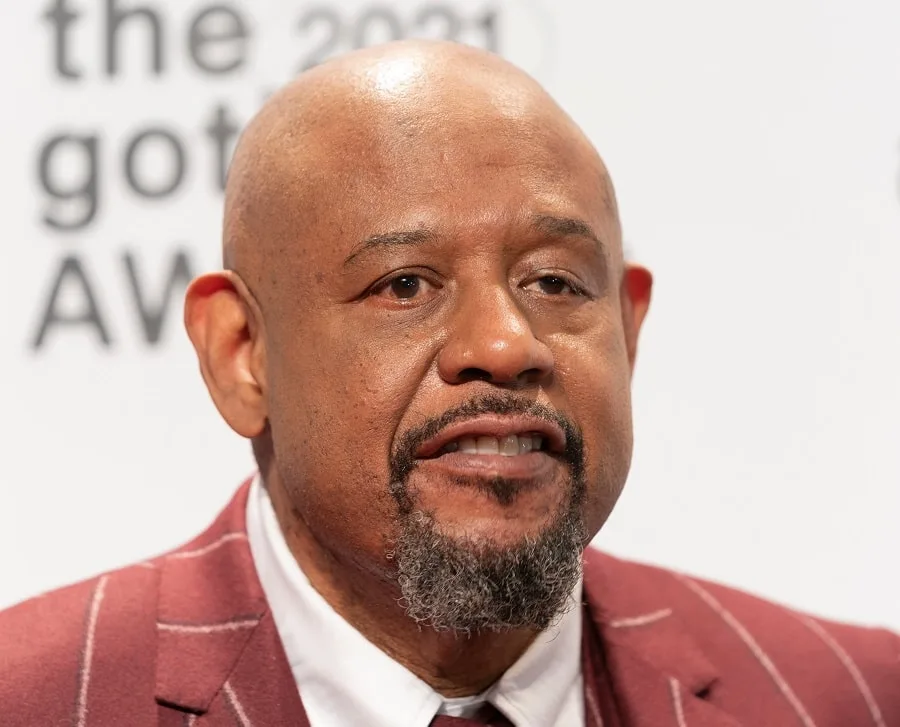 The King of Scotland himself sports a fairly simple circle beard that he allows to grow out just a little. So even though he trims down the rest of the beard, he lets the chin grow out a little and chooses to skip the soul patch.
12. Idris Elba Salt and Pepper Long Stubble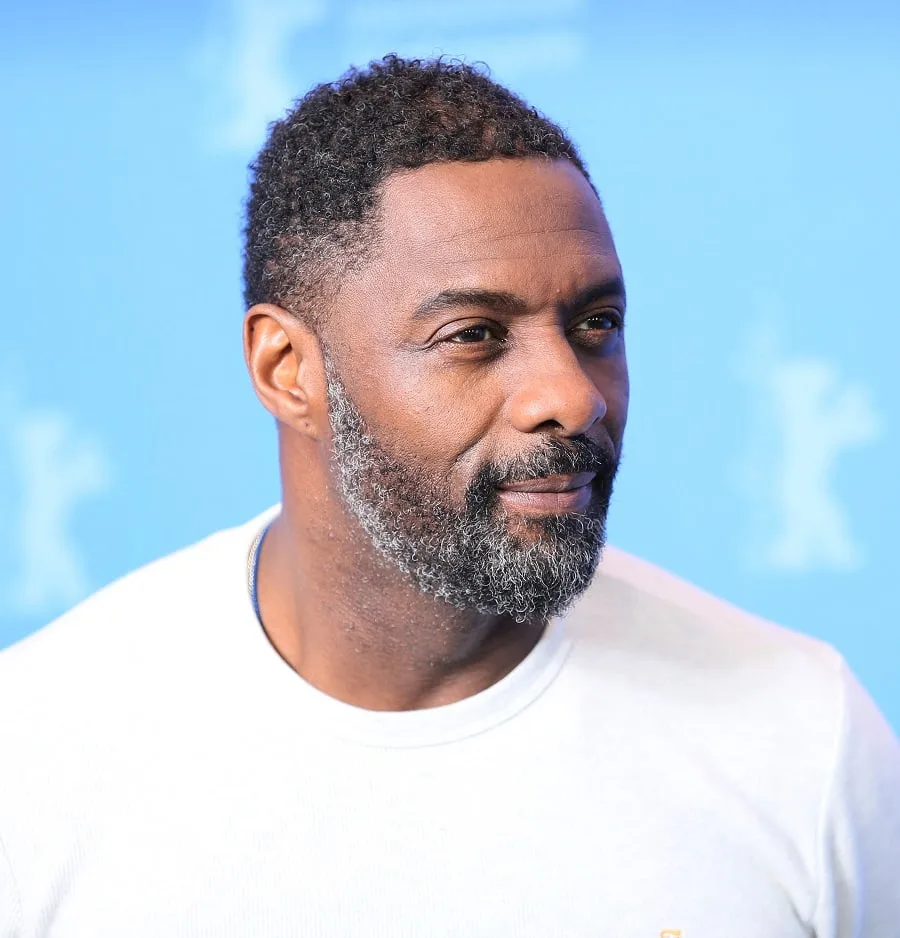 Idris Elba could look good with almost anything that he puts on, and the same is also true with his long bushy stubble. Along with keeping that cheek line and neckline trimmed, he also flaunts his grays for a good-looking salt-and-pepper beard.
13. James Harden with Full Garibaldi Beard
James Harden is a player well known for his consistency, and that consistency also extends to his scruffy garibaldi beard. He really does let it properly grow out and doesn't even square it off. Instead, he goes for a fully messy look with these black celebrity beard styles.
14. Jamie Foxx with Trimmed Circle Beard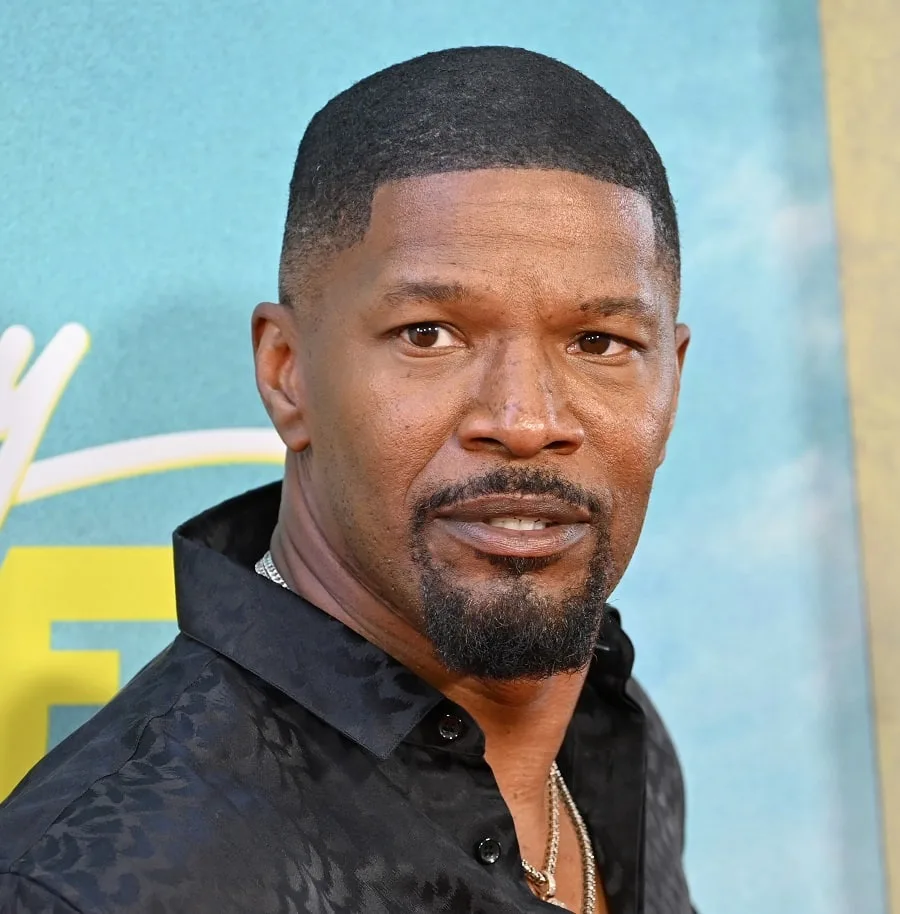 Jamie Foxx has always been an icon when it comes to sporting the best looks on and off screen, and this circle beard with the fade is an excellent look. Along with complementing his haircut, the trimmed beard also looks good with his long face.
15. Kanye West with Thin Goatee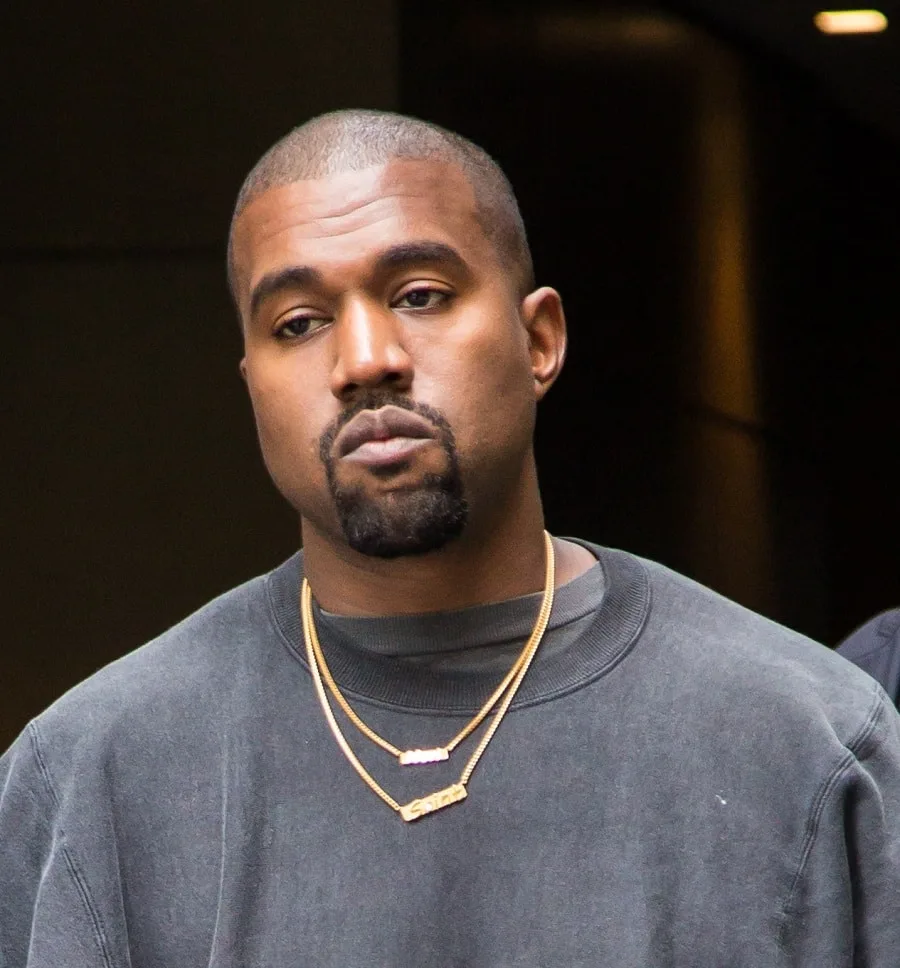 Ye's sense of style is as influential as his music, and this particular thin goatee is no different. The shorter hair pairs well with the black celebrity beard styles and his minimalist look.
16. Kendrick Lamar with Long Stubble and Dreadlocks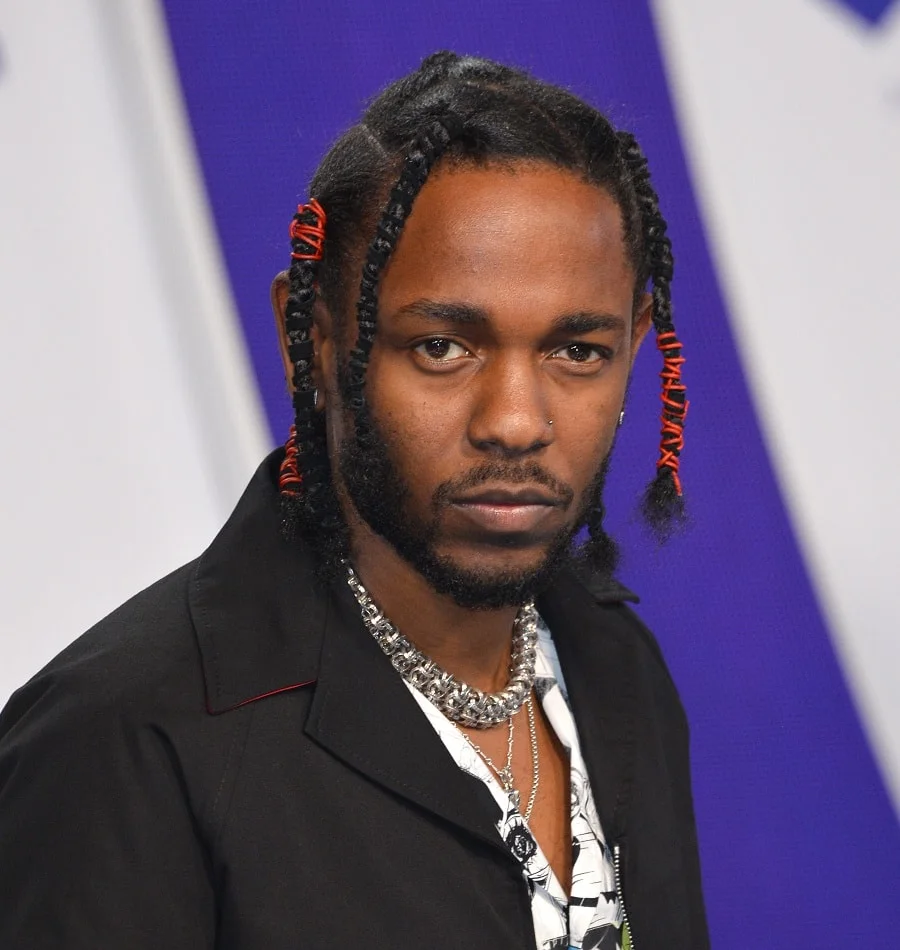 The critically acclaimed rap genius is sporting a simple long stubble that goes very well with his dreadlocks. The low box look only takes up a little real estate and is still a pretty tame look compared to his other looks.
17. Kevin Hart with Low Box Beard and Pencil Stache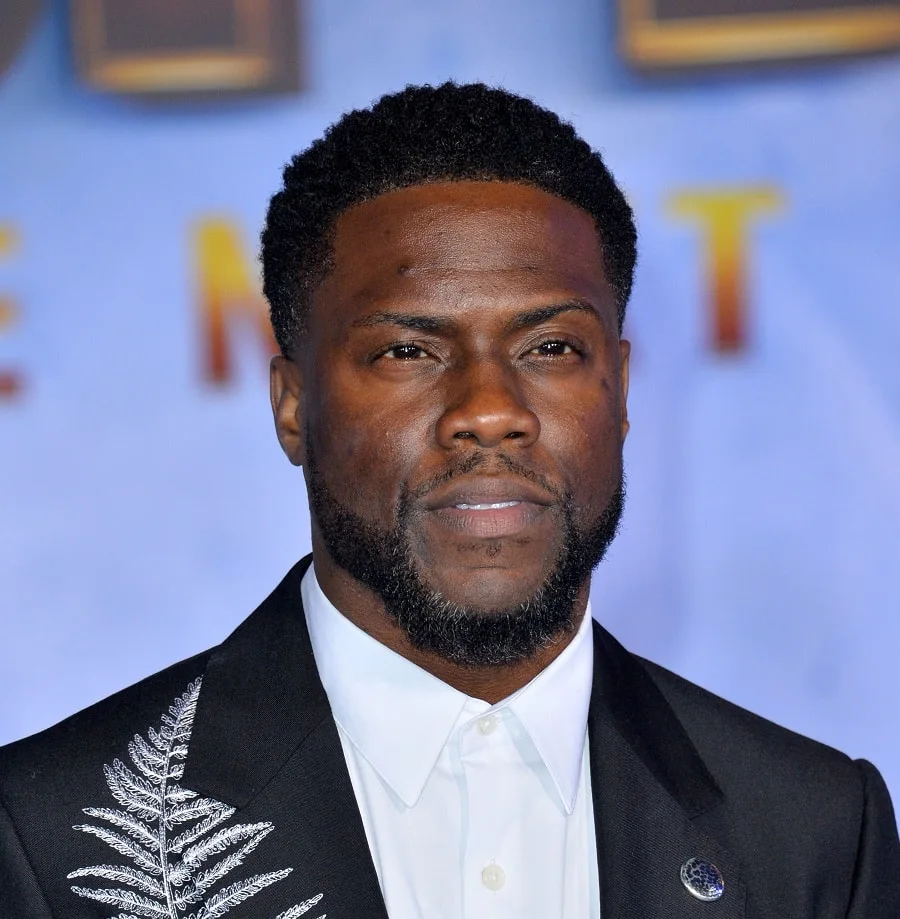 The comedian has a surprisingly fresh taste in style since he keeps a low box faded beard, with the stubble becoming more prominent as it reaches the chin. You can even notice a few specks of grey throughout the beard.
18. Lance Gross with Goatee and 5 O'clock Shadow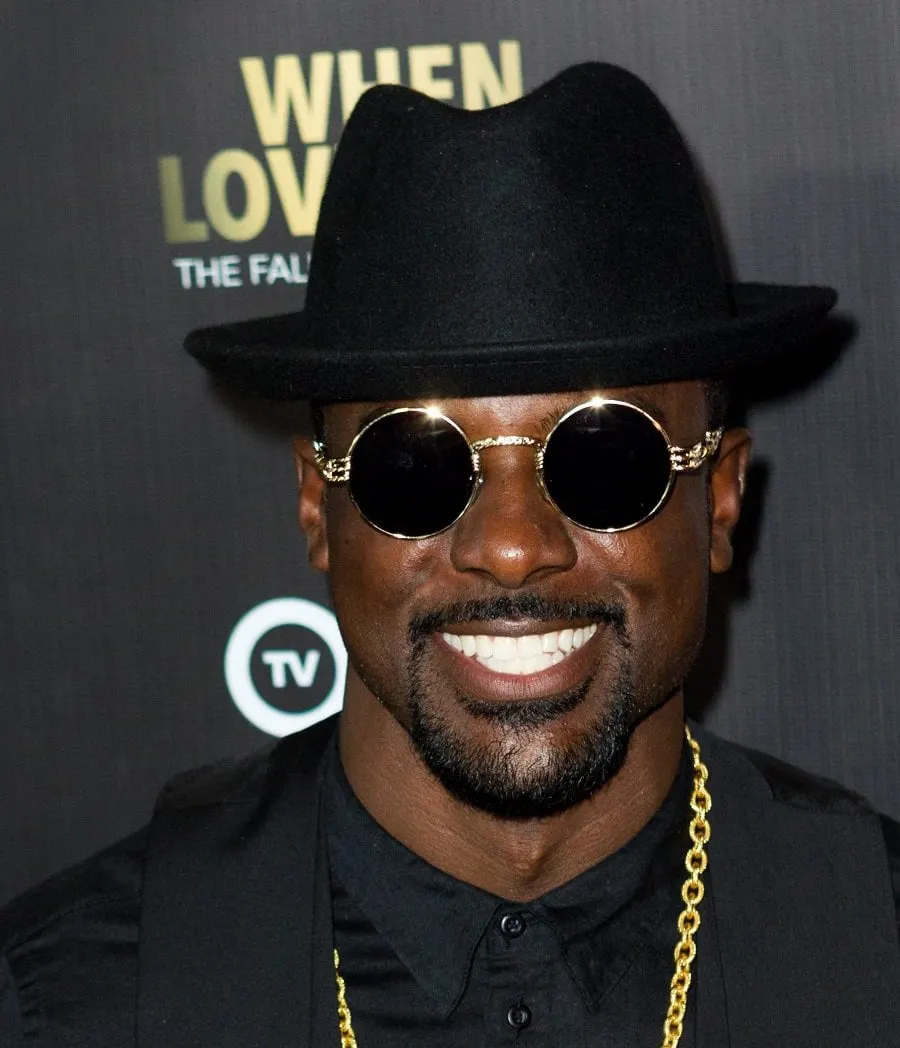 You can see Lance Gross rocking that 5 O'clock shadow with his oversized round glasses and fedora. He also complements his choice of beard with a thinly trimmed mustache and a circle beard.
19. Lebron James with Full Curly Beard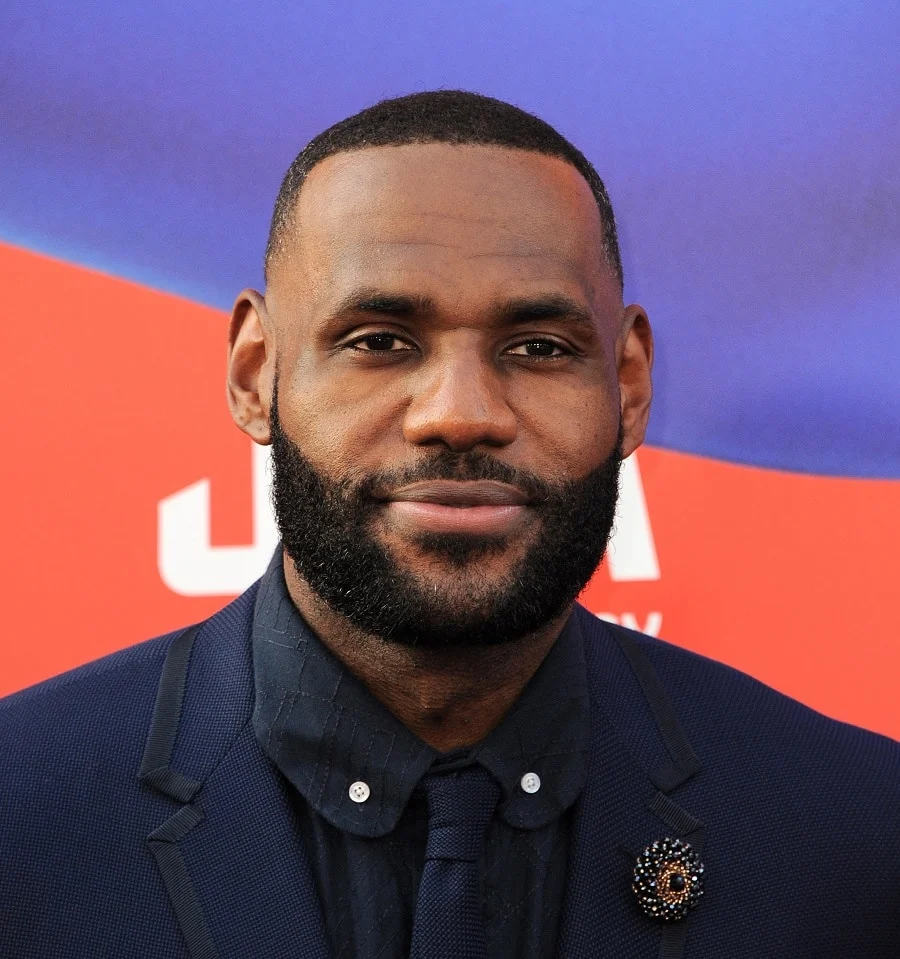 The all-star NBA player has sported plenty of unique styles throughout his career, and he's entered his dad phase with this simple but good-looking full curly beard with a good trim. The cheek and neckline are trimmed, and any stray hairs have been cut down.
20. Lenny Kravitz with Light Stubble with Dreadlocks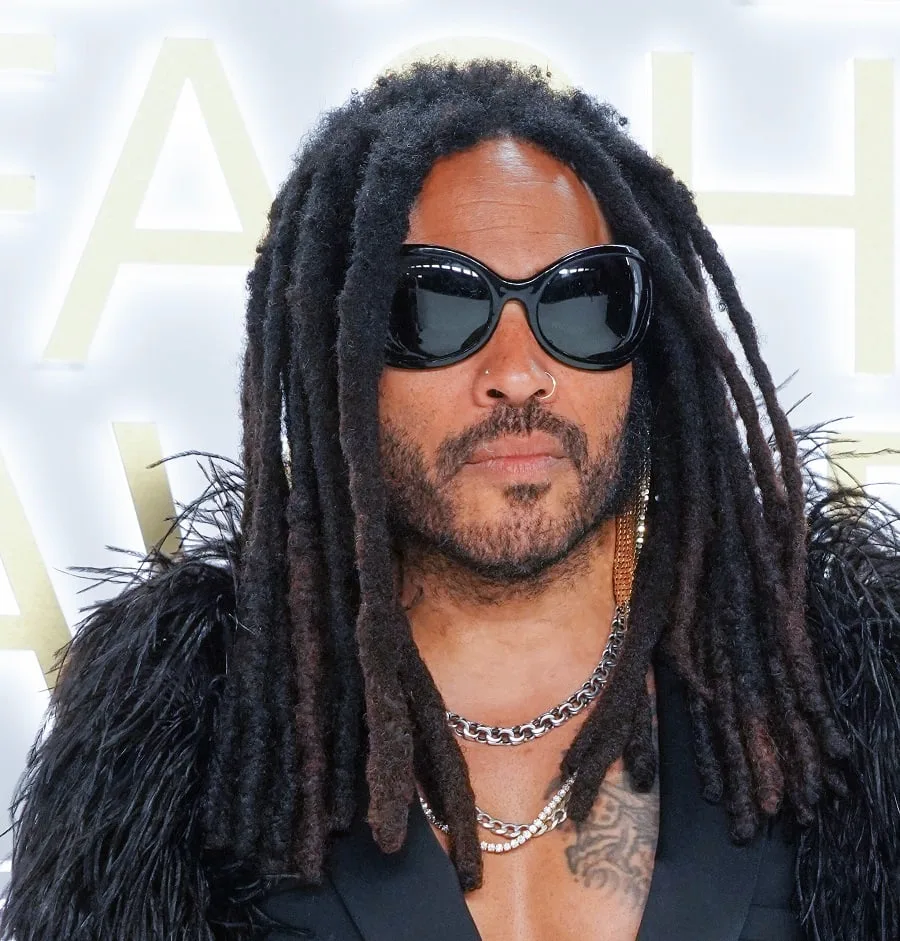 Lenny Kravitz has kept his touch since he can still walk into a crowd and instantly stand out from everyone. Accompanying his thick dreadlocks and oversized glasses is a barely noticeable light stubble.
21. Mekhi Phifer with Pencil Thin Goatee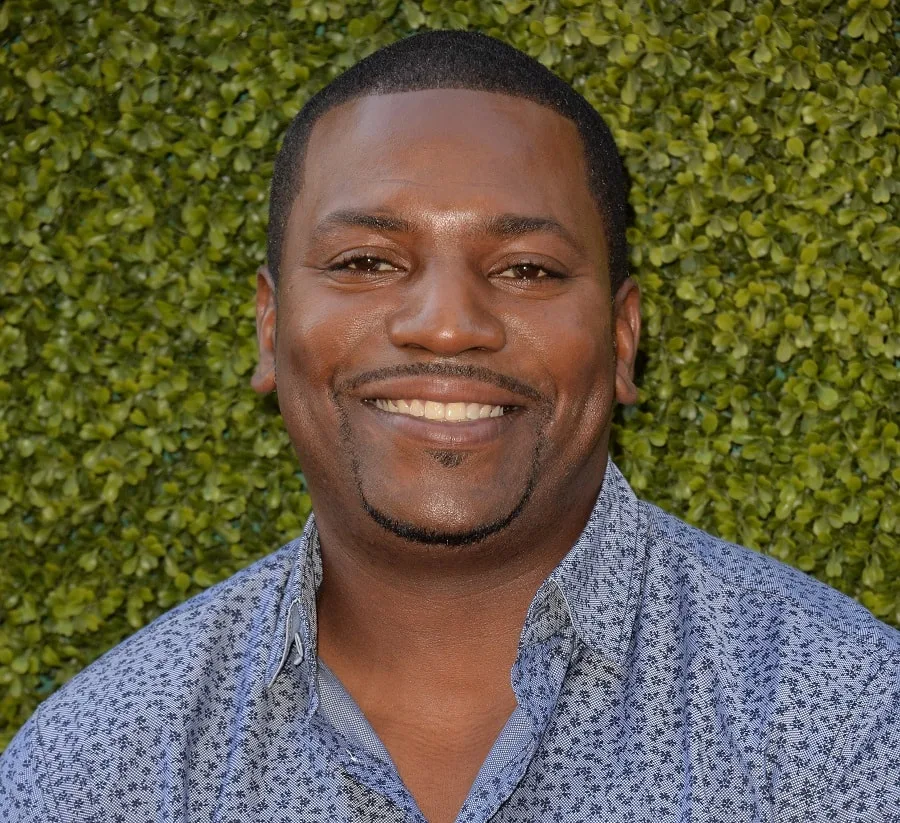 Mehki Phifer, known for his supporting role in 8 Mile, the actor can still pull off an effortlessly simple look with his perfectly trimmed pencil-thin stache and goatee. It especially goes well with his rounder face and faded haircut.
22. Michael B. Jordan with Bushy Balbo Beard and Full Stache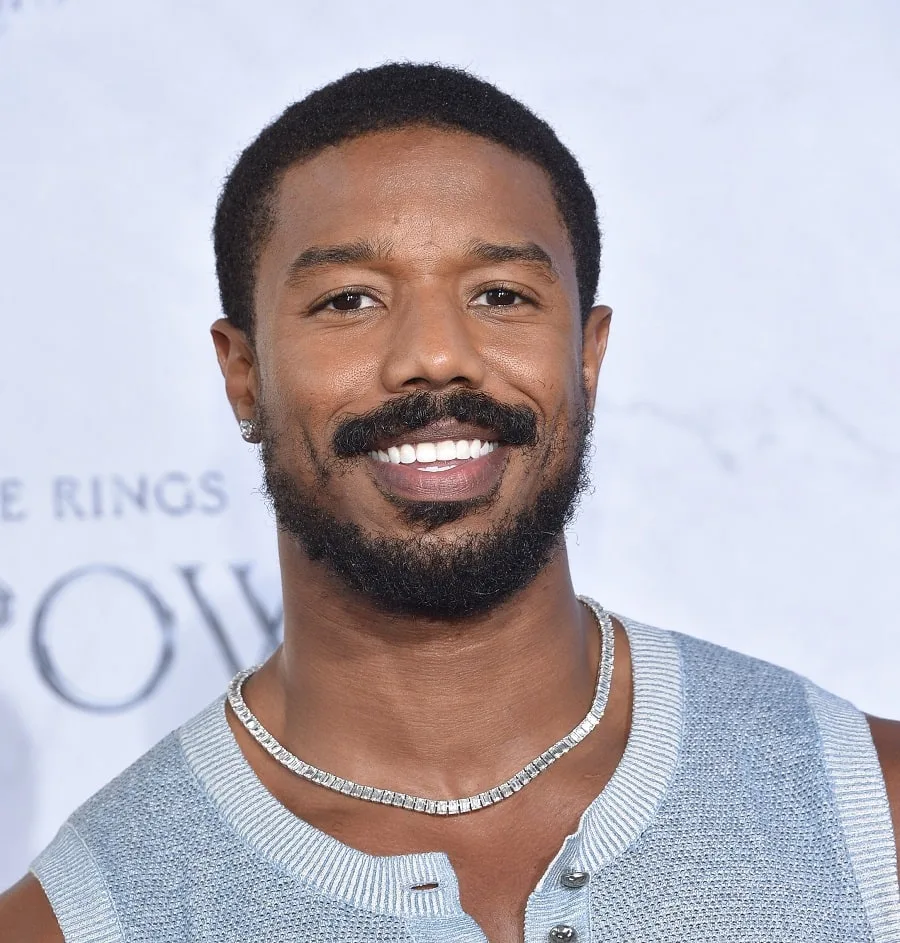 Michael B. Jordan is really rocking his curls with the short afro and an equally bushy balbo beard. He's letting that beard grow out and shaves his sides but also keeps a full chevron mustache too.
23. Omari Hardwick with Faded Full Beard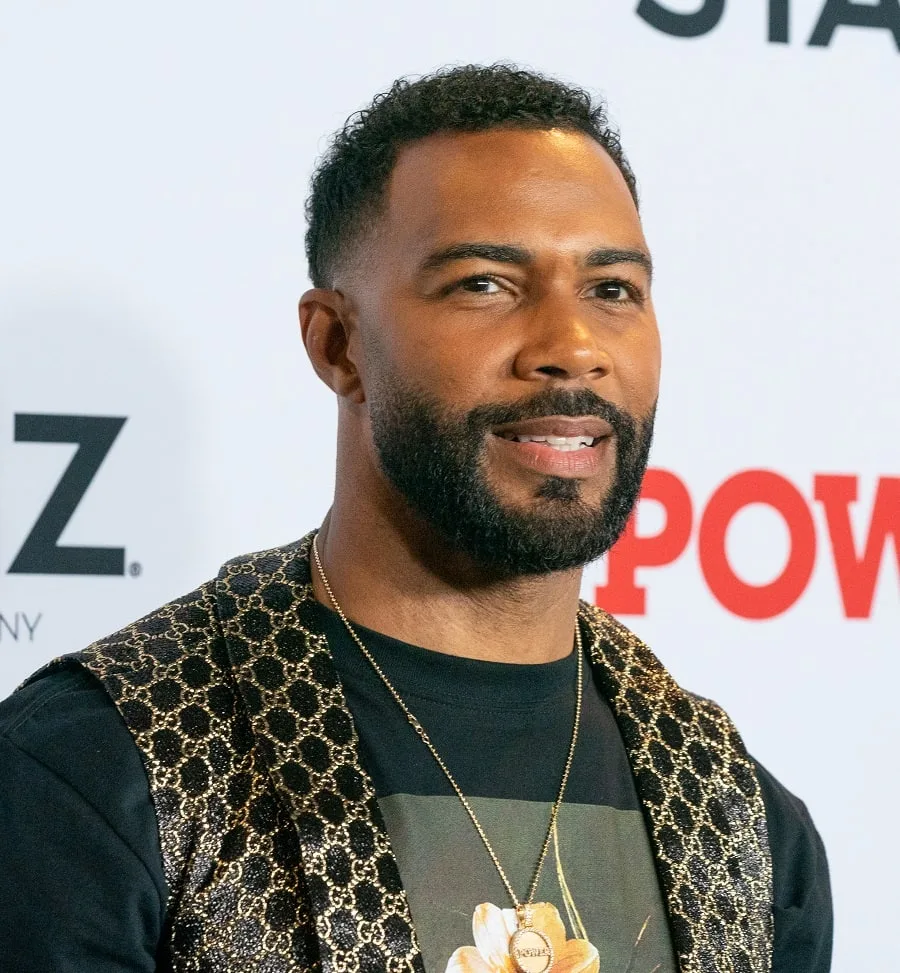 Few people can pull off a faded full beard, but Omari Hardwick manages to look good in this style effortlessly. The fade transitions into a full beard that has plenty of volumes and is nicely trimmed.
24. Shemar Moore with Thick Extended Goatee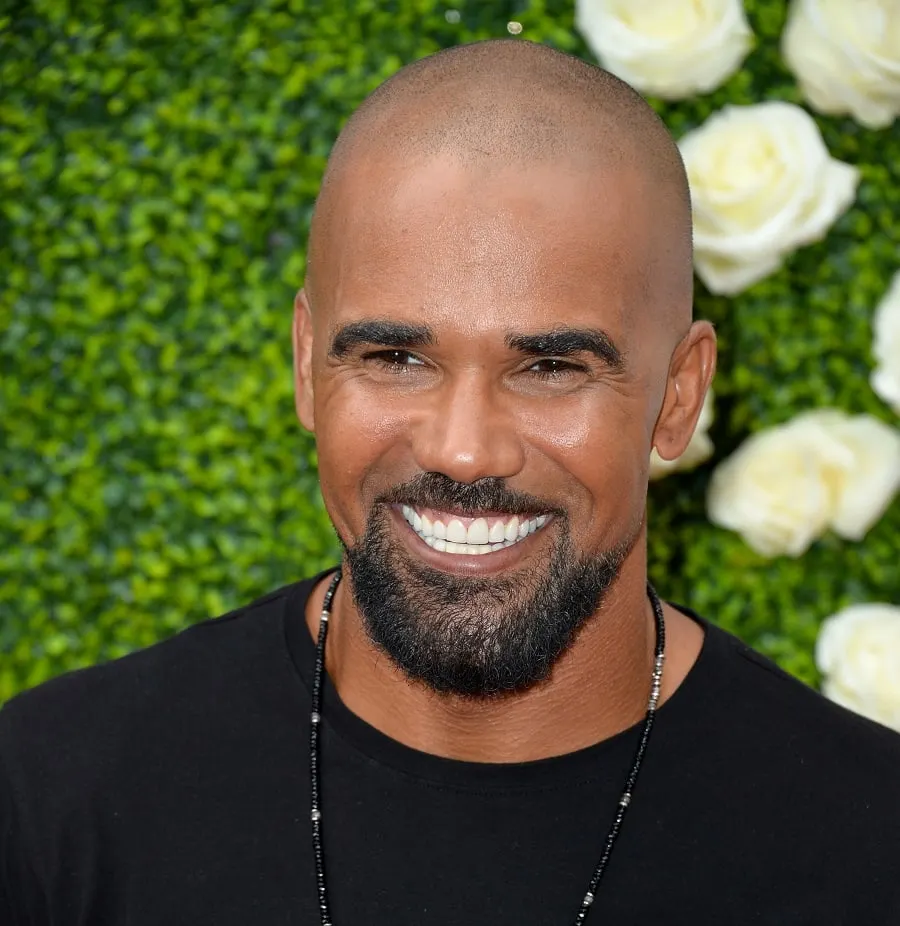 Shehmar Moore decides to go with a unique style of beard where he grows out a full goatee but doesn't separate his chin beard from his soul patch. So he has a full chin but does trim down the mustache for a thinner look.
25. Snoop Dogg with Stubble Goatee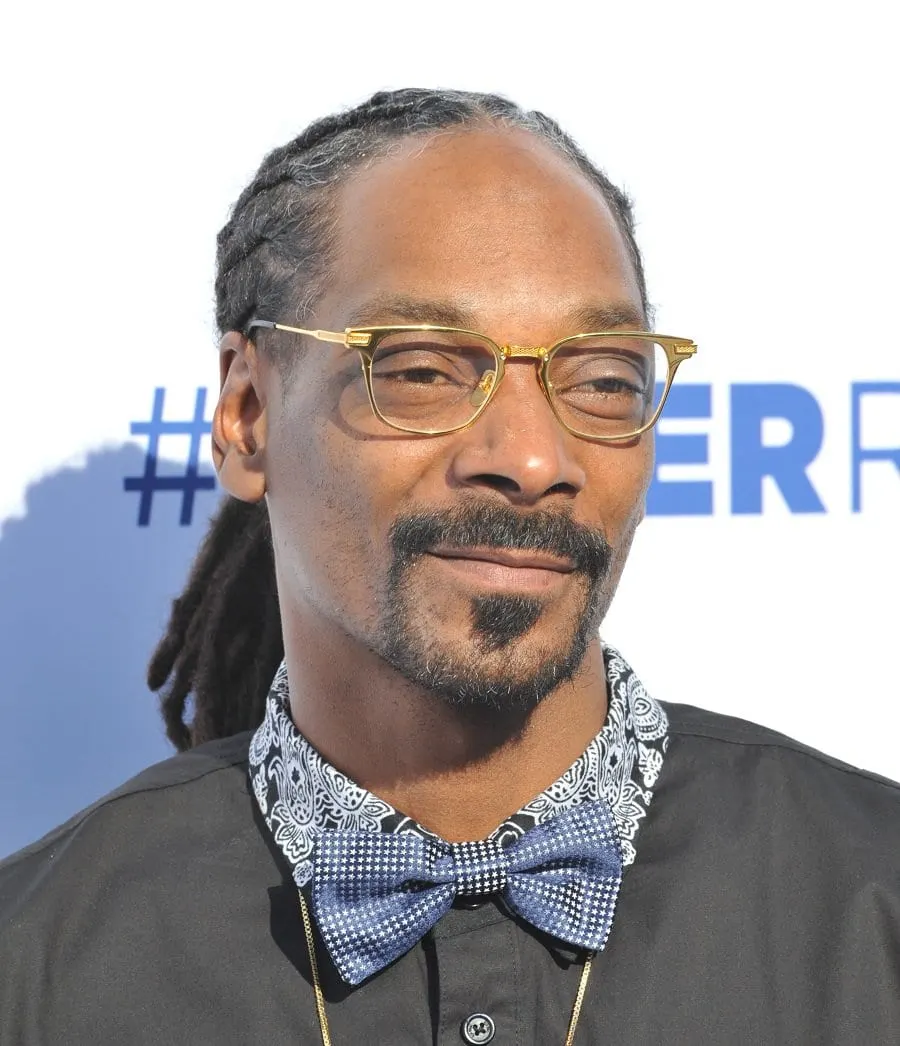 The Dogg has always had his iconic goatee, which he's sported for decades at this point. The thin, long stubble goatee is clean and fresh and doesn't get in the way of his dreadlocks or his drip.
26. Taye Diggs with Low Box Bushy Beard and Bald Head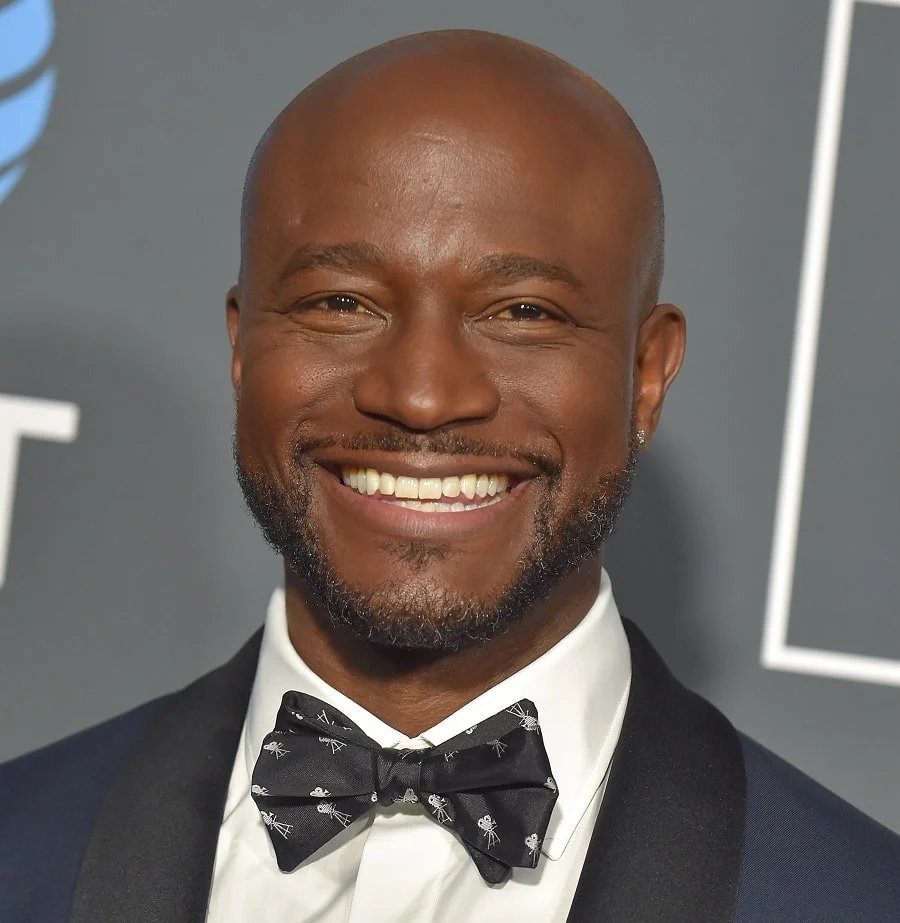 Taye Diggs picked the perfect beard to go with his bald head, as the lightly scruffy beard cut into a low box makes for an excellent Red Carpet look. Even if it is a little bushy, it's well-maintained and trimmed.
27. Terrence J with Pencil Mustache and Stripe Goatee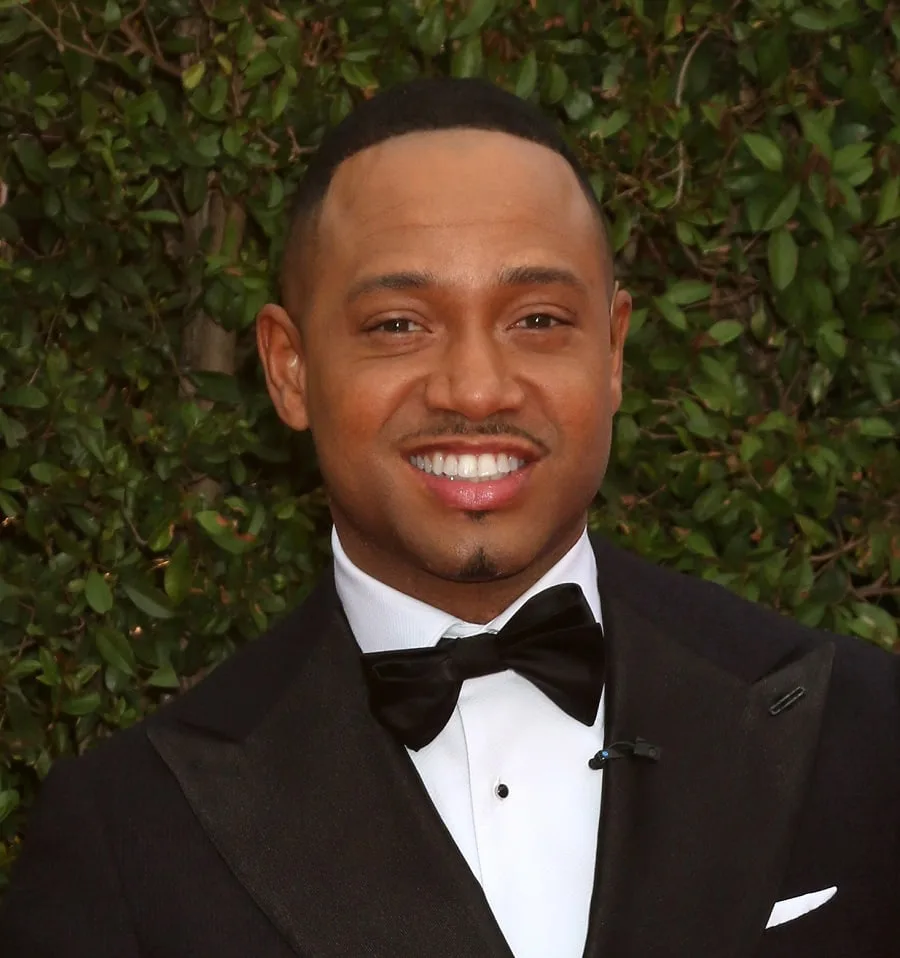 Terence J possibly has the most interesting choice of facial hair out of all the other people on this list, with his pencil stache and stripe goatee. With a single beard stripe on his chin that is about the same length as his soul patch, he has something that looks completely different.
28. Trey Songz with Light Stubble and Disconnected Goatee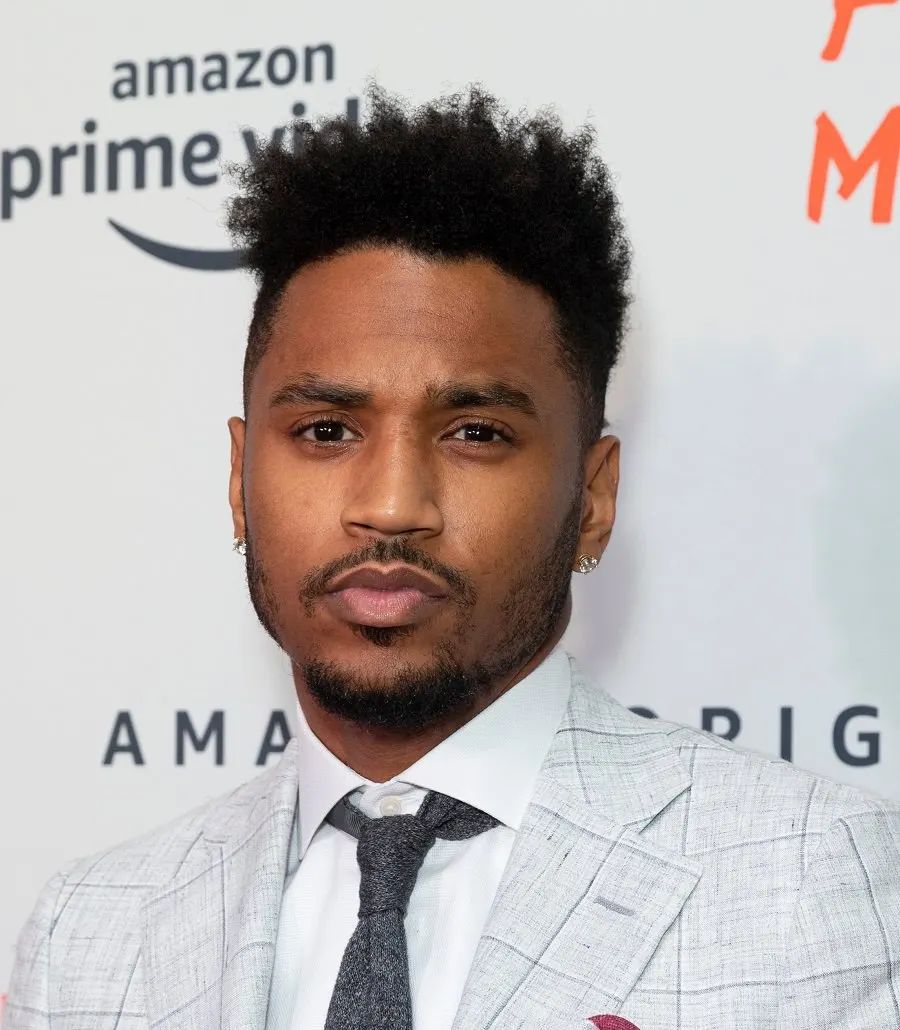 Trey Songz manages to complement his piercings and his haircut with a light stubble beard that doesn't connect to the goatee. The beard is also a little patchy, but it's those small imperfections that give make his beard look good.
29. Usher Raymond with Low Box Beard and Blonde Waves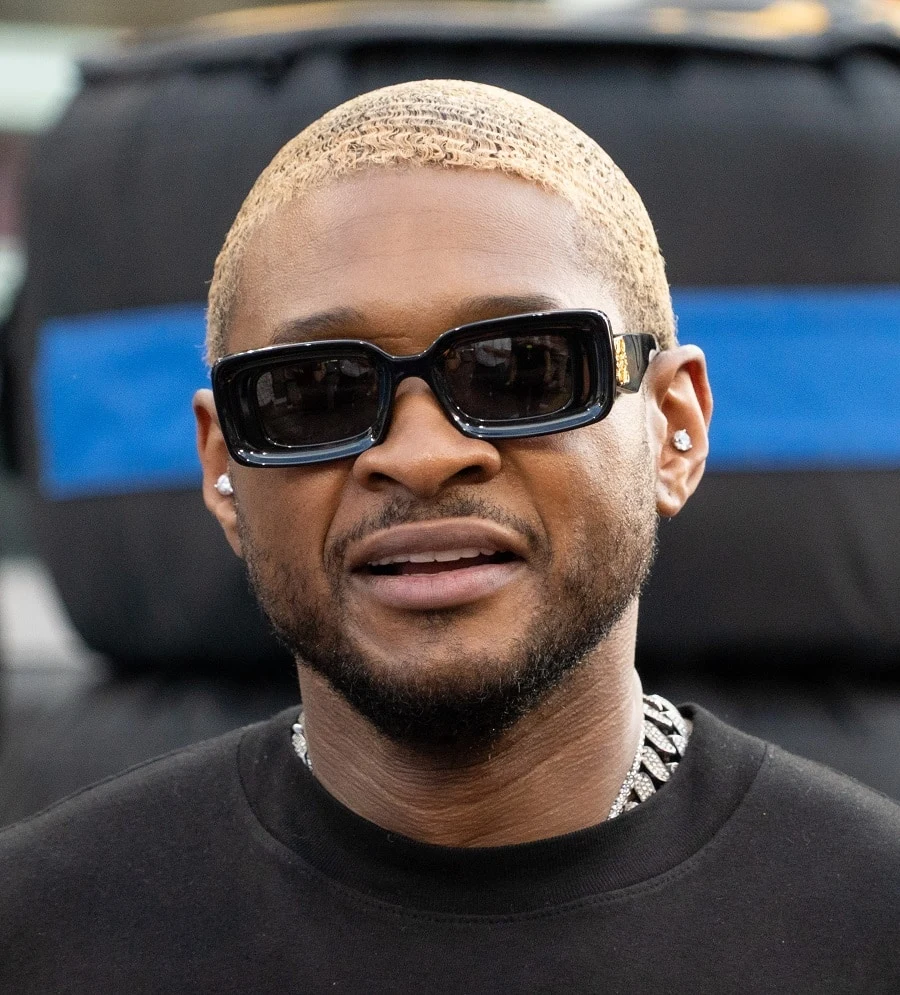 Usher has made a career out of looking fly on stage, but even when he's off stage, he doesn't slip, with his excellent-looking low box beard, which he paired with his blonde waves.
30. Will Smith with Patchy Goatee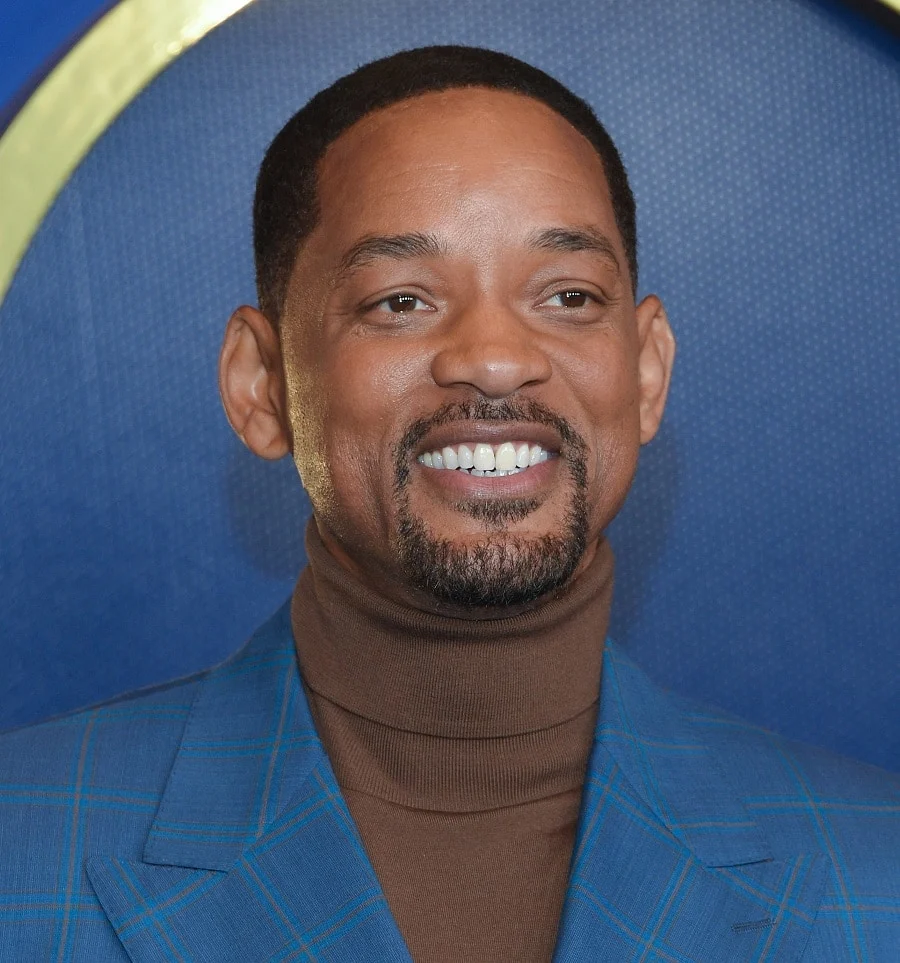 The Fresh Prince has always had a way of looking his best in the simplest ways, and his patchy goatee, matched with iconic fade, has him looking as good as always.
Black celebrity beard styles are where you can take inspiration from these different types and have a lot of fun customizing your look. So, choose your favorite look and start customizing today.