Being bald is a trend that will most likely never die. Statistics and polls suggest that a great percentage of both men and women love a bald man with a beard as it looks more masculine.
We have collected a list of 30 bold and stylish beards dedicated to bald men. Now you will be able to use your timeless hairstyle to combine it with the facial hairstyle you choose.
How to Pick A Beard Style If You're Bald
Believe it or not, the hair on your head—or the lack thereof—has nothing to do with the hair on your face. Bald men are sexy once they embrace it. That sexiness goes up several notches when you decide to grow a beard. Maybe it's the balance, but beards and bald heads go together like long hair and man buns.
If you are an African American bald man, we suggest you to check out our article on 'Beard Styles for Bald Black Men' for more specific beard style ideas.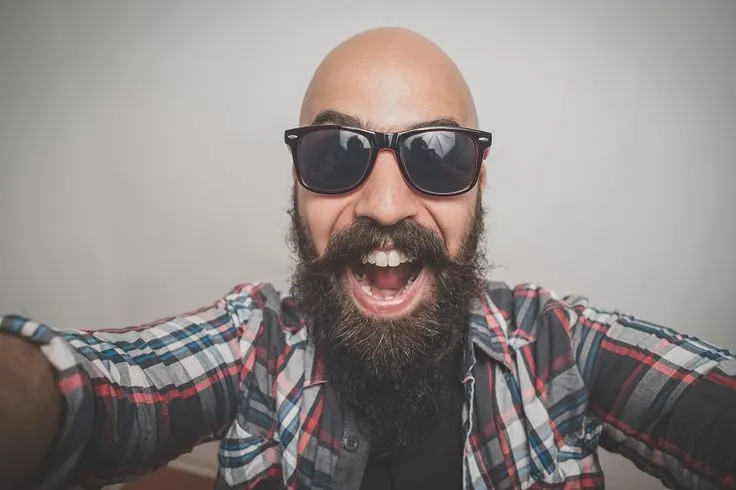 Stubble is one of the best beard styles for bald men because the upkeep is easy. Even bald celebrities also prefer stubble beard as It lends a kind of bad-boy mystique to your overall appearance, and let me tell you, guys, that's always a good thing. Think Bruce Willis—no fake. A scruffy, well-trimmed beard has the same effect. This is basically a full beard that you take the scissors or trimmer to fairly often.
Any variation of a full beard is a fantastic pick, too. Wear it long or cropped at the chin. The only thing you might want to do is avoid thick, heavy sideburns, but that really depends on the shape of your face and your personal aesthetic. With the right face, a fierce set of mutton chops actually flatters a smooth, balding pate.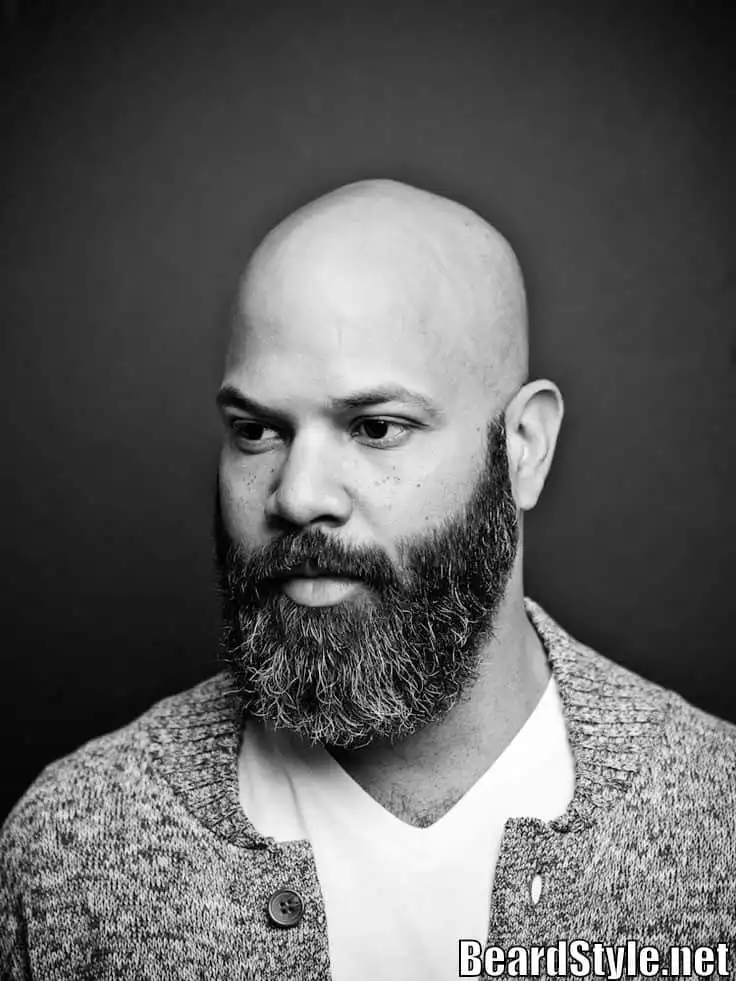 Goatees are great go-to's, for bald men who wear glasses. Whether you rock a full goatee or a classic goatee, a Van Dyke, or a soul patch, partial facial hair is on fire. Look at Walter White. Everyone's crazy about the one who knocks. You can even grow a disconnected goatee to create the illusion of more hair.
In other words, pick whatever beard style you want if you're bald. As long as you take care of it, maintain it, and style it, you can't go wrong. Even grey beard styles also look cool with bald head.
Gorgeous Beard Styles for Bald Men
We have picked the below 30 beard styles that are ideal for bald men. So you can try any of these bald beards to enhance your look and we believe it will look just awesome if you can pick the right one according to your face shape and size.
1. General Beard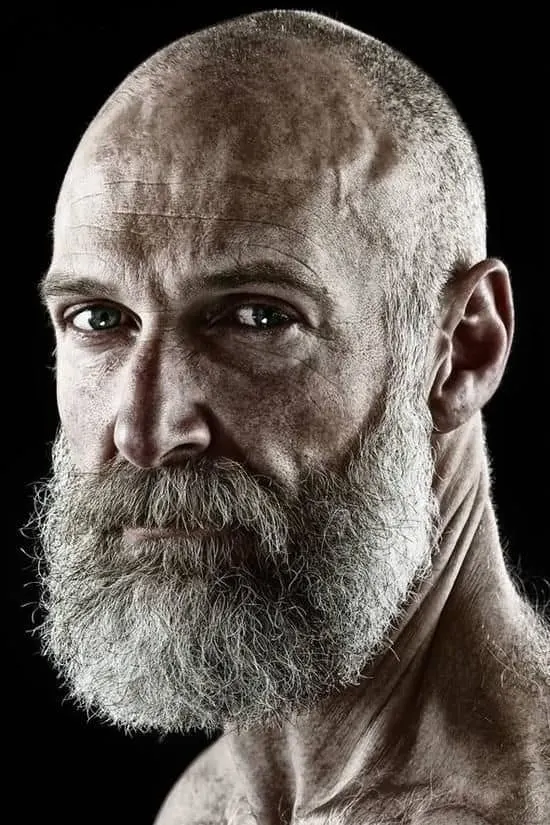 There's really no other name for this bad boy but it's always a classic that has never stopped being used by men everywhere. There's no way to go wrong with the beard.
This one is also fairly simple to accomplish and it's, in general, very low maintenance with trimming being needed probably once or twice a week.
2. The Stubble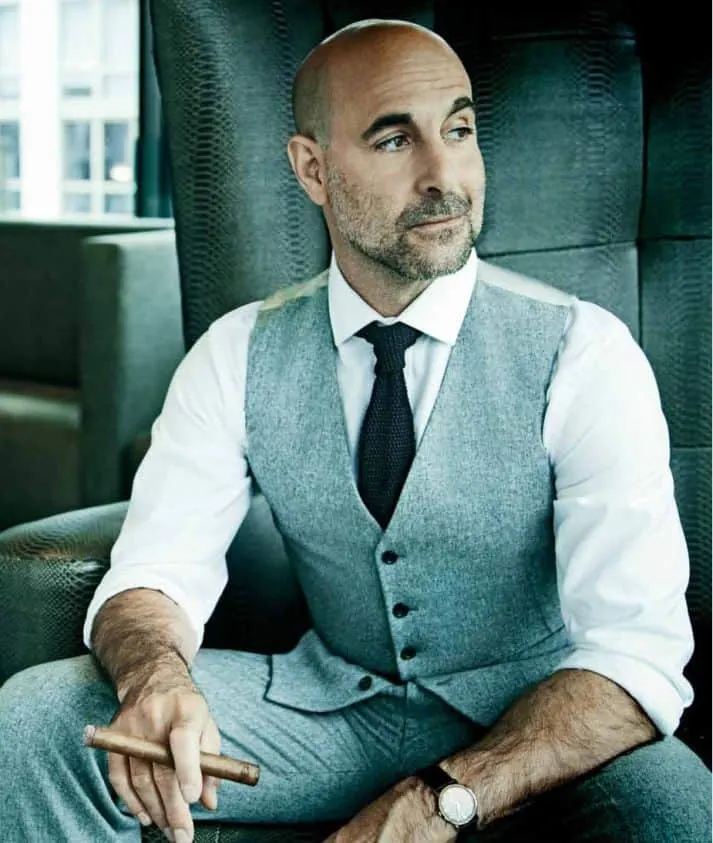 Classic, irresistible but need high maintenance. To have a stubble you must be dedicated to it, this beard style consists of keeping a beard that is long enough to be seen, usually less than ½ inch will suffice for this.
Depending on how you keep up with this style, you can either look elegant yet with an edge or like a drunk hobo. Trim carefully. This style is also great for men with certain areas of the face grow no hair at all.
3. The Goatee (with connected mustache)
Ah the goatee, making men everywhere look from teenage boys with no experience in life whatsoever to men who've lived life and seen some stuff. I mean, let's look down to The Rock:
There's actually quite a good variety of goatees out there from short to full-grown ones. Depending on the type of goatee you go with, the maintenance will either be medium or low.
4. The Van Dyke
A type of goatee where the mustache is disconnected from the beard, thin, and pointy (most men need to make use of wax to accomplish this look) and a pointy end in the beard as well. Keeping a clean and elegant Van Dyke requires commitment and loyalty to the look.
5. The Full-Grown Beard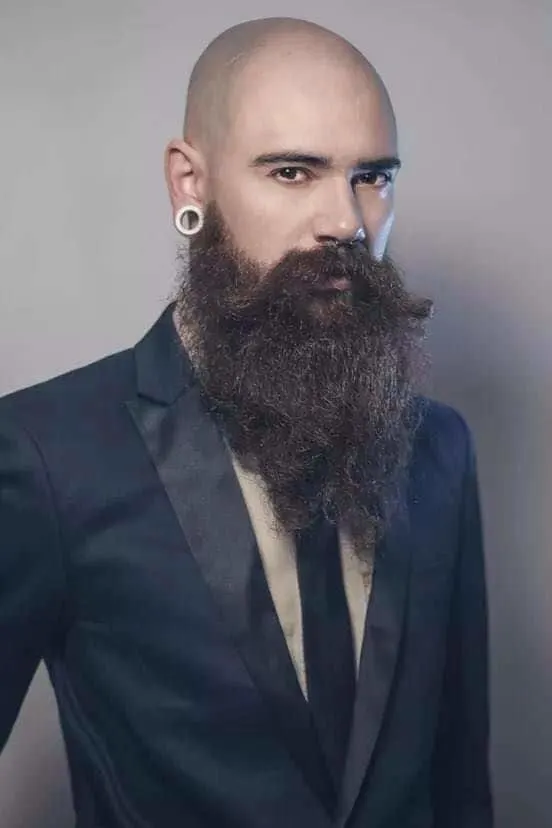 For some odd reason, people now call this the "Hipster beard", in reality, the hipster beards require two things: being a hipster and dress like a hipster. There are no such thing as a hipster beard, in general, most "hipsters" these days are either doing crazy things to their facial hair or sporting a full-grown beard.
6. The Soul Patch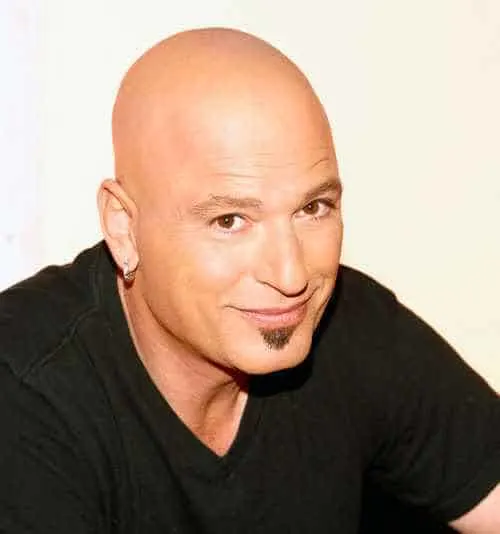 A very small beard generally pointed right underneath your lower lip. Most of the people know it as Howie Mandell's signature style. Honestly, I've never seen this man with any other type of beard but just the soul patch. and if he can rock it, so can you.
7. The Walrus Mustache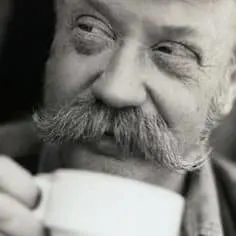 According to Wikipedia, this mustache is characterized by whiskers that are thick, bushy, and droop over the mouth. The style resembles the whiskers of a walrus, hence the name. Wax can be used for styling the mustache and depending on how fast the rest of your facial hair grows; you can either need daily maintenance or every two-three days.
8. The Chin Puff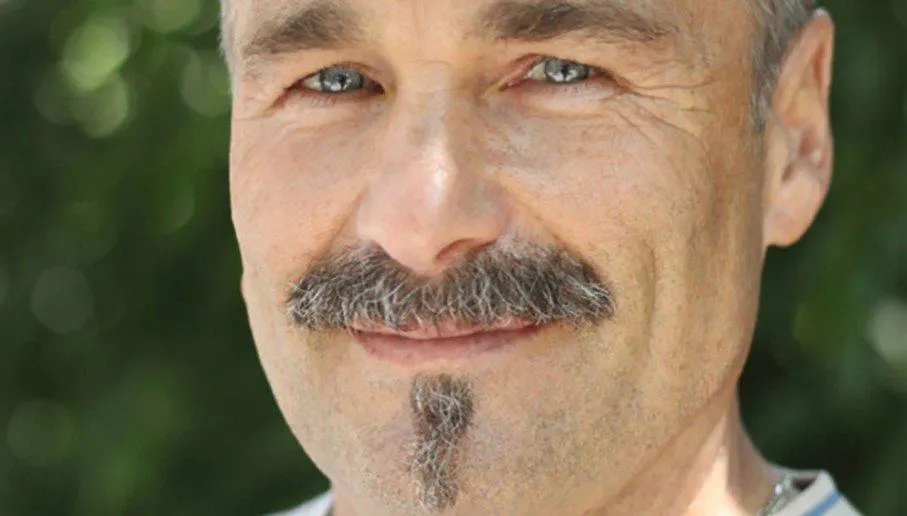 This one is a narrow goatee, looking much like a soul patch but it extends down all the way down to the chin. It might be complemented with a disconnected mustache, thin curtain beard or a connected mustache.
9. Balbo Beard
We got another version of a goatee here, wider and a little broader with a disconnected mustache and no side burns (or disconnected/short ones).
10. The Hollywood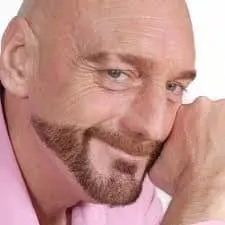 A mustache and a beard (usually full grown and well groomed) connected without the side burns. Not to be confused with the Van Dyke or Balbo Beard although they do bear some resemblance. Its name comes and references Hollywood actors' tendency to wear this look.
11. The Red Ducktail Beard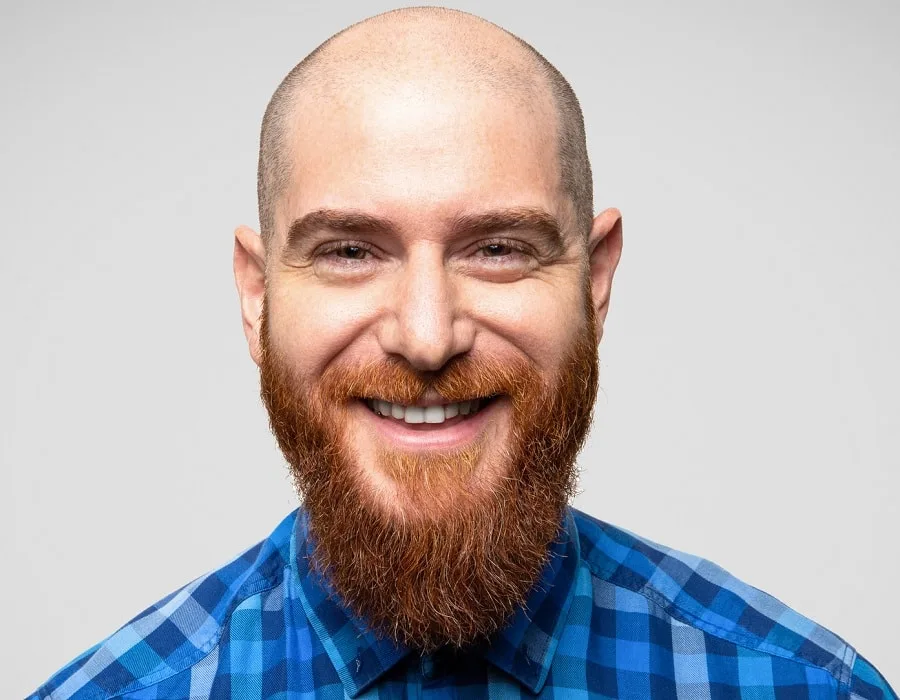 It might not look like a perfect ducktail, but it's quite close to it. When you have a red beard, find every reason to show it off, and a ducktail beard is the perfect way to do it. It's okay if it's a bit bushy or wavy. The full-face coverage of this beard seems to never go wrong with a bald head.
12. The Curly Full Beard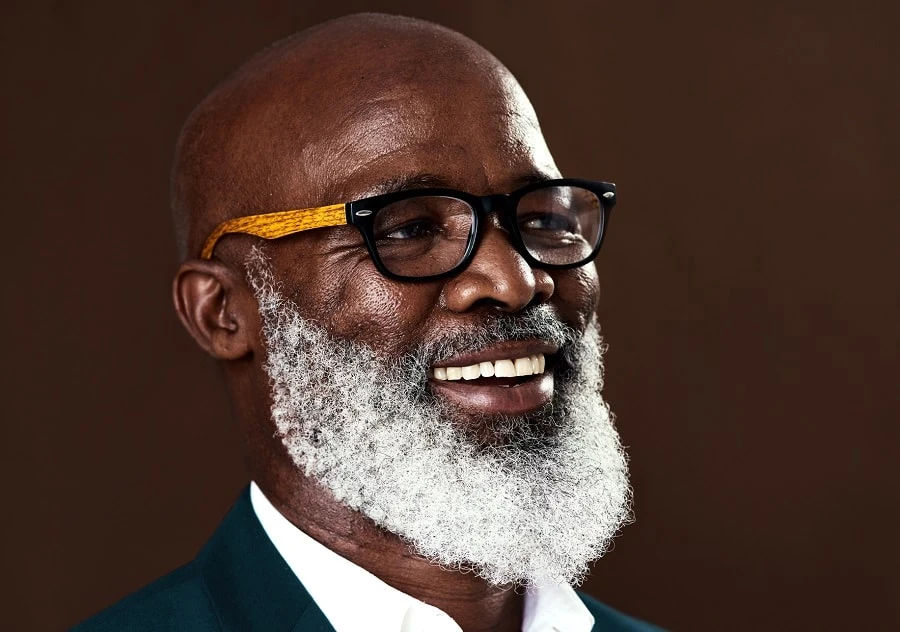 Trim the edges of a curly beard and nothing could look neater than this. Just like a dark beard, a completely grey beard also has something special about it. Keep the cheek lines neatly shaved, trim the outer edges of the beard, and shave any hair that curves under your ears for the perfect look.
13. The Hungarian Mustache with Beard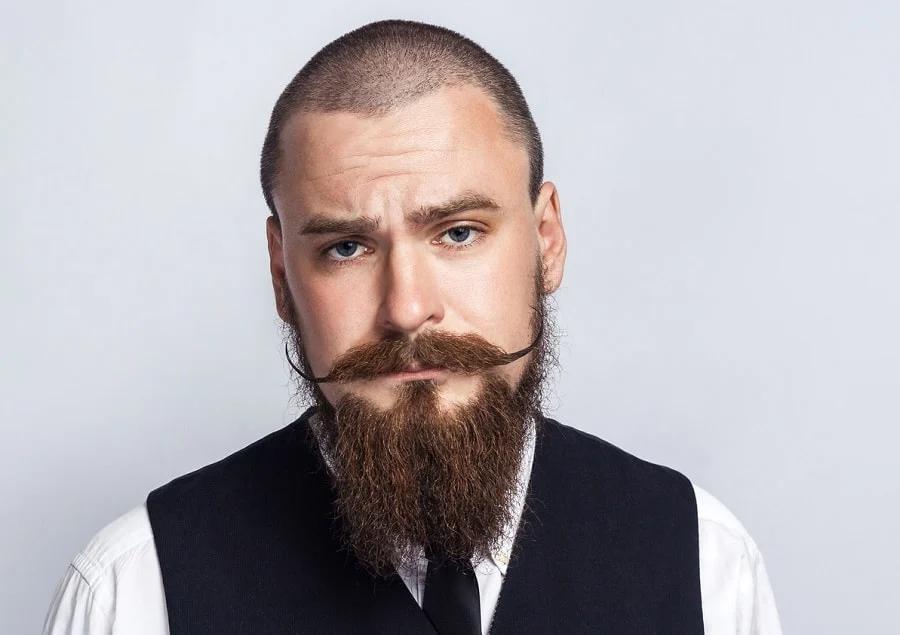 It's okay if your beard grows a little differently e.g. no hair on the cheeks, curly around the jawline etc. You can still grow the beard but make your mustache the focal point. And when you wish to do that, there's nothing better than a Hungarian mustache, which you can also call a handlebar mustache.
14. The Fu Manchu with Goatee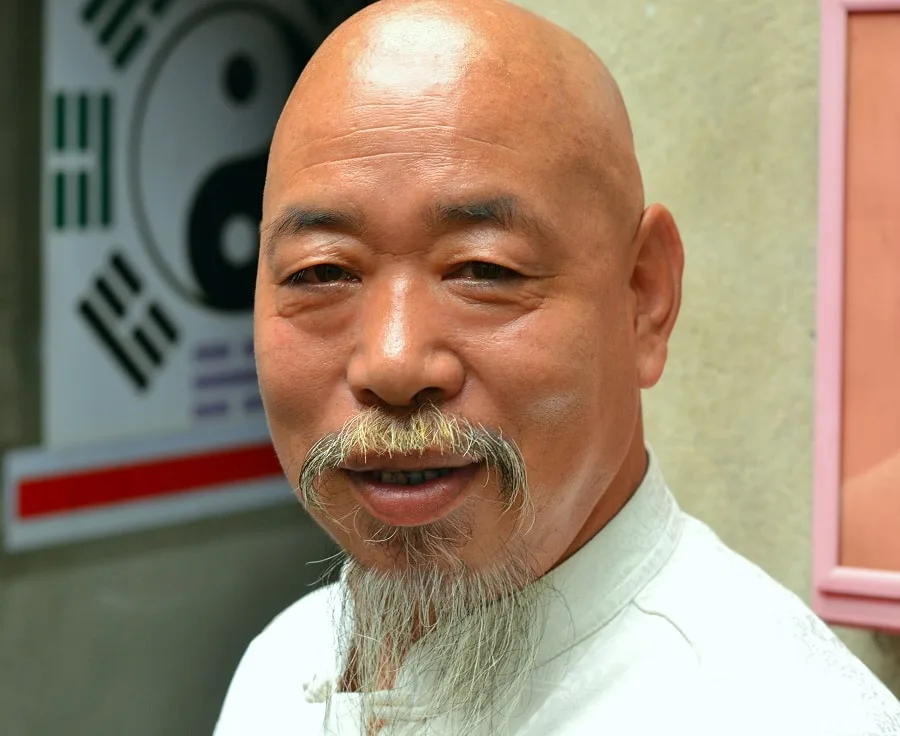 Don't confuse it with a horseshoe because it isn't that. The ends of a Fu Manchu mustache will (kind of) hang around your lips, whereas a horseshoe mustache is connected. Grow a goatee so it hangs down your chin to complete this typical Chinese beard style.
15. The Red Chin Curtain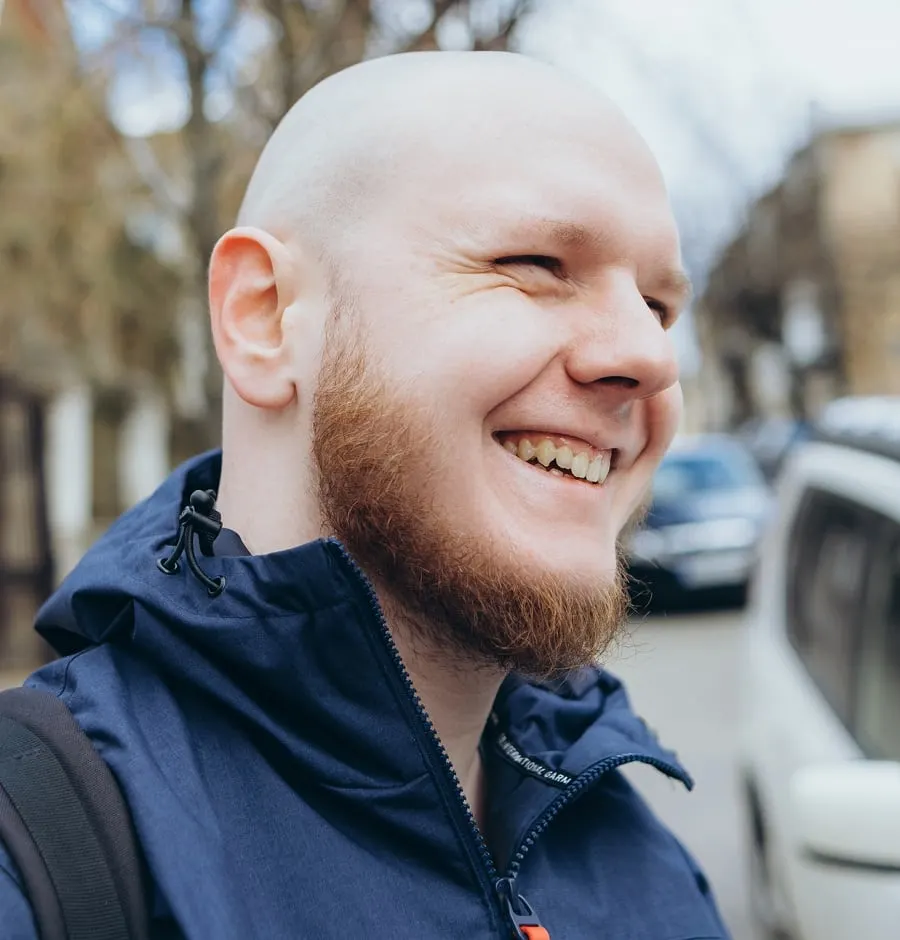 A red chin curtain looks great on people with bald heads because it provides a clear outline to the face. It acts as an anchor to someone's glance, which is missing when you have a bald face and a clean shave. It's okay to not have a clear neck line when you go for this style.
16. The Pencil Mustache
A simple, thin line of hair above the upper lip. A line that's too thin will look like you're a 12 year old who's finally grown his first mustache over the summer and too thick might turn it into a paint brush. The pencil mustache is all about balance.
17. Disconnected Goatee
Looks like most of the variants, some deem this style to be the first original version of a goatee and it's very usually represented in one of two ways: disconnected mustache and a goatee, no mustache and just a simple fully grown goatee.
18. Mutton Chops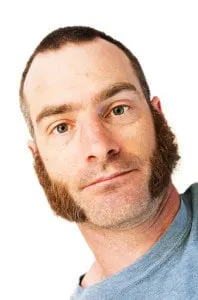 Let your mutton chop sideburns grow wild and free (except don't take this literally, Mutton Chops are all about styling and careful trimming). They can be styled with a disconnected beard but are more often seen as a full growth of the side burns all the way down to the sides of the jaw line.
19. Friendly Mutton Chops
An extended version of the regular Mutton Chops except for this style sports a connected beard. According to Wikipedia, this style originated with American Civil War general Ambrose Burnside and his unusual lard mutton chops.
20. Wild West Mustache
A bushy, combed and styled mustache which can also be referred to as the Hungarian.
21. The Klingon
According to Dryers.org, this a full beard where the upper lip is shaved clean, but the connectors from the beard to the mustache are left intact. This style gained popularity thanks to the fans and actors in Star Trek.
22. Norse Skipper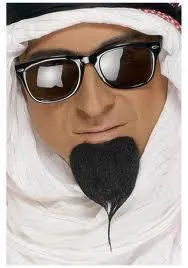 A disconnected goatee that looks like an upside down tear drop. No side burns and no mustache.
23. The Garibaldi
A full grown beard with a connected mustache that is trimmed in a circular shape at the ends (rounded bottom).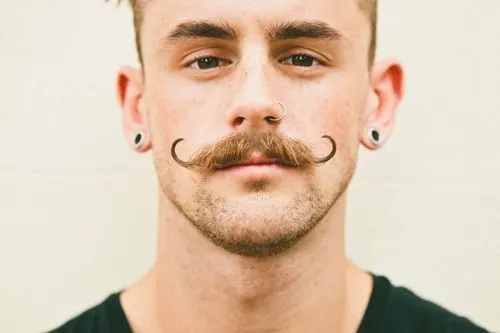 A bushy or thin mustache with thin ends curled upwards. Not to be confused with neither the Wild West Mustache nor the Walrus. What makes this style stand out is the thing curled up ends which are usually achieved with wax.
25. Handlebar + Goatee Combo
Two classics combined into one elegant style. Neither are connected.
26. The Chin Curtain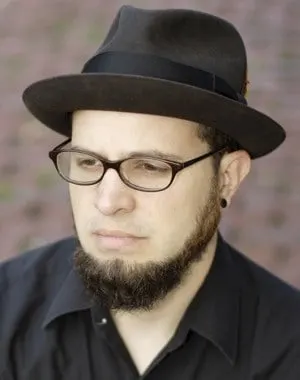 Abraham Lincoln's iconic look it consists of a full grown beard without neck hair or a mustache. This medium beard is also referred to as the "Amish beard".
Looks almost like a Chin Curtain but instead is a very thin line of hair and it is something paired with a disconnected mustache. Don't confuse it with stubble.
28. Short Boxed Beard
Fairly simple to keep up, very varied and personalized. In general, it's your regular full beard with the length depending on the person sporting it. What makes it stand out is the boxed, semi-clean-cut trim.
29. The Zappa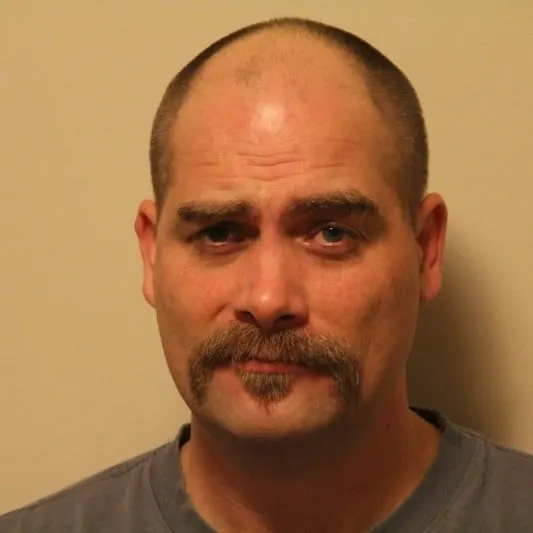 A full mustache that grows downwards paired with a soul patch, popularized by musician, Frank Zappa.
30. Clean Shave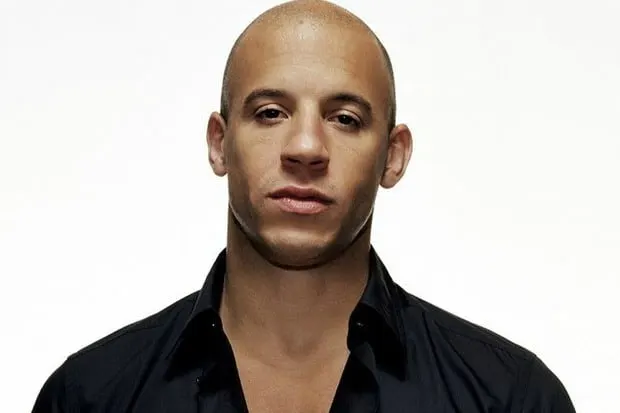 Not all men look like newborn babies with a clean shave. Let's take a look at Vin Diesel who's been using a clean-cut as his signature style since forever.
Why Grow Beard With A Shaved Head
Basically, bald with beard style is embraced to hide the bald head. Beards, in this case, are sustained to compensate for the lost hair as well as beauty.
Suitable for
Bald with beards are suitable for men who are either developing or have bald heads. What's more, this style can also be impressed with individuals who have grown grey beards. This style will not only make them look handsome but it will give them a young look.
If you have a round face consider adding length on your chin. So, bald men with round faces should opt for beard styles like goatee or van dyke.
Let us know which of the beards and mustaches featured on this list your favorite is. If you want to try any of these bald men beard styles, feel free to experiment according to your face.