Growing a beard is a great way to change the look of bald men with glasses. You may lack hair on the head, but let's not let that limit the scope of your stylistic expression.
When you're bald, your face gets more attention than your head. That's because your jawline and facial outlines are more prominent than usual. Bald men with beards look different but also exhibit an individual level of distinction and style.
Similarly, wearing glasses can affect how much of your facial structure is visible, and this brings all the attention to your beard. The beard can enhance your facial features and literally "rewrite" your facial structure. It's up to you to ensure that the final result looks good.
Most men feel insecure about their baldness and the fact that they wear glasses. It's time to Pair your glasses with the versatility of the beard and inspire, impress, and redefine what it means to be a bald, bespectacled man sporting an epic beard.
Choosing a Beard Style for Bald Men with Glasses
Now comes the most critical part, choosing the correct beard style. While it seems like a straightforward task, there are a few challenges involved.
The first challenge is to find the delicate balance between the length of the beard and how much of your face it covers. Too much hair can make your face look busy, while too little can create an unbalanced appearance. The second is to find the perfect pair of spectacles to go well with it. Most people forget that glasses become a part of your face and something people recognize you by if you wear them long enough.
However, don't let these challenges discourage you from experimenting with different beard styles. With the right approach and a little bit of patience, you can find the perfect beard that enhances your unique look and makes you feel confident and stylish.
There are, of course, a lot of factors you have to take into consideration before doing this, like your jawline, skin tone, mode of beard growth, nature of your beard, etc.
Beard Styles for Bald Men with Glasses
A great beard style can certainly make a huge difference in your overall appearance. The key is to choose the correct one and maintain it. Here are 18 of the best beard styles for bald men with glasses.
1. Long Beard With Oversized Frames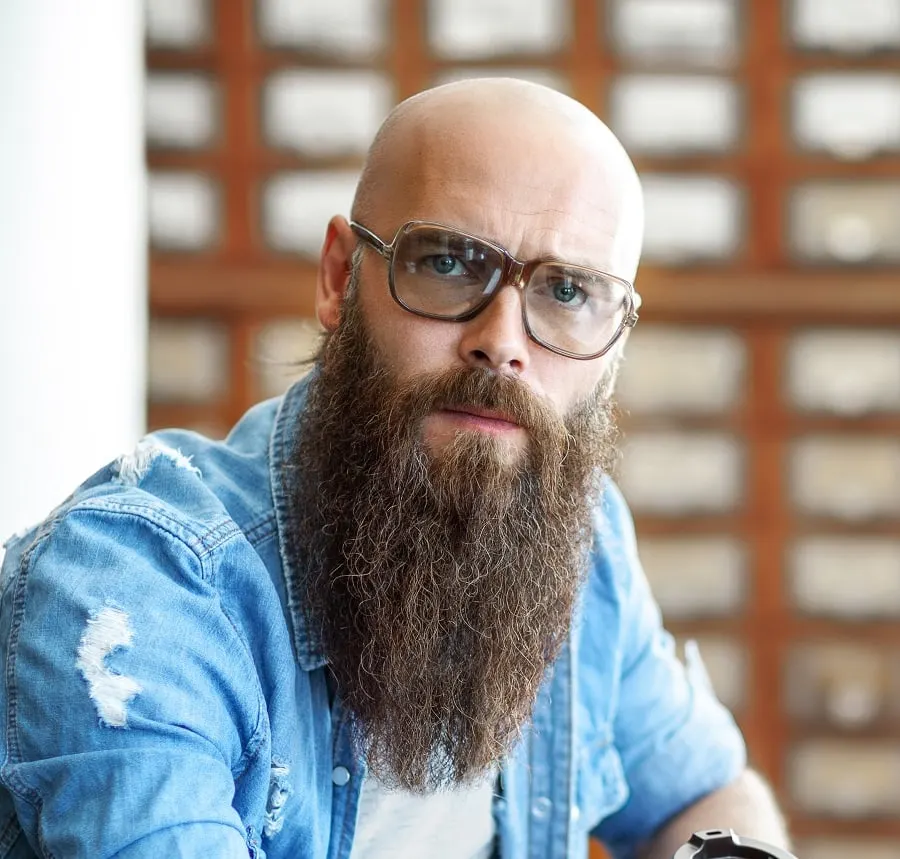 This style gives you a serious, rugged appearance. The long beard gives personality to not only the face but to the bald head as well. Bringing oversized frames into the mix makes it a unique combo to work with.
2. Van Dyke Beard and Handlebar Mustache With Oversized Metal Frames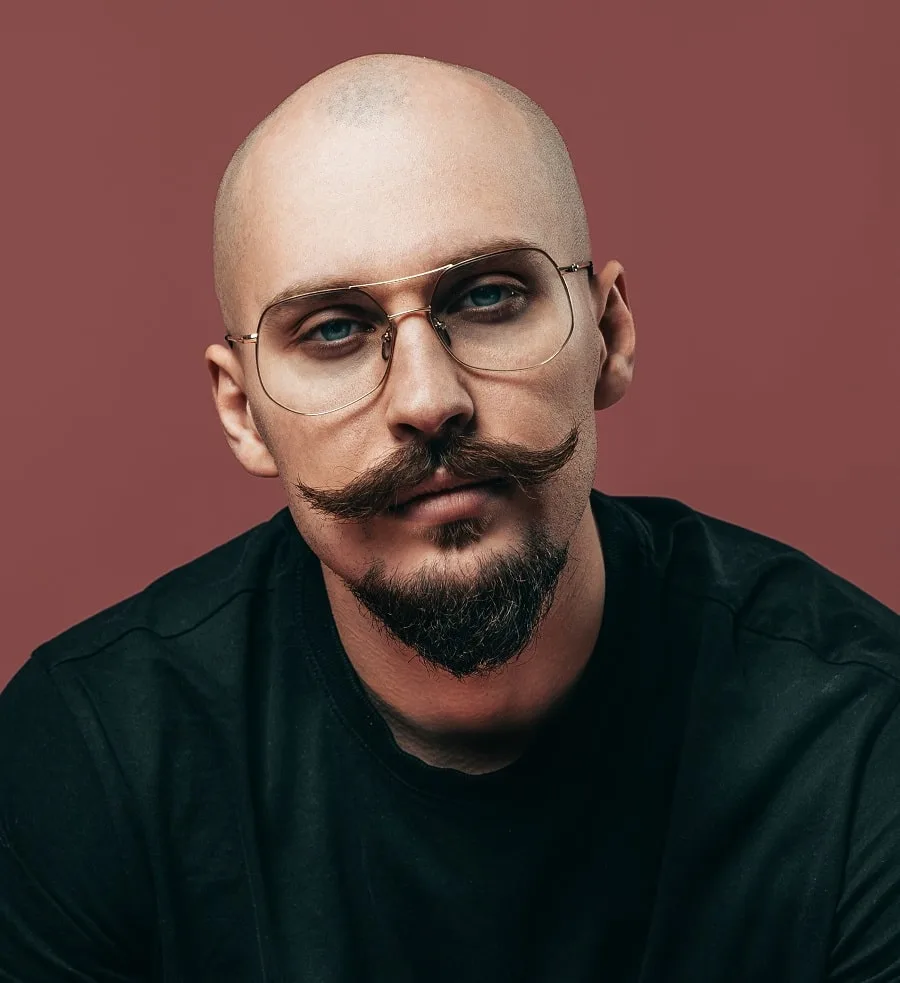 The van dyke beard highlights the cheekbones and the facial outline, paired with a handlebar mustache it gives you a classic vintage look. Moreover, the elegant oversized metal frames create a fantastic contrast with the beard's more contained look. This style is recommended for people with a triangular or oval face and a sharp jawline.
3. Short Beard With Thick-Rimmed Frames
The short beard will provide you with a more masculine look. Wearing thick-framed glasses will give your face some added definition. It's a great combo for those who want to stand out. The beard covers the facial borders and defines the face, while the glasses give it personality and uniqueness.
4. Grey Circle Beard with Rectangular Frames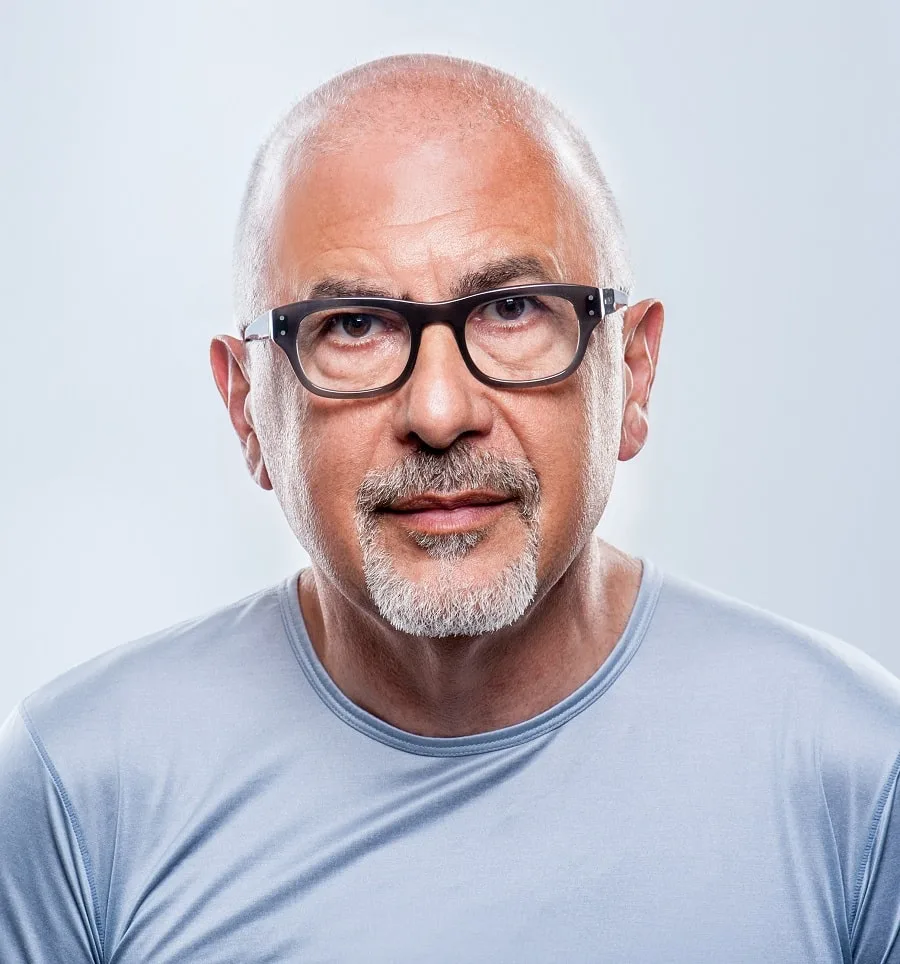 Nothing can go wrong with a full goatee with grey beards. By creating the illusion of a pointed chin, it gives your face an angular look. Use rectangular glasses as they generally complement the goatee. This combo works well with most facial structures.
5. Rounded Curly Beard with Round Glasses
The curly full beard is a tricky one to grow out. It looks great if done tastefully but looks horrible if you fail to maintain it. Let the beard grow and see how it covers your face before adjusting it accordingly. Using round glasses will give you a more friendly look.
6. The Long Full Beard With Browline Frames
This grey beard style is for bald men who are older. Usually, men who grow out longer beards are aiming for a stern look, but his one is styled to make you look friendly. It hides your jawline from every direction and diverges while descending. Wear a pair of browline glasses with this beard to soften your features.
7. Goatee Beard for Bald Men with Half-Rimmed Rectangular Frames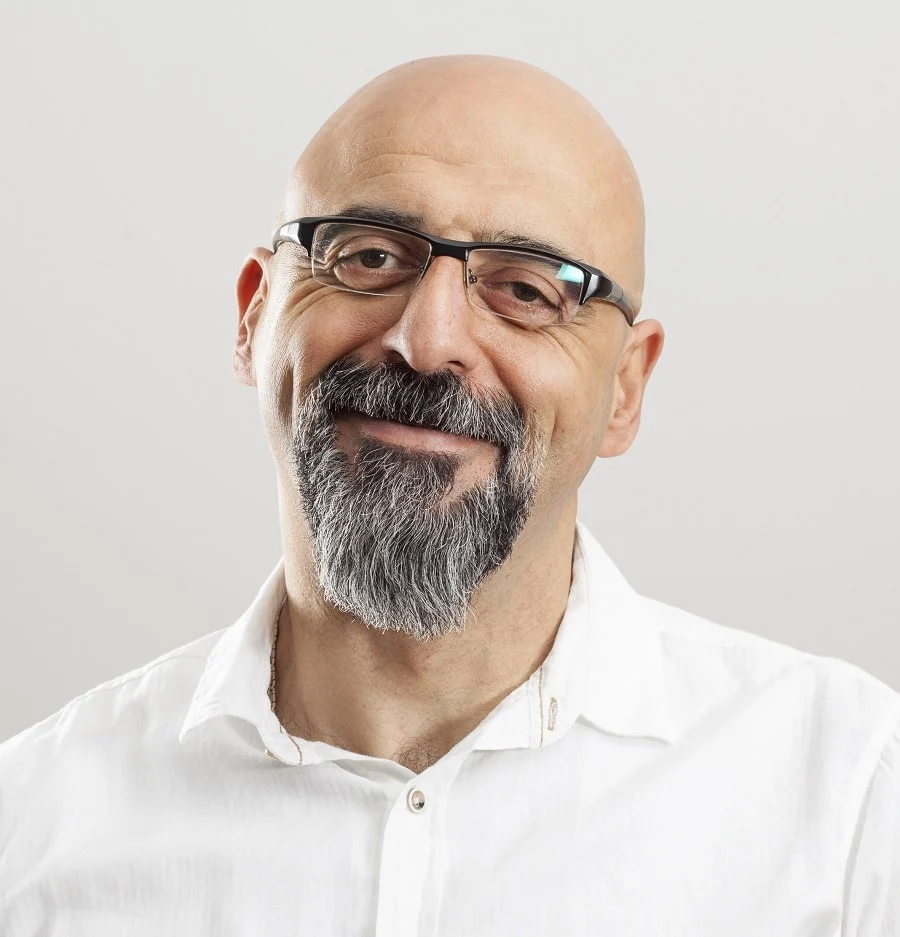 An extended goatee is a great way to frame a triangular face shape. This beard needs to be maintained constantly to keep that dashing look. You can even grow out a mustache with a goatee that slightly descends and drapes over the chin.
8. Stubble Beard for Bald Men with Square Frames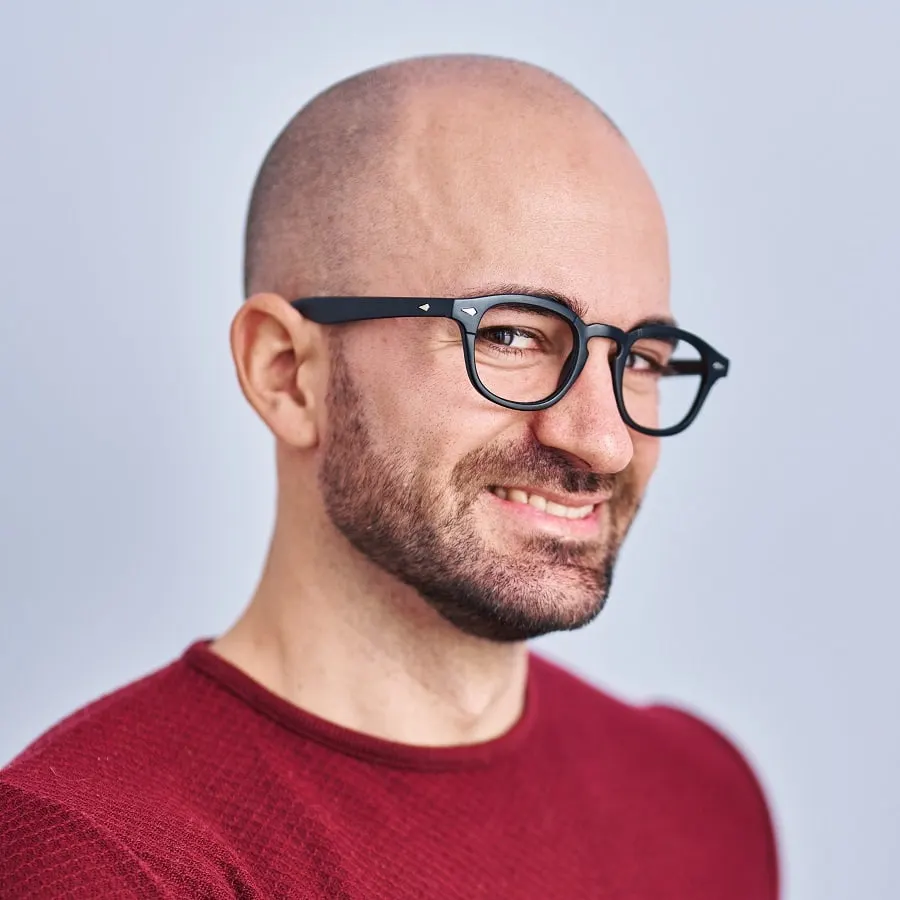 Perfect for a square jaw, square-framed glasses highlight the effect of facial hair. You'll need to keep it well-maintained for a clean 5 O'clock shadow look. It's a suitable look for people involved in IT and similar professional settings.
9. Salt and Pepper Beard for Bald Men with Thick Framed Glasses
Here's a great option for someone with an oval shape. The curly stubble with salt and pepper patches here and there provides you with a more laid-back appearance. Meanwhile, the thick-rimmed glasses add some definition to your facial structure.
10. Thin Beard for Bald Men With Glasses
If you have patchy and slow hair growth, this beard style is for you. It will make you look bold and confident. Perfect for someone with a diamond face and oval-shaped glasses. Keep in mind that this style requires consistent maintenance.
11. Moustache and Soul Patch with Mutton Chops For Bald Men with Round Glasses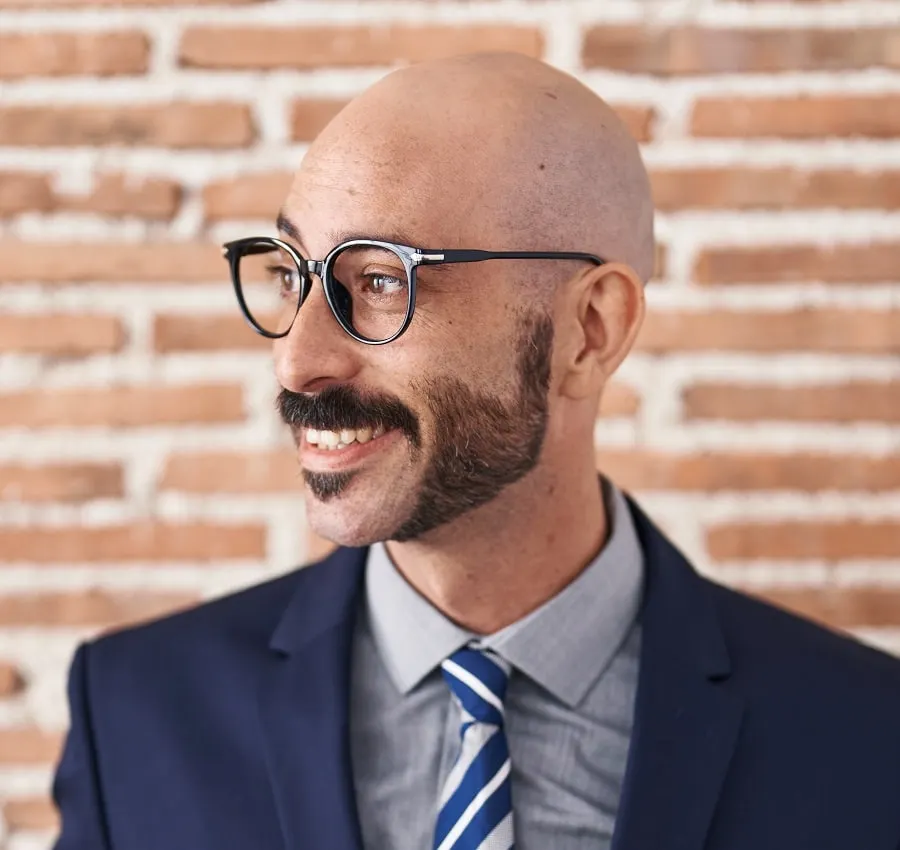 This is a bold choice and not easy to pull off, but it pairs well with round glasses for a classic, timeless look. You will need to see a professional stylist to achieve this look, though. Consider regular trimming and maintenance to keep it looking fresh.
12. Ducktail Beard for Bald Men with Transparent Frames
Now, here's a style that'll really make you stand out. If you feel like thicker frames make your face crowded, try transparent frames. A long ducktail beard frames the face to create a distinct look. Plus, it's ideal for those with a square face shape.
13. Curly Full Beard For Black Bald Men with Rectangular Metal Frames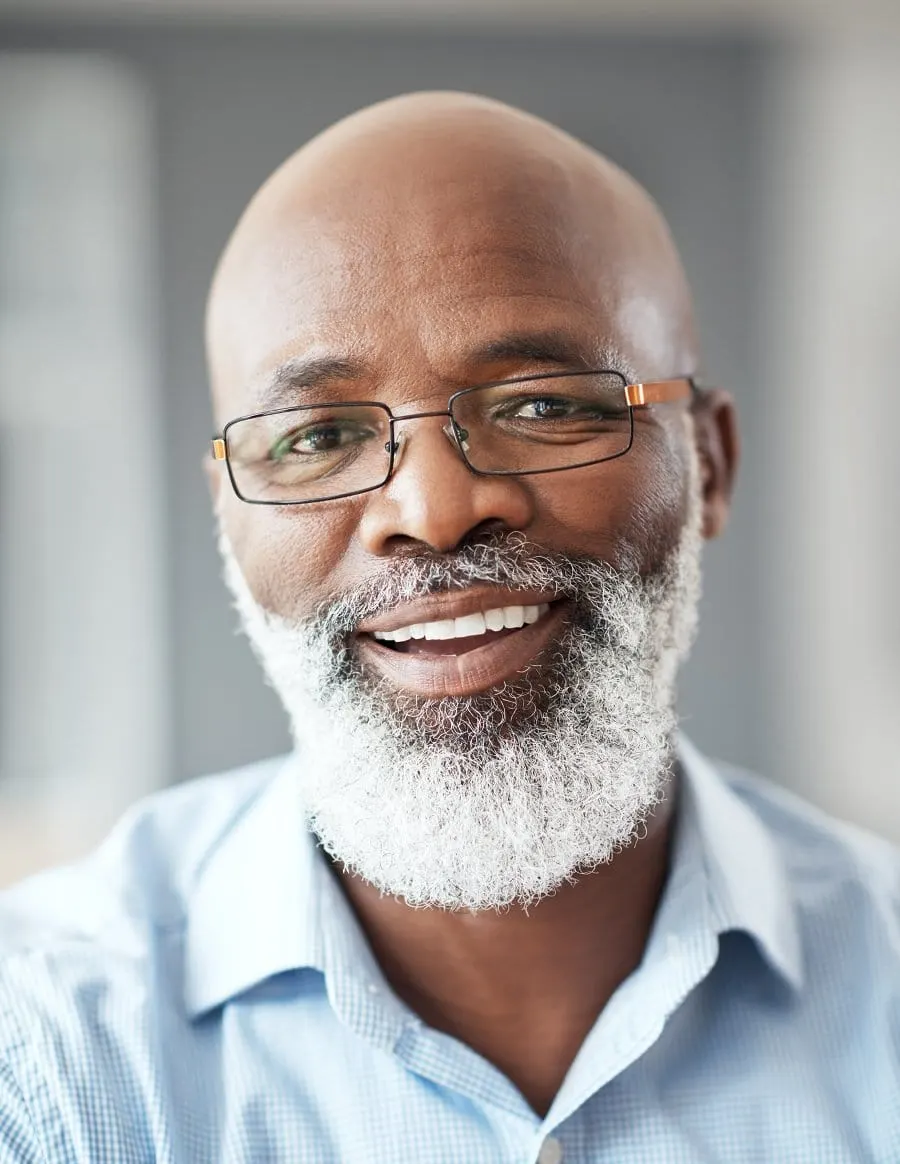 This style includes a curly full beard that trails along the jawline and extends from the chin. This style is perfect for bald black men with grey beards. Use rectangular glasses to increase the beard's effect for a cool, carefree look. There's no need to trim the inner edges, but you should trim the cheek lines every few days.
14. 5 O' Clock Shadow Beard for Bald Men with Thick-Rimmed Round Glasses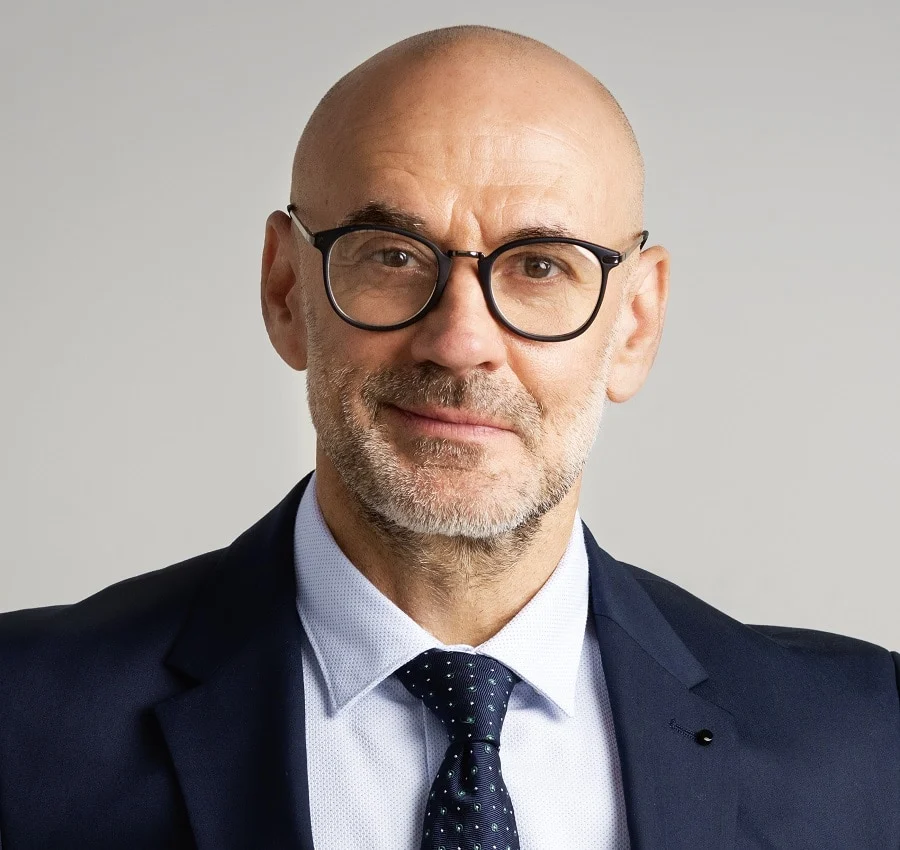 This style calls for a 5 o'clock shadow beard that extends downward to the neck. The light shadow contrasts well with dark-rimmed, round glasses. It's suitable for those with an oval or rectangular face, but maintaining the shadow will require some regular maintenance.
15. Patchy Beard for Bald Men with Rectangular Frames
If your beard has a patchy growth pattern, this style will suitable for you. This beard includes some light stubble across the jaw with some thicker, denser stubble on the chin and upper lip. It pairs well with rectangular glasses and is best for oval and diamond face shapes.
16. Braided Beard for Bald Men With Rectangular Frames
The braid, the walrus mustache and the frames make for a unique trio contrast with your bald head. It's best for men with a round or an oval-shaped face, but you need to see a professional to braid your beard.
17. Red Beard for Bald Men with Square Frames
The red long french beard covers the sides of the face and pairs well with a mustache and square frames. Perfect for those who want a more rugged and masculine look. Use beard oil to keep the color looking fresh and trim it along the cheek lines.
18. Bushy Round Beard For Bald Men with Aviator Glasses
If you have a rectangular face, this bushy round beard will go perfectly with aviator sunglasses. Put on a fur coat or a scarf to look extra glamorous.
Well, folks, there you have it – 18 different beard styles for men who are bald and wear glasses. These styles prove that you can revamp your look by growing out your beard and styling it the right way. You just need to choose the right pair of glasses and make a commitment to look after your beard.