The combination of a grey beard and a bald head is more than an aesthetic choice or a reflection of age. This look speaks volumes, hinting at both wisdom and boldness.
Bald men with beards symbolize confidence. It's about accepting oneself and facing the world with courage and authenticity. This look adds an edge to the style, catching the eye and making a strong statement.
The greyness of the beard is a symbol of life's experiences. It represents the wisdom gained over the years. Together, the bald head and grey beard form a striking combination that's not just stylish, but also rich in meaning.
Grey Beard Styles for Bald Heads
Baldness paired with a grey beard presents an irresistible style statement that commands respect and admiration. Even bearded bald celebrities look stunning when they embrace the grey beard. Let's explore some cool grey beard styles perfectly suited for men with bald heads.
1. Grey Amish Beard with Glasses
If you are an old bald man with a small face, consider sporting a grey Amish beard that is full, long, and wide. You can also add a pair of glasses with this style. The combination of a grey beard with bald head and glasses can be a game-changer for your overall appearance.
2. Heavy Salt and Pepper Stubble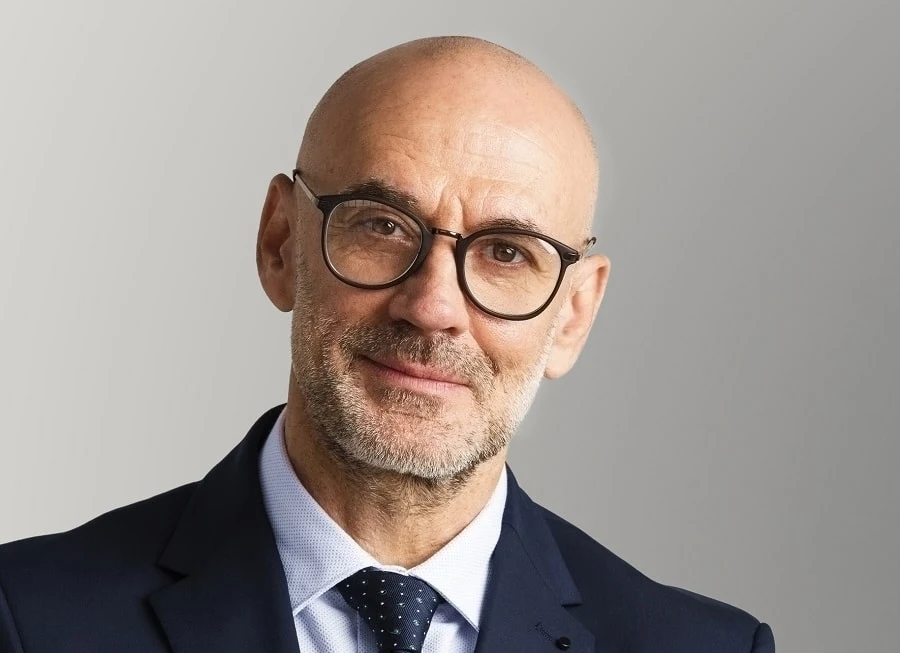 You can never go wrong with a light or heavy stubble grey beard with a bald head. A 10-day stubble is ideal for this look because it lets your salt and pepper shine through. No need to have a clear neckline either with this one.
3. Parted Chin Beard with Pencil Mustache
Are you not a fan of a lot of facial hair? Two parted short chin beard with a minimalist pencil mustache would be a perfect look for you. Shave your goatee in the middle to create two equal sides. Such a style provides a focal point on the face without being overly prominent.
4. Short Grey Beard with Shaved Cheeks
The short grey beard is ideal for those who are bald on the top and have hairs on the side of their head. Grow a full thick beard, combine it with a mustache, and make sure you shave those sides to give your face a clear outline.
5. Grey French Fork with Salt and Pepper Mustache
A French fork beard is a great choice for those who don't mind growing long facial hair. Pair your grey beard with a thick mustache if it has some salt and pepper effect left. It's okay if you don't have a perfectly parted French fork.
6. Curly Grey Beard for African American Men
This is a cool grey beard style for bald black men. The grey curly beard is kept in medium length and the bottom is rounded. The thin black and gray mustache is connected with the beard.
7. Long Squared Beard with Grey Mustache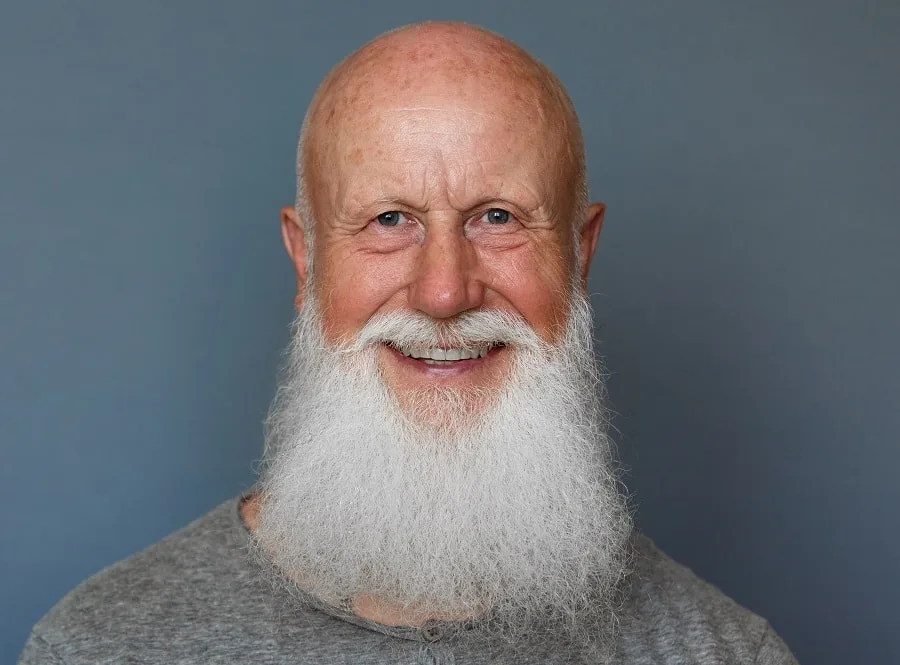 Grow your grey beard long and trim the end of the beard to give it a slightly squared look. The best part is that you can pair this grey beard with a long grey mustache shaped like the Hungarian mustache.
8. Grey Stubble with Glasses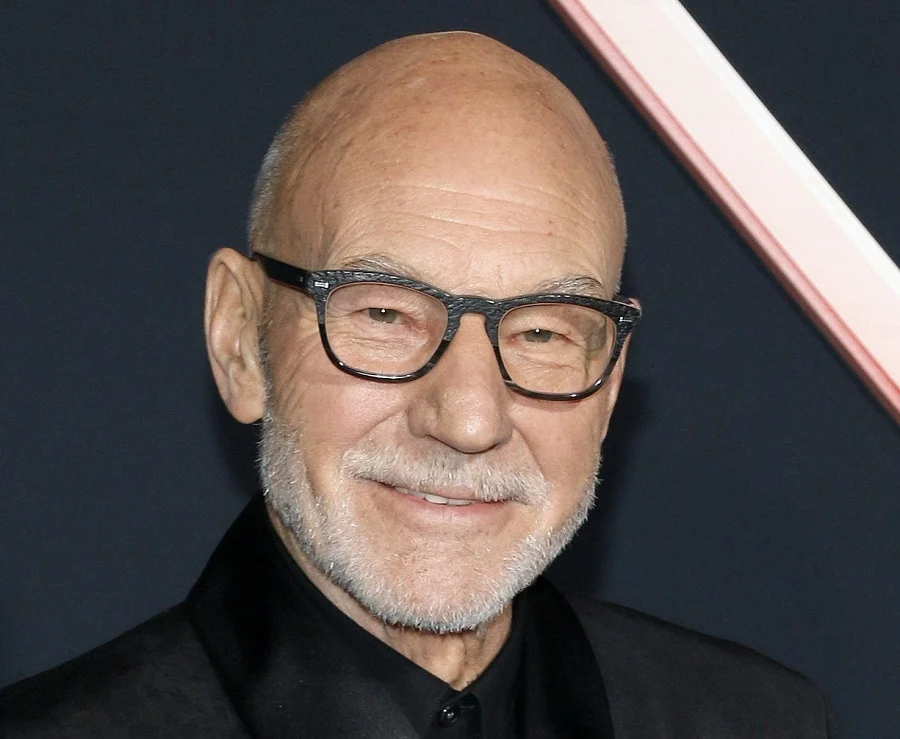 The bearded old actor, Patrick Stewart, sports a patchy grey stubble beard. This style doesn't highlight the patches and is also suitable for all face shapes. Let the mustache grow with the beard and then wear contrasting spectacles with your grey beard for a stunning look.
9. Grey Boxed Beard
A simple and non-tedious grey facial hairstyle for bald head would be to grow a short boxed beard. The mustache should be thick and connected with the beard on the cheek. The Boxed Beard style is a particularly suitable choice for bald men with rounder faces.
10. Yeard Beard with Contrasted Imperial Mustache
Grow your grey beard as long as you can with a contrasted blonde mustache. Make the mustache count by growing it longer and twisting the edges. This yeard beard style is good for bald men with a rounder face.
11. Scraggly Beard with Mustache
Not everyone has time to keep a neat-looking beard, and that's understandable. This scraggly beard style is perfect for you if you don't want to spend hours trimming, combing, waxing, and straightening your beard. Bring life to this unkempt look with a smile.
12. Grey Full Goatee with Salt and Pepper Mustache
Create a point of focus on your face with a full goatee that fills the chin and doesn't require a soul patch. Make the look interesting with a 10-day stubble mustache with slight salt and pepper peeking through.
13. Lumberjack Beard with Horseshoe Mustache
Get a bushy lumberjack beard that hangs low and let your sideburns grow out to match the beard, especially if the hair on the sides of your face grows swirly or curly. A horseshoe mustache with this beard won't seem too prominent but greatly adds to the overall look.
14. Wavy Pointed Beard with Hungarian Mustache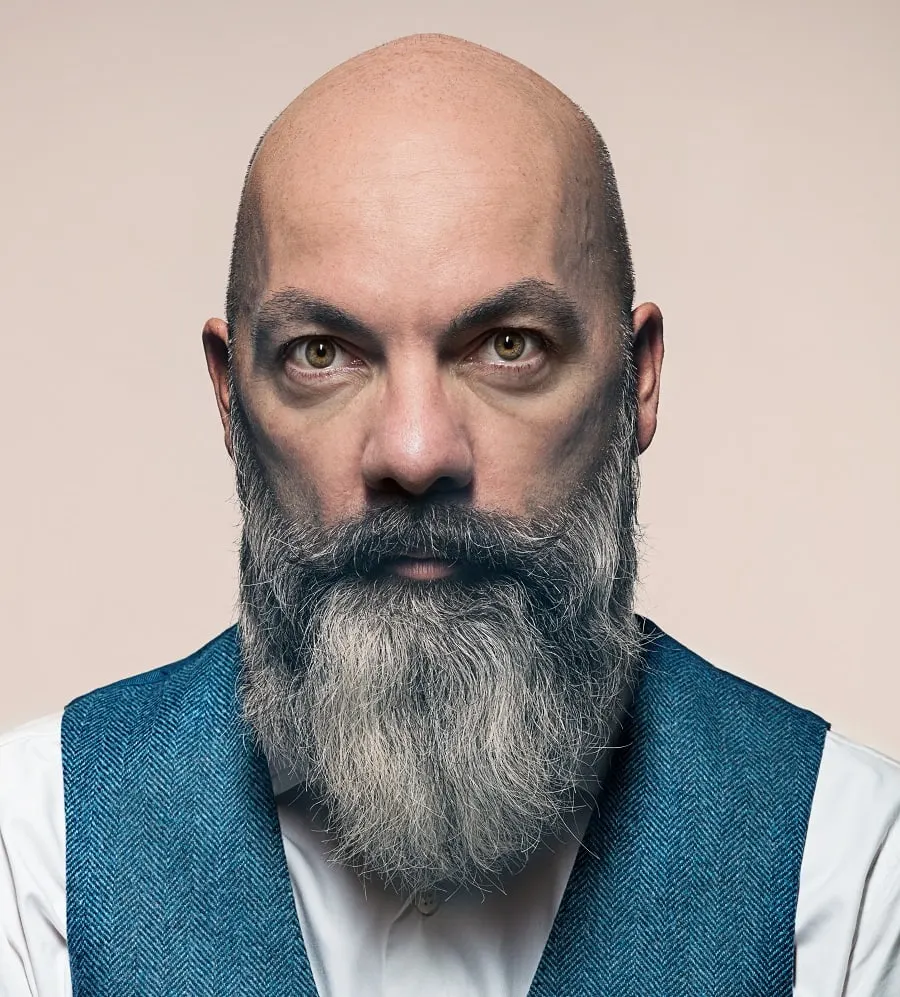 It can be a bit difficult to keep a wavy beard in shape, but it does get easier when you grow it to a full length. The long pointed beard pair with a Hungarian mustache to complete the look. It looks even better when you have some black/brown hair peeking through the grey beard.
15. Patchy Beard with Handlebar Mustache
It's the best you can get if the major portion of your grey hair grows around the chin and on your neck. The sides with black hair make this style more interesting. For an even better look, you can grow a handlebar mustache to keep people talking about your beard.
So, these are our top grey beard styles tailored for bald men. Choose your favorite grey beard style if you are already bald or you can also shave your head to rock the grey beard with bald head.