Though Lumberjacks are mainly workers who contribute to the process of forest products, they are popular for something else to the mass people. These lumberjacks have a distinct style of beard, mustache, and outfit. You may wonder how to style lumberjack beard and that's where you need a site like ours.
What is Lumberjack Beard
If you know what is lumberjack style, the first things that will come to your mind is an ax and a flannel shirt. But, one can surely pull off a lumberjack beard without the help of any other things.
A long and thick beard is all he must have to get the lumberjack beard style. Just have patience while growing and trimming the beard. This style will showcase the ability of someone to grow a manly beard.
Usually, the beard covers the face from the cheekbones to the neckline. Anything in between these margins should be filled with hair.
And, sometimes the hipsters also have a lumberjack beard keeping the styling of the mustache in mind. Once you have the long and thick beard, go to the next step of achieving the lumberjack beard.
How to Do Lumberjack Beard: 4 Steps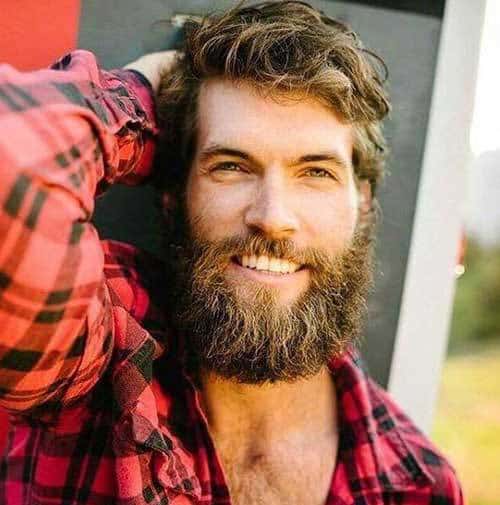 Lumberjack beard is actually manliness at its best. You will never go unnoticed if you have this awesome beard. This beard styling is very easy because there is no need of expert hands to trim the beard. The cheek line and the neckline are the only concern while trimming the beard. Learn how to do it correctly from below.
1. The Preparation Period: Let the beard grow for one month at a stretch. Don't trim it at all.
2. Upper Trimming: Trim the hair of cheekbones to make a clean line starting from the sideburns and ending in the outside of the mustache. Trim very carefully to blend the shorter beard into the long beard.
3. Let the Beard Grow: Let the beard grow underneath the cheekbones and around the lips. It's better if anything doesn't remain bare.
4. The Neckline: Make sure to shave anything that is below the neckline. Because you are having a long beard but the beard is not unkempt.
Modern Hairstyle Idea for Man to Wear with Lumberjack Beard
This beard style requires a good deal of time and patience. The beard should be thick and long to get the best impact of Lumberjack style. If anyone's natural hair growth is not good enough, he can try supplements and minoxidil to overcome this shortcoming. All the best for your lumberjack beard style.