Facial hair is a powerful tool for enhancing your facial features and balancing your face. Finding a suitable beard style for smaller faces can make a world of difference. It can give you a new personality and confidence.
But how can you do that? With thousands of beard styles available, it's impossible to try them all. You don't have to. After researching various beard types and shapes, we've discovered some tips for choosing a beard style for a small face shape and created a list of beard styles that are suitable for small faces.
So, it's time to learn something new about beards. Get ready to embrace a fresh new look with a well-suited beard for your small face.
How to Choose A Beard Style for Small Faces
It is not possible to choose a beard style without knowing the individual characteristics of your small face. There is no one size fits all beard style depending on the face dimension. You have to consider these individual factors when choosing a beard style for your small face:
Identify your face shape (e.g., round, rectangular, heart-shaped, diamond, oblong) to determine the most suitable beard style.
Opt for shorter beard styles so that your face doesn't appear smaller.
Your beard style should add width to your jawline for a more balanced appearance.
Be open to altering your beard style as your facial features change over time, ensuring you always have the most flattering beard for your small face shape.
Consider how your beard style pairs with your hairstyle and mustache to create a balanced and harmonious appearance.
Select a beard style that can effectively draw attention away from any imperfections, such as a double chin or uneven jawline.
By following these tips you will be able to choose a beard style for your small face. To get a visual idea about beard styles for small faces check out the 10 beard style for different small faces.
Beard Styles for Small Faces
Here are some popular beard styles tailored for different small face shapes that will help you to visualize and decide about your own beard style.
1. Stubbly Extended Goatee for Small Round Face
A sophisticated twist on the classic goatee to make your small face look balanced. This style features a slightly thicker beard on the chin and patchy beards on both sides elegantly paired with half-rim glasses. The denser chin beard will add length to your round face shape.
2. Short Boxed Beard for Small Oval Face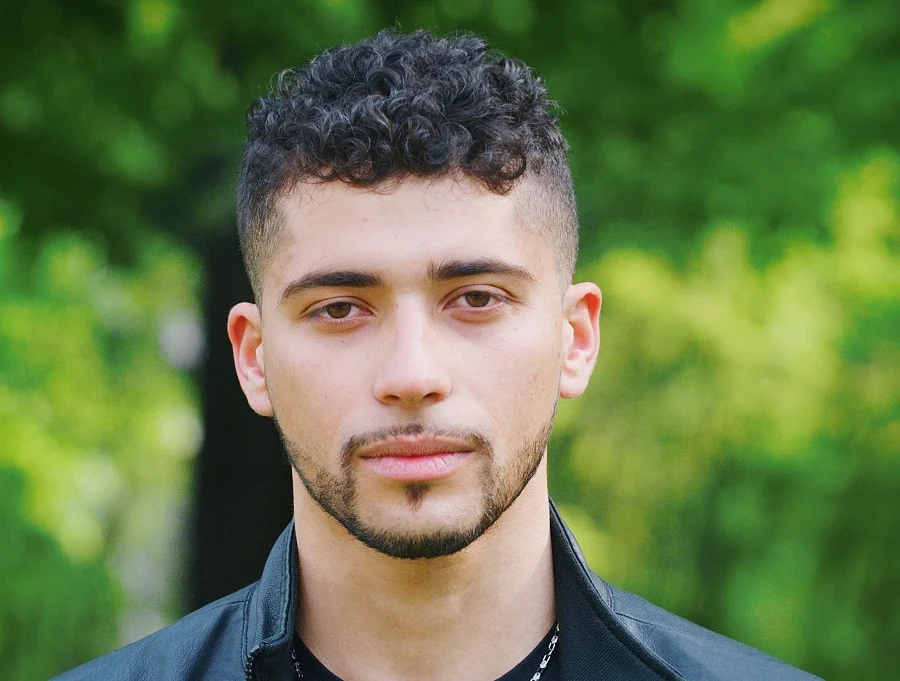 This beard style pairs a neatly trimmed short boxed beard with a curly undercut. The short boxed beard is ideal for highlighting the sharp edges of your small oval face. The curly undercut hair and beard combination creates the perfect blend of structure and playfulness.
3. Patchy Full Beard with Side-Up Hair For Chubby Small Face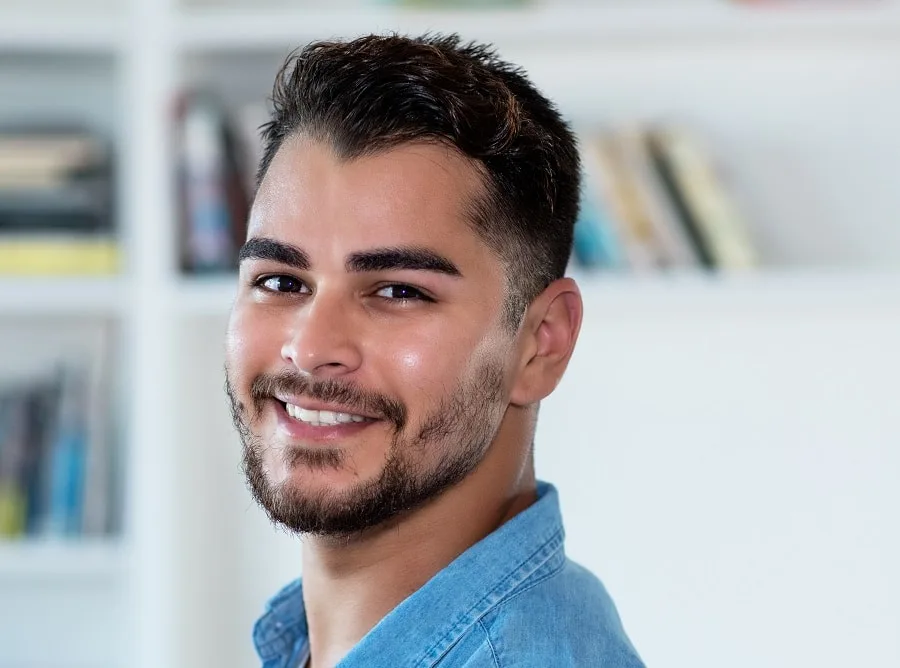 It's difficult to balance a chubby, small face only with a beard. Try this combination of a patchy full beard and a side-and-up hairstyle. The patchy full beard has slightly more length on the chin which provides more vertical length to your chubby face. The side-up hairstyle completes the look by adding dimension to your small face.
4. Goatee with Thin Mustache for Small Heart-Shaped Faces
Exhibit a sleek and dignified aura with this classic beard style tailored for small heart-shaped faces. The goatee and thin mustache duo accentuates the chin and mouth area, harmonizing with the face's distinct shape for an effortlessly polished appearance.
5. Ginger Designer Stubble Beard for Small Diamond Faces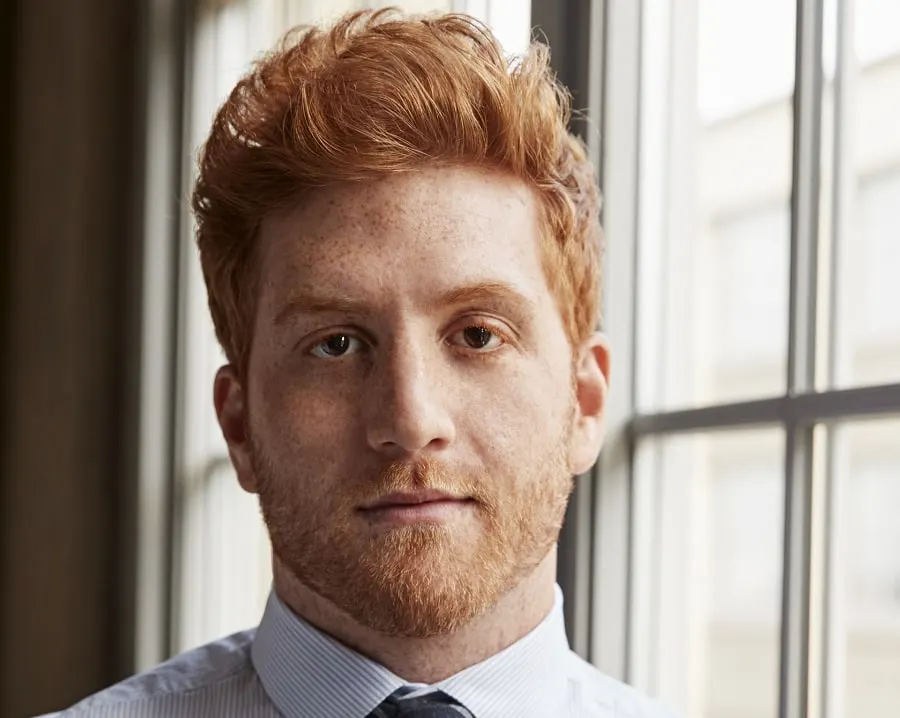 The ginger designer stubble beard, paired with medium-length hair, creates a balanced and captivating presence that highlights the unique geometry of your face. Dye your stubble beard and hair red to get this stunning look.
6. Long Squared Beard for Small Oblong Faces
Probably you already know that a long beard is least recommended for an oblong face shape. But to make your small face look bigger, grow your beard long like a yeard beard. Create a squared beard shape at the bottom keeping more width than your chin and connect it to the sides of your jawline. Thus jaw will look wider and your face will look bigger too.
7. Soul Patch with Parted Chevron for Double Chin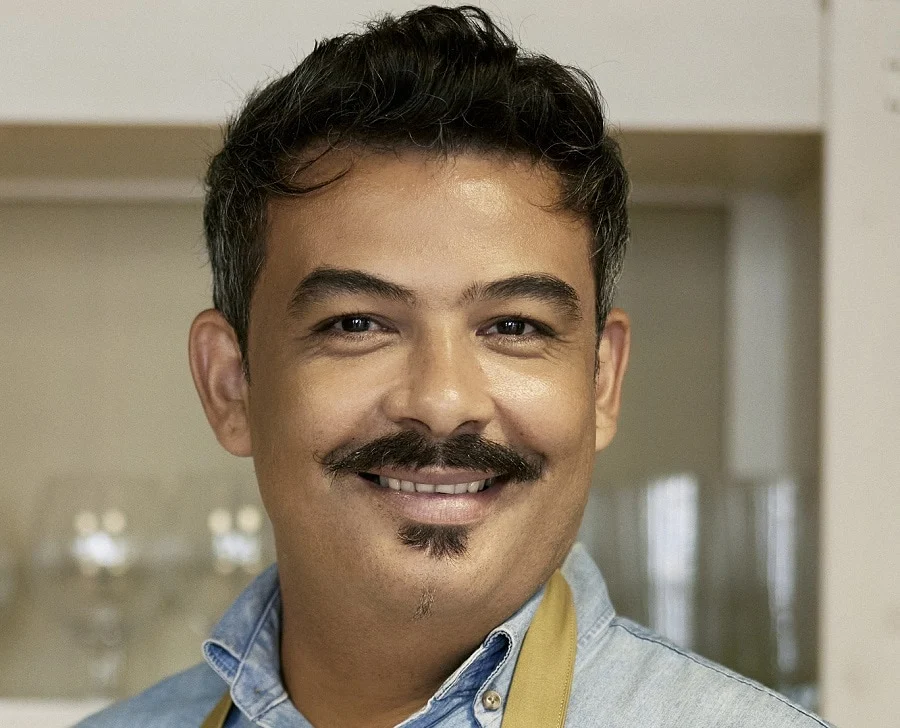 Effortlessly conceal a double chin with this easy-to-get style. The soul patch draws attention to the center of the face, while the parted chevron mustache elegantly frames the upper lip. Also, grow a few barely noticeable short 7mm beards on the chin. Together, they create an appearance that subtly detracts focus from the double chin.
8. Curly Chin Strap Beard for Small Circular Faces
Show off your individuality and confidence with the curly chin strap beard. It will emphasize your circular jawline and your face will look bigger. Pair your beard with a cool sunglass and you will look like the "Underworld" black celebrity Kevin Grevioux.
9. Heavy Stubble Neck Beard for Small Rectangular Faces
Try this heavy stubble neck beard, if you have messy curly hair. Shape a thin line of mustache and keep a soul patch to get the ultimate Asian look. If you want to try a different beard style choose a rounded beard style at the bottom edge as a squared beard style will make your face look more boxy.
10. Short Full Grey Beard for Small Square Face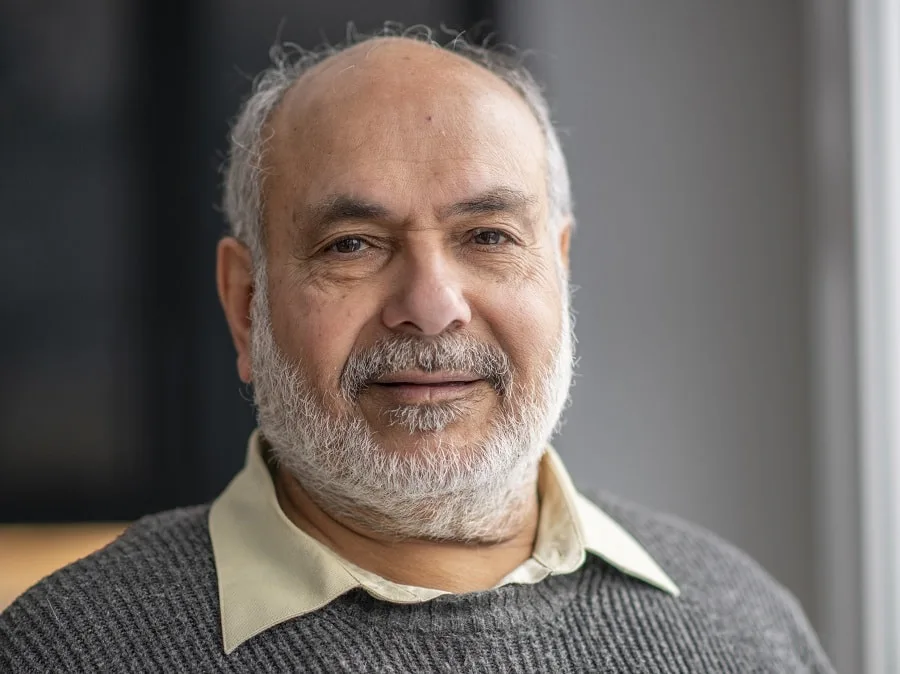 The short full grey beard, infused with timeless wisdom, is beautifully paired with a contemporary salt and pepper mustache. The result conveys maturity and classic elegance for a small circular face-shaped old man.
Hope you found your favorite beard styles for small faces. So, start experimenting and improvise according to your need.