Beards come in a lot of different shapes and sizes. You can choose which style you want based on the type of look that you are hoping to portray. Many beards are an integral part of a specific style.
For example, many people who dress in a hipster style will choose to wear their facial hair in a full bushy beard style. Their choice of facial hair will really help to enhance their look.
Different Beard Shapes to Change Your Look
Although you cannot actually change your face shape with a beard, the style that you choose can help to alter the way that people perceive your shape.
For example, a pointy beard will make your face look longer, whereas wide and shallow styles can help your face to look rounder.
Choosing the wrong style may actually exacerbate some of your worst features, so think carefully about your style before making a commitment.
1: Wavy Full Beard with Long Mustache
Can't complete a list of the coolest beard shapes without a full beard, especially when it's wavy. The outer edges are trimmed nicely to give it a clear outline, but what really sets it apart is the long almost-Bandholz mustache.
2: Balbo Beard with Parted Mustache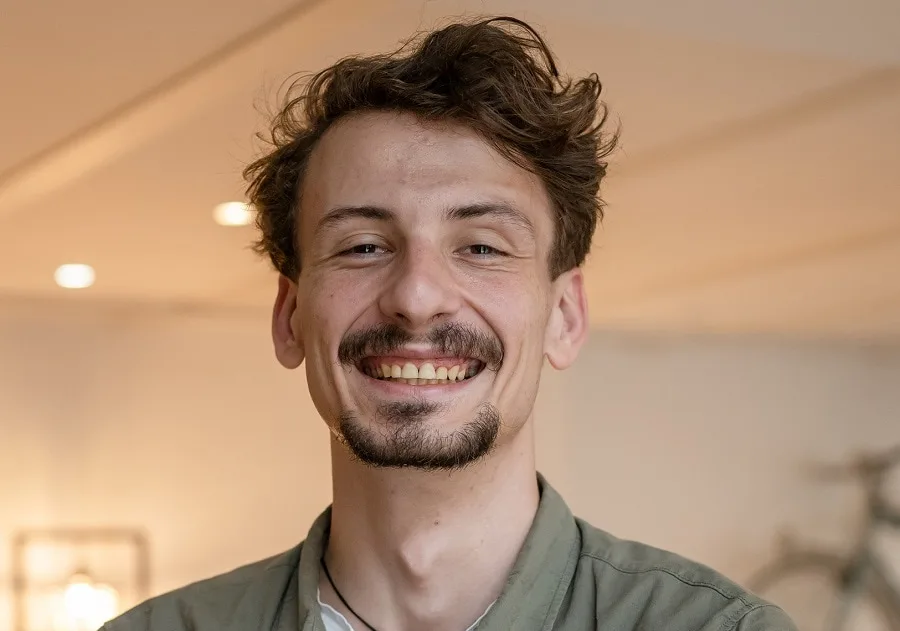 Yes, it might not look like a classic Balbo beard, but you can say it's somewhere between a Balbo and anchor beard. This beard is completely disconnected from the mustache, which is parted in the middle and is slightly covering the upper lip.
3: Extended 5 0'clock Shadow Beard
It's quite a cool beard style to have and very popular even among professionals. It's close to the facial hair you'll have at the end of your shift when you shaved in the morning. The stubble is consistent and extends down onto the neck.
4: Messy Anchor Beard with Curtains
Here comes Johnny Depp in our list of the coolest beard shapes with his messy anchor beard. Most people like to trim and line up their anchor beards with sharp cuts. Here, it's much more casual and is complemented with Johnny's typical mid-parted curtains.
5: Verdi Beard with Petit Mustache
Verdi beard always has a handlebar mustache with it, but it's totally up to you to go with a big one with prominent curls or a petit one with delicate curls. Here, the Verdi beard is short and the handlebar is also small with gentle swirls at the end.
6: Sideburns Beard with No Mustache
You can call this beard side whiskers, or even reverse goatee because you have a beard on the sides, but the mustache and goatee are completely shaved. These long sideburns can give you a wolverine look if you have a square face.
7: Short Ginger Beard with Slick Back Hair
A short beard is among the commonly opted for beard shape, but this one's special due to the red color of the hair. The beard is consistently short with thin mustache, and a slick back hairstyle to complete the look.
8: Stubbly Short-boxed Beard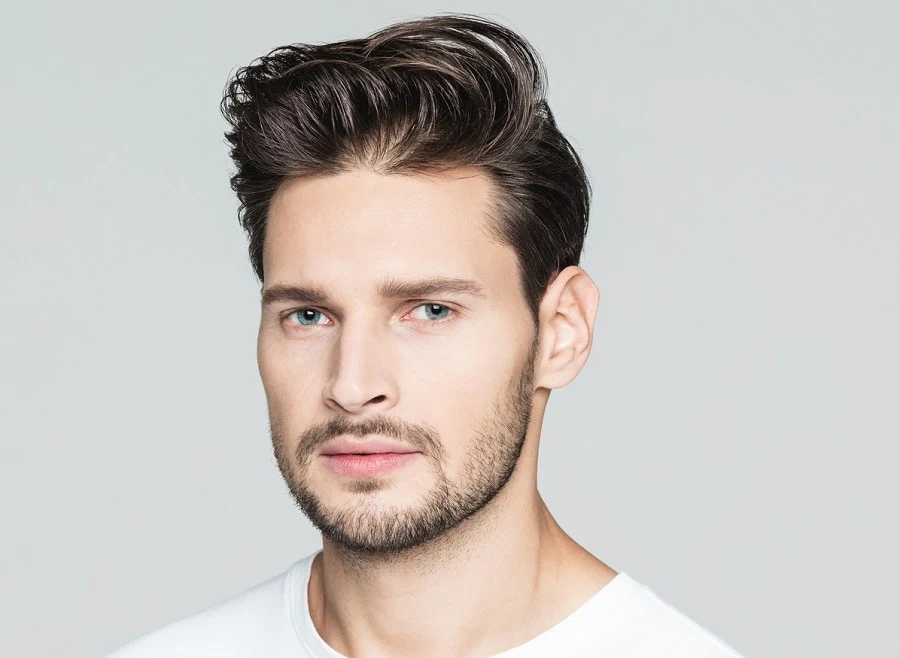 You'd usually expect the short-boxed beard to be slightly longer, but a mid-length stubble can definitely qualify for the same label. The beard becomes extremely look-enhancing for square or rectangular faces. There's some hair on the neck too.
9: Circle Beard with Bald Head
Worried about your hairline and want to divert people's attention to something cool on your face? Go for this circle beard that is a result of a connected mustache and goatee. The thickness of the mustache and goatee is quite consistent here.
10: Van Dyke Beard with Crew Cut
There should be no doubts about the fact that Van Dyke is among the most traditional and coolest beard shaped out there. The handlebar mustache has a drop-shaped patch on the chin. The rest of the face is clean-shaved with a crew cut hairstyle.
11: Mustache and Beard with Barrel Curls
Is your passion for your beard and mustache unmatched? If yes, then try this one out. In this case, the beard and mustache both have been curled with a barrel. It's surely attention-grabbing, but whether it looks good or not is up for debate.
12: Short Salt and Pepper Beard
You can surely leave an impression even with a short beard, you just have to find its uniqueness and highlight it. For example, in this case, the salt and pepper effect makes this beard cool and goes perfectly well for the age.
13: Long and Curly Grey Beard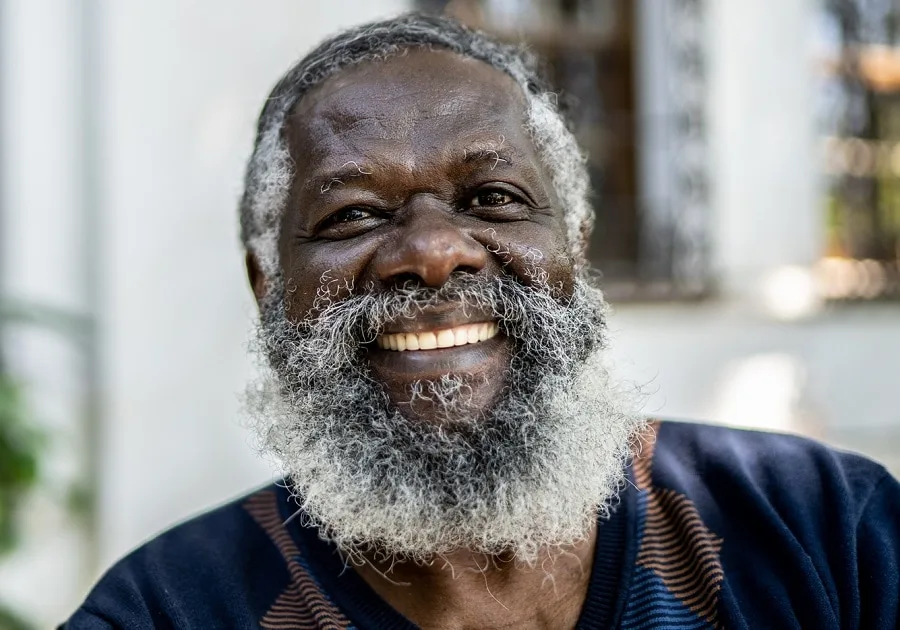 Thought grey beard wasn't going to make it to the list of the coolest beard shapes? Here's one. It's a full beard with lots of grey hair on the outer edges. The hair quality is curly or coily, and the beard looks a bit messy with no trimming.
14: Full Rainbow Beard with Bald Head
If you've gone bald, it's time you tinker around with your beard. Let's call it the rainbow beard because it contains just about any color you can think of. It's a full beard with a thick mustache, so you have plenty of field available to experiment with.
15: Dark Blonde Stubble with Light Blonde Mustache
This one's a unique combination of dark and light blonde. The beard is heavy stubble with slightly light color on the chin. The mustache is entirely light blonde and thus gives a two-tone finish to the overall beard and mustache setup.
16: Curly Chin Curtain with Light Pencil Mustache
A chin beard is not only one of the coolest beard shapes, but also a clever one. When you have curly hair, growing a long beard can be quite a challenge. That's a chin curtain like this one looks great, and the look becomes even better with a pencil-thin mustache.
17: Curly Hipster Beard with Contrasted Hairstyle
A hipster beard is for those who like full facial coverage. This beard is long, curly, and slightly bushy. Its sides are neatly trimmed for a vivid outline. The hairstyle is yet another highlight of this look with the silver hue.
18: Red Friendly Mutton Chops with Stubble
These friendly mutton chops shake hands at the mustache. A typical mutton chops beard isn't connected with a mustache. The uniqueness of this beard lies in its red hue. The slight stubble on the chin and cheeks gives the overall look a rugged feel.
19: Soul Patch with Fringe Haircut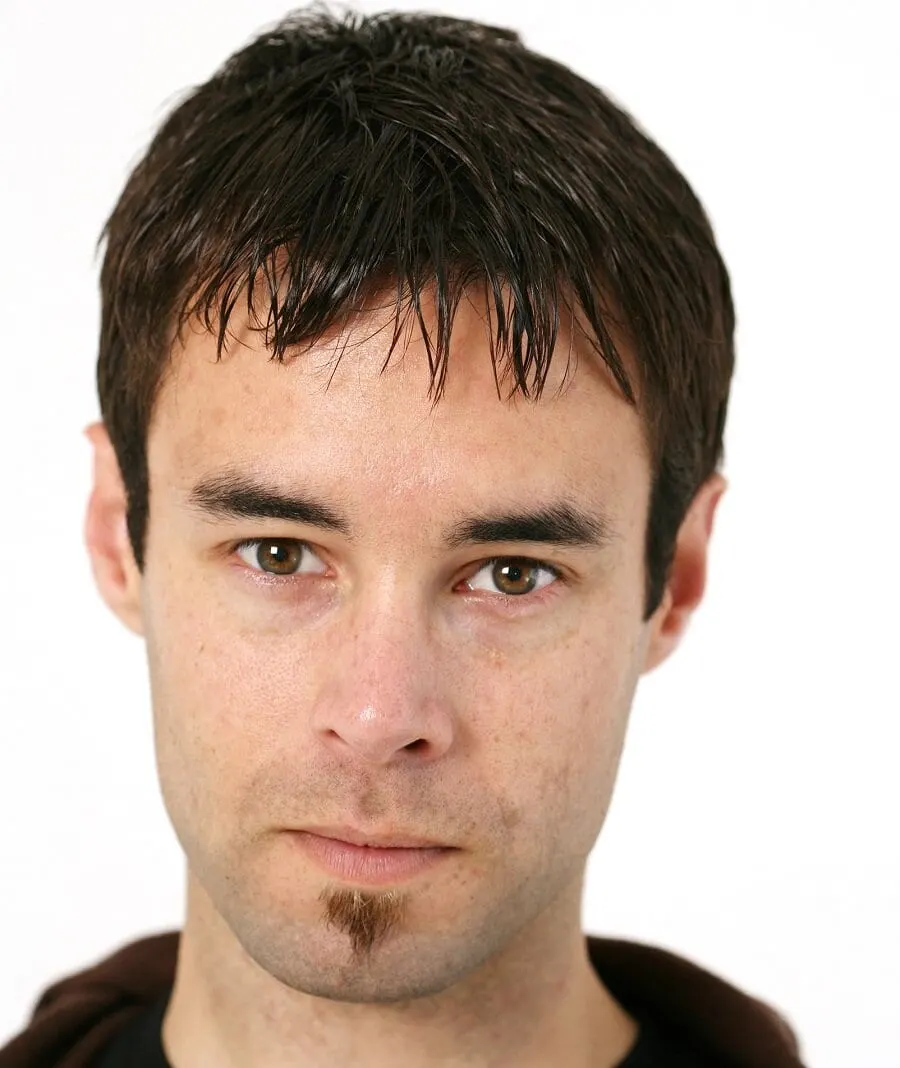 Talk about simplistic, minimalistic, and yet quite impactful. There is no mustache, beard or goatee. All you are going to grow on your face is solely a soul patch. Even the hairstyle is simple with short fringes falling onto the forehead.
20: Very Long White Beard with Thick Mustache
There comes a point where the beard isn't just long–it's too long. This one's it. The long white beard may make you look like a master of all knowledge, especially when you grow long hair with it. The mustache is so thick you can't see the lips.
21: Full Messy Beard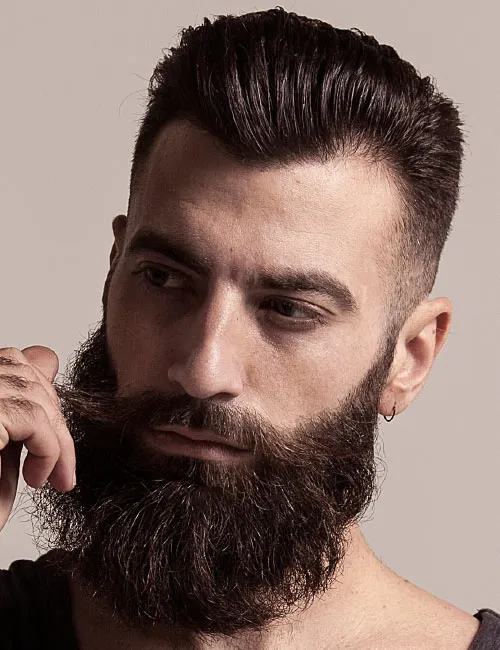 A full beard is an excellent expression of masculinity. If you don't want to spend a long time grooming your beard, choose to make messiness part of your style. This looks really rugged.
22: Short Beard with W Mustache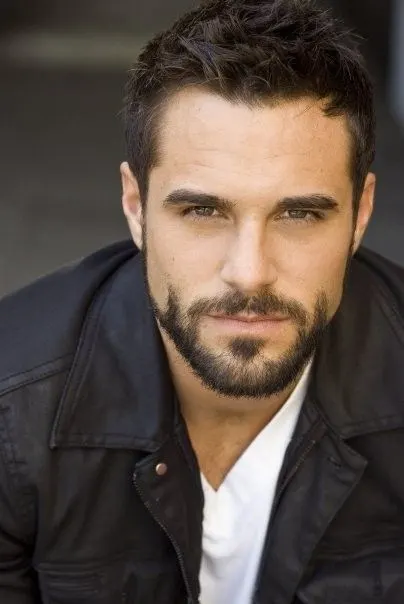 A W-shaped mustache is one which goes up-down-up-down-up. It was a historical popular shape but is not seen as much these days. Although a W-shaped mustache can look great without a beard, it also looks fantastic with fuller facial hair.
23: Patchy Beard
Although some people used to worry about only being able to grow a patchy beard, patchy styles are becoming more popular than ever. Patchy styles also look great if your beard hair is starting to go gray or includes many different shades.
24: Long Stubble with a Gentle Curve
Long stubble is very hot in Hollywood. Keep your beard hair thin enough that the style is well-kept, but thick enough that the color shows on your face. Maintain a gentle curving shape on your face with a crisp edge.
25: Square Thin Goatee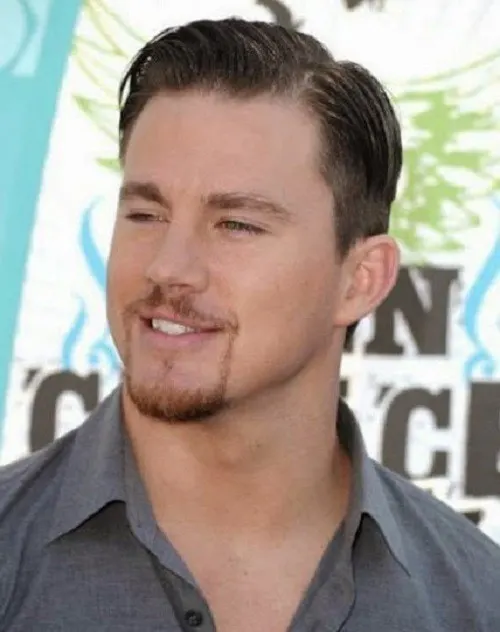 Grow your facial hair around your mouth and on the bottom of your chin. Keep the rest of your face clean shaven. To make the style really distinct, fashion your facial hair into a thin and square style.
26: Goatee and Mustache with Patchy Disconnect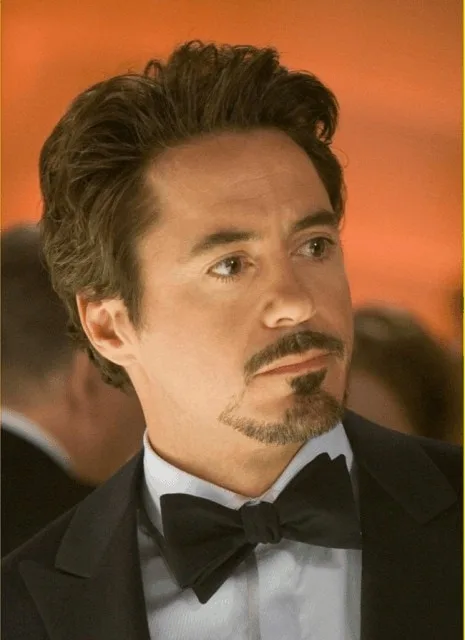 A wide Goatee style looks amazing when it is teamed up with a long, flat mustache. Either leave the two pieces of facial hair entirely unconnected or meet them up with a patchy thin disconnect. This produces a serious style of facial hair which is good for business men.
27: Patchy Stubble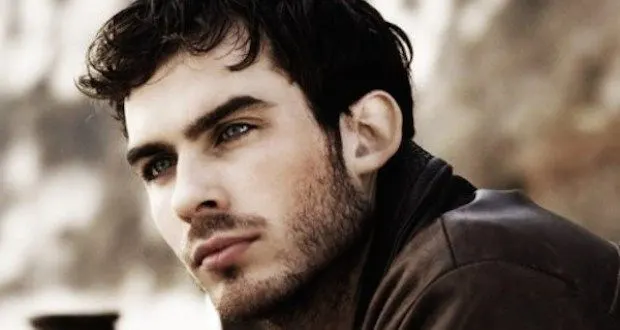 Patchy stubble can help to give the wearer a gorgeous brooding look. Allow hair to grow everywhere that it naturally would on your face, including up into the hollows of your cheeks. Use a beard trimmer to prevent your stubble from growing out into a full beard.
28: Triangular Chin Puff
A chin puff is a style of beard that only grows on the very end of your chin. Join this hair up to your soul patch to create a distinct triangle shape. This style can actually help to make your face look rounder if you already have quite a pointy chin.
29: Groomed Stubble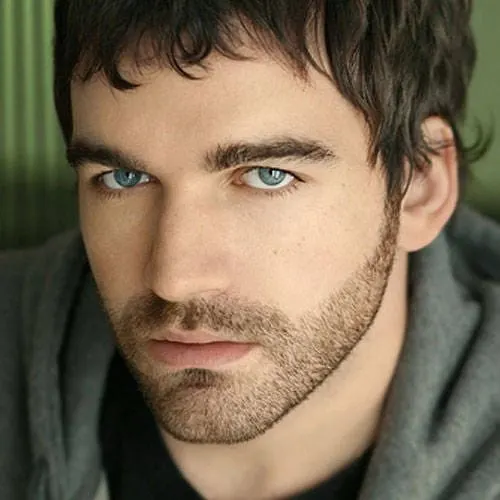 Some people think that stubble looks really messy, but you can keep a stubble style tight and professional looking by keeping it groomed. Make sure that the edge of your style is a sharp clean line and trim away any stray facial hair. This look is so hot that it smolders.
30: Neck Coverage
Some beards stop at the bottom of the chin, whereas others carry on right down to the top of the neck. If your facial hair grows in this area, you can show it off well if you leave all of your hair at a stubble length. Showing off your neck coverage is perfect for a rugged look.
31: Box Beard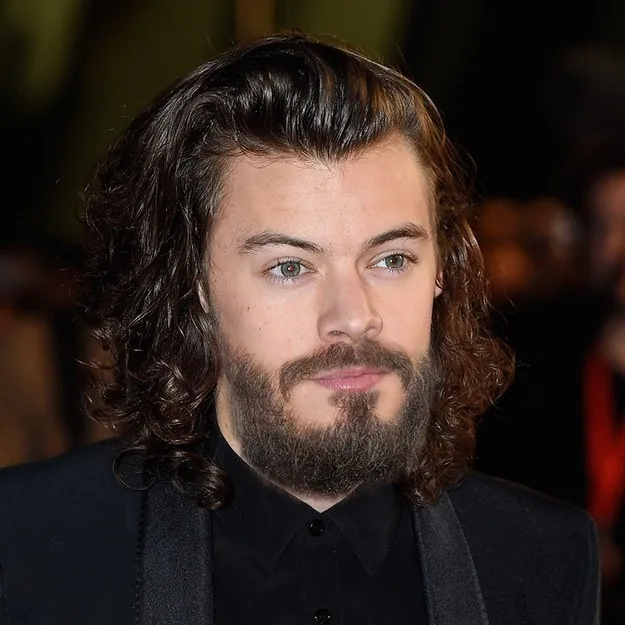 This full beard style has been shaped so that it looks Boxy. Trim stray hairs from the bottom and the sides of the style to make sure that it remains angular. This look can help to make your jaw seem more square if you have a rounder face.
32: Straggly Beard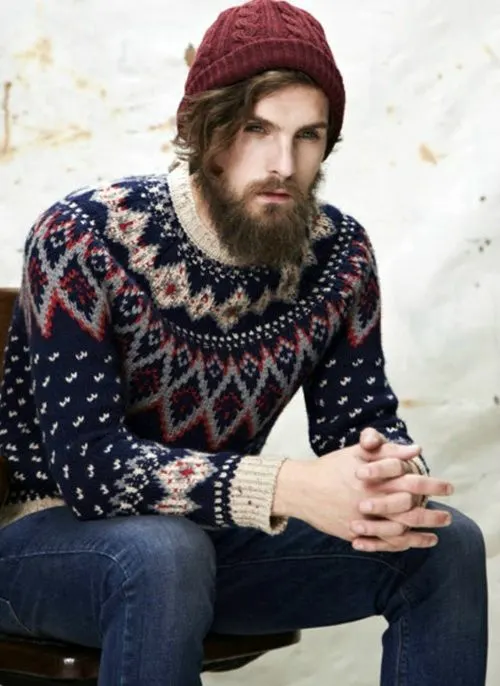 A Straggly Beard is a classic hipster style. The hair has actually been carefully styled so that it looks a bit unkempt and messy. A Straggly hipster beard looks great when it is teamed up with perfectly groomed and manicured long hair.
33. Pointed Beard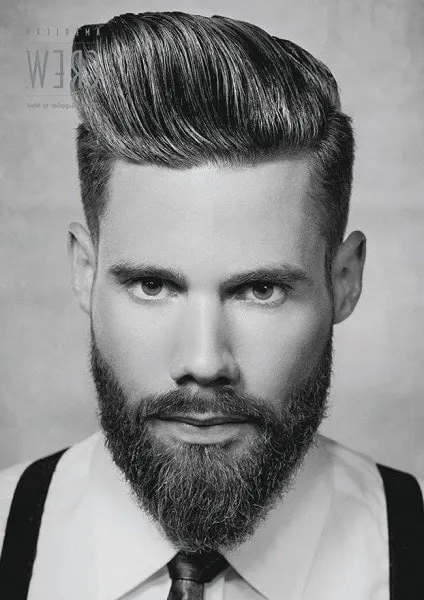 A pointed beard shape can help to make your face shape look longer. Trim the sides so that the beard gently slopes downwards and into a rounded point. This style is the perfect example of a long beard look which is suitable for a businessman.
34. Heightened Cheekbones
High cheekbones are a very modelesque look, but not everyone is blessed with good bone structure. Nonetheless, you can make your cheekbones look much higher by the way that you style your facial hair. Growing hair in the hollows of your cheeks can help to make your cheekbones look higher.
35. Thin Beard with n shaped Mustache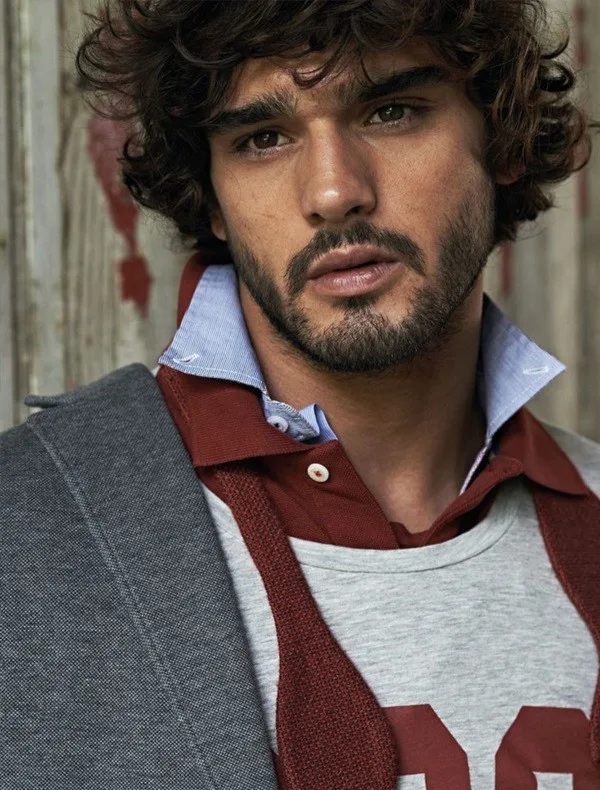 A thin beard like this one is perfect if you are looking for an intermediate style to wear whilst you are growing longer facial hair. The N-shaped mustache (upside down U) shape will draw real attention to your lips. It is a perfect choice if you want them to look kissable.
36. Angled Chinstrap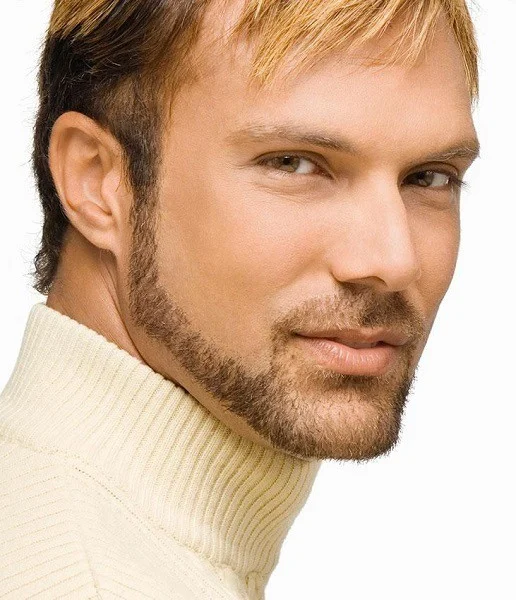 A Chinstrap beard is one which follows the shape of your chin around, like the chin strap on a helmet. This example of a Chinstrap is very angled. Shaping your beard in this way can help to make your face and your jaw look more square.
37. Full Beard with Tapered Edges
This full beard style tapers away at the edges. It is thickest and fullest around the lowest parts of the chin and it gradually gets more patchy as it goes towards the center of the face. This style looks more intense than some patchier beards.
38. Barely There Beard
This is a style for those who are not quite ready to commit to full on facial hair. Most of the face remains clean shaven but there are carefully cultivated patches of fuzz. It is perfect for people who want to rock the moody or brooding look.
39. Thick Stubble with a Short Back and Sides Haircut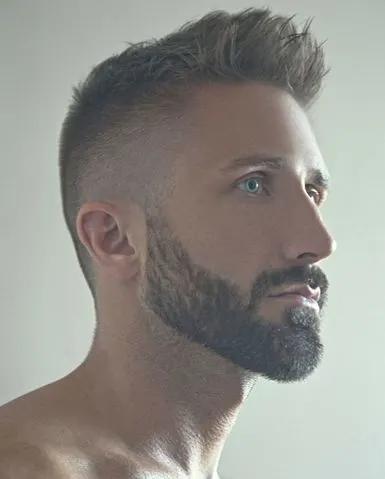 Really thick stubble looks perfect with a short back and sides style. Short hair on your head will actually help to make the hair on your face look much thicker and fuller.
40. Full Facial Fuzz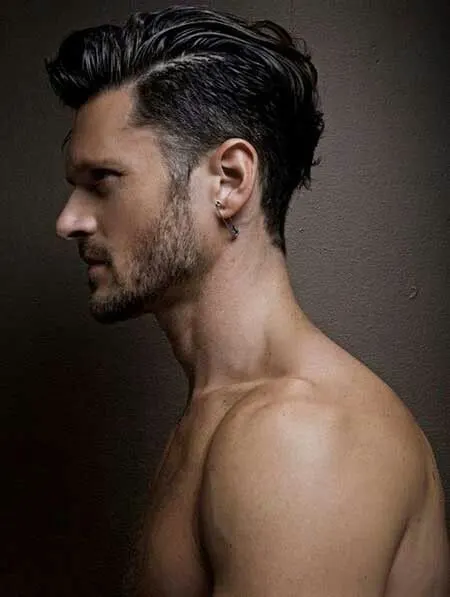 If you are lucky enough to be able to grow facial hair from a large number of follicles, you can let your hair grow into this style. It is a low maintenance look which seems to be very rugged and manly!
More Beard Shapes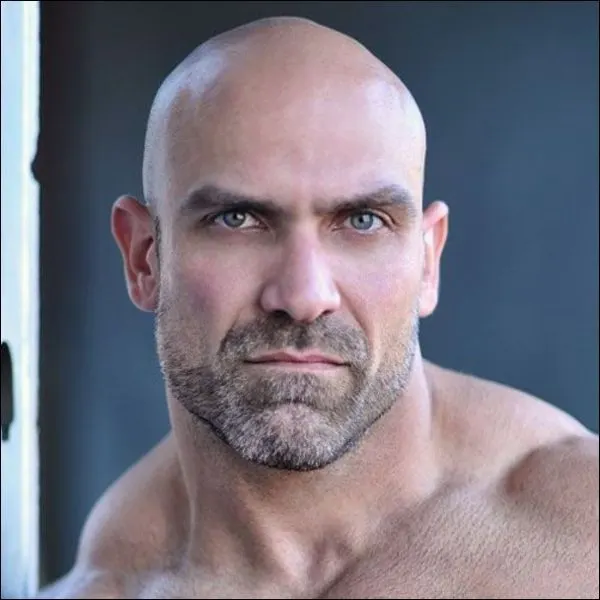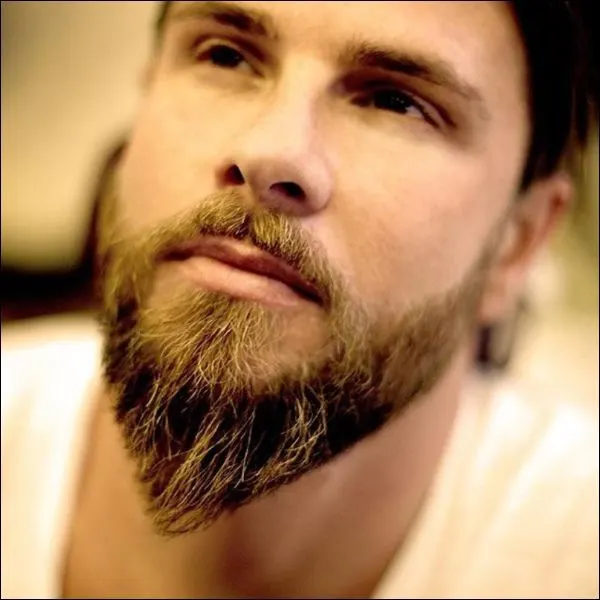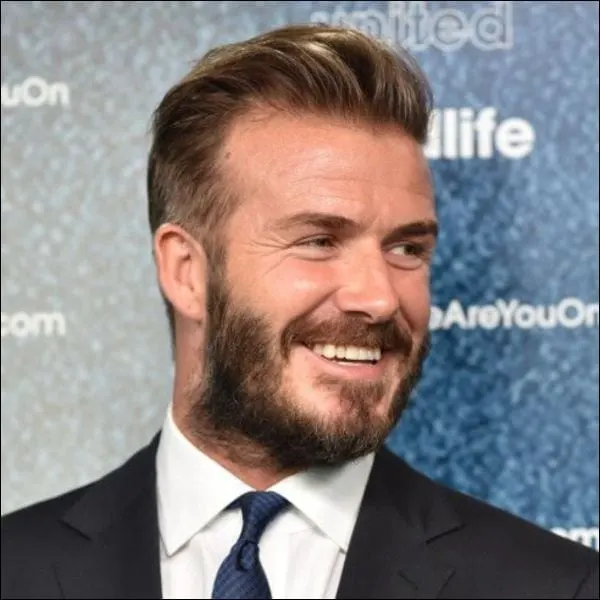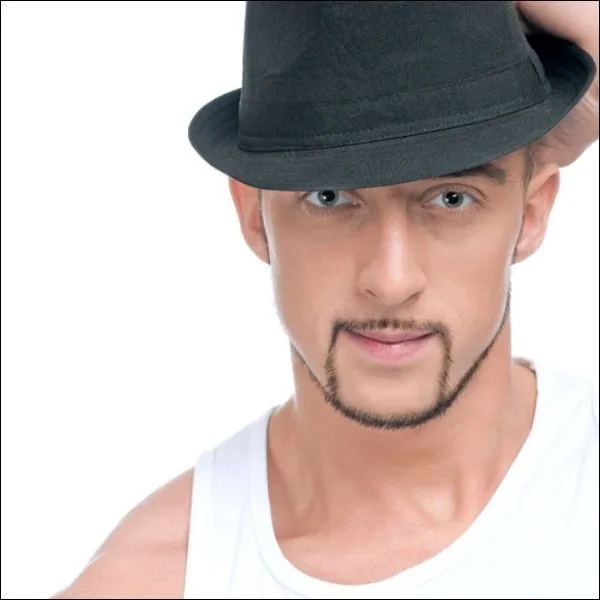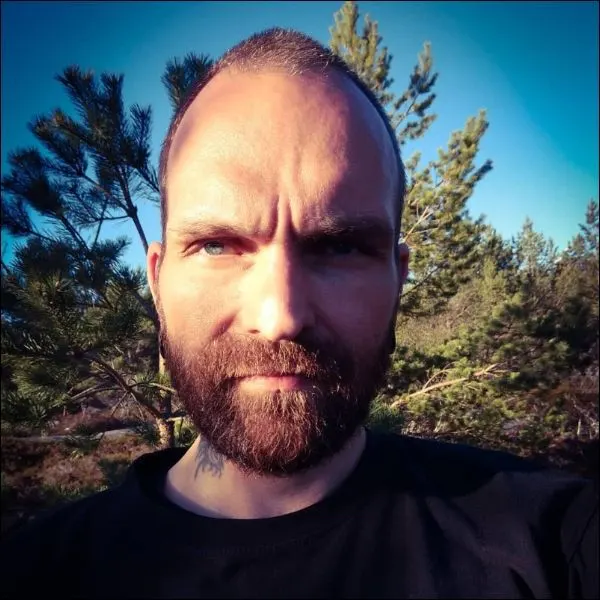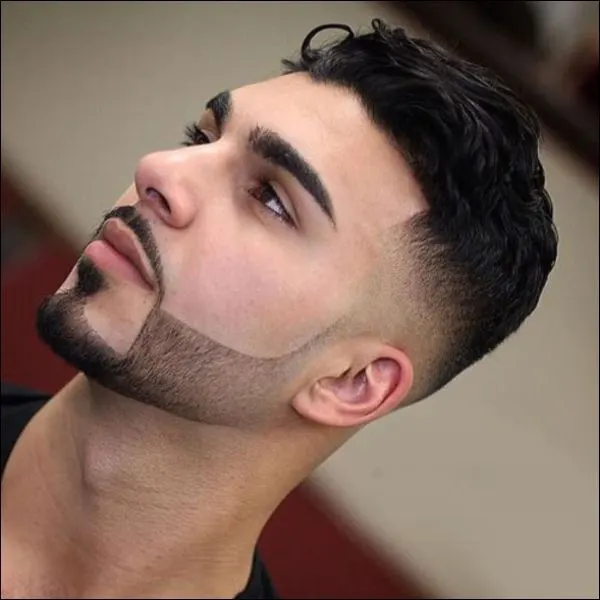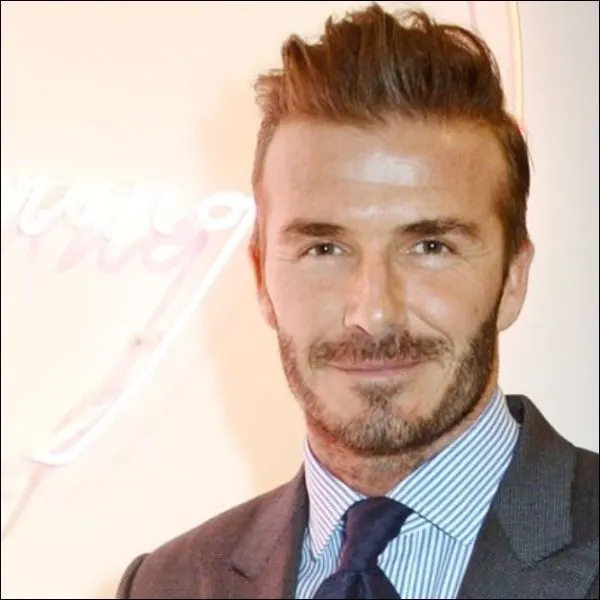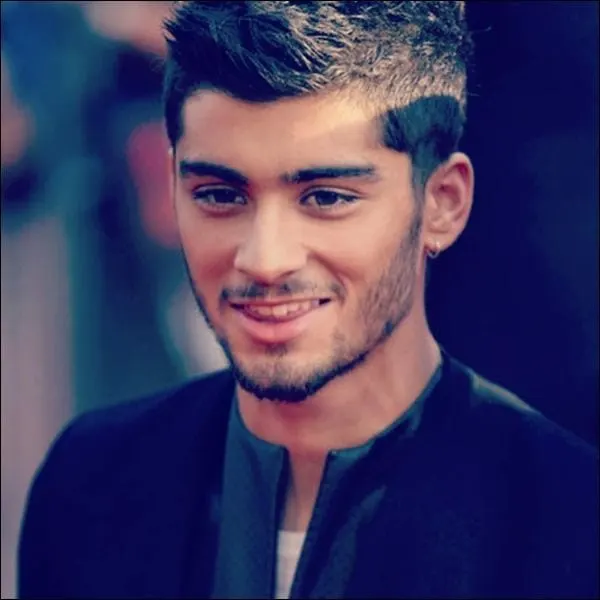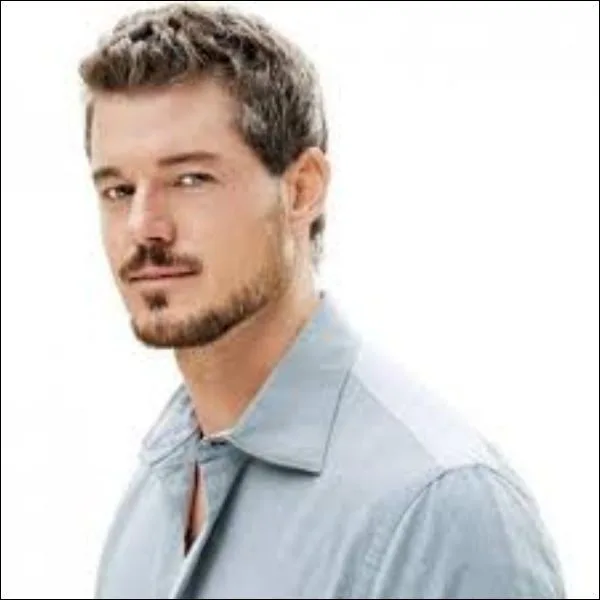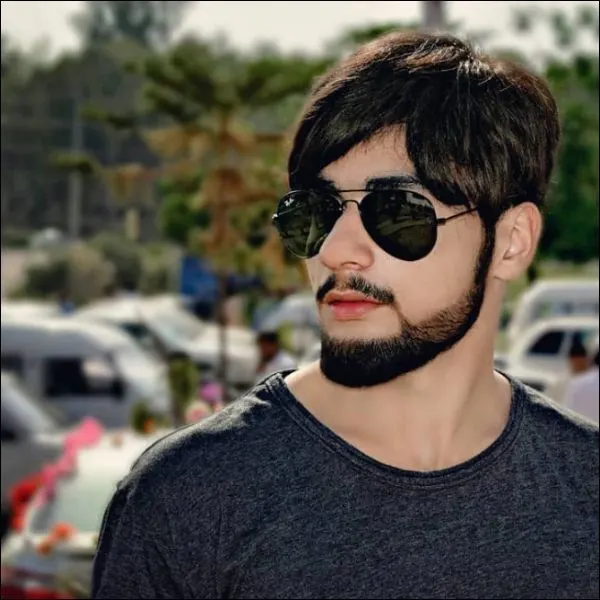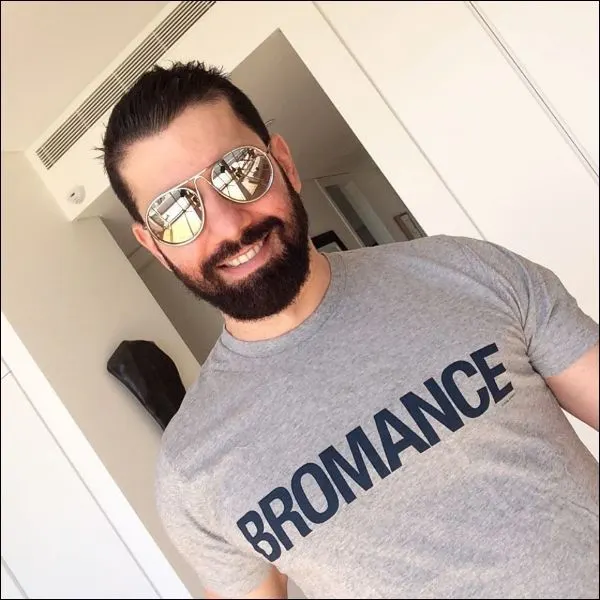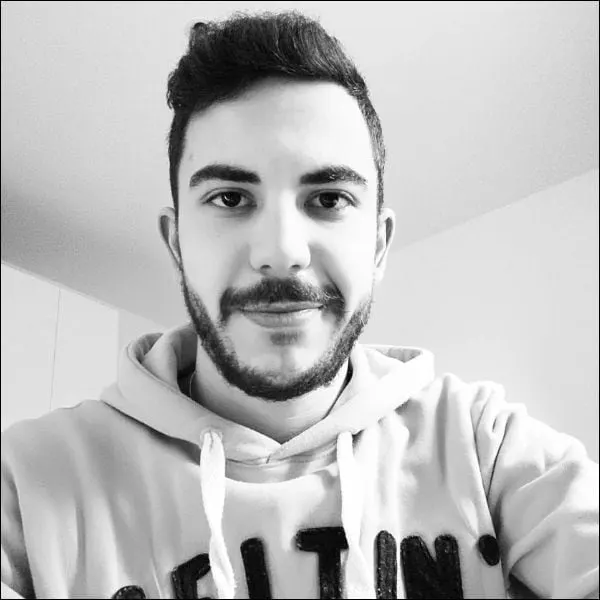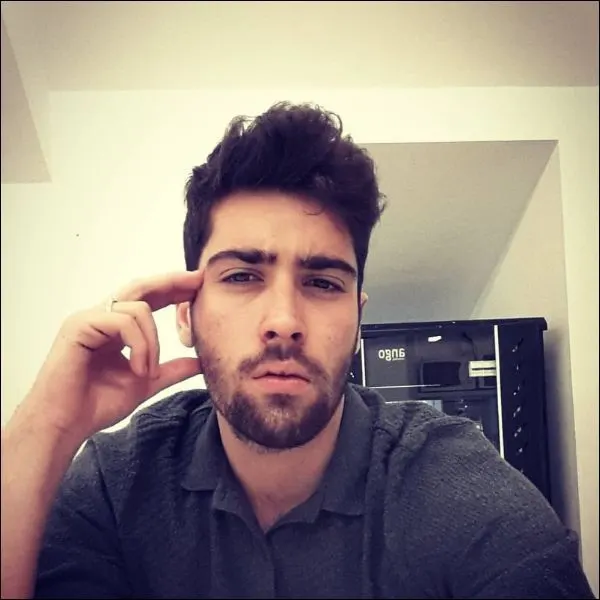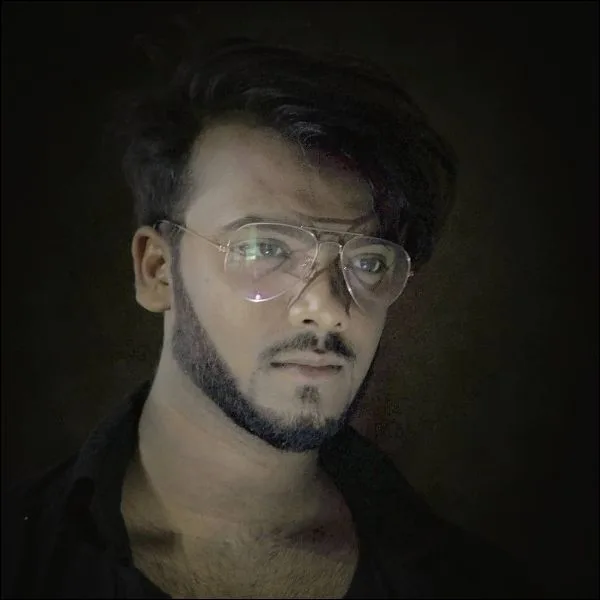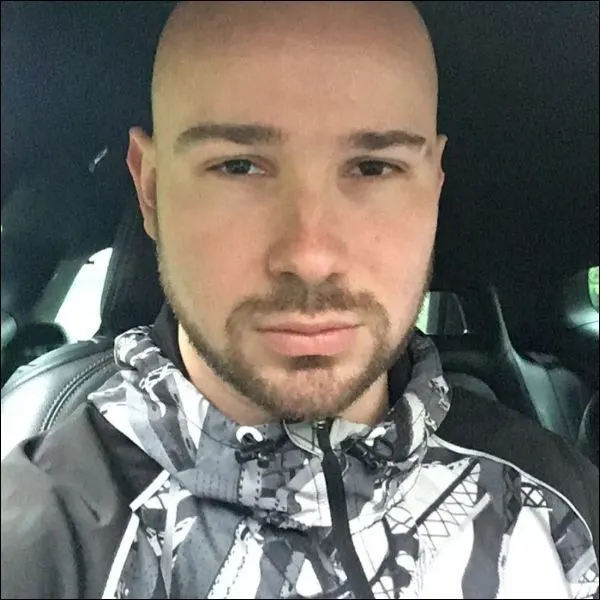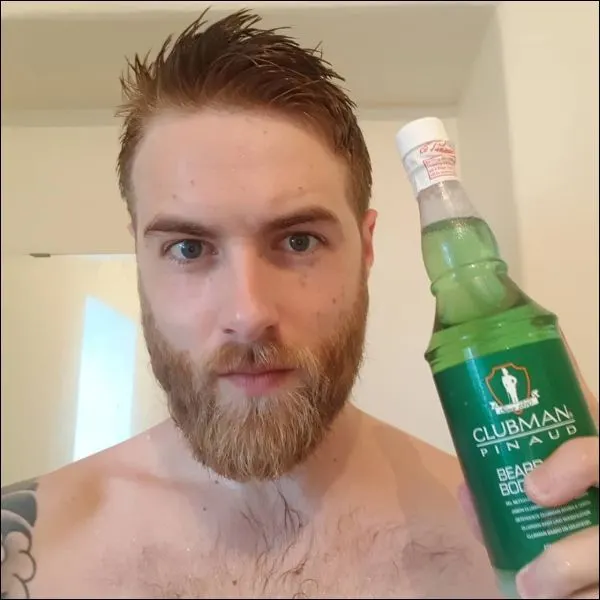 Choose your new beard shape wisely and you will be able to really enhance your look. All of these styles can be adapted so that they are just right for you. If you don't think that any of these types of facial hair are right for you then you should take a look at some of our other lists.