Hipster beards have become some of the most sought-after beard styles in recent times. While they offer a great sense of duality and balance, pairing disheveled type beards with sleek hairstyles, they also achieve a great sense of edginess and sexiness.
What Makes a Hipster Beard?
A hipster beard isn't exactly a new phenomenon—the only thing that's different is the name. See, a hipster beard, by nature, has to be full, lush, usually long, and always beautifully groomed.
It's not uncommon for the accompanying mustache to be styled as a handlebar, with perfectly curled ends. Some hipster beards resemble the Bandholz beard or a full beard. Others veer more toward the Garibaldi or the short but still full Verdi.
Short & Medium Hipster Beards with Short Hair
A common style among hipsters is styling a thick, short beard with a short haircut that has been slicked down and parted. This beard is a very classic type of way to stylize even the most disheveled beard since it displays that the beard looks that way on purpose.
Facts to Consider Before Growing a Hipster Beard
Be patient as you grow your beard. Nurturing a full, thick beard doesn't occur overnight. You can't simply stop shaving for a week and expect a beard like ZZ Top's Billy Gibbons. Leave it alone and let it grow. As it does, condition it regularly and moisturize it using an excellent beard oil.
As it grows, pay attention to the shape of your face and the way your beard makes it look. Time time, you might need to trim your beard, angle it, or even give your mustache a little twist to better suit the lines and angles of your face. Make sure you keep it neat, as well. Don't let hair creep over your cheeks and neck.
Best Hipster Beard Styles
Whether you prefer your beard long or short, you may find a few styles in this list to choose from in order to switch up your look and try something new. Here are 70 of the hottest hipster beard styles you can copy to get a unique classy look.
1. Classic and Clean
This is a very polished look, featuring a short beard and a mustache that has been curled up. Pairing this combo with faded temples and hair that has been slicked down gives the look a particularly vintage look that will have you looking like you stepped right out of the 40s.
2. The Modern Classic
Here is a beard that is trimmed very short and styled up into the sideburns. The clean lines framing the face offer a polished look, while the beard is actually left to grow as it naturally does. Adding a distinctive part to this style also dresses up this look while still giving it an effortlessly classic feel.
Try these 55 chin strap beards
3. Faded Pomp
This bearded look features a curled mustache and shortly trimmed beard that fades away as it extends to the temples. The hair has also been styled in a fade, with the majority of the hair left on top which has been combed up into a pompadour style. This is an edgier variation of the short beard, as it offers very clean lines, a fade and a distinctive side part.
4. The Burly Gentleman
This is a thicker variation of the short beard style, paired with a trimmed beard and mustache combo, faded temples, and neatly combed hair. While the hair has not been slicked down, this laid-back variation of the style gives the look a more burly appearance.
5. Curl it Up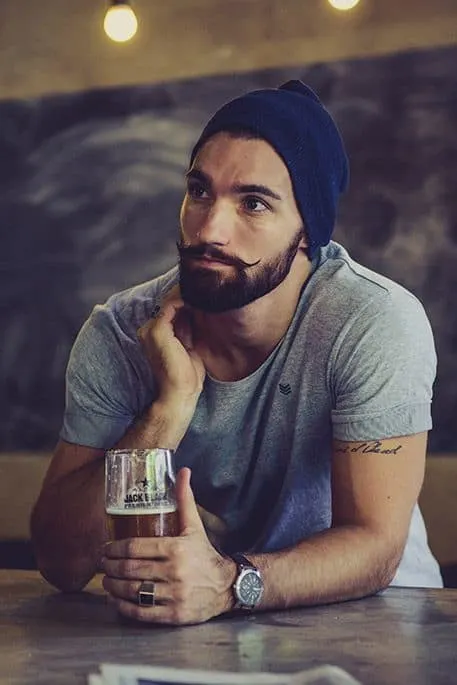 This beard is featured with a curled mustache, which gives the look a more stylized, unique appearance. While the beard has been left to grow into a goatee, it has also outlined to frame the jawline, which ties the look together completely.
6. Classic Edge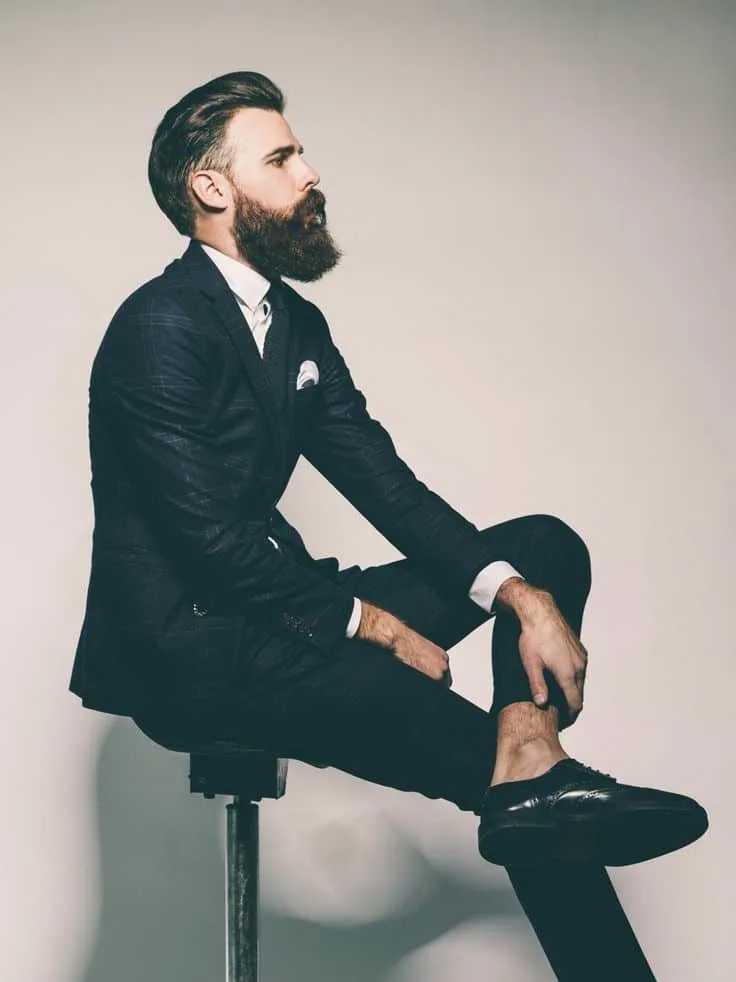 This short beard has been grown out and trimmed so that hits just below the chin. Paired with a short hairstyle that has been slicked back and faded sideburns, this combination offers a particularly edgy look while still remaining classy.
7. Razor Sharp
Here is another short beard combo that features a hairstyle that has been slicked down and faded, but most of the hair has been left on the head, as opposed to fading up to the side part. Paired with a beard that has been outlined to follow the curve of the cheek, this combo gives the look a particularly razor-sharp appearance.
8. New Aged Class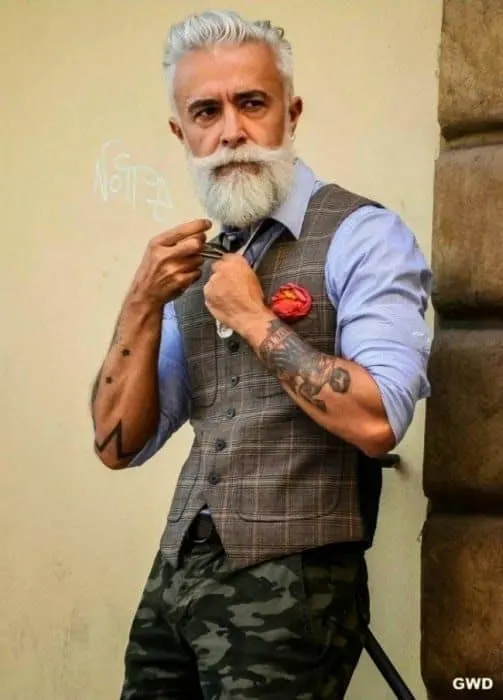 Here is a full beard that has been trimmed short, coupled with a mustache that is slightly curled. Curling the mustache up gives the beard an unexpected amount of style as opposed to remaining particularly disheveled The hair is then cut short and combed back, away from the face.
9. Rock it out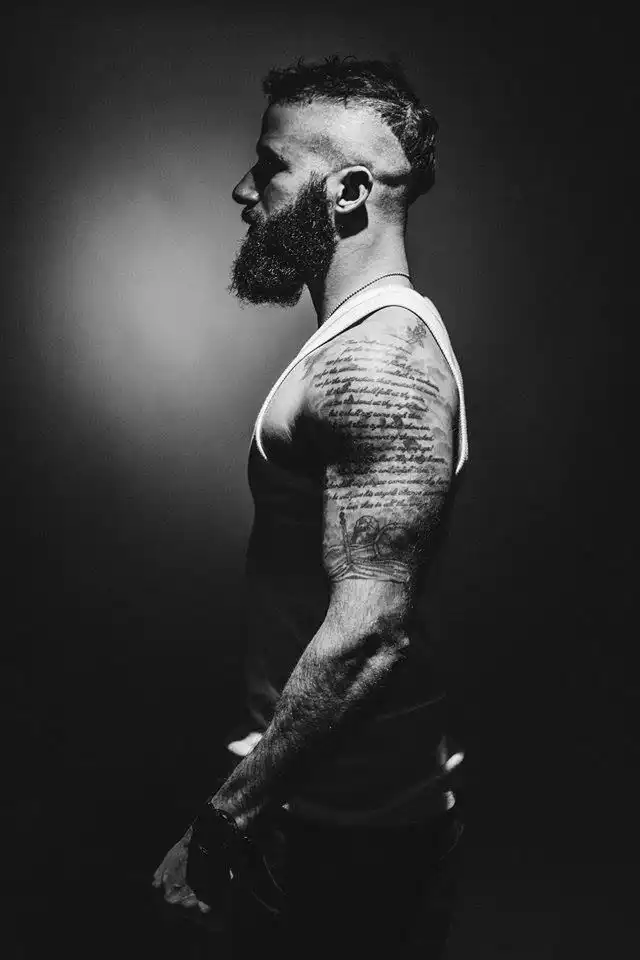 This style is a very edgy variation, as it offers a full beard with hair that has been cut into a short Mohawk with shaved sides. This is a perfect look for those who wish to rock a more badass version of the hipster beard trend.
Short-Medium Hipster Beards and Medium Length Hair
These looks are for men who like to keep a substantial amount of hair on the head. Among the most popular versions of the hipster beard, these combinations feature beards, mustaches, and hairstyles that can be interchanged to suit your personality and style. If you have medium length hair, here are a few ways to switch up your hipster beard style.
10. The Rebel
Here's a look that offers a great amount of uniqueness. Coupled with a shortly trimmed goatee, the mustache has been curled to form an exquisite little coil. Meanwhile, the hair has been styled high, sporting a particularly carefree type of look.
Most popular & trendy beard styles for men
11. Honor Roll
This is a very simple way to style your hipster beard– just grow it out and trim it down as short as you'd like. Pair this beard with faded temples and a stylish comb-over to tie the look together.
12 Bad Boy, Good Intentions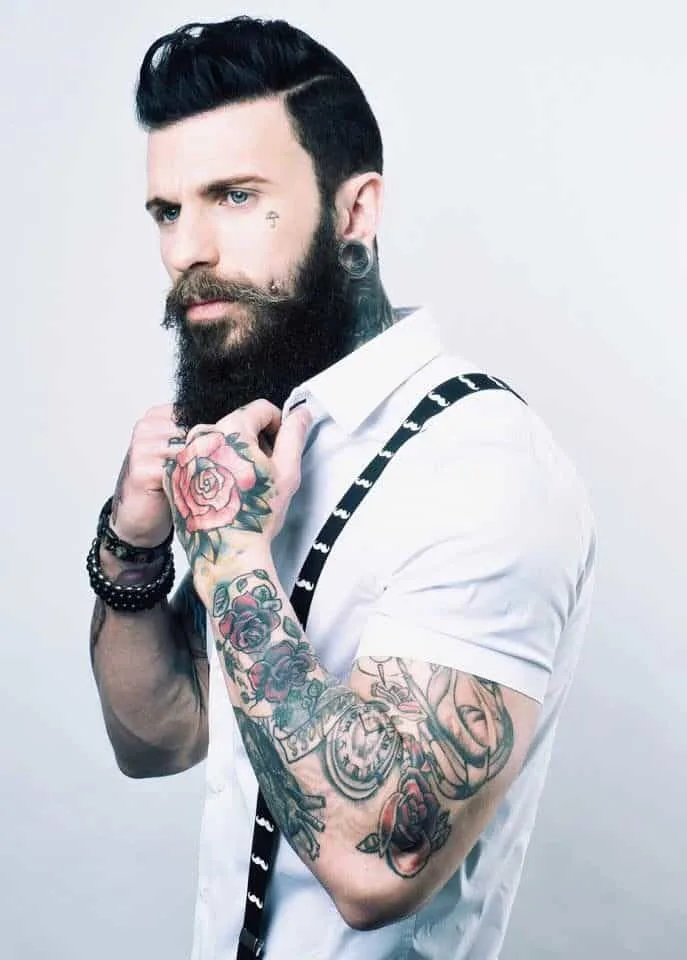 Here's a full beard style that offers a look that is both classic and edgy. This look features a full beard that has been styled up into the sideburns, hair that has been trimmed short of the sides and left lengthy in the crown. The outline of the look has been trimmed to give it a cleaner appearance, as well as a side part to highlight the differences in length within the hairstyle.
Top Conor McGregor's Beard Styles
13. Full and Fierce
Here is another full beard combo that features a hairstyle that is short on the sides and long in the middle. The outline of the look has been cleaned up with trimmers and the sideburns have been thinned out so that it looks a bit more polished.
14. Left a Little Disheveled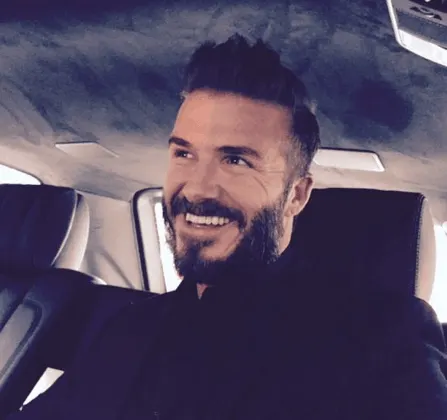 This short beard has been left to be a little bit disheveled. Sporting a goatee and faded temples, this look is also coupled with faded temples and the crown has been styled high, but given a more carefree look.
15. Coiffed Pomp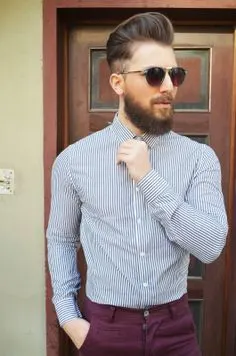 Here's a short beard variation that has been groomed into a goatee. Meanwhile, the temples have been faded and the crown has been stylishly combed up into a neatly coiffed pompadour.
16. Polished yet Grizzly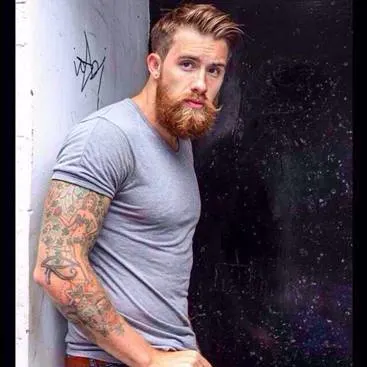 Here is a beard that has been left to grow as it naturally does, sported with slightly faded temples and a crown that is styled to the side. This is a great carefree style for those who prefer to keep it grizzly but still want a slight sense of polish.
17. Face Blanket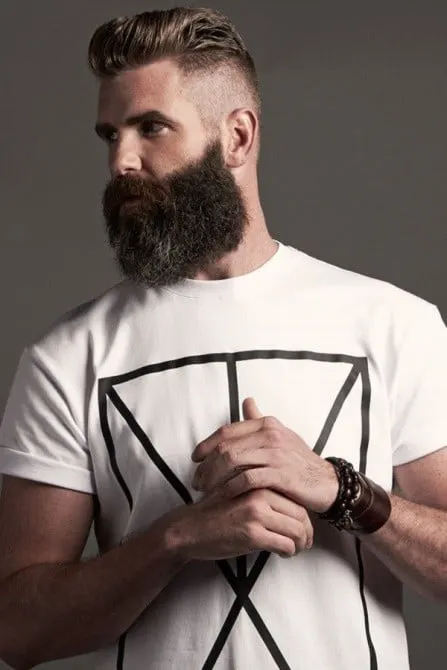 This full beard look has been combed out and trimmed down so that the hair is uniform in nature. The look is then coupled with a hairstyle that fades up into the crown, which has been combed back. If you like to leave your face fully covered but want to give your look a little more style, try this combination out.
18. Modest Edge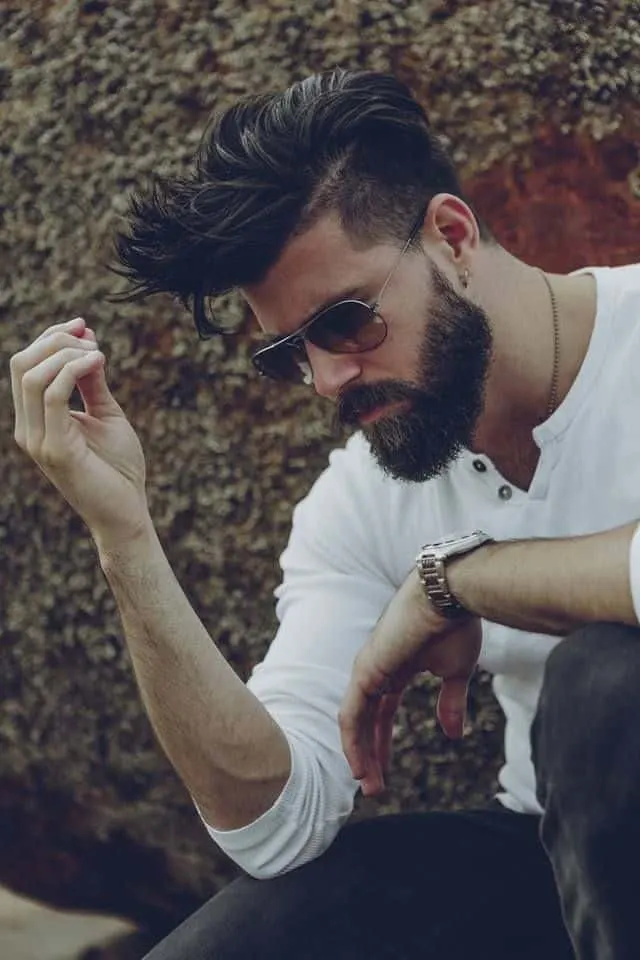 This style is perfect for men who like to sport a shorter beard with their medium length hair. While it maintains that classic image, it still offers a moderate bit of edge To achieve this beard, just style your beard as normal, thin out the sideburns and fade the hair around the perimeter of the nape, leaving the crown intact. Then, comb the crown into a style that is most suitable to your face and tie the look together with a slight side part.
19. Unapologetic
Here's a beard that offers a more disheveled look, along with hair that mimics that same sense of carefree styling. Just allow the beard and mustache to grow as it usually does, making sure to trim it to a more uniform length. Fade the temples out and leave the majority of the length in the crown. Then, style the crown into the perfectly disheveled coif.

20. Naturally
This full beard is a shorter variation of hipster beard. Trimmed down to a more uniform length, the outline of the beard is left to grow in as it naturally does. The hair on the sides has been cut down, while the crown has been left intact and styled to the side.
Know why every matured man should grow a beard
21. Highlight the Mustache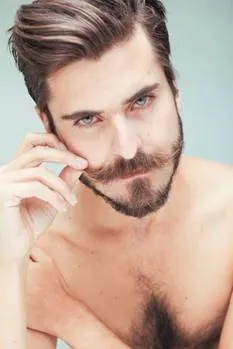 This beard has been outshined by the thick mustache which has been curled up at the ends. In order to accomplish this look, style the beard into the goatee of your preference, leaving the mustache long and thick. Using a bit of mustache wax, curl the ends of the mustache up.
22. The Agent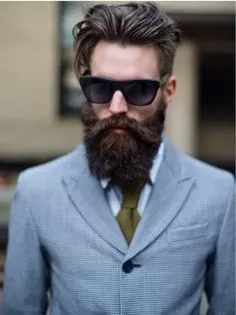 This disheveled beard is coupled with a tapered haircut that has been combed back, away from the face. In order to achieve this style, just allow the beard to grow as it normally does and trim the outline to clean the look up.
Short-Medium Beards and Long Hair
The following beards have been coupled with longer hair. A trend closely associated with the hipster community is the "man bun," which is usually coupled with a beard of moderate length. If you're a man who wishes to sport his beard with long hair, here are some popular hipster styles to try out.

23. Wild and Free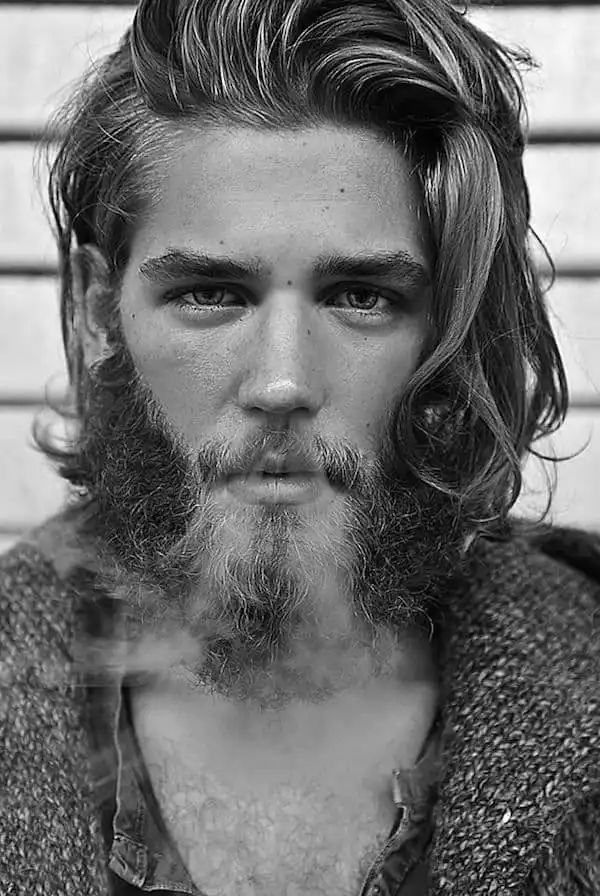 Here's a beard that has been coupled with a longer hairstyle. The beard has been allowed to grow in as it naturally does, while the hair is cut into layers that flatter the shape of the face. A bit of mousse is also added to the hair in order to encourage a wavy texture.
24. Top Knot
This short beard variation is paired with the ever-popular "man bun" to give the look a sexy edge. To achieve this look, trim the beard down into a goatee that is close to the face and comb the hair up into a ponytail. Take the hair of the ponytail and wrap it around itself and pin the hair down with bobby pins.
25. Close Trim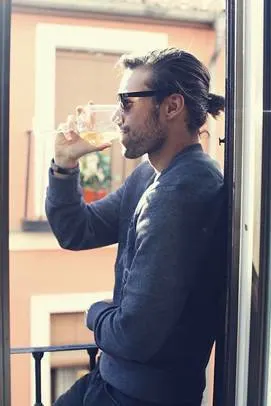 This beard has been trimmed down very close to the face in order to give the look of "5 o'clock shadow," and is coupled with a low sitting bun. The key to this style is maintaining clean lines along the outline of the beard and forming a low bun that looks effortless.
26. Dreaded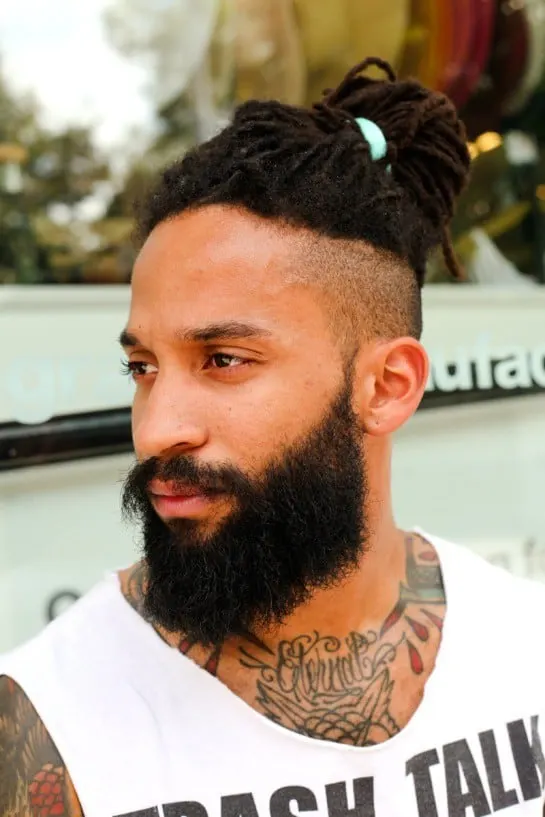 This style features a moderate length beard that fades away at the temples. The hair on the sides of the head has been shaven off, leaving the crown intact, which has been styled into dreadlocks. This is a unique variation of the man bun that offers a great deal of texture and height to the style.
27. The Soul Gazer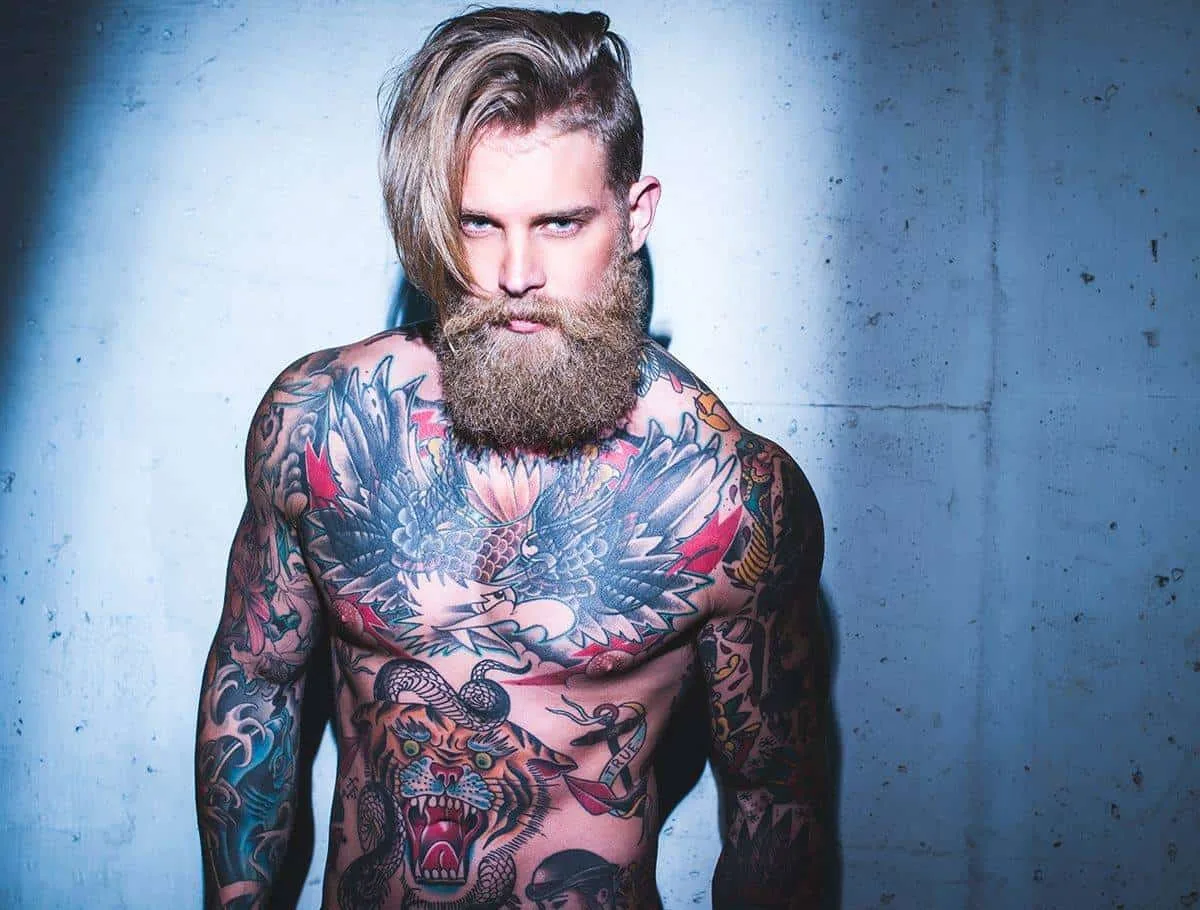 Here's a medium length beard that features hair that is styled to the side and straightened. In order to accomplish this style, allow the beard to grow to a moderate length and trim it down to give it a sense of uniformity. Then, using a flat iron, straighten the hair and style it to the side.
28. Low Bun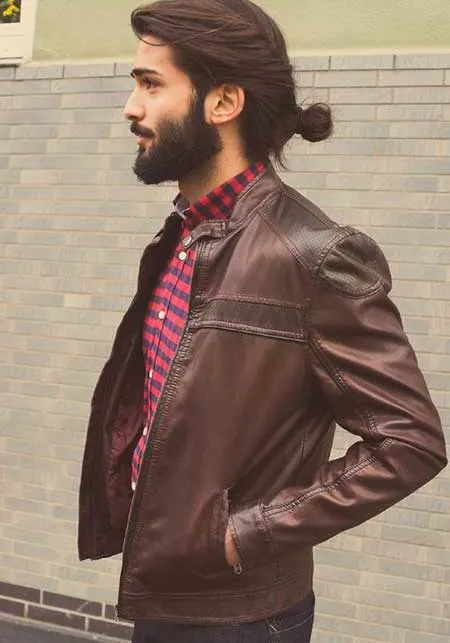 This medium length beard has been paired with a low bun in order to display a very effortless look. In order to achieve this style, allow the beard to grow to a moderate length, leaving the outline natural. Then, comb the hair back to the nape and form a low bun using a ponytail holder.
29. Casual Bun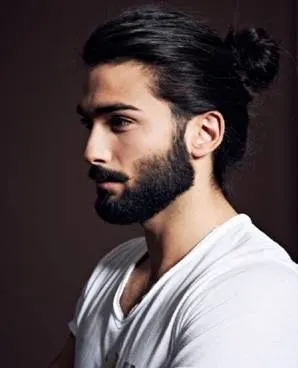 Coupled with a bun that sits in the middle of the head, this beard is another carefree version of a moderate length beard. In order to achieve this look, allow the beard and mustache to grow in as it naturally does. Trim the goatee portion to give it a sharp outline, leaving the cheeks natural. Finally, gather the hair up into a loose bun that sits in the middle of the head.
30. Short and Long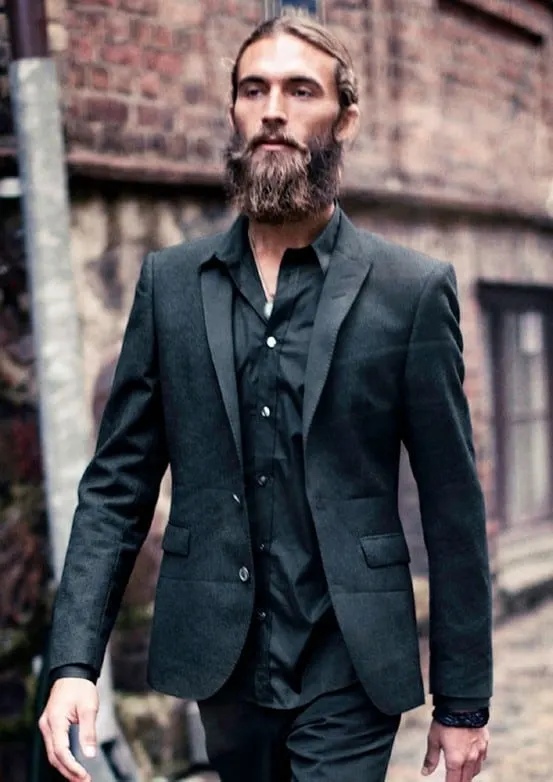 This is a moderate length beard that has been paired with a low ponytail. This look is for those men who do not wish to cut their hair. Putting the hair into a low ponytail gives the illusion of a short haircut without you having to actually cut your hair. Meanwhile, allow the beard and mustache to grow in as they naturally do, trimming the hairs so that they are a bit more uniform.
How to take care of your beard properly
Unconventional Beards
While the majority of these styles have been attainable for many men, the next few styles are very uniquely styled beards that have been featured throughout the hipster beard trend. Although they may not have stayed on the scene for a long while, these unconventional styles definitely have to be featured in this list.

31. Let it Grow
While this is not a common style choice among hipsters, long beards have made their appearance on the scene. This style is for those who are not afraid to let their beard grow to remarkable lengths while maintaining hair that has been cleanly styled.
32. Decked in Flowers
One unusual trend that made its way through the hipster beard scene has been decorating the beard with beautiful flowers. While this is mostly just an artistic expression that trended among photographers, it serves the point that hipsters are not afraid to do daring things with their beards.
33. Dipped in Silver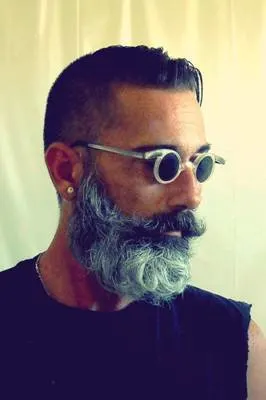 This beard encourages the "salt and pepper" look, by sporting a beard that has been partially bleached and colored gray. If you want to achieve this style, either allow your gray hair to grow out or go ahead and bleach the ends and dye them gray.
34. The Grandmaster
Here's another full beard combo, featuring a neatly combed coif and a trim beard. While the beard isn't necessarily "neat," it gives the look a moderate sense of effortlessness which is achieved by leaving the outline of the beard natural and keeping it trimmed to a moderate length.
35. All or Nothing
The last hipster style features a beard and hair combo that have both been dyed a very unconventional aqua color. While this is only an option for the most daring (and self-employed), if you want to achieve this look, your best option would be to get the hair dyed by a professional in order to accomplish a visually appealing blend of textures within the color.
Hope you have enjoyed our list of hipster beard styles and got the idea to style yours. Let us know which one is your favorite in the comments.
36. Homeless man look
The homeless man look is becoming more and more popular with times. A lush beard combined with disheveled hair, which can be hidden by a hat, gives an impression of a man living under a bridge. As unpleasant as it might sound, the look is actually considered very sexy by some women.
37 The Artist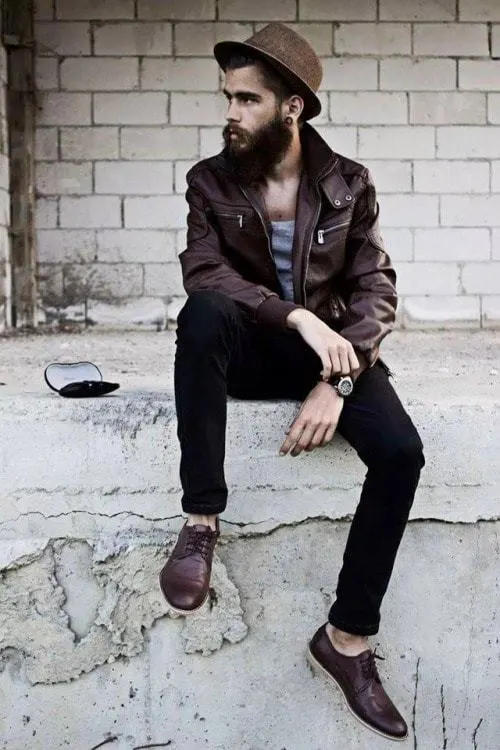 Voluminous beard with a neat mustache and a short haircut make a great artistic look. This is what some believe a real artist should look like. So if you want to make a special impression, make sure to follow this style and get great results!
38 The Explorer
If you like sporting neat hairstyles but want to diversify your look, grow a medium-sized disheveled beard and it will do the job. This is a classical explorer look, which gives an impression of a dreamy character.
39 Forrest Gump on the run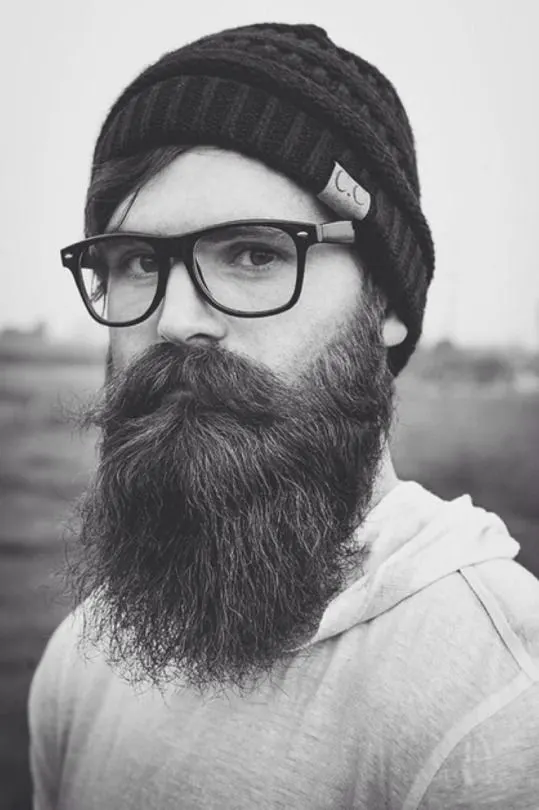 Even if you haven't seen the movie, be sure most of the girls have. And they will be thrilled to get to know you closer if you look just like Forrest Gump. This style might seem low in maintenance, but unfortunately, it is not. Keeping the long beard looking neat is not an easy job.
40 Geometrical beard
Some men don't like their soft and round chins. There is a very easy way to fix it. Grow a short beard and trim it to take a square shape. Shapes can be played around with depending on your trimming skills.
41 Dyed mustache
A dyed mustache is an interesting addition to a long beard. Making the mustache a different color is a great way to add some zest to the regular beard-mustache combination. You can use any mix of colors you wish. There is no overdoing it.
42. Straight and curly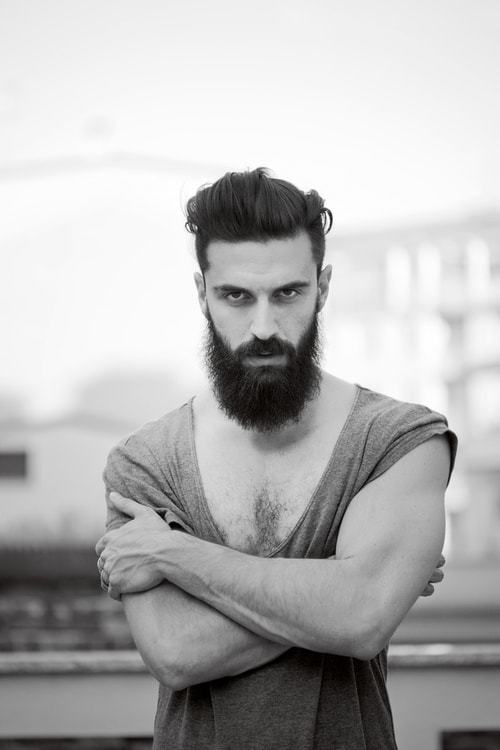 An interesting look is created by mixing curly beard with a straight comb-over. This mix creates an impression of duality, which adds a lot of mystery to any man, who is ready to spend some time styling his hair. The beard doesn't need a lot of special maintenance.
43 Garibaldi beard
This is a type of beard which allows natural growth. But don't be fooled. Any beard needs maintenance and so does this one. A neat wet hairstyle is a great addition to balance out the voluminous growth on the bottom.
44. Christmas tree beard
A little bit of gel and some imagination will allow you to give your regular hipster beard a Christmas tree shape. This is a good way to add some style and to deal with the unwanted volume. Do some experimenting!
45 Straightened out beard
If you want your hipster beard to look neat, take out a flat iron and do some work. While it might take some time, the result will pleasantly surprise you. The neatness your beard will get will definitely keep you pleased.
46. Short boxed beard
While this beard might seem too short to be a hipster beard, the disheveled look keeps it popular. If you want to add some more hipster elements to your style, try highlighting one or two hair strands.
47. The biker
The biker look doesn't necessarily mean sporting long and unwashed hair and unmanageable beard. Grow a medium length beard and keep it neatly trimmed, while making a side-parted undercut hairstyle. Overall this look produces a neat biker type.
48. The field worker
Naturally grown beard combined with a styled spiky haircut and touch of messiness creates a field worker look which appeals to older men. If the beard has touches of gray in it, such style gets additional spice. Make sure to trim your mustache, so it doesn't grow longer than on the picture.
49. Wise guy
The wise guy look is universal. If you are just starting to grow a hipster beard, but don't have enough length for other styles yet, take a look at this neat short beard with disheveled elements. While the beard is growing, keep the whiskers neat.
50 Handlebar and goatee
The handlebar is a great addition to any beard. A goatee is very fashionable right now, so making it is a win-win decision. While it might not be too long to be a full-size hipster beard, this style still has a touch of wilderness to it.
51. An out of the office look
Long hair and thick beard is a good hipster combination. However, while the beard is not too long and the hair is pretty neat, it can be a great look for an everyday job. This style doesn't seem outrageous and is easy to keep neat.
52. Windblown look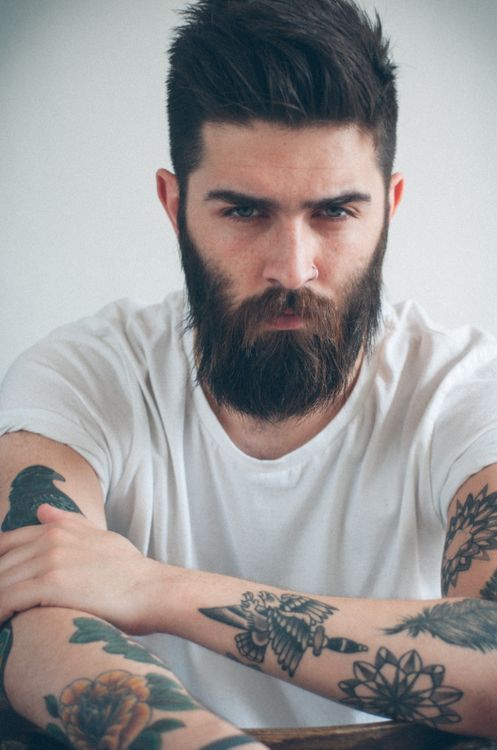 If you are a lucky owner of thick and straight hair you can easily sport a windblown look, which requires almost no maintenance. Keep your hair and your beard about the same length and this easy style is yours.
53 Hollywoodian
While no hipster would want to be called a Hollywoodian, this style might still interest some of the pickiest guys. The comb-over on top and a medium-sized beard on the bottom is a great start for anyone who wants a hipster beard in the future.
54 Classy medium sized beard
This classy look is bound to suit any man with thick hair. The beard must be carefully trimmed not to get a disheveled look, while the hair must be neatly done up in order to complete the picture. If you don't know what to choose, go with the classics.
55. Slight highlighting
If you are tired of the old and boring hipster beard but don't want to give up any length, try changing the color. Carefully integrated highlighting will add a special brightness to a beard, while you will be satisfied with a style change.
56. The classics
This is another example of classical hipster beard. Here no trimming is allowed, just let it grow. Make sure to keep the beard clean by washing it at least twice a week. Otherwise, the classics will turn into a mess.
57. Disheveled look
If your beard is still on a goatee level, try to experiment with your hair. Grow it out long enough to create a voluminous disheveled look on top. Don't be fooled, this style will require some maintenance and hair cosmetics.
58. The musician
Want to look like a real musician? Grow at least a medium-sized hipster beard and keep your hairstyle creative. If your bangs are long enough, allowing them to hang over your face is a good idea to create a new hip style.
59. Handlebar and Round Beard
Men with elongated face shape can easily go for a rounded beard. This hipster beard needs some serious trimming but looks very neat and impressive. The handlebar is a great addition to this beard style.
60. Color mix
A color mix is a pretty bold way to diversify your hipster beard style. Keeping your hair different color than the beard while styling both of them differently, is an interesting way to handle the hipster beard and stand out of the crowd.
61. Combed Forward
Lots of hipster beards take full advantage of bushy beard styles, but this look gives the fullest beards a slightly different styling. Use a beard comb to tease your hair so that it begins to grow ever-so-slightly forward. Carefully trim away any stray hairs to help your beard to keep its style.
62. Long Hair, Don't Care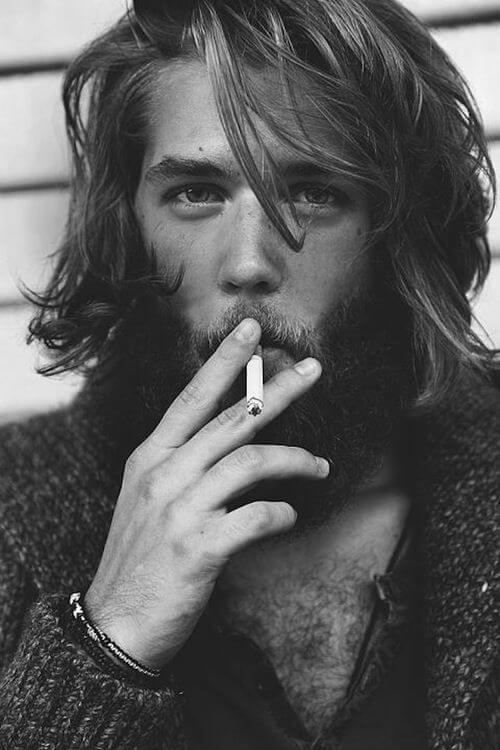 This style is all about long hair; from long head hair to long beard hair. Grow both sets of hair as long as you dare, or just keep on growing until you feel like stopping. Keep your hair down and let it flow wild and free, or else pull it up away from your face into a man bun and let your beard do all of the talking.
63. Wild Curly Hair with Short Controlled Beard
There is a really distinct contrast here between the two different styles of hair. The long curly head hair is long, wild and untamed, whereas the beard is fairly short and has been carefully trimmed to make sure that it is wonderfully neat. This striking contrast makes it a great hipster style.
64. Laid Back Diamond
A laid back diamond style really helps to extend the natural shape of the face and head. The beard shape "pulls" the chin into a forward facing point. The high man bun pulls the top of the head backwards into its own point. These features help to create an aesthetically pleasing diamond shape.
65. Full Beard with Chin Dimple
Plenty of people think that a chin dimple is a really cute feature which will enhance your face, but you might not be able to take advantage of this if you have a full beard without skin on show. However, you can actually shape your beard so that it has its very own chin dimple! Just cut a small indent into the end of your facial hairs.
66. Groomsman
Every single hair in this style should be groomed perfectly into place. Run a fine tooth comb through gelled hair to help to give it a perfectly groomed spiked-up look. Buy special beard grooming products and tools to make sure that you never have a hair out of place in your beard. Preen it so that all of the hairs go in the same direction.
67. Full Chin Beard
A full beard normally draws in hair from all sides of the beard, but the bushiness of a full chin beard is mainly made up hair just from the chin. The rest of the hair is kept shorter and more carefully controlled, and the soul patch region may be completely clean shaven.
68. Bushy Beard with Slicked Back Style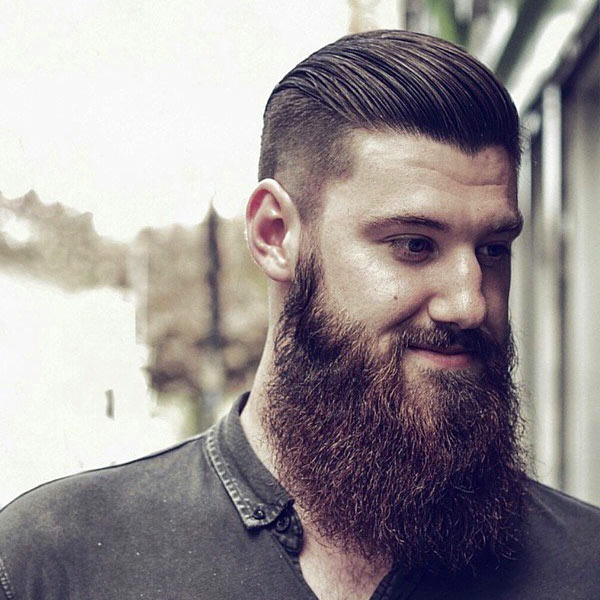 Creating contrast is often the best way to make different parts of a style stand out. In this style, the beard hair has been fluffed up to make it larger and bouncier. In a completely contrasting look, the head hair has been slicked smoothly down with styling gel in order to tame it completely. This creates a perfect eye-catching look.
69. Short Rounded Beard with Sonic Hair
Sonic the Hedgehog used to be a very popular cartoon and video game character. This hairstyle pays homage to Sonic's slicked back spikes. In contrast to the spiky gelled back style, the short beard has been rounded off to give a softer look.
70. Pop Star Stubble
No hipster will be happy with being told that they have pop star stubble unless they are able to convince you that they had it before it became cool! Nonetheless, this facial hair style is perfect for guys who have only just started growing their beard and who are holding out for bigger and better things.