Beards are back in fashion, and iconic beard styles are the talk of the town. Conor McGregor's beard style is one such statement-making variant.
His almost caveman-like beard along with the tight fade adds substance to his sharp features. He is one of the most strong and famous boxers with a beard and his beard styles suits his strong attitude and confidence.
If you too are keen about sporting your beard like Conor McGregor, here is a ready guide.
How to Get Conor McGregor Beard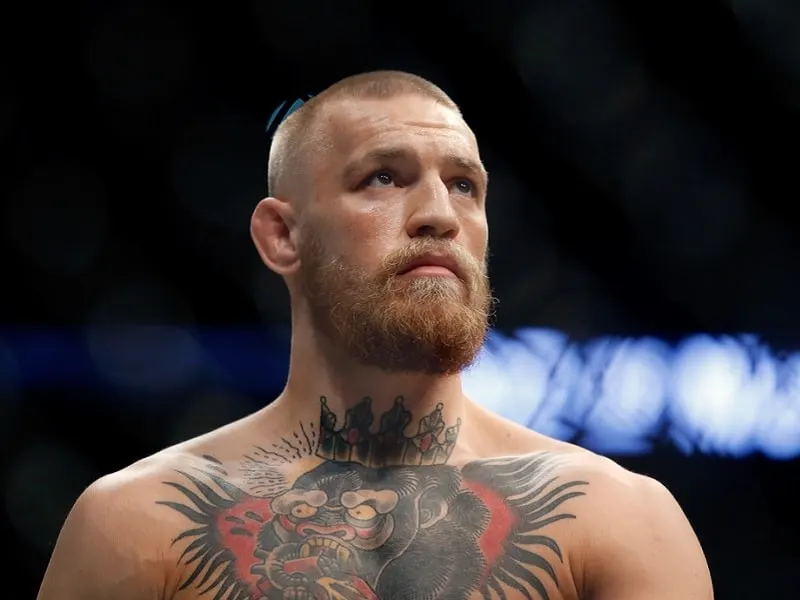 First of all, remember that your beard won't grow how you want. When you want it in a particular way, you need to style it. That said, you will not be able to control either the quality of hair or the thickness.
The best way to style your beard effectively is by letting it grow extra long and then trim it like Conor McGregor, Brock Lesnar or anyone else you want.
When it comes to styling your beard, it's always advisable to seek professional help for perfection and a sharper look.
Doing it at home may take about 20-30 minutes.
Take a photo of McGregor and create a mental note of the length and volume.
First of all shampoo and condition the beard.
Comb the beard straight and uniformly after that.
Make sure there are no angles, and the finish is evener.
Use a quality beard trimmer with a steady hand and maintain the line and shape of the beard.
The direction of the beard and your facial construct are crucial reference points.
Also, make sure you eat healthy for better beard luster.
Stunning Variants of the Conor McGregor Beard Style
Conor McGregor had tried different beard styles and every time he nailed it. Have a look here at some of his iconic beard styles and get inspired!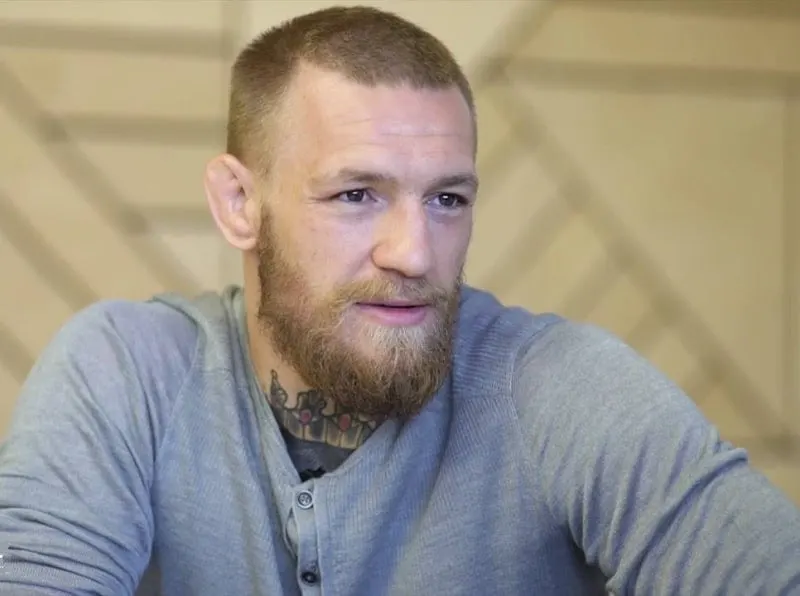 This is an extremely sporty and functional cut. It follows the natural thickness of the beard and gives you a clean and smart look. The buzz cut adds dimension to the original thickness of the beard and gives your face a fuller look.
2. Medium Length Ginger Beard With Slick Haircut & Side Parting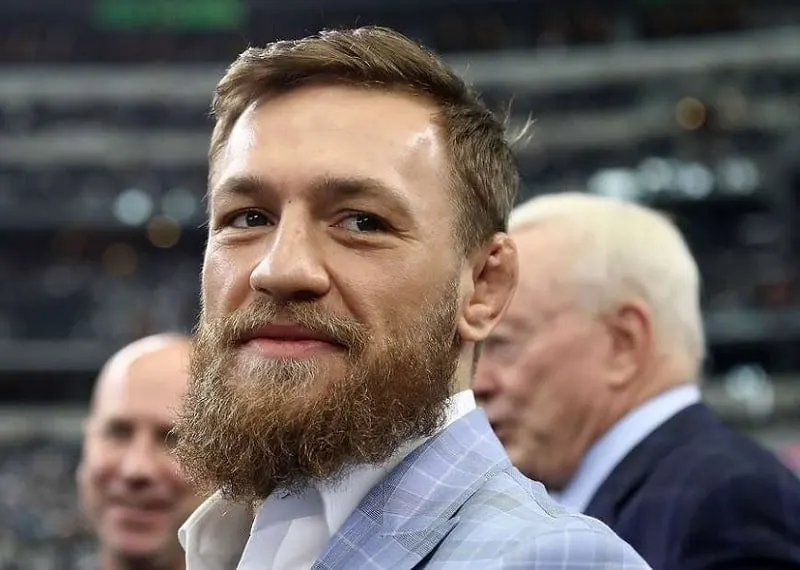 Ever wondered what lent that rough and tough look to this UFC champion?
Well, apart from his taut physique, his beard and the way it highlights his string jawlines in this style also add to the effect.
It brings out his manliness but at the same time highlights a softer aspect too.
3. Full Beard With Hair Pulled Back & Slight Mustache Twirls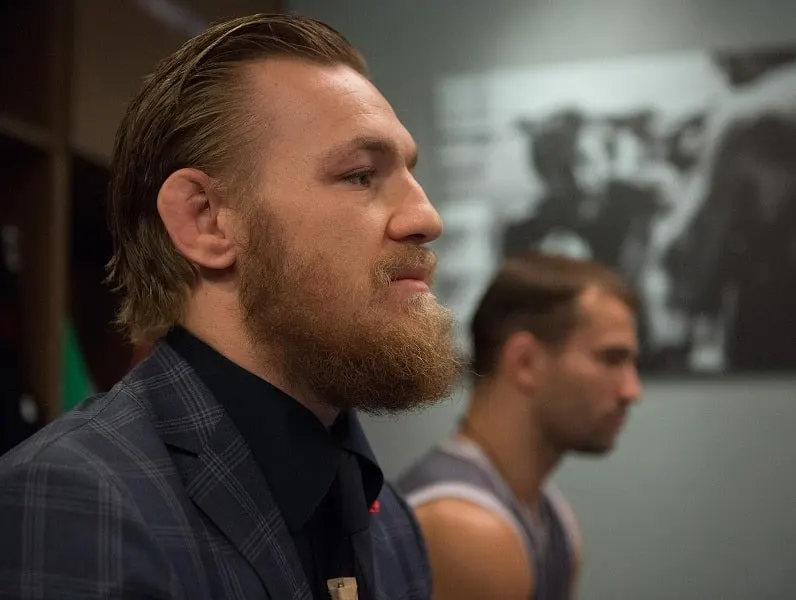 If you idolize UFC champion Conor McGregor's beard style, this is what absolutely seals the deal. This slick combination of the right beard length along with the hair combed back highlights the strong features and McGregor's genuine good looks.
4. Shorter Length Beard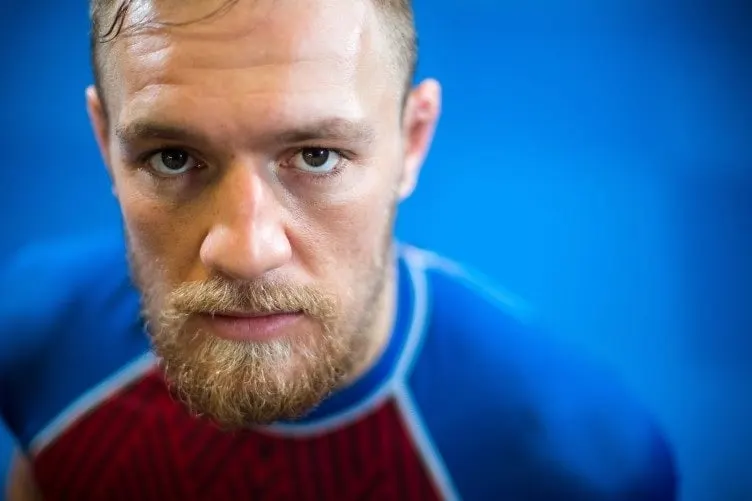 The short beard beautifully enhances the intensity of his Irish eyes and can be a wonderful way to sport your stubble for those with strong and accentuated features.
5. No Hair & No Beard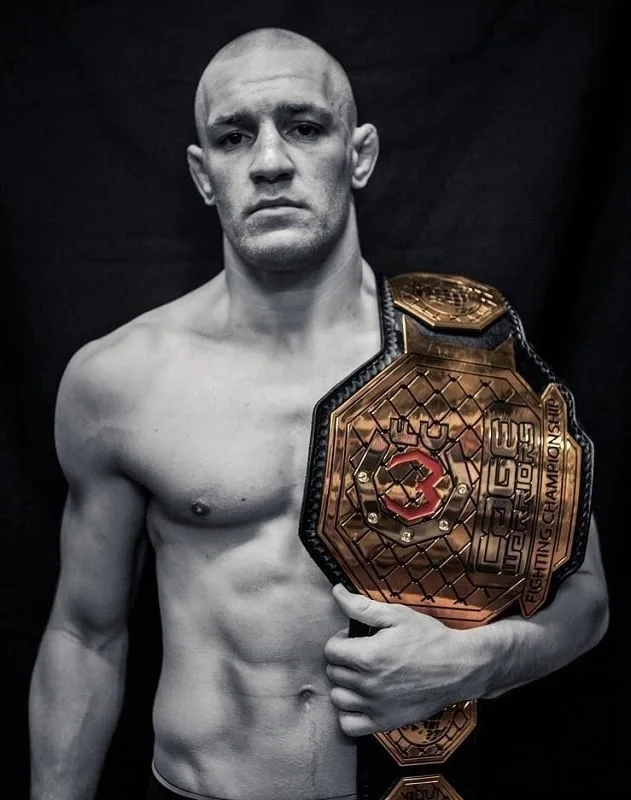 If you idolized McGregor's beard styles, this no-beard and no-mustache look could be an intense alternative to working with. It portrays a strong macho personality with a dare to choose the extreme attitude.
6. Notorious McGregor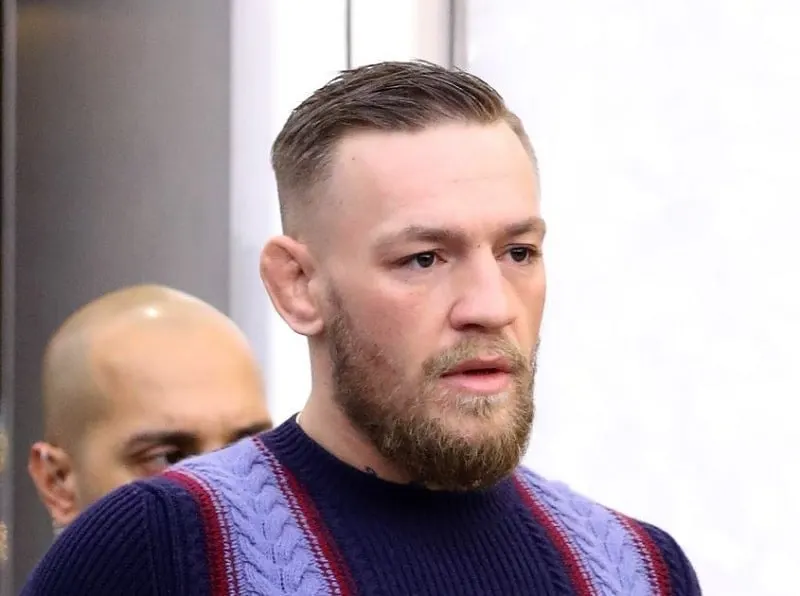 For those who want to experience the naughty and gorgeous 'Notorious McGregor' in beard styling, this is as best as it can get.
It is neat, perfectly in sync with the facial structure and accentuates this Irish UFC champion's jawlines like never before.
This sure adds a dose of manliness to the whole look without taking away the soft undertones.
Teen Beard Styles Trend in 2023
7. Full Beard with Mustache Twirls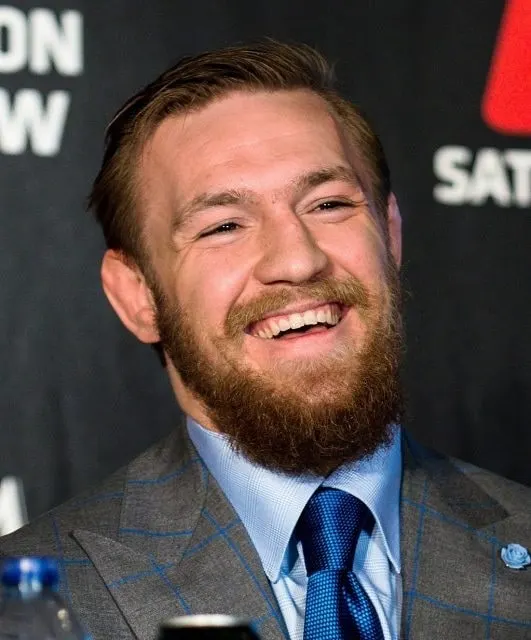 In this photo, McGregor sports the classic full beard with a little twirl around his mustache. The hair is cut short on the sides further highlighting his ginger beard. It also compliments his small eyes and heart-warming smile in a stylish way.
8. Minimalist Beard with Clean Shaven Head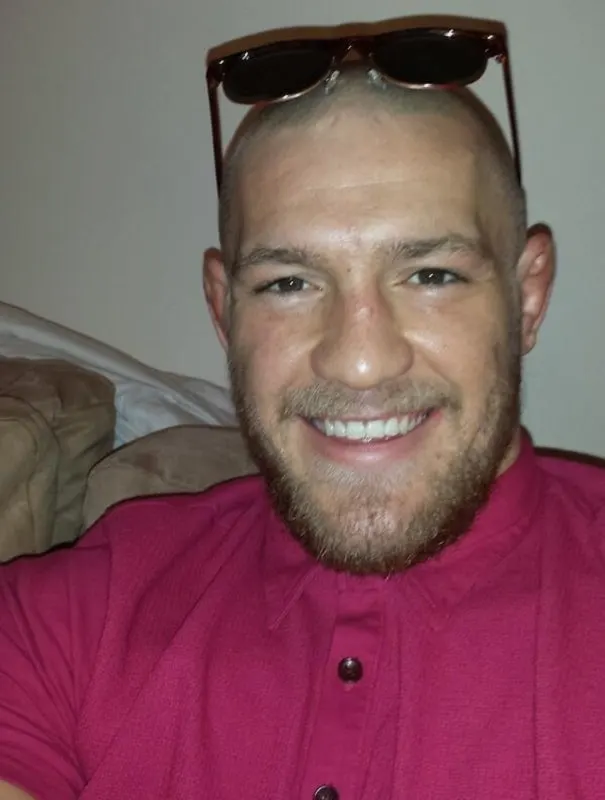 This almost no beard stubble with an absolutely clean-shaven head is all about highlighting the rugged machismo that we associate this UFC champion with. It is casual yet classic and lends an effortless style quotient to your personality.
9. Short Beard With McGregor Hair Cut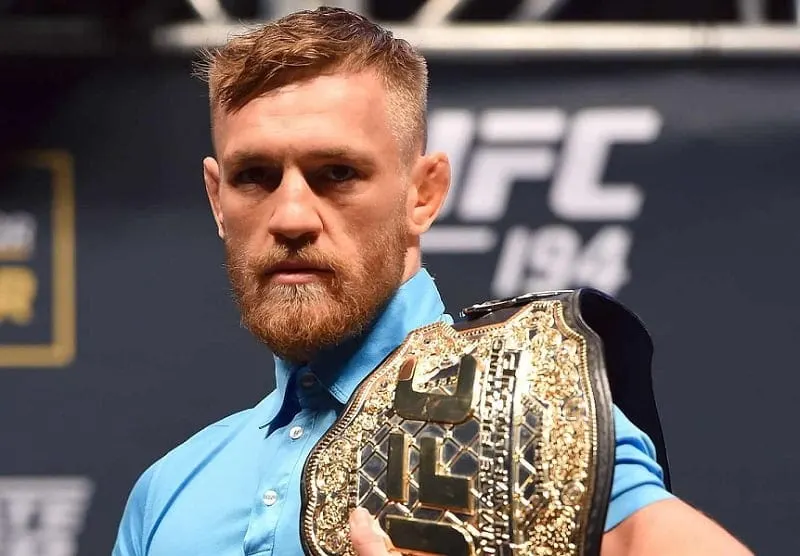 Talk about the classic McGregor haircut with the short beard and this is one of the best manifestations of his well-known style statement.
He brings in a brand new dimension to the full beard with this minimalist look and highlights the naturally brilliant construct of his jawlines.
Beard Styles That Go Hand In Hand With Short Hairstyles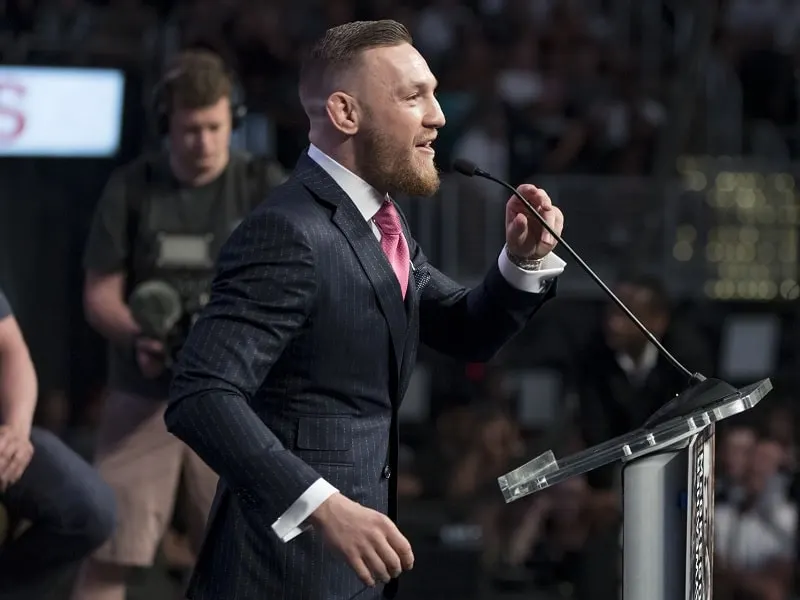 Complementing your suit with the right beard and haircut can create magic and this classic Connor McGregor beard look reiterates this fact with a thumping assertion.
11. The Iconic Garibaldi
Conor's go-to Garibaldi style strikes a balance between ruggedness and sophistication. With medium length and a rounded bottom, this beard is easy to maintain and always looks sharp.
12. Casual Quarantine Style: The Bushy Beard
During the coronavirus outbreak, Conor sported a bushy, unkempt beard, showcasing his adaptability to more relaxed styles. It's ideal for those looking for a laid-back grooming break.
13. Effortlessly Cool: Stubble and Goatee Combo
In his early days, Conor wore a heavy stubble beard with a goatee, a casual yet stylish option that highlights his strong features without much effort.
14. Timeless Classic: Medium-Length Stubble
The medium stubble look involves slightly longer facial hair, covering cheeks, chin, and mustache areas. This low-maintenance style adds a rugged and masculine vibe to Conor's overall appearance.
How to Grow and Maintain A Beard Like Conor McGregor
Conor McGregor's beard style requires patience, dedication, and a proper grooming routine. Here are some tips to achieve and maintain a beard like Conor's:
Allow facial hair to grow for a few weeks
Pick a style that suits your face shape and preferences
Trim and shape your beard regularly
Keep your beard clean with beard shampoo and oil
Pay attention to your mustache, trim, and style as needed
Maintain a healthy lifestyle for better hair growth
Conor McGregor's experiments with his beard look quite often, but what makes it an absolute winner every time is the fact that he plays within the style construct. His beard styling is all about emphatically highlighting his jawlines and bringing out his machismo to the core.