Believe it or not, this isn't the first time that the undercut hairstyle has been popular. From the 1910s through the 1940s, men wore more hair on top and less on the sides and back of the head. Today, the contrast between the top of the hair and the rest has grown even sharper as many guys opt for a fade.
Undercuts works so well with beards because of the way they polish your overall look. Even the most well-kept beards benefit from this clean style. The look also keeps the top of the head in balance with the beard. We have 12 undercut with beard styles to suit virtually every guy, so let's see what is in store!
1. Undercut with Beard for Round Face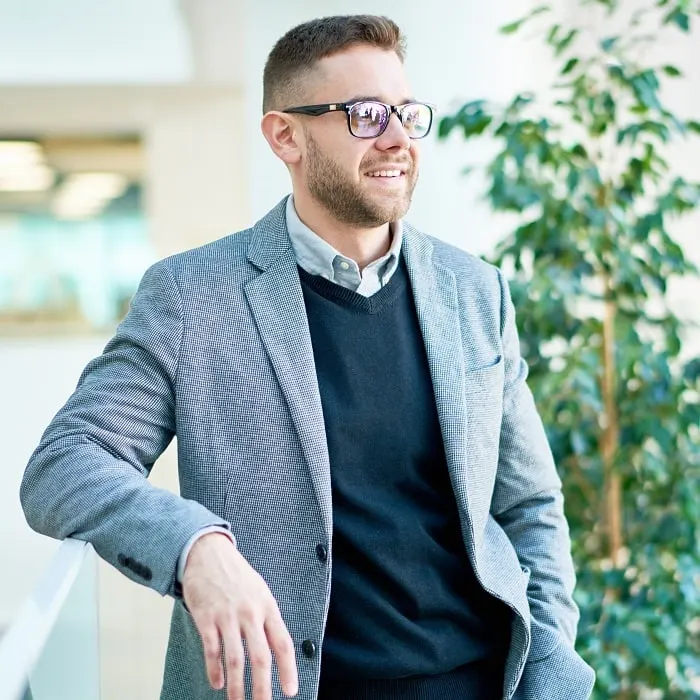 Undercuts work like magic on round face shapes. Short sides and height at the top of the head elongate the face while this short beard is focused on each side of the jaw. A rather bare chin only further elongates the appearance of the face.
2. Disconnected Undercut with Beard
Greater length at the top of the head may not be new, but disconnected styles certainly are. This look provides freshness to a style that otherwise wouldn't appear so clean cut. It works even better with long hair on top.
3. Man Bun Undercut
Sharpen the appearance of your man bun and beard with a low, disconnected look. Buzzed hair around the neck promises to keep you cool, especially when you've got a lot of hair everywhere else!
4. Undercut Fade with Beard
Combining a fade with your undercut and beard look is undoubtedly cool. We especially love this high fade as it contrasts perfectly with a curly beard and long curly hair up top.
5. Slicked Back Undercut
A certainly sophisticated look is this slicked-back hair and small, artful beard. It works especially well on mature men, though a high and tight look suits any guy with a square or oval face shape.
6. Pompadour Undercut with Beard
This pompadour look is like a work of art. Here, hair is slightly longer at the back than it is at the sides. This creates an undoubtedly cool shape to work with the pompadour. If a look like this is too edgy for you, pick up one or two elements to mimic, like the fade on the beard.
7. Undercut Hair with Short Beard
You truly can't go wrong with a short beard and a chill hairstyle with shorter sides. This classic look can suit virtually any guy, so long as you give your beard the shape that best suits your face.
8. Comb Over Undercut
Add a distinguished sense of style to your look with a sleek comb over. This look is particularly sharp for the guy who has to regularly rock the 'business casual' vibe. Keep the shaved portions or fade to medium low.
9. Curly Hair Undercut with Beard
Use your curls to make a statement! Contain your curls within the confines of tightly shaved temples without sacrificing any texture up top. This portion is well balanced with this rounded medium beard.
10. Side Part Undercut
For guys who prefer a polished vibe, a side part is a great accent. This look has a fade cut on a gradient, so the short fade detail is concentrated around the ear. This way, you can still keep plenty of length up top.
11. Black Men Undercut with Beard
Regardless of whether your beard is solid black or salt and peppery, you're sure to look cool with this trendy beard style. Contrast the roundness of curly texture with square-shaped hair up top. Balance it with a subtly rounded beard below.
12. Undercut Hair with Long Beard
Very long beards and long hair at the top of the forehead is well suited to a bald fade. It's important to maintain polished hair at the top of the head if your beard is long. A bald fade isn't necessary if it isn't for you; a close buzz will do.
As you can see, beards and undercuts work remarkably well together. In fact, cutting hair shorter on the sides than it is up top instantly cleans up your look. The hair up top provides crucial balance to a short, full, or long beard. Regardless of how you wear your undercut with beard look, you're sure to impress.