Short hair looks excellent with a beard because it gives a really manly look. The amount of styling that you will need to do will depend upon the image that you are trying to portray.
You can get a short hairstyle with a beard that can be professional and groomed or rugged and outdoorsy.
We have collected a list of the most handsome beard styles for men with short hair.
How Your Face Shape Affects the Look of Your Beard
If the long-haired Grizzly Adams look isn't for your cup of tea, you'll be glad to know that there are plenty of fashionable beard styles to wear when you have short hair.
A good rule of thumb is to wear a long beard when you have an oval or round-shaped face and wear shorter beards when you have a more angular or square-shaped face. Of course, you can grow any style of beard that you want.
Shorter beards look better on angular faces because those chiseled angles can easily get lost when covered with a longer beard.
In any case, there is a wide variety of beard styles for men with short hair. Let's dive in!
Short Hair With Beard Style Ideas
Beards have seen a resurgence in recent years as part of the hipster fashion trend. This look often includes a short hairstyle with a beard that is big and bushy. The beard will be eye-catching but groomed. If you don't have a short hair preference, check these hairstyles with beard ideas.
Here are 85 short hair and beard style combinations for your inspiration.
#1. The Van Dyke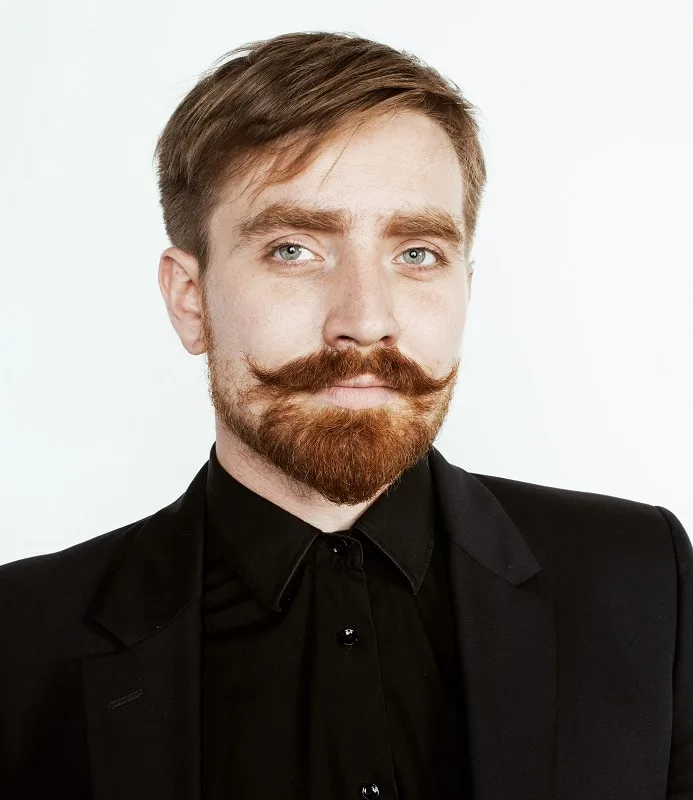 The Van Dyke is a classic, and unlike many other classics, it's still worn today. It's worn today for a reason, the Van Dyke is a versatile and attractive beard that looks exceptional when combined with short hairstyles.
Although the Van Dyke can also be worn with long hair, one could argue that it's simply too much hair, which is why so many men choose to sport a Van Dyke with short hair.
#2. Pomp with Fade and Long Beard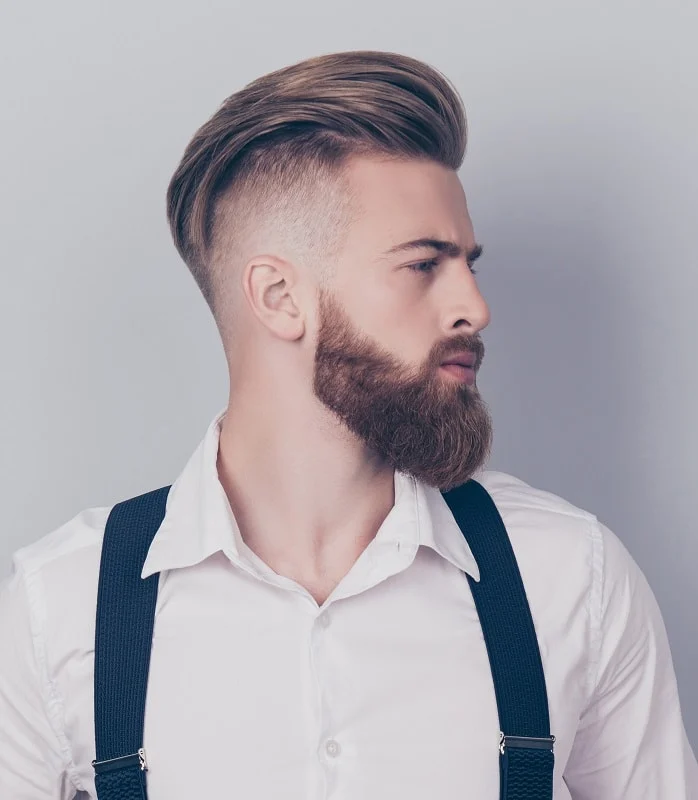 For those looking for a refined style with a dash of masculinity, try wearing a pomp with fade and a long beard. The hairstyle will evoke a sophisticated and civilized look, while the long beard will show your wild side.
If you want all business on top with a party down below, this look is for you!
#3. Buzz Cut with a Medium-Length Beard
Men love to look tough, and one of the most effective ways to do that is to get a buzz cut and grow a medium-length beard. Keep in mind, while this style combination might sound simple, it takes more maintenance than you might expect.
A guy with a buzz cut and a messy, unkempt beard doesn't look tough; they just look unclean and unfashionable. If you're going to sport a buzz cut with a medium-length beard, you must ensure that your beard is properly maintained.
This means washing your beard regularly in addition to trimming it, brushing it, and applying oils as needed. While it's pretty easy to rock a buzz cut, maintaining an attractive beard takes work. That said, if you put the work in, you'll have a bold and unique style to flaunt.
#4. Slicked Back Hair with a Ducktail Beard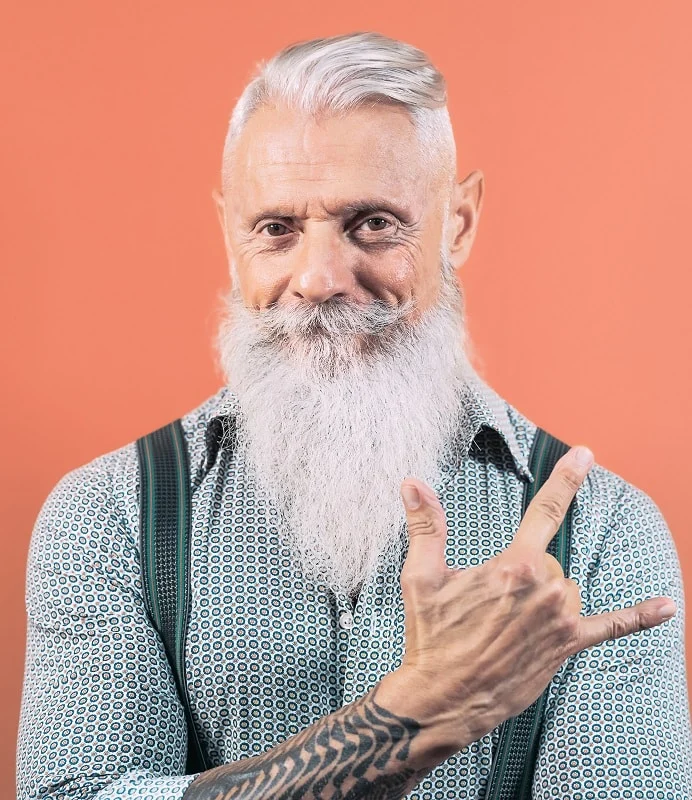 This style pairs a short hairstyle with a long beard. It's a good choice for older men with grey beards and hair. The ducktail beard has a unique shape and has been worn by famous actors, like Mel Gibson.
By slicking your hair back, you will accentuate the uniqueness of the ducktail beard as a style. If you try this particular style, be prepared to turn heads and take phone numbers, it's a winning combination!
#5. Comb-Over Mohawk with Viking Beard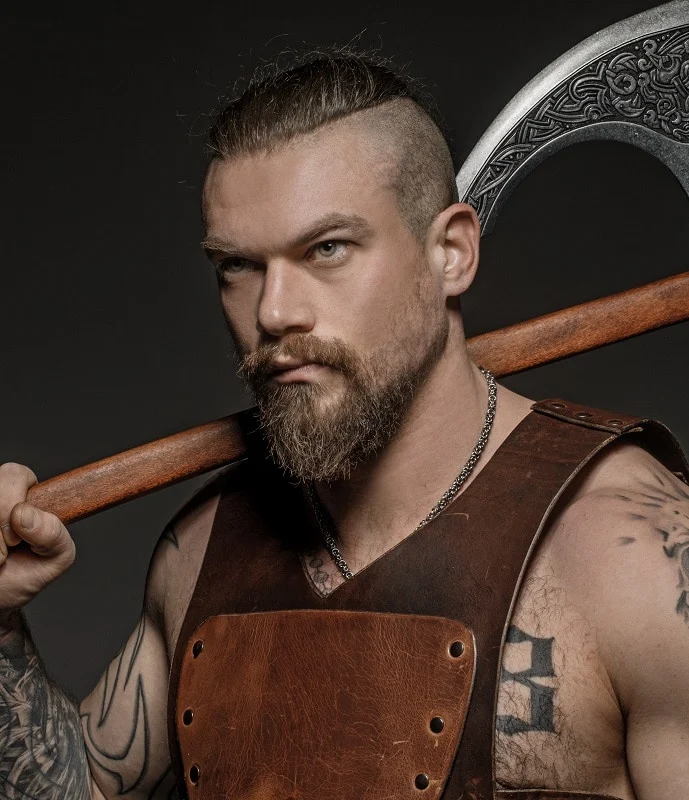 Want to go bold? Then you'll want to try a comb-over mohawk with a Viking beard. The Viking beard refers to a wide range of styles that share common characteristics. The Viking beard is a long and flourished beard.
While magnificent, they require a lot of care and dedication to grow and maintain. Once you see the results, you'll know that it's worth the effort!
#6. Groomed Short Hair with A Short Beard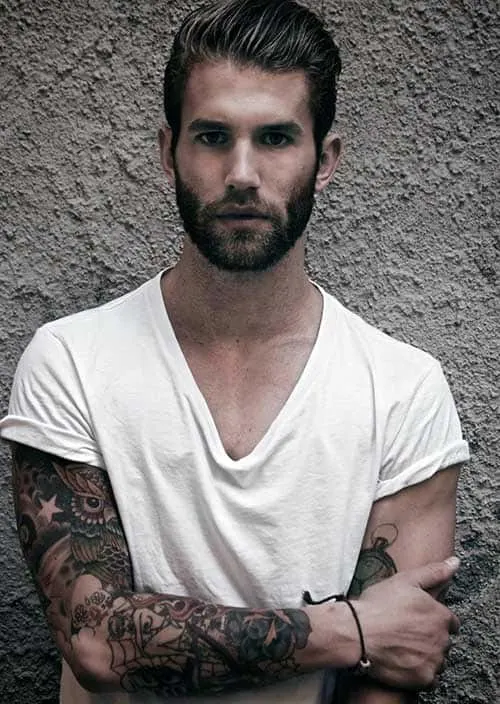 For a groomed men's haircut with a beard, you need to make sure that there is not a hair out of place. Trim your beard every day to keep things looking perfect.
#7. Square-Shaped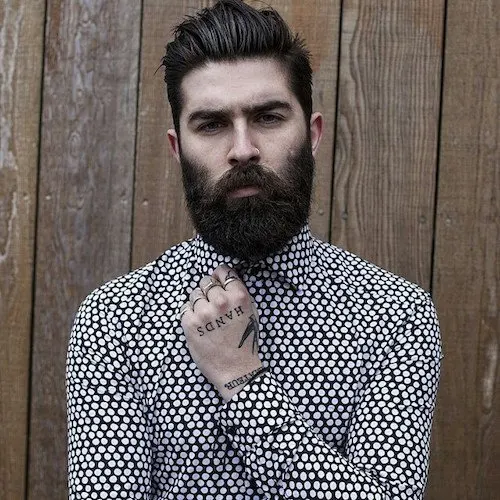 A short hairstyle and a thick beard can work together to form a "square" or box style. Keep the cut straight at the sides and make strong angles in the style.
#8. Lightly Floppy Cut with Long Beard
Use a comb to leave your haircut tangle free. Groom the hairstyle so that it flops lightly over to one side. A thick beard creates a real hipster look.
#9. Thick Hair with High Shorn Sides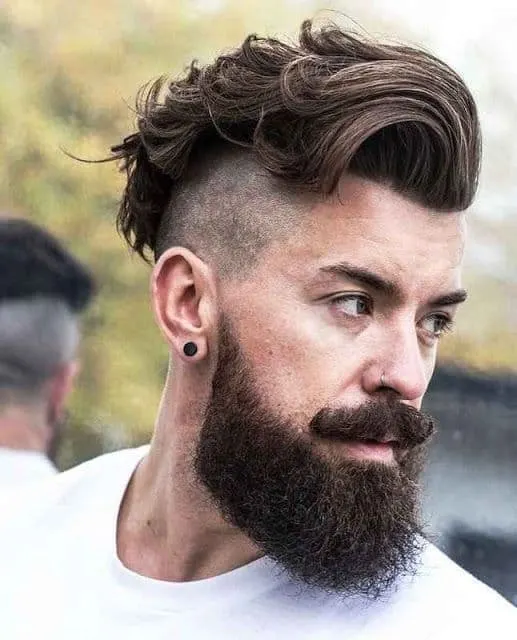 Keep the hair in the center of your head to a long length. Shave high up the sides and back of your head to create a strong contrast. A thick dark beard enhances the contrast even further! You can try a different type of mustache too.
#10. Stylised Peaks with Thin Beard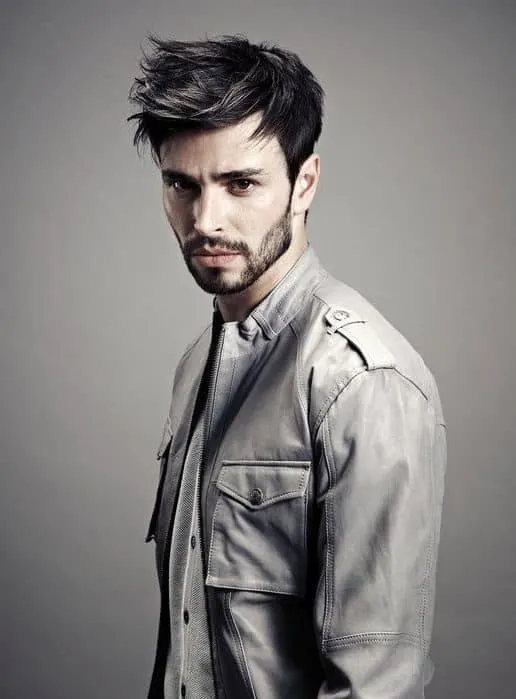 Use hair gel to keep your hair in perfect stylised peaks. Trim your beard so that it is short and thin. Add more shape and definition to your beard with thicker areas around the chinstrap.
#11. Slicked Back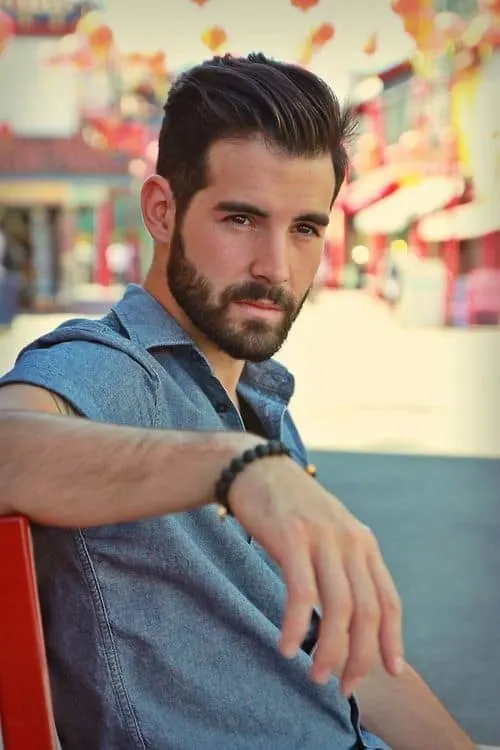 Comb your hair back into a flattened down hairstyle. Use a little hair gel to keep your style in place. Avoid using too much gel or else you will slick your hair back too much.
#12. Fluffy Hair With Full Beard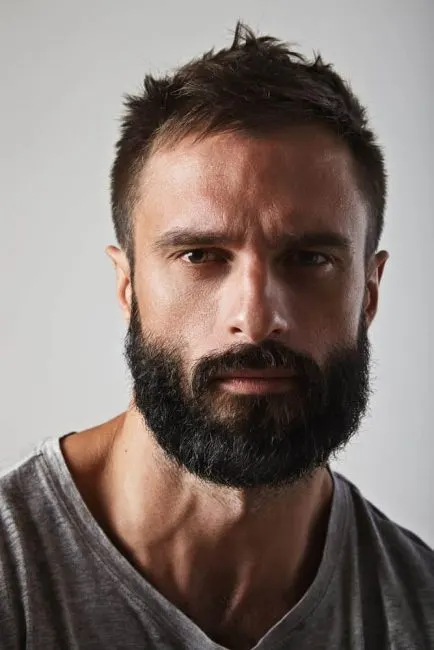 Give short hair a choppy cut to help to create the illusion of more volume. Run your fingers through your hair to create a lightly fluffy effect.
#13. Light Sweep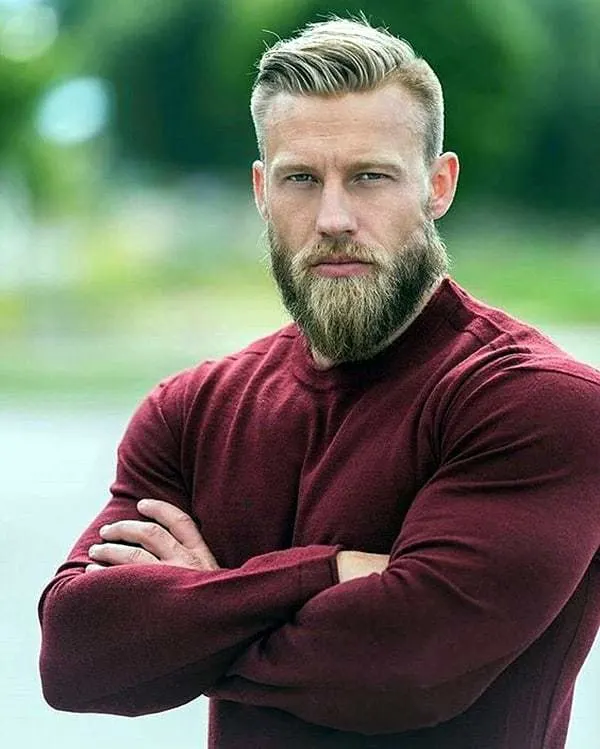 Use a comb to lightly sweep your hair over to one side. Keep the sides and the back short. This short hairstyle looks amazing with a beard. You can get an idea from these beard designs.
#14. Slicked Back Hair with Short Fade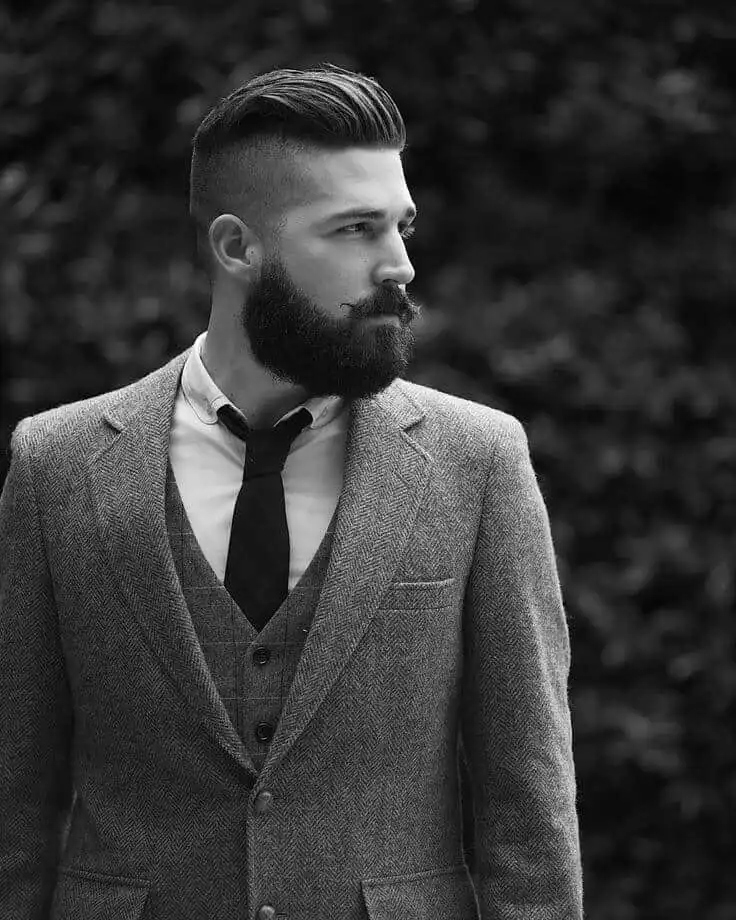 Slick back the long hair on the top of your head and use a comb to make sure that there isn't a hair out of place. A short fade at the sides of your style will create an impressive contrast, especially if you have a thick beard.
#15. Groomed Styling With Handlebar Mustache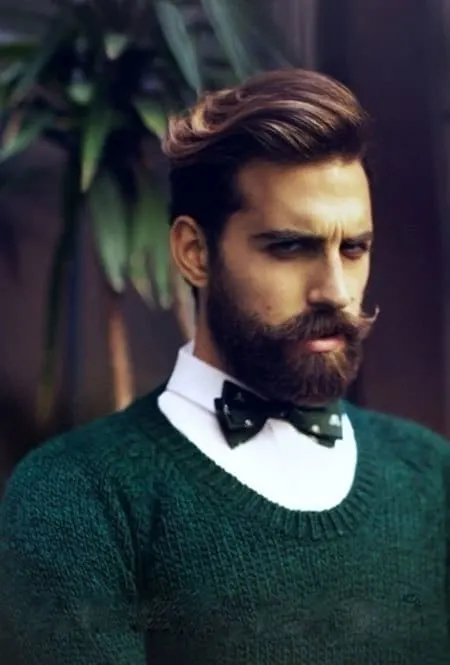 For a dapper style, team lightly waved hair up with a groomed beard style. Complete the look with a fantastically shaped handlebar mustache.
Beard Styles for Men with Short Hair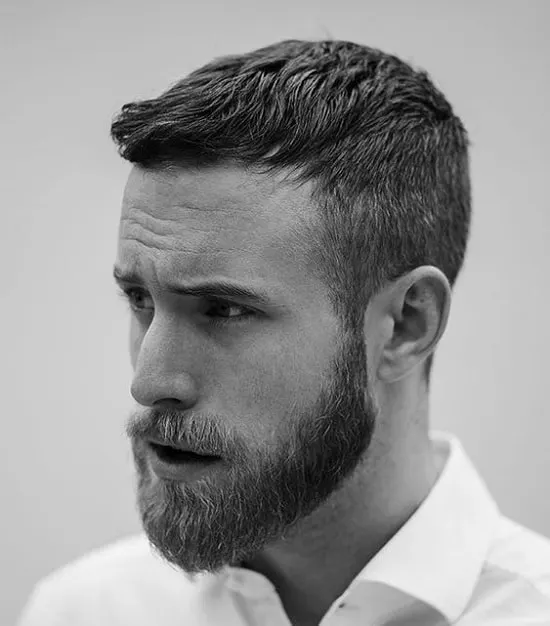 The Ultimate Beard Styles for Guys with Long Hair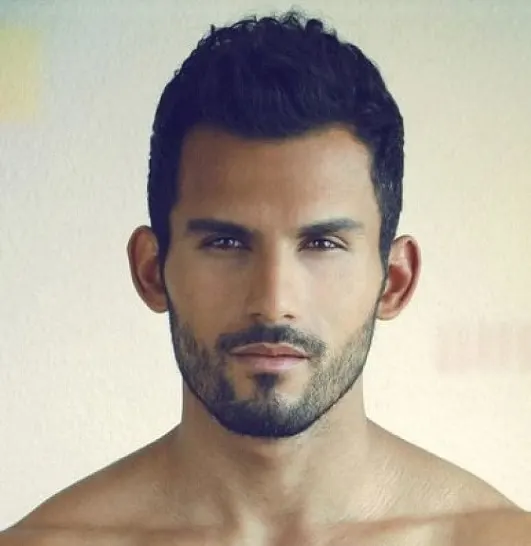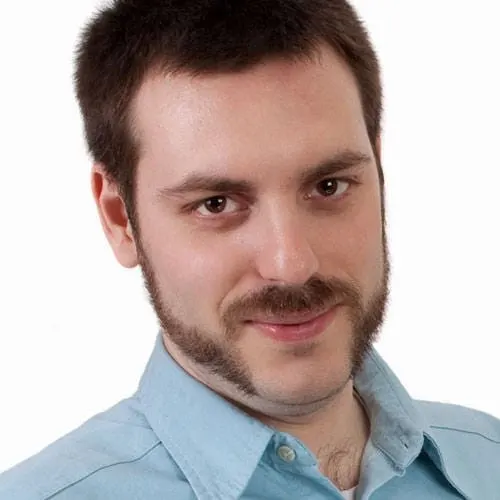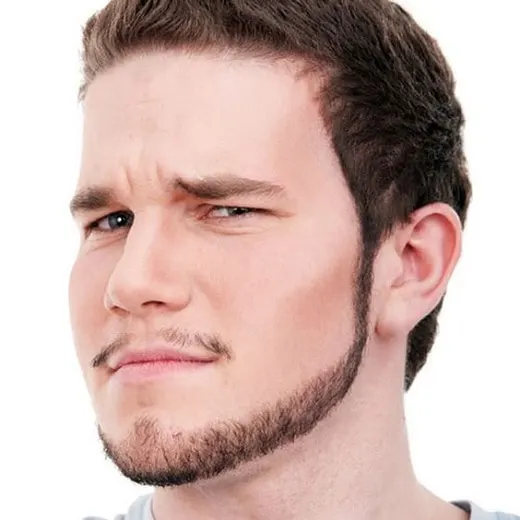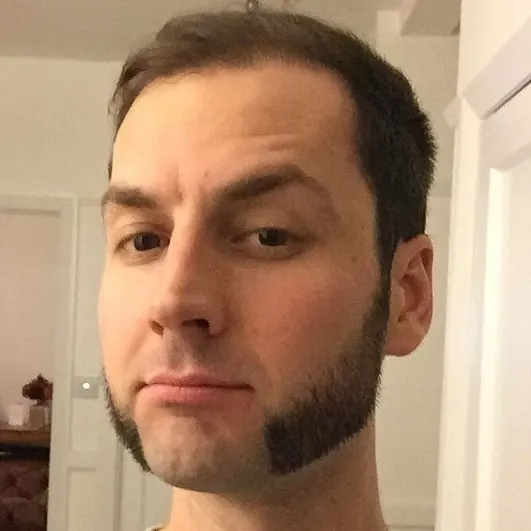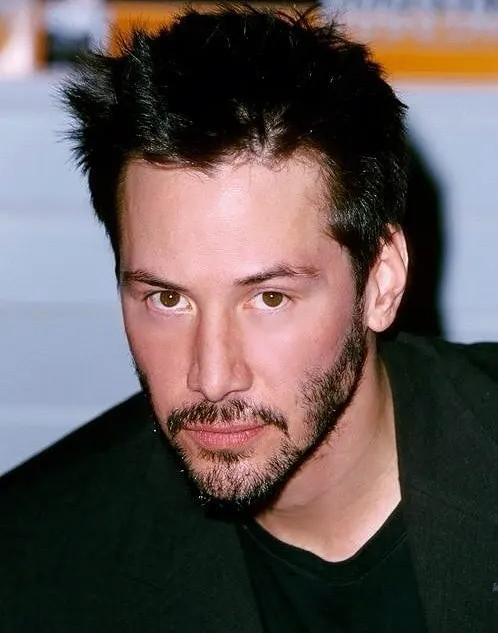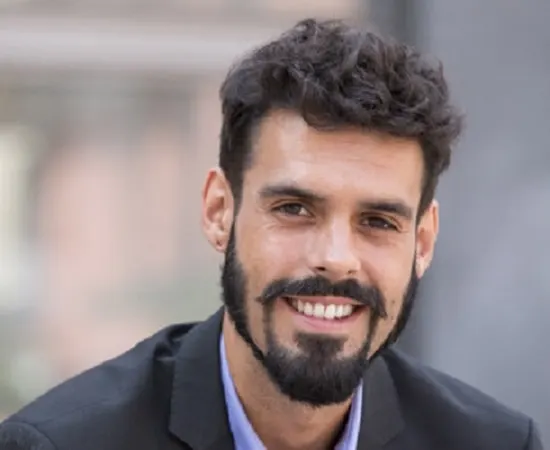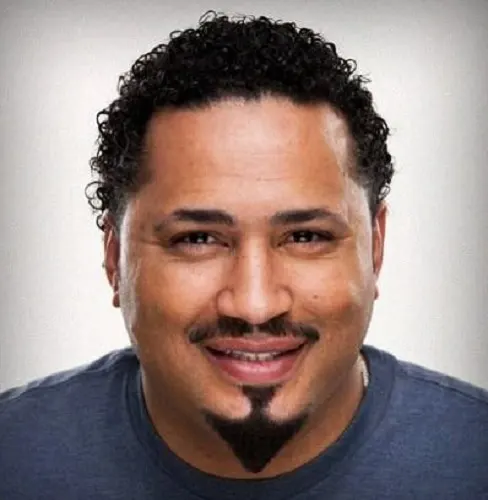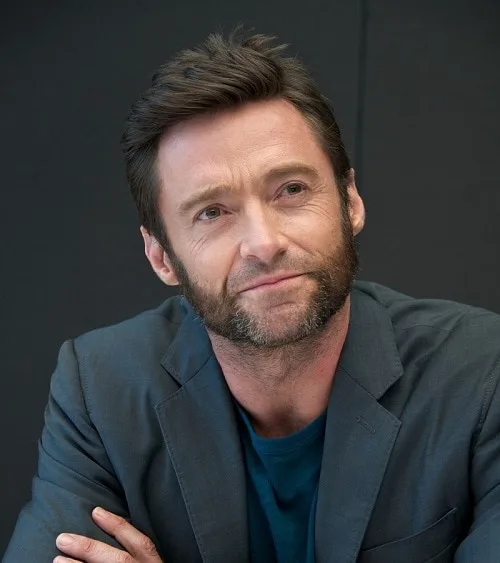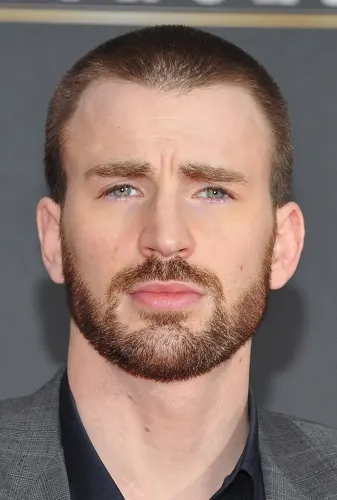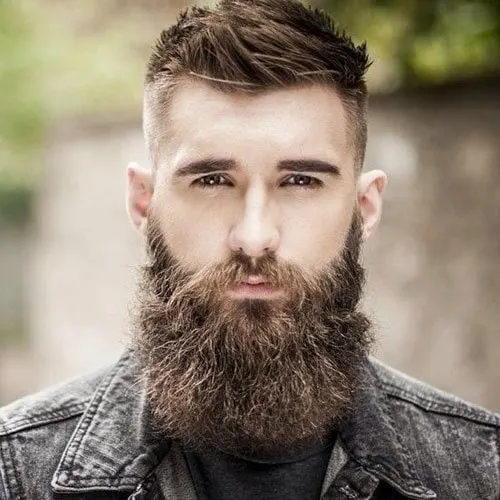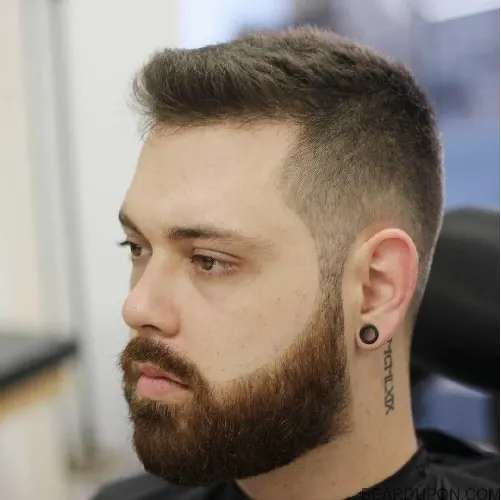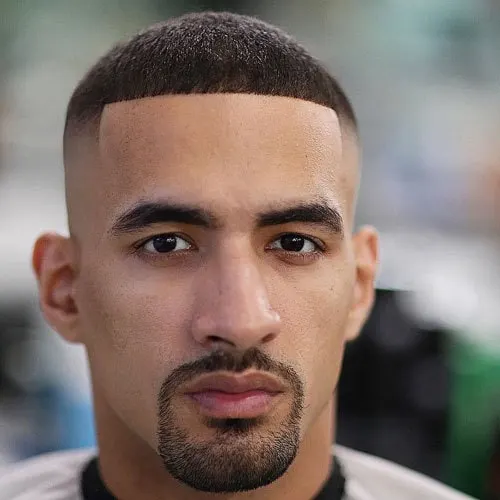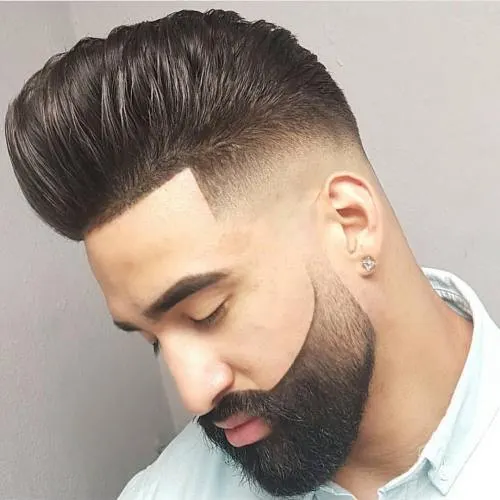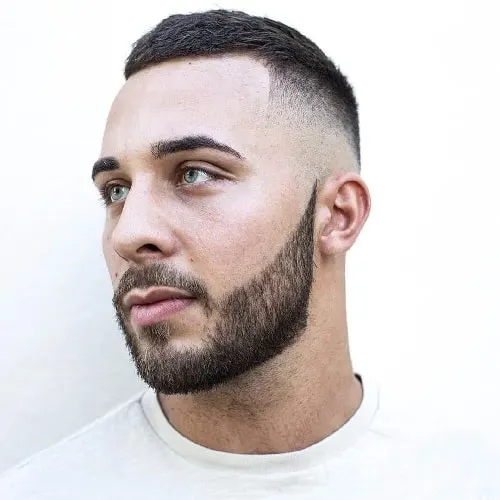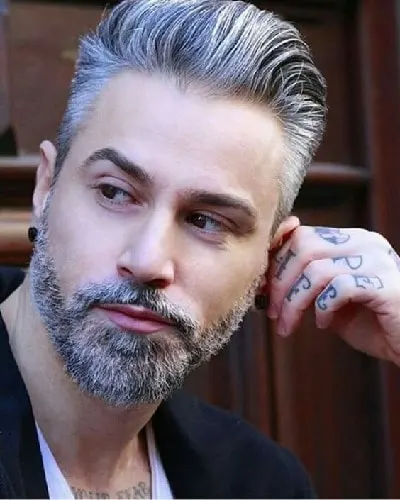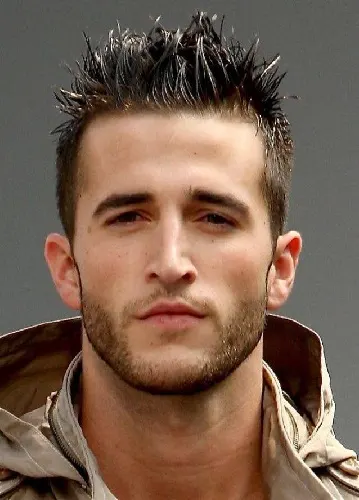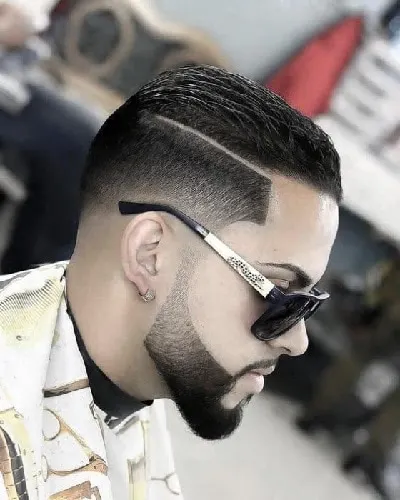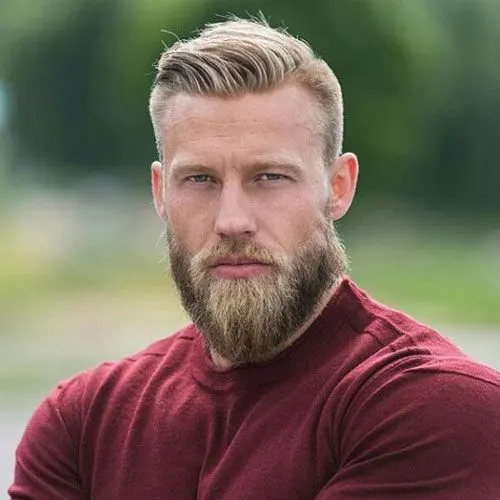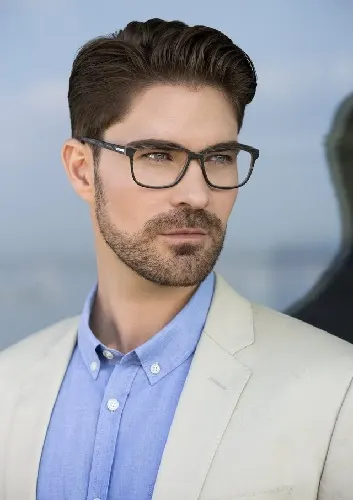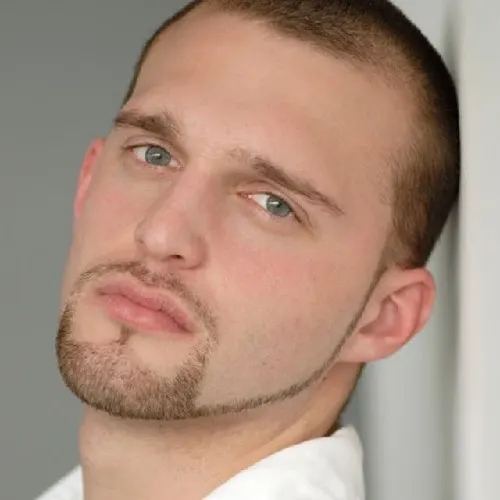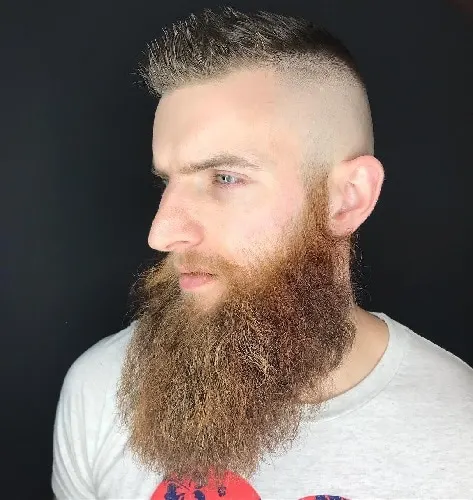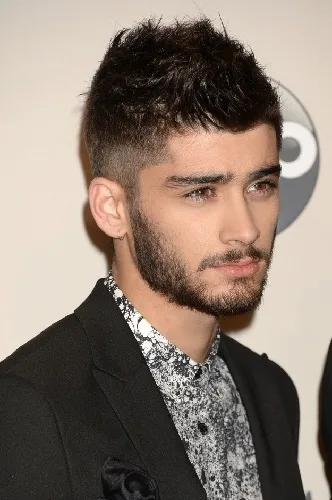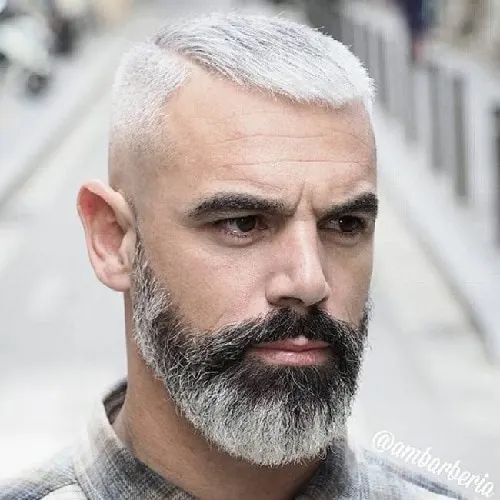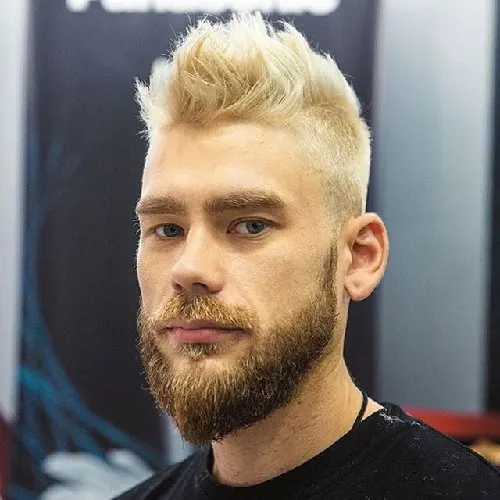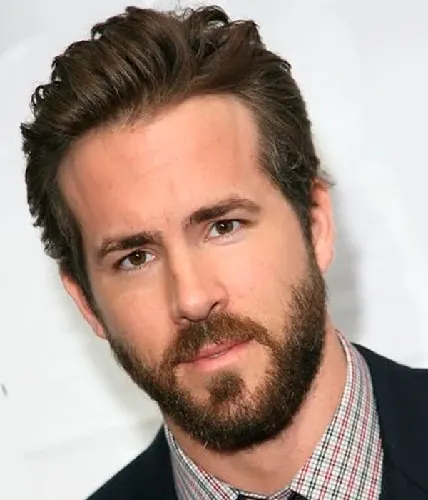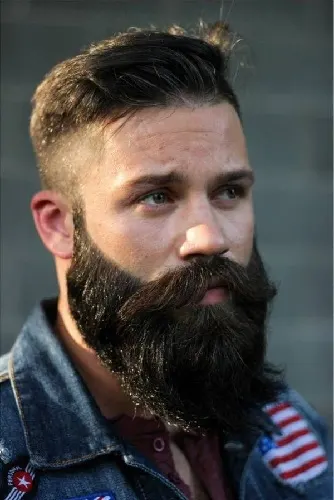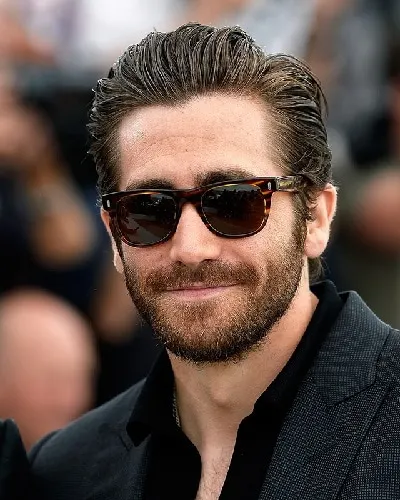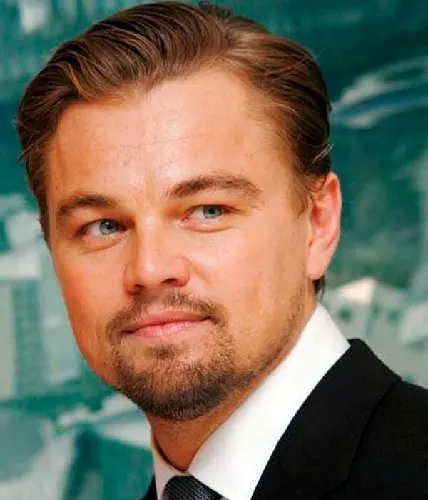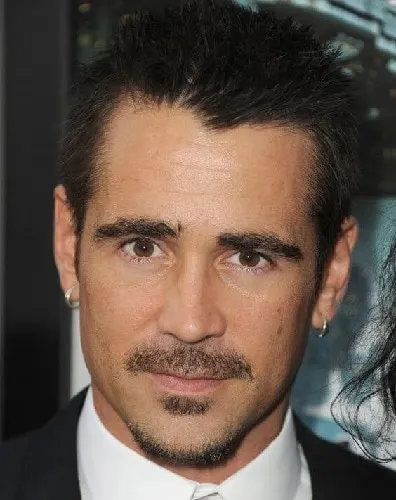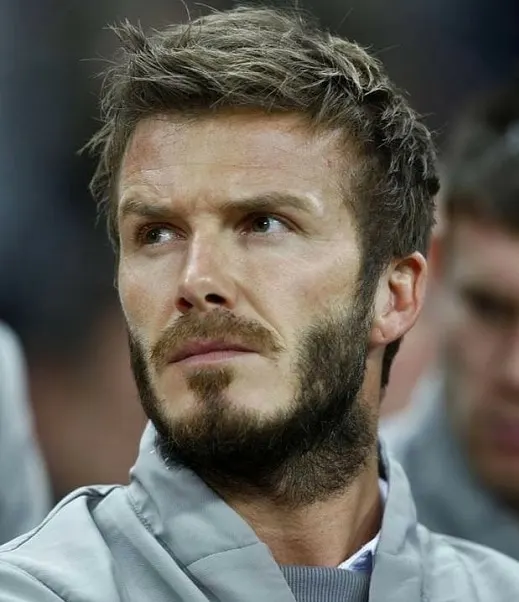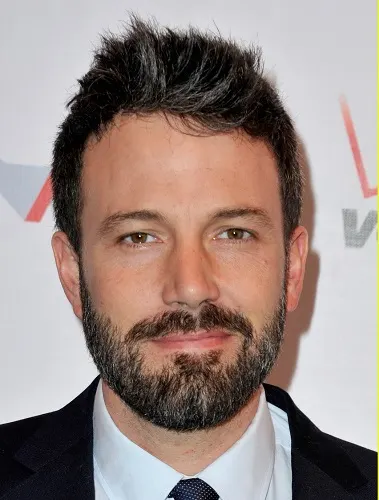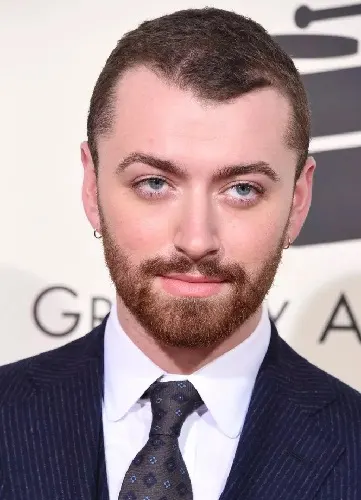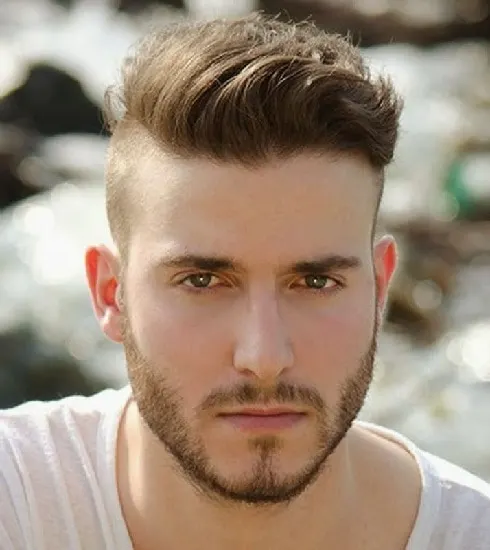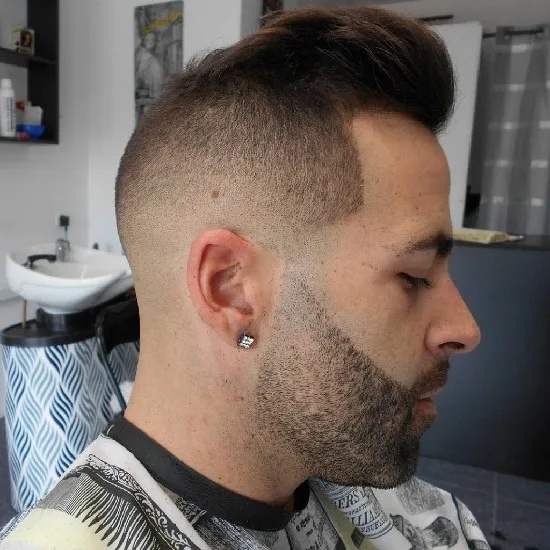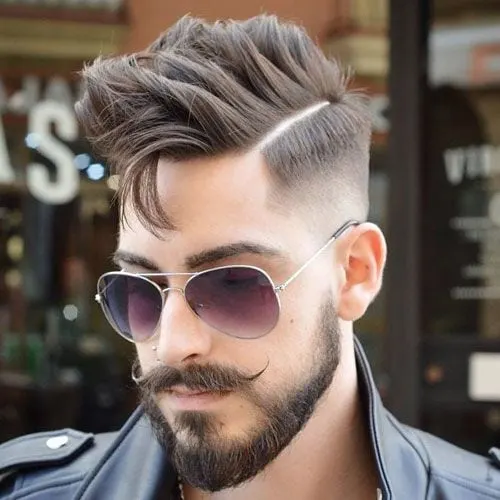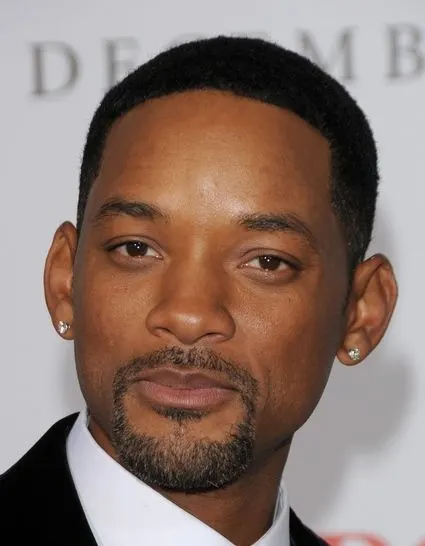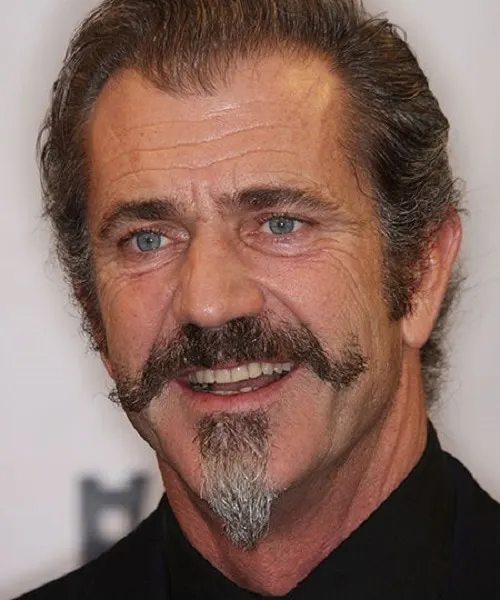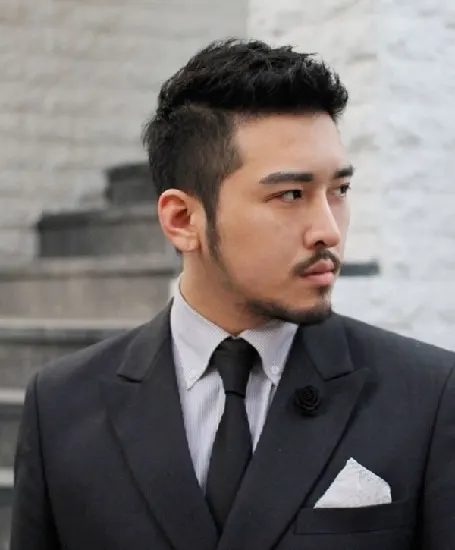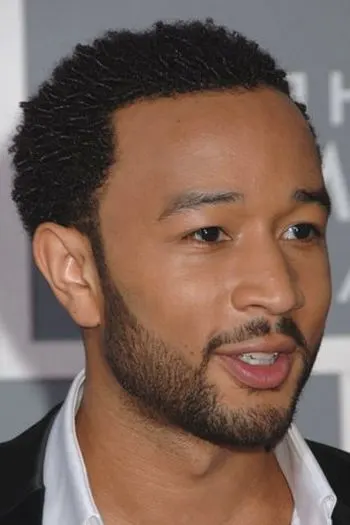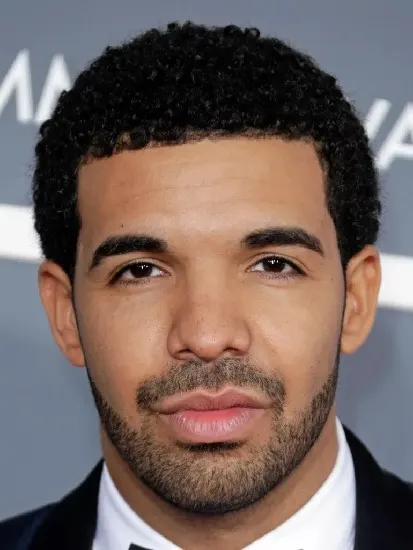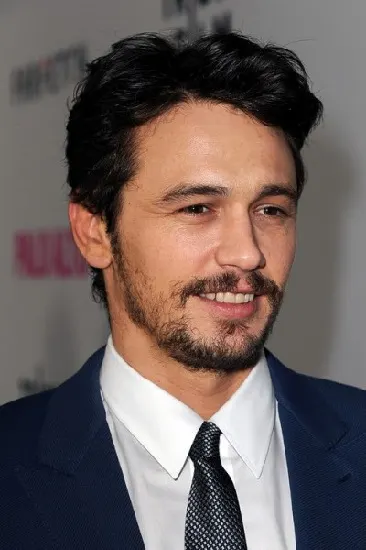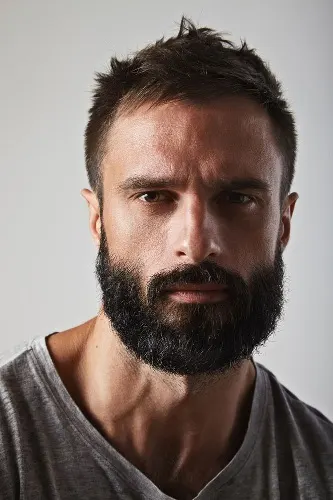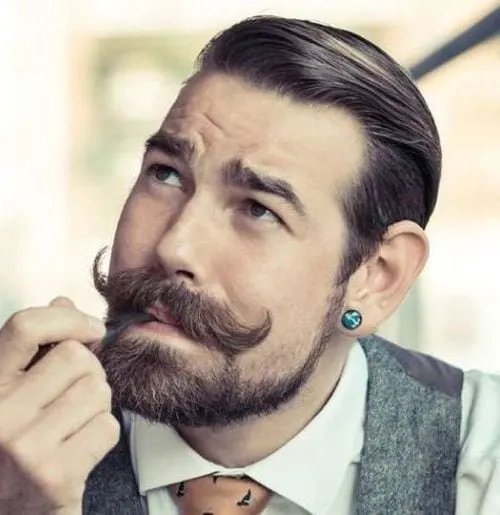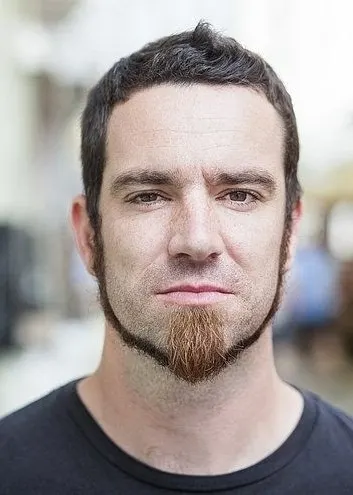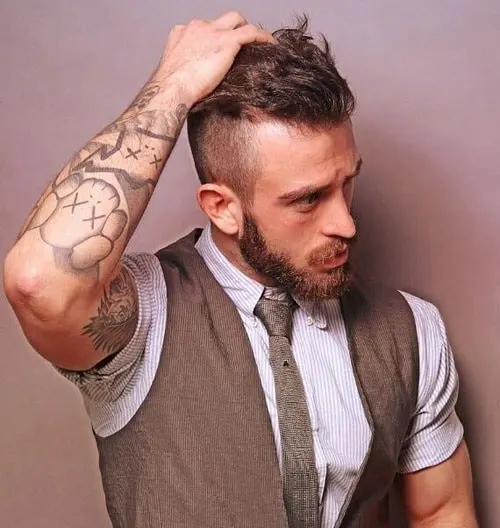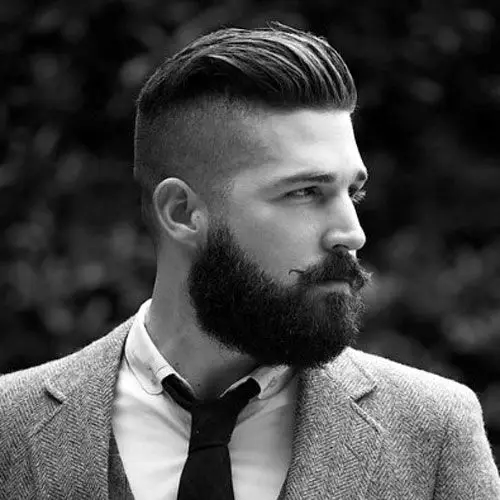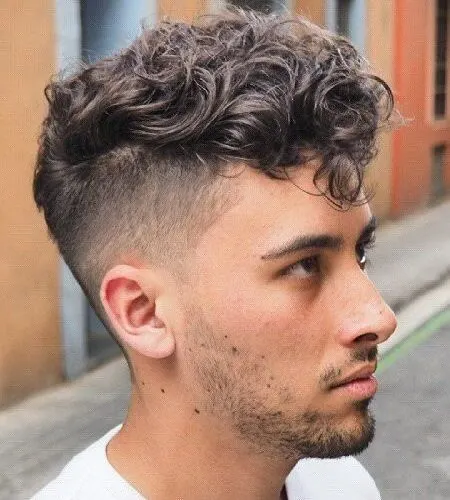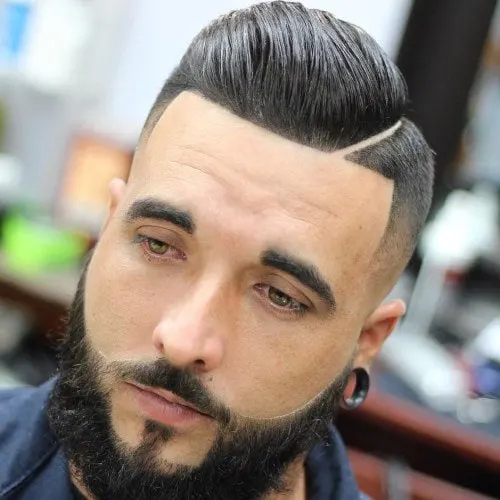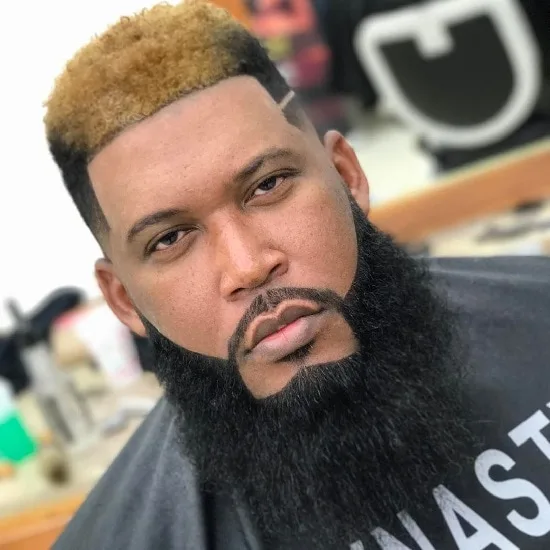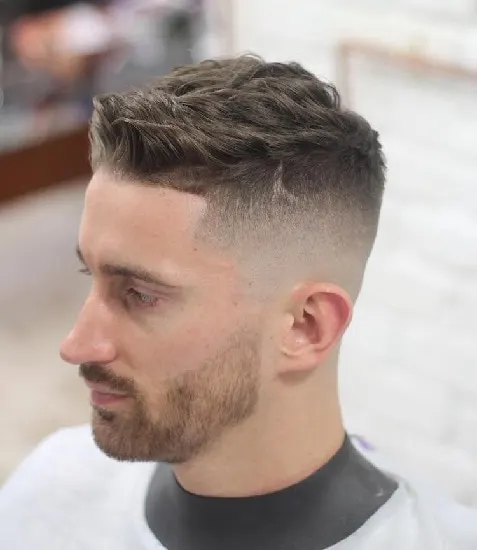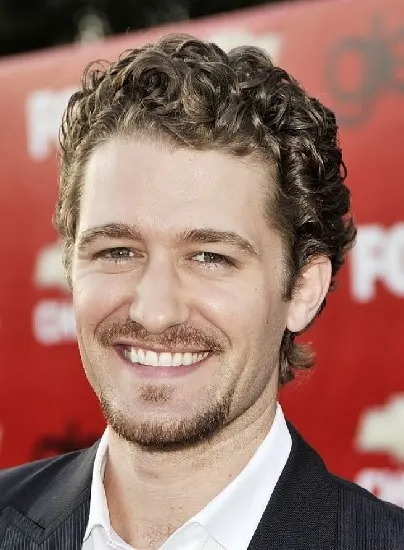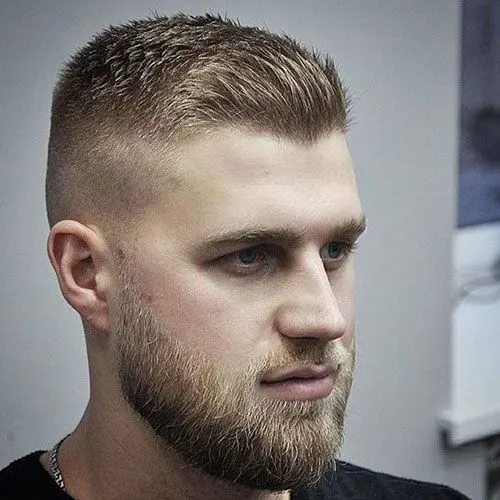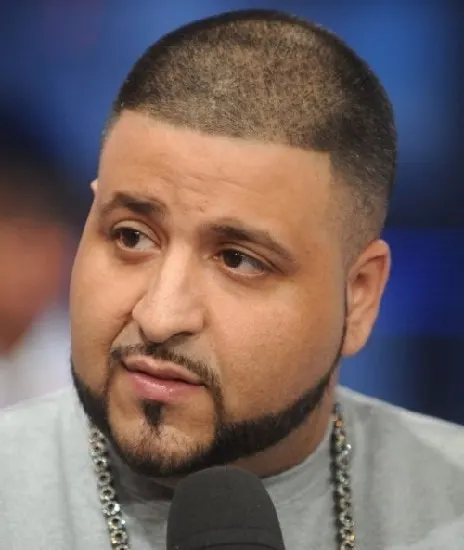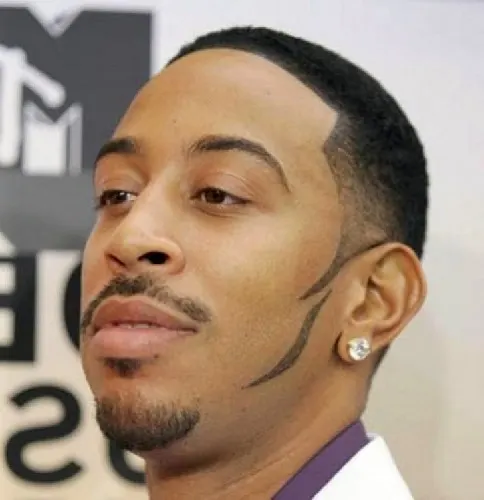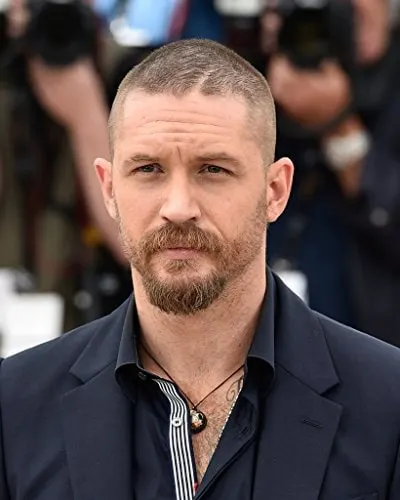 Now you have seen a cool selection of the best short hairstyles with beards. There are plenty more beard styles and short hair combinations you can try. Take a look to find inspiration for your next style.