The best thing about being able to grow facial hair is that you can express yourself with cool beard designs. Many men grow a healthy looking well-cared beard but standing out is always a challenge for them. Are you one of those who own a beard yet not sure which beard style or design will suit your face? Now get to know different beard designs, be innovative and pick the right style.
Things to Consider When Picking a Beard Design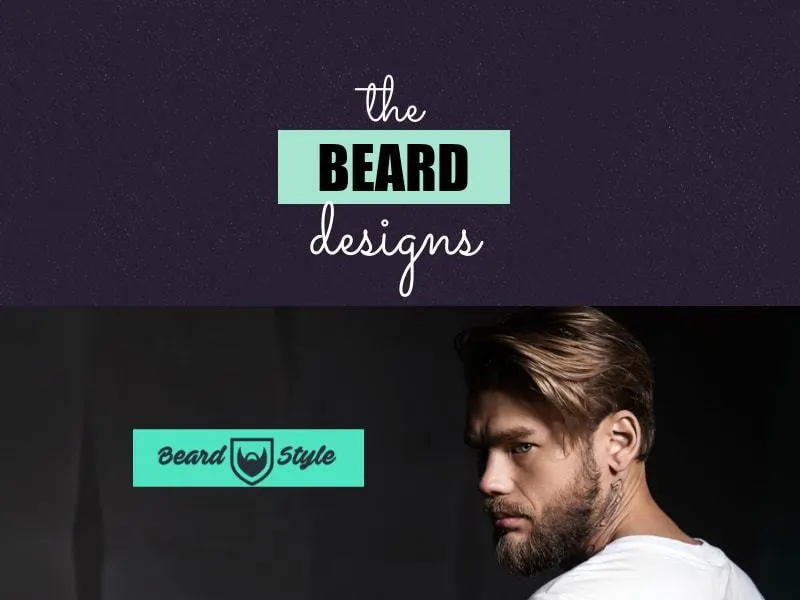 There are many possible beard designs and styles to choose from. Thankfully, asking yourself these next questions can help narrow down your choices to make your decision easier, and assure that the facial hairstyle you ultimately choose accentuates your features and lets you look your best.
Are you ready to put in the work required to maintain a beard?
If the answer is no, then you shouldn't choose anything more complicated than a short, full beard or a simple goatee. The fact is, styles any more involved than this require some degree of maintenance, the more elaborate the style the more maintenance needed.
If you feel you don't have the time or the patience to keep up with the demands of a more interesting beard, then get yourself a good beard trimmer and simply trim your beard short whenever it starts to get unruly. Short cropped beards look good on pretty much everyone, so keep it simple.
Where does your beard grow well?
Some people are blessed with full, lush beards that fill in equally well all over their face. These lucky guys can choose whatever beard style they like. But for many men, patchy or inconsistent hair growth can limit their choices some. This isn't necessarily a bad thing since it can make deciding easier.
To figure out where you have strong growth, stop shaving and let your beard grow for 30 days. Then examine your to see where you have solid, strong hair growth and where it's weaker or patchy. If you have very distinct regions of weak and strong growth you'll want to choose a beard style that accentuates your strong growth areas while deemphasizing, or shaving away complete your weaker areas. The helps your beard look its best.
What shape is your face?
The shape of your face is probably the most important consideration when choosing a facial hair design. You want to choose a style that matches the beard shape best suited to your general face structure. Here are some simple guidelines:
Square: If your face is roughly square, with a solid, squared-off, angular jaw you'll want to choose a style that softens your chin a bit, giving it a slightly rounder, more oval shape. Choose a style that's shorter on the edges of the chin and gradually gets longer as it moves toward the center.
Round: A round, circular face requires a more dramatic adjustment than a square-shaped face. You want to try and deemphasize your cheeks while creating a more angular, diamond-shaped chin. Stick with styles that are cropped very close to the cheeks and then get considerably longer at the center of the chin.
Pointed Chin: If your face is dominated by your chin in a sharply diamond shape you'll want to choose a beard style that's longer on the sides than the middle to help round your chin out a bit.
Weak Chin: Men with weak chins do well with nearly any beard style, as the extra volume a beard adds to their chin gives their face extra presence, regardless of style. Really anything other than stubble beards will improve your appearance, many times the full the style, the better.
Heart-shaped: Guys with heart-shaped or softly diamond-shaped faces can also generally wear any style, so long as your choice doesn't overly round out your face into a circle.
One last to remember when trying to determine which beard style and design is right for you is that you can always trim hair away, but you can't put it back. So as you trim your beard, start with full beard styles and then slowly trim bits of your beard away. If a long full beard is too much, trim it shorter.
If you think the sides will look better shorter, trim them down some. Keep cutting away until you've sculpted a shape that looks great on your face. When you design your beard, make sure you know what you're doing. Else, go to a professional barber which is highly recommended.
Popular Beard Designs
Don't confuse beard designs with the beard styles. A beard design can be your own style where you can get a good looking and a well-crafted beard.
Full Beard + Various Designs
In this full beard design, follow straight lines underneath and just above the mouth. For the goatee section as seen in the photo, a line shape is left. This well-crafted beard style usually used by celebrities and that has to be chosen correctly to make a stylish appearance visually. Upgraded styles of this beard design can also look awesome if you know what you are doing. You can change between drawings that you like from time to time keeping the same beard and adjusting according to your own style.
Full Beard Design Ideas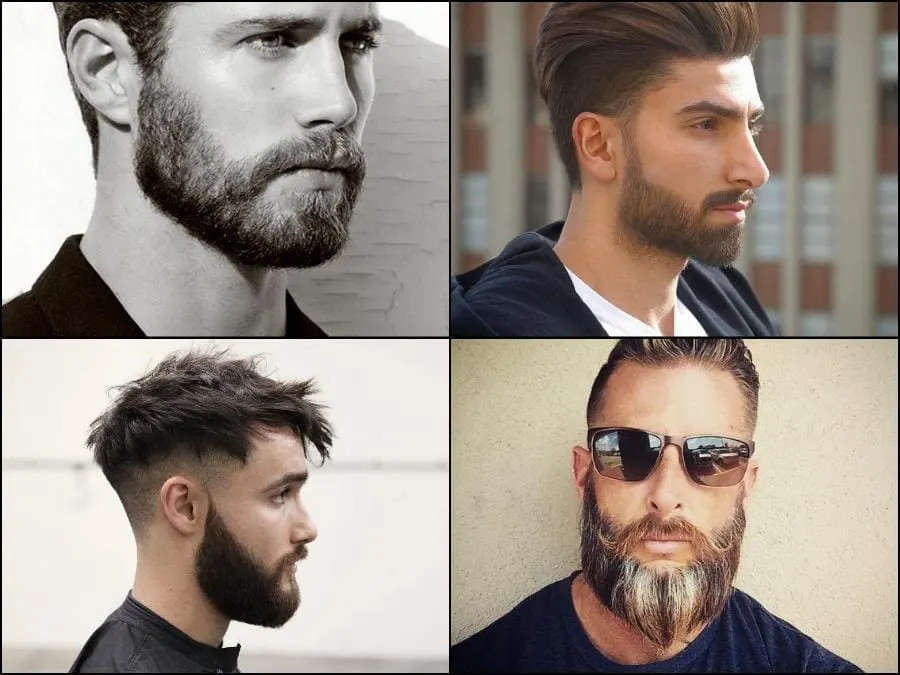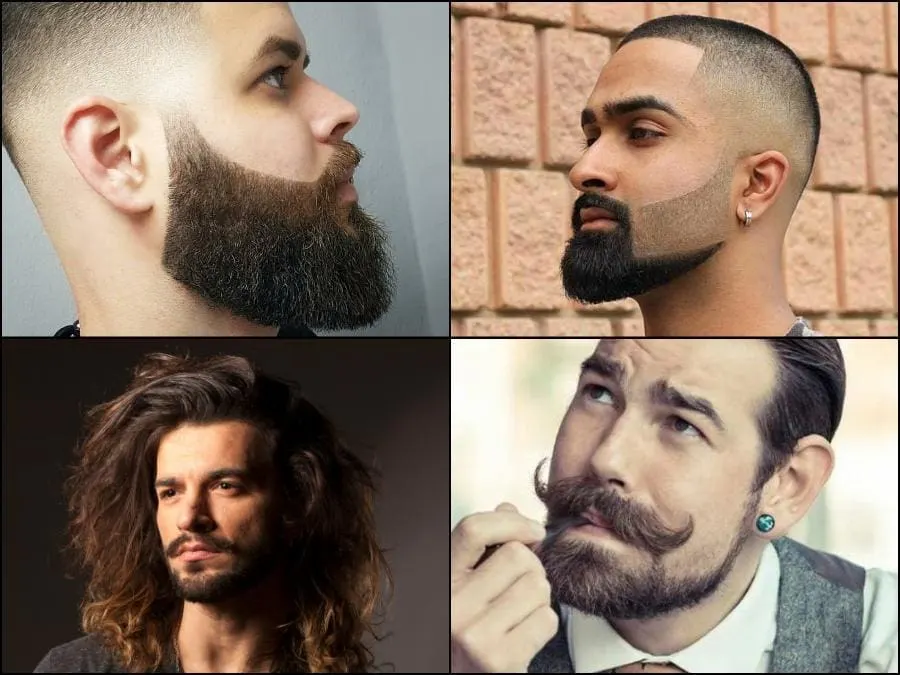 Trimmed Beard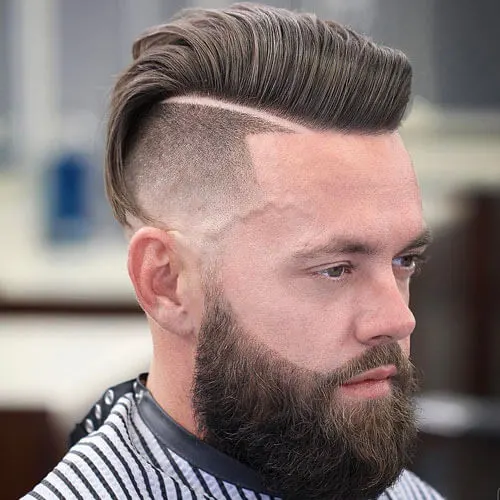 The beard drawn can please Greeks and Trojans which is available to all. It can be used with a thinning beard as well as a fuller beard, and what matters here is having the side well marked. It is not required to change the volume just by marking the strokes. They can be trimmed with a razor or with an electric trimmer, and the interesting thing is to keep the outer lines trimmed and well drawn in a linear fashion.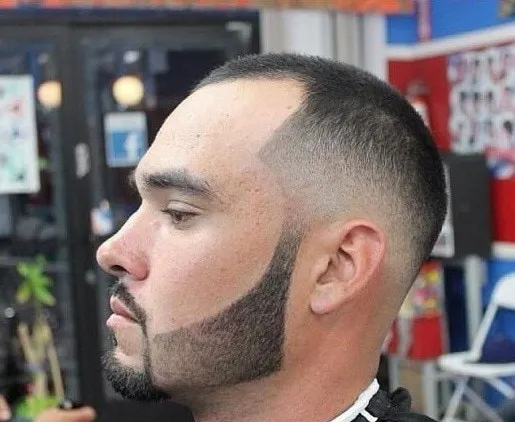 This beard follows the same style of straight on the sides along with a trimmed beard, but with a machine effect in gradient, as well as hair. You can cut gradually with the volume of the beard until it is well scratched or scraped. It is one of the most popular styles that you can go for.
Goatee
Generally, in this style, there is less beard in the area next to the cheeks and larger volume in the lower part of the chin and face. Add a variation of the famous goatee, keeping the long volume in the region below the chin and generally the rest of the beard shorter, without being so long.
Balbo
The Balbo beard style can be recognized by a volume of beard just below the lower lip. This type of mustache does not join with the beard. It is like the extended goatee, less beard on the sides of the face. It's a retro trend that has been very popular among the guys.
Cool Beard Design Ideas
If you want to try out a new design idea for a beard, you can take inspiration from classic sources or you can try out something completely modern. Turn to historical sources to find beard designs that have been popular for centuries or look on men's beard fashion blogs for modern muses.
#1: Mid-length Trimmed Simple Beard Design
A mid-length trimmed style is great for those who want a professional yet attractive beard style. Keep your hair monochrome to add intensity to the look.
#2: Latticework
Plait your beard into an intricate lattice as part of a high concept long beard design. Brush through your beard to remove any knots and then separate it out into lots of section. Make sure that you have plenty of time because the plaiting can take a while.
#3: Patchy Beard Design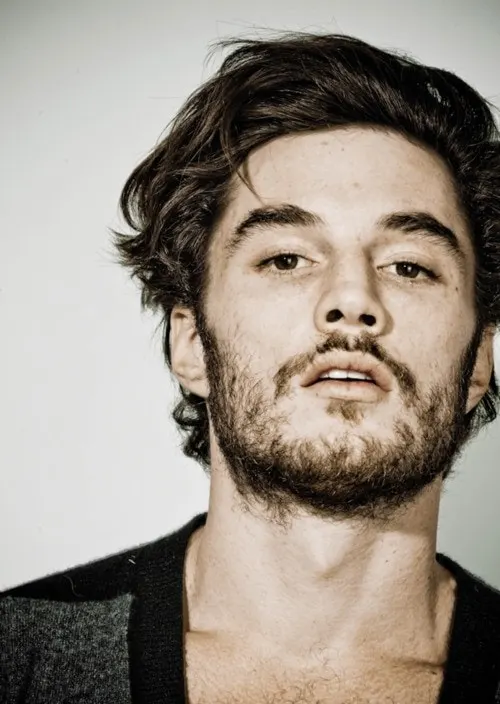 Don't worry if you struggle to grow a full beard, because patchy beards are totally stylish right now. Patchy beard styles match up well with messy hairstyles.
#4: Bushy Beard and Mustache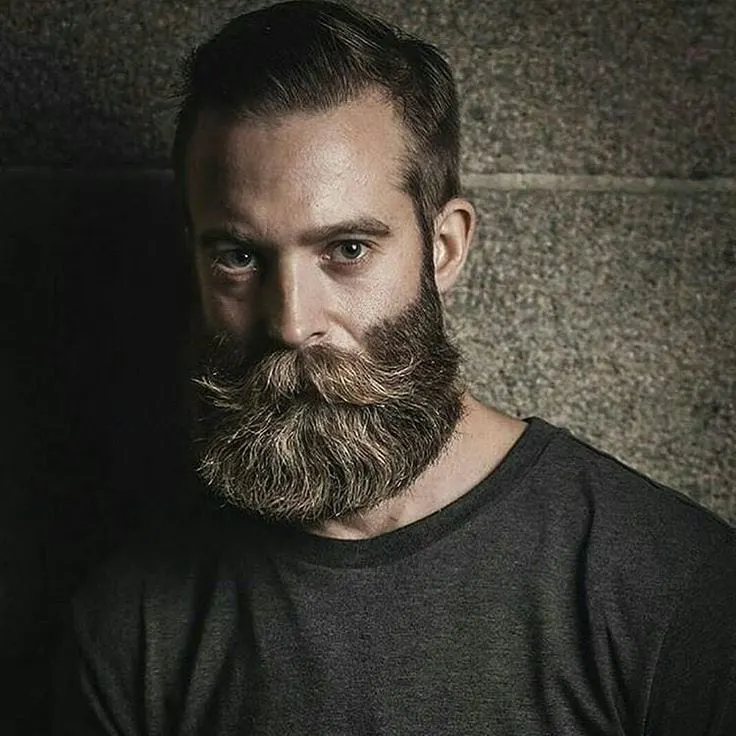 Grow a big beard and a large mustache if you want a classic manly style. This look used to be a mainstay of older men, but it is now becoming more popular with younger hipster guys as well.
#5: Beard and a Man Bun
For the height of cool beard design, match your beard up with a super sleek man bun. Teaming up a man bun with a beard can help to elongate your face for a sharper style.
#6: Dark Beard with Blonde Hair
Contrast a dark beard color with blond hair for a very different look. If you want something that is more subtle, make sure that there is only a small amount of difference between the head hair color and the beard color.
Coolest Short Beard Styles Hand-Picked Just For You
#7: Flicked-Out Fun Beard
A flicked-out beard has been styled to give it extra volume. The hair has been teased so that all of the hair is pulling outwards. This will give you a really wild look that is hipster cool.
#8: Salt and Pepper Style
A few gray hairs in a beard can give you a really distinguished look. Loads of girlss and guys think that the salt and pepper style is a really sexy look on men in their late 20's and early 30's.
#9: Modern Guy Fawkes
In times of political rebellion, the Guy Fawkes look becomes really popular. This modern twist is a little bit thicker and fuller than the look which usually features on the protest masks.
#10: Full Beard
Lush and thick beards are the height of fashion for hipster guys. Wear your full beard style with a plaid lumberjack shirt to complete the classic hipster look!
#11: Perfect Mid-length Style
For the "perfect" mid-length beard style, make sure that all of your lines are crisp and clean. Keep your beard hairs trimmed to a uniform length. The groomed look oozes sex appeal and style.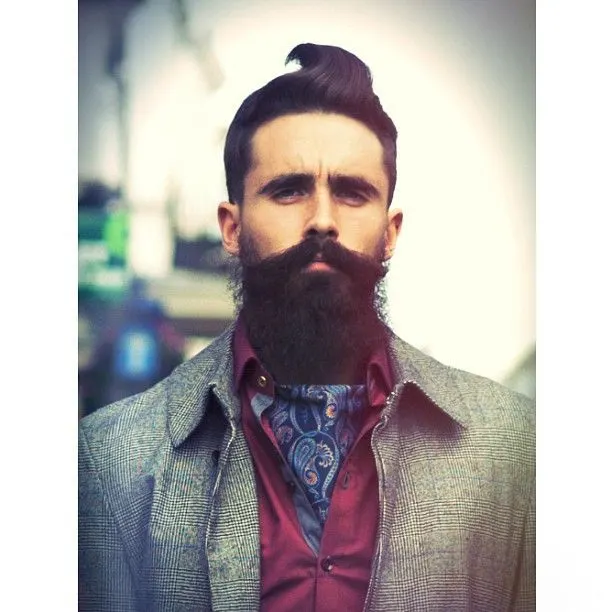 Jazz up your beard design by pairing it up with a signature mustache. Gently tease your mustache so that it stands out from the rest of your facial hair.
#13: Great Grey Beard

Grow old gracefully with a tasteful gray beard. Surprisingly, a nice gray beard can actually help you to look younger. It creates a really friendly look and helps to hide skin imperfections.
#14: Classic Guy Fawkes

A classic Guy Fawkes look has a very distinctive W-shaped mustache and a thin pointed chin puff beard. The look is really sharp and will help you to stand out in a crowd.
#15: Shaped Full Beard

Beard designs like these have been carefully shaped to enhance the shape of your jaw. Decide what shape you want and then use beard clippers to trim it into shape. Give your beard a once over in the mornings to trim any stray hairs.
#16: Devilish Line-Up

This unusual beard design is a line-up cut with a difference. There are lots of acute angles and sharp points involved in the beard design. It gives the wearer a devilish grin!

Keep your beard design separated from your hairstyle by cutting a trendy fadeaway undercut into your hair. This will give you a clear demarcation between the two areas of hair.
#18: Crazy Style

This crazy beard design has won loads of awards at the world beard championship. To make your own crazy beard design you will need to use loads and loads of hard-setting beard styling gel. This gel will help to hold your style all day long.
#19: Minimalist Beard Design

For a clean, fuss-free look you should choose a minimalist beard design. Keep your style short and simple so that you can just get up and go in the mornings.
#20: Patchy Anchor

The anchor style includes a bowed mustache and a chin-only beard. The two zone are connected by hair under the mouth. A patchy look is a more subtle version of this nautical themed facial hair.
#21: Heavy Goatee

For the ultimate goatee beard style, keep the rest of your face completely clean-shaven. Carefully trim the beard to give the look smart, crisp lines. A goatee beard helps to draw attention to your lips.
#22: Santa Style
Model your beard design on everyone's favorite holiday hero. A big gray beard is reminiscent of Santa Claus but can be a super fashionable look to wear all year round.
#23: Incredible Short Beard Designs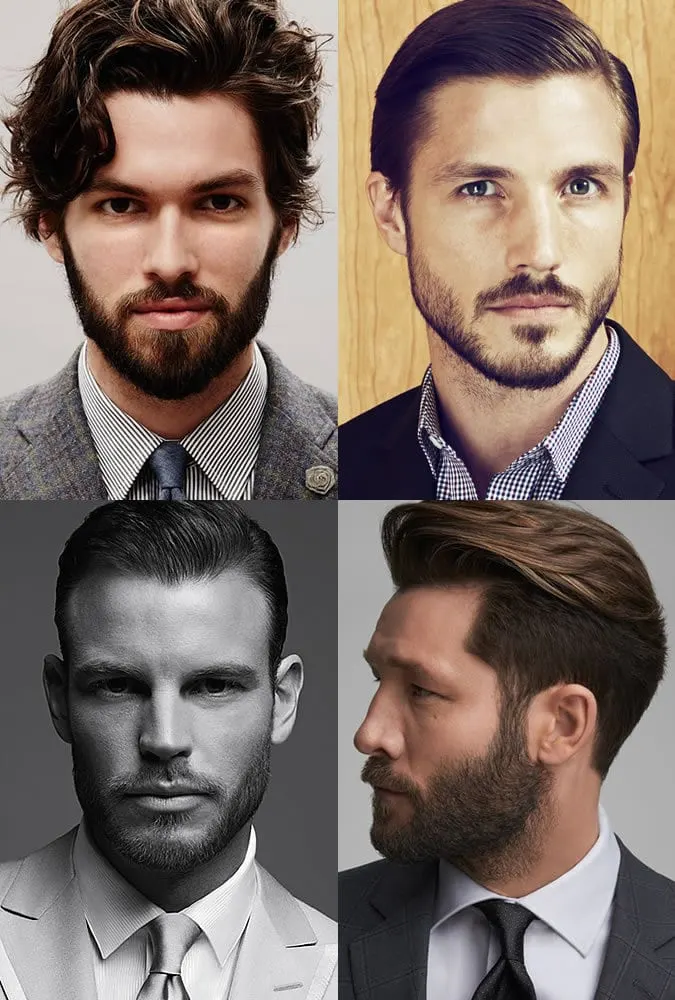 You can try any of these short beard designs according to your face shape and facial hair texture. With short beards, you can do enormous variations. You can grow a thick beard connecting with a mustache or you can grow a thin beard along with disconnected mustache and soul patch. If you want to clean the neckbeard, shave it off. You can keep the neckbeard and cheek lines unkempt as well. The choice is all yours.
#24: Viking Beard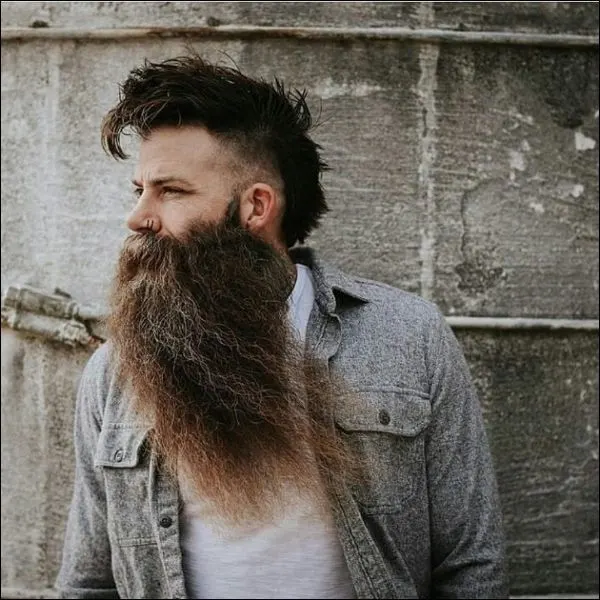 To grow such a wild beard is not a piece of cake; it requires guts and a lot of stamina. Give your Viking look a modish touch by wearing tapered fade Mohawk hairstyle. It is difficult to maintain.
#25: Beard and Imperial Mustache
This classy look features an imperial mustache, ginger beard, and taper fade slick back hairstyle. Shape the beard into rounder shape to define your weak jawline area. It suits almost any face shape. You can shape the mustache ends into pointed curves by applying a good quality mustache wax.
#26: Debonair Beard Design
A full, thick and well-groomed beard design always reveals the debonair personality of men. Keep the cheek lines and neckline hair well-trimmed. Tapered the sideburns and apply platinum blonde on your mustache and hair under the lips to achieve a distinctively charming look.
#27: Sleek Ducktail Beard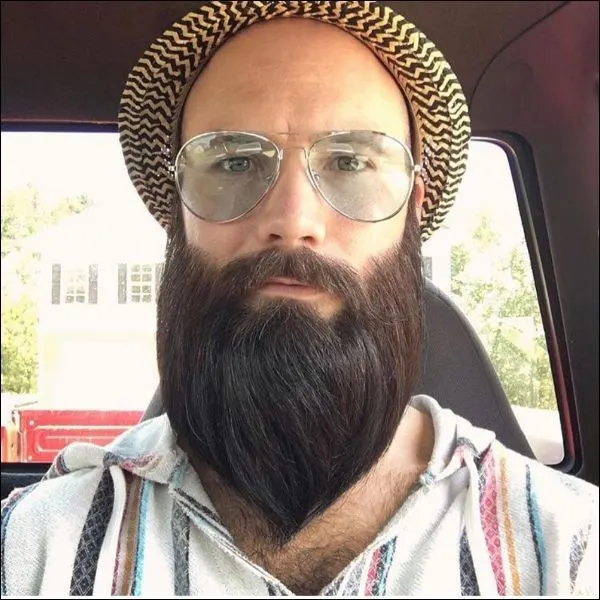 The soft and sleek beard texture makes this particular beard one of the most graceful beard designs. It requires regular grooming. To achieve this design, turn the beard into pointed and fluffy shape through blow drying. After shaping the beard, apply beard oil for a glossy look.
#28: Modish and Manly Beard
Men, who are looking for manly and latest beard ideas, can opt for this full line up beard to reveal a cool attitude of their personality. It involves less maintenance cost and regular trimming procedure. Keep it well kept for a presentable look.
#29: Bad Boy Look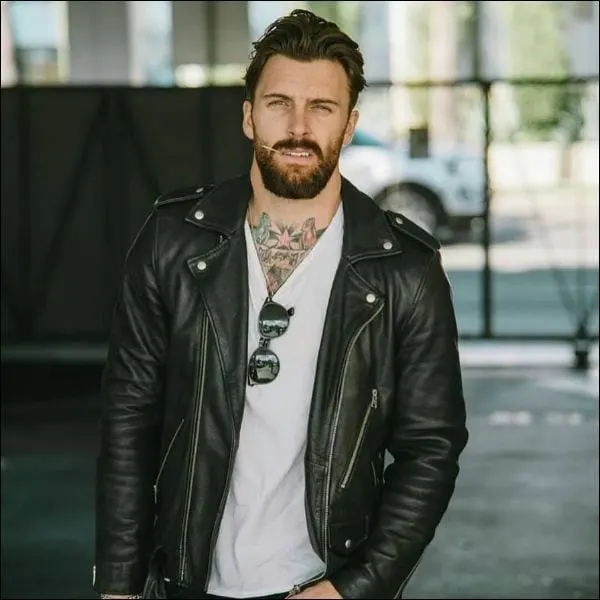 It features thick chin beard, mustache, and tapered cheeks hair. If you have a narrow chin, turn the dense chin beard into a square shape to give it a definition. It is easy to maintain and give you a funkier look on casual attire.
#30: Tapered Beard Design
The given beard is revealing some serious barber skill. It features the faded sideburns, tapered cheeks hair, well-trimmed cheek lines, long mustache, and sleek V-shaped beard.
#31: Teen Beard Look
It features chin strap goatee, soul patch and a mustache. It is best suitable for teen boys and for those guys who have thin or a patchy beard. Chin strap makes your jawline even stronger.
#32: Magnificent Blonde
Ben Dahlhaus is a famous bearded model that has been seen in varieties of amazing beard styles that has created an aura around him and make ladies go crazy for him. Here, he is wearing full blonde line up beard along with well-defined cheeks and well-trimmed jawline.
#33: Faded Beard Design for Afros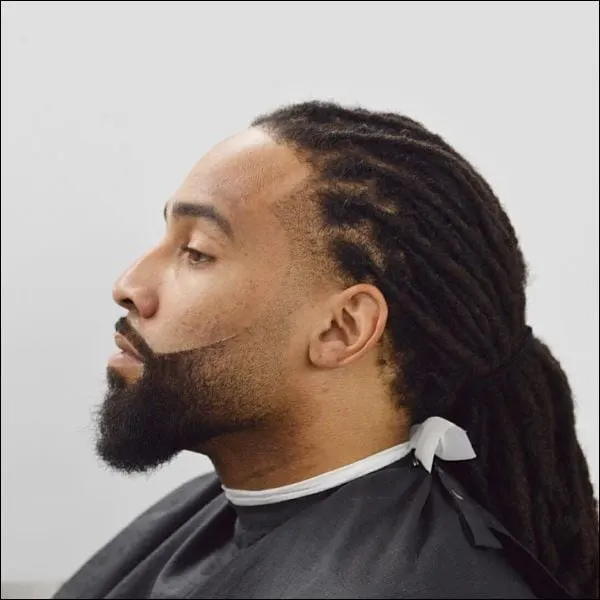 Dreadlocks hairstyle along with faded, line up beard design really gives a bold statement to black men. It features faded sideburns, half faded cheeks hair, thick chin beard, and a well-trimmed mustache. It requires maintenance.
#34: Disconnected Goatee
One of the simplest, easy to maintain and stylish beard idea that every guy loves to wear. It features a chin beard, soul patch, and mustache. Keep the style polished and neat by shaving off the cheeks and neckbeard.
#35: Adventurous Look
Grow a short beard with a thick mustache but do not connect the mustache with a beard, keep their interjection point a bit messy. Turn the cheek lines into slightly curvy shape. Keep the neck hair unkempt.
#36: Zayn Malik Beard Look
Zayn Malik is absolutely slaying by his stubble beard design and an undercut hairstyle. If you also get inspired by his looks, you can try his one of the iconic attire for an impactful change in your personality.
#37: Elegant Neckbeard Design
Grow a chin curtain with a mustache and low line up cheek hair; wear a taper fade pompadour hairstyle and you are ready to rock with your elegant looks.
#38: Stubble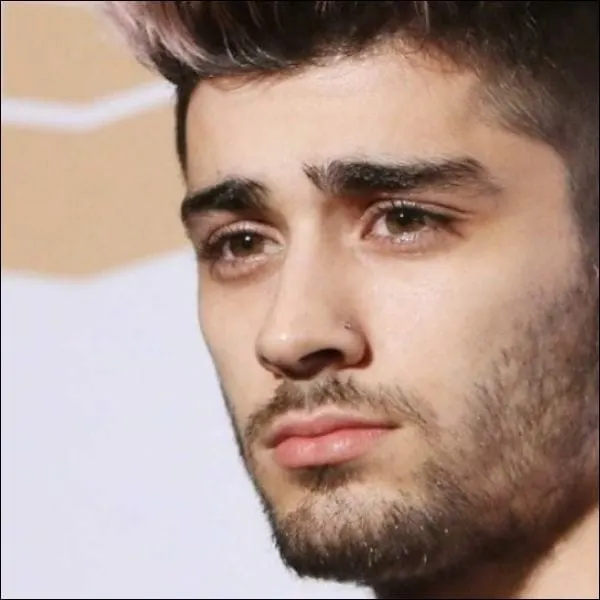 Here is another ravishing look of Zayn where he is wearing the light patchy stubble. To achieve this stubble design, keep the facial hair shorter than medium stubble and longer than light stubble. Wait for three days to get the desired length.
#39: Circle Goatee and Topknot
Circle goatee comes under the most promising and professional short beard styles because of its well-groomed and polish appearance. Turn the hair around the mouth into a circle shape and shave off the remaining hair including cheeks and neckline hair. Topknot hairstyle will add more class to your overall look.
#40: Medium Stubble
You can achieve the medium stubble length within 3 to 5 days according to your facial hair growth rate. Keep the soul patch under the lips connected with the chin hair. It suits any face shape.
#41: Thick and Tapered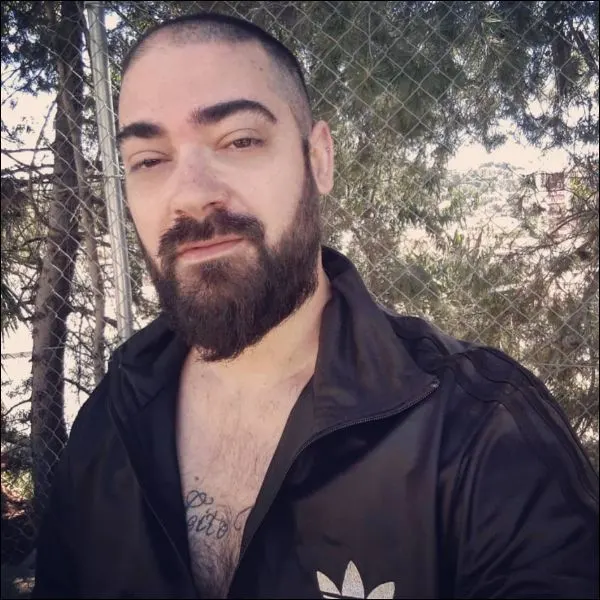 This beard is giving the macho features to men. It requires less maintenance but more patience is required to achieve. The cheeks area looks shorter than the mustache and chin beard. The hair around the jawline looks even denser.
#42: Chest length Beard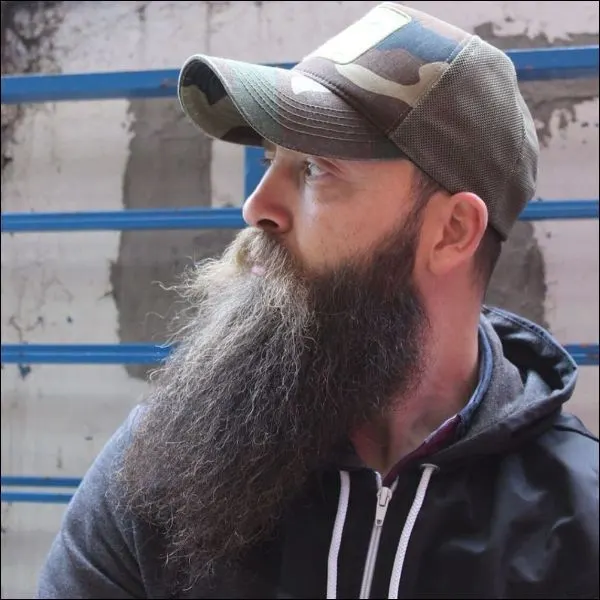 If you are looking for something like a masculine and aggressive style, you can opt for this one. Keep the cheeks hair shorter. Let the mustache, chin, and neckbeard grow freely, till you get a chest-length size.
#43: Gray Beard Design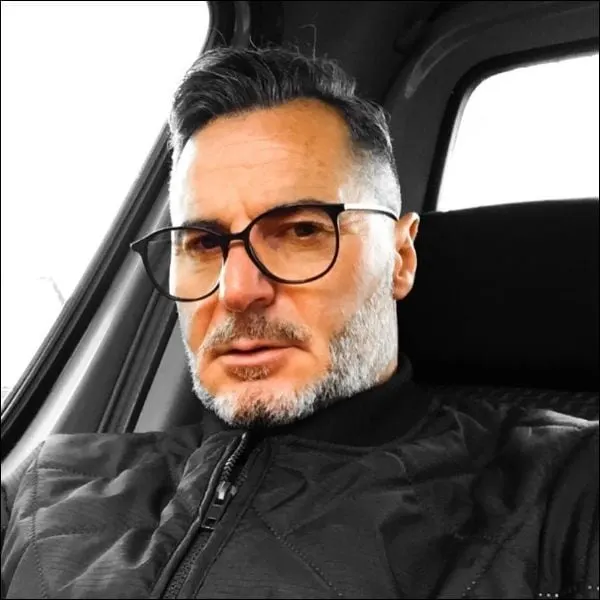 It is one of the sophisticated gray beard ideas that men over 50+ years age can opt for a professional look. It comprises a more angular structure. You can achieve this look by combining disconnected goatee, soul patch and line up cheeks.
#44: Low Line up+ Chin Strap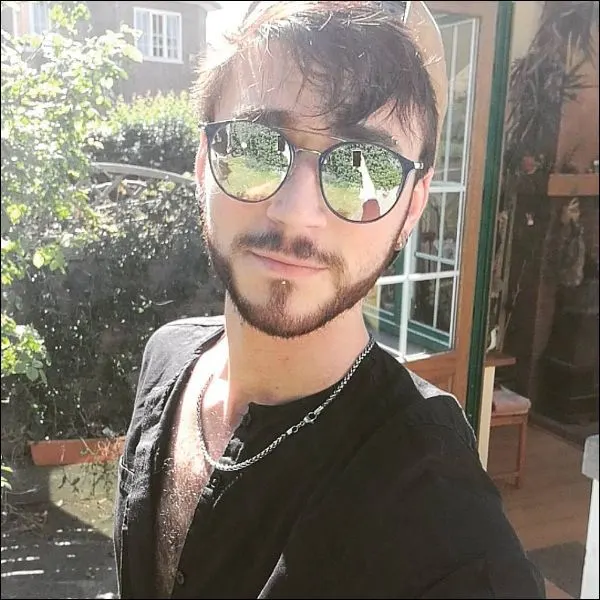 The above beard style looks like a chin strap goatee that comprises low cheek lines, goat patch beard connecting to chin hair and mustache. Connect the mustache with the goatee to make a circle shape for a unique look.
#45: Dark and Dense
Sometimes going for a bald hairstyle and thick, dense long beard give your stubby face those cool vibes that no style can give. Grow a thick mustache covering the lips and turn the beard into rounder shape for a fluffier look.
#46: Dazzling Full Beard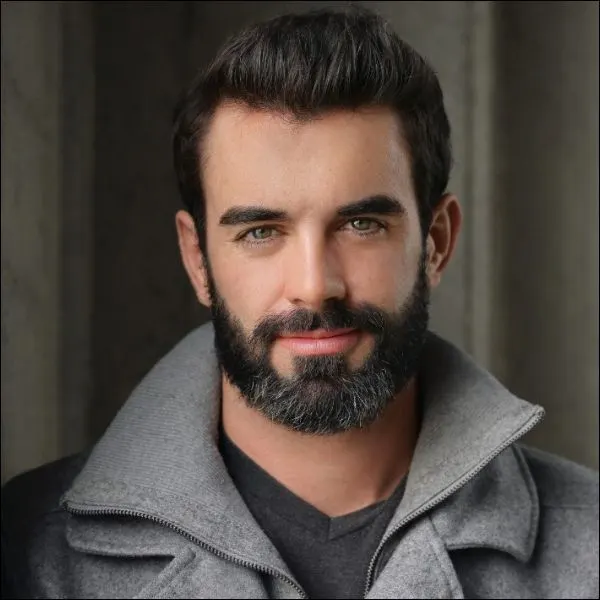 Just look at grace the man is carrying by such a promising beard. Chin beard looks hoary than the remaining facial hair. It is the best choice for men to wear at their middle age.
#47: Sharp Beard Design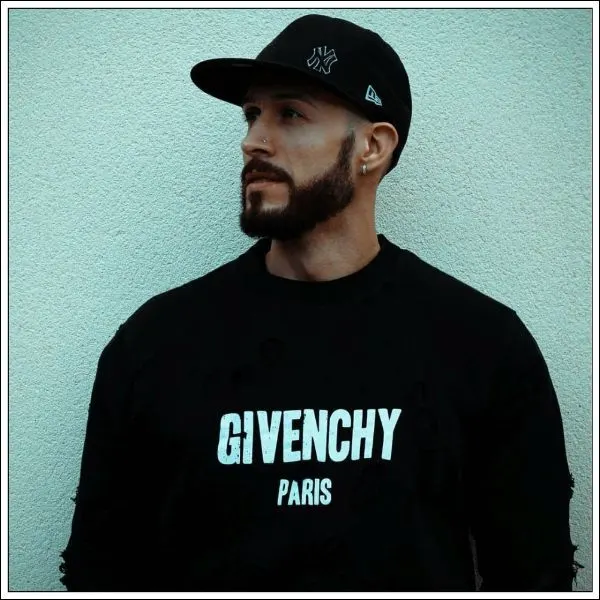 Here is another enchanting combination of short and box beard that compliments the jawline of those men even more, who have a strong and well-defined jawline. It goes very well with any attire and gives high style attitude to guys.
#48: Faded Beard and Tramlines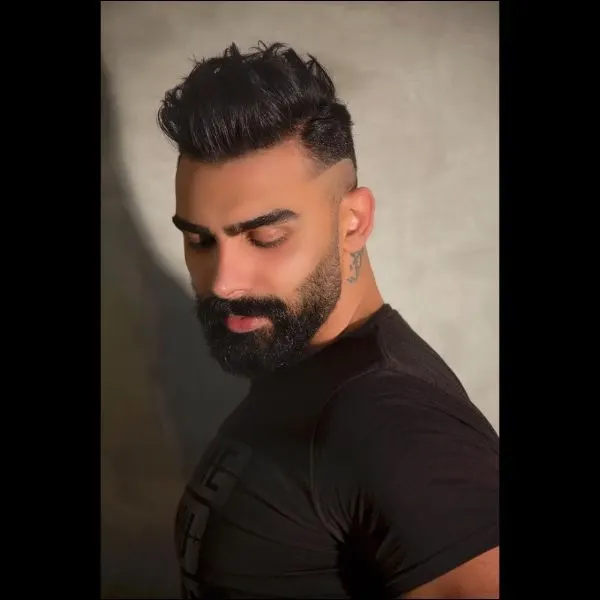 If you are looking for something stylish and bold, you can try this style to give your personality a unique attitude. It is a faded beard style that features faded cheeks hair and sideburn that blends into a tramline, Quiff hairstyle. Keep the hair around the mouth thicker.
#49: Ginger Beard
A beard style that gives men extraordinary features on any attire. The promising beard color and texture is the main core of the men's overall look. Keep the cheeks hair shorter than the hair around the mouth. The hair under chin looks dense making the design voluminous.
#50: Goatee with Stubble
It includes extended goatee, soul patch, a mustache, and barely visible stubble. You can achieve this beard combo easily, and it does not involve regular maintenance unless you want to make it professional.
#51: Striking Neckbeard
Neckbeard styles are trending very rapidly because of their distinctive and versatile features. It is one of the virile look neckbeard designs that include shorter mustache and cheeks hair, while hair around the jawline and chin beard have relatively more density.
#52: Chin Curtain
Young guys who hesitate to grow a beard because of bald spot problem, they can try a chin curtain and box beard combo for a matured look. Leave a goat patch beard under the lips that connect with hair under the chin.
#53: Rugged Ginger Beard
It is a polished version of a Viking beard which contains well-trimmed cheek lines and square shape beard that gives men debonair look. It is easy to maintain as you do not have to shave your facial hair daily. The mustache looks longer and thick covering the lip.
#54: Black Men Beard Design
When you combine a lineup hairstyle with a dark short beard, you achieve this graceful black men attire. The beard comprises the box beard, line up cheeks, tiny soul patch, and unkempt neck hair.
#55: Bushy and Long
To achieve this wonderful beard style, you will need to keep patience to wait for years. To carry such a long beard with long hairstyle is difficult and requires regular grooming. Tapered the cheek lines and cut the rough edges gradually to keep the beard healthy.
#56: Stylish Asian Beard
Well, to achieve the neatness and symmetry of the design, you must visit a skilled barber after growing a full beard. Turn the chin hair into a goatee connecting with the mustache. Keep the cheeks hair shorter and angled. Sideburns look thicker and longer.
#57: Military Beard
It is a short beard that contains a distinctive circle goatee shape. You can achieve this look by precisely trimming the zone where cheeks hair connects with the hair around the mouth. Keep the cheek line polished as a military look supposed to be.
#58: Intricate Beard Design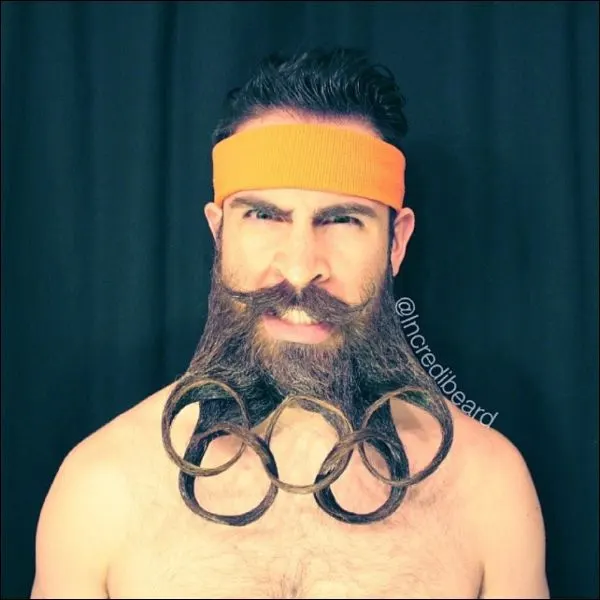 Undoubtedly, it is one of craziest beard that will grab everyone attention because of its unusual and creative look. You have to put a lot of effort and time to achieve this masterpiece with perfection. Use a handsome amount of beard gel and facial hair spray to hold the style into its place.
#59: Beard+ Taper fade Hairstyle
It is a simple yet stylish short beard that comprises a disconnected soul patch, medium stubble cheeks area, and thickly trimmed mustache. Taper the sideburns to blend it into taper fade haircut for a funky look.
#60: Trendy Goatee Beard
Here is another version of chin strap goatee that features slightly angled low cheek lines, Mustache and a soul patch. It suits the diamond and triangle face shapes the most.
#61: Stylish Beard Outlines
Give a stylish solution to your bald spot problem by opting for this particular beard style. Grow stubble and style cheek lines into curvy and pointed angles to attain unique features. Thick, evenly trimmed mustache will give you an ultra-macho look.
#62: Hipster Beard Look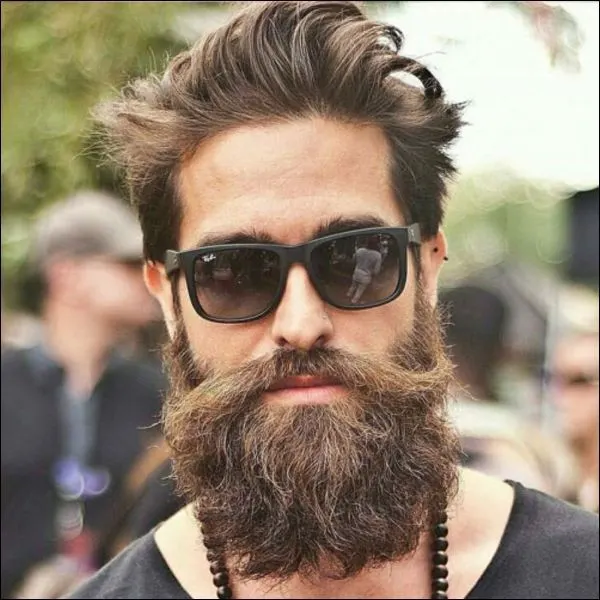 Hipster beard design offers plenty of attractive and virile beard styling ideas that helps men to show off their unique and remarkable personality. You have to wait for six weeks to several months to get this dense, bold beard and a long mustache.
#63: Sensational Beard Look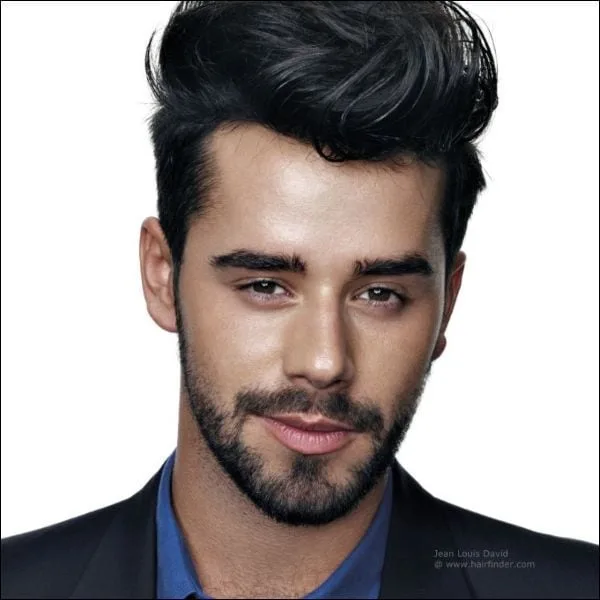 Young guys, who are in-depth desire to find a style that makes them look mature and give them an influential personality, can try this medium stubble for this purpose. It suits any face shape incredibly.
#64: Full Beard and Goatee Combo
Grow a full goatee and keep the cheeks hair thick but shorter than the goatee to achieve a unique and impactful attitude in your personality. Shape the goatee into a square shape to define your weak chin. Crew cut hairstyle goes well this particular beard.
#65: Platinum Blonde Goatee
It is a bit rounder in shape than a box beard. You can achieve this look by growing a chin beard and connecting it with a naturally grown mustache. Keep the sideburns thick and long. Shave off the cheeks and neckline hair.
#66: Beard Design for Vacations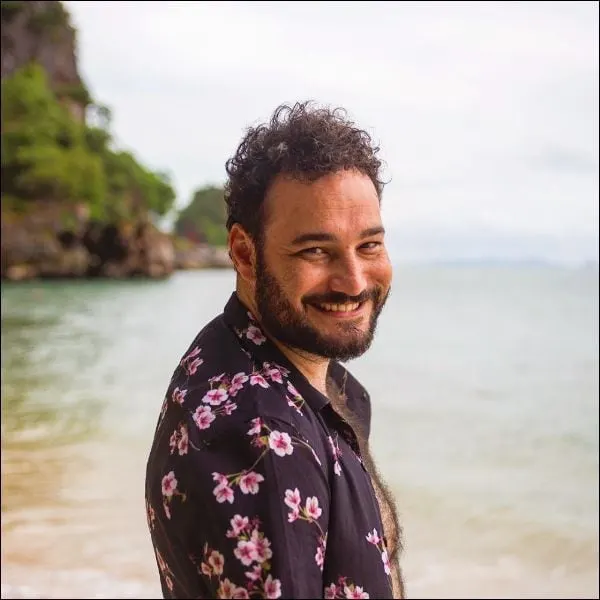 Looking for casual and smooth beard ideas? You can pick this full beard as it involves less maintenance and time in grooming so, you can enjoy your vacations more without worrying about your looks.
#67: Dramatic Beard and Hairstyle
This one creates a magical spell around the guy's personality. You can achieve it easily. It is a stubble beard that has been styled by the precise use of razor and trimmer. Bald fade afro hairstyle gives men extra sharp look.
#68-70: Various Full Beard Ideas
The above various full beard designs provide a complete package of versatile, bold and professional beard styling ideas that you can opt according to your facial features, physique, and interests. Do consider the hairstyles too that are paired up with each unique beard as well that will give you complete enchanting attire, if you want to stand out in the crowd.
More Beard Designs for Inspiration
Designing a beard is easy if you know where to take your inspiration from. If you are feeling intrepid you can even try out a new design every few weeks. Our blog is full of inspiration for your next beard style, so take a good look around.