When it comes to timeless hairstyles for men, slicked-back hair paired with a beard remains a definitive choice. This combination epitomizes sophistication, masculinity, and style, easily transitioning between professional settings and casual gatherings.
Whether you're into old-school cool or the latest trends, we've got something for you. We're gonna dive head-first into the epic world of sleek hairdos and badass beards.
Does A Beard Look Good With A Slicked Back Hair?
Yes, a beard looks great with slicked-back hair if you pick the right style combinations. Slicked back hair and beard combo offers a balanced look by offsetting the smooth, sleek hairstyle with the rugged, masculine bearded look.
This hair and beard combo will enhance masculinity and strength in your look. With a variety of beard styles to choose from, you can customize this look to best fit your personal style and facial shape.
Whether you opt for a full beard, stubble, or a stylish goatee with slicked hair, you can get your own bearded look with slicked-back hair.
Manly Slicked Back Hairstyles With A Beard
1. Classic Slicked Back with Full Beard
The traditional and suave combination of a slicked-back haircut and a full beard offers a timeless look. This classic style commands attention, adding an element of strength and masculinity to your appearance. Keep the hair smooth and the beard well-groomed for maximum effect.
2. Undercut Slicked Back with Stubble
This style blends the modern edginess of an undercut with the smooth charm of slicked-back hair. Adding light stubble introduces an element of casual cool, perfect for those who prefer low-maintenance but stylish looks. This pairing is particularly suitable for those with sharper facial features.
3. Slicked Back with Goatee
Adding a goatee to a slicked-back hairstyle creates a trendy and distinctive look. Whether attending a casual get-together or a formal business meeting, this combo carries a sense of style and sophistication. The goatee also adds a point of interest to the face, giving definition to the chin area.
4. Slicked Back Pompadour with Bushy Beard
This look marries a slicked-back pompadour – high in volume and attitude – with a bushy beard that enhances its strong presence. This combination is a showcase of personality and confidence. It's ideal for those wanting to make a bold, fashion-forward statement.
5. Long Slicked Back with Bandholz Beard
This style brings together a long slicked-back hair and a Bandholz beard. It's a style statement that emphasizes length and volume. The rugged yet polished look is suitable for men who want a style that's both daring and elegant. Regular grooming is necessary to maintain this style's appeal.
6. Taper Fade Slicked Back with Short Beard
For a clean, sharp look, try a slicked-back haircut with a taper fade, complemented by a short beard. This combination is both professional and modern. The taper fade adds interest to the slicked-back hair, while the short beard provides a neat frame for the face.
7. Slicked Back with Beard and Mustache
This style is a trifecta of classic grooming – slicked-back hair, a full beard, and a styled mustache. Echoing sophistication and maturity, this look is perfect for the gentleman who appreciates traditional style and grooming.
8. Slicked Back Top with Beard Fade
A slicked-back top with a fade on the sides paired with faded beard results in a clean, stylish look. This combination exudes a modern aesthetic, perfect for those who prefer minimalist style. It's easy to maintain, needing regular trims to keep the fade neat.
9. Slicked Back with Ducktail Beard
Opt for a long slicked-back hairstyle for a sleek, dapper appearance. Pair it with a ducktail beard, which adds a unique touch to the overall look. This combination is timeless and has an irresistible appeal that transcends trends.
10. Wavy Slicked Back with Balbo Beard
For those seeking a more relaxed yet stylish look, a wavy slicked-back hairstyle is the perfect choice. Coupling this with a Balbo beard, characterized by a distinct mustache and beard section, adds a touch of elegance and originality. This style is suitable for those who like to stand out subtly.
11. Slicked Back Undercut with Beard
This style merges the slicked back hair with an undercut and pairs it with a well-maintained soul patch beard. It presents a blend of edgy and classic elements, creating a bold and striking appearance. The undercut adds a modern twist to the traditional slicked-back look, and the beard provides a balance of ruggedness.
12. Slicked Back Pompadour with Beard
A slicked back pompadour teamed with a beard showcases an intriguing mix of vintage and contemporary style. The pompadour adds a dose of sophistication and charm, while the beard enhances the masculinity of the look. This combination is particularly striking on men with square or oval face shapes.
13. Slicked Back Hair with French Fork Beard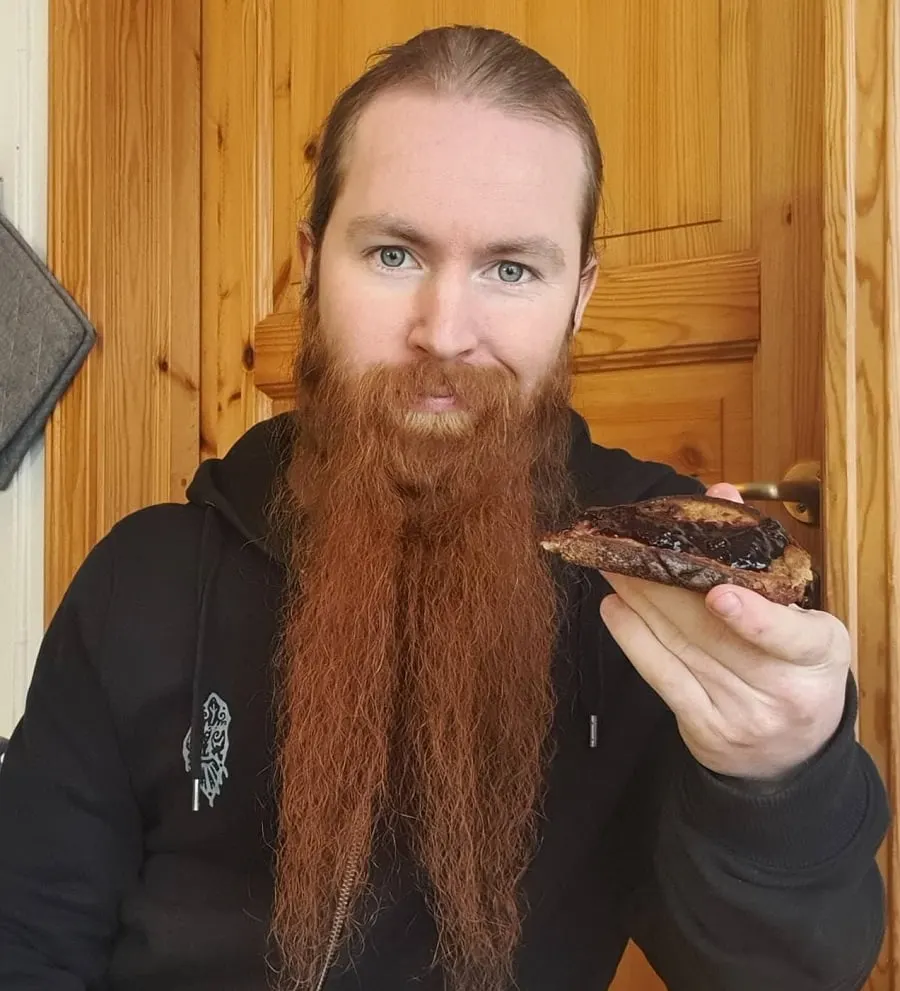 This combination is both exotic and elegant. The slicked back hair exudes a polished look while the French fork beard adds a unique, stylish element. It's an unconventional choice for those who want to experiment with their appearance while keeping it classy.
14. Slicked Back with Garibaldi Beard
A slicked-back hairstyle paired with a Garibaldi beard delivers a rugged yet refined look. The neatly combed hair contrasts well with the slightly unkempt beard, creating a style that embodies both structure and freedom. This combination is ideal for those seeking a balance of class and adventure in their style.
15. Slicked Back with Short Boxed Beard
The neat slicked-back hair matched with a short boxed beard offers a well-groomed look that's both professional and stylish. The beard frames the face while the slicked-back hair provides a clean, orderly appearance. This pairing works well for men who prefer a style that's sleek, straightforward, and easy to maintain.
16. Slicked Back with Extended Goatee
Pairing slicked-back hair with an extended goatee creates a versatile look that stands out. The sleek hair combined with the goatee, which extends along the jawline, introduces an element of flair and individuality. This style works well for those who like a mix of traditional and unique elements in their appearance.
17. Slicked Back with Anchor Beard
The anchor beard, named for its resemblance to a ship's anchor, is a pointed beard that traces the jawline and is paired with a mustache. When combined with slicked-back hair, it results in a distinguished and refined appearance. This style is suitable for men who prefer a sophisticated, nautical-inspired aesthetic.
18. Slicked Back with Hollywoodian Beard
For a touch of celebrity style, consider pairing slicked-back hair with a Hollywoodian beard. This beard style, popularized by classic Hollywood stars, covers the lower part of the face but leaves the cheeks clean. It complements the slicked-back hair with its refined and glamorous charm, making it an excellent choice for those seeking a star-quality style.
is slicked back hair professional?
Yes, slicked-back hair is professional. It presents a clean, neat, and well-groomed appearance. This style is versatile, fitting into formal settings like offices, meetings, and corporate events with ease.
Its timeless appeal also communicates a sense of reliability and maturity. So, whether you're attending a job interview or leading a business meeting, a slicked-back hairstyle can convey professionalism and confidence.
Trending Topics