Popularized by Elvis Presley in the 1950s, the Pompadour hairstyle is an iconic hairdo and it is still a trendsetter among men. While this style has undergone numerous iterations, styling with a beard is the most recent trend.
Like many other beards and hair combinations, adding a fashionable beard with a pompadour hairstyle gives a sleek and sexy appearance simultaneously.
Apparently, whatever era we are in, pompadour hairstyle with beard will never go out of style. And everyone can rock this combo regardless of age.
Scroll down to level up your style for a formal event, or keep it casual on the weekend.
What Is A Pompadour Hairstyle?
A Pompadour haircut is a voluminous hair on the top of the head, while the sides and back are slicked back or tapered. It is named after Madame de Pompadour, a mistress of King Louis XV in 18th-century France.
The original hairstyle involved sweeping hair upwards from the forehead and wearing it high over the head. It was a popular look among women of the time. Eventually, men began adopting the style as well, making it a unisex hairstyle.
In the mid-20th century, the Pompadour hairstyle resurged in popularity, thanks to iconic figures such as Elvis Presley, James Dean, and Johnny Cash. The modern Pompadour has evolved into various forms, with different lengths and shapes, but the essence of the hairstyle remains the same – volume at the top, with a slicked-back finish.
How to Pair Pompadour with a Beard
There are plenty of beard styles and pompadour hairstyles that will make a good combo. To pair a pompadour with a beard, follow these steps:
Understanding your face shape (oval, round, square, etc.) and hair type (straight, wavy, curly, etc.) will help you determine which Pompadour and beard styles will be most flattering for your unique features.
Browse through the style images in this article or in magazines to find Pompadour and beard combinations that appeal to you. Pay attention to how the styles work together to create a harmonious balance.
Once you have chosen a Pompadour and beard combo style, save or print the images to show your barber.
Show them reference images and discuss your face shape, hair type, and preferences. Your barber will be able to provide professional advice on how to create the perfect Pompadour and beard combo for you.
Now check out the beard styles and pompadour hairstyles in the next section.
Trendy Pompadour Hairstyle with Beard
There are a variety of pompadour hairstyles with beards to choose from. While some of these are classic, others are exceptional. Learn more about some of the trendy styles.
1. Side Part Pompadour with Goatee
This pompadour style has an angled comb over puffy side part. Further, the skin faded sides separate the voluminous top. It has a goatee beard with no mustache, which gives a clean appearance.
2. Comb Over with Stubble Beard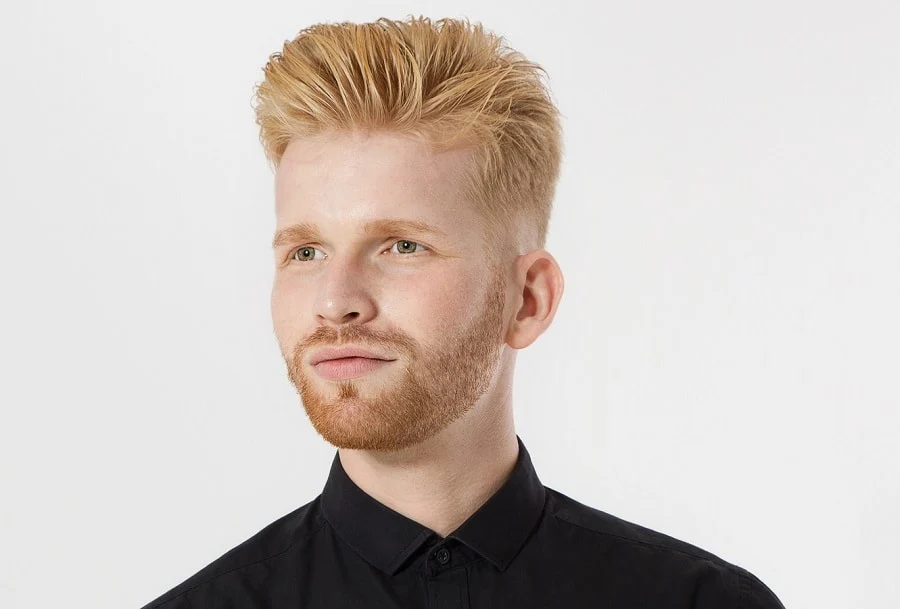 You simply need to comb the hair upward with wide tooth comb. However, you must use hair gel or cream to hold the style in place. The stubble beard helps to boost the maturity to a youthful face.
3. Brush Back Pomp with Heavy Stubble
This hairstyle combines a modern brush back and a heavy stubble beard. The pomp is brushed back from the forehead, and heavy stubble balances the look by adding a symmetrical appearance. The good thing about this style is that you can wear it for both formal and casual occasions.
4. Faded Comb Pattern + Chinstrap Beard
The faded cut on the sides with an angled comb pattern on top creates a semi-voluminous pomp. This chinstrap beard draws attention to the jawline. Ultimately, combining a sharp haircut and a precise beard gives a polished appearance
5. Side Swept Pomp + Stubble Beard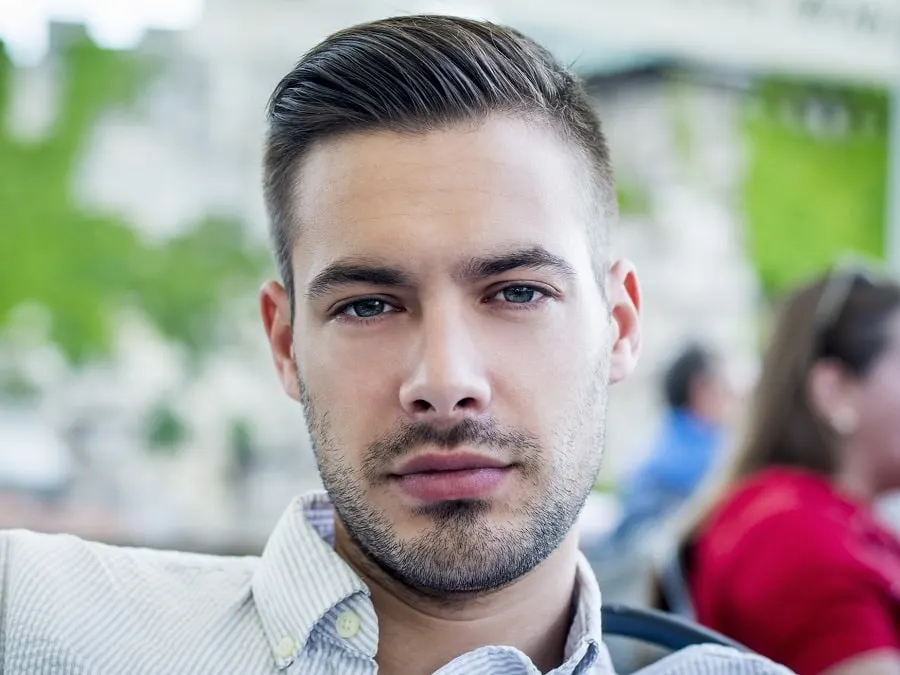 A side swept pompadour entails cutting extra short on the sides and then sweeping the top over one side. It gives a flat look on the top. Adding a stubble facial hair makes it perfect for a corporate look.
6. High Fade Pompadour with Parallel Beard
The higher fade makes the look perfect for a medium pomp and works great for men with straight or wavy hair. Further, the parallel beard helps to accentuate a rectangle face shape.
7. Mountain-Inspired Pomp + Garibaldi Beard
The outlook combines a voluminous pompadour with a Garibaldi beard, which is full and rounded facial hair. The overall look is rugged yet natural making it perfect for senior citizens who are seeking a cool look.
8. Undercut Pompadour + Medium Beard
The undercut contrasts with the longer top and shorter sides, giving you an edgy touch to your shiny hair. The medium-boxed beard adds roughness to the overall look.
9. Puffy Sweep Over with Bushy Beard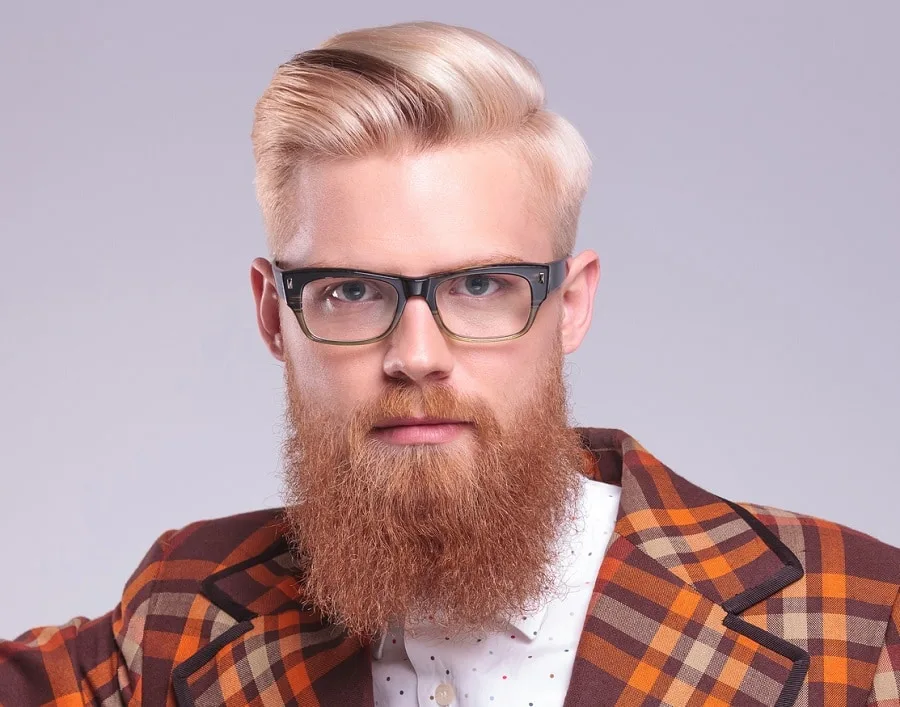 The puffy sweep over and bushy beard combine to create a fashionable and elegant look ideal for men who want a distinguished look. It is great for men with thick and wavy hair. The unkempt bushy beard adds masculinity yet an innocent appearance.
10. Afro Pompadour + Chin Curtain Beard
You can categorize this style as faded sides and a rounded top. The chin curtain beard started from the sideburns gives a well defined, polished look with clean cheeks.
11. High Volume Top with Boxed Beard
Thick hair with a dry texture can look good on volume. Using pomade and blow dyer is necessary to get the high volume top. The boxed beard emerges as a good balancer to the top hair and face.
12. Vintage Pompadour with Short Garibaldi Beard
You can wear this pompadour if you like vintage looks but live in the modern world. A short garibaldi beard, on the other hand, places you somewhere between the vintage and modern eras. But the combination of this hair and beard style certainly gives you a masculine appearance.
13. Brushed Back Pomp + Long Beard
It has a puffy slick back style with short sides. Further, the long bearded face makes a bridge between the sleekness of the pompadour and the natural ruggedness of facial hair.
14. Wavy Pompadour with Patchy Beard
The wavy pomp gives a fresh and youthful vibe. Combined with a short patchy beard gives a sense of laid-back style and rugged charm. The overall look is perfect for men in their late 20s with a rectangular face shape.
15. 80s Pomp with Anchor Beard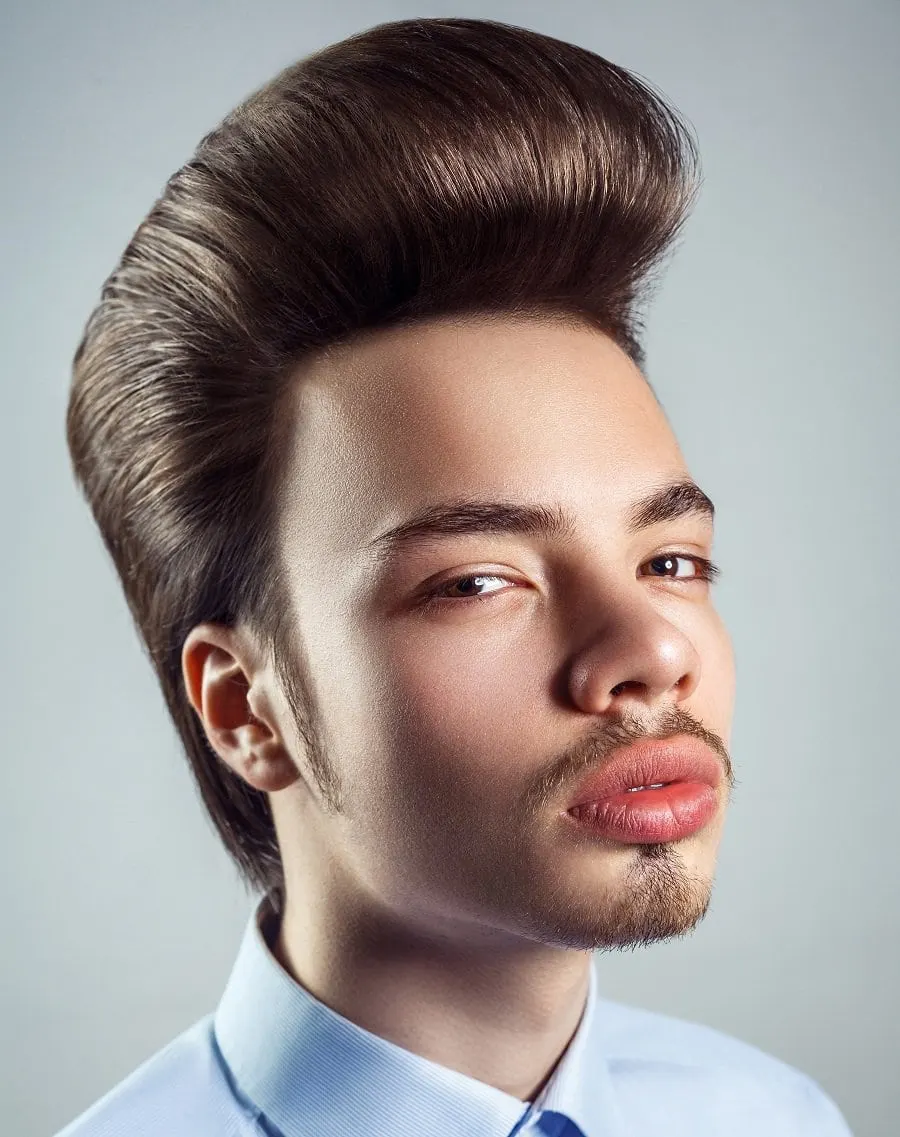 It is a class pompadour style with high voluminous hair. Although this particular pomp style is from the 80s, it gives a modern twist to your overall appearance due to the thin anchor beard on the chin.
16. Loose Side Part Pomp + Light Stubble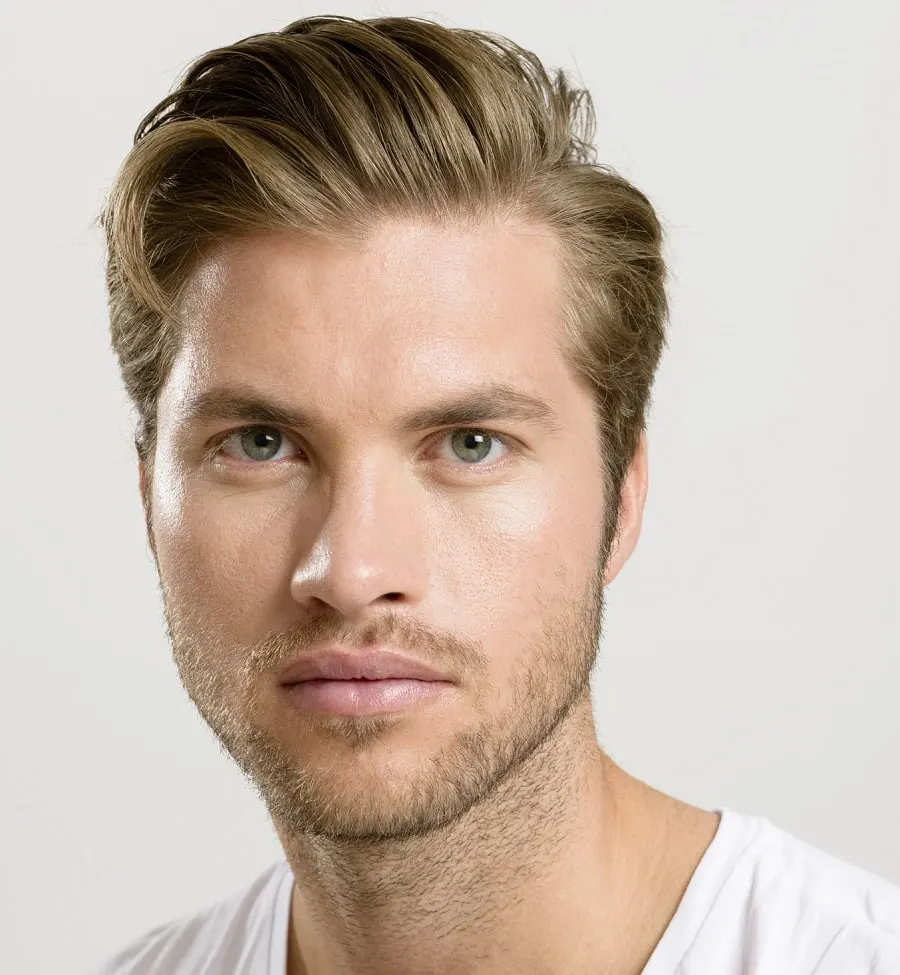 The hair in this style is medium in volume. However, the side part comb has a different feel because it requires a wide-tooth comb and fingers to style. And the light stubble beard draws attention to the sharp jawline.
17. Upward Fringe with Extended Anchor Beard
The upward fringe features a short textured front fringe that is swept upwards. Further the undercut sides with disconnected sideburns give edgy sophistication. Combing this hairstyle with anchor beard surely offers the rugged masculinity.
18. High Volume Pomp with Patchy Beard
Unlike a regular pompadour, the high volume pomp has a voluminous top along with long sides and back, which gives a carefree appearance. On the other hand, the patchy beard adds a touch of roughness and a scurfy appearance.
19. Curly Pomp with Full Beard
This hairstyle has a wavy front with shaved sides. Further it is complemented by long beard, which is perfect for any casual outing. Overall, this beard and hairstyle resemble a manly look.
20. Skin Fade Pompadour with Curtain Beard
Although the medium hair is brushed upward, you can get similar to a flattop appearance. Additionally, the skin fades on the sides, eventually giving a clean appearance. The curtain beard helps hide any imperfections or blemishes on the chin or jawline and boosts confidence.
21. Short Pompadour with Patchy Stubble
You can go for a short pompadour if you have short wavy hair. The faded sides help to manage your hair as the top part is short enough to keep away from your face. Combine this look with a short patchy beard and you are ready to roll.
22. Spiky Pomp with Medium Stubble
It is styled into a long, thick upright spikes while the sides are cut short. However, the back remains longer and gives you a mohawk like style. To level up your look, you can keep a medium stubble beard.
23. Faded Pomp with Boxed Beard
This hairstyle is similar to the classic pomp, but it has drop fade sides. Hence, the top gets defined edges when styled into an upward sweep. Adding a sharp lined boxed beard gives a clean and fresh look.
24. Brushed Up Pompadour with Disconnected Goatee
It is a modern pompadour mixed with old and new style. While the top is styled in wavy brushed up way the sides remain short. For the beard style you may choose a van dyke style or disconnected goatee in which chin hair and mustache are not connected.
25. Undercut Pomp + Long Boxed Beard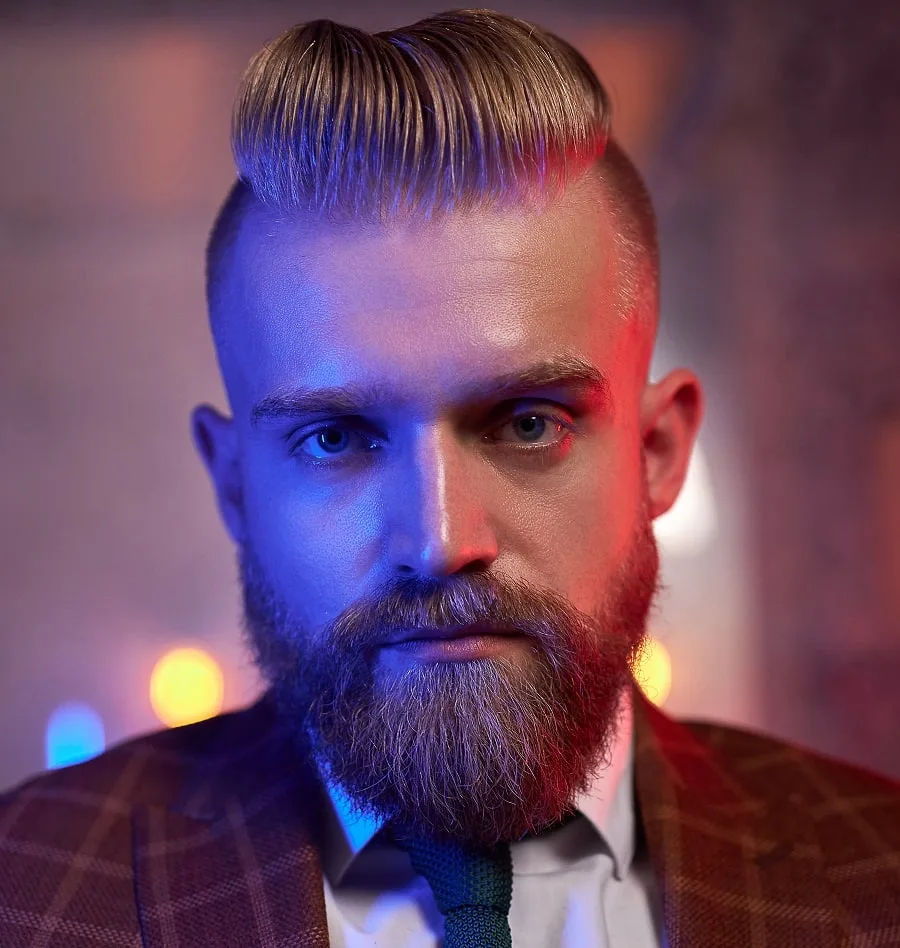 The hairstyle is achieved by trimming the sides very short while the top part remains longer to style up and back. You can pair it up with a long boxed beard making it perfect for office and Friday night outing.
26. High Side Parted Hair + Lined Stubble
The hairstyle is a combination of traditional high voluminous pompadour and side part. You can rock this style further adding a stubble beard with sharp line on the cheeks.
27. Rockabilly Pompadour with 5 O'clock Beard
Although rockabilly pompadour was popular in the mid-1950s, you can still try it and become a trendsetter. With the long sideburns and 5 O'clock shadow beard, you can certainly copy the rockabilly style.
Styling the Pompadour and Beard
To style and maintain a Pompadour hairstyle with a beard, follow these combined steps for both hair and beard:
Use a hairdryer and a round brush to create volume at the top of your head. Blow-dry your hair upwards and backward to achieve the desired height.
Use a comb to create a clean part on one side of your head and slick the sides back. For a more textured look, use your fingers to style the top of your hair, creating a natural finish. Apply pomade or wax to hold the style in place.
Schedule regular haircuts and beard trims to maintain the shape and style of your Pompadour and beard. Ideally, visit your barber every 3-4 weeks to keep your hair and beard looking their best.
Apply beard oil or balm to keep your beard moisturized, healthy, and manageable.
Whether you are a fan of vintage pompadour or want to try a modern style, the Pompadour hairstyle with a beard will surely give you enough options to choose from.