A hard part haircut, also known as a shaved part or line in haircut can create a striking look when combined with a cool beard style.
The main character of a hard part haircut is shaving a line that parts your hair. The parting, usually on either the left or right side of the head, extends from the front to the back.
Let's take a look at some hard part haircut ideas to pair with your beard.
Hard Part Haircuts And Beard Styles for Men
1. Harvard Clip with Stubble Beard
This one's simple; you get a Harvard clip haircut and then opt for a hard part. Make this style even cleaner with a mid-fade effect on the sides. With a mid-length stubble, you'll have a look that's between being too tight and too scruffy.
2. Buzz Cut with Curly Chin Curtain Beard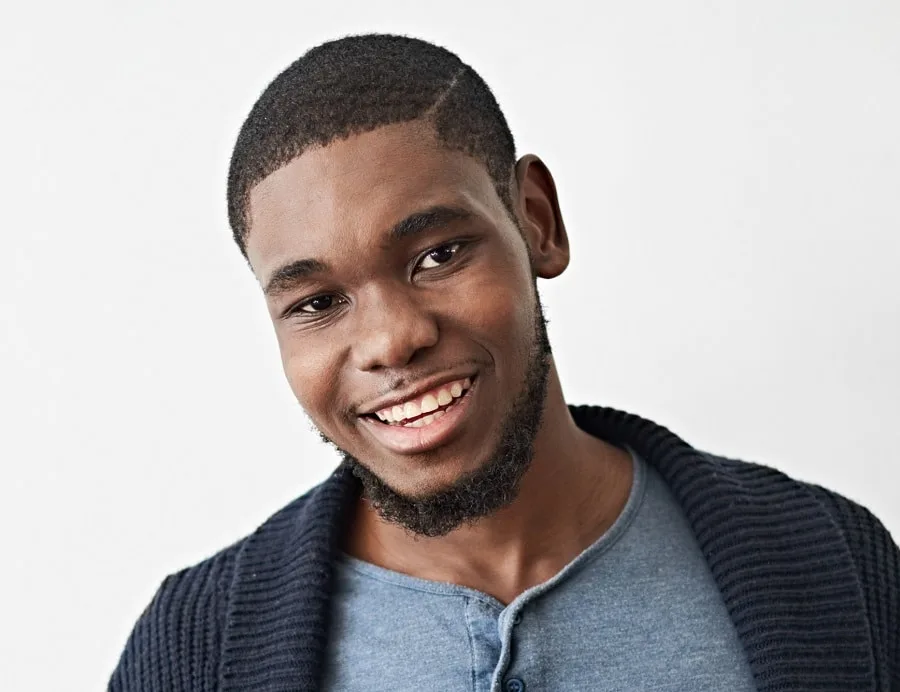 This is a simple and clean hard part haircut and beard combo for curly hair and beards. With a buzz cut, you'll have equal-sized hairs all over your head. The hard part brings a nice touch to the hairstyle. The chin curtain beard suits well with an oval face.
3. Mid-fade Comb Over with Long Beard
Older men can rock this look and wear their grey hair with confidence by growing a long and full beard. The hard parted mid-fade haircut keeps you in tune with modern fashion. As for the mustache, a handlebar is sure to turn heads.
4. Mid-taper Brush Up Haircut with Goatee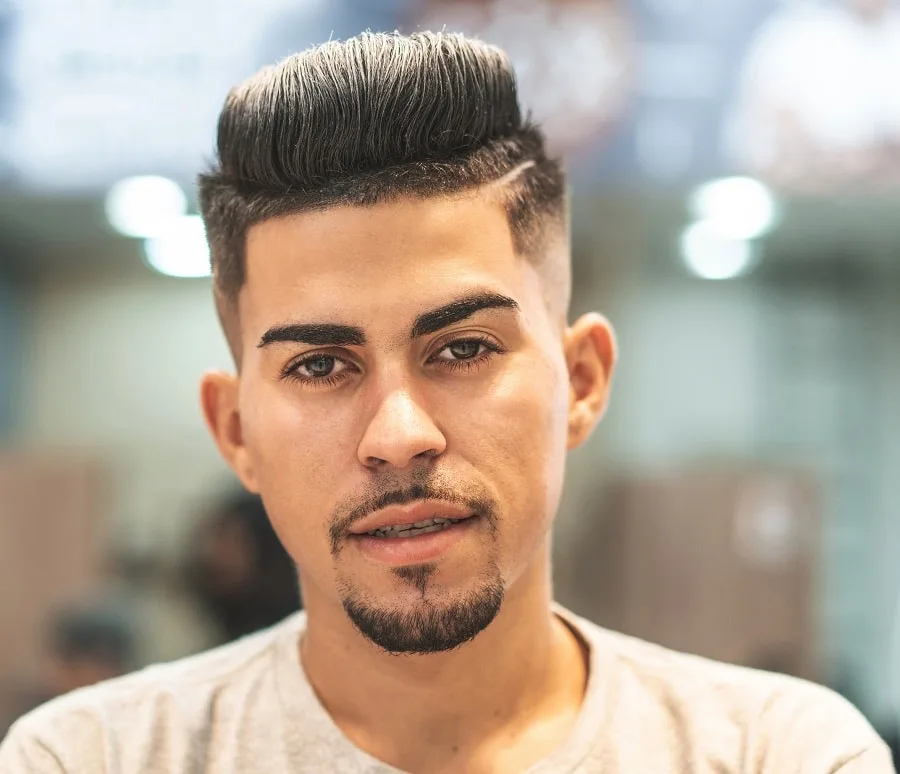 It'll surely take you some time to master this look because you'll have to brush up your hair and hold it there with hair spray or gel. The sides are mid-tapered whereas the goatee is sharp and well-trimmed. A pencil-thin mustache with a pointed soul patch makes the look quite edgy.
5. Mid-fade Crew Cut with Heavy Stubble
Call it one of the handiest hard part haircuts with a heavy stubble because it works for executives, businessmen, etc. The hard part crew cut has mid-fade happening on the sides whereas a heavy stubble covers the entire lower jaw and your mouth.
6. Frosted Afro Tips with Egyptian Goatee
This look is fresh, unique, and youthful and works wonders when you have afro hair. The tapered sides give the hair in the middle height so your frosted tips can take the limelight. On the face, it's a simple and minimalistic approach with a petite Egyptian goatee.
7. Side Swept Undercut with Grey Bandholz Beard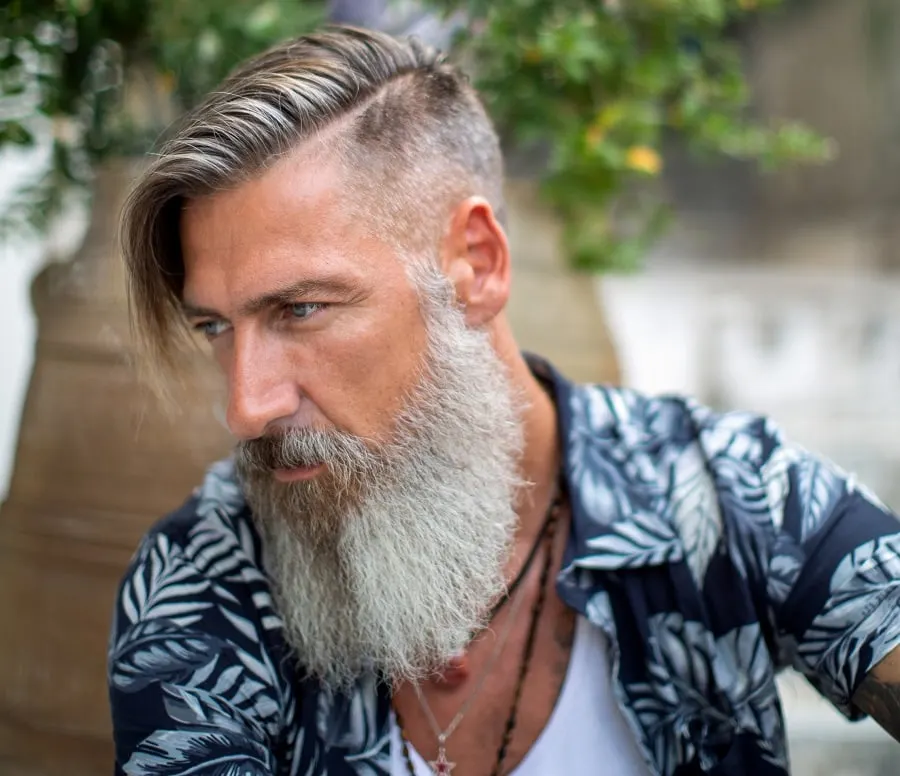 Want a unique hard part haircut and beard combination? Try this side-swept undercut and beard pair. The bandholz beard is almost grey and only the middle part is red. On the other hand, the mustache is ginger but only the edges are grey.
8. Bald Fade Mohawk with Garibaldi Beard
There is a clever proportion of hair and skin in this hard part haircut with beard. While a big Garibaldi beard covers the lower part of your face, you can bring out the upper part with a bald fade mohawk haircut.
9. Mid-fade Short Cut with Short Boxed Beard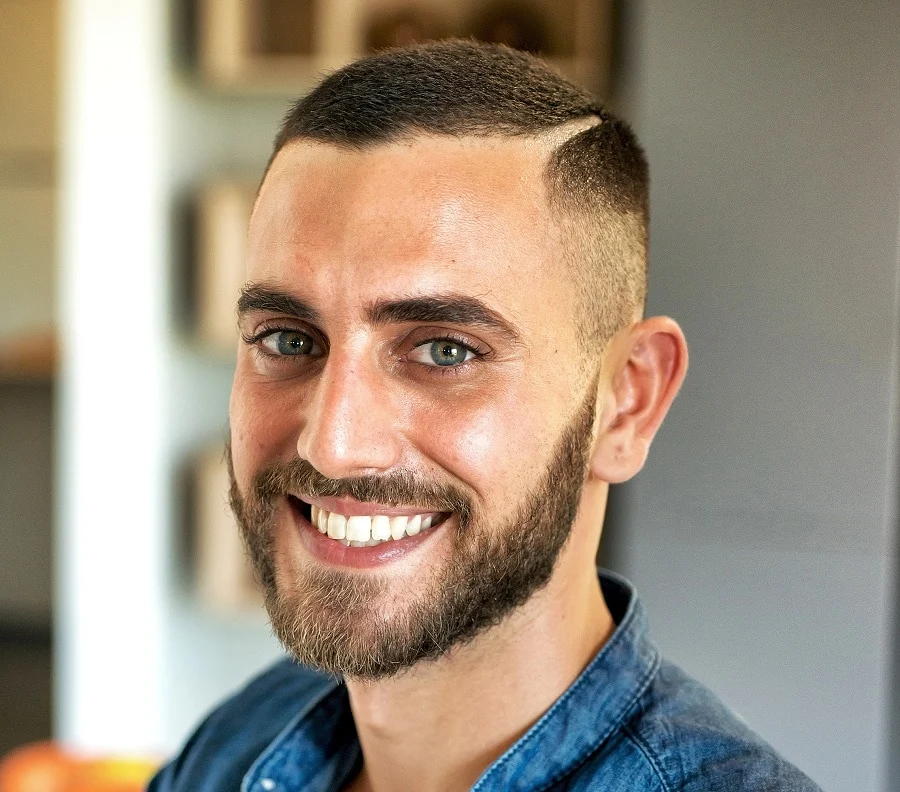 Be stylish and still maintain simplicity when you pick this style that combines a mid-fade short cut and a short-boxed beard. It's the hard part on the side that will get anyone's attention first. The mid-fade is subtle but supplemental for the overall look.
10. Slicked Side Part with Full Curly Beard
A full beard making you look old? On top of that, a curly beard with flyaway hair can be a nightmare to tame. The best move for you would be to go for a slicked side part hairstyle with fading happening way above the ears for a cleaner look.
11. Man Bun with Mid-length Beard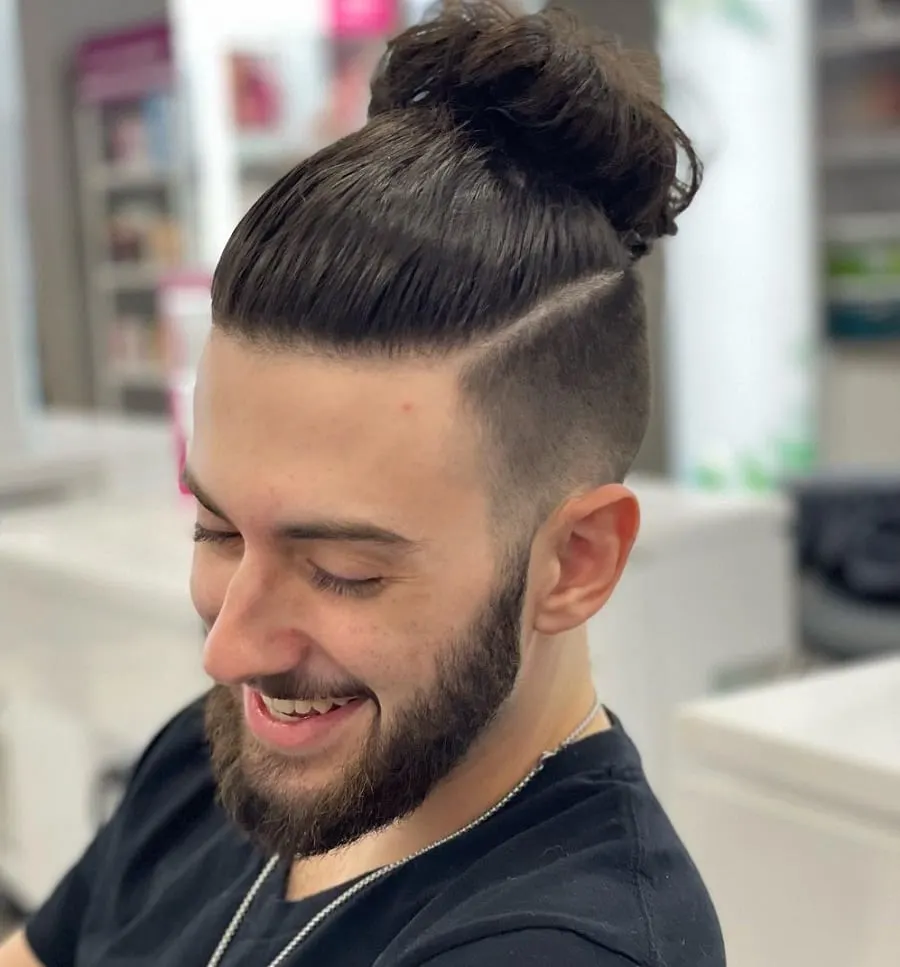 For a neat look despite long hair, you can shave the sides of your head and tie the long hair on the top and crown in a man bun. A mid-length beard will be a good addition as it allows your facial features to be clearly visible.
12. Skin Fade Business Haircut with Light Stubble
Here is a style that fits in the hard part haircuts with beard for businessmen category. This look brings your face in the open with minor skin fading on the sides and a slightly longer top combed to the side. The light stubble brings maturity to the look.
13. Taper Fade Faux Hawk with Modified Friendly Mutton Chops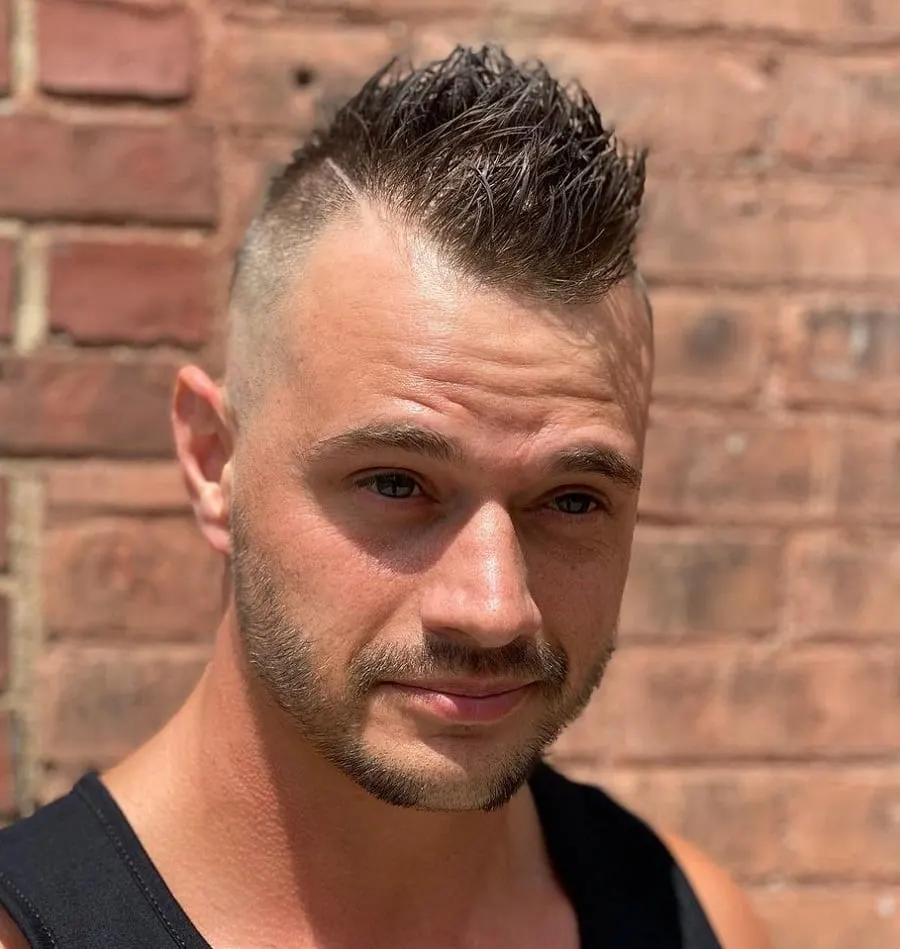 The faux hawk haircut has slight tapering on the sides, which then turns into skin fade. The beard is a modified version of the friendly mutton chops beard. The stubble doesn't make the mutton chops too overpowering, and it's hard to notice the small shaved part on the chin.
14. Spiky Fringe with Light Patchy Beard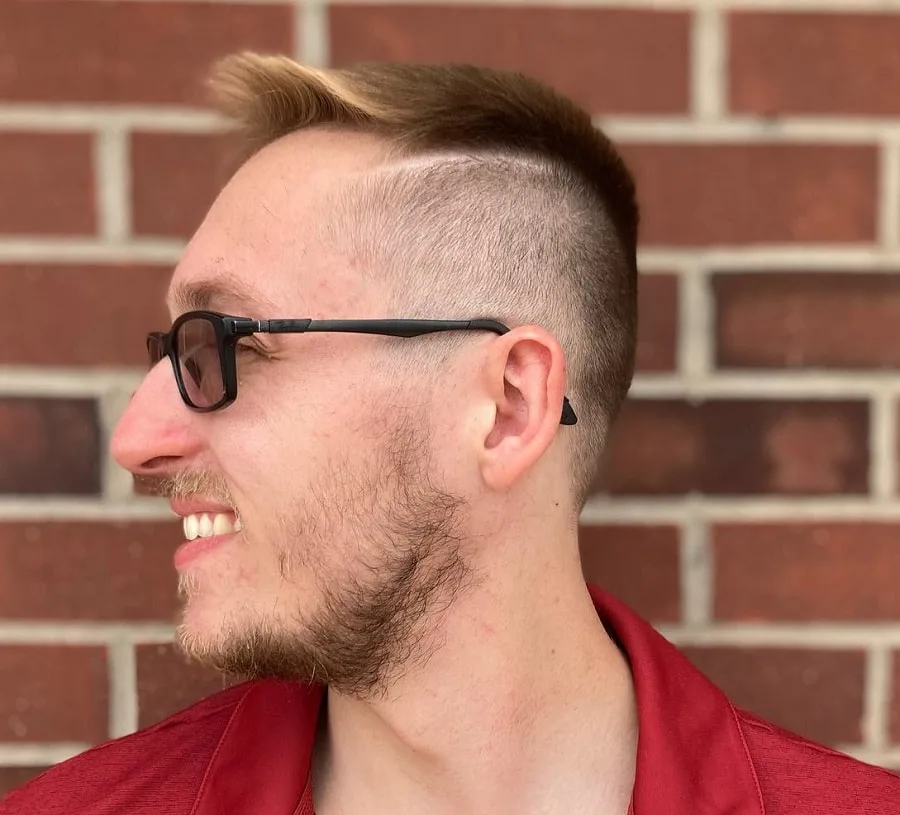 If the hair on the front were laying on the forehead, it would be a short fringe haircut, but the gentleman has gone for a spiky fringe. The beard is natural and stubbly with no cheek lines or neck lines. The patchiness of the beard makes it a good look for teenagers.
15. Slicked Comb Over and Razor Fade with Full Beard
It takes a brave man to go for this style. You have hair you can comb on one side of the hard part, but the other side is completely bald. It's one of the styles that begs for a full beard, especially if you are in your late 30s or 40s.
16. Tapered Side Part with Chinstrap and Mustache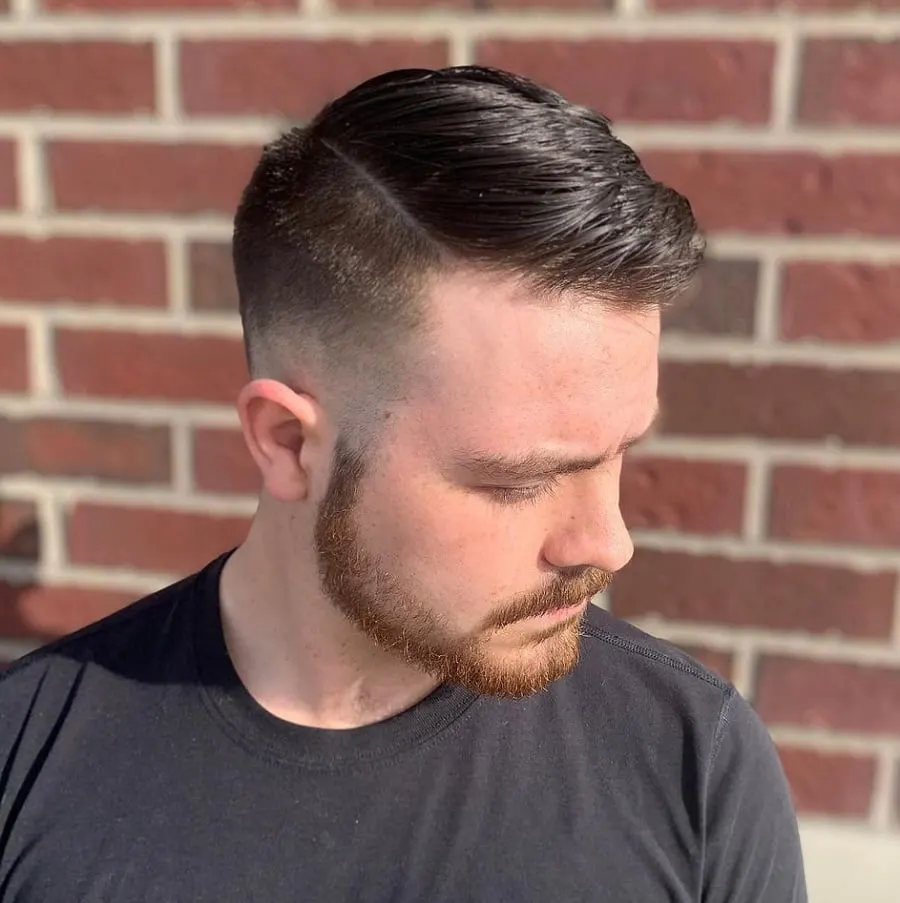 When going for hard part haircuts with beard looks, you can make your oddities count too. Here, you have a regular side parted hairstyle with mid-level tapering. The beard is the odd yet unique part here. It's a red chin strap paired with a mustache.
17. Blowout Hair and Shaved Sides with Full Beard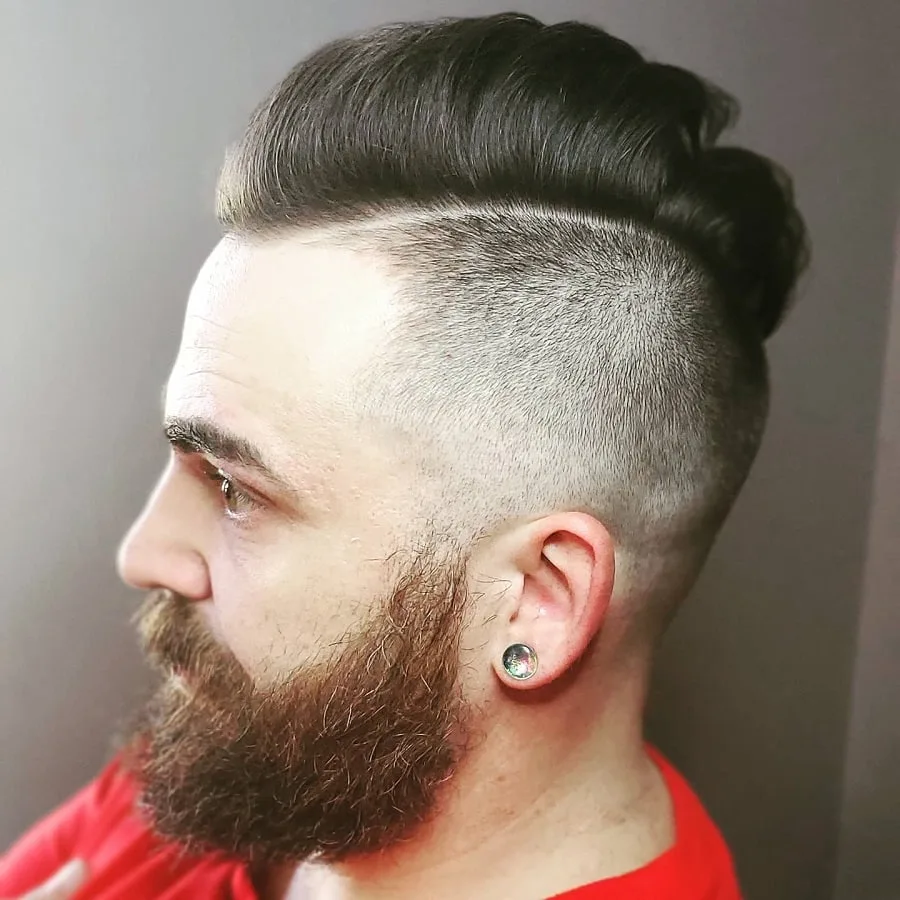 It's a trend that men have understood that they can shave the sides and back of their heads when they grow a full beard on the face. This way, they don't end up hiding their face behind hair. The long side of the hair is brushed to the side using a blower.
These are the best hard part haircuts with beard ideas you can try. Go for a style of your choice, knowing fully well that a hard part works just as much with short hair as it does with long hair.