"Popular Old Actors with Mustaches" — a unique exploration of seasoned stars over 50 who, in addition to their remarkable acting careers, are also recognized for their distinctive mustaches.
These iconic celebrities, who are now over 50, have established themselves as legends in the entertainment industry, captivating audiences with their captivating performances and signature facial hair.
One thing is noticeable that Hollywood celebrities are fond of facial hair. There are plenty of old and young actors with stylish mustache styles.
So, let's take a closer look at some of the most famous old actors aged over 50 and their current mustache styles, which have become an essential part of their iconic look.
The Timeless Appeal of Celebrity Mustaches
In the early 20th century, mustache styles like toothbrush, handlebar became popular among actors in silent films, who used them to convey character and emotion onscreen. In the '80s and '90s, the mustache saw a resurgence of popularity thanks to icons like Tom Selleck and Hulk Hogan.
Why have mustaches and beards become such a popular choice among Hollywood celebrities? One reason is that they exude a certain level of sophistication and confidence, making them the perfect accessory for any debonair gentleman.
Additionally, mustaches can help to balance out the proportions of a man's face, giving it a more symmetrical and aesthetically pleasing appearance.
Another factor in the continued popularity of mustaches is their versatility. Whether paired with a tailored suit or a leather jacket, or even a bald head a well-groomed mustache can elevate any outfit and add a touch of rugged charm.
Popular Celebrities with Mustaches
Here are our top picks of old celebrities with a mustache in 2023.
1. Sam Elliott (78-year-old) – Grey Walrus Mustache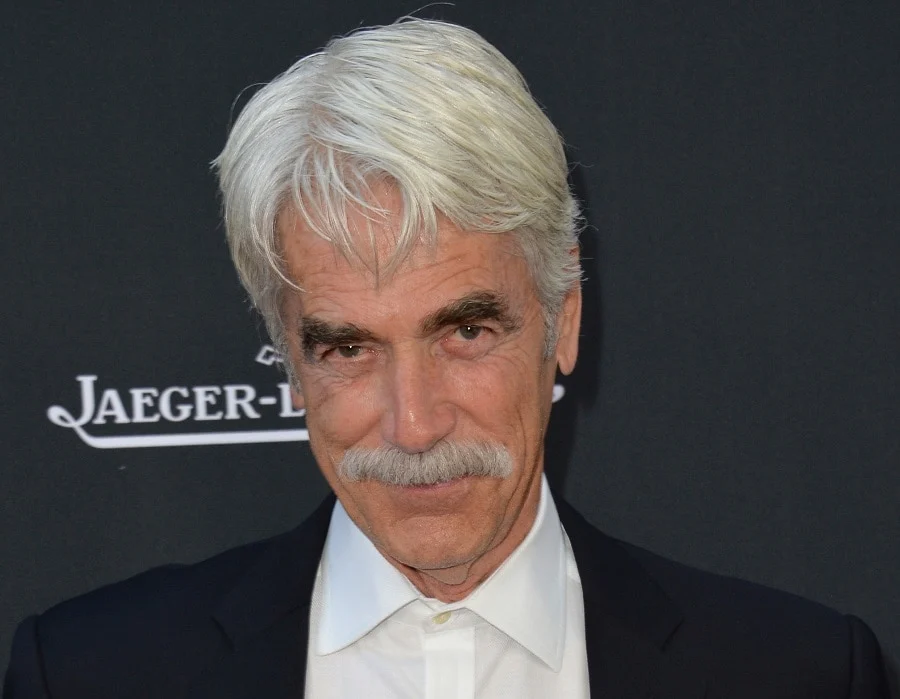 The 78 years old Hollywood legend Sam Elliott still manages to charm audiences in 2023 with a thick grey walrus mustache. The thick, bushy hair that droops over his upper lip seems to be telling the world that the Tombstone celebrity still has plenty of mustache growth left in him. It's almost as if he could grow a cowboy mustache like the one he sported in the movie if he wanted to.
2. John Waters (77-year-old) – Pencil Thin Mustache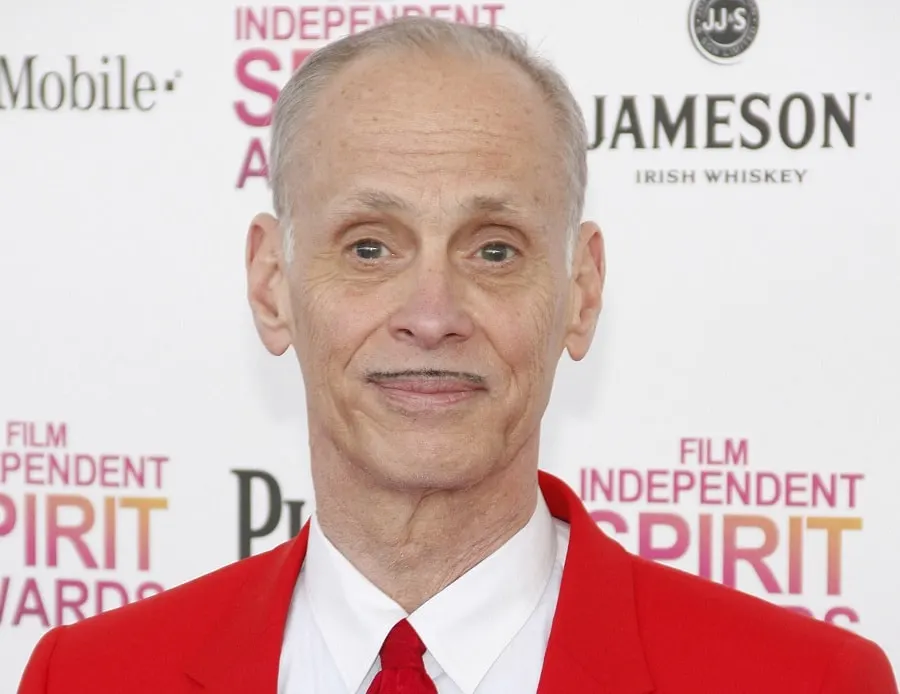 John Waters, born in 1946, has a pencil-thin mustache that matches his eccentric and avant-garde filmmaking style. This razor-thin strip of hair above his upper lip, as sharp as his wit, has become a part of his unique identity, as integral as his legendary films.
3. Eddie Murphy (62-year-old)- Parted Painter's Brush Mustache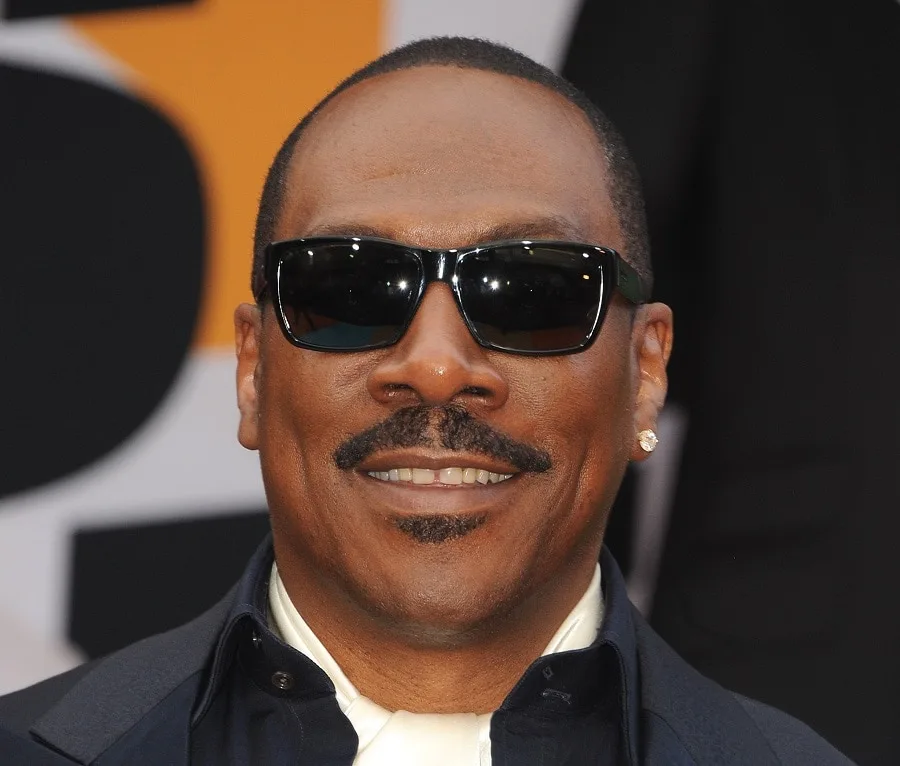 He is one of the most celebrated comedians in Hollywood. The actor's painter's brush mustache is parted in the middle and extends to the edges of the upper lip. The beard is kept clean and there is a soul patch under the lower lip.
4. Tom Selleck (78-year-old) – Chevron Mustache
Tom Selleck, the star of the hit television series Magnum, P.I. is almost as famous for his mustache as he is for his acting. Even his chevron mustache style is often known as the Selleck mustache. His impressive chevron mustache has a thick, full sweep of hair and a small triangular gap in the middle.
5. Danny Trejo (79-year-old) – Horseshoe Mustache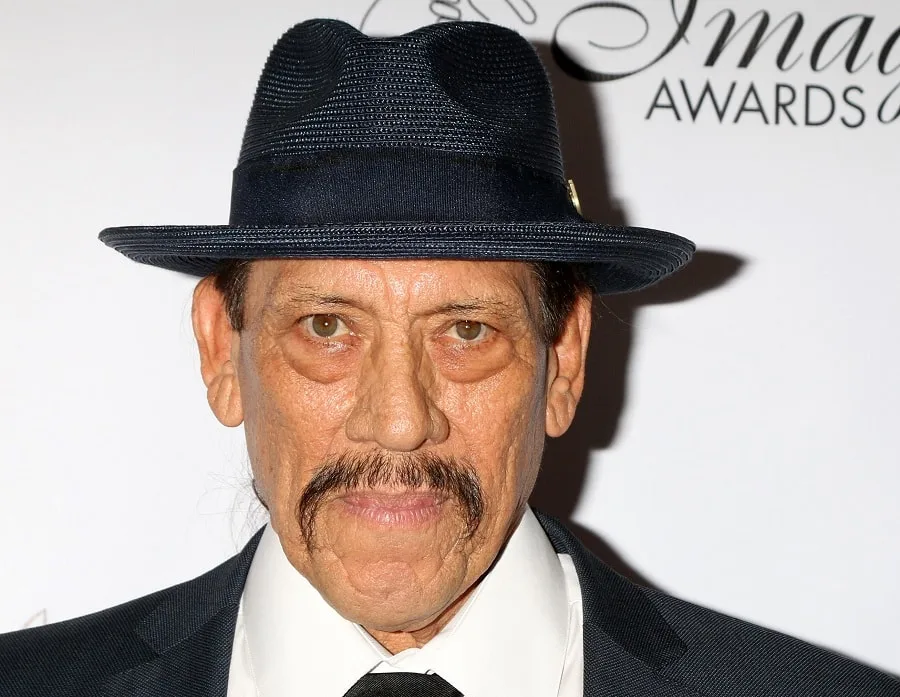 The captivating Danny Trejo, with his weathered countenance and tough-guy roles, dons a horseshoe mustache. His thinner horseshoe mustache extends from the corners of his lips down to his chin, resembling an inverted U-shape or a horseshoe. Though his thinner mustache hair indicates age affected his facial hair growth still it gives him an appearance as rugged as the characters he often portrays.
6. Johnny Depp (59-year-old)- Pyramid Mustache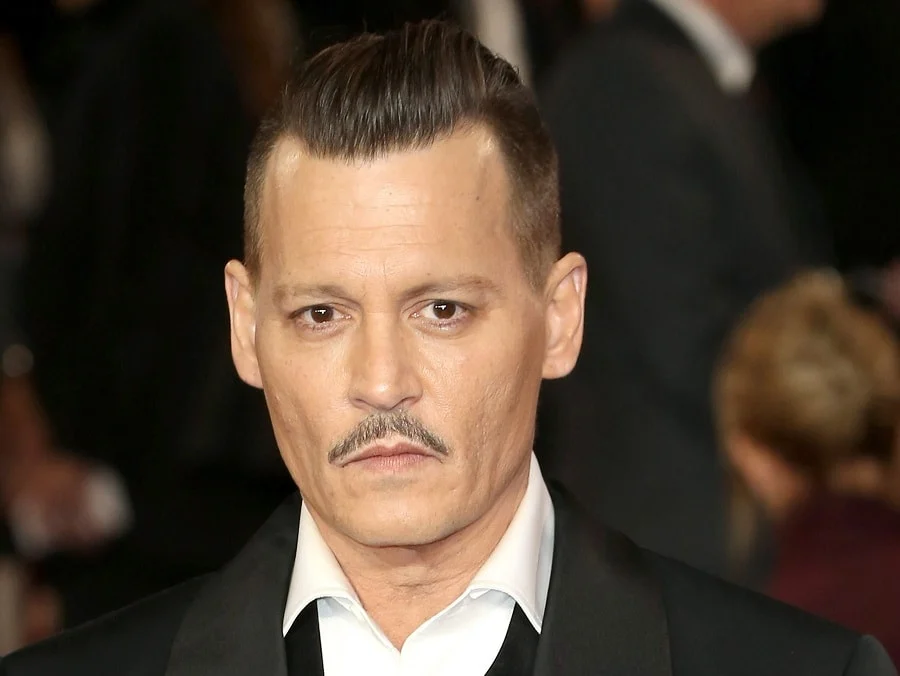 Not only did Captain Jack Sparrow successfully win his case against Amber Heard, but he also grew a pyramid-shaped mustache. The 59-year actor Johnny Depp mostly keeps his beard shaved but when he grows one he makes sure it's stylish enough.
7. Nick Offerman (53-year-old) – Lampshade Mustache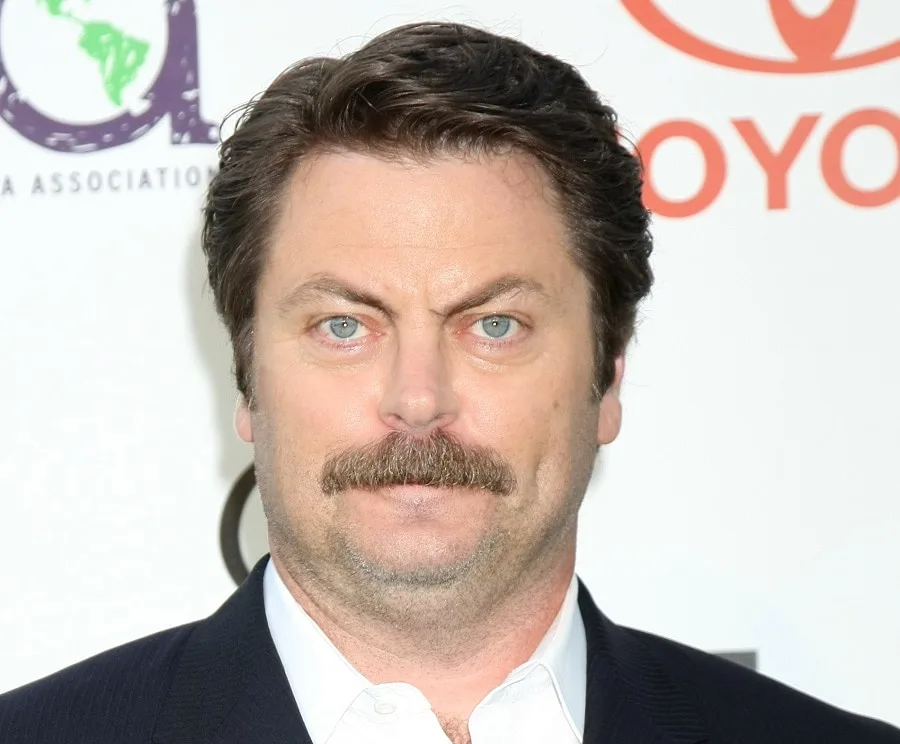 He is the youngest old actor with a mustache on this list. His famous character Ron Swanson is also famous for his distinctive lampshade mustache. This style resembles a lampshade and is similar to a chevron mustache style. It's a perfect match for his character's no-nonsense attitude.
8. Samuel L. Jackson (74-year-old) – Patchy Mustache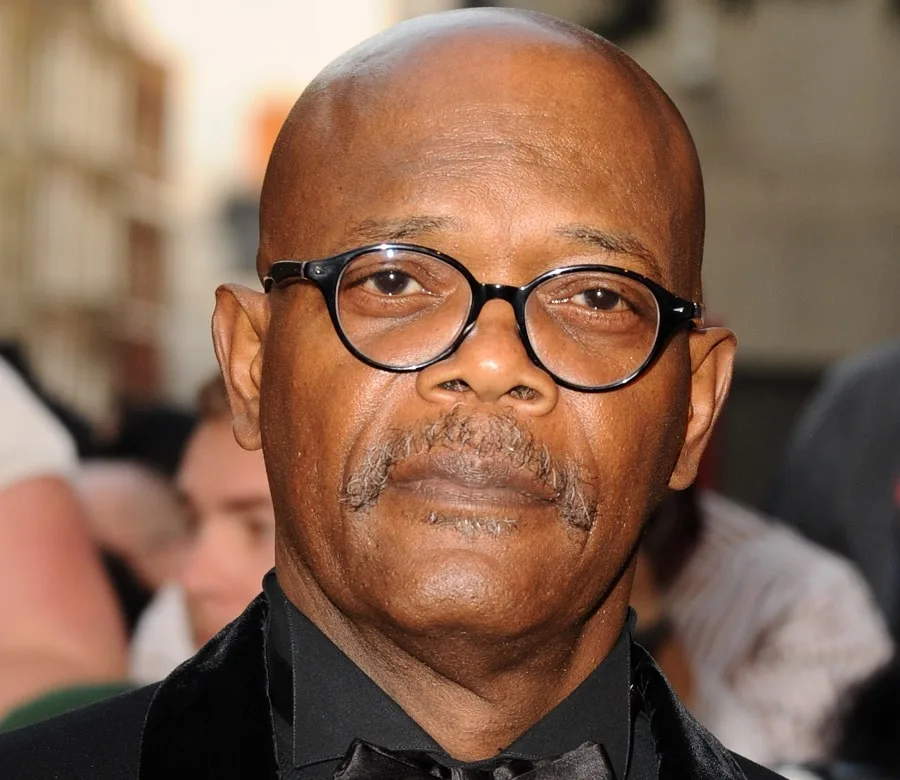 Samuel L. Jackson, one of the most prolific actors in Hollywood, often sports a patchy mustache. This style is less dense and less uniform than other mustaches, but the look suits Jackson with his round glasses. Despite its uneven appearance, it adds a certain cool factor to his look.
9. Tom Hanks (66-year-old) – Chevron Mustache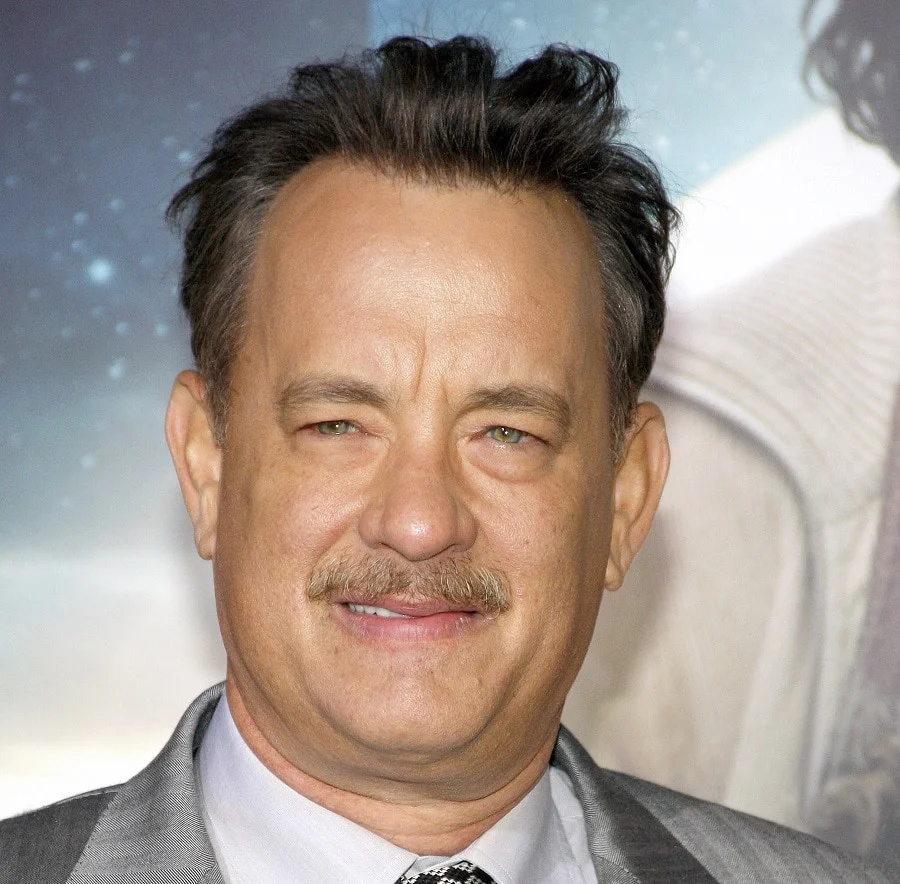 Tom Hank aka Forrest Gump has sported a chevron mustache. Much like Forrest's unpredictable and memorable journey, Hanks' mustache isn't perfectly even, adding an element of charm and character that is distinctly his own.
10. Bryan Cranston (67-year-old) – Zappa Mustache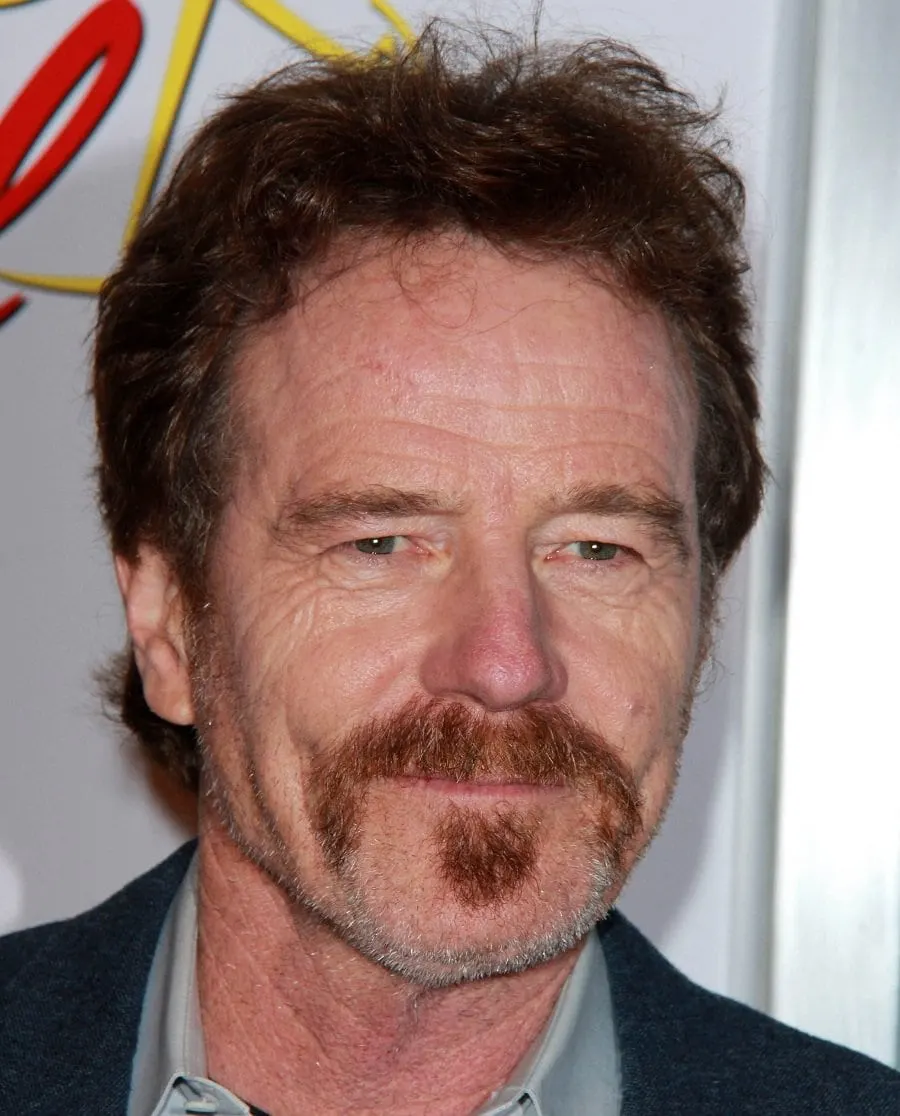 The 67-year-old actor has been seen sporting a Zappa mustache. The mustache style is named after musician Frank Zappa. It's a thick mustache that extends downward slightly past the corners of the mouth and is often accompanied by a soul patch just below the lower lip. It's a bold look that fits Cranston's knack for transformation in his roles.
These are our top 10 old actors/celebrities with a mustache who are over 50 and still rocking the mustache.
Recommended For You: