Hiding a weak jawline with a beard boils down to two things: the length of the beard and how you trim it. You may not be able to pull off the trendiest of styles, but more classic ones are well suited for this facial type.
There may be an odd trending beard that you can use, but the good news is that even if you must go classic, you will never look out of style.
Can a Beard Really Hide a Weak Jawline?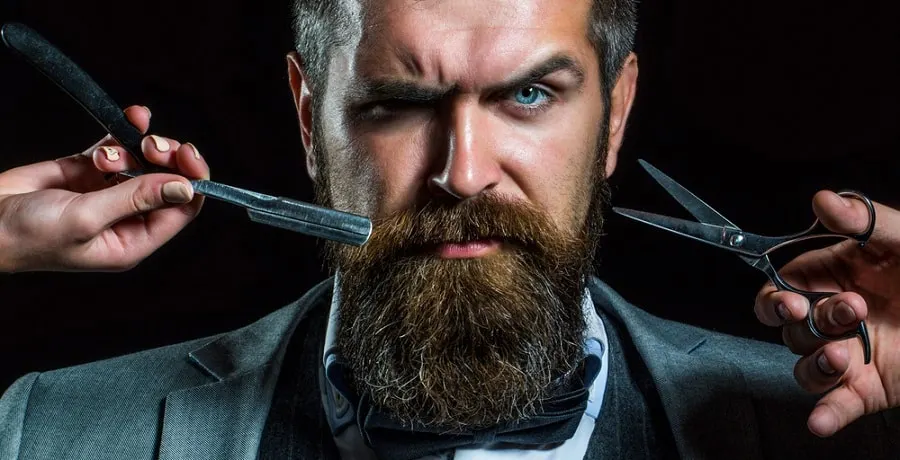 Visually, you want to highlight your best features and minimize the less desirable ones. For men with double chins or weak jawlines, their goal is to either create more definitions or hide them altogether.
Men must learn how to create a definition that isn't there, which is tricky to do without consulting a professional. However, some beards can conceal a double chin and provide more definition to the lower half of the face, creating the illusion you desire.
How to hide a weak jawline and double chin with a beard all boils down to the shape of the cut and the length of the beard.
Styles to Avoid
Some beard styles to avoid if you have a weak jawline and double chin:
Stubble Beard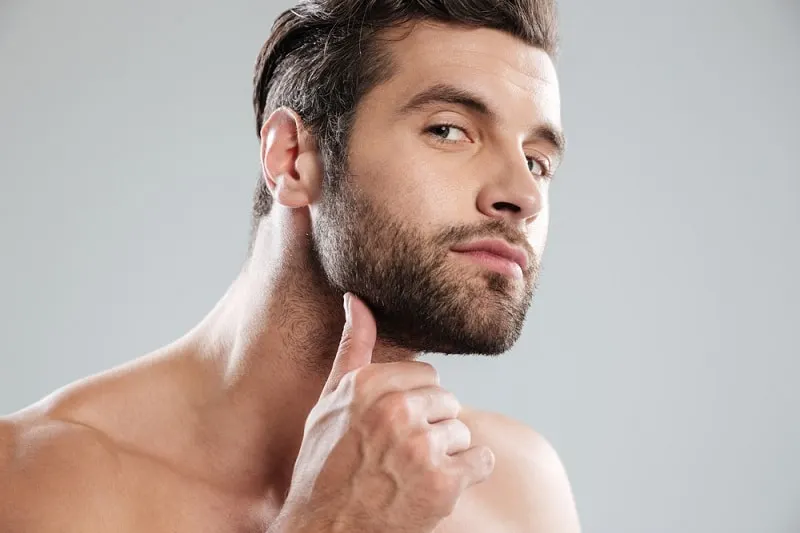 If you have a double chin or weak jawline, the popular stubble look is not your best friend. It may look great on your clean-cut friend's face with the manly chiseled features, but it will not have the desired effect for your facial type.
This type of beard does not create any definition of the face. It will accentuate all the wrong areas. Visually, you will notice the double chin and make your face look heavier than you want it to.
Beard Stache
Avoid the beardstache. This style has a very prominent and thick mustache accompanied by a stubbly beard. It is great for a strong jawline but not for a weak chin. The goal of this beard is to overpower the rest of the facial hair with its length and density.
This style masks a large upper lip and accentuates a square facial feature. It is not for those with round facial types, small upper lips, or weak jawlines.
Any beard style that is short or stubbly will draw attention to the jawline. If your jaw is not clearly defined, you may want to avoid these styles as they will accentuate it. Choose beards according to your facial type and find a flattering style that makes your face look fuller without generating a roundness.
Tips to Enhance Your Chin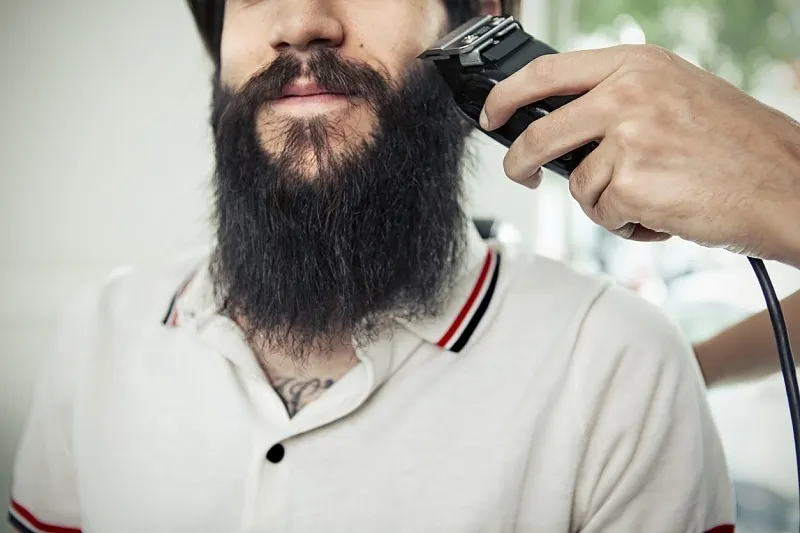 When concealing a receding chin, be mindful of the neckline. No matter what your facial shape, the neckline is the most difficult place to shape. If it is shaved too low to the skin, you look unkempt. Too high creates a goofy appearance.
When shaving, shave up to the top of the Adam's apple. Make a 45° angle from the Adam's apple to the sideburns. Don't leave the bottom of the chin bare as it will not cover up the chin.
If you are looking to create a definition, the best option is to grow a full beard to conceal it. However, you can sculpt the beard to generate the illusion of a strong jawline.
You can also do a goatee. The longer you grow it (should be no more than two inches in length), the more you will be able to add definition to the jaw area, thereby creating a powerful chin.
The tip to covering up double chins is all the beard length. Short beards keep the underlying skin visible, keeping an undefined jawline. By letting it grow, you can conceal the upper portion of the neck for a more slender appearance.
Best Beard Styles for Weak Jawlines or Double Chins
The best beard style to decrease these areas is fuller, longer beards to balance the chin or jawline. Double chins need to be concealed, and you can create the illusion of a strong jawline with creative clipping. The styles listed below will create an illusion of a strong jawline and accentuate the face.
The Full Classic Beard
This style is the most popular type of beard. Full facial hair has untamed growth on the chin and is longer. It fully conceals the neck, therefore hiding the double chin.
The bushy mustache is usually trimmed just from the top of the lip, making the top of the face appear to be slender while concealing a double chin. The face tends to look longer as a result.
This beard is not the easiest to maintain. To retain the shape, trim the sides shorter than the length. If you don't, the beard will appear bushy and unruly. It will have too much bulk at the neck and will make your face appear rounder.
This style is not for men with patchy or thin beards. It needs to grow thick to conceal the jawline.
Also, there is a lot of maintenance required for this type of beard. The skin's natural sebum isn't enough to keep the beard fully moisturized. Beard oil may help in this arena, as will a boar bristle mustache brush. This type of brush redistributed the natural oils to the tip of the mustache, leaving it lubricated and stimulating hair growth.
If you don't want to invest in a boar bristle brush for mustaches, you need a beard brush or comb to keep the beard from looking gnarly. It is possible to wake up with a bed beard because the coarse hair has become longer. Using beard balm will help as well as sea salt spray as part of your regular morning routine.
The Balbo
If you want a beard that is lower maintenance, consider this one. This beard gets its name from one of Mussolini's fascist squads called Italo Balbo. But don't let the name deter you from the style as it certainly is an interesting one.
This style works for men with a slight double chin or to conceal weaker cheek growth while still looking stylish. It provides a slimming appearance to the face with its strong mustache and goatee beard. You can turn up the mustache at the ends by using wax for added sophistication or shape with an upward turn.
The Balbo beard is a mustache that doesn't connect to the beard. They are separate. There is some growth on the chin. For a weak chin, you may want a longer growth as opposed to a mid-face one.
There is a soul patch just below the lower lip with completely clean-shaven cheeks.
This beard generally suits all facial types, but those with a diamond face suit this style the best as it adds depth to the chin area, thereby creating a more balanced look.
The Lumberjack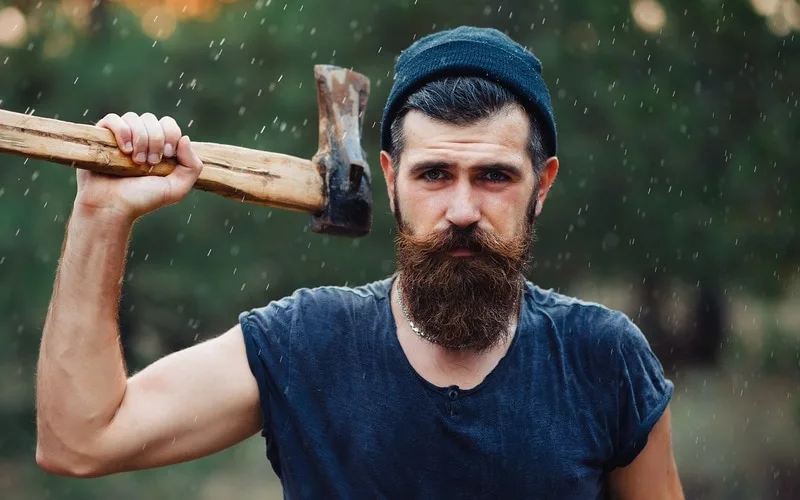 This type of beard is easy to define. it is the most associated beard with lumberjacks. It is thick, extremely bushy, and wide at the bottom of the beard. It tends to be slightly unkept and is chosen by men who don't want to fuss about their beards.
This look will conceal a weak chin. However, if you have extra weight around your face, it may make you look heavier. It will conceal a weak jawline as well.
It's not the most recommended, but if you want to forgot the regular maintenance of a beard, then this one is a possibility.
The Harden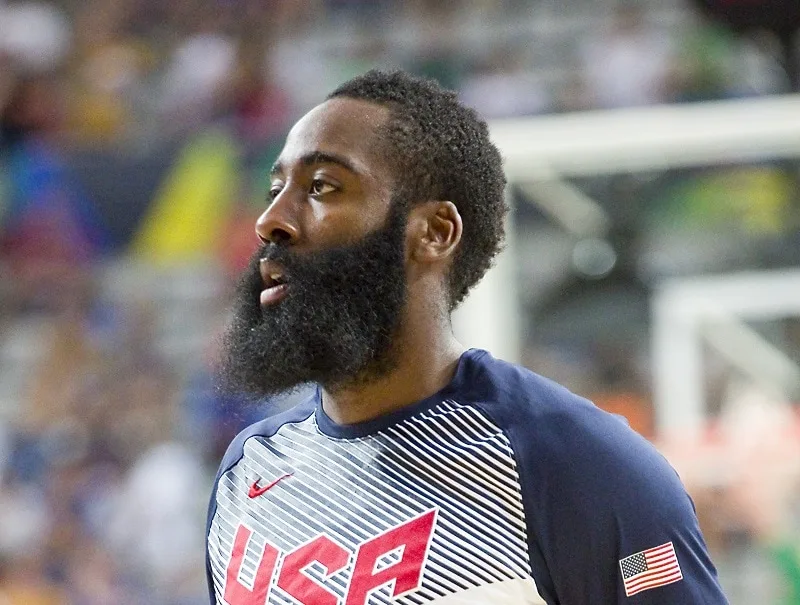 Named after James Harden, this is a very popular ducktail type of beard which begins shorter at the mid-face and grows outward mid-neck.
This look is not for everyone, and you have to have a certain coarse beard hair to pull it off. It usually works well for people who are Middle Eastern or African American. This is because you need a curly thick beard to pull it off. Most Asian or Caucasian men don't have that type of facial growth.
To achieve it, it is a long full beard with trimmed sides with even length. It has a boxy sharp bottom to it with a clean round edge to the upper cheeks. Most men choose to go to a barbershop to do this look as it is so complex.
Conclusion
From deeply tailored beards to letting them grow, numerous beard styles are suitable for a weak chin. When looking for one, consider how much maintenance you want to do, and be sure you have the right accessories to maintain the look.
Some beards require a great deal of maintenance. For some people, this simply is not practical for their lifestyle. If this is the case, you will want something that is lower maintenance to no maintenance. Both are entirely possible.
Choose something that you will like and that you can maintain. Beards that are longer and more defined will hide a weak jawline perfectly.