Man's obsession with mustaches is almost as old as mankind. For centuries, the mustaches have continued to be the ultimate representation of machismo. Therefore, it is not surprising that there are some famous mustaches that have literally changed the course of history.
In fact, some of these famous men with mustaches are as popular for their work as for the mustache style. Some of the mustache styles are famous for their movie characters. Think about that signature toothbrush style sported by Charlie Chaplin. That style and his personality almost became synonymous. But Chaplin is not alone.
Famous Mustaches
Here is a quick lowdown on some of the most famous men with mustaches who made it to the pages of history for their sense of style. It will help you decide on the style that best suits your personality and is also in sync with the latest trend.
1. Brad Pitt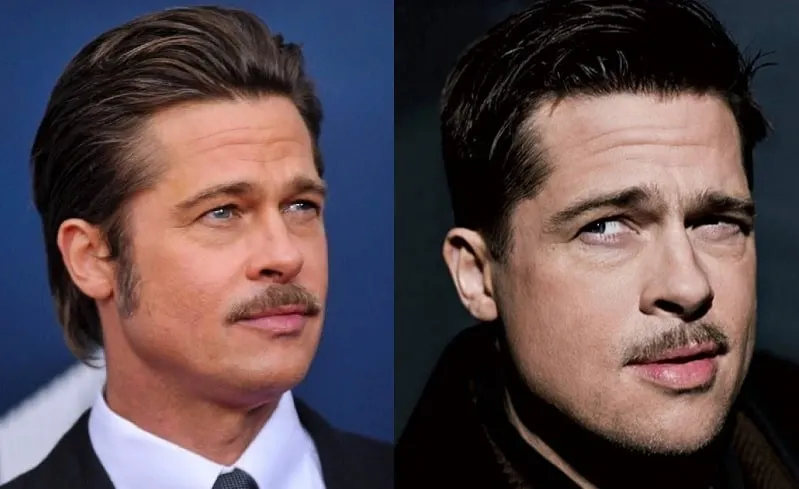 If someone can make the rather unassuming chevron mustache hot property, it's got to be Brad Pitt. This handsome Hollywood actor, known for his good looks has experimented with many styles and no doubt, this will go down as one of the most famous mustaches popularized by him.
2. Ambrose Burnside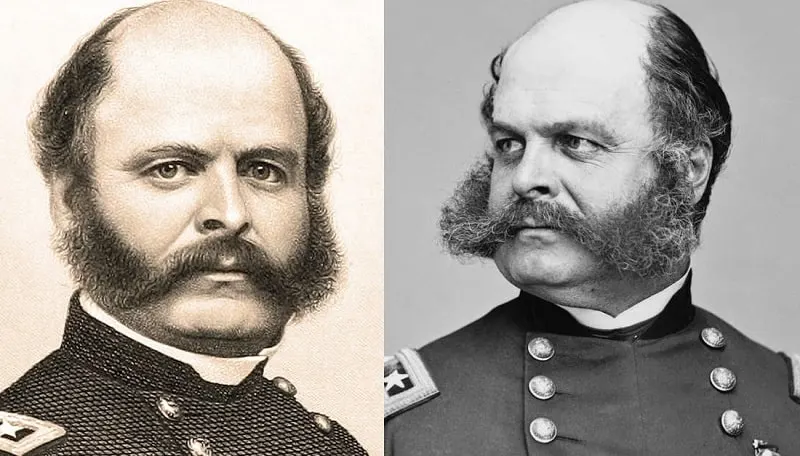 When you think of famous mustaches, there are a few of Burnside's mettle. This American General will perhaps best go down the pages of history as someone who lent his name to a mustache style.
These mutton chop sideburns come from his name, albeit a corrupted version. But if you are a fan of this rather imposing mustache style, who to thank.
3. Albert Einstein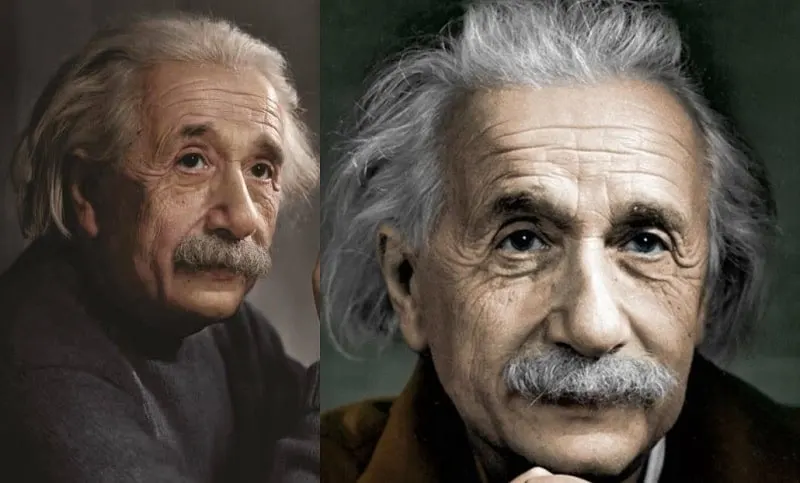 One of the world's best-known Physicists, a Nobel laureate, the world respects Albert Einstein and the thick mustache that he portrays. Coupled with his white flowing hair, this mustache style came to be considered a sign of eccentric genius.
The concept and the perception gained so much ground that many movies have depicted the characters playing scientists and eccentric genius in this kind of mustache to establish the fact.
4. Joseph Stalin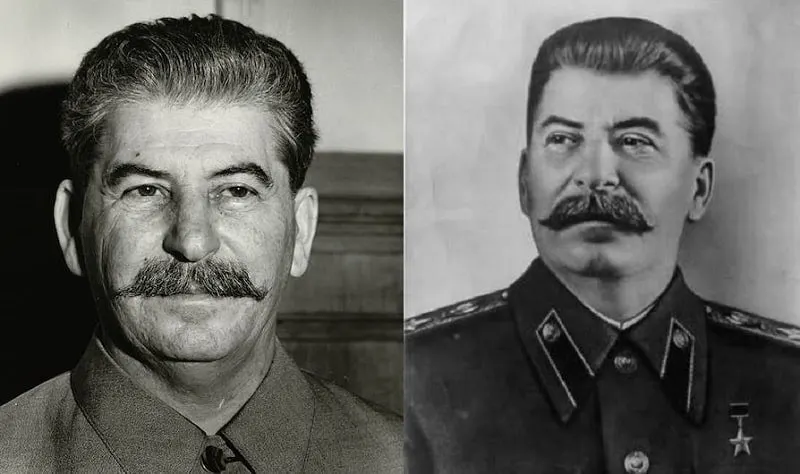 One of the world's most famous dictators, Stalin's mustache is as imposing as his personality. It is in many ways, just the most authentic representation of his personality. His bushy stache lent an air of intrigue and intensity to his face.
5. Mahatma Gandhi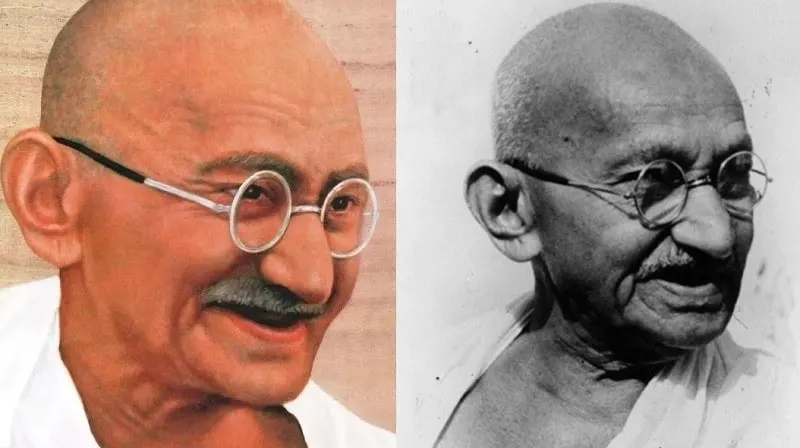 Mahatma Gandhi, also known as the father of the nation; his bushy mustache added layers of wisdom and confidence to his personality.
Whether as the young lawyer protesting against Apartheid in South Africa or the dhoti-clad master of non-violent protests in India, his mustache style charmed you all through.
6. Mark Twain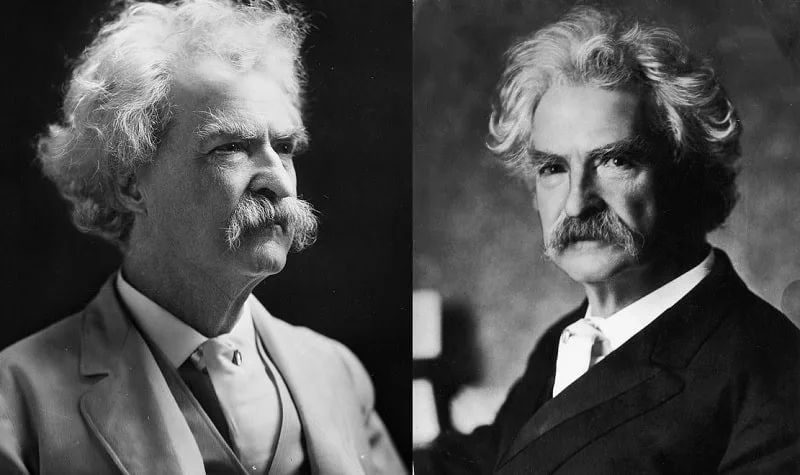 Twain is one of the world's best-known satirist and writer. His big walrus mustache is so famous that we think it might be wittier than thou. It is striking and lends a unique astuteness to his personality. The salt-pepper tinge also enhances the effect.
7. Salvador Dali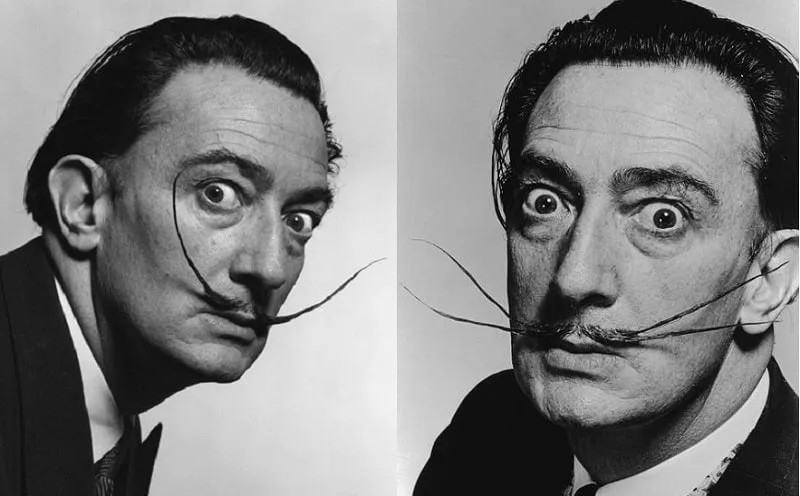 Dali is undeniably one of the most famous people with the mustache. His mustache style was absolutely attention-grabbing and in fact, this started off a new style called the Dali mustache.
8. Frank Zappa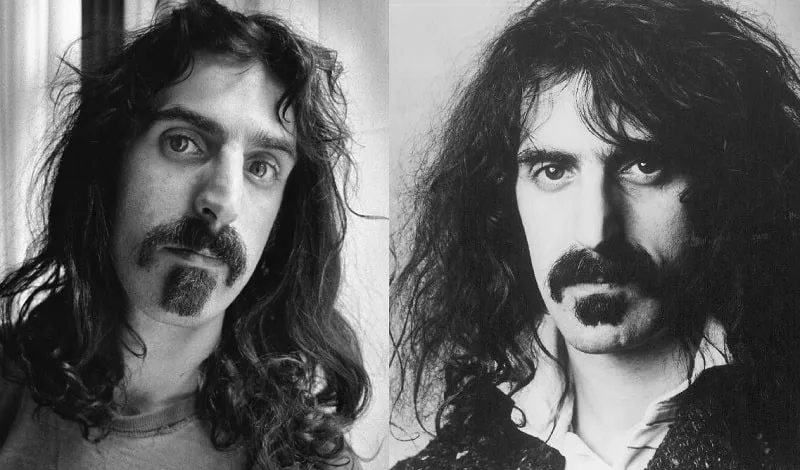 The list of the famous mustache is never complete without the inclusion of Frank Zappa. His Chevron mustache with a small soul patch actually introduced this style.
Coupled with his long flowing jet black hair, his famous mustache was almost as influential as the music he created. It started off a brand new trend and the fact that we invariably associate someone with these elements and music involuntarily may be mostly due to him.
9. Geraldo Rivera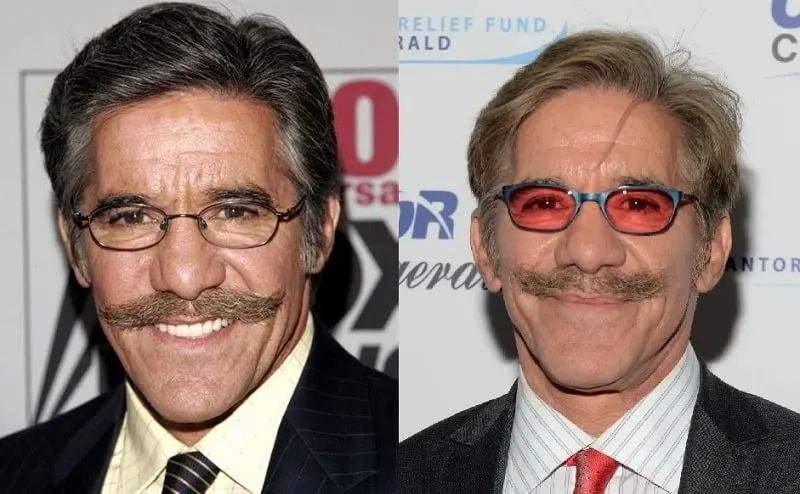 Think of some of the most famous men with mustaches and Rivera's name will make it to the list almost effortlessly. A famous TV journalist, he earned respect for many things that also include is a bushy blonde mustache.
Twirling upwards, it is almost an urbane take on the comparatively bushy handlebar mustache style. The ends often give you the impression of a nascent handlebar taking shape.
10. Hulk Hogan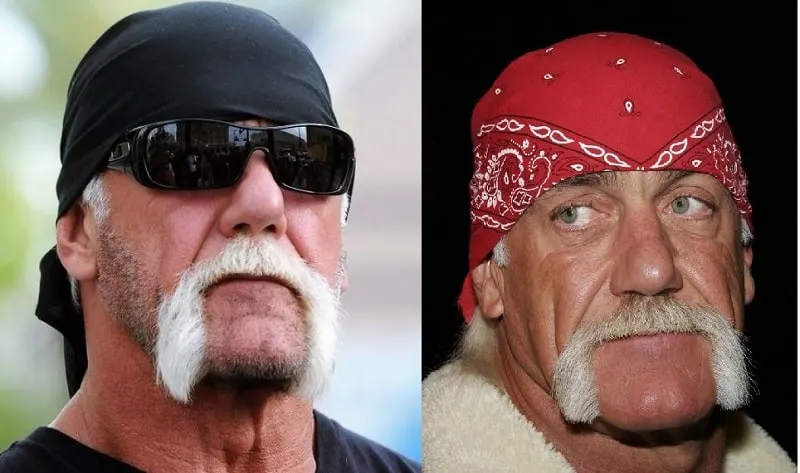 Hulk Hogan is as synonymous with the horseshoe mustache style as perhaps Chaplin is with the toothbrush variant. Truly, one of the most popular mustaches, this style created a unique personality for him.
In fact, this mustache played a crucial role in creating the personality that he portrays. Rugged, macho and an outright achiever, the mustache and Hogan are almost inseparable.
11. John Travolta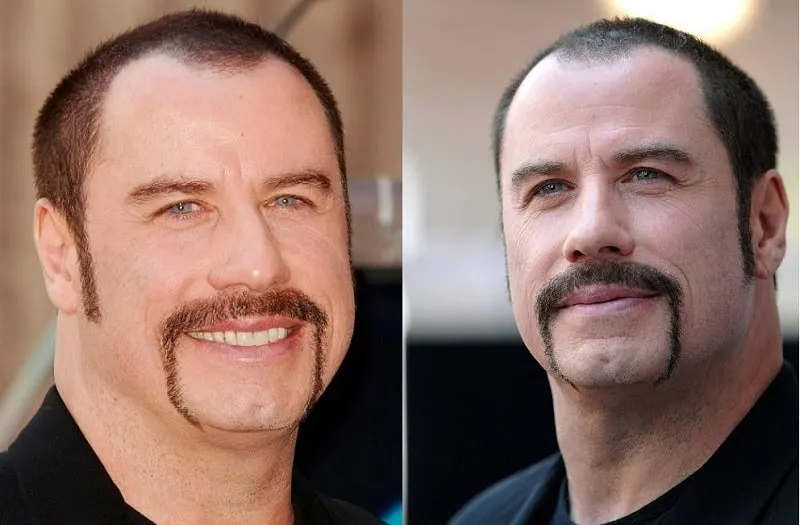 John Travolta's famous and masterpiece mustache has always been a point of discussion. Another imposing variant of the Horseshoe with a slight hint of Fu Manchu mustache, in terms of dimension, this mustache adds a confident air to his personality.
The rough rugged yet sensitive image comes through brilliantly with this mustache style.
12. John Waters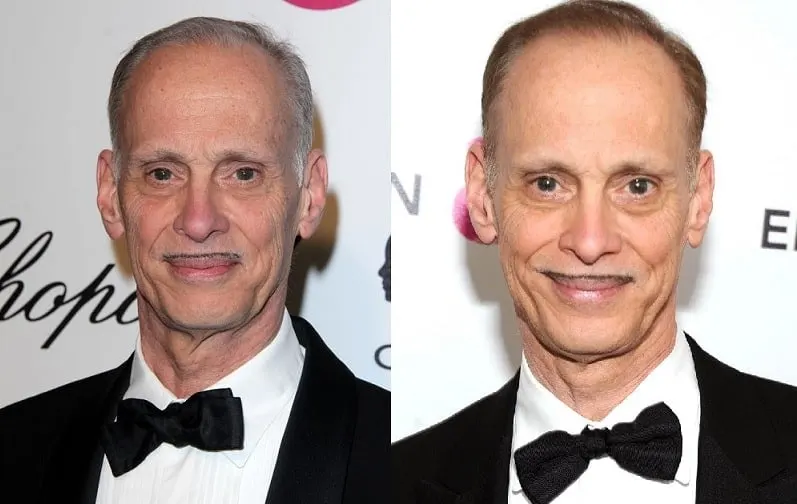 A line is thinner than a pencil sketch can also make a mark. Well, John Water's famous pencil-thin mustache reiterated this simple fact like no one.
It perfectly complements his light smile and the glint in his eyes. In many ways, it was also a testimony of the wisdom and confidence that overflows from those eyes.
13. Adolf Hitler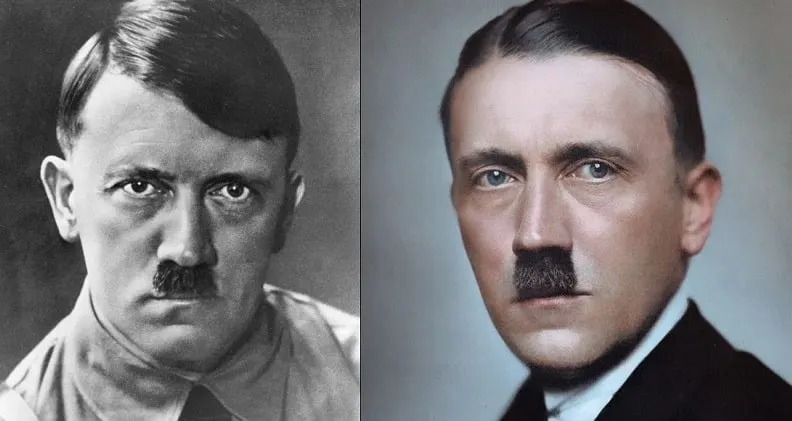 Charlie Chaplin is not the only ambassador of this toothbrush mustache. This popular mustache style speaks as much about Adolf Hitler as about him.
While Chaplin can be credited with creating a humorous element in this style, Hitler brought in a rather serious fervor in this mustache style.
14. Clark Gable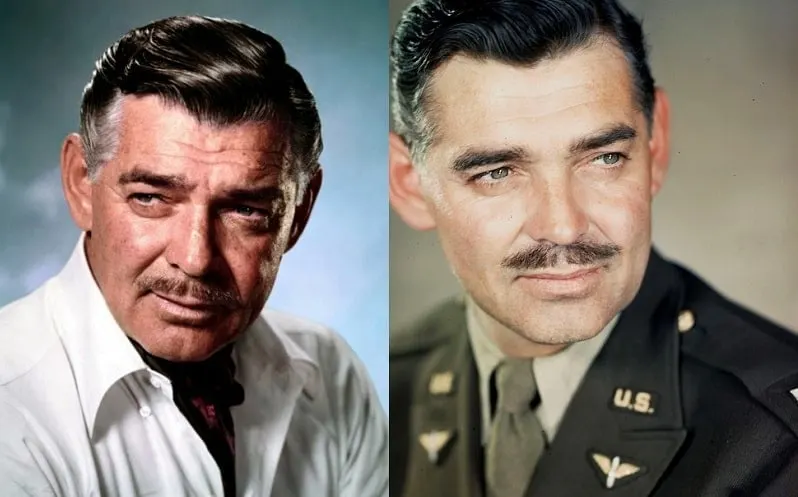 Clark Gable, one of those iconic Hollywood heartthrobs, whom fans followed blindly. He worked with several variants of the trademark French mustache that completely highlighted his drop-dead gorgeous demeanor. It also screamed the subtle classy element about him.
15. Tom Selleck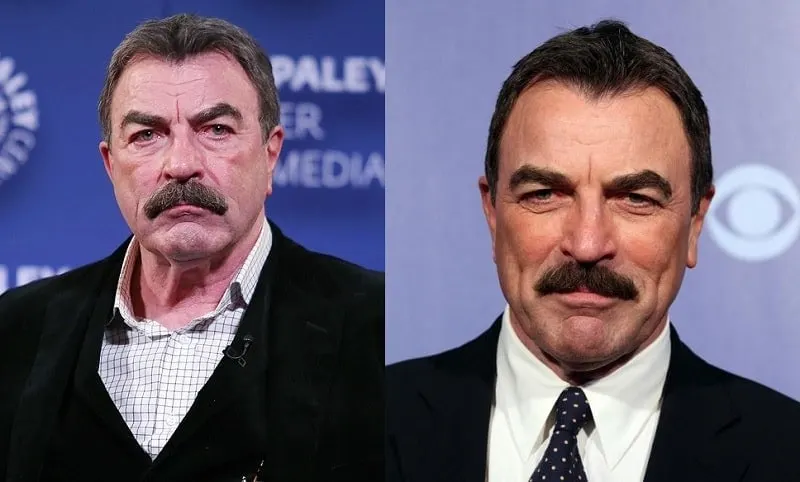 You cannot miss Tom Selleck in any list of famous actors with mustache. The Painter's brush mustache style got a new lease of life with Selleck. It accentuated his good looks, towering personality, and self-confidence.
16. Danny Trejo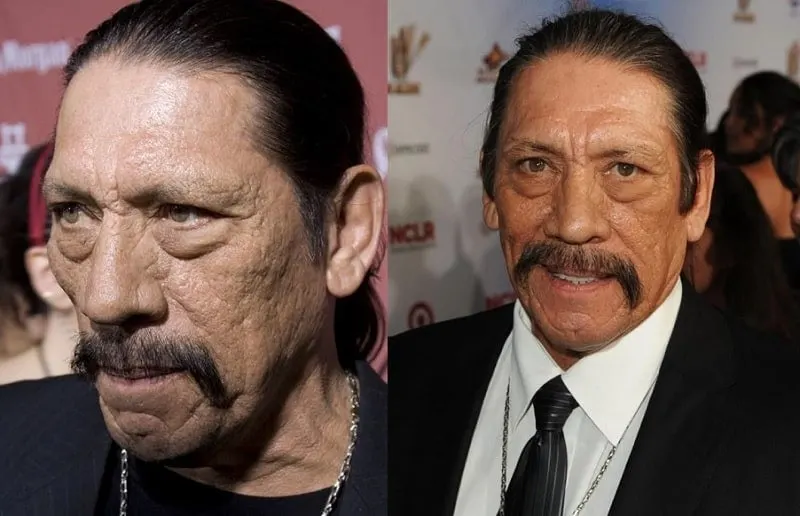 Danny Trejo is not just one of Hollywood's best-known anti-heroes, he is also well known for his mustache style.
A cross between a Fu Manchu and Horseshoe accentuates his tough-guy image and adds a dash of zing to his character. He is popularly known as 'tougher than leather' and that fact gets even more accentuated.
17. Dr. Phil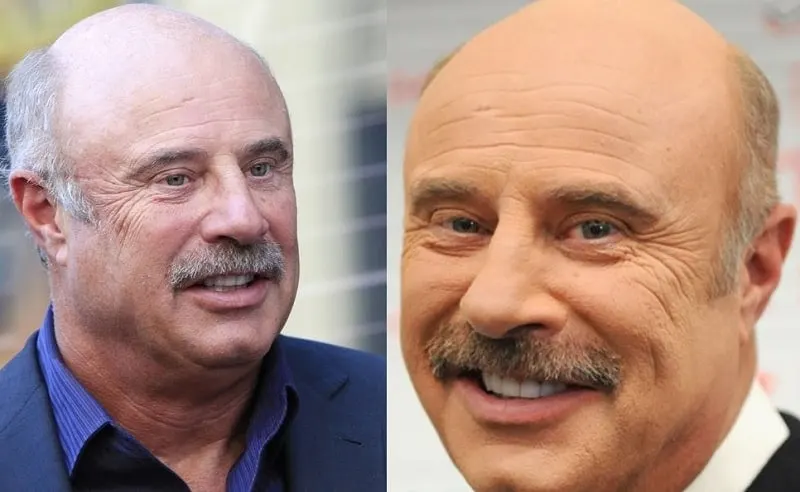 Dr. Phil is not just one of the champions of the American Talk Show. His painter brush mustache along with the semi-bald head and the salt-pepper styling sets him apart as a style icon too.
His stache is undeniably one of the coolest in history and continues to win admirers. The simplicity and the strikingly natural fall of the mustache style make it all the more endearing.
18. Eddie Murphy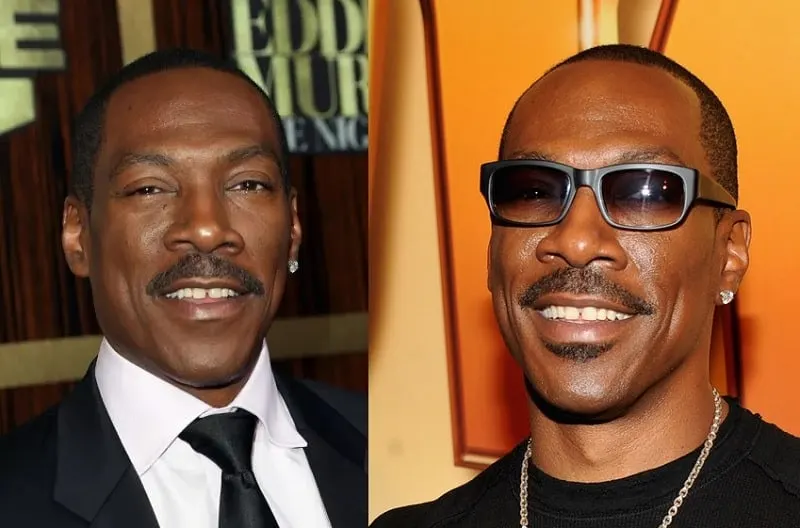 This American Comedian, Saturday Night veteran and film producer is famous for his sense of humor. Incidentally, he is also one of the most famous black men with mustaches. The chevron mustache with an occasional soul patch and the diamond stud is now as popular as his persona.
In many ways, it highlights the casual machismo of his personality and those aspiring for this understated classy look follow suit.
19. Sam Elliot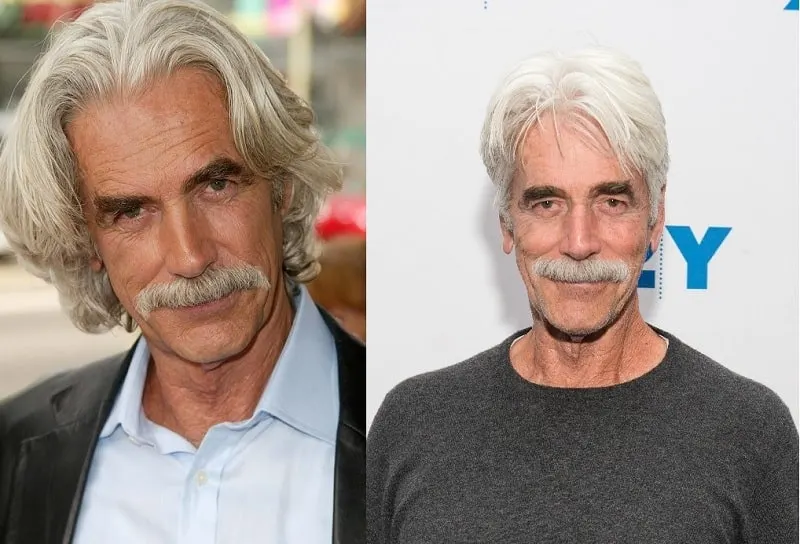 If you are curious about what drives men towards mustaches, you must take a look at Elliot's stache. With classics like Gettysburg and tombstone under his name, his mustache speaks sheer confidence and style.
20. Stan Lee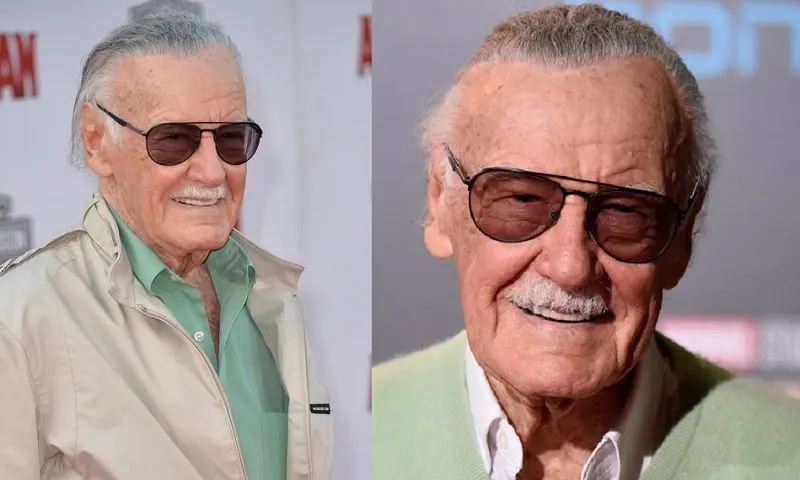 This American Comic book writer and publisher rose through the ranks of a family business and his mustache seems to portray the solid grounding of his character more than anything.
Robust, natural and business-like, this is one of those pairs of mustaches that offers a sneak-peek into someone's character.
21. Steve Harvey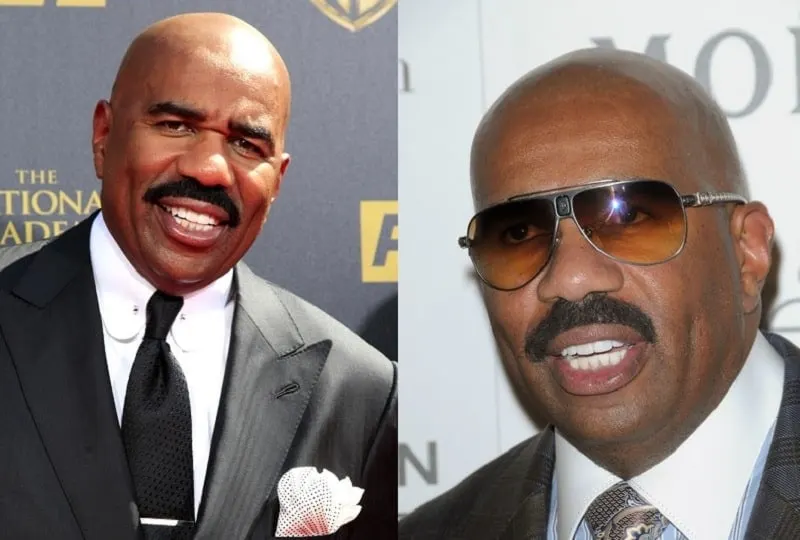 Steve Harvey's mustache is just like him. Direct with no frills, this is another example of how amazing the unassuming Mexican mustache can make you look, provided you style it well.
Well-trimmed and properly maintained, it brings in an air of understated glamour and absolute confidence.
22. Ted Turner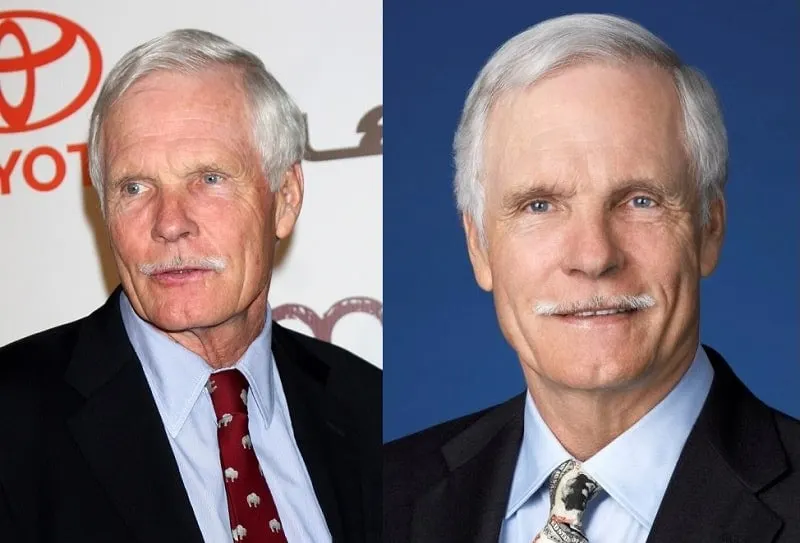 If there is one famous personality who has made silver facial hair hot property, it sure is Ted Turner.
The thin silver line of pencil mustache with his bright silver hair undeniably makes it one of the most famous mustaches in the world today. This style also lends his persona a unique charisma and confidence.
23. Theodore Roosevelt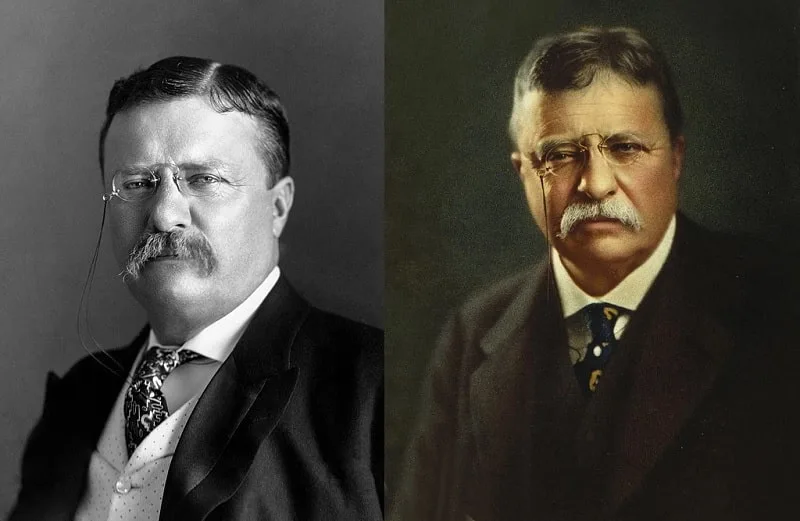 One of the last US Presidents to sport an imposing mustache, Roosevelt's stache effortlessly pulls him in the list of famous people with mustaches.
An extension of the Walrus style, the silver mustache contrasted brilliantly with the dark hair. In many ways, it was a statement of sorts too, bushy and business-like.
24. Burt Reynolds: A Rugged Charm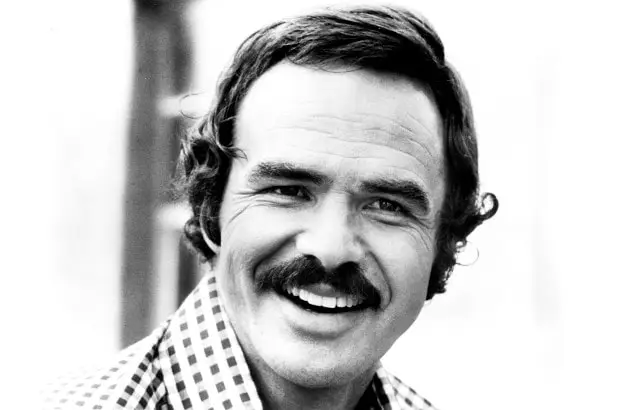 Burt Reynolds, with his magnetic charisma and unparalleled acting skills, brought his own flair to the screen. His iconic walrus mustache was a distinctive aspect of his persona, bestowing a sense of rugged charm that set him apart from his contemporaries.
25. Charlie Chaplin: The Silent Film Genius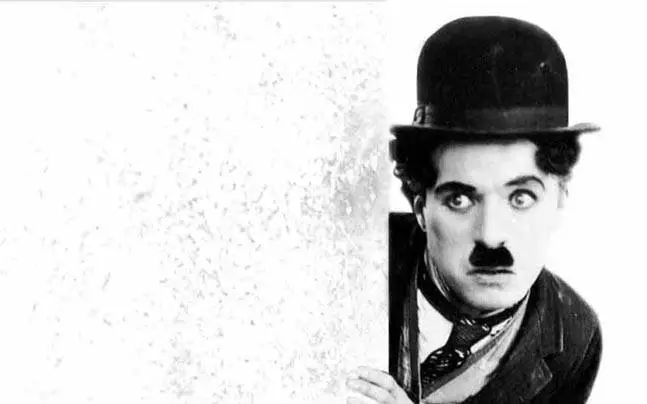 The brilliant actor, filmmaker, and composer, is widely regarded as one of the most famous comedians in the history of the film industry. Chaplin's iconic toothbrush mustache emphasized his expressive face and helped solidify his status as a master of silent film.
26. Ned Flanders: The Neighborly Cartoon Character
The cartoon character from The Simpsons is known for his kind nature and a distinctive brown mustache. This neatly-trimmed facial hair complements his friendly and upright character on the show.
27. Freddie Mercury: The Queen of Rock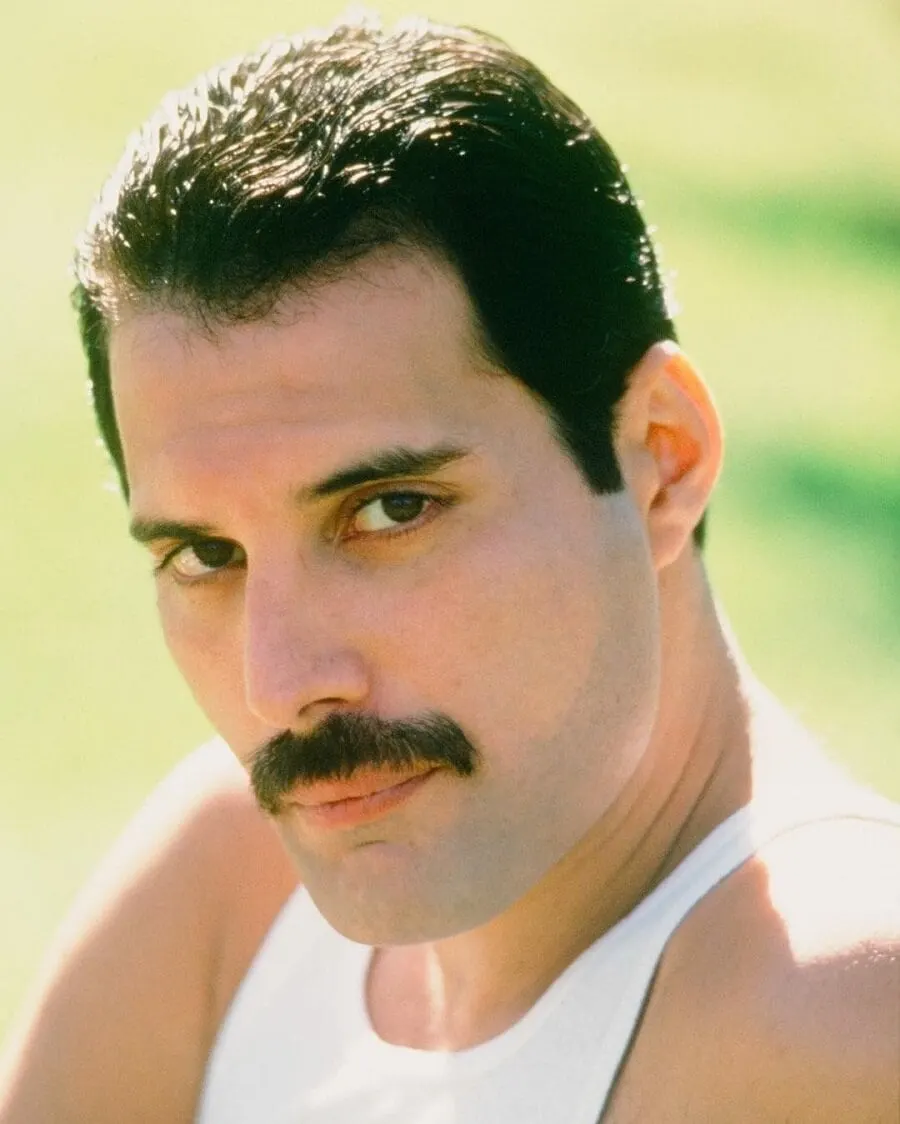 Freddie Mercury, the iconic lead singer of the rock band Queen, captivated audiences with his powerful voice and flamboyant stage presence. His unmistakable chevron mustache became synonymous with his image.
28. Lanny McDonald: Hockey's Mustachioed Icon
A former professional ice hockey player, is remembered for his outstanding achievements on the ice and his impressive walrus-style mustache. McDonald's facial hair not only set him apart from his peers but also became an enduring symbol of his tenacity and passion for the sport.
29. Errol Flynn: The Swashbuckling Adventurer
Errol Flynn, a classic Hollywood actor, was famous for his roles as swashbuckling heroes in adventure films. His pencil-thin mustache made him an enduring symbol of charm and chivalry.
30. Nick Offerman: The Renaissance Man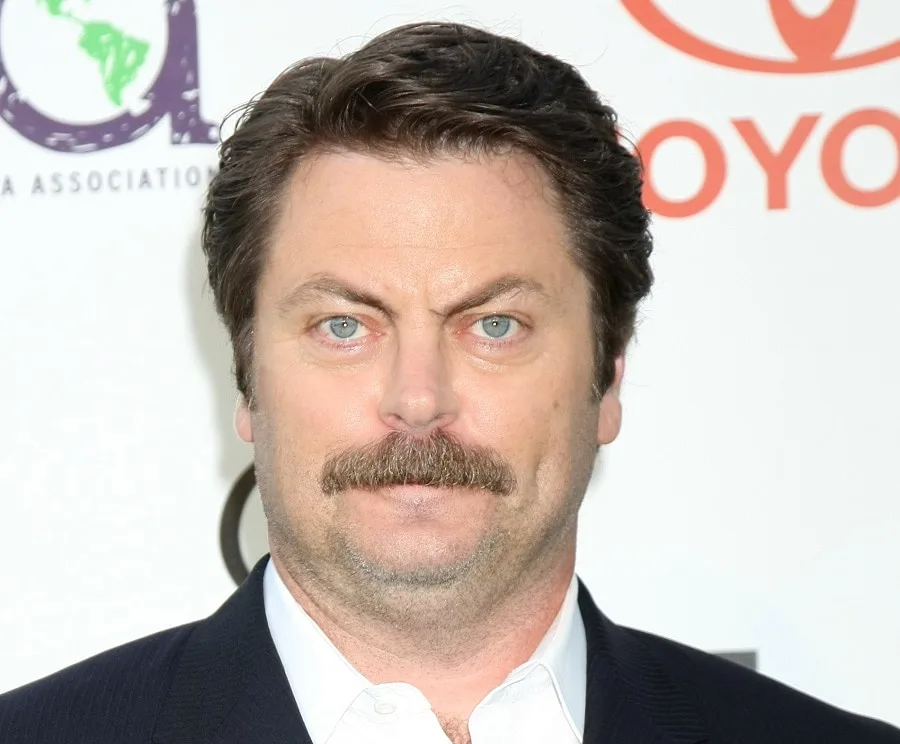 Nick Offerman, a famous actor, writer, and woodworker, rose to fame for his role as Ron Swanson on the television show Parks and Recreation. His thick lampshade mustache is famous to his fan.
31. Leon Trotsky: The Revolutionary Thinker
A key figure in the Russian Revolution, was known for his intellect and commitment to the cause of socialism. His distinctive mustache, combined with his glasses and sharp features, made him easily recognizable and contributed to his image as a formidable political leader.
32. Rollie Fingers: Baseball's Mustache Maven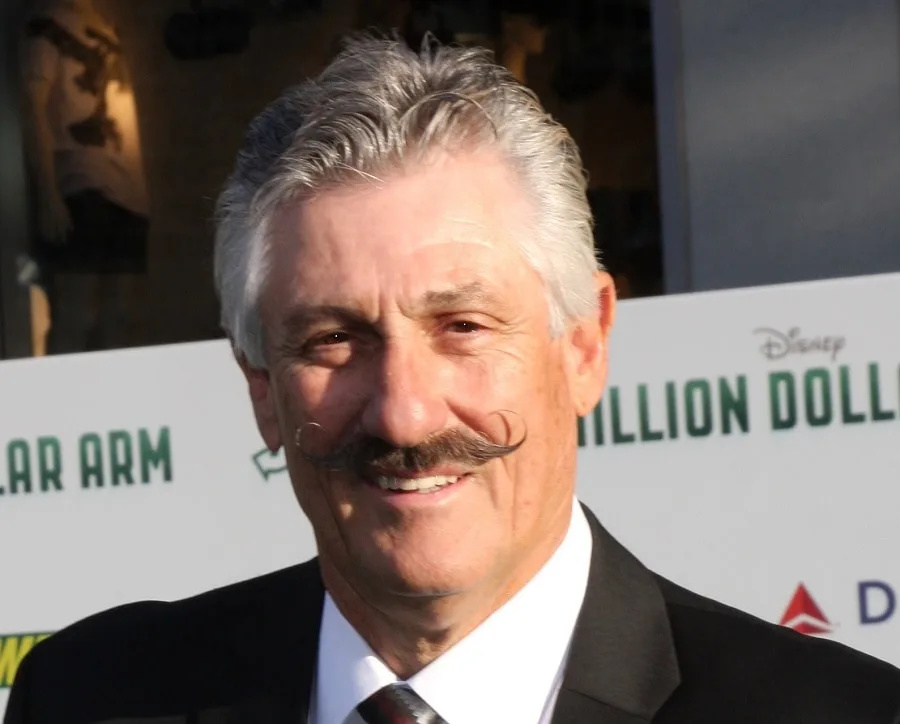 Rollie Fingers, a Hall of Fame relief pitcher, was as famous for his stellar baseball career as he was for his epic handlebar mustache. Fingers' facial hair, often waxed and curled, became a symbol of his unique style and helped cement his place among baseball players with epic facial hair in history.
33. Sir Arthur Conan Doyle: The Literary Detective Creator
The celebrated author of the famous Sherlock Holmes stories sported a Pyramid mustache that thinned and curled at the edges. This style matched his intellectual prowess and his image as a master of mystery and intrigue.
34. Richard Pryor: The Comedy Trailblazer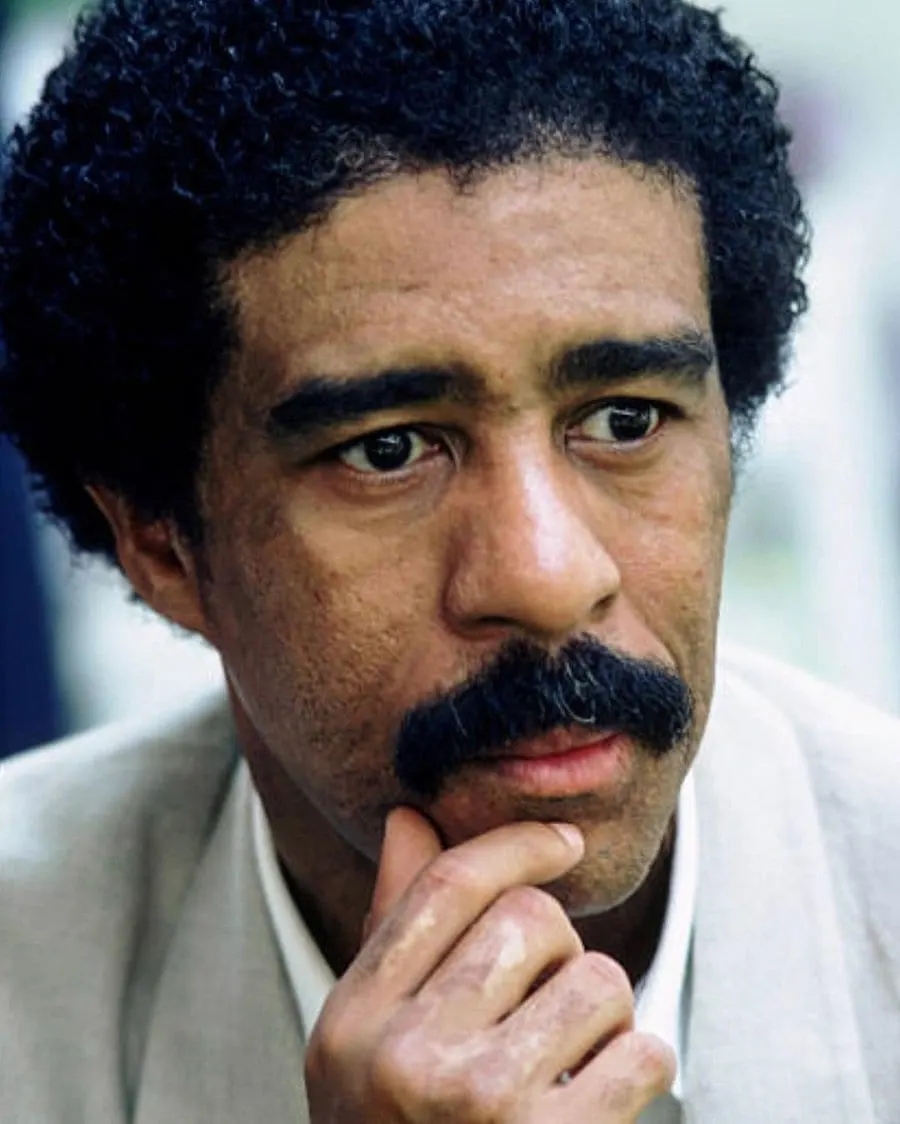 The famous comedian, and actor, was known for his provocative humor and fearless performances. His 80s mustache style was popular among that generation.
35. Groucho Marx: The Master of Wordplay
Member of the Marx Brothers and a legendary comedian who delighted audiences with his sharp wit and rapid-fire jokes. His grease-paint mustache, which he wore along with thick eyebrows and glasses is still famous in the world of comedy.
36. Wyatt Earp: A Wild West Legend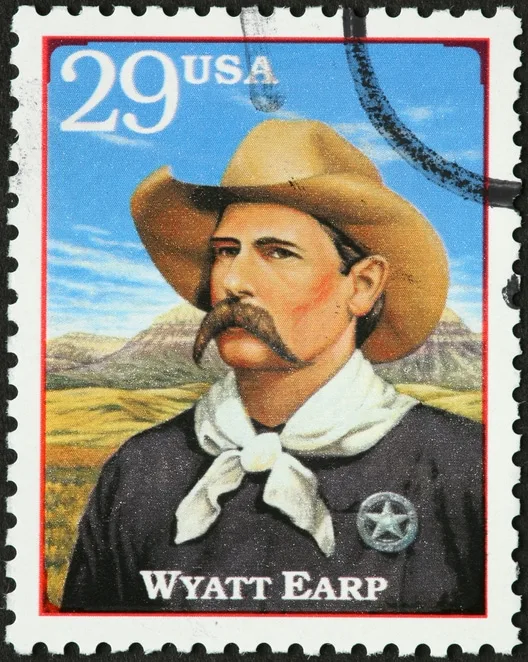 The legendary lawman of the Wild West was known for his steely gaze and no-nonsense approach to upholding justice. His substantial mustache was a defining feature of his appearance, adding an extra dimension of authority and grit to his already imposing demeanor.
37. David Crosby: A Musical Pioneer
Founding member of both The Byrds and Crosby, Stills & Nash, pioneered a new sound in the world of folk-rock music. His distinctive walrus mustache, combined with his long, flowing hair, became a symbol of the counterculture movement and portrayed his image as a musical trailblazer.
38. Charlie Bronson: The Tough Guy
Also known as Charles Salvador, earned a reputation as one of Britain's most notorious prisoners. His horseshoe mustache, paired with a bald head and muscular physique, contributed to his intimidating appearance, which helped solidify his tough-guy image.
39. Bill Murray: A Comedic Mastermind
Bill Murray, the beloved actor and comedian, has entertained audiences for decades with his wit, humor, and unforgettable roles. His subtle, well-groomed mustache has been a trademark of his style, providing a touch of class and sophistication to his comedic genius.
40. James Harden- The Bushy Mustache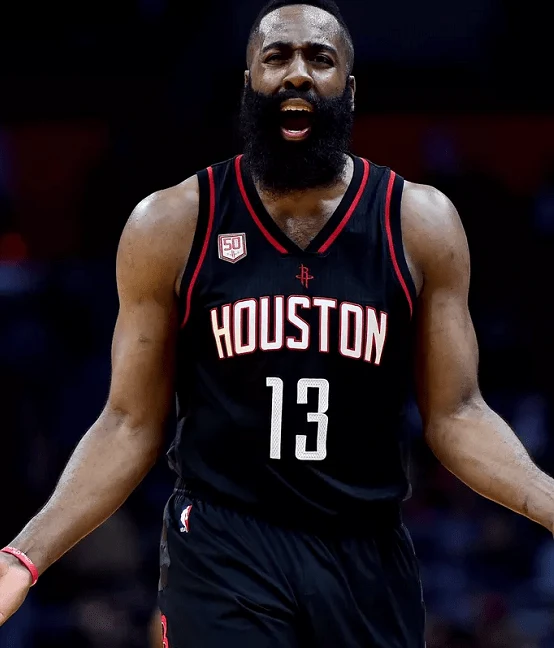 The NBA superstar is renowned for his impressive skills on the basketball court as well as his iconic facial hair. Harden's full beard and thick mustache create a wild look, often referred to as "The Beard." His fans cant even recognize James Harden without a beard.
41. Vincent Price: The Master of Horror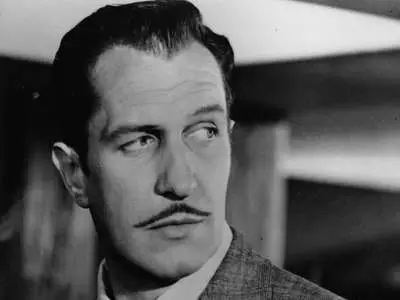 The legendary actor Vincent Price was known for his chilling portrayals of villains and sinister characters in horror films. His pencil-thin mustache, coupled with his deep voice and expressive features, added an air of mystery and refinement to his macabre roles.
42. Little Richard: The Architect of Rock 'n' Roll
Little Richard, a pioneering musician, and performer, was one of the founding fathers of rock 'n' roll. His flamboyant style, which included a well-kept mustache, was a testament to his larger-than-life personality and helped pave the way for countless musicians who followed in his footsteps.
43. Borat Sagdiyev: The Controversial Comedian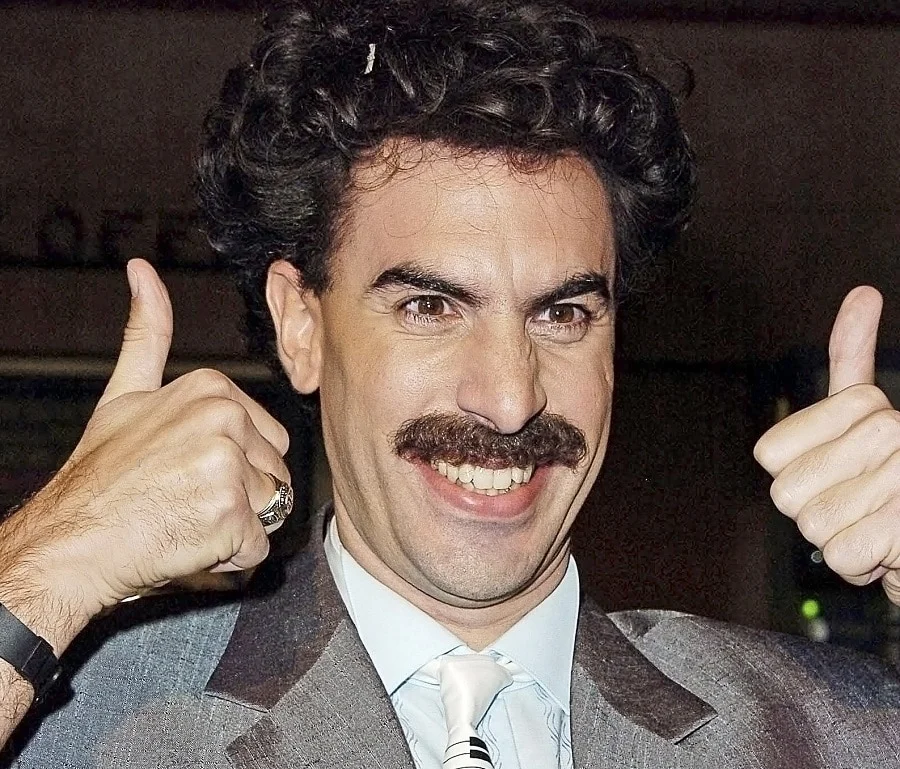 Sacha Baron Cohen in the Borat movie character, became an international sensation due to his outrageous behavior and controversial humor. Borat's thick, black mustache contributed to his memorable appearance, further emphasizing his eccentric character.
44. Nigel Mansell: The Racing Champion
Nigel Mansell, a British racing legend, achieved remarkable success on the racetrack and became a household name. His thick, full mustache was a significant part of his image, providing a sense of strength and determination that reflected his competitive spirit.
Most of these famous men with mustaches are known for creating an individual style statement along with the volume of work that they have done. These are some of the most free-spirited original thinkers and achievers and in many ways, the mustaches stand testimony to their originality.