Black men love to wear mustaches but the popular styles are often very different compared to the styles that are worn by white guys. Unkempt and overgrown styles are not normally well-received. Subtle and well-groomed mustache styles are the styles that are most frequently chosen. Cool mustaches are one of the latest hot trends amongst black actors and musicians.
Cool Mustache Styles for Black Men
Black guys can keep their mustaches in check using careful grooming techniques. Get rid of major hair growth using a razor. It is possible to buy precision razors for mustache areas. Use tweezers to pluck out any stray hairs. Use shaving creams and skin softeners to reduce skin irritation on your face.
#1: Subtle 'Stache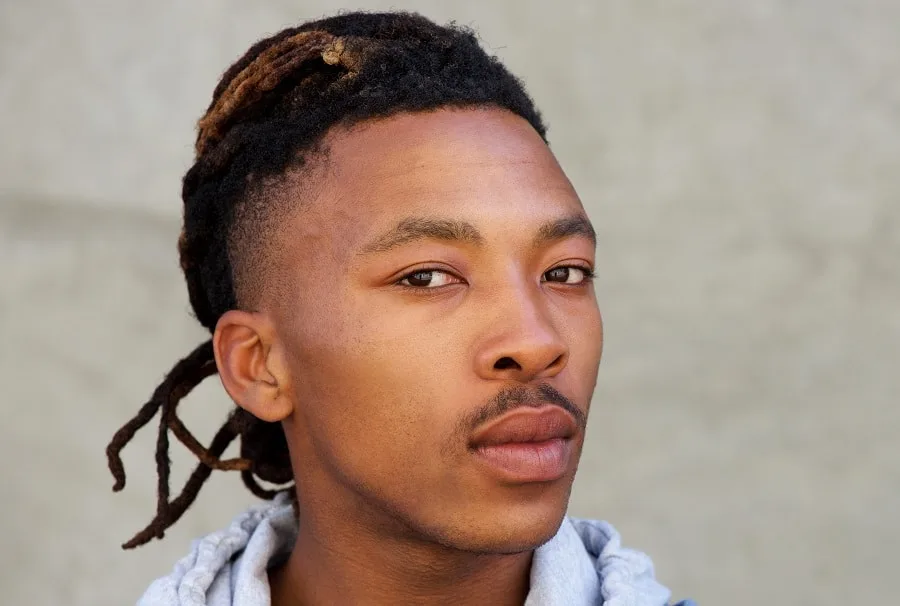 Younger black men can make themselves look more mature with a mustache. This one is pretty thick but with a clean line shaven around the shape of the lips. The 'stache gets thinner towards the ends before it tapers out to a clean-shaven face.
#2: Classic Horseshoe
Horseshoe mustaches, also called biker mustaches, have been popular since the 1970s. They suit men who want to give off a lot of confidence.
There's a thin line dividing the 'stache. Each side extends down past the mouth and blends into the chin. The chin is covered in light stubble.
#3: Toothbrush with Chin Beard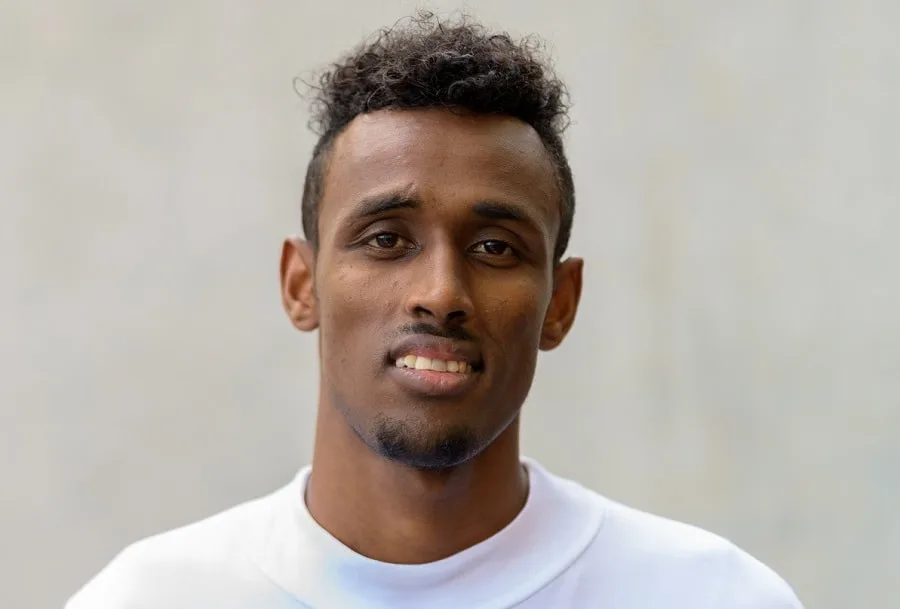 Toothbrush mustache styles suit black men who want really subtle facial hair. They've been around since the late 19th century but this one is modernized. It's paired with a small beard low on the chin area.
The cheeks are kept clean-shaven but there's a very light shadow along the jawline. Wearing a style like this elongates the face.
#4: Grey Chevron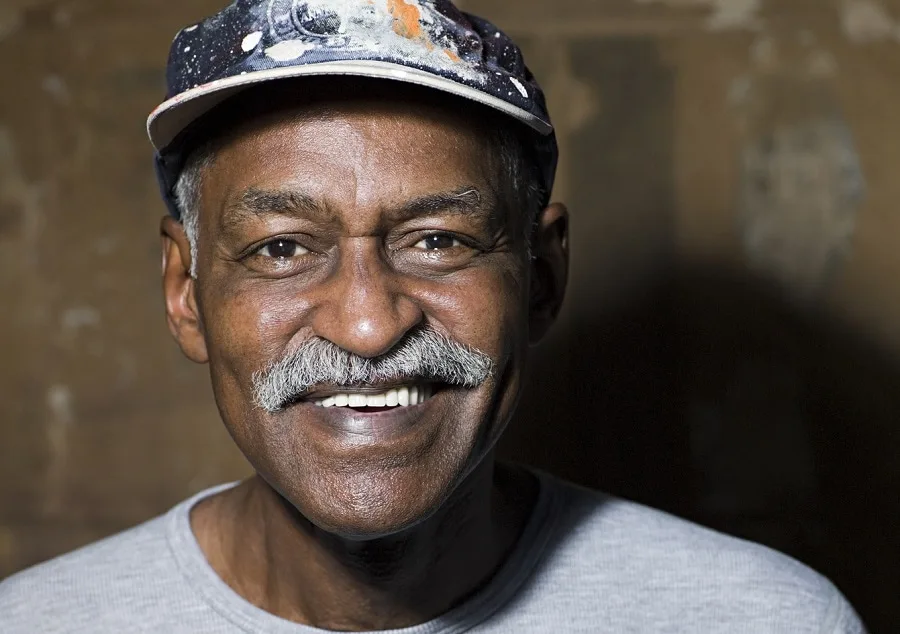 A chevron angles towards the corners of your mouth at each side. The highest point of the hair should point like an arrow towards your nose. It's a thick 'stache that suits older men and is highly distinct when it's grey.
#5: Light and Scruffy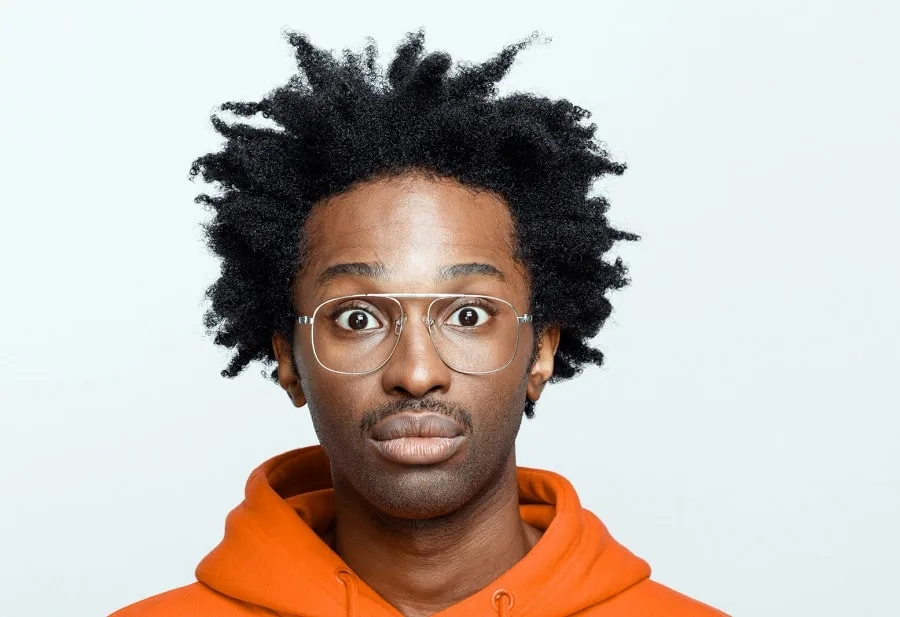 Sometimes all you need is light facial hair to make you look your best. This is a scruffy style that's kept short but messy.
The rest of the face is covered in light stubble regrowth. The stubble should only take a day or two to grow out, depending on how fast your facial hair grows.
#6: Neat Imperial 'Stache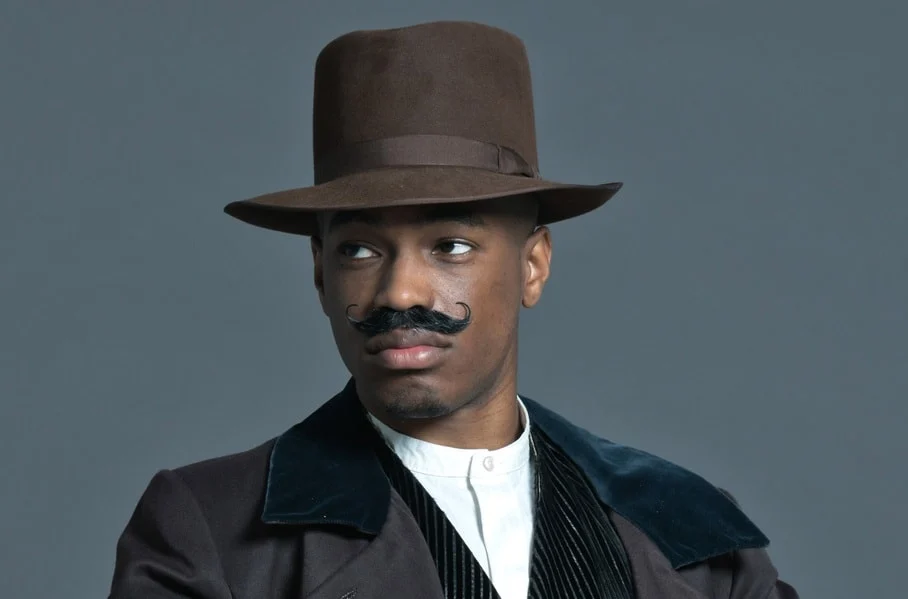 The imperial look is the mark of a perfect gentleman. It requires grooming to be smooth. Curl it up at the ends with some gel and by pinching your fingers together to form a fine point.
There's some light stubble on the chin that adds a touch of modernness to the style. The jawline also has some light shadow on it.
#7: Zappa with No Soul Patch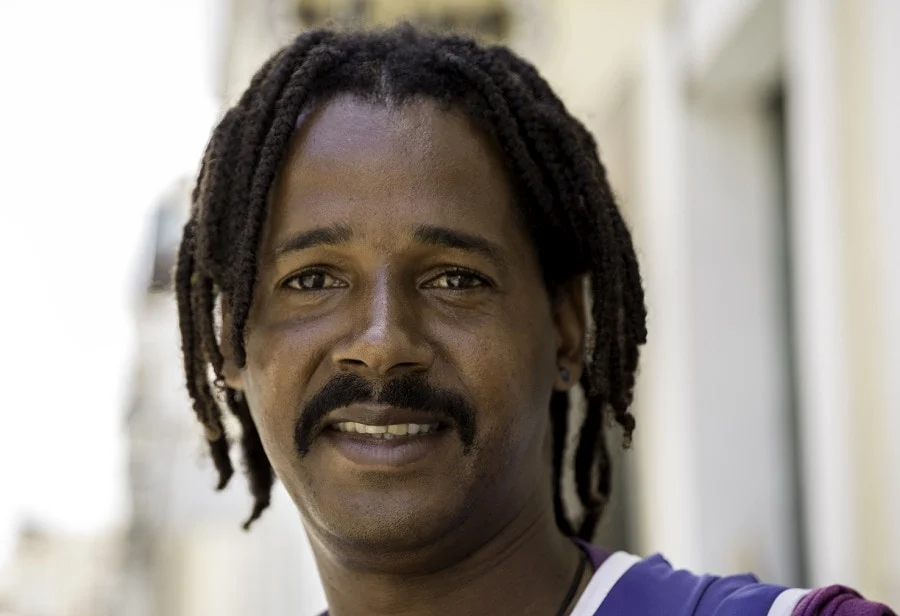 The best thing about styling your facial hair is experimenting. The Zappa style is usually a thick mustache that curls down by your mouth, as you can see above. You usually pair it with a soul patch, but there's no soul patch in this alternative style.
#8: Grey Cowboy Look
Older black men who like the old west may like wearing a cowboy mustache. It often suits a more mature face shape. The hair is kept short here and the 'stache frames the area below the mouth. It stops at the jawline.
#9: Painter's Brush with Jaw Beard
Adding a beard helps the hair on your upper lip appear bolder. There's a thin beard covering the entire jawline. Plus, there's also a hint of a soul patch. The thin painter's brush style of facial hair sits in a neat M-shape here.
#10: Unique Combo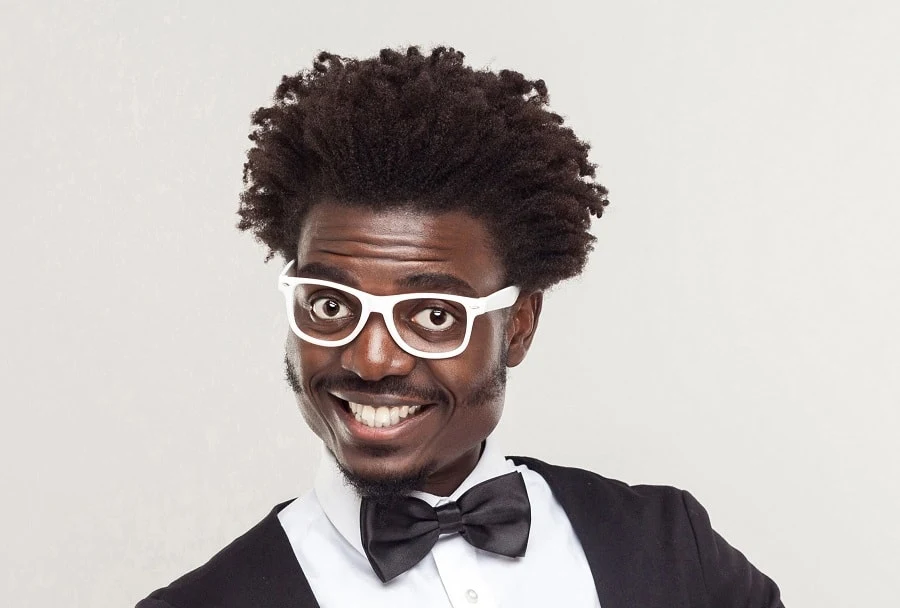 Would you like to stand out? Consider this daring look. First of all, there's a thin, neat 'stache sitting above the upper lip. It's paired with a soul patch and chin beard.
There are also some light mutton chops on the sides of the face. These were very popular in the 19th century.
#11: Barely There
The pencil stache style is usually very thin. Grow out your facial hair on other parts of your face to help it stand out. Here, there's a light soul patch to round out the look. Most of the face is kept very smooth and clean.
#12: Lampshade and Soul Patch
If you want a close-cropped, neat appearance, consider the lampshade. It's a popular style often sported by modern men. Keep most of your face clean-shaven and add a little soul patch to round out the look.
#13: Full Coverage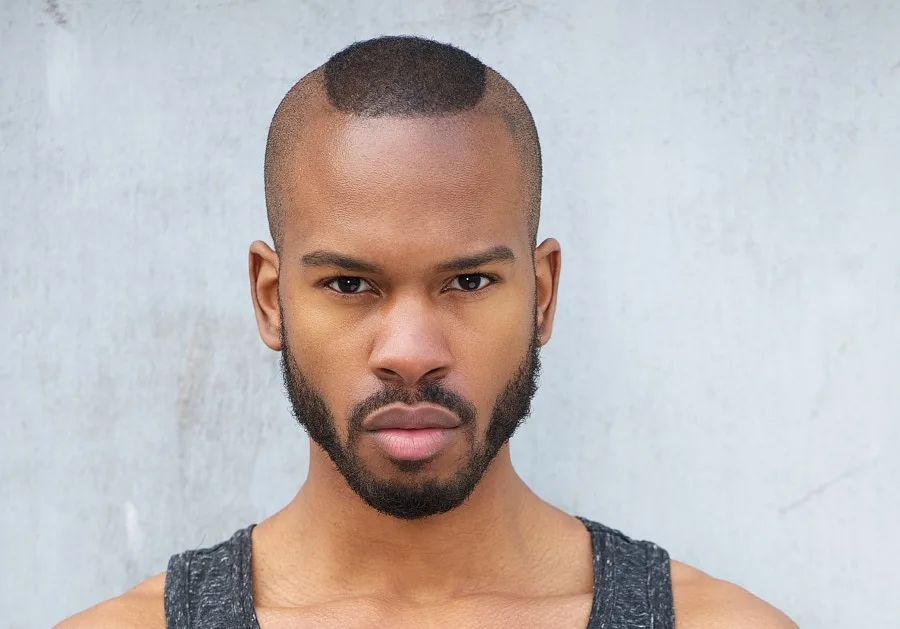 Some men prefer to straighten their facial hair but keeping the curls is appealing too. The mustache is distinct in this look, but it's paired with a beard. There's a large gap between the beard and the sides of the mustache.
#14: Fun M-Shaped 'Stache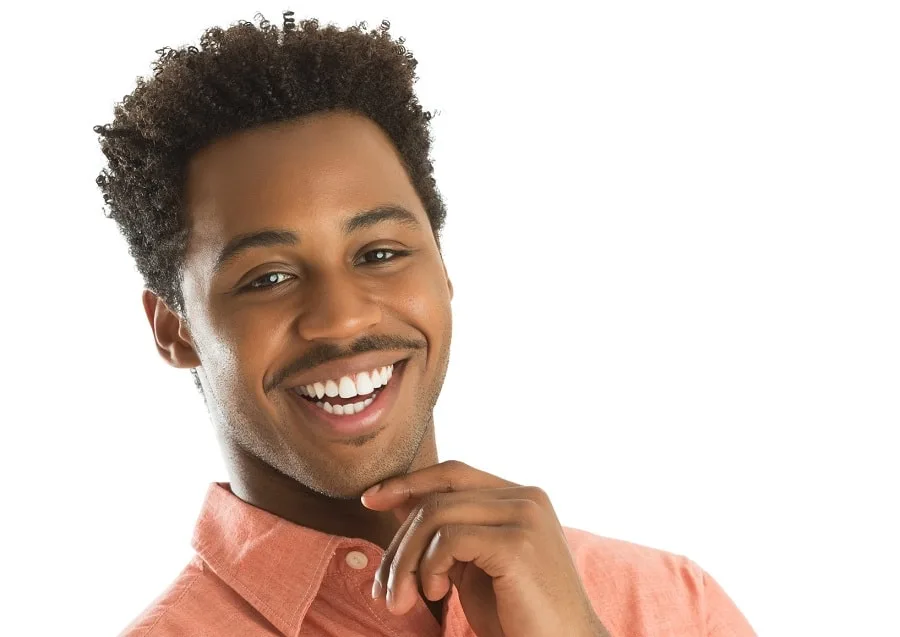 Adding a little groove to the top of your 'stache gives you a fun look. Mimic the shape of your lips to achieve this style. A small curved section of facial hair frames the lower lip too. Such thin facial hair should be paired with a thicker hairstyle.
#15: Thick Celebrity 'Tache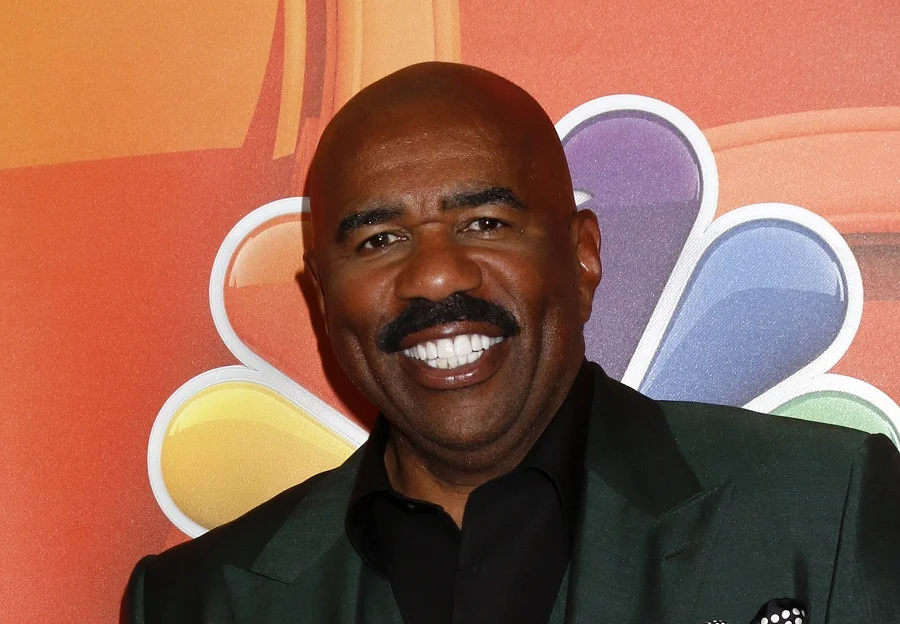 As you can see, some styles are so popular that celebrities wear them. Steve Harvey's thick 'tache is infamous and gives him such a jolly look. The rest of the face has a very subtle five o'clock shadow that extends down onto the neck too.
#16: Slanted 'Stache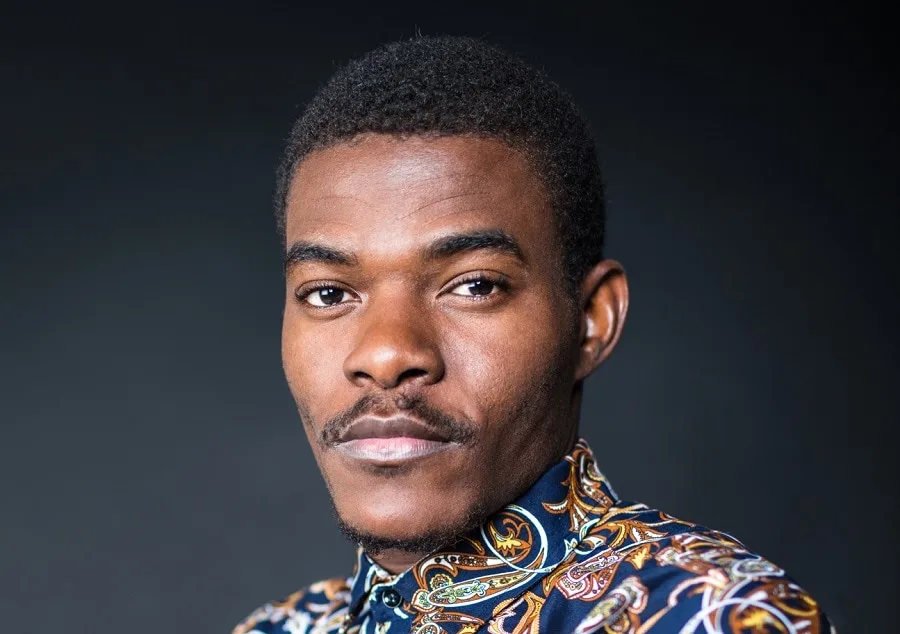 Black men with defined cheekbones look great with a slanted mustache. It helps emphasize your face shape further. There's a gap between the sides of the 'stache and it's paired with a lower chin beard and soul patch.
#17: Faded Beard + Mustache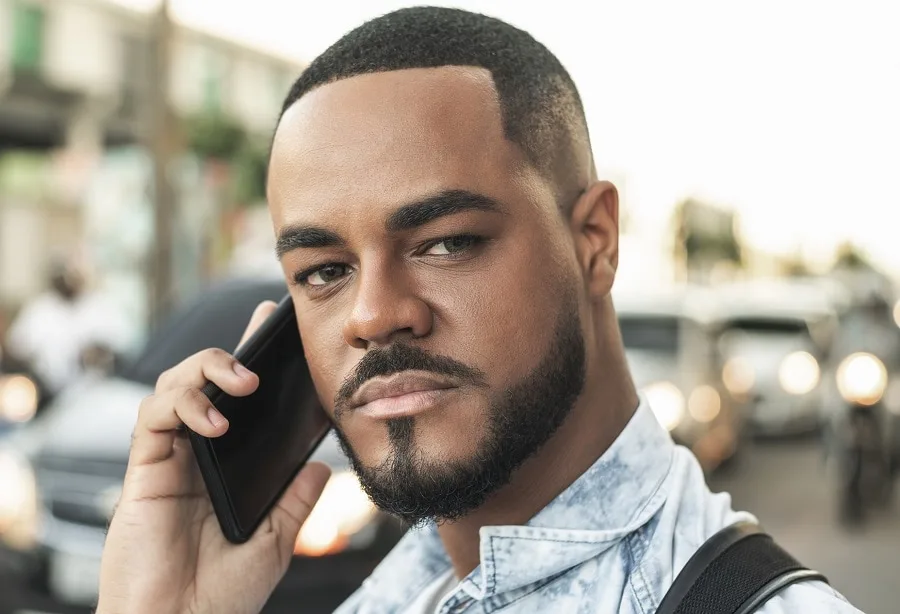 The fade hairstyle is popular these days. You can also utilize this style in your facial hair. The mustache here curves gently above the lip. There's a gap between it and the beard.
A long soul patch joints into the facial hair on the chin. The sides of the facial hair are short and have a fade near the sideburns.
#18: Sparse Mature Look
Some mature men have thinning facial hair that still looks great. Making the hair on your upper lip wide helps balance out the slight patchiness. The hair is sparse towards the center and thickens up around the ends of the style.
#19: Stubble and Scruff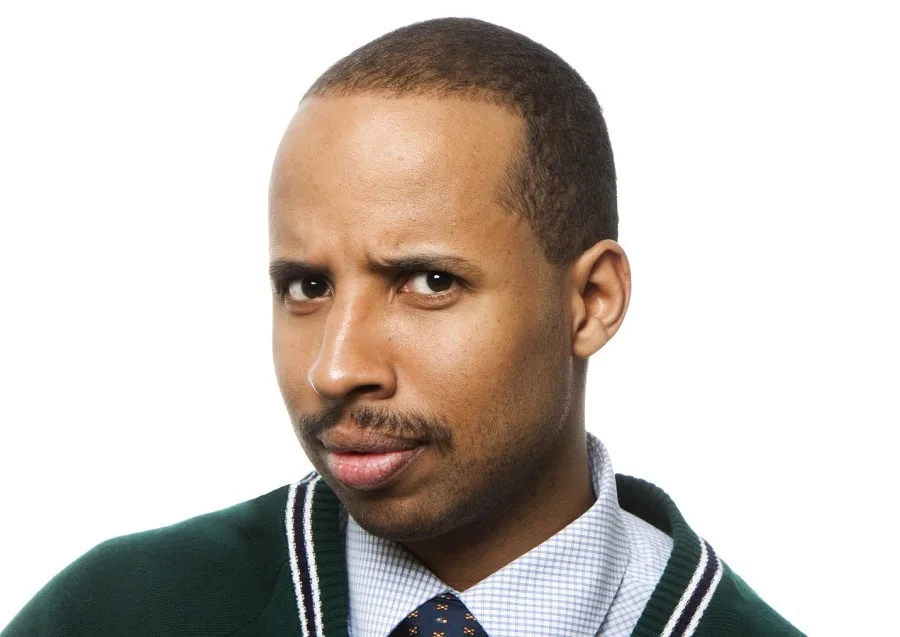 The scruffiness is caused by the little gaps in the 'stache. The lines of it are also a little jagged. Very short stubble covers the rest of the beard area to add further scruffiness. It pairs well with short, uniform haircuts as seen above.
#20: Short Walrus 'Stache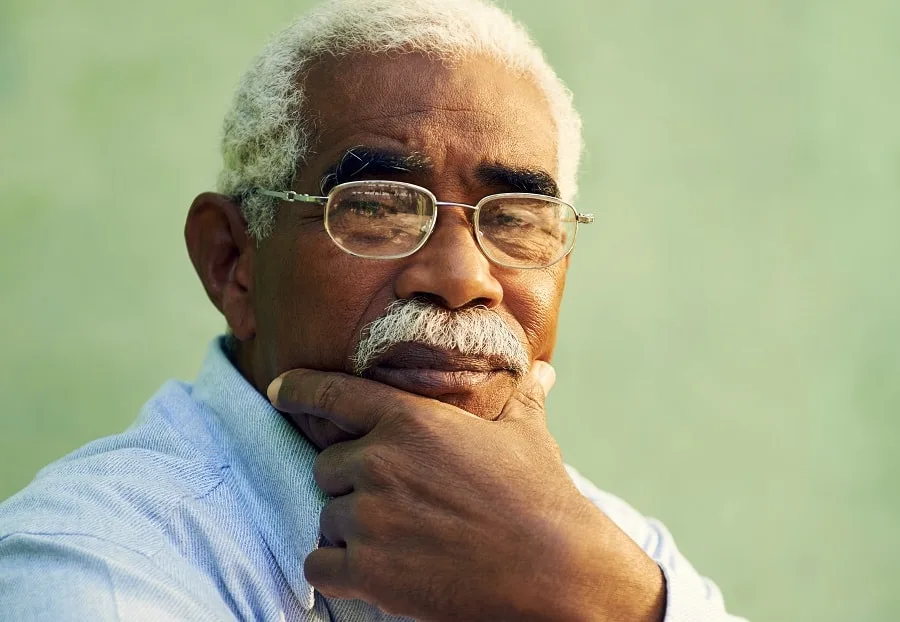 Walrus styles usually drop over the mouth and cover the lips. Here it's kept short but still has the classic walrus shape. This shorter mustache style is perfect for black men who don't want something too long or thick.
#21: Chin Beard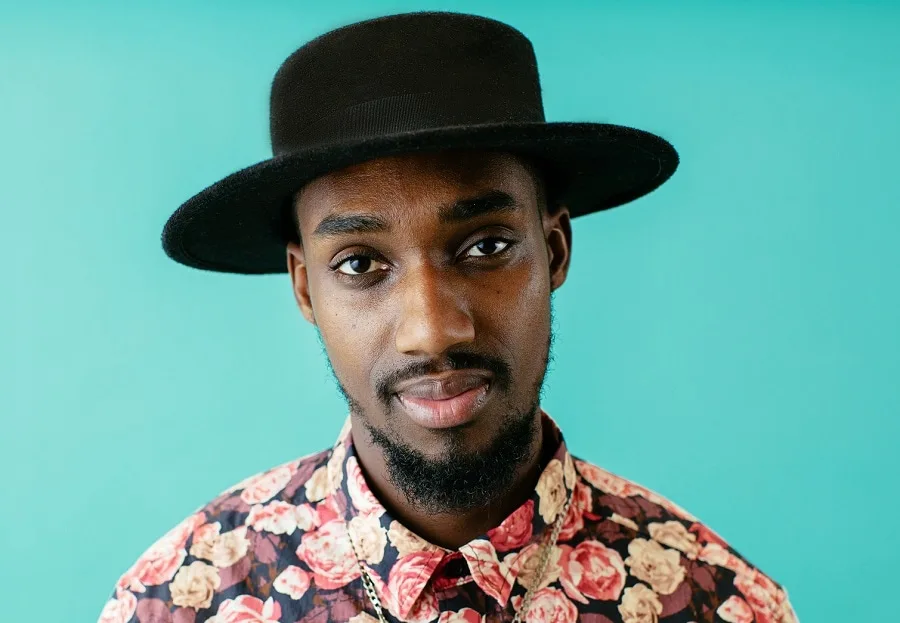 If you'd like a long chin beard like this, then you need to add a mustache. It helps bring balance to the look. The edges are neat and the sides curl down beside the mouth. There's also a subtle beard along the jawline.
#22: The Handlebar
The handlebar can give you a really tough look. You can also make it classier by pinching the ends so they appear thin. Pairing it with a squared goatee helps emphasize your chin. The rest of the face is kept free of stubble or shadow.
#23: Super Thin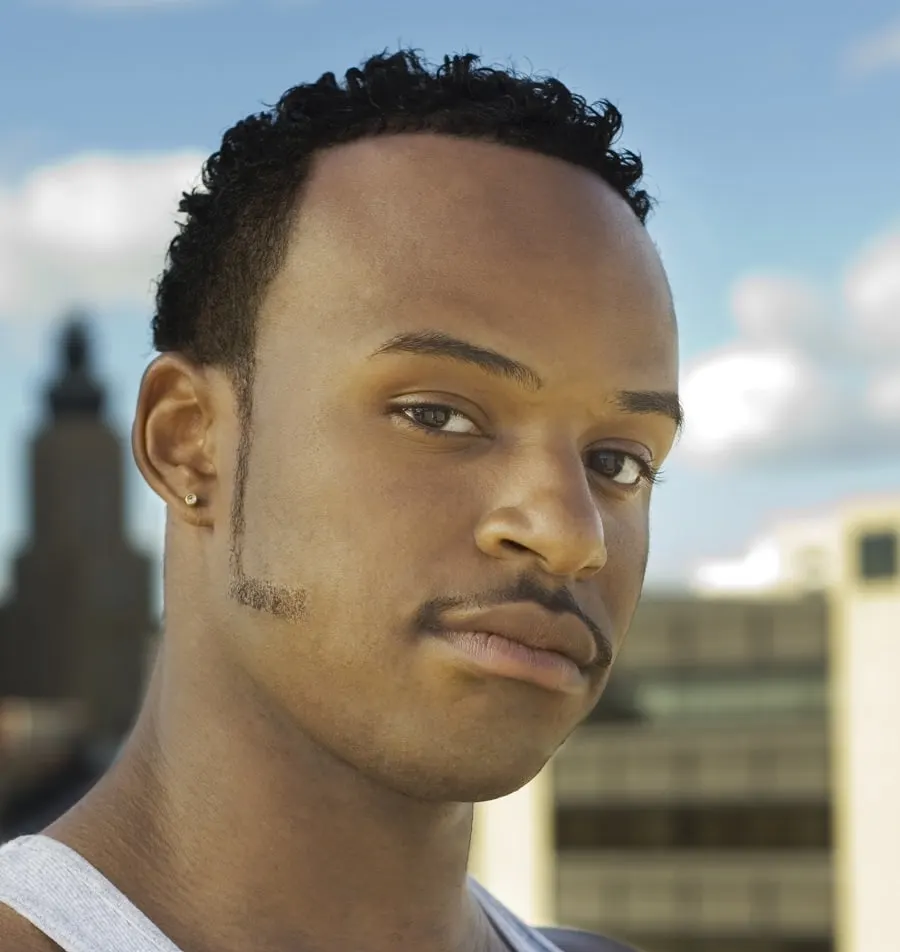 Super thin facial hair suits some men best. It's just a light style that curves by the sides of the mouth. A squared-off mutton chop style of facial hair will attract further attention.
It looks like this is common in modern black culture. Many younger men will appreciate this style of facial hair.
#24: Pencil Thin + Chin Strap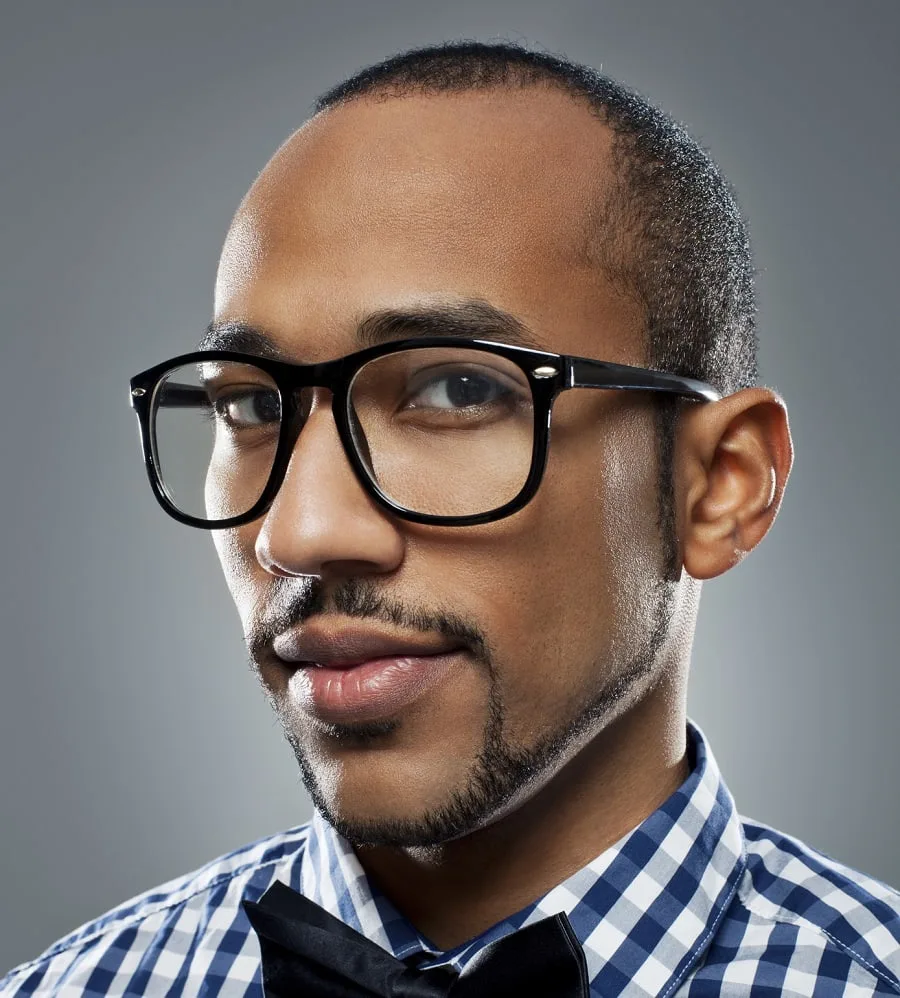 Many goatees are worn very thickly, but this thinner style suits narrow faces. The sides of the goatee are the thinnest point. They get thicker as they connect to the neat-edged jawline beard. This look suits men who want to achieve a classy style.
#25: Black and Blonde
Do you really want to stand out? Dye your mustache blonde and keep the rest of your facial hair black. The beard area has been groomed neatly into an edgy shape. The shape has a lot of straight lines that make it impossible to look away.
#26: Pencil Mustache
A thin pencil mustache is a really classy look for black men. This style of mustache should be kept perfectly groomed if you want to portray a suave and collected image. A pencil mustache looks great with shades.
#27: Painter's Brush Mustache for Black Men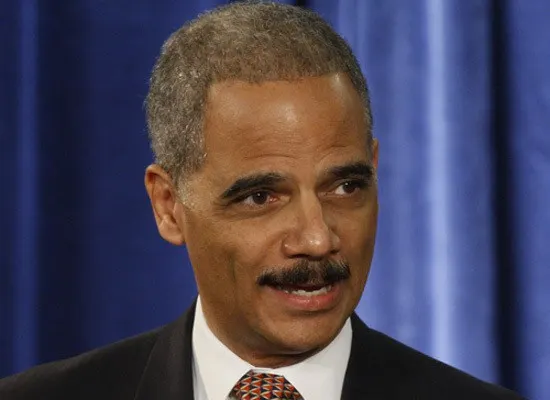 A painter's brush mustache is a classic style for older black men. This thick mustache style looks professional and serious. Keep the mustache well-groomed to maintain the business-like appearance.
#28: 80's Chevron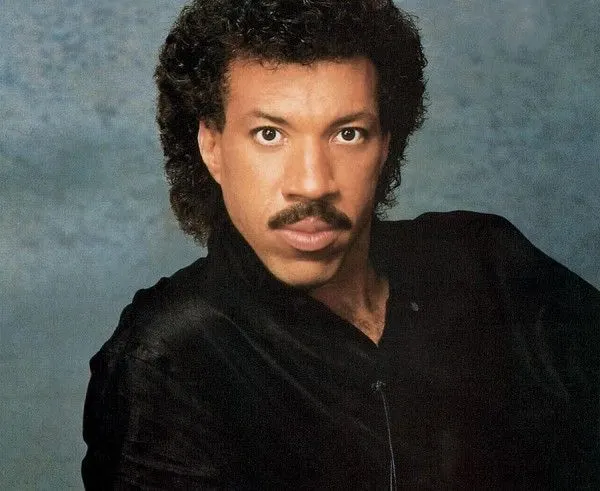 The Chevron look was incredibly popular in the 80's amongst viral popstars and popular musicians. To get the look, you will need to shape your mustache into a perfect arrow which is pointing upwards towards your nose. Keep the rest of your face clean-shaven for that 80's look.
Coolest Handlebar Mustaches for 2023
#29: Goatee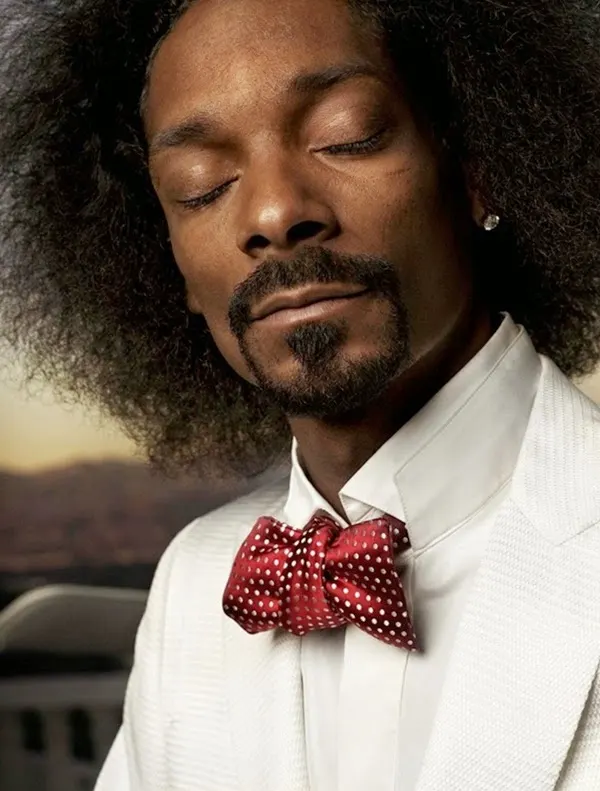 Rather than a solo mustache style, join your mustache up with a beard to create a full goatee. The goatee is now more popular than ever as a facial hairstyle for young black men. It is worn by lots of young actors and professionals.
#30: Short and Sharp Mustache for Black Guys
If you do not want to commit to a heavy-set mustache, why not try out this short and sharp look? It is a little bit thicker than a pencil mustache, but it is just as subtle. Your 'tache should not extend past the corners of your mouth in this mustache style.
Why not try one of these black men mustache styles to see how your friends react? They are all easy to grow and easy to take care of, so you will not need to make a big commitment. If you do not like it, you can just shave it off and start again with another choice.