Chris Hemsworth has won a special fan base with his cool beard styles and we are one of the hardcore fans of his lovely beards and charming looks. Many men out there want to take a leaf out of his book and want to copy his beard styles to look as dashing as he does. This guy has a strong style game and his fans love him for that, so we thought of bringing you some of the easiest styles to copy here.
How to Achieve Chris Hemsworth Beard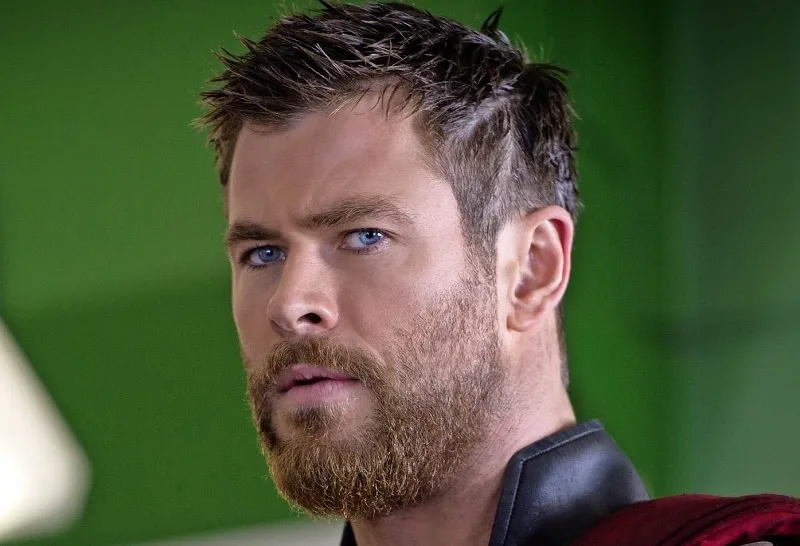 Chris Hemsworth has been the best Thor that we know of and that is primarily due to his manly Thor beard, isn't it? So, let's see how you can get a lovely and impressive beard like Chris Hemsworth and look as attractive as he does.
First, you need to grow your beard to the right length. Chris has a signature short length for his beard. So if you want to copy him grow a short beard, but full. A beard growth for a week will do the trick for you.
Wait for the beard to have all the bald patches filled with facial hair if you feel the need to, so that you may get the proper copy of Chris' beard.
Now begin trimming it with a good quality trimmer. Start from the top of the sideburns and go downwards towards the middle of the beard. This trims the beard in a nice and stylish way.
Let the facial hair at the chin and jaw be longer than the rest for which you need to do a lighter trimming.
Now apply a nice moisturizing product on the beard and style it using a beard brush after untangling your beard.
Chris Hemsworth Beard Styles
Here are some of the best beard styles that Chris Hemsworth has rocked now and again to mesmerize us with his looks.
1. Light Stubble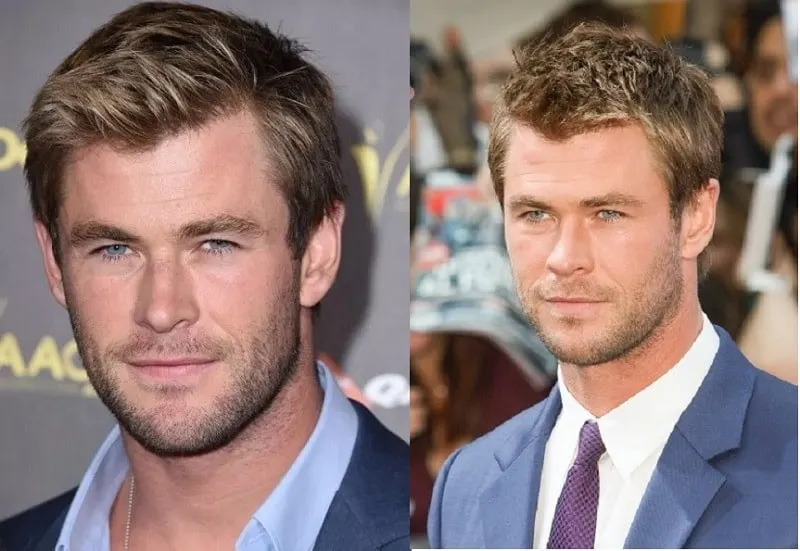 This is probably the sexiest and appealing beard style that Chris Hemsworth has sported so far. The stubble is perfected by the light mustache growth which gives the irresistible charm to him. You can go for this style if you want to be the center of attention wherever you go.
Beard styles donned by the celebrities
2. Short Rough Beard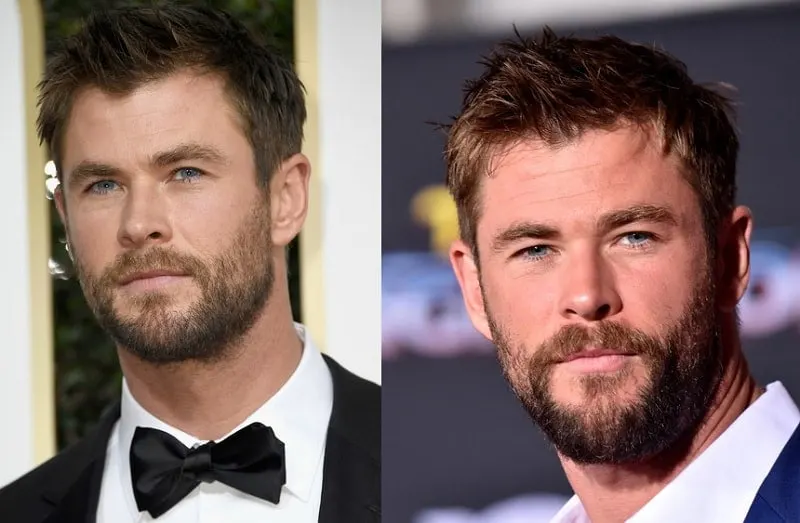 This short full beard is probably all that you need this season to have that perfect rough and rugged look. This, however, keeps you gentlemanly too, so you should go for it if you want something simple and laidback.
3. Thor-Like Beard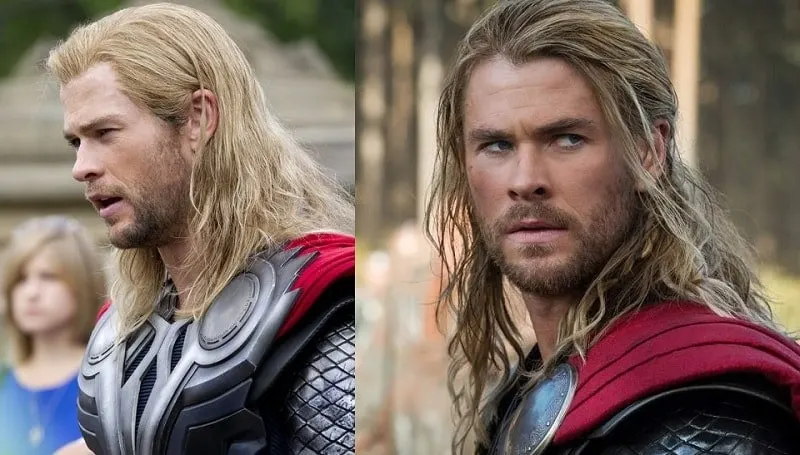 This beard style is something that most people love about Chris Hemsworth since it has brought to life the favorite comic hero of most people.
4. Cool Clean Shaven Look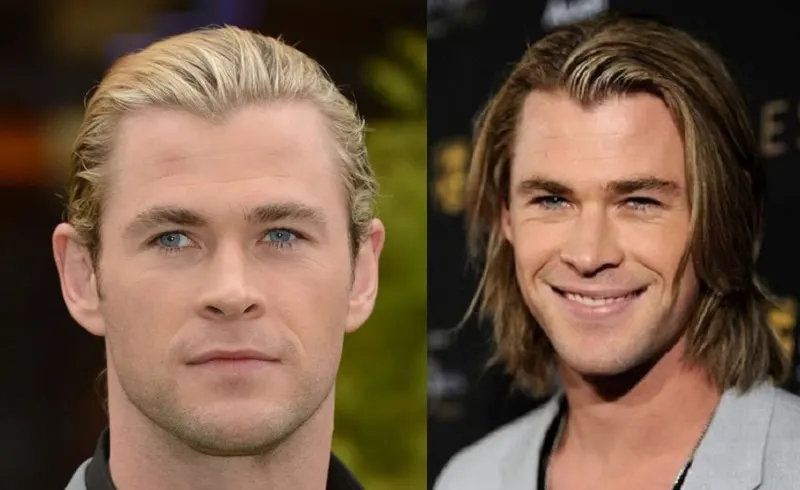 This look is for times when you are running out of time, but still, want to have a handsome persona.
5. Short Light Beard with Mustache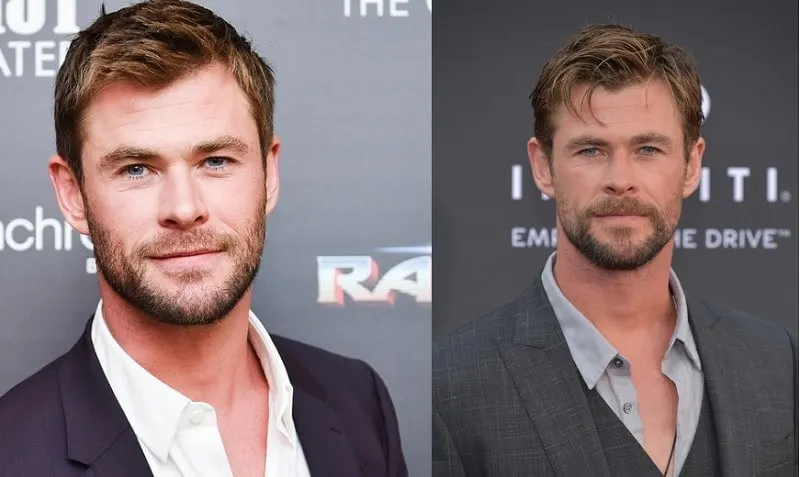 This short beard is the best party beard that you can copy from the list of Chris Hemsworth's beards.
6. Goatee Style Beard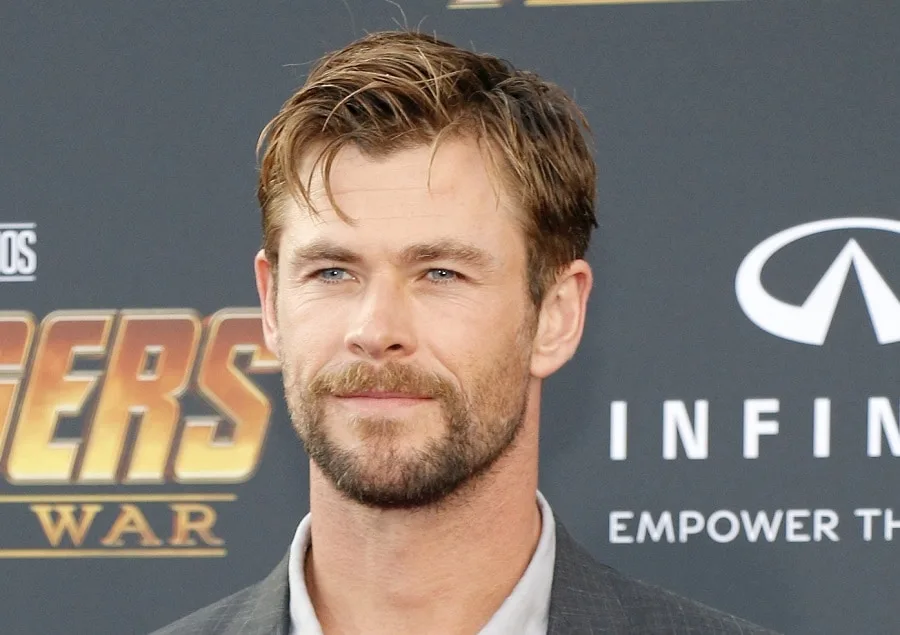 Goatees are a common style for men who want some definition. The shape is a mustache connecting to a beard that covers the chin.
Chris wears it with some light stubble on the jawline that's heavier towards the bottom. Light shadow covers his cheeks.
7. Medium Length Stubble Beard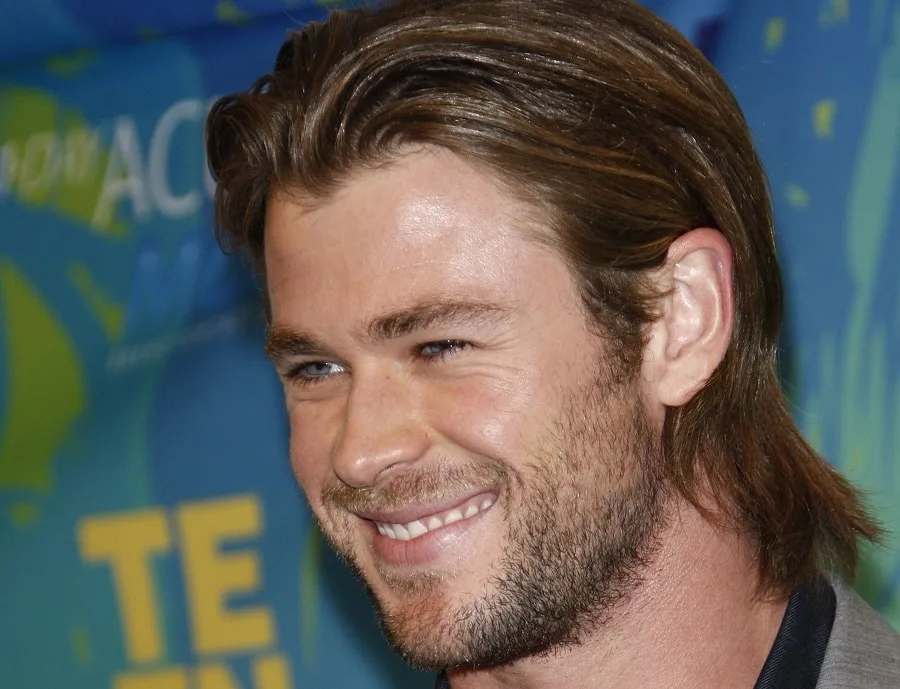 Medium-length beards are long enough to be slightly scraggly but they're short enough for you to see the skin through them.
You can achieve a handsome appearance with full coverage facial hair like this. It's thicker towards the bottom with patcher hair on the cheeks.
8. Boxed Beard
You can't beat a good full beard. It's the sign of a real mature man. The thickness is focused on the chin, mustache, and soul patch area.
The facial hair on the cheeks is a bit thinner but still provides full coverage. The goatee area is amplified the most.
9. Bushy Thor Beard
Marvel fans will remember this busy Chris Hemsworth beard style. It's worn with full coverage and is very thick as it extends past the chin and covers the neck.
Despite being bushy, it's well-groomed with beard cleaning products, a beard brush, and some oil.
10. Thick Curly Beard
Many beards are naturally curly. Here's an example of one that has been brushed and detangled but not straightened.
The curls give it a messy look and make it appear thicker. It's not too thick, as you can still see the general shape of the chin and jawline.
11. Braided Beard
More adventurous men may wish to try this adventurous beard style sported by Chris as Thor. A fishtail braid is formed along the bottom of each side of the beard.
There's also a braid formed just under the mouth. It joins the other two braids in the facial hair.
12. Tapered Beard
This graduated style of beard is common for Chris Hemsworth. He often wears his hair shorter, higher up on his cheeks, and uses the beard's thickness to emphasize his jawline.
Here it's trimmed short but fully covers the chin and jaw. It then extends onto the neck.
13. Mustache with Stubble Goatee
One of the most rugged styles you can wear is the stubbly goatee. The mustache and soul patch are grown thicker while stubble fills in the rest of the goatee shape.
The cheeks are clean-shaven with just a shadow darkening them after a day of regrowth.
14. Full Stubbly Beard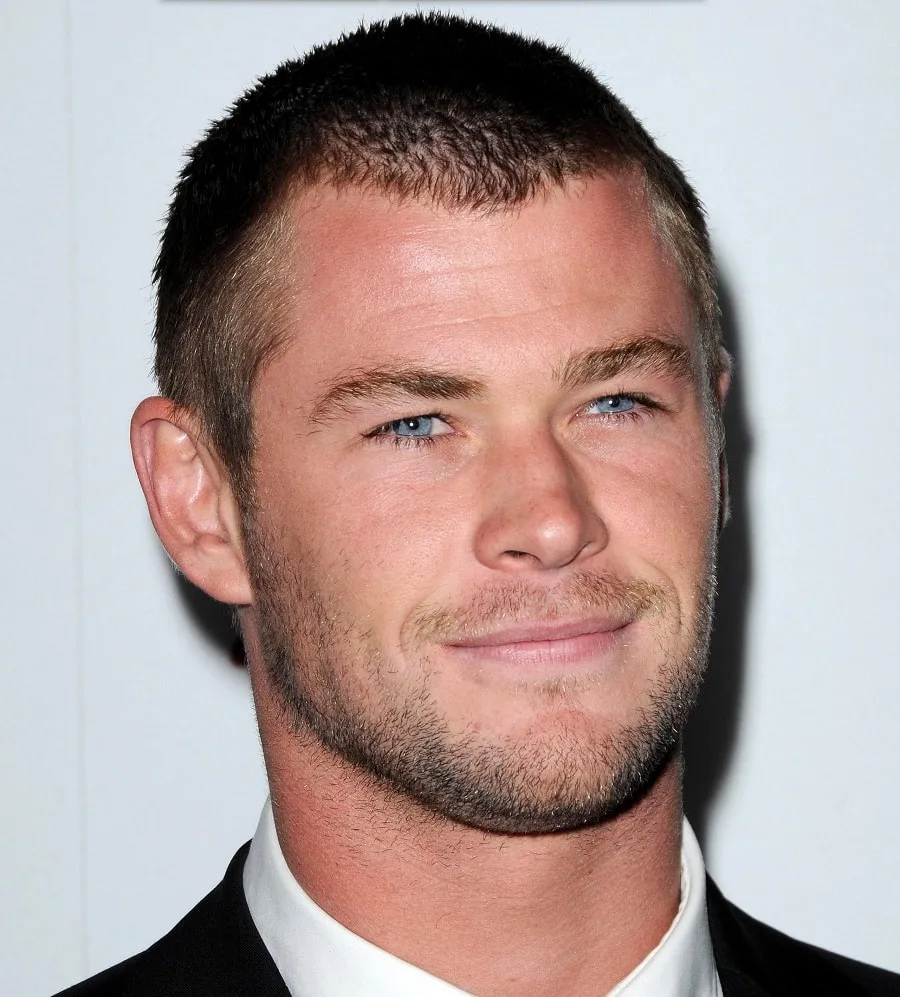 Having a stubbly face is one of the easiest ways to wear your facial hair. It only takes a couple of days to grow depending on your hair growth rate.
Here it's paired with a very short hairstyle creating a look that blends together well.
15. Scruffy Beard
Scruffy beards help you achieve a casual look like Chris is sporting here. It's slightly patchy due to different parts of his face having different growth rates, but this makes the look even better.
Some areas are thinner, and it's thickest towards the jawline.
16. Light Coverage Beard
Light beards can do a lot to enhance your appearance. The beard is full coverage and the hairs are long, but the coverage is very light.
It has been groomed well with a trimmer on a very low setting to ensure the hair stays longer than stubble but not too thick.
Read some of our most popular blog posts:
How to fade Your Beard Like A Boss
Black guys with stylish beards
Chris Hemsworth is surely the epitome of male perfection and his beards are worth giving a shot, so what are you waiting for?