Did you know that the trend of growing beards among Filipinos is steadily on the rise? Traditionally, Filipinos have not been keen on growing beards, but it seems that the tide is turning.
Unlike Koreans, who generally don't like to grow beards, Filipinos are now growing beards and experimenting with various styles.
This noticeable change signals a promising blend of tradition and modernity in grooming trends.
If you want to keep up with this modern trend, this article offers a selection of cool Filipino beard styles to suit your taste.
Can Filipinos Grow Beard?
A significant portion of Filipinos are of Malay descent, and it is generally observed that many individuals with East and Southeast Asian ancestry might not sport a full beard, as denser facial hair is less common in these groups.
However, there are Filipinos with diverse ancestral backgrounds who can grow fuller beards. Examples can be seen in bearded celebrities like Lou Diamond Phillips, Sam Milby, Dave Bautista, and Enrique Iglesias, who have Filipino lineage.
Do Filipinas Like Facial Hair?
Based on the appearance of various prominent Filipino celebrities, it seems that clean-shaven looks are quite popular, but Filipinas also like well-groomed beards and mustaches.
In general, Filipinas don't like unkempt or long bushy beards. Bearded old actors of the past, such as Eddie Garcia, prove Filipinas do like facial hair if it's shaped and maintained.
Filipino Beard Styles
1. Egyptian Goatee with Gapless Filipino Mustache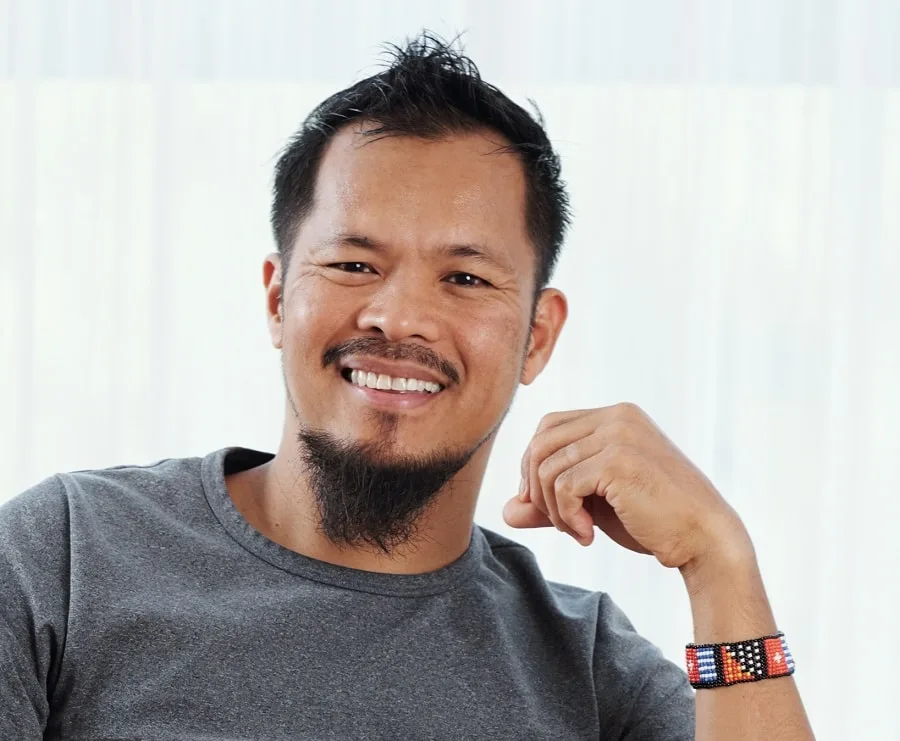 This Filipino goatee is actually an Egyptian goatee that is slightly longer than most other goatees and hangs nearly 2 inches down the chin.
There is no gap in the mustache, and the proper use of a blade and clipper has given it a very uniform look.
2. Heavy Stubble Beard with Front Brushed Up Hairstyle
When you have a square or rectangular face, a stubble beard can provide your face with a beautiful outline.
It's a simple but strong look that doesn't require much maintenance because of the missing cheek lines or a tapering effect.
3. Classic Circle Beard with Shaved Cheeks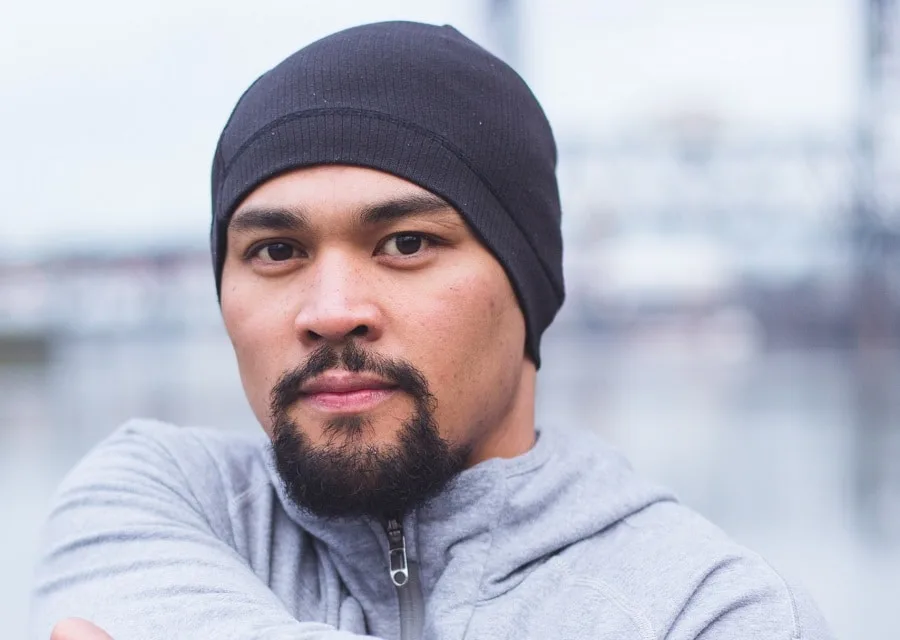 If your mustache grows long enough to connect with your goatee, you can grow a beautiful circle beard. It's up to you to combine a circle beard with either light stubble or completely shaved cheeks.
4. Grey Short Beard with Mustache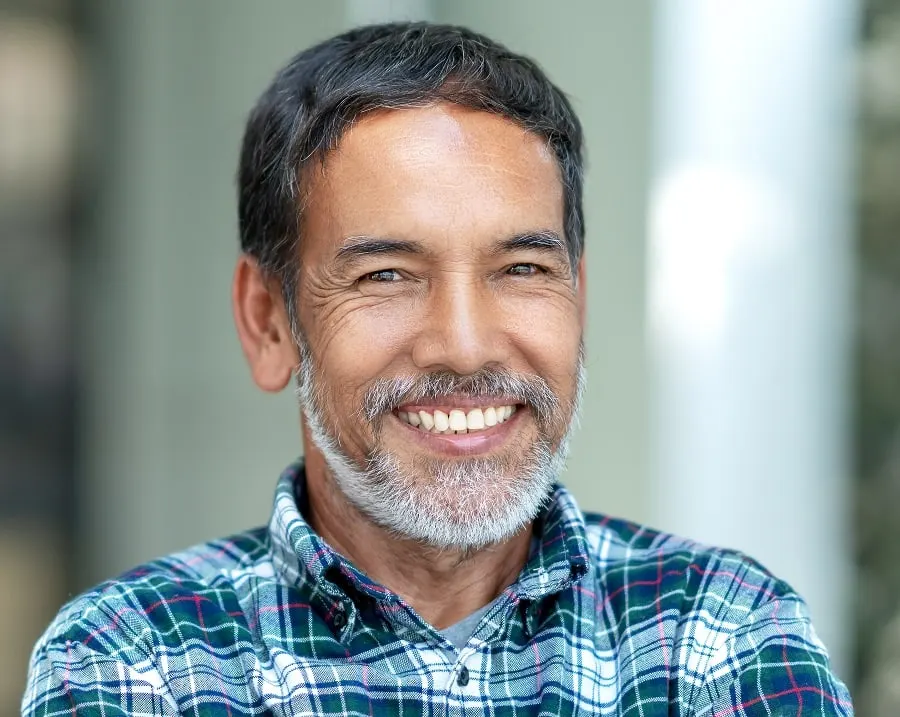 A close look at this Filipino beard shows that it is pretty close to being a chin curtain, but it has more hair growth around the chin than you'd expect from a chin curtain.
The short grey bread looks excellent with a natural mustache and suits those above 40-45 years of age.
5. Stubble Goatee with Thin Mustache
Some beards have more details than you notice at first glance. Here, the gentleman has shaved his beard to leave a goatee under the chin. On the other hand, the mustache is thin but seems darker due to more hair growth.
6. Soul Patch and Chin Stubble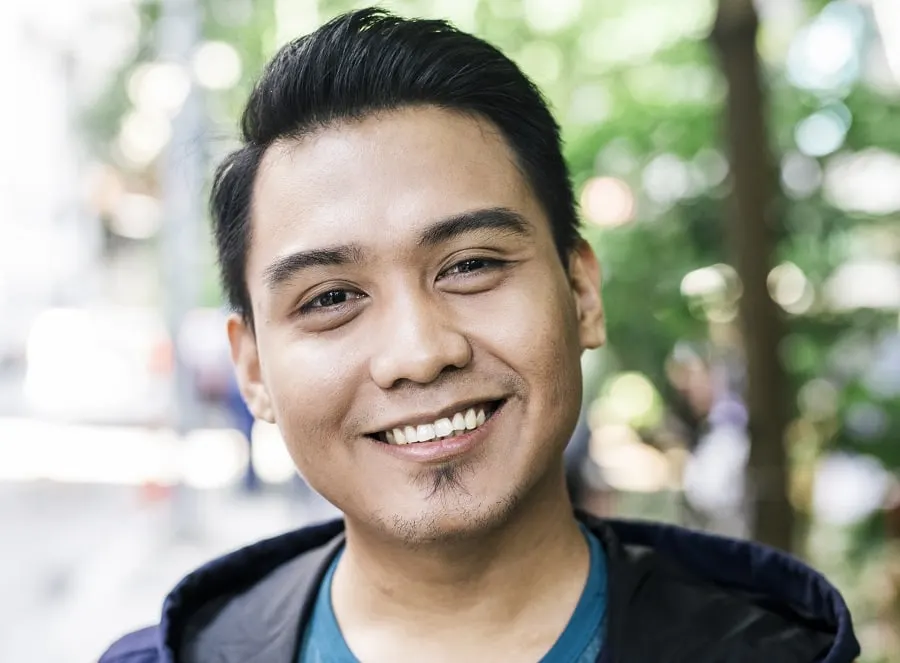 Make a statement even if you don't grow a big and powerful beard. There's light and patchy stubble on the chin with a soul patch on top. The soul patch isn't trimmed so it can look more prominent.
7. Curly Ducktail Beard
Growing a ducktail beard can make even a square face look triangular, like in this case. There is no tapering happening but the beard becomes naturally slender at the bottom to become a ducktail beard.
8. Curly Goatee with Long and Narrow Sideburns
Is there a better way to look rough and neat at the same time than this? The spiky haircut with short sides combined with narrow sideburns make this style neat. On the other hand, the goatee is curly, slightly long, and a bit messy.
9. Long Grey Goatee with Thick Mustache
Are you lucky enough to have plenty of hair even in old age? Let it loose then. Grow long hair and let it rest on your shoulders. Show that big and thick beard and complete the look with a long grey goatee hanging several inches below the chin.
10. Extended Goatee with Stubble Mustache
Let your goatee extend as far as it can even if it doesn't cover the full jawline like a typical extended goatee. The extended look will make it noticeable if the hair is dark enough. Pair it up with a light stubble mustache, so the focus is still on the goatee.
11. Chinstrap Beard with Thin Mustache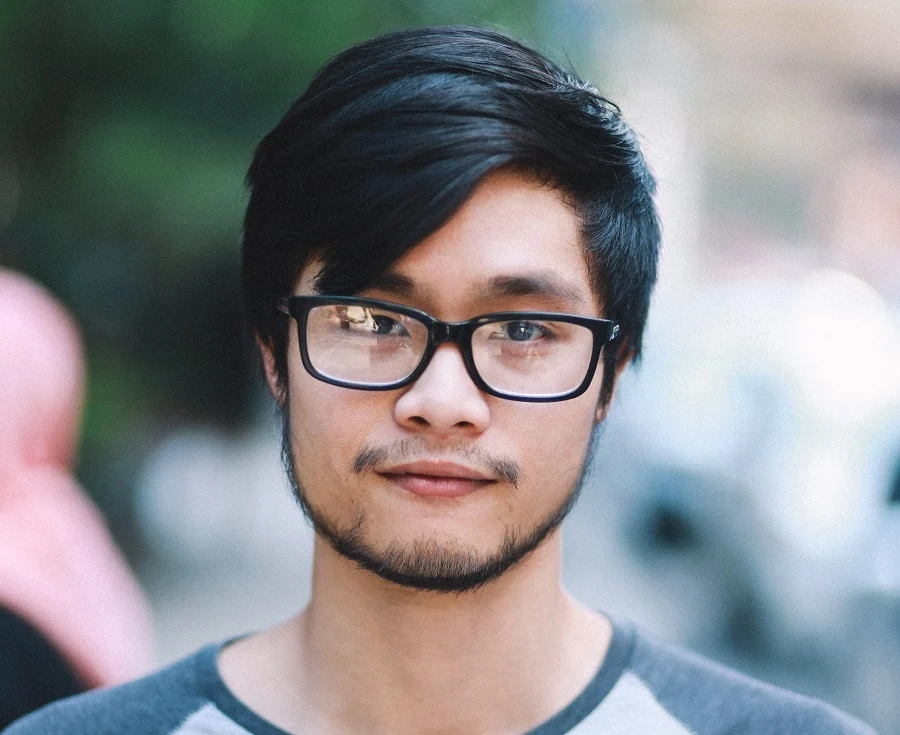 Quite a few people grow a chinstrap beard naturally because they don't have hair on the cheeks. If that's the case with you, let your beard grow and give your face a nice outline. Grow a thin mustache if you don't like the mustache-less look.
12. Goatee with Short Beard and Handlebar Mustache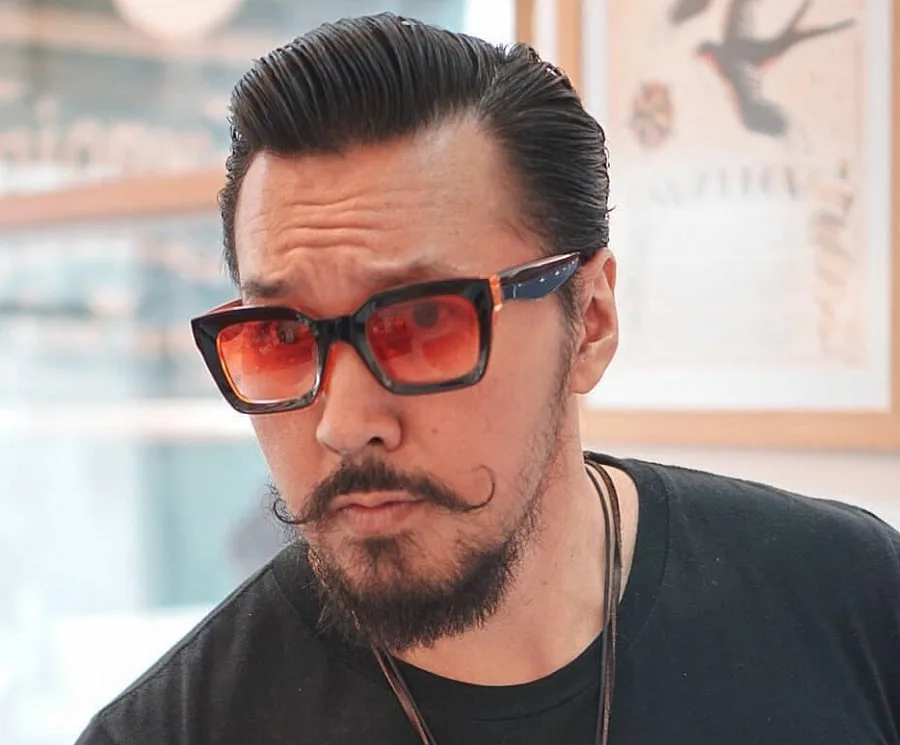 You can rock this style if you grow little hair on your jawline. The thicker goatee can turn it into a proper style as the thin jawline beard flows into thick chin hair. Who has time to think about the thin beard when you can grow a beautiful curly handlebar mustache?
13. Salt and Pepper Chinstrap with Pencil Mustache
This beard walks the thin line between a chinstrap and chin curtain. The grey hairs peeking through here and there make it unique, but what's really interesting about this style is the barely noticeable pencil mustache.
14. Petit Goatee with Light Mustache
As a teenager, you might not have thick facial hair at the moment. However, a petit goatee with a light stubble mustache can make your face recognizable. A low-fade haircut can be a spectacular addition to this style.
15. Full Long Beard with Fu Manchu Mustache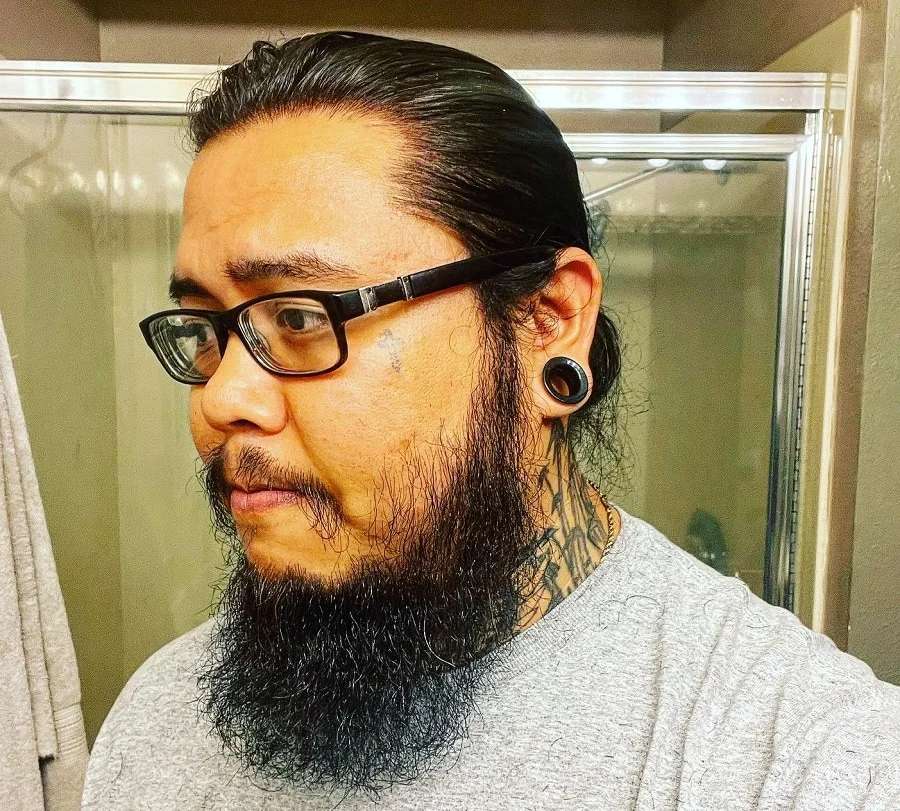 A proper Fu Manchu mustache can be a big challenge to grow, but give it a shot by letting the ends of the mustache grow and then droop on both sides. Grow a long beard and comb/brush it to give it length.
16. Patchy Short-boxed Beard with Long Mustache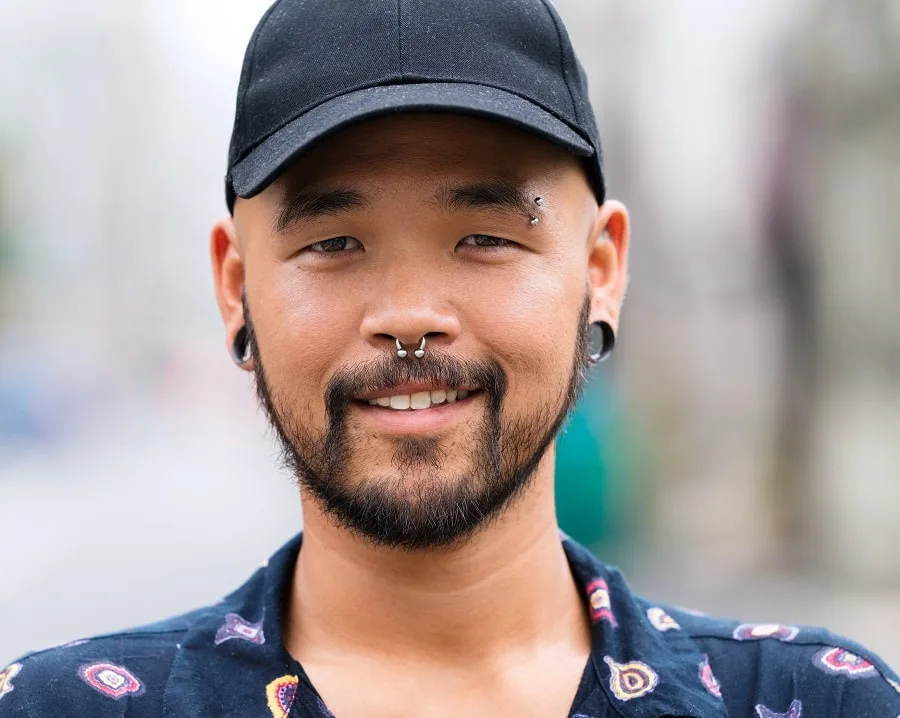 It's a typical short-boxed beard, but there's a tricky twist to this Filipino beard. The hair growth on the cheeks is patchy, but the gentleman has used it to their advantage by growing a mustache that almost feels like a horseshoe mustache.
17. Grey Chin Puff with Chevron Mustache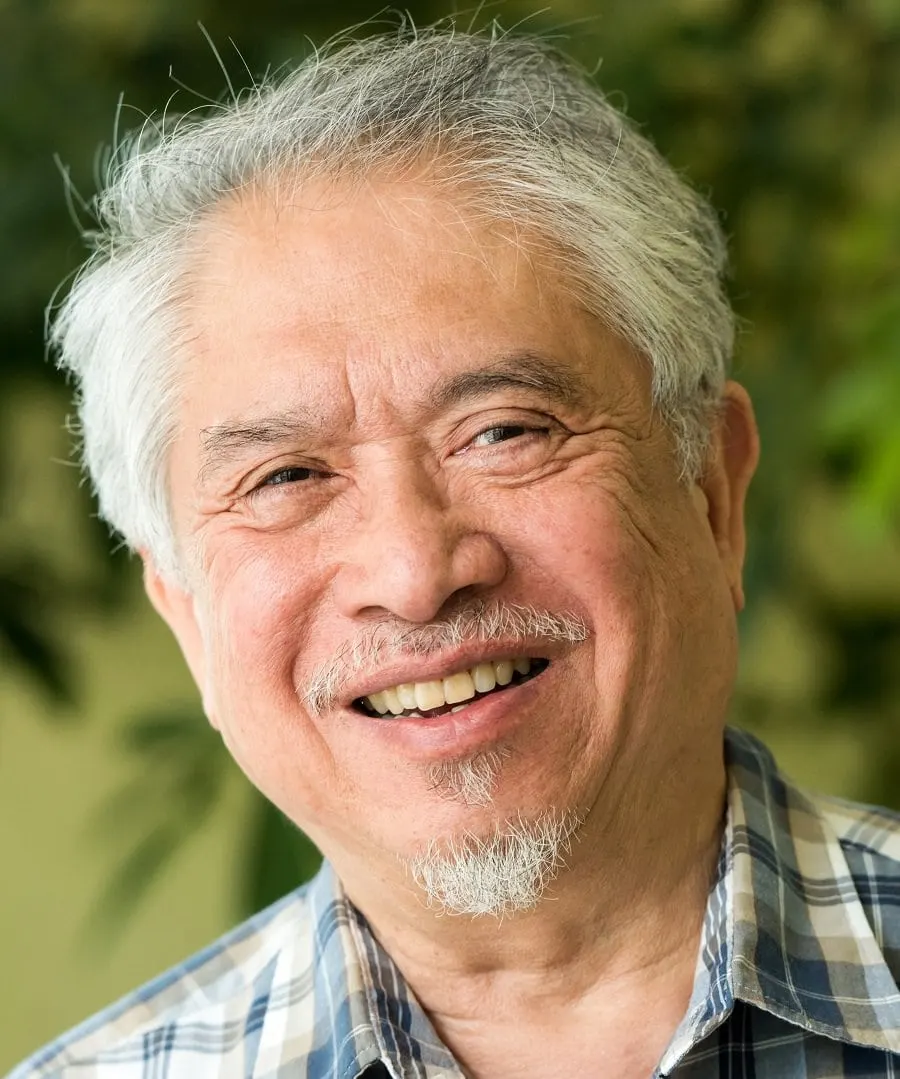 Don't want to commit to a full beard? How about a small chin puff with an even smaller soul patch above it? As simple as this look is, it can get quite a few glances, especially when you throw in a light chevron mustache.
18. Patchy Stubble Beard with Long Hair
Stubble beard is the choice of a lot of young and old people these days, and the slight patchiness doesn't bother them. The stubble gives you enough days of rest and no maintenance. Try the look with long hair.
19. Tapered Short Beard with High and Tight Haircut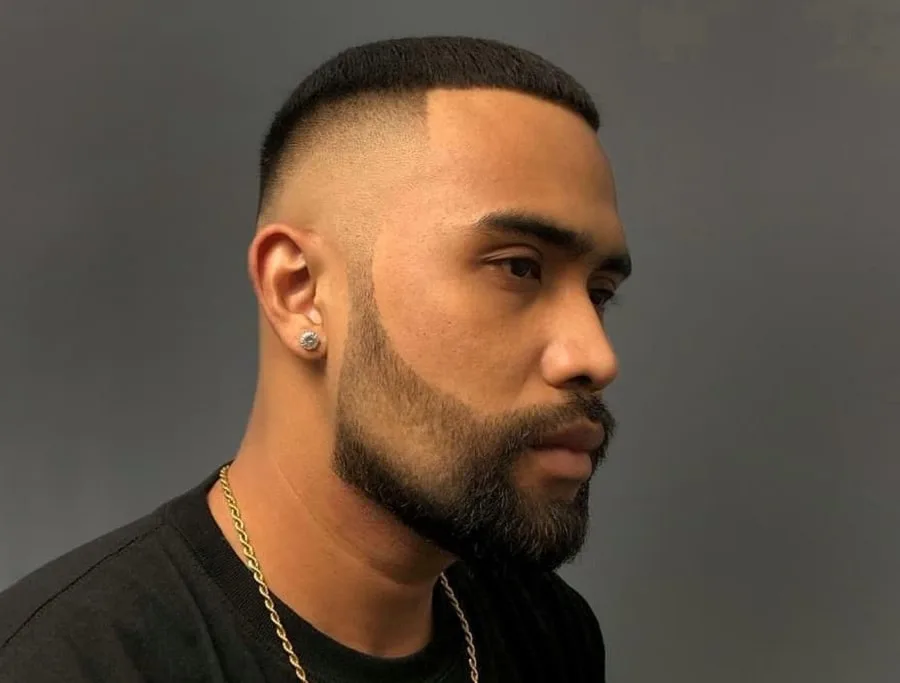 One of the things you can do to make your short beard stand out is taper its sides. The taper transitions into a beautiful high and tight haircut with faded sides. This style shows your love for style and fashion.
20. Patchy Stubble with Narrow Chin Stripe
The slight twist to this Filipino beard is the narrow chin stripe, which is longer and thicker than the rest of the beard. All the other hair on the face is in the form of medium stubble.
21. Salt and Pepper Beard with Tapered Haircut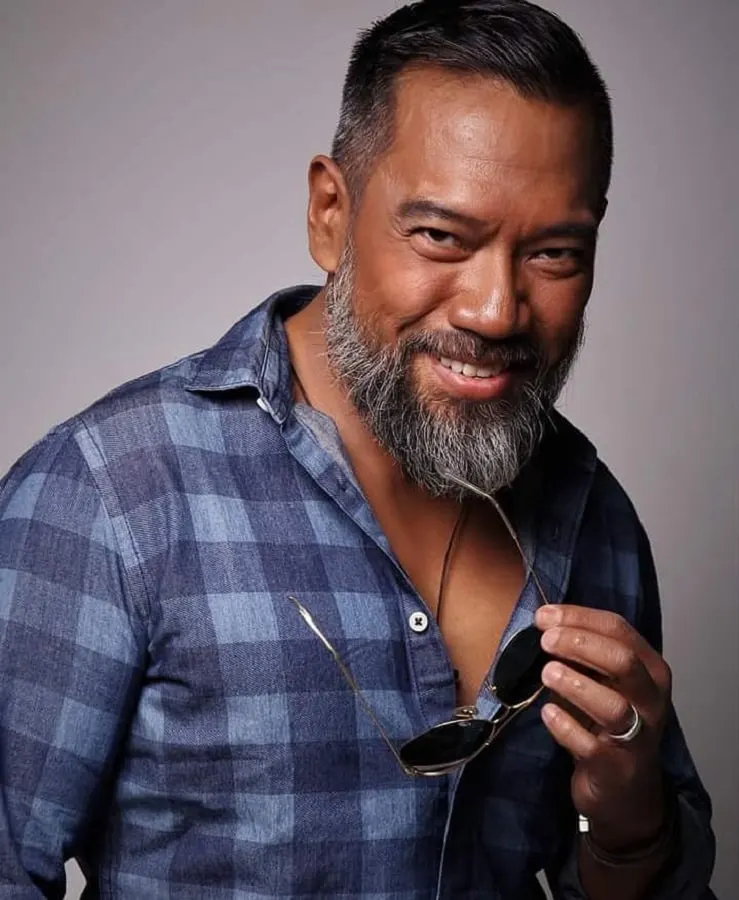 Wear your salt and pepper pridefully by growing a mid-length full beard with a trimmed mustache. If the beard makes you look aged, you can certainly do it with a trendy tapered haircut.
22. Big Goatee with No Mustache
A goatee beard is always great for a round face because it adds length. It can be an even better pick if you are bald. To make goatee more noticeable on the face, it's best you shave off your mustache too.
23. Short Beard Fade with Slick Back Hair
To achieve this Filipino beard style, you'll have to grow a short beard, shave a curved cheek line, and clip it near the sideburns so it completely fades. This beard style looks stunning with a low-fade, slick back haircut.
So, choose your favorite Filipino beard style according to your beard growth and rock it with style.
Recommended for You:
60 Coolest Asian Beard Designs – Upgrade Your Beard Style