The long beard is a trend that comes and goes, as it takes a real sense of style to pull off a long beard without looking messy. While long beards have made their way back into the hearts of many, a lot of men still don't know how to style them so that the look suits their face. On the other hand, so many hipsters have adopted the style to a type of "classic woodsman" look which gives the beard a bit more of a polished edge. So whether you're looking for some new styles to incorporate into your beard, or you're thinking of giving the long beard a try, here are 20 long beard styles to choose from.
Best Long Beard Styles
These beards are for men who don't wish to sport an obnoxiously long beard. While these are considered "short" to some, a lot of men who aren't used to wearing their beards anywhere past their chins would find these styles to be "long." Here are a few short long beards to try out if you're interested in letting your facial hair grow out.
1. Polished but Gruff
This full beard is a shorter variation of the long beard, reaching right above the chest. Allow the beard to grow out fully, and trim the hairs down with a pair of scissors in order to give the hair a more uniform shape.
 2. Boss Man
This long beard is another moderate length and features faded sideburns and a trim outline. Coupled with a prominent side part, this beard adds a sense of simplicity and effortlessness.
3. Picture Perfect
This beard reaches the chest and offers a hombre appearance as the roots fade from dark gray to white. Featuring full sideburns that extend up into a short cut on the side of the head, this style is best suited with a perfectly combed over coif.
4. Razor Sharp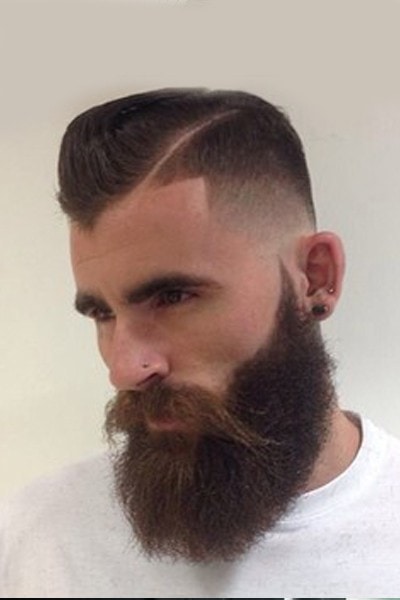 This beard has been outlined and styled to perfection, featuring clean lines and a beard that has been trimmed down to a uniform length. The key to this style is leaving the mustache lengthy and slightly curled at the ends to give the beard more texture and style. Coupled with a very prominent side part and side comb, this is definitely one of the sharpest versions of the long beard.
5. Uniform
Here's a chin length beard that has been trimmed down so that both the beard and mustache are the same length. This gives the beard a slight sense of uniformity and polish that wouldn't be present if the hair was left scraggly.