Aging brings on a lot of lifestyle changes that not everyone has the time to prepare for. Your skin goes through some of the most significant physical changes with aging, making tasks like shaving challenging to keep up with.
As skin becomes softer and saggier, the chances of cutting yourself grow, making shaving more dangerous. Add on unsteady hands and worsening eyesight, and the job seems nearly impossible.
You may be asking yourself, how do I make this work? Luckily, there are electric razors on the market that are made to withstand the challenges of aging. We did the research, so you don't have to. Here are our recommended best electric razors for elderly men. Get a quick look if you're in a hurry.
Image
Title
Editors Rank
Price

Top

Top

Braun Series 9
Editor's Pick
See Price

Top

Top

Braun Series 7 790cc
Best Overall
See Price

Top

Top

Panasonic ARC5
Best for Thick Hair
See Price

Top

Top

Remington Heritage Series 9000
Works on Both Wet and Dry Skin
See Price

Top

Top

Philips Norelco Shaver 9700
Dual-Blade Technology
See Price

Top

Top

Braun Series 3 3040S
Best Budget-friendly
See Price

Top

Top

Andis 17150 Pro
Best for Home Use
See Price
Why electric razors are a good choice for elderly men?
It's a Sunday morning, my dad is sipping his coffee and I'm right there with him, listening to his endless stories.
Now, Dad's always been a stickler for grooming. But age had made his hands a little shaky, making his morning shave a bit of a challenge. So, I thought, "Why not try an electric razor?" And it turned out to be the best decision ever!
Here's why electric razors are a great pick for older men:
They're safe. Even with shaky hands, the razor does its job without causing any cuts.
Super easy to use. Just a push of a button and voila! No fuss, no mess.
They're versatile. Close shave or just a trim, the electric razor handles it all.
Low maintenance. No more constant blade changes, just a simple clean after each use.
Types of electric razors and their best uses
| Type of Electric Razor | Best Uses |
| --- | --- |
| Foil Shaver | Best for daily use and for those with fine hair. It provides a close shave and is ideal for straight edge shaving such as sideburns, neckline, and cheeks. |
| Rotary Shaver | Best for those who shave less frequently or have thick, coarse hair. It's great at tackling longer hair and contours well to the face. |
| Clipper | A good choice for those who like to keep a short, even stubble or a well-maintained beard. It's not for a close shave, but it's perfect for trimming. |
| Body Groomer | Specifically designed for body grooming. It has a skin-friendly design and provides a close, comfortable shave on different body parts. |
| Wet and Dry Shaver | Versatile for both dry and wet use. It's best for those who want the flexibility of shaving with or without foam, gel or even in the shower. |
| Travel Shaver | Compact and battery-powered, these are designed for travel. They're best for on-the-go touch-ups and less about a full grooming routine. |
The Best Electric Razors for Elderly Men
The Braun Series 9 is one of the best products to come from the electric razor industry. Tests show that the Series 9 gets more hair in a single-pass than all other electric razors available on the market.
Perfect for older men, the razor is ready to automatically switch power levels and blade speeds as needed. For those with sensitive skin, you can rest easy knowing you won't suffer from razor burn due to its sonic technology.
Cleanup is a breeze, thanks to the Series 9 charging and cleaning station. Place the razor in the station and go about your day as it gets clean and fresh charge.
One of the most popular electric razors on the market since 2010 is the Braun Series 7 790cc. The razor uses sonic technology that allows the trimmer's power level to automatically change depending on the thickness of the hair.
The razor head can shift in either direction allowing for easier access to hard-to-reach areas, perfect for older men who have trouble with areas like the neck. It offers 50 minutes of cordless battery life and is waterproof for easy cleanup.
Easy to operate and easy on the eyes, the Panasonic ARC5 has the features to beat with a classic style.
Face contours get you nervous? With Seamless technology, the Panasonic ARC5 switches directions as it glides across the skin with no extra effort from you. With excellent speed, the blades make shaving effortless, even on thick hair.
The razor offers 40-minute battery life and a nearly silent shave. With its efficient charging and cleaning station, the Panasonic remains hygienic and charged after each shave.
Perfect for travel, the Remington Heritage Series 9000 is a high-quality razor that comes in a compact size. In just 10 square inches, the razor packs in an excellent shave for older men.
The Remington Heritage works on both wet and dry skin, perfect for those looking to save time by shaving in the shower. Its three stainless steel blades move with the contours of your face thanks to its hybrid intercept technology.
The razor has a 60-minute battery life and fully recharges in under two hours.
The Philips Norelco Shaver 9700 comes with some of the market's most desirable features. The company's exclusive Dual Precision shaving system makes for one of the sharpest shaves and closest cuts.
To help older men, the razor provides Life and Cut Dual-Blade technology to avoid nicks and cuts that may come with an unsteady hand. When in full charge, the razor provides up to 60 minutes of cordless battery life.
The budget-friendly Braun Series 3 3040S razor offers excellent precision on both wet and dry skin. Its simple structure makes the razor easy to use for men of any age.
The company's patented SensoFoil technology allows for a close, non-irritating shave, even on more sensitive skin types. The razor's micro combs offer quick shaves with easier cleanups and fewer passes over a single area. For quick use, the razor fully charges in about an hour.
Ending with another budget-friendly option, the Andis 17150 Pro is a professional shaver great for at-home use. The foil shaver is one of the more popular products on the commercial market, making it dependable for a good shave.
Weighing less than five ounces, the 17150 Pro provides an easy grip from older men. Where it lacks in weight, it makes up for in power. The blades can cut through all hair types with ease while staying fairly quiet.
With the longest battery life on the list, the shaver lasts up to 80 minutes between charges.
Verdict
Out of our seven choices for the best electric razors for elderly men, we have come up with two that tops them all.
For a high-quality, high-budget, option our number one pick is the Braun Series 9. Its high-tech features allow for a faster shave and offer automatic power level and blade speed switches that are perfect for older men.
For our number one pick for a budget-friendly but high-powered razor, the Andis 17150 Pro takes the gold. This light and compact shaver offer barbershop-quality cuts right at home. Great for home use and travel, this shaver glides through all hair types with ease and provides an excellent 80-minute cordless battery life.
How to Pick The Right Electric Razor for Elderly Man – Buying Guide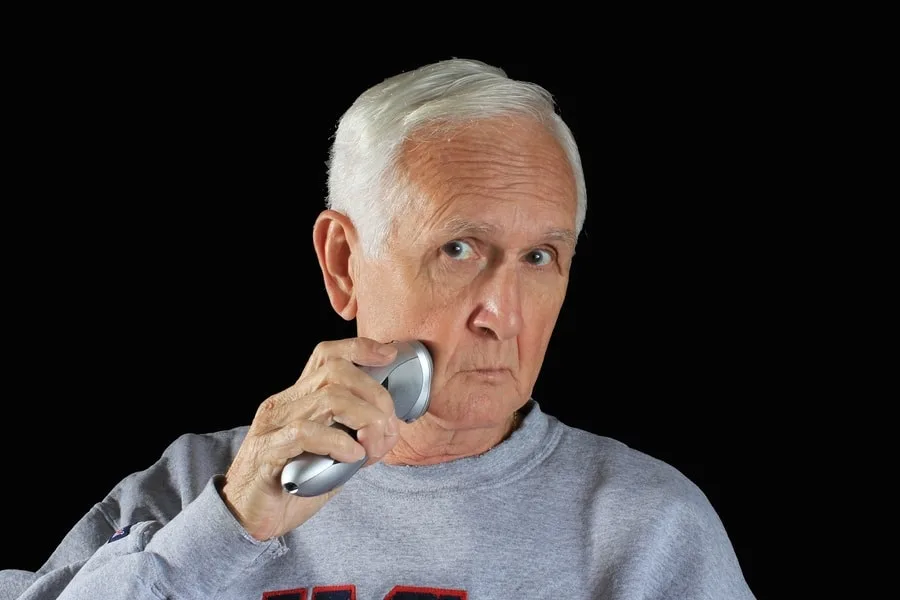 Can't decide which one to go with? Here are some tips to help you choose the best electric razor for an elderly man:
Consider your price range – Some electric razors can go for upwards of $200. Knowing how much you want to be spending is a good place to start when looking into a new electric razor. Check out some good electric shavers under $100 and here are some under $50.
Consider your lifestyle – If you are constantly on the go, you might want to go with a more compact, travel-friendly razor. If you are more of a homebody, then going with a little bigger product won't be a bad idea.
Consider your shaving habits – If you do most of your shaving in the shower, you will want to make sure your choice is waterproof. Many electric shavers work wet or dry, but some can only be used when dry.
You also want to consider how often you shave. If you shave every few days, you want something with a strong battery and long life expectancy. If you shave every few months, you might want something with strong power to tackle your hair length and thickness.
Are you forgetful? – If you don't trust yourself to remember to charge the razor after each use, you might want to look into a product that has a quick recharge speed.
Is it easy to use? – With age, routine tasks can become daunting. You want a razor that does all the work for you, so make sure your choice offers automatic features for facial contours and hair thickness to help avoid nicks and cuts.
Maintenance – Depending on how much time you want to spend on maintaining your electric razor, you may want to look out for products that do most of the work for you. Many electric razors out there come with automatic cleaning and charging stations. For a little more money, you can purchase a razor that will clean itself once plugged into its charging station.
Why Get A Good Razor?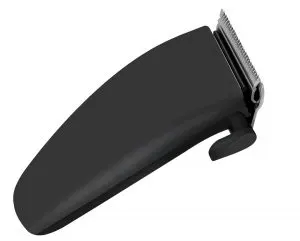 A good razor saves your skin from many inconveniences. For starters, dull or cheap razors lead to ingrown hairs more often than high-quality ones.
Dull blades can also lead to more dangerous cuts as people will often push harder on the skin to get a clean shave. Investing in a good razor with a sharp blade can save you from the extra hassle that comes with using a bad razor.
Electric razors provide multiple benefits over the standard manual razor. One benefit that draws in any busy person is that they save time. Electric razors work quickly and safely to give you your desired shave in fewer steps than with a manual blade by eliminating the need for shaving creams, gels, and water.
Those with sensitive skin also find that electric razors leave their skin less irritated. Electric razors are designed to glide right over the skin while shaving and require less pressure from your hand to get the job done. This leaves skin feeling clean and healthy instead of leaving irritation behind.
It is common in newer electric razors to provide setting options. Various settings allow for more accurate shaves when it comes to shaving areas of facial hair, beards, mustaches, and sideburns. With the electric razor, you can skip the barbershop and style your hair at home.