The variety of cartridge razors on the market today can make any guy's head spin. Gillette is among the oldest and most respectable razor manufacturers in the world. Every once in a while, they come up with new razor models.
Gillette Fusion5 ProGlide Razor: An Ideal Shaving Tool for You
We decided to take a close look at Gillette Fusion5 ProGlide razor since it seems to have features the previous models don't. Is this the new word in the cartridge razor industry? Let's find out.
Extensive Review of Gillette Fusion5 ProGlide Razor
Product name: Gillette Fusion5 ProGlide Razor
Product type: Cartridge razor for men
FlexBall technology
Large lubrication strip
Close shave due to 5 thin blades
Easy-grip handle
Beardstyle Product Rating: 9.8/10
Features and Benefits
FlexBall Technology – makes the razor head flexible enough to slide along the facial curves without pulling and cutting the skin.
Wider lubrication strip – has more lubricant than previous models and helps provide a smoother shave.
Precision trimmer – helps shave hard-to-reach places, such as sideburns and under the nose.
5 thin blades – allow you to get a quicker and closer shave.
Easy grip – makes the shaving process easier by reducing the discomfort in your hand.
The replacement cartridges of this razor are long lasting. Each one can last for as long as one month.
Gillette Fusion5 ProGlide razor is an improvement over the older models. It has 5 sharp blades and a wide lubrication strip. The FlexBall technology allows the razor to reach the tough spots and follow the body curves.If you learn how to use it right, it can help you remove all the unwanted hair and reduce the number of shaves per month.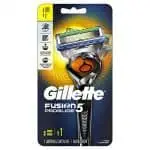 Gillette Fusion5 ProGlide Razor
Opinion
This is a high-quality cartridge razor, which is great for thick hair. The thin and sharp blades do their job well. The razor's longevity makes the high cost of Gillette Fusion blades less noticeable.
Pros
5 thin high-quality blades
FlexBall technology
Long-lasting replacement cartridges
Precision trimmer for hard-to-reach places
Cons
High learning curve
High cost
What to Expect When You Buy Gillette Fusion5 ProGlide Razor
This razor has an easy-to-grip handle just like the rest of Gillette Fusion razors do. The main difference is the FlexBall technology. This razor's design takes into consideration the big number of curves a man's face has. The ProGlide model has a precision trimmer on the back to get to the hard-to-reach spots. You can use all Gillette fusion razor blades with the ProGlide handle. However, Fusion5 ProGlide blades are recommended.
You can check out Gillette Fusion Manual Men's Razor Blade Refills. They come at a fair price and feature a rich lubricating strip and a precision trimmer. You can buy a big box, which can last for over half a year.
Beardstyle Product Rating: 9.5/10
How To Use Gillette Fusion5 ProGlide Razor?
Wash your face with a mild cleanser (you can also exfoliate for a closer shave)
Keep the skin damp and apply the shaving cream or soap
Consider checking out Gillette Fusion ProGlide Sensitive 2 in 1 Shave Gel. This gel is specifically formulated for sensitive skin.
It offers a good lather and comes in a no-rust package with an easy-to-use dispenser.
Beardstyle Product Rating: 9.5/10
Look closely at your razor to see if there are any dull blades. If you find any, replace the cartridge. Otherwise, you risk irritation, cuts, and infection.
Start shaving your sideburns with light strokes. First, go with the grain and then against it. Repeat with cheeks and chin.
Use the precision trimmer to shave the hair under your nose
Once you are done shaving, apply the aftershave lotion.
Watch The Following Video to Know about How to Shave with Gillette Fusion5 Proglide
We enjoyed using Gillette Fusion5 ProGlide Razor once we got the hang of it. We recommend it to men, who aren't afraid of challenges and want to get a closer shave. Please tell us what you think about this product.
Related Topics:
Last update on 2023-03-28 / Affiliate links / Images from Amazon Product Advertising API