The Debate for and against using Rogaine for a beard is a common topic in the beard communities. Some people wonder, 'Why people even think of using Rogaine?'
Well, many men are faced with a situation when their beard just doesn't grow as fast or as full as they wish. Mostly, it happens at a young age of about 17 – 18.
However, older men can also suffer from sparse hair growth. Beards are becoming more and more popular nowadays. And it is often very sad not to be able to grow one.
When different approaches have been tried and despair starts to settle in, men turn to special stimulants that can help hair growth. One of the most popular ones is Rogaine. Its active ingredient that helps stimulate growth is minoxidil.
Does Rogaine work for a Beard?
Many men have impressive results when it comes to growing beards with the help of Rogaine. However, it doesn't suit everyone. It is possible that Rogaine will not work for you. So what you can do is try and see how it goes.
Rogaine is FDA approved in the USA which means it underwent all the necessary trials to allow it to become an official treatment for hair loss.
How does Rogaine stimulate hair growth?
It is believed that minoxidil (also prescribed for high blood pressure) increases the time hair spends in its active growth phase. It is also known to awaken inactive hair follicles and increase their size which allows them to start producing longer, thicker and healthier hair.
What does Rogaine hair growth solution look like and what does it contain?
Minoxidil is a transparent or yellow fluid that feels oily and smells like pure alcohol. It contains ethanol to help the solution dry faster and gives the smell of spirits to the solution. Propylene glycol allows the solution to penetrate the skin and makes it oily. Some people have allergic reactions to this component. There are special solutions where this ingredient is replaced with glycerin.
Sale
How often should Rogaine be used to help the beard grow?
If this remedy turned out to be effective for your beard growth, you must use it on a regular basis to maintain the result. If you stop using Rogaine then in a few months your beard will come back to looking as it did before you started the treatment.
After you take a break, you will have trouble reaching the same results again. That's why you should decide whether or not you are ready to use Rogaine on a regular basis. This remedy is quite costly, so the financial situation should also be considered when starting to use Rogaine.
Side effects of using Rogaine for beard growth
Each medication has its certain side effects. It is important to carefully read the instructions that come with Rogaine. It might turn out that you have individual contraindications to this medication. If you don't exceed the amount of medication mentioned in the instruction then you shouldn't experience any bad side effects.
However, some men say that when they just start using Rogaine, they experience facial redness and burning sensation in the places the medication is applied. Some suffer from faster heartbeat that disappears after about 1 – 2 weeks.
One of the most popular side effects that the manufacturer often fails to mention is skin shedding in the places where Rogaine is applied.
Usually, you can easily deal with this problem by using facial creams and washing your face before applying Rogaine. The reason for shedding is pure alcohol that dries your skin. Also some part of the medication might not be fully absorbed and stays on the skin surface.
Using Rogaine to help grow a beard in adolescence
The medication is not hormonal so it can be used at a young age. However, Rogaine has not been tested on children, so using it can have some unknown side effects. Having a bushy beard at 17 might seem cool but sometimes it's just not worth it.
Some Photos Before & After Taking Rogaine for Beard Growth
Below are some photos that show the Rogaine effect for beard growth.
Front face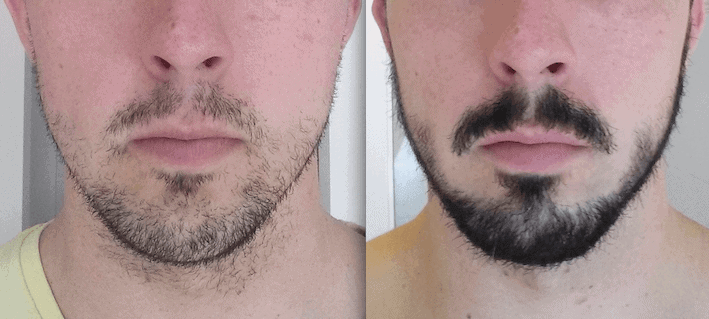 Right side
Different Phases
After 1 year 4 months of taking Rogaine and finishing 9 bottles
Right side
Many men are reaping the benefits of Rogaine treatment and are sporting better and thicker beards. At the same time, many men haven't noticed any significant changes. All you can do is try for yourself.
For beard growth, we also recommend trying Beard Grow XL because of the great success rate among the users. Also, you can read the reviews in Amazon. It's definitely worth the shot!
Last update on 2022-07-26 / Affiliate links / Images from Amazon Product Advertising API