Itching beards is not new to men across the globe, especially to African due to the kind of hair they have. Itching is an irritation caused by the growing hair as it tries to penetrate through your skin.
Why beard itches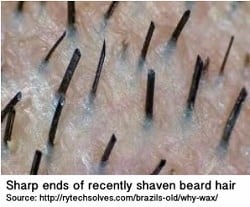 What can I say really? Well, itchy beard is seen mostly to those individuals who use shaving equipments such as razor. Razors usually slice the hair leaving it with sharp edge, which pears your skin as the hair grows causing itching.
Is beard itching a common thing that happens to all or it's just me?
Well, its kind of natural but doesn't happen to all. It largely depends on your facial hair characteristics. It is thick or thin, spiral or straight etc variants play vital role whether you feel itch or NOT. Itchy beards are usually common with African due to the nature of their hair. As a matter of fact, African hair grow spiral; therefore, when shaved deeper, it becomes so difficult for the hair to find its way out of the skin, thus causing irritation. Unlike the Asian and the white, their hair is hard and straight, thus penetrating the skin easily.
Common causes of itchy beard
As a matter of fact, itching begun at the time men begun shaving. However, that is beside the point. Let's check out the main causes of itchy bread:
 Deep shave
 Poor handling of shaving machine
 Poor hygiene
 Poor shaving gadget
How to treat itchy beard and stop itching
There are a number of was to repress itchy beards, and all these techniques are subjected one process, shaving. Let's check on the technique that can be used to repress itching.
 Use clean shaving gadgets.
 Avoid deep shaving.
 Give your beards time to grow, approximately two to four week before shaving.
 Moist you beards with moisturizing shampoo.
 Always use better equipment when shaving so as to repress the chances of your hair pearing your skin, thus causing irritation.
 Use medication as prescribed by dermatologist to cure the condition.
Precautions
 When shaving your beards, always shave along the hair grain.
 Use clean shaving gadgets to repress chance of infecting yourself.
Maintenance
Since the introduction of salon as well as barber shop, maintaining beards has been a walk in the park. However, this does not exonerate you from maintaining your beards. Always wash and moist your beards on a daily basis to enable your hair grow softly. Otherwise, beard itching will irritate you in regular interval.