Trimming a beard is an art. However, not many of us have enough time and skill to make professional beard cuts. Thankfully, the electric beard trimmers can save the day. When men go out on a hunt for the right beard trimming tool, most of them end up not buying anything and feeling frustrated. Besides trying to find out a difference between electric beard trimmers and electric shaves, they are stuck choosing among hundreds of models.
Electric Beard Trimmers Summary Review: Best Pick
This week we took the choice into our hands and checked out several dozens of electric beard trimmers. After long hours of work, we came up with 3 best models, which can make trimming a beard with an electric trimmer a fun time instead of a frustrating procedure. We hope you can find out the results useful.
Philips Norelco Multigroom All-In-One Series 3000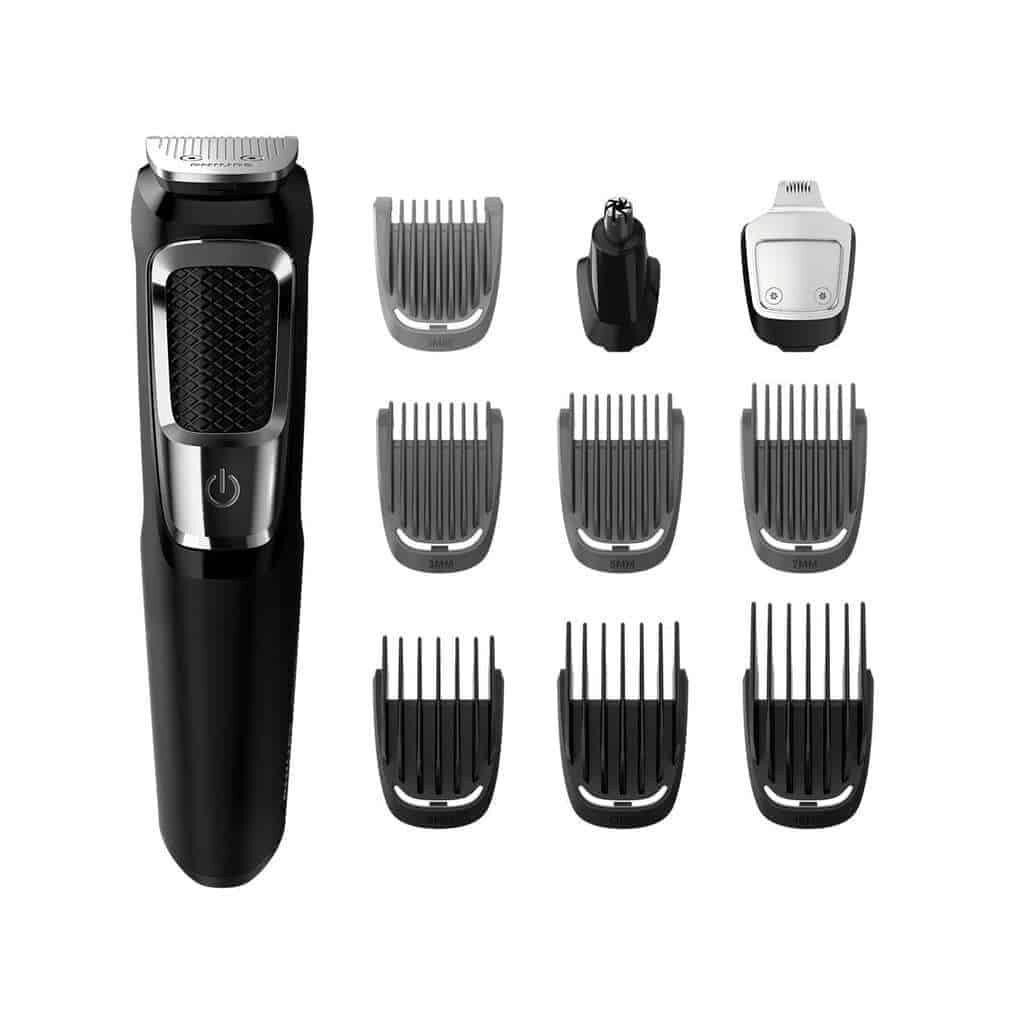 This electric beard trimmer comes with a reasonable price tag, self-sharpening steel blades, trimming guards, storage bag and more. Thirteen attachments make it a wonderful choice for men with any beard size. Meanwhile, it has attachments for nose and ear hair trimmers.
Beardstyle Product Rating: 9.5/10
Check Out This Short Video Review of Philips Norelco Multigroom All-In-One Series 3000
Electric Beard Trimmers Review: Editor's Top 3 Pick
Philips Norelco Multigroom All-In-One Series 3000
The versatility of this electric beard trimmer is impressive. Besides offering 13 ways to clip your beard, it has special tips for nose and ear hair grooming. The self-sharpening stainless steel blades allow you to use this model for many years to come. It takes only 2 minutes to recharge the battery. The charge is sufficient for 60 minutes of worry-free trimming.
Philips Norelco Multigroom All-In-One Series 3000
opinion
Trimming beard with this electric trimmer is highly enjoyable. It has many different options, works quickly, and sits comfortably in your hand.
Pros
13 attachments
Versatility
Travel bag
Stainless steel blades
Cons
Somewhat heavy
No 2mm attachment
Conair for Men Beard & Mustache Electric Trimmer
This beard and mustache electric trimmer is a perfect model for men on a tight budget or those, who don't need too many options. The stainless steel blades do a wonderful job providing fast and precise trimming. The comb is adjustable to offer 5 different lengths. The unit comes with a 2-year warranty, which speaks highly about its quality.
Even though it's a 2010 model, this trimmer still gets the job done without too many downsides. The low cost and precision make it a useful tool in any man's arsenal.
Conair for Men Beard & Mustache Electric Trimmer
Opinion
The unit has a fairly good motor so it cuts the beard and mustache quickly. You can also use it for other areas, such as the neck and behind the ears. It's lightweight and compact.
Pros
Lightweight
Stainless steel blades
Moderate pricing
2-year warranty
Cons
No cordless use
Doesn't always provide "very close" cutting
Remington XR1400 Verso Wet & Dry Men's Shaver & Trimmer Grooming Kit
This grooming kit replaces 3 tools in your beard care arsenal. It does trimming, scrubbing, and shaving. It has a rechargeable battery, which needs 2 hours for maximum charge and then works for 45 minutes. This model is waterproof so you can use it in the shower. It's easily cleaned and can become your best friend at home and on the road.
Even though this trimmer has many different features, it's rather compact and lightweight. It gives a precise trim and shave. However, it comes with a formidable price tag.
Remington XR1400 Verso Wet & Dry Men's Shaver & Trimmer Grooming Kit
opinion
This particular kit is great when you need all three options. If you are looking for a simple electric beard trimmer, this one is too expensive.
Pros
Versatility
Close shave
Sleek design 10-length adjustable comb
Cons
High price
Lack of traditional attachments
Comparison Chart:
Drag & Drop Product to Compare & Contrast Your Preferred Electric Beard Trimmer
Final Verdict:
After reviewing many different electric beard trimmers and narrowing our list down to 3 models, we came up with a definite winner, Philips Norelco Multigroom All-In-One Series 3000.
PHILIPS NORELCO MULTIGROOM ALL-IN-ONE SERIES 3000
It is a versatile trimmer with stainless steel blades, long battery running time, 13 attachments, sleek design, compact body, and a fair price tag.
Pros
Versatile
Sharp Blades
Things to Look for When Choosing An Electric Beard Trimmer
Power source. Is the trimmer corded or cordless? Trimmers with cords are usually more powerful while cordless units are easier to use on the road and without the cord getting in the way.
Water resistance. If you are used to dealing with your beard while in the shower, look for waterproof models.
The number of attachments. Do you need to make your mustache slightly shorter than the beard or vice versa? You'll need different attachments. Some trimmers don't have very short attachments for making a stubble.
Versatility. Do you need the trimmer to work on your beard only? Or perhaps you need to deal with the nose, ear, upper lip and other facial hair areas?
Weight and size. If your beard requires long minutes in front of the mirror, make sure you choose lightweight and compact trimmer. Otherwise, your hand will get tired and lose precision.
Accessories. Different trimmers come with a different number of extras, such as travel bags, oils, cleaning brushes, etc. Think about which ones you really need.
Warranty. If a trimmer has a long warranty, it means a manufacturer is reasonably sure the model won't break for the duration of the guarantee.
Tips for Using An Electric Beard Trimmer
Wash and dry your beard before trimming (unless you are planning to do it in the shower).
Always start with the neck area.
Make chin hair slightly longer than on jawline and neck areas.
Shave the hair that hangs over your lip after brushing the mustache downward.
Oil your trimmer before each use.
Clean the blades after each trim.
Trim the more sensitive areas first since the trimmers heat up with time and may cause irritation.
Be patient when using an electric trimmer. It takes some time to find your ideal technique.
Don't apply too much pressure on the trimmer or you may cut off too much hair.
When you are trimming the neck hair, make sure to stretch out the skin.
Frequently Asked Questions
Q: Can I use a beard trimmer to cut my hair?
A: If the beard trimmer you choose has an attachment of the right length for your needs, you can give yourself a haircut. However, the precision may suffer and the blades can clog fast.
Q: How should I maintain my trimmer?
A: You should oil the trimmer before each use, remove the hair from the blades after each use, and wipe the surface clean with a damp cloth.
Q: How long does a trimmer last?
A: Depending on how heavily you use the trimmer, it can work for up to 10 years. However, new models come on the market every year so many users prefer to switch their trimmers once every 3 -4 years.
Q: Can I cut myself with a trimmer?
A: Even though most electric trimmers have blade guards, you can still accidentally hurt yourself. Please, read the manual before using the trimmer.
Q: What is the difference between beard trimmer and electric shaver?
A: A beard trimmer can trim your hair any way you like and make it any length you prefer. It helps style your facial hair. A shaver just shaves it off. Some electric beard trimmers have a shaving option.
When you decide to trim your beard with an electric trimmer, you are always faced with a choice. We hope we made this choice slightly easier by reviewing the 3 trimmers we believe can offer you the best trim for your money.