Cartridge razors just don't cut it anymore? No problem. Straight razor kits are becoming more and more popular regardless of their high learning curve. These razors used to be the only option available for centuries. So why not take advantage of them now? We have prepared a list of 5 awesome straight razors that are super popular among men and reviewed them so that you can buy the one suitable for you.
Since many men are thinking about switching to other razor types, we came up with extensive straight razor reviews. We had to do some serious work sifting through a variety of models. The below 5 straight razors are the best in terms of overall user experience, reviews, features, durability, ease of use and price. If you don't change your mind about switching, consider picking one of these models.
History of Straight Razors
Today you are choosing the best straight razor and feel lost in front of a store shelf. A few centuries ago, the choice was much smaller and men were struggling to keep their favorite straight razor shaving kits in a good condition for years.
Razors date back to the dawn of humanity. Historians believe that men began shaving as soon as their beards started growing. Back then, people had to use shells and stones as straight razors. With time, these tools started looking more like small hatchets and using them was rather complicated. However, many men learned how to do it because they just didn't have any other choice. Hiring a barber was an expensive option.
The 19th century was the time of many developments for a straight razor. It acquired a shape similar to what we see know. The silver and decorative elements were added to the steel to make it more appealing. The honing and sharpening methods have changed. By the end of the 19th century, the edged blade was in style. Handles were made out of different materials. The decorations were truly impressive.
In the early 20th century, the popularity of straight razors began to wane due to the appearance of Gilette's first safety razor. They still held some weight until the 1950's and then disappeared almost completely. Until now! If you don't know, here are the differences between safety razor and the straight razor.
Types of Straight Razors
There are several types of straight razors:
European razors – the shank is attached to the handle with a screw.
Shavettes – the single replacement blade can be replaced inside the straight razor.
Asian razors – small one-piece straight razors with a straight handle, suitable for precise shaving.
Best Straight Razor to Buy in 2020: Editor's Best Pick
We tried hard checking out a variety of straight razors available in the market. The absolute winner of our straight razor contest is…
Feather SS Japanese Straight Razor
This straight razor is made out of high-quality materials. The blade can be sharpened any way you like. The handle provides a great grip. This model is easy to maintain.
Beardstyle Product Rating: 9.8 /10
5 Best Straight Razors on The Market Right Now
1. Feather SS Japanese Straight Razor Review
This is a high-quality stainless steel straight razor, which many men will appreciate. The rounded saving head makes the shaving experience simpler yet closer. The rubber handle provides a wonderful grip. The razor is easy to disassemble and clean. The blade is extra sharp and can last for a very long time.
Feather SS Japanese Straight Razor
Opinion
When you take this razor, you immediately feel the quality of the model. This razor is made in Japan out of high-quality materials. The handle feels good in your hand while the blade is extra sharp. We would recommend this razor to the majority of men, who don't like large razors.
Pros
Comfortable handle
Sharp stainless steel blade
Made in Japan
Easy to clean
Cons
May not be suitable for large hands
May cut skin
2. Dovo Straight Razor Carbon, Ebony Wood Handle Review
This is a nicely sized razor with high a high-quality blade. This model can be suitable for beginners since it has a wide blade. The wooden handle offers a great grip. The size of the razor is just right for anyone, even for men, who have large hands. This razor is great for shaving mustache, beard, and neck.
Dovo Straight Razor Carbon, Ebony Wood Handle
Opinion
All our team members enjoyed using this razor due to its great design. The blade is very sharp and the handle is nice to the touch. The razor comes in a nice case, which makes it easy to transport. The price is a bit high.
Pros
Great design
Wide blade
Travel box
Easy to clean
Cons
High price
May need to be sharpened after purchase
3. Black Widow Professional Barber Straight Edge Razor Review

This moderately-priced razor has a nice design. It also feels great in your hand. The blade is made out of stainless steel. This razor provides a close shave. The shank exposes 1/16'' of the blade. This razor is created for professional barbers and men, who have experience with shaving with a straight razor.
Black Widow Professional Barber Straight Edge Razor
Opinion
We like the fact that this razor has a nice price tag and can be used with a variety of blades. It's nicely designed and feels good in your hand. If you know how to operate straight razors, the 1/16'' blade won't scare you. It's a good choice for shaving your face and neck.
Pros
Replaceable blades
1/16'' exposure
Low price
Easy grip
Cons
Flimsy built
May seem to heavy for some users
4. Cutthroat Gents Men's Shaving Straight Razor Review
This is a true straight razor, which doesn't come with any replacement blades. The 3'' blade is made of carbon steel and provides a clean and precise shave. The blade doesn't come sharpened so you can hone it any way you wish. The great design and high-quality materials make it an excellent choice for both beginners and experts alike.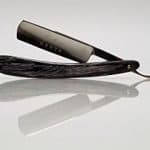 Cutthroat Gents Men's Shaving Straight Razor Professional Quality 100%
Opinion
We liked the way this razor is designed. It has a wide blade and a light wooden handle. The price is appealing as well. We think it's the best straight razor for men looking for a low budget model.
Pros
High-quality materials
Low price
Tight grip
Suitable for beginners
Cons
Lightweight
Need honing before use
5. Equinox Professional Straight Edge Razor with 100 Single Edge Derby Blades Review

This is a moderately priced straight razor kit, which comes with 100 replacement blades. The blade guard is easy to open for blade replacement. The ergonomic design makes lengthy shaving easier and more enjoyable. The manufacturer provides a 100% satisfaction guarantee for all its customers.
Equinox Professional Straight Edge Razor with 100 Single Edge Derby Blades
Opinion
This razor feels heavy in your hand, which may be an advantage for some and disadvantage for others. It comes with high-quality replacement blades so you don't have to worry about sharpening. Men who like shavettes will appreciate this model.
Pros
Ergonomic handle
Low price
Heavy
Nice design
Cons
High learning curve
Replacement blades are not too sharp
Comparison Chart:
Drag & Drop Product to Compare & Contrast Your Preferred Product
Final Verdict:
After learning immense amounts of information about straight razors and checking out a variety of products, we are happy to say that we've picked a winner. In our opinion, the best straight razor on the market today is Feather SS Japanese Straight Razor. 
Feather SS Japanese Straight Razor
This razor is made of high-quality materials. The handle is easy to grip. It takes care of all types of facial hair.
Pros
Feels good in hand
High quality
Long lasting
Cons
Extra sharp blades
Not suitable for all
Things to Look for When Choosing a Straight Razor
Blade Size
The width of the blade is important to getting the shave you wish. You'll usually see the width defined in 1/8'' increments. The blades can vary from 1/16'' to 1'' (8/8"). Smaller blades are a bit easier to work with. For example, Asian razors with small blades are better for mustache and soul patch shaving. Larger blades make it hard to shave hard-to-to reach places, such as behind your ears or under the nose. There is no perfect blade size for everyone, but beginners like to start with 5/8'' blades.
Blade Tips
There are three different straight razor tip types:
Square – suitable for edging and shaping
Round – provides safe and easy shave for all parts of the face
Barber's notch – suitable for shaving someone else since the notch provides a space for the finger for better cutting precision.
The best straight razor tip for beginners is the round one. It's the most common one as well. Once you are good with the round tip, you can proceed to the square-tipped razor. Don't try to shave anyone with a barber's notch razor until you are very experienced.
Replacement Blades
If you decided to choose a shavette, you'll need replacement blades. The replacement blades have different sharpness. The only way to find your ideal blade is using a trial and error method. You can also read reviews in online stores, but they are often contradictive. Some people enjoy extra sharp blades while others prefer duller edges for safety reasons.
Handle Material
Handle material is highly important because shaving with a straight razor can take a long while. During the process, your hand must feel comfortable. Handles should provide a good grip since the hand may sweat. The best handle materials are natural wood and silicon resin. Steel/metal handles add the razor more weight, which is good for a more precise shave but they can become slippery in the process.
This video will guide you how to pick the right straight razor.
Why Are Straight Razors In Trend?
The popularity of the straight razor is on the rise again. The true reason is unknown. Perhaps men are looking for a new way to demonstrate their strength and fearlessness. The biggest advantage of a high-quality straight razor is the lack of replacement blades. It's an environmentally friendly tool, which can easily find its niche on the 21st-century blade market.
Men are looking for new ways to shave. They don't want to depend on batteries, electricity, and replacement blades. After all, if you are stranded o a deserted island, how long will your Gillette cartridge razor last? Or what will you do with a corded shaver? Meanwhile, it can keep your face nice and shaved for as long as you are looking for ways to escape.
While the best straight razors may have a high price tag, they save the user money in the long run. You don't have to purchase/charge batteries, buy replacement blades, and use electricity.
How to Sharpen a Straight Razor?
If you purchase a straight razor, in most cases, you need to sharpen it before use. Sharpening a razor involves stropping and honing it.
Stropping  – Realigning the cutting edge
Honing – sharpening the bevel.
Install the strop
There are different types of the strop. The most popular one is the hanging one. Hang the strop and pull it until it becomes taught.
Place the blade
Place the blade near the base of the strop. Let it face you. Hold it with your thumb on the blade and the forefinger underneath. The blade must lie flatly on the strop.
Stropping
Run the razor blade up and down against the strop. The technique is everything. Incorrect stropping can ruin the blade instead of fixing it.
Honing
You need to invest in sharpening accessories, such as a whetstone. You can see how sharpening is done right here. Don't be afraid if you don't get it right the first time.
If sharpening is taking you too long of a time, you can consider finding a professional to do it.
How to Shave with a Straight Razor?
Shaving with a straight razor is a highly complicated process. The first thing you need to remember is that no one can shave perfectly from the first time. Most likely you are in for some nicks and cuts. Even the best straight razors have a high learning curve.
Always carefully prepare your skin for shaving. The best bet is to take a long shower so your pores open and the hair softens. If you don't have time to take a shower, soak a towel in hot water and wrap it around your face. Keep it on for 5 minutes or until it cools.
Use pre-shave oil to prevent razor burn and make shaving smoother.
Apply shaving cream or soap. A lather brush can help you create a thick lather layer, which will help you avoid cuts.
Place the blade at a 30 to 40-degree angle.
Apply very slight pressure. Forget about what you've done with cartridge razors. This one needs a gentle push of your fingers to start doing its job. Too much pressure will lead to cuts.
Shave with the grain first by taking multiple passes. Then switch to shaving against the grain.
Wash your face with cool water and apply aftershave lotion.
Always have an antiseptic on hand when shaving with a straight razor for the first time. All the nicks and cuts must be treated. If you cut yourself during shaving, wait for the nicks to heal before attempting to shave with a straight razor again.
This video summarizes the full procedure:
Things to Look for When Choosing Straight Razors
Take a close look at the type of razor you are buying. Today shavettes have captured the market. The razor may look like a straight model but have replaceable blades inside.
Choose the type of a straight razor: shavette, Asian or European. Shavettes are easier to use. European razors are more of a classic. Asian razors are great for detailing.
When choosing the blade width, don't go for huge blades. They are good for very experienced men.
Pay special attention to the handle. Shaving with a straight razor can take a while. Your hand shouldn't get tired. Wooden and silicone resin handles are a good choice.
If you are buying a razor at a brick and mortar store, check how it feels in your hand. The razor shouldn't be light or you won't feel comfortable shaving.
If you are buying a European or an Asian razor, buy sharpening accessories as well. Most of such razors come unsharpened.
Pay attention to the blade material. Stainless steel blades provide the best shaving results and last longer. Carbon steel blades provide a closer shave but rust over time.
When buying your first razor consider buying straight razor kits that already have all the necessary elements in one box.
Look at the price. Cheap razors are usually made of low-quality materials. Anything under $20 is bound to bring you more problems than benefits.
Tips for Using Straight Razors
Always be ready to use an antiseptic if you cut yourself.
Prepare your face beforehand. Don't shave without preparations.
Stretch your skin so it's taut. This will provide a close shave and help you avoid cuts.
Don't hurry. Before starting to shave, make sure you have enough time to complete the procedure.
Don't forget to treat your skin with an aftershave. Even a flawless shave must be followed by a moisturizing and softening skin treatment.
If you cut yourself, wait for the cuts to heal before trying to shave again.
Always maintain your razor well. Otherwise, cuts and nicks are guaranteed.
Consider starting to shave with a shavette before going on to real straight razors.
Invest in a good quality straight razor to avoid disappointment with the result.
Frequently Asked Questions (FAQs) on Straight Razors
Q: How do I take care of the straight razor?
A: Always wash and dry it after shaving. Store it in a closed box. Do honing and stropping on a regular basis.
Q: Can a woman use a straight razor?
A: Yes, women can use a straight razor to get better shaving results. The same exploitation and maintenance rules apply.
Q: Is a straight razor sharper than a disposable razor?
A: Absolutely. That's why you get a closer shave. And that's the cause of nicks and cuts.
Q: Is honing a straight razor complicated?
A: Yes, it has a certain learning curve. You can either spend the time watching the tutorials or ask for professional assistance.
Q: Is shavette a straight razor?
A: Technically no. Because a straight razor has a one-piece blade, which needs to be honed and stropped. However, shavettes have become popular in barber shops for hygienic reasons.
We hope our research will turn out to be useful when you are looking for the best straight razor for your purposes. Straight razors are making a comeback. Maybe it's time to join the party?