Choosing the best beard wax may be more complicated than growing a beard. Men with coarse and thick beards often don't know how to tame them. Buying the wrong wax can lead them to give up on the styling efforts. However, a good wax can change the way you view beard care. Just a few strokes can help you beard appear flawless all day long.
Looking for an ideal beard wax is a tough task. Most men are too busy to shuffle through hundreds of options. Thankfully, our experts were up for the job. They checked out a big variety of products on the market and came up with top five choices, which are bound to help your beard look excellent.
What Is Beard Wax?
What is beard wax and do I really need it? Many men ask these questions every day. Beard wax is created to shape your beard. While it may have some moisturizing properties like balm does, its main goal is to help you style your facial hair.
Beard wax contains shaping ingredients, such as beard wax or petroleum jelly. They help eliminate frizz and flyaways, making your beard look tidy all day long.
Men with fine or frizz-free hair usually don't need wax. They can style their beards with beard balms, which also contain a small amount of shapers. However, if you have an unruly, coarse, and wild beard, you need a wax.
Beard waxes are great for keeping the beard in place in extreme weather conditions. So you may want to apply it before going skydiving or mountain climbing.
Ingredients of Beard Wax
The ingredients of beard wax are similar to those in beard balm. However, the wax contains a bigger amount of holding ingredients, such as beeswax and/or petroleum jelly. The rest of the beard wax ingredients are:
Essential Oils – Moisturizing and softening
Carrier Oils – Help essential oils do their job
Sealants and spreaders – Butters such as shea and cocoa help spread and then lock the moisture inside the hair
The Best Beard Wax: Editor's Pick
We trust our editor to make the best choices. When we presented him with our top options, he chose:
Honest Amish Original Beard Wax
When it comes to beard waxes, this one mixes high-quality, great hold, a fair price tag, and a nice scent. Many men all over the US prefer Honest Amish beard products. This wax is suitable for all beard types.
Beardstyle Product Rating: 9.8/10
Detailed Reviews: Our Top 5 Beard Waxes
1. Honest Amish Original Beard Wax
This beard wax is made by a respectable manufacturer in the beard care product industry. It offers an excellent hold for any type of beard. It's made out of 100 % natural materials and comes in a recyclable tin. The manufacturers offer a 100% satisfaction guarantee, which means they are confident in the quality of their product. The wax comes in a nice box and can be used as a gift.
Honest Amish Original Beard Wax
Opinion
This beard wax is easy to apply. It smells nice and doesn't make the beard too stiff. It's great for curly, thick, wild, and coarse beards.
Pros
Excellent hold
Suitable for all beards
Gift package
100% satisfaction guarantee
Cons
Slightly greasy
Smell may not suit everyone
2. Urban Nomads Best Beard Balm & Wax
This high-quality balm and wax product is suitable for beards that don't require an extra strong hold. The product oils and moisturizes the beard making it shiny and healthy. The wax is 100% natural and can be used for any facial hair as long as it's not overly unruly. It has a nice texture and a pleasant smell.
Urban Nomads Best Beard Balm & Wax
Opinion
We would recommend this wax for people with fine hair. You could save on buying a balm separately. It smells nice and goes on smoothly. The price tag is a bit high.
Pros
Doubles up as a balm
Good moisturizing properties
Nice smell
100% natural
Cons
High price
Not suitable for thick beards
3. Seven Potions Beard Wax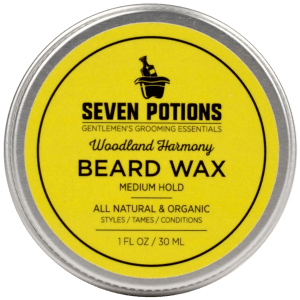 This wax features a nice wooden scent and a fairly good hold. The product is made out of 100 % natural ingredients. The wax offers moisturizing and conditioning properties. It's easy to take out of the tin due to the texture not being too thick. It's suitable for men with sensitive skin and coarse beards.
Opinion
If you are looking for a nicely-smelling wax with a fairly good hold, you'll like this one. We appreciated the fact that it's easy to take out of the box and apply. However, the price tag is a bit high when you realize that the product comes in a 1 oz. can.
Pros
Good hold
Wooden smell
Easy to apply
Nice texture
Cons
High price tag
May not be suitable for the toughest beards
4. Badass Beard Care Beard Wax For Men
This is a great product for men, whose beard is not too thick. It offers a medium hold coupled with some moisturizing qualities and a sweet smell. This wax is made in the USA but the ingredients are not all natural. The manufacturer claims that the smell of this wax is highly appealing to the ladies.
Badass Beard Care Beard Wax For Men
Opinion
This is a fairly good smelling wax, but the smell doesn't last long. It has a nice texture and goes on clear. Suitable for men, who need a wax with a medium hold. Women we asked didn't go crazy over the smell.
Pros
Medium hold
Made in the USA
Moisturizing properties
Styles well
Cons
Not suitable for tough beards
Smell doesn't last long
5. Honest Amish Extra Grit Beard Wax
This is one of the extra hold waxes from the respectable Honest Amish manufacturers. If you are a fan of their products, you can check out this 100% natural wax. It offers a good hold with a consistency different from other products. Even though it looks black, the wax goes on and dries clear. The item comes with a fair price tag and can be used for the hair on your head.
Honest Amish Extra Grit Beard Wax
Opinion
We liked the wax due to its strong holding properties. However, the sandy grit inside the beard may not be suitable for everyone. The smell is nice but not everyone on the team liked it.
Pros
Good hold
Great price
100% natural
Dries clear
Cons
The scent may not be suitable for everyone
Sandy grit in the beard
Comparison Chart:
Drag & Drop Product to Compare & Contrast Your Preferred Beard Wax
Final Verdict:
After checking out a variety of beard waxes, we agree with our editor. The best beard wax on the market today is Honest Amish Original Beard Wax.
Honest Amish Original Beard Wax
It's easy to apply, smells nice, has an attractive price tag and an excellent hold. The product comes in a pretty package so it can make a great gift.
Pros
Good holding
Reasonable
Nice packaging
Cons
Little bit oily
Unusual smell
Things to Look for When Choosing The Best Beard Wax
Pay close attention to the following points in order not to end up with a product that doesn't suit you.
Scent. Different wax products smell differently. The smell can vary from chemical to floral. Since the wax sits right under your nose, make sure you are ready to deal with the smell. If you are not sure about the scent, opt for fragrance-free products.
Texture. Waxes are usually very thick. However, some of them are so thick, you can't dig them out of the tin. Read the reviews about the thickness in order to understand how much effort it takes to use the wax.
Ingredients. The best beard waxes consist of 100% natural ingredients. However, the strongest ones can contain petroleum jelly. If you have sensitive skin, look for the natural products. If you are not prone to irritation and allergies, you can buy a wax with petroleum jelly.
Price. The average price for a 100% natural beard wax is between $10 and $15. Not-fully-natural products may be much cheaper.
Package. Some waxes come in 2 oz. tins while others fit in 1 oz. box. Make sure to check the weight when comparing the prices. If the wax seems too cheap, perhaps, it's because you are getting much less.
Reviews. Read the reviews about the wax product. The manufacturer always claims that the wax has great hold. You can find out whether it's true or not by reading the reviews.
Hold. Medium hold waxes are good for regular and fine hair. However, if you have a coarse beard, you need to opt for extra strong hold waxes. Meanwhile, an extra strong hold isn't suitable for fine hair since it may make it look dirty and unnatural.
Tips for Using Beard Wax
Don't overuse the wax. The beard wax takes some time to solidify and take hold. So if it seems as if the wax isn't working, don't rush to add more. Wait a couple of minutes.
Scrape the surface of the wax with your finger rather than dipping it inside. This way you can get the right amount of wax for your needs.
Rub the wax between your fingers to warm it up before application.
Use a comb or a brush to distribute the wax on your beard.
Always wash the wax off at the end of the day
If you applied too much wax, use a paper towel to dab it off gently.
Apply beard wax to a clean and completely dry beard for the best results.
If you are using a wax with petroleum jelly, consider spot testing it first in order not to get an allergic reaction.
How to Soften Beard Wax
Many men wonder how to melt beard wax. In many cases, the wax's texture is very thick. This has to do with the shaping products it contains. You need to melt the wax before application and then wait for it to solidify again once it's on your beard.
The simplest way to melt the wax is to rub it between your thumb and index finger
A simple way to forget about the wax melting matter involves carrying it in your jeans' pocket, where the warmth of your body will keep it soft.
Place the tin in a bowl with hot water
Always melt the wax well before using. Otherwise, you'll end up with unsightly wax clumps in your hair.
Frequently Asked Questions
Q: Is beard wax a compulsory beard care item?
Ans: You need beard wax only if your beard balm can't deal with shaping your beard and keeping it tidy.
Q: How often should I use beard wax?
Ans: Most men can settle for using the beard wax once a day, in the morning. However, it's recommended to carry the wax around with you in case you need a touchup during the day. After a few days, you'll realize your needs.
Q: How much beard wax do I need to use?
Ans: The amount depends on the size of your beard. Start with a blob the size of a rice grain and go from there.
There are many factors to consider when choosing your ideal beard wax. The most important things to pay attention to are the scent and the hold. A nicely smelling and tidy beard is the key to an excellent manly appearance. Tell us what you think about our best pick and let us know which beard wax you are using.