Beards are coarse and sometimes it's difficult to keep those pesky hairs in place. The best way to make sure your beard is neat is to keep it trimmed and in shape. Beard scissors make that trimming process easier and comfortable.
Self-grooming is an important process as it shows that you take pride in your appearance. Use a quality pair of scissors specifically made to cut facial hair.
There are lots of beard scissors available in the market. So, it's very important that you know the good ones and the bad ones based on quality, usability, sharpness, durability, safety features, price and the user feedback from the customers who already used those scissors.
Best Beard Scissors to Buy Right Now
As it's not possible for anyone to individually buy and test every single scissor and determine which one to trust, we have done in-depth research on each of the products and hundreds of user feedbacks to come up with the list of 5 best beard scissors in 2023. You'll definitely love if you buy & use any of the below scissors. Now let's look at some options on today's scissors market.
QUICK OVERVIEW: TOP 3 BEARD SCISSORS IN 2019
Preview
Product Title
quinox Professional Shears Razor Edge Series
BEARDOHOLIC Beard Scissors
Suvorna Men's Beard & Mustache Trimming, Cutting and Styling Scissors
Preview
Product Title
quinox Professional Shears Razor Edge Series
Preview
Product Title
BEARDOHOLIC Beard Scissors
Preview
Product Title
Suvorna Men's Beard & Mustache Trimming, Cutting and Styling Scissors
Before using your shears, you should always wash and dry them off thoroughly. The Equinox razor edge shears are light in weight with an easy grip. The blades are sharp for the most precise cutting action.
The Equinox is made from high-quality Japanese steel for durability and flexibility. You can fine-tune the shears as the unit has an adjustable tension screw for ease of use.
Pros
Has an ergonomic grip
Durable stainless steel
Adjustable tension
Sharp cutting blades
Cons
Not for left handed people
The finger holes may be too small for big hands
If you want precision with each cut then the Beardoholic shears are for you. The curved blade edge ensures the smoothest clean cuts you can get.
Beardoholic scissors are made from the finest Japanese steel for durability and accuracy. The 6″ length aids you in movement and different angled cutting.
Pros
Safe and easy to use
Comfortable grip
Light in weight
Adjustable tension
Cons
Not meant for left-handed people
It's always nice to have a product with versatility so you can get more than one job done with one unit. The Suvorna trimming shears do that for you. With its small and comfortable grip, you're able to trim your mustache, beard and sideburns.
For durability, the blades are made from a heat-treated Japanese steel blade capable of cutting through even the most stubborn hair.
Pros
Cuts through any type of hair
Smooth edge blades
Adjustable tension
Large finger grip
Cons
Tends to tug on hairs
The comb the product comes with is low quality
You guessed it. As the title shows, these shears are made with premium Japanese steel for durability. The shears give you the cleanest cut as the blades have a smooth edge. You're able to perform various sliding cuts and wisping.
It also comes with a quality carry pouch and removable silicone finger grips to ensure a comfortable and sturdy hold.
Pros
Adjustable tension screw
Sharp convex blades
Comes with a comb
Comes with a carry case
Cons
The silicone rings make the finger holes smaller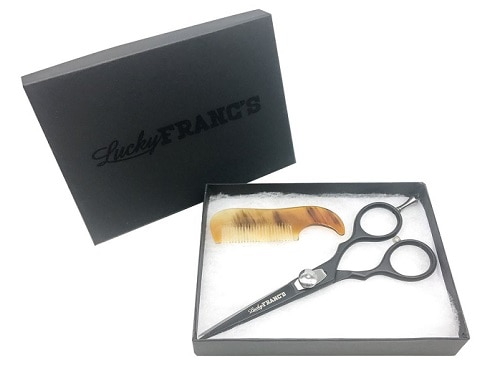 The overall size of these Japanese steel blades is 2.5″ excluding the handle. They're not the smallest shears on the market which may make it difficult to get to certain parts of the face. But they still get the job done quite well.
The Lucky Franc's trimming scissors come with an authentic ox horn comb. Take this with you so you can maintain your beard wherever you go.
Pros
Durable steel blades
Excellent grip
Easy to use
Comes with an extra comb
Cons
The comb isn't durable
The length of the shears is too long
Japanese vs. German Made Beard Scissors
Before we give you a list of the best brands on the market, let's look at where your scissors are made. Country of origin matters if you're looking for the best on the market.
Japanese Blades
Japanese steels are stronger and hold sharper edges for extended periods of time. In order to get the cutting edge you need for styling, you need an extremely sharp blade that's easy to use.
Japanese blades are not serrated which aids in slide cutting. Serrated edges don't allow much movement for the sliding method. Japanese blades also allow less chopping motions.
Japanese steel is designed with various components and alloys that create more flexibility in the shears.
German Blades
Steel produced in Germany incorporates components which creates brittle steel. It's not as flexible as Japanese steel and it's extremely solid. Because of this solid structure, it adds weight to the shears which don't aid in ergonomics.
German blades have fine edges and while this can be sharp for cutting, in time the steel will start to chip away, leaving indentations.
These blades tend to be used for chopping motions rather than slicing the hair cleanly.
Maintenance of Beard Shears
Proper maintenance determines the longevity of your shears. It's important to always take care of your scissors so the edges stay sharp and the tension always works.
Cleaning
Always clean your scissors after you've used them. If you use certain products, those sticky liquids can damage your blade over time. Rinse the blade off thoroughly and dry it off on a clean towel.
Keep the Blades Dry
Depending on what your shears are made from, it's important to always keep them dry. Sometimes water and other chemicals can damage the steel. Dry them thoroughly after cleaning them and keep them in a clean sealed bag.
Sharpen Your Blades
Shears with smooth edges are easier to sharpen. Make sure you don't try sharpening shears with a serrated edge as this will just make the blades dull. You can sharpen your shears with:
A Whetstone
Knife sharpener
Aluminum foil
Types of Beard Scissors
There are various types of beard scissors meant for different styles of cutting. Beard shears are usually small in size and should be light in weight.
The type of scissors you use depends on the precision and time you spend trimming your beard. You can use one of these types of scissors for trimming:
Small shears
Beard clippers
Curved scissors
Japanese stainless steel shears
Rockwell German steel shears
How to Trim Your Beard with Scissors
Going to the barber to trim your beard can be time-consuming and although they're not too costly, you may not get the shape you like. Trimming your own beard doesn't have to be difficult. Follow these steps for the best trimming results:
The first and most important step is to prepare your beard. Wash your beard with a special beard shampoo. Make sure your beard is completely dry before cutting.
Comb your beard downwards and then upwards. Combing upwards makes the hair fluff out which is exactly what you want. Fluffing it out exposes the loose facial hairs that need to be trimmed.
Using a comb, brush at the angle you want your beard to be trimmed. Using the shears, snip away at the hairs sticking out of the comb as you brush the beard. Work in small sections at a time to ensure the hairs are all cut evenly.
Avoid overcutting the hair. Start by trimming little bits of hair at a time until you get the desired length.
Move around your face to make sure that both sides are the correct length.
Only clip off the ends of the hair and observe every time you've trimmed a section.
After trimming your beard, dust off any loose hairs and wash your beard for the second time.
You can rub some beard oil into the hairs to make it more neat and manageable.
Recommended for you:
Conclusion
To find the best beard shears to suit you, look for aspects such as the length, grip and the weight of the steel. Scissors should always be light and economical. Make sure your shears will offer a tight grip as you don't want them to slip while you're cutting.
Ready to go from scruffy to neat? Get your sharp pair of beard scissors and look your best from now on.
Last update on 2022-07-26 / Affiliate links / Images from Amazon Product Advertising API