Hate your patchy beard? Maybe you've never used the right beard growth products before. Proper beard care comes with some benefits. Investing in a beard oil can make a difference between a bushy beard owner and a disgruntled clean-shaved man. Using good beard growth oil products can accelerate beard growth and make your beard healthy at the same time.
Which Beard Growth Oil to Use?
There are many beard growth products available on the market today. Not all of them work. In fact, many men are frustrated with using useless products and give up on their beards forever. If you are about to do that, stop! We've tried hard to research top beard growth oils on the market and check if they can really help.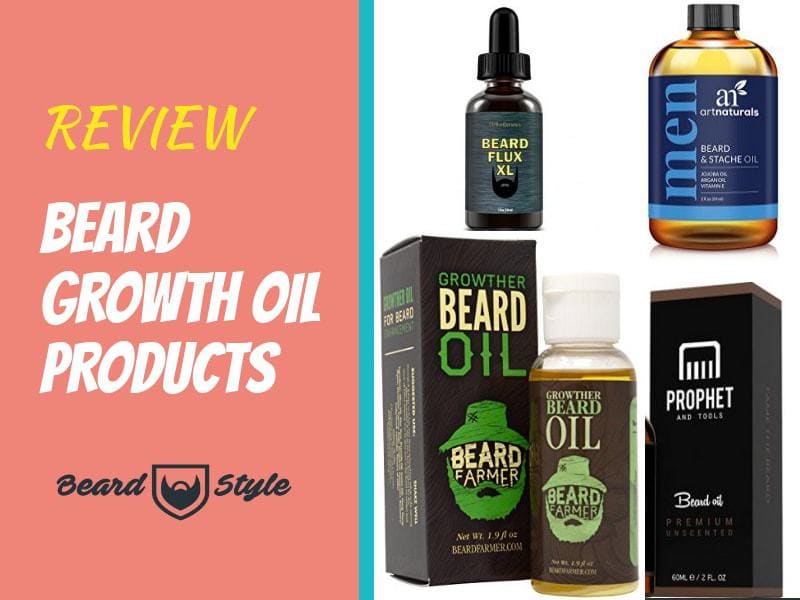 Best Beard Growth Oil Product to Buy Right Now: Editor's Pick
Our editor has gone over our extensive information and came up with the best beard growth oil on the market today.
Beard Farmer – Growther Beard Growth Oil
It features a mix of many oils, five of which are focused on helping your hair grow faster and thicker. The scent and texture are commendable.
Beardstyle Product Rating: 9.8/10
Top 5 Beard Growth Oil: Full Reviews
1. Beard Farmer – Growther Beard Growth Oil
This product has an impressive mix of oils: lavender oil, peppermint oil, castor oil, cedarwood oil, rosemary oil, thyme oil, sage oil, ylang-ylang oil, cypress oil, and grapefruit oil. At least five of them have been proven to help stimulate hair growth. The oil also moisturizes and softens beard hair while keeping the skin underneath flake-free. You need to use about 5 to 10 drops of oil daily depending on the beard length.
Beard Farmer – Growther Beard Growth Oil
Opinion
We appreciated the impressive number of oils in this product. If used properly, this oil should stimulate beard growth and improve the beard quality. This oil has a nice scent and it's easy to apply. The price tag is fair for such a rich oil mix.
Pros
Stimulates beard growth
Fair price tag
Nice texture
Moisturizing and softening
Cons
Strong scent
Doesn't work for everyone
2. Delta Genesis Beard Flux XL
This is a 100% natural and organic beard oil. It contains a caffeine enhanced base, which should improve facial hair growth. This oil is absolutely fragrance-free, making it a good choice for men with sensitive skin. It moisturizes, softens, and nourishes the beard. You can use it for high-quality facial skin massage. The product contains a mix of different oils including Argan, Amla, Safflower, and Jojoba.
Delta Genesis Beard Flux XL
Opinion
We liked the way this oil feels and enjoyed the lack of fragrance. Since research showed that Argan and Jojoba oils help hair growth, we appreciated them in the mix. Meanwhile, caffeine has also been proven to stimulate hair growth, but only if there isn't too much of it. So we would recommend using slight amounts of this oil on your hair. It should help improve your beard growth.
Pros
100% natural
Fragrance-free
Nice texture
Good for sensitive skin
Cons
High price
Doesn't work for everyone
3. Polished Gentleman Organic Beard Growth Oil For Men
This beard growth oil contains six essential oils; olive, avocado, almond, tea tree, and argan. It also features a rosemary extract. The oil has a slight yet attractive scent. It moisturizes and softens the beard while keeping the skin underneath healthy. The oils stimulate faster and thicker beard growth. You only need to apply the oil once a day to enjoy the results.
Polished Gentleman Organic Beard Growth Oil For Men
Opinion
We appreciated that this beard growth product has 3 oils, which help beard growth. It's a fairly priced product and you only need a small amount for it to start working. The texture is not greasy. The hair feels softer and more manageable.
Pros
3 oils to help the beard grow
Nice texture
Fair price
Convenient dispenser
Cons
Scent doesn't suit to all
Doesn't work for everyone
4. Prophet And Tools Men's Beard Oil

This beard growth oil consists of Vitamin E, oil, jojoba oil, aloe vera oil, and chamomile oil. It's an all-natural product designed to nourish, moisturize, and soften the facial hair. It's suitable for men, who are just starting to grow a beard as well as for those, who already have some facial hair. It works on all types of hair and stimulates beard growth.
Prophet And Tools Men's Beard Oil
Opinion
We liked that this product contained 3 hair growth stimulating oils. However, it seems to have a peanut butter scent, which may not be appreciated by everyone. The oil absorbs quickly and feels good on your beard and skin. The oils should stimulate hair growth over time. The oil is hypoallergenic and suitable for men with sensitive skin.
Pros
Easy to apply
Fair price
Works on all types of hair
Only a few drops are needed daily
Cons
Smells like peanut butter
Doesn't work for everyone
5. ArtNaturals Beard Oil and Conditioner
This particular product consists of two beard growth oils: jojoba and argan. There isn't anything else on the ingredients list except for Vitamin E oil. This product is unscented and has a non-greasy texture. Applying it on a daily basis can prevent hair from breaking, reduce itching, and improve hair growth.
ArtNaturals Beard Oil and Conditioner
Opinion
We liked the simple ingredients of this beard oil. There isn't anything extra in the mix. It's suitable for sensitive skin and comes with a nice price tag. The lack of scent may be a problem for some guys but our team appreciated it. Argan and Jojoba oil can stimulate hair growth over time.
Pros
Non-greasy texture
Consists of argan and jojoba oil
100% natural
Fair price
Cons
No scent
Doesn't work for everyone
Comparison Chart:
Drag & Drop Product to Compare & Contrast Your Preferred Product
Final Verdict: Best Value Product
After reviewing dozens of beard growth oils, we have come to a conclusion that Beard Farmer – Growther Beard Growth Oil is the best value product.
Beard Farmer – Growther Beard Growth Oil
It contains a mix of different hair growth stimulating oils, comes with a fair price tag, and has a nice scent. We would recommend it to all men, who want to improve their beards.
Pros
Reasonable
Improves beard quality
Easy to apply
Cons
Smells strong
Not suitable for all
Things to Look For When Buying A Beard Growth Oil
Beard growth oil must be 100% natural and contain as many growth-inducing oils as possible.
Always check the ingredients' list. Some beard oils may cause allergies. If you are prone to allergies, spot test the oil before applying it to your face.
Beard oils come in different volumes. Check how the price compares to the volume. The oil may seem cheap but in reality, one manufacturer may just be offering fewer ounces than another one.
Read the reviews about the scent. Some oil scents are overpowering and may be undesirable.
Consider the oil texture. Non-greasy oils are usually a big favorite, but they may not offer as many benefits as naturally greasy products.
Pay attention to the bottle. Drip tips may be easier to use but harder to control. Droppers are usually the best choice but they may get clogged.
Tips for Using Beard Growth Products
Don't expect overnight results. It takes a couple of weeks for the beard oil to affect your skin and hair.
Use beard oil on a regular basis in order to get the results. Inconsistent use is better than no use at all, but it takes too long for the results to show.
Don't overuse the oil. It may clog pores instead of awakening the follicles. Start with about 3 drops and go for there.
Always massage the beard oil into the skin underneath the beard.
Spread the oil all over your facial hair by using a beard brush or a beard comb.
Wash the dropper occasionally in order to prevent clogging.
Always wash the oil out of the beard by the end of the day in order for it not to look dirty.
Start by applying the oil once a day. You may switch two twice a day later.
When You Should Start Using Beard Growth Oil
You should start using beard growth oil as soon as you start growing a beard. Even if all you have is a two-day stubble, invest in a high-quality beard oil. The faster you start taking good care of your facial hair and skin, the fewer problems you'll have growing a beard.
If you have a full beard and have never used a beard growth oil before, it's time to start. Your hair and skin will thank you.
How Does Beard Growth Oil Work?
Beard oil is a great skin and facial hair moisturizer. Besides keeping your facial hair shinier and softer, it works on your skin.
Beard growth oil is massaged into the skin to remove dead skin cell and stimulate follicle work. The exfoliation effect coupled with massage and nourishment allows the hair to grow thicker and stronger.
The key to enjoying the beard oil benefits is the right massage. By paying sufficient attention to the skin under your beard, you can stimulate the blood flow to the follicles, allowing them to wake up and work better.
Natural antioxidants and vitamins in the beard oil can help keep your hair from being damaged and reduce breakage. When the hair in your beard is kept in its best condition, you can easily notice a full beard effect.
Overall, beard oil works as a combination of nourishing, stimulating, moisturizing, blood flow increasing, and exfoliating methods. All the above help the beard grow faster and thicker.
Does Beard Oil Really Help Beard Growth?
While the genetics and overall health condition affect your beard growth more than any products on the market today, some oils can improve it. The results depend on how well you choose the beard oil and how smartly you use it. For example, you should avoid unnatural ingredients in beard oil and look for oils that feature hair growth inducing properties.
Many men make a mistake of applying the beard oil to their facial hair and forgetting about the skin. As we described above, the right approach to skin exfoliation and massage are the keys to beard growth. If used right, beard oil can stimulate better beard growth.
5 Natural Oils For Stimulating Beard Growth
The below oils can stimulate beard growth and help you enjoy a healthier beard.
Coconut Oil  – locks the moisture, reduces dryness and softens hair
Castor Oil – reduces irritation, offers anti-bacterial and antimicrobial properties.

Tea Tree Oil

 – unblocks hair follicles, boosts the immune system, moisturizes.
Amla Oil  – reduces hair shedding, improves manageability and shine.
Argan Oil  – regulates sebum production, moisturizes, maintains skin elasticity.
Other useful essential oils for beard growth are Rosemary, Peppermint, Bergamot, Sandalwood, Cedarwood, and more.
Frequently Asked Questions
Q: When will the beard growth oil start working?
A:  The oil starts working the first time you apply it. However, the results may show up in 2 -4 weeks.
Q: Can I use beard oil on my mustache?
A: Yes, you can use the oil on all your facial hair.
Q: Can I carry the oil around in my pocket?
A: Keeping the oil warm shouldn't reduce its quality. However, it's recommended to store it at room temperature. Make sure to avoid direct sunlight.
Q: Can I use the beard oil on a stubble?
A: Yes, you can start using the oil as soon as you start growing a beard.

We have worked hard to check out all beard growth oils. The above information should be sufficient to help you make a choice. Tell us about which beard oil you are using to keep your beard healthy.