There comes a point when beard dying becomes necessary.  A lot of men after age 35 start to notice grays in their beard. For some, this might look devastatingly handsome and for others, it shows the signs of aging and can be frustrating. If you want your natural looking beard back, you can have it within minutes by applying a good beard dye. No matter the extent of beard's grayness, by using the best beard dye you can make it perfectly black and look younger again.
Choose The Right Color
There is a fine line in choosing the right beard color. It's your shade preference which color you want to use either it is dark or the lighter one.Choose a beard color that is closest to the beard color you have right now. A good rule of thumb is to go for a darker color than the lighter.It is long lasting and the application process is easier than the lighter shades. Choosing right color can make you younger and maintain the natural appearance of yours.
Ingredients to Look for & Ingredients to Avoid
There are no dyes that are entirely organic. If you are looking for natural beard dye go for Henna or Indigo.These two natural hair coloring products are completely organic and harmless for your skin and beard.It gives natural color to your beard without causing any harm to it.
If you don't want any harmful effects of it, try to avoid the following ingredients which can cause skin allergies, rashes, and irritations.
Ammonia,
Peroxide,
Paraphenylenediamine,
P-Phenylenediamine,
Resorcinol,
Toluene-2,5-diamine, and
Diaminobenzene in your hair dye.
Summary Review: Top 3 Best Beard Dyes
Beard dye for men is a fairly new concept. People before used the same hair dye for both scalp hair and beard and even for the mustache if needed. But by nature, beard hair and scalp hair are different and they need to be colored differently. Thankfully, today we have numerous dyes specially made for beards available on the market. This is great in one sense, but on the flip side, choosing the one best beard dye becomes tough. So realizing this, we researched and studied various beard dyes available in the market to come up with a list of top 7 beard dyes for men and a top pick.
Top Pick 1: JUST FOR MEN Color Gel Mustache & Beard Dye- Medium Brown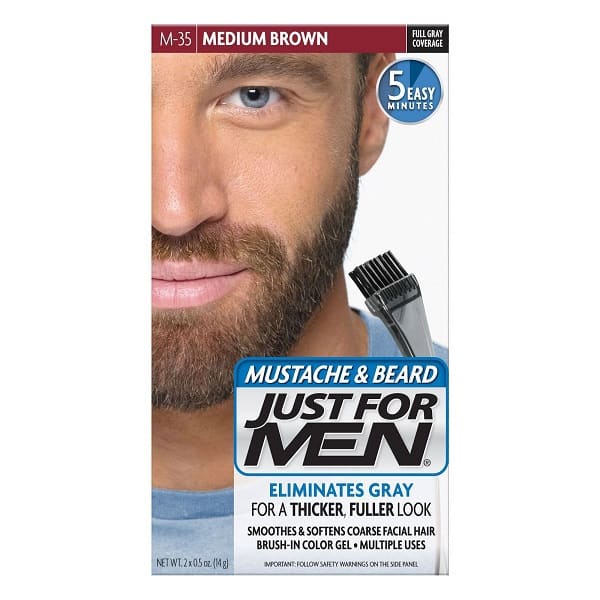 JUST FOR MEN is a brush in gel, ammonia free beard dye for men that gives a fuller and natural medium brown looking beard within 5 minutes. It contains Vitamin E, Protein, chamomile and aloe that nourishes your beard along with coloring it. It is a quality product made in the USA.
Beardstyle Product Rating: 9.8/10
Top Pick 2: INDIGO POWDER Hair & Beard Dye/Color by The Henna Guys
This is an organic and chemical free beard dye made with indigo and henna extracts. The 100-gram pouch lasts for multiple uses and is easy to apply. It comes along with needed tools such as gloves, shower cap,  and detailed instructions for first-time users.
Beardstyle Product Rating: 9.5/10
Top Pick 3: RefectoCil Cream Hair Dye (NATURAL BROWN)
This natural brown beard or hair dye gives a waterproof coloring that lasts more than a month. It is effective in coloring eyelashes and eyebrows as well. It is easy to apply, does not itch and tube lasts for 4 to 5 uses.
Beardstyle Product Rating: 9.5/10
7 Best Beard Dye To Buy in 2020: Exclusive Reviews
1. JUST FOR MEN Medium Brown Color Gel for Mustache & Beard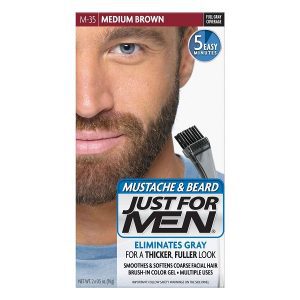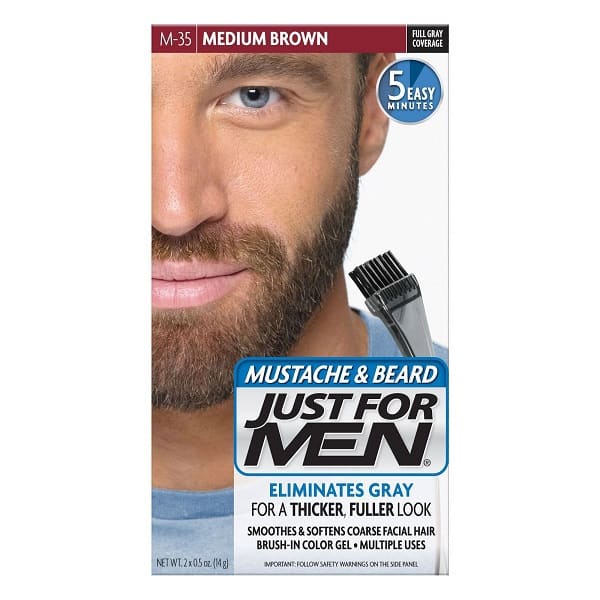 Just For Men Color gel colors beard of any color into medium brown. It eliminates gray hair and gives a fuller and thick brown beard for men. It can be used for mustache as well. This beard color gel is well suited for rough and coarse facial hair. The pack comes with a mixing tray, brush, gloves and two tubes.
JUST FOR MEN Medium Brown Color Gel for Mustache & Beard
OPINION
It is an easy to use ammonia free brush-in-gel that in 5 minutes penetrates thick and rough beard and gives it a natural and uniform looking brown coloring.
PROS
Uniformly colors
Easy to apply
Long lasting
Doesn't drip
CONS
Can be allergic and itchy for some
Color fades after 4 to 5 days
2. INDIGO POWDER Hair & Beard Dye/Color by The Henna Guys
Indigo Henna Color powder is the best value and natural beard and hair color made of Indigo and Pure Henna.It comes along with shower cap, gloves and detailed instructions for first-time users.The natural mix, for conditioning, is added with Alma, Neem and daisy powder. It is free of harsh chemicals, pesticides, and metallic contaminants.
INDIGO POWDER Hair & Beard Dye / Color by The Henna Guys
OPINION
With Indigo Henna Colors users can get more than 70 different shades by following the instructions given in the box.
PROS
Gives bold and rich color
Hair feels smooth and appears fuller
Cleanup is easy and quick
Color distributes evenly on hair
CONS
Has strong smell
Messy than regular dye
3. RefectoCil Cream Hair Dye (NATURAL BROWN)
Although RefectoCil dye Cream is sold as a hair dye, it works equally well for the beard. With its natural brown color, the cream gives a classy brown haired beard look. It can also be applied on eyebrows and lashes. The dye color lasts for up to 6 weeks.
RefectoCil Cream Hair Dye (NATURAL BROWN)
OPINION
RefectoCil is not an all natural dye but it offers long-lasting, even and waterproof coloring. Other than applying this dye on the beard, it can also be used on sideburns and mustache. This cream coupled with an oxidizing agent such as hydrogen peroxide gives well-saturated coloring.
PROS
Easy to apply
Long lasting
Does not itch or cause allergies
Coloring lasts for a month or so
CONS
The instructions provided in packet are not correct
It looks almost like black.
4. Blackbeard for Men Formula X
This is a brush in black color that can penetrate hard and coarse facial hair and give a nice shiny color. It is effective to cover up gray strands of hair on mustache, beard, and sideburns. No harsh chemicals are used in its making. The color is long lasting and water resistant.
Blackbeard for Men Formula X
OPINION
It is a great daily wear color that gives your gray beard a quick black fix. It is easy to apply, free of harsh chemicals and does not cause any irritation. Using right amount while applying the color is necessary to avoid small clump formations.
PROS
Water and sweat resistant
Does not burn or irritate the skin
Easy to apply
Little color does great job
CONS
Tends to form small clumps after applying
Takes time for drying
5. Godefroy Color Tint Kit Medium, Brown
This is a no ammonia and odorless natural dye that can color your beard, eyebrows, and hair. It comes in a capsule form and each packet can be used for 20 applications. The coloring lasts long and does not fade. People have found this dye to be effective in coloring eyebrows.
Godefroy Color Tint Kit Medium, Brown
OPINION
Godefroy Brown Color is great for people having a grey beard and bald eyebrow problem. On single time use, it gives darker and full looking beard and eyebrows. If a few gray hairs have appeared on your head, this dye can do the patchwork to give you flawless and uniformly colored hair
PROS
Leaves no spots
Easy to use
Offers good value for the price
CONS
Color fades after 3 to 4 days
It is hard to open capsules
6. Organic & Natural Brown Beard Dye – Grizzly Mountain
This is a gentle and natural beard dye for men in the form of herbal powder. It is a mixture of Neem, False Daisy, Emblic, Indigo, and Henna. This is a perfect beard dye for someone who has a past history of suffering beard dye related allergies and irritation. It gives your beard a natural shade of brown color.
Organic & Natural Brown Beard Dye – Grizzly Mountain
OPINION
This is an organic and natural beard dye that gives you a week lasting brown colored hair. The best thing about this dye is that it is non-toxic and keeps your beard and skin beneath in good shape
PROS
Easy to apply
No harsh chemicals used in its making
Does not cause irritation
Quickly dyes the hair
CONS
Coloring is bit uneven
Leaves smell
7. Bigen Mens Beard Colour Natural Black
Bigen Mens Natural Black Beard Colour is a thick beard dye cream that colors your beard without staining skin or dripping. This is effective for both short and long beard styles. The beard dye's formulation is enriched with Aloe and olive oil.
Bigen Mens Beard Colour Natural Black
OPINION
It is an inexpensive, natural, ammonia free black beard color that can give you a fuller and thick black looking beard. Applying this dye is easy and it comes with essential gloves, mixing tray, comb, and instructions.
PROS
Comes with a very handy comb
Gives a long lasting dark color
Suitable for both beard and mustache
Easy to apply
CONS
Leaves stains
It can be allergic to some people
Comparison Chart:
Drag & Drop Product to Compare & Contrast Your Preferred Beard Dye
Final Verdict
Out of these 7 beard dyes for men, we choose JUST FOR MEN Beard and Mustache Color Gel as our top pick. It is effective on all beard types and is specially formulated to color facial hair, unlike other dyes. But people have used it to color mustaches and eyebrows as well.
JUST FOR MEN Beard and Mustache Color Gel
It is quick to apply, its color is water resistant, stays for days, which makes it ideal for people following a busy life.
Pros
Colors evenly
Reliable
Lasts long
Cons
Allergic and itchy
Color fades quickly
Beard Dye for Sensitive Skin
Use henna-based beard dye for sensitive skin to avoid rashes, dryness, and inflammation. This dye is 100% natural and chemical free that lasts longer than others.This organic product gives a natural color to the beard without causing any harm to it.Henna coats the beard smoothens it and increases its flexibility.It leaves the hair shiny and silky.
How to Prepare Your Beard for First Dye
First, ensure that beard dye you are going to apply doesn't cause allergies by applying it on a coin-sized area
Do not wash your beard even if it's slightly dirty. Just take out any debris if there are any
Wear an old T-shirt and pant
Apply petroleum jelly on the hairlines
How to Dye Beard without Staining Skin
Wear latex gloves to protect your fingers
Do not shower or wash your beard before dying
Cover the counter with towels
Keep paper towels nearby to wipe your hands in case the dye spills.
If you do not have latex gloves, apply petroleum jelly on your fingers and near beard's hairline.
  Learn How to Dye Your Beard
How to Maintain A Colored Beard
Do not use hot water to wash your beard. It leads to fading
Do not apply oils or creams, on the wet beard, make sure it is dried
Use shampoos that are formulated for colored beards
Reapply beard color after 3 to 4 weeks.
Do not scrub your beard too much while washing
Frequently Asked Questions
Q. Should I dye my beard?
Ans: Men dye their beard to either hide gray hairs or for styling. Using beard dye is practical when beard has gray hairs or it has greyed completely and it does not match the color of scalp hair. With beard dyeing, you can have a uniformly colored beard and hide aging signs
Q.Will beard dye stain my skin?
Ans: Yes, certain beard dyes can stain the skin. To avoid staining, use a good brush and an appropriate amount of beard dye. Use of thick and gel-based dyes can reduce spills on the skin. If your skin got stained, applying vaseline, vinegar or baking powder on the area can remove it.
Q. Can beard dye cause cancer?
Ans: Most beard dyes available today are safe to use. Prolonged use of beard dyes with ammonia and 4-Aminobiphenyl poses the risk of suffering skin cancer and bladder cancer. Choose ammonia and hard chemical free beard dyes to avoid side effects.
Q. Can I use beard dye on my eyebrows?
Ans: Yes, some of the beard dyes are usable on eyebrows as well.
Q. Does a beard dye have an expiry date?
Ans: No beard dye does not expire.
Q. If I develop an allergic or rash after using a beard dye, what should I do?
Ans: Discontinue the use of beard dye immediately and consult a physician. Always spot test first before applying it on your entire beard.
Beard Dye Before and After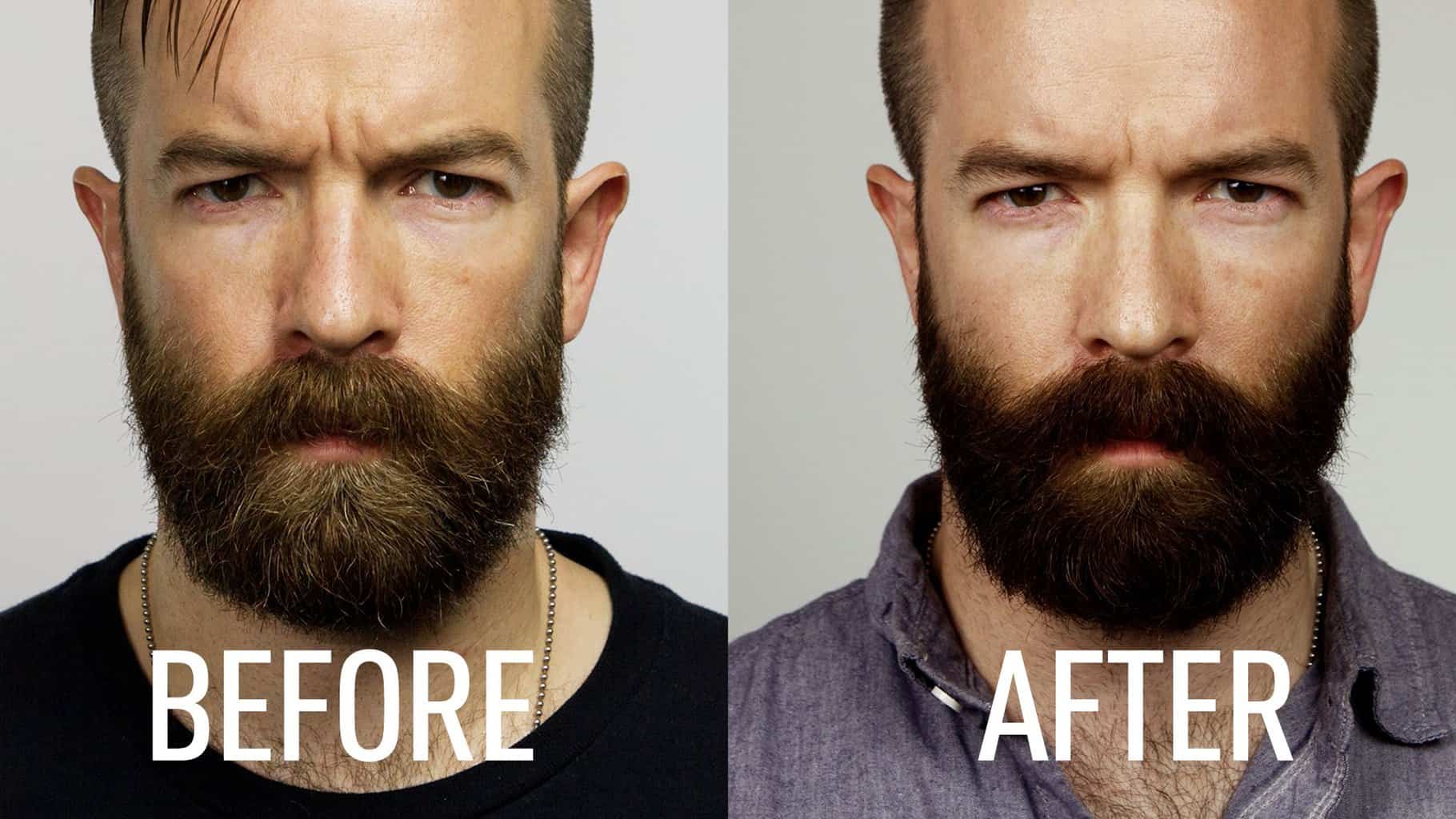 After beard dying, the beard looks fuller, thicker and evenly colored
We performed an extensive research on various beard dyes and came up with a list of dyes that are worth buying and trying on your beard. All the products listed here are tested to be effective in naturally giving your beard the best young look. These products will help defy your age quickly within minutes.