As a professional barber, you only want the best equipment for your clients. After all, a stylist is only as good as their tools, right? Which is why you must only opt for the best hair clippers you can find. But what makes a quality clipper?
Before buying one, ask yourself the following questions: Is the blade sharp? Is the motor durable? Is the unit generally versatile? All these factors will largely determine your clipper's performance and durability. Have a look at our top three picks for the best barber clippers below so you can find your new favorite tool.
Quick Overview: Top 3 Barber Clippers
Preview
Product Title
Wahl Detailer Powerful Rotary Motor Trimmer (Beard/Hair Clippers)
BuySShow Professional Hair Clipper
Andis Professional Beard Trimmer
Preview
Product Title
Wahl Detailer Powerful Rotary Motor Trimmer (Beard/Hair Clippers)
Preview
Product Title
BuySShow Professional Hair Clipper
Preview
Product Title
Andis Professional Beard Trimmer
Best Professional Hair Clippers (Barber Clippers) in 2023
One of the best professional hair clippers in the market right now. If exceptional performance is what you're after then consider this hair clipper from Wahl designed for sharp and precise cuts. The Detailer is the preferred unit among experts in the industry for the above-mentioned reasons and more.
Strictly designed for professional use, this clipper features an extra wide T-blade which you can easily adjust for those close cuts. Not only is the gadget loved for its functionality but also its stylish design and compact nature. The trimmer also fits in the palm of your hand for optimum control.
The only major disappointing aspect of this product is the quality of the cord; it tends to break after a few months. Also, the blade surface tends to rust quickly.
Pros
Extremely lightweight
Comes with accessories
Sharp blade
Cons
Quality of cord questionable
Blades rusts easily
A noise-free hair trimmer is always a good idea and that's one of the major selling points for this BuySShow clipper thanks to the ultra-quiet design. Are babies and kids part of your clientele? Then this is the brand to pick because the quiet performance will help keep them at ease. Because this barber clipper has round edges, it also makes it safer on kids.
You'll appreciate that unlike the Wahl trimmer, the titanium blade is less likely to rust. So by picking this brand you'll have a durable product on your hands.
Moving on to the downsides, the charging time is rather long taking up to four hours to get a full charge. And it only comes with one clip guard so you'll have to make an additional purchase if you require more.
The 8 Best Wahl Trimmers in 2023
Pros
Beginner friendly
Quiet performance
Good for babies
Cons
Doesn't come with extra guards
Long charging time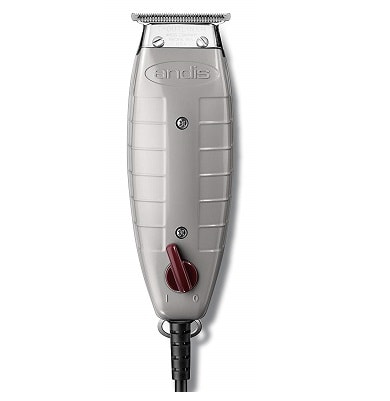 Andis is well known for its high-performance products and this professional beard trimmer meets the same standards. The T-blade and fine cutting teeth on the unit make it the ideal hair clipper for close cuts such as fades.
The trimmer is designed to perfectly fit into your hand thanks to the contoured housing. Because the powerful motor runs at high speed, you'll be done with your trimming job in no time. You can tell by the hardened carbon steel blades that you'll be using this product for a long time.
The drawback you have to deal with is that the trimmer heats up if too much hair is trapped inside.
Pros
Quiet performance
Powerful motor
Durable
Cons
Device heats up
Traps hair inside
Editor's Recommended Professional Beard/Hair Clipper
Finally, the one we recommend is Wahl Detailer Powerful Rotary Motor Trimmer. You'll never regret if you buy this professional hair clipper.
Wahl Professional 5-Star Detailer with Adjustable T Blade for Extremely Close Trimming and Clean and Crisp Lines for Professional Barbers and Stylists...
PROFESSIONAL PRECISION: Wahl's Professional 5 Star Detailer was designed to deliver the sharp performance that experts demand; specfically designed for extremely close trimming, clean and crisp lines, facial hair detailing and design, with faster cutting speed; intended for professional use only
STYLISH AND FUNCTIONAL: The Detailer is a compact trimmer that offers an appealing aesthetic in addition to top notch precision and function; Excellent for lining and artwork, is extremely lightweight and fits in the palm of your hand for ultimate control
ACCESSORIES INCLUDED: The 5 Star Detailer comes with all accessories required for professional barber use, the trimmer, 3 extra wide T-shaped trimming guides (1/16", 1/8" and 3/16"), cleaning brush, clipper blade oil, red blade guard and operating instructions.
From the three products reviewed above, did at least one grab your attention? It's time to look at your best or use it to make others look great with any of the above beard clippers.
Last update on 2022-07-26 / Affiliate links / Images from Amazon Product Advertising API