Perhaps you have finally realized that you should have the right tools to brush your beard. A best beard brush kit will at least have a beard brush and a comb. Using these you can remove dead skin cells, eliminate loose hairs, keep your beard hair detangled and have a uniform looking beard.
Summary Review: Top 3 Beard Brush Kits
Like many other beard maintenance products, there are a considerably large number of beard brush kits on the market. Choosing one with a beard brush that is sized right, has an ergonomic handle, has good quality bristles, and is not rough on your skin takes too much time and is frustrating. Also the same goes for a comb in the beard kit. So our experts decided to perform a detailed research in search of top beard brush kits. Finally, we narrowed down to top 3 and a best beard brush kit for those who want a decisive answer.
Top Pick:  Gentleman RA Beard Care Grooming Kit For Men
The smooth, gliding comb in the kit helps you detangle hairs without pain. It is foldable so you can take it on the go. The scissors are sharp enough single out and cut grey hairs if necessary. All the tools come packed in a well-crafted pouch.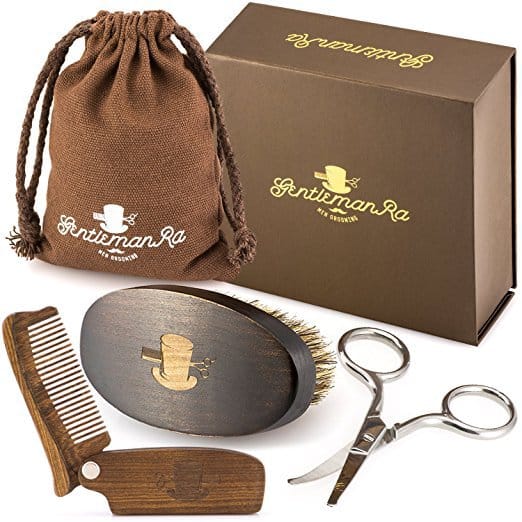 Beardstyle Product Rating: 9.8/10
Top 3 Beard Brush Kits: Extensive Reviews
1. Gentleman RA Beard Care Grooming Kit For Men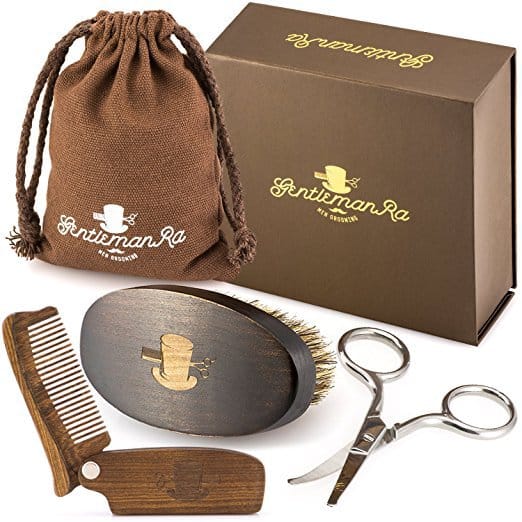 This kit includes boar bristles beard brush, round tip scissors, foldable sandalwood comb, and travel cotton bag. The brush is gentle and soft in its action. The sandalwood comb is foldable so it fits in your pocket easily. The bigger hole, curve-tipped, nose hair cutting scissors are perfect for trimming the beard. The kit comes with 3 years warranty.
Gentleman RA Beard Care Grooming Kit For Men
Opinion
With an impressive 3 year warranty, this kit offers all the needed tools for grooming your beard. If you are looking for a soft but sturdy brittle brush, this kit is for you.
Pros
Beautiful firm dark wood brush
Comfortable and sharp scissors
Bristles are not too stiff
Comes well packaged in cases and pouch
Comb glides easily
Cons
Comb develops cracks if dropped many times
Bristles in the brush can be bent.
2. Gentleman's Tools Beard Comb & Brush Set
This kit comes with a sandalwood beard comb and boar bristle beard brush. The wide-toothed, anti-static comb is handmade and has a light smoked sandalwood fragrance. The brush is hand crafted and made of 100% hog or pig bristles. The comb is portable enough to be kept in your pockets.
Gentleman's Tools Beard Comb & Brush Set
Opinion
Although doesn't come with scissors, the kit offers great quality brush and comb at an affordable price.
Pros
Thick comb
Good sized brush
Balanced brush bristle texture
Makes beard soft
Brush has nice sandalwood smell
Cons
Loose bristles
Thick comb
3. BEARDCLASS Bread Brush Kit Set
This made in USA beard and brush kit comes with a wild boar hair bristle brush, dual-sided beard comb, scissors, mustache comb, beard key chain and storage pouch. The kit comes with a 100% money back guarantee.
BEARDCLASS Bread Brush Kit Set
Opinion
This kit comes with a brush with ergonomic contours that gently straighten the beard. The brush and comb are travel-friendly and are made of high-quality materials. The quality of scissors is not up to the mark but this kit does come with extra accessories which you will definitely love.
Pros
Great shaped brush
Mini comb is travel-friendly
Inexpensive
Brush has right firmness and size
Portable
Cons
Brush bristles bend
Scissors are not sharp
Comparision Table: Top 3 Beard Brush Kits
Final Verdict:
Out of the top 3 beard brush kits, we pick Gentleman RA Beard Care Grooming Kit For Men as the best pick.
Gentleman RA Beard Care Grooming Kit For Men
It has all the needed grooming tools that are made of 100% natural high-quality materials, have good ergonomics, are portable and it suits all beard types.
Pros
Comfortable
Beautiful Design
Flexible bristles
Cons
Breakable comb
Bristles can be twisted
Must-Have Items in A Beard Brush Kit
Certain tools are needed to comfortably shape and style your beard hair. These tools can help you get the most out of it.
Beard Comb
Boar Bristle Brush
Scissors
Travel Cotton bag
How to Trim Your Beard with Scissors And Beard Comb
Wash your beard
Comb it in the downward motion
Draw the comb on the hair snapping the right length of hair to be cut. Make a note on hair length that projects off the comb and sticks to cutting exact same amount at all areas.
Wash your beard, towel dry and massage it with the best beard oil.
Frequently Asked Questions
Q. Will brushing my beard with beard brush help it grow more?
Ans: No, it doesn't but brushing along with a best beard oil and conditioner should increase growth rate.
Q. Can I comb my head hair with a beard comb?
Ans: Yes, you can but make sure the comb doesn't get soiled with hair care products.
Q. What is a boar bristle brush made of?
Ans: Boar bristle brushes are made from pig hair
Q. What direction to comb beard?
Ans: Once you've combed your beards upwards, brush it down with the comb to style your beard the way you want.
Q. What to use beard comb or brush?
Ans: When your beard has grown long for about 3 to 5 months, use a comb. When the beard is short, use a brush
We researched and examined various beard brush kits and their contents to come up with the list of top 3 best beard brush kits. Choosing any of these will give you a good quality brush and comb to keep your beard manageable. A perfect choice will address your personal preference, hard or soft brush, type of wood used in comb etc. We hope that reviews we have shared here will help you to decide on selecting the best beard brush kit.