One of the most popular beard styles among men is the chinstrap beard. This facial hair style pulls out from one side of the face to the other including the jaw line and the chin. Chinstrap beards have been in trend since the late 18th century and are still very popular among people with all possible variations.
Who Should Try A Chin Strap Beard?
Gentlemen who have oval faces look best with a chin strap, but that's not to suggest that the beard style doesn't flatter other facial shapes, as well. Diamond-shaped faces, oblong and round facial structures, and angled faces can all benefit from the strap. The key is to make sure that it complements the angles of your jaw and chin rather than detracting from them. If your beard doesn't make you look better, then it's not the beard for you.
How to Style a Chin Strap Beard?
The best way to style your chin strap is to have it professionally done, at least in the beginning. To grow a strap-style beard, you first start by growing a full beard, and you want the hair to run from the left to the right. It will take about a month or so to get to the ideal length.
At that point, head to the barber or the stylist. You want a professional to carefully outline the shape and style of your chin strap. Once you have the initial form, you can trim it yourself using a sharp, durable beard trimmer. Just remember that you don't want facial hair anywhere else on your face unless you decide to pair your chin strap with a mustache.
Is a Chin Strap Beard in Style?
This is a hard question. The best answer is probably "no," the chin strap beard is not in style, but that's mainly because it gets a bad rap. You can bring it back. I have faith in that. For real, a confident, charming, and stylish guy who splashes out with a chin strap instantly makes it look like it's in style. That's all that matters. Just take it back from the Nice Guy Brigade.
Tips to Pick the Right Chinstrap Beard
As long as you're honest about what flatters your face, you can't go wrong with your chin strap. It's a versatile style that lends itself easily to nuance and customization. Give yourself a chiseled looking jaw in spite of your round, cherubic face by shaping a sharp chin strap. Emphasize an elfin inverted triangle facial shape by following the lines of your jaw with your facial hair. You can even make an undershot chin look more pronounced or hide a double chin.
Trendy and Simple Chinstrap Beards
Chinstrap beards are popular among all ages. But youngsters do love these styles the most. If you are older than to be called 'young' but want to look younger your original age then we suggest trying these amazing chinstrap beard styles. Below is a list of 20 evergreen chinstrap beard styles we have collected for you.
#1. Chinstrap classics
Classical chinstrap beard looks like a neat surrounding band which starts from your hairline, goes down your whiskers, around your chin and back up to the other side of your head. A mustache is allowed to be added as well, as well as some line which connects it to the chinstrap.
#2. Pencil chinstrap without mustache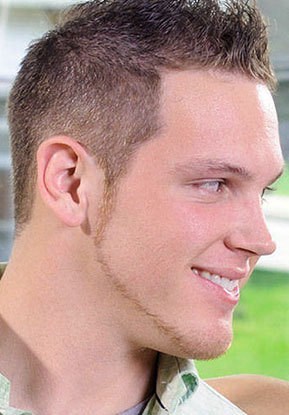 If you wish to have no beard or very light beard, then get this style. The style has a thin pencil chinstrap beard extending evenly from right jaw line to the left through the chin. The mustache is clean shaved and the sideburns are thin and long connecting the jaw line hair on both sides of the face.
#3. Thick chinstrap with a thick connected mustache and a chin goatee

If you wish to get an impressive look, style our beard this way. The style has a thick chinstrap with a thick connected mustache. The hair extends from long jaw line on one side of the face to the other via the chin. The sideburns are thick and long connecting the jaw line at both ends. There is a well trimmed strong chin goatee complementing the thick beard.
#4. With a pencil mustache and a goatee
It is an elegant style and has a pencil-thin chinstrap beard extending evenly from pencil-thin sideburns from one end of the face to the other via the chin. There is an evenly cut thin chin goatee which is connected to a thin mustache at both the ends.
#5. With a disconnected pencil mustache

You can experiment with this look if you wish to have less beard. The style incorporates a pencil chinstrap extending from right jaw line to the left through a thin goatee on the chin. The sideburns are thin and connected to the beard. There is a disconnected pencil mustache matching the chinstrap beard.