Blonde beards are lighter in color than most other boards, but that does not mean that they are not impressive. Blonde colors range from striking platinum blonde colors through to warm gingery blonde shades. Whichever shade of beard you have, there are loads of different cuts and styles for you to choose from. Learn how to grow a blonde beard the right way.
"Blonde Beard" or "Blond Beard"
Blonde is one of the few words in English that retains its male and female forms. Blond is usually used to describe light colored hair on a male, whereas blonde is normally used to describe the hair on a woman. Although the term "blonde beard" is linguistically incorrect, the phrase "blond beard" is becoming much less common. It is now possible to use "blond beard" and "blonde beard" interchangeably!
Popular Blonde Beard Ideas
Below is a list of our handpicked blonde beard styles for men that we think would look good on most guys. You can check the most popular short beard styles for men in 2017.
#1: Short and Thick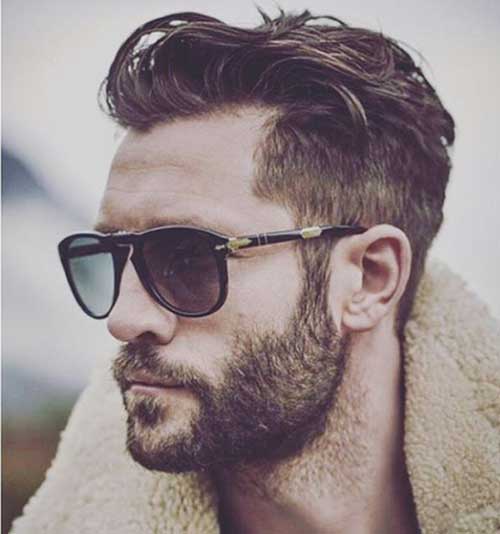 Get maximum coverage with this short and thick blonde beard. The style should extend past your chin and onwards down your neck as well. It is a rugged and handsome style.
#2: Blonde Flecks
Blonde flecks help to take the intensity out of a dark beard color. The blonde coloring will often start to show up if you spend a long time in the outdoors or sitting in the sunshine.
#3: Flicked-Out Fun
For a blonde beard style which is a bit of fun, try this flicked-out look. Groom your hair so that all of the strands are pointing in the same flicked-out direction. The style needs regular maintenance to keep it looking perfect.
#4: Short and Perfectly Groomed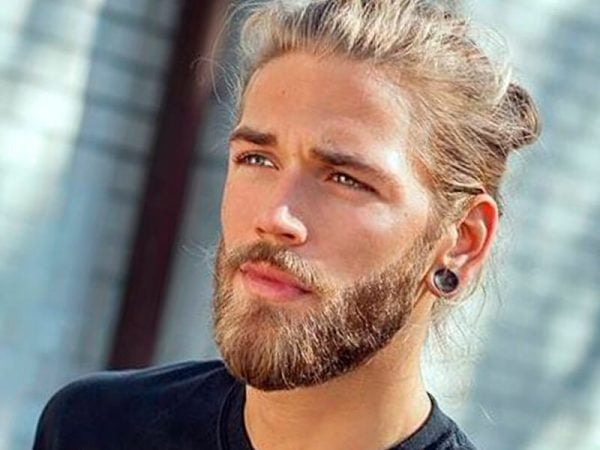 Groomed styles are best for guys who want a professional style. Keep it short and carefully trimmed if you want a beard style that you can wear to the office.
#5: Chinstrap Beard with Goatee
A Chinstrap beard is one that runs along the length of your jawbone. Supplement the Chinstrap style with a blonde goatee beard that encircles your mouth.
#6: Big and Curly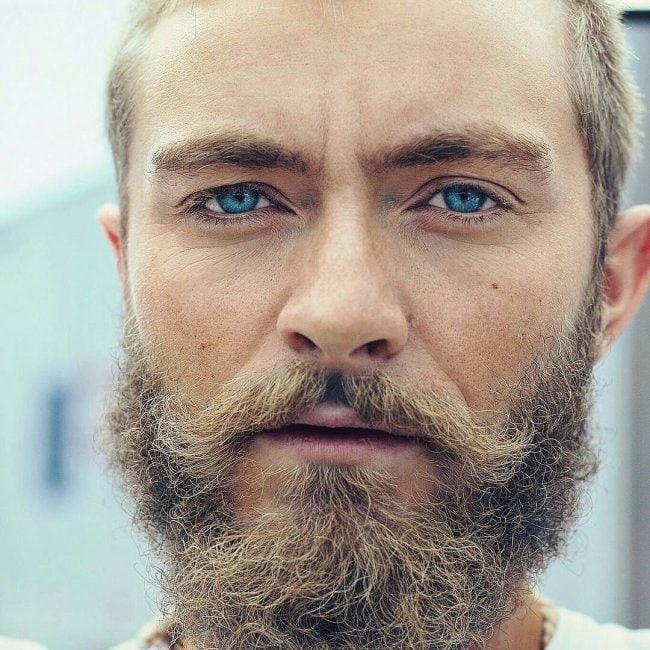 Once your beard gets to a certain size it is likely that your hairs will start to curl a bit. Instead of grooming them to keep them straighter, embrace the big, blonde and curly beard style.
#7: Strawberry Blonde

A blonde color with a hint of ginger color is known as strawberry blonde. Ginger hair will often look this color when it is worn outside in the sun. The color looks great on a big, bold and bushy beard style.
#8: Short and Thin

A thin beard is a good choice if you want a beard but don't want a style which is too extreme. A blonde beard flecked with gray is an amazing color choice for a subtle blonde beard style.
#9: Amish Style

Width is just as important as length in an Amish beard style. Go big or go home! A dark blonde beard color looks ideal for those who are want to cultivate an outdoorsy look.
Best Handlebar Mustache Styles In Trend Now
#10: Shocking Blonde

If you have naturally dark hair, why not dye your beard a shocking blonde color to make a statement? Use dying bleach to strip your natural color before applying a fun blonde beard shade.
#11: Blonde Beard with Big Hair

Match up your beautiful blonde beard with a stylish and voluminous hairstyle. The size of your hair will act as an interesting counterpoint to your carefully trimmed and shaped beard style.
#12: Neck Ruff Beard

A neck ruff was a large type of collar worn by noblemen in Elizabethan England. A neck ruff beard is named because it resembles the item of clothing. Big and bold beards like this look fantastic is a strawberry blonde or ginger color.
#13: Rounded Style

Rounding off your beard can help to give you a nice style that makes your face look open and honest. To keep your beard style looking perfect you will need to trim any stray hairs every morning.
#14: Fuzzy Face

Short beards do not have to be hard and brittle. Blonde hair tends to be much softer than darker colored hair. This means that a short blonde beard can be soft and fuzzy.
#15: To the Point

Elongate your face by shaping your beard so that it comes to a point. This look is actually really good if you are trying to make your face look thinner or your cheekbones look higher.
Exclusive Soul Patch Beards to Wear
Don't worry if your beard hair is not blonde in color. A lot of these styles look just as cool in a different colored beard. We have hundreds of different beard styles so that you will be able to find the right style for your hair color, length and thickness.