Your shaving ritual wouldn't be complete without the use of the best shaving brush. Although there is so much hype for electric razors, brush still is the best way to lather up a shaving soap or cream for a wet shave. Picking a highest quality shaving brush will assure you a joyous shaving experience.
What Is Shaving Brush Made Of?
A shaving brush has two key parts, bristles, and handle. The handles can be made of wood, metal, horn, or synthetics. The bristles are made from either badger hair, boar hair, horse hair or nylon.
Types of Shaving Brushes
Badger bristle shaving brush – These made from badger hair are expensive but are more luxurious than other bristle brushes. They retain more water, heat and produce dense lather
Boar bristle shaving brush-  These made from pig hair are cheaper than badger bristle brushes. The bristles in them get split ends and this is considered good because it helps to exfoliate skin.
Horse bristle shaving brush- These made from horse hair are the cheapest and softest compared to other bristle brushes.  They produce good lather but have less exfoliate the skin.
Synthetic shaving brush- These are generally made of nylon and are popular among people who prefer brushes without animal hair.
Summary Review: Top 3 Editor's Choices
There are so many manufacturers on the market who produce shaving brushes and they come in various varieties. This makes it difficult, time-consuming and frustrating for buyers to find their best shaving brush. So we examined all the shaving brushes available on the popular stores online and came up with a list of top 12 shaving brushes. Some might still feel indecisive for choosing from top 12, so we have narrowed down to top 3 picks.
Top Pick 1: Escali Pure Badger Shaving Brush
This is an economical and elegant looking shaving brush made from badger hair that whips up a thick and foamy lather with little water. It polished wooden handle is soft to hold and makes it easy to maneuver it on the facial contours.
Beardstyle Rating: 9.8/10
Top Pick 2: Perfecto Pure Badger Shaving Brush
This is a luxurious badger shaving brush that is suitable for tender or sensitive skin. It easily scoops lather, gently exfoliates skin and gives a close wet shave. Greater bristle density holds more water and keeps the lather going for more time.
Beardstyle Rating: 9.5/10
Top Pick 3: Omega 46065 Pure Bristle Shaving Brush
This is a great value for money product. The gentle boar bristle shaving brush comes along with shaving cream, soap, and stand. It produces rich creamy lather and it's mildly penetrating bristles help to moisturize and stimulate oil production in the skin.
Beardstyle Rating: 9.5/10
Top 12 Shaving Brushes in 2018: Full Reviews 
1. Escali Pure Badger Shaving Brush
This is a shaving brush made from real badger hair. The highly water-absorbent bristles create full, thick and creamy lather. It gives a closer shave, gently touches the face and exfoliates the skin.The wooden handle looks attractive and is comfortable to hold.
2. Perfecto Pure Badger Shaving Brush
This is a 100% badger hair made shaving brush that is sturdy and has a unique feel. It produces a rich lather and is softer than an average brush. The handle has good grip and is soft to hold at the same time.
3.Omega 46065 Pure Bristle Shaving Brush
This shaving brush comes as a part of shaving brush kit including shaving soap, stand, and shaving cream. It has boar bristles that build good lather and gently scrub the face to remove dead cells and stimulate the production of sebaceous oils.
4. Parker Safety Badger Faux Horn Handle Shaving Brush
It is a handmade shaving brush with silvertip badger bristles. It comes with a plastic stand that keeps the brush aptly positioned for drying. The high bristle density helps increased water retention for giving a wetter shave.
5.Vie-Long 04312 Professional Horse Hair Shaving Brush
This is a shaving brush with longer horsehair bristles. The handle is made from a combination of wood and metal. It is manufactured in Valencia, Spain.
6.Edwin Jagger Badger Shaving Brush With Drip Stand
It is a handmade, medium-sized shaving brush that is versatile in creating a rich lather and giving a wet shave. It comes along with a drip stand for drying and storage.
7. Bassion Hand Crafted Pure Badger Shaving Brush
This is a badger bristle shaving brush with a wooden handle. It has dense bristles of knot size 2cm that are soft on the skin and give a rich lather. The 4-inch wooden handle is soft, ergonomic and comfortable to hold. It is backed with a 100% money back guarantee.
8.VIKINGS BLADE Luxury Badger Brush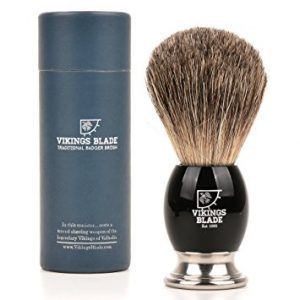 This is an exotic and luxurious looking shaving brush. It comes with a heavy obsidian black acrylic handle with a Swedish alloy base. The brush's bristles are made from 100% badger hair which gives gentle skin sensations, exfoliation and creates a rich lather.
9. Special S1 Best Badger Shave Brush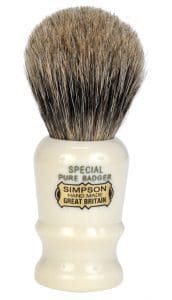 It is Special's lowest priced 90mm shaving brush made from badger hair. It is small and comes with a solid plastic handle. Its bristles are extra soft and have a good density.
10. Shaveway Pure Badger Shaving Brush
This inexpensive shaving brush is made from 100% pure badger hair bristles. It comes with a special grip handle for a comfortable hold.
11. Miusco Badger Hair Shaving Brush Travel Kit with Leather Case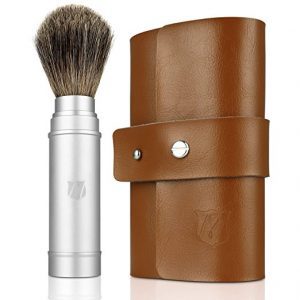 This is a pure badger hair brush that comes with an aluminum anti-bacterial and airy canister. It is best suited for travel as it comes in a leather case containing space to organize shaving brush and a razor.
12. Parker Safety Razor SYNTHETIC Bristle Shaving Brush
This shaving brush is handmade with synthetic bristles instead of badger, boar or horse bristles. It is extra soft and is specially made for sensitive skin. The resin handle offers enough area for grab and fits hands well. It creates great lather, dries fast and is best for carrying around while traveling. The brush comes coupled with acrylic brush stand in a gift box.
Comparison Chart:
Drag & Drop Product to Compare & Contrast Your Preferred Shaving Brush
Final Verdict:
Out of 12 best shaving brushes, we pick Escali Pure Badger Shaving Brush as the best shaving brush. It has all the qualities to rightfully claim this Beard style throne.
Benefits of Using Shaving Brush
Creates rich lather
Gives a wet shave
Softens and lifts facial hair
Opens pores and lubricates the skin
Exfoliates skin to remove dead cells
How to Clean A Shaving Brush
Run warm water on the brush
Take a bowl, add a bit of shampoo, soak the brush and leave it for 5 minutes
Gently scrub the brush with a toothbrush to remove residue
Empty the bowl, wash it and add a few drops of Apple cider vinegar
Soak the brush for 5 minutes
Swirl the brush in a way that vinegar reaches all the parts
Rinse the brush with warm water and leave it to dry
Watch the Process of Cleaning A Shaving Brush
Frequently Asked Questions
Q.What Type Of Shaving Brush Is Best?
For beginners, boar bristle shaving brush is the best. Those who have been shaving for long and want a premium quality brush should buy a badger shaving brush.
Q.What is knot size on a shaving brush?
Ans: Knot size is the circumference of a bristle bunch. Greater the knot size, larger is brush's water retention capability.
Q. Are badgers killed to make shaving brushes?
Ans: Yes, bristles from badgers are extracted after killing them. Badgers are a nuisance in agricultural lands of China. People there kill them for their meat and bristles.
Q. How to dry a shaving brush?
Ans: First, shake them to expel water, then hang them with hairs facing downwards.
Q. When to replace a shaving brush?
Ans: When bristles start to shed and they are bent, replace the brush.
Q. Does a shaving brush smell?
Ans: Badger brushes have a distinct smell in the beginning. With use, it disappears. A brush could get a foul smell if it is not stored in an airy and dry place.
Q. How long a good shaving brush lasts?
Ans: The best shaving brush will last for about 100 shaves. A Badger shaving brush lasts the most.
After revealing the 12 best shaving brushes available today we hope that you have found your best shaving brush. We are confident that any of the top 3 picks here will give you a good shave every time. These brushes are impressive in terms of producing lather, removing dead skin cells, softening the beard, and facilitating smooth razor glides. Also, these are versatile as they work equally good with shaving soaps and creams.
Related posts