Growing a beard is tough. Thinking about ways to maintain it, is even tougher. The variety of beard care products on the market today is overwhelming. How many of them do you really need? Even if you make a list of the beard products where your beard care routine should include, so how can you choose the right one? The manufacturers are making your job tougher every year by coming up with "new and improved" products that literary jam the market.
The Best Beard Care Products for Men: Exclusive Review
We decided to take a dive into the sea of various beard care products to come up with a list of must-have items for a man with a beard. We made the list as short as possible. Perhaps you'll shorten it after some testing. We went further to choose the best beard product in each category. Our team of experts agrees that the below set is all a man needs to keep his beard looking tidy, shiny, and beautiful regardless of the length.
BEARD OIL: The Gentlemen's Beard Oil and Leave-in Conditioner
The main purpose of a beard oil is to moisturize the skin under your beard to prevent itchiness and flaking while improving the quality of your facial hair. This oil does just that and more. It's made out of 100% natural products. The oil is fragrance-free so it's suitable for sensitive and allergy-prone skin. This product makes your beard easier to manage and reduces frizz. Using the oil on a regular basis can make the beard look and feel healthier.
BEARD CONDITIONER: Billy Jealousy Beard Control
The purpose of a beard conditioner is to keep the hair soft, controlled, and fresh. This product can help you enjoy a softer and manageable beard while providing a slight hold. You only need a small amount of the product to get the good results. The conditioner has a clean scent, which goes away quickly. The texture isn't greasy making it easy to apply. The conditioner keeps the beard soft, frizz-free and conditioned all day long.
TRIMMER: Philips Norelco Multigroom Series 3000
If your beard is longer than a stubble, you need a high-quality beard trimmer to keep it looking neat. This is one of the best options among the numerous trimmers available on the market today. A great buy for its price.
This trimmer has 13 attachments to work on beards of all sizes. You can also use it for trimming your nose and ear hair. It comes with three trimming and three beard guards. As a bonus, you get a convenient storage bag. The self-sharpening blades make sure that the trimmer lasts as long as possible. The trimmer is suitable for the hair on your head as well.
BEARD AND MUSTACHE WAX: Honest Amish Original Beard Wax
The purpose of a beard wax is to keep your hair controlled. It shapes the hair and keeps it in place all day long. Men with fine and manageable hair don't require wax. However, anyone with curly and coarse beard needs the wax to keep the hair looking tidy.
Honest Amish is one of the most respectable manufacturers on the beard-care product market. The company created a high-quality all-natural wax that can keep your beard in check all day long. Besides just holding the beard in place, it softens and conditions the unruly hair. The manufacturer offers a 100% satisfaction guarantee, which speaks highly of the product.
BEARD SHAMPOO/WASH: Grave Before Shave Beard Wash Shampoo
Some men believe that washing their beards with hair shampoo is fine. It may be so if the texture of your beard is the same as your head hair. This is an uncommon occurrence. Beard hair is usually thicker, drier, and less manageable. It needs special care.
This shampoo is made out of natural ingredients. It keeps the beard clean without drying it out. You can use it every time you feel your beard is getting greasy. It cleans the hair without washing out the natural oils. This beard wash lathers well and lasts a long time.
BEARD BRUSH/BEARD COMB: Smooth Viking Beard & Mustache Brush and Comb Kit
Brushes and combs are necessary to style the beard, spread the care products, and keep the hair maintained. Brushes are great for training your facial hair to grow in the right direction. Combs are better for detangling thick beards. The best combs and brushes are made out of natural materials.
Smooth Viking Brush and Comb Kit include both tools. The brush has natural wild boar bristles that can gently massage the skin and remove dead skin flakes while distributing beard oil and balm. The comb is also natural (sandalwood). It can deal with long and short beards and hair of any thickness. The kit is compact so you can use it while traveling. The set comes with a reasonable price tag.
BEARD GROOMING KIT: Rapid Beard Grooming & Trimming Kit for Men Care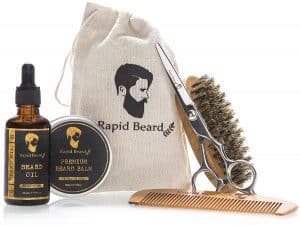 If you are looking for a starting kit for your beard care needs or want to give your bearded friend a great gift, this product is your best bet. Grooming and trimming kits are not always the best choice for experienced beardies. However, when you are just starting out, they can help you understand which products you really need.
The beard grooming kit contains a beard brush, comb, scissors, wax, and oil. The brush and comb are made out of natural materials (boar bristle and wood). The balm and oil are also 100% organic. The scissors are specifically made out of stainless steel for easy beard trimming. The items come in a pretty gift box, which can be used as beard care tool storage.
RAZOR: Gillette Fusion ProGlide Men's Razor Styler 3-In-1 Body Groomer and Beard Trimmer
Trimming a beard is one of the toughest tasks especially if your beard style isn't simple. You may need to trim the beard while shaving other parts of your face. That's where the beard razors come in. They have to be equipped with special heads and attachments to make shaving simpler. Meanwhile, they must be easy to hold and operate since a well-trimmed beard is truly a work of art.
This Gillette Fusion ProGlide trimmer acts as a razor and edger as well. It can help you do anything you want with your beard regardless of its length. The razor comes with 4 trimming combs and a possibility of attaching any Gillette razor blades. The trimmer is waterproof so you can use it in the shower. It runs on an AAA battery and comes with an organizer.
SHAVING SOAP/CREAM/GEL: Proraso Shaving Cream
The quality of a shaving cream, soap or gel is vital to getting a clean shave of the areas you don't plan to grow facial hair on. If the product is low in quality, doesn't lather well, and doesn't provide proper hydration, you can end up with scratched skin, irritation, and infection. Ideal shaving cream doesn't all the razor to scratch your skin.
Proraso shaving cream provides a thick lather to keep the sharp razor blades from the skin. It's over 95% natural and contains moisturizing oils and other botanical elements. You can apply this cream with your hands or a shaving brush. It has a nice texture and an appealing scent. It works well with any razor type.
SHAVING KIT: Van Der Hagen Men's Luxury Shave Set
While many men prefer the modern shaving cream application method by using their hands, others still enjoy the classics. Shaving kit sets for classics-lovers always make a great gift. They can also help you understand which shaving method you prefer.
Van Der Hagen Men's Luxury Shave Set includes a brush, a soap, and a mug to make lather. All the products are high quality. The brush is made out of natural badger hair. The soap is hypoallergenic and contains natural ingredients. The mug is specifically designed to make classic shaving easier.
We hope these products saved you some searching and pondering time. While you may not need them all to take care of your beard, more than half of them can easily make their way into your cabinet. Good luck!