Once there was a time when nobody worried about the shape and length of the beards. If anyone wanted to have a beard, growing it was sufficient. But, in today's world, only letting them grow will not do any good for you. This is why beard neckline should be maintained strictly. People have become more concerned with the aesthetic form of style. Besides, we have jobs, presentations, ceremonies, and dates which demand a well-organized beardy look. Trimming the beard neckline is a must in this regard. Read on to know how to trim the beard neckline perfectly.
Trim the Beard Line the Right Ways
Obviously, you can't trim the facial hair with bare hands. A good quality
beard trimmer is necessary if you want to trim the beard neckline. There are hundreds of trimmer available in online shops like amazon.com. Philips Norelco Multigroom All-In-One Series 3000, Braun BT3040 Men's Ultimate Hair Clipper these two are my best picks. You can easily buy them from Amazon. After getting the trimmer let's know how to trim the beard neckline the right ways.
#1. Elicit the Line
Elicit the neckline before moving to the next steps. There is a natural middle spot on your neck which can determine the central point the neckline. That is Adam's apple. Draw an imaginary line that connects three points together. One point is Adam's apple and the other points are the marginal point of two ears. Connect these three points which will resemble a half-circular appearance.
#2. Trim It Off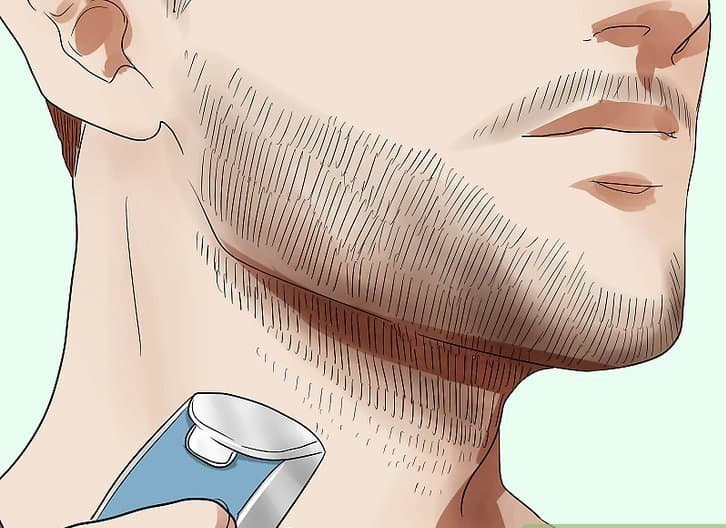 Now, put your one finger right on Adam's apple. Place the trimmer just above the finger and start to trim down. Most of the people prefer two setting shorter length than the beard's length while trimming the beard neckline. Follow the imaginary line you have drawn and trim alongside the line. A curved neckline looks the best, so it is better to avoid round beard neckline. Continue the trimming until you are satisfied with the neckline.
#3. Using Beard Shaping Tools
If you are not comfortable doing it manually, here is an excellent beard shaping tool to do the trimming smartly. Place this Beard Shaping Comb as per the assumed neckline. Then trim the beard off which remains underneath this comb. This tool will help you have a well-defined lineup and edging. You can find the tools you need from here.
When to Trim Your Beard: Clear Signs
Trimming is a sensitive task. You can't retain something immediately that has been trimmed off. And, when it's about the beard, at least a one-week period is needed to regrow it. Be cautious when you are trimming the beard neckline. Because this can change the overall look of your appearance.